Creamy Sweet Corn Pasta Salad
This post may contain affiliate links (meaning I earn a small comission if you purchase an item through a link I provide) I only provide shoppable links to items I love and are helpful. As an Amazon Associate, I earn from qualifying purchases.
This Creamy Sweet Corn Pasta Salad is bursting at the seams with flavor and it's sure to be a hit at any BBQ or potluck!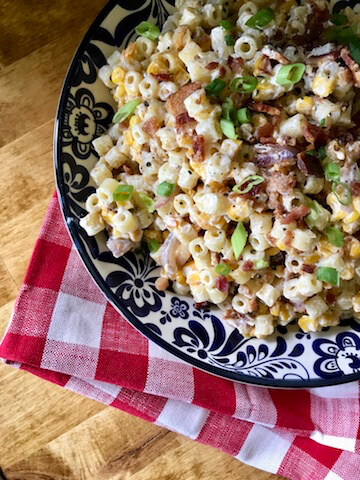 Hi guys! It's July already? It's July already. Holy crap, it's July already! I think of July as the heart of Summer. It also happens to be my birthday so it's just a special month to me. I like to slow things down in July because May and June seem to wear this mama down. Let's just say, I barely remember last month happening so I'm a little more than happy it's time to stop and smell the sweet corn. I've got so many summer favorites for you to make this year! Okay. First up, Creamy Sweet Corn Pasta Salad.
I don't know about you, but we literally have corn comin' straight out of our ears (pun intended) during these warmer months and I never get sick of it. Ever. It's probably only natural that that would be the case seeing as I come from a town that has an entire week dedicated to the celebration of all things corn. I know people say that corn has very little to no nutritional value, but I just don't care. It's better for me than a bag of peanut m&m's, amiright? (by the way, there's a bag of peanut m&m's in the freezer that I really want..) Anyway, let's just get to it because oh my gaaaah y'all, I love this pasta salad so much! It's got so much good stuff going on and I can't believe it's taken me this long to share it with you. You're gonna wanna make this one asap, like yesterday afternoon. You most definitely can use fresh corn here, infact I encourage it, but I decided that you can also use frozen corn for ease and because I didn't plan properly and I didn't have any fresh on hand when I went to photograph this dish.
This here pasta salad is chock-full of roasted corn and red onions, cherry tomatoes fresh from the garden, bacon because why the in heck not?, some ditalini pasta because it's my favorite, and it's all thrown together with a creamy dressing. Everyone will love it and no one will know it's lightened up. I promise! It's just the perfect summer side dish.
Real quick side note: I really wanted to get this one out to you so you could get it made up for a Fourth of July party. I was in such'a hurry while photographing that I actually forgot to throw the cherry tomatoes into the mix and didn't realize it literally until I started writing this post. So in conclusion, I'm just your friendly neighborhood forgetful food blogger who forgets her own ingredients. Throw some tomatoes in there and don't pay attention to my photos. We good? Okay. I hope so.
Let's get into the kitchen!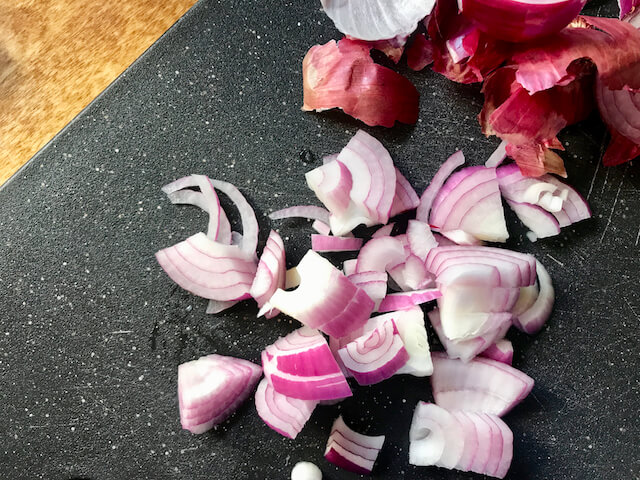 First things first, Slice up a red onion. It doesn't need to be chopped small or anything, just some good sized chunks.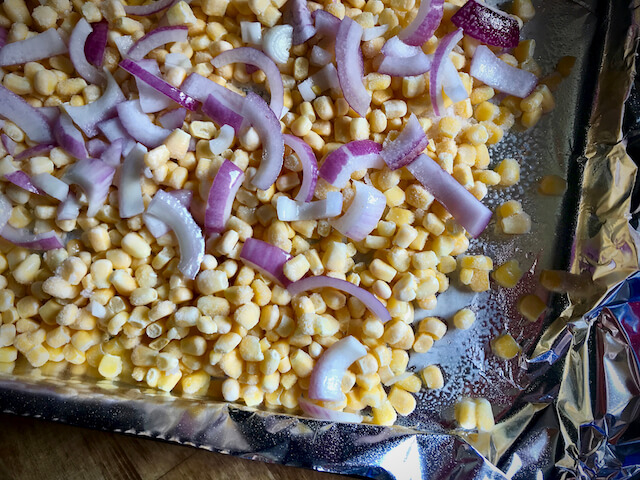 Preheat oven to 425 degrees. Now grab a sheet pan, cover it with some foil for easy peasy clean up, spray it with some cooking spray, pile on a few cups o' corn (fresh or frozen) and then toss those onions on top.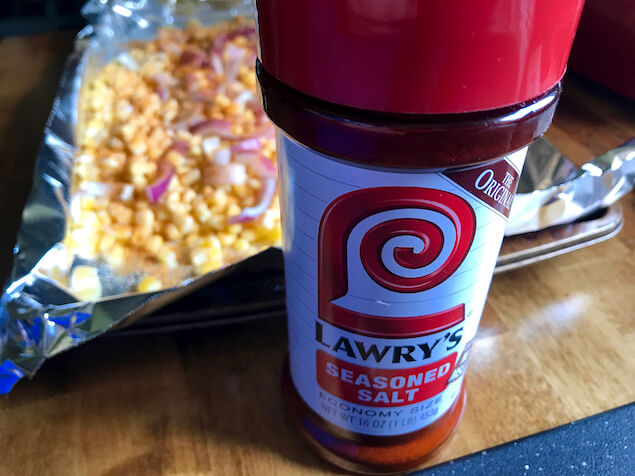 You'll need my favorite ingredient: Lawry's Seasoned Salt. It's the best, y'all and it's the only thing I've ever used in this salad and everyone raves. Raves, I tell ya! (You can find this stuff in any ol' grocery store near the other spices)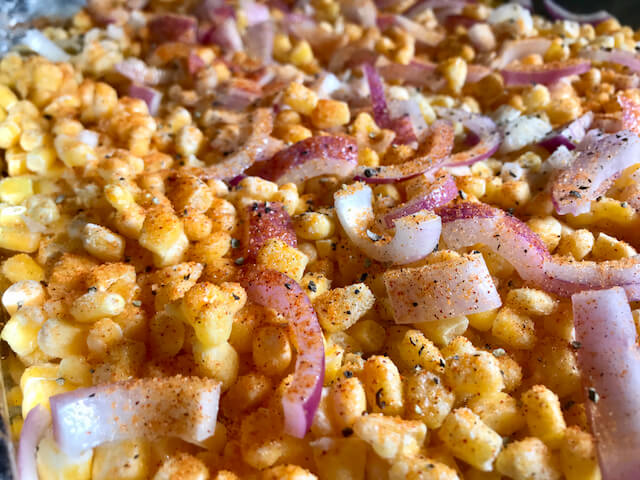 Generously sprinkle that stuff on top of the corn and onions followed by some fresh cracked pepper.
And then, throw it in the oven to roast all together for about 15 minutes total stirring half way through.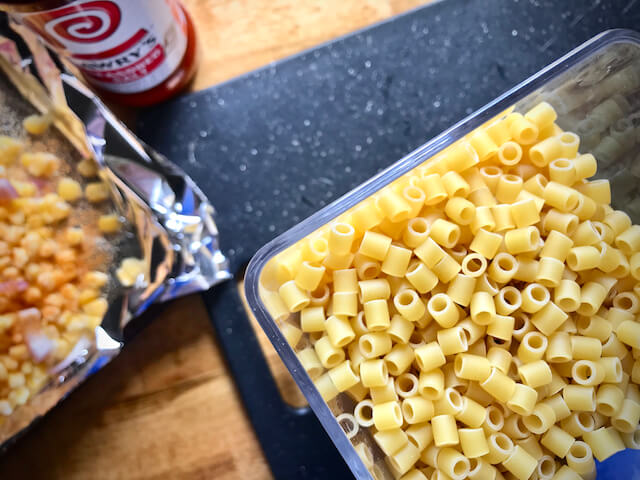 Now, grab some pasta to cook up. I love using ditalini in this one, but macaroni noodles will work too!
Be sure to salt the water well before the pasta goes in and cook it up according to package directions.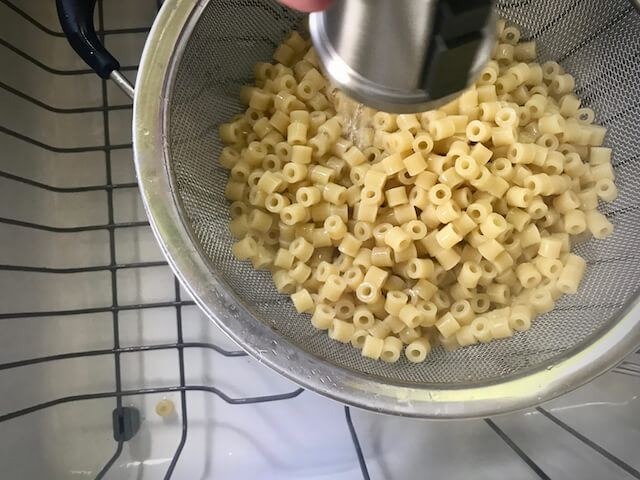 When the pasta is done cooking, pour it in a colander, and rinse well with cold water.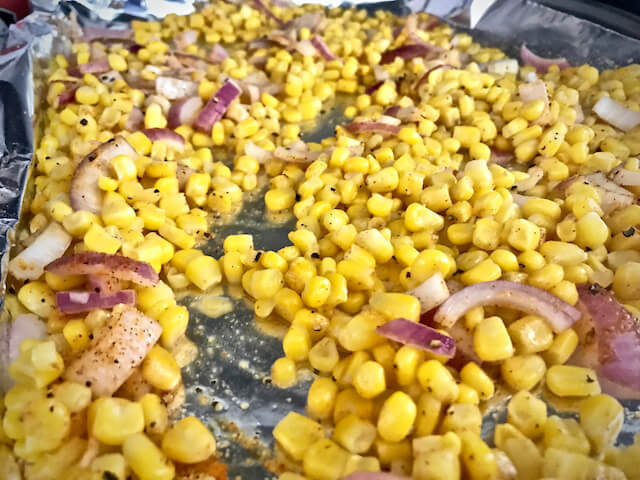 Now, your corn and onions should be ready to go. Let it cool a bit after removing from the oven, but it doesn't need to be cold when you add it to the pasta.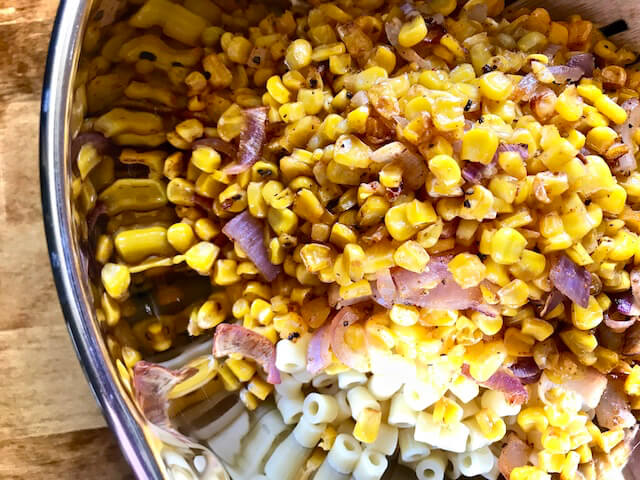 Combine the cooked pasta and the roasted corn mixture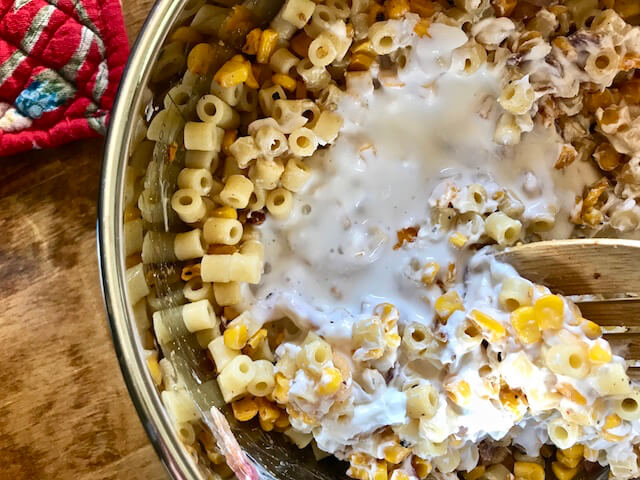 Add 3/4 cup buttermilk, 1/2 cup non fat greek yogurt, and 1/2 cup light mayonnaise. Stir it all up real good!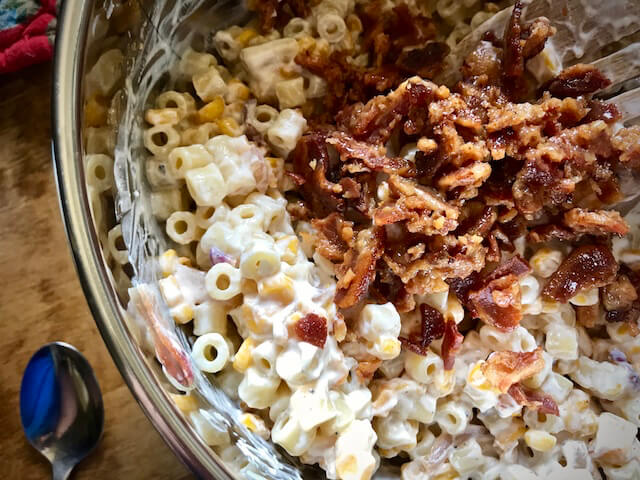 Now fold in some cooked and crumbled bacon…. this is also where you add the sliced cherry tomatoes. Extra credit for you, if you don't forget the cherry tomatoes.
I figured out why I forgot though. See that spoon in the lower left hand corner? That's sitting there because it's waiting patiently to scoop up a big ol' bite of this pasta salad … you know to test and make sure its edible. My mind was elsewhere, clearly. Bacon makes mama forget things.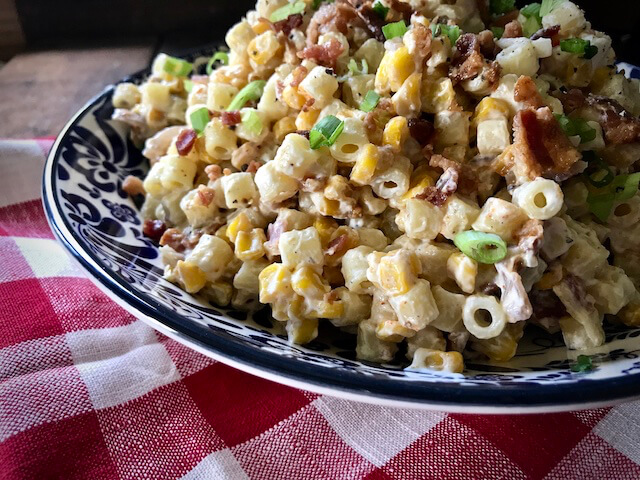 And there ya have it, a beautiful bowl of summer!
It's a total crowd pleaser and it couldn't be any easier to make up. The official name for this is actually "the pasta salad with the corn and the bacon", but I figured I'd give it an official name for the blog here.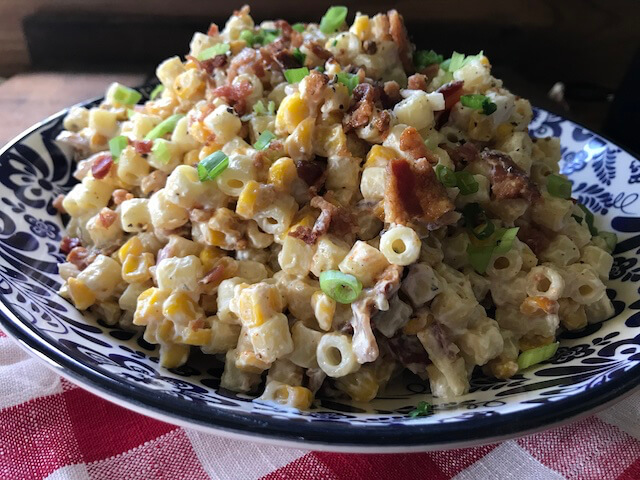 I wish I could dig a spoon into this screen. Luckily.. this is in my fridge right now. So, I gotta get going so I can eat some more.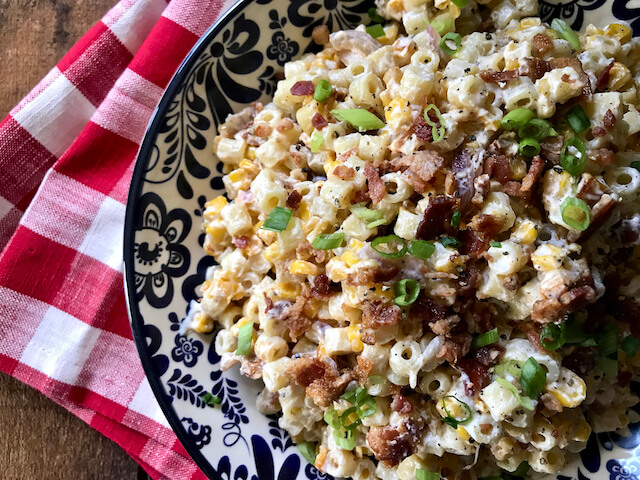 It'll make the perfect dish to throw next to all those grilled goodies, so get yourselves in the kitchen and make this up, y'all!
I hope you love it as much as I do! Let me know if you make it up.
With love from my kitchen to yours,
Star
P.S. If you're lookin' for some other yummy corn recipes check out my latest recipe Roasted Corn Salsa!
Print
Creamy Summer Sweet Corn Pasta Salad
A side salad filled with sweet corn, pasta, cherry tomatoes, and bacon! Easy to throw together and perfect next to anything off the grill.
Materials
8

ounces(dry)

ditalini pasta

macaroni pasta will work well too

3

cups

corn

fresh or frozen

1

medium

red onion

sliced into chunks

1-2

tsp

Lawry's Seasoned Salt

8

slices

center cut bacon

cooked and crumbled

1

cup

cherry tomatoes

sliced in half

3/4

cup

low fat buttermilk

1/2

cup

non fat greek yogurt

1/2

cup

reduced fat mayonnaise

preferably hellmans

cooking spray

freshly cracked pepper

to taste
Instructions
Preheat oven to 425 degrees. Spray a sheet pan with cooking spray. Add corn and red onion, sprinkle seasoned salt and pepper on top and place into over for about 15 minutes. Stir up the corn and onion about half way through roasting. When finished let cool for a few minutes before adding to cold pasta.

While the corn is roasting cook noodles according to package directions. Be sure to salt the water before boiling them. When the noodles are done, drain and rinse the noodles with cold water.

In a large bowl combine the roasted corn and onion, cooked pasta, crumbled bacon, tomatoes, greek yogurt, light mayonnaise, and buttermilk. Stir until combined well. Add a bit more seasoned salt to taste. Cover and place in fridge for about 20 minutes to let the flavors meld together. Garnish with extra tomatoes and/or chopped green onions, if desired. Enjoy!
Notes
Serving size: heaping 1/2 heaping cup. 157 calories. 4.5g fat, 1g saturated fat, 22g carbohydrates, 1g fiber, 4g sugar, 6g protein WeightWatchers Points: 3 Points