Creamy Green Bean Casserole with Bacon
This post may contain affiliate links (meaning I earn a small comission if you purchase an item through a link I provide) I only provide shoppable links to items I love and are helpful. As an Amazon Associate, I earn from qualifying purchases.
This Creamy Green Bean Casserole with bacon recipe is not your grandma's green bean casserole. It's rich and delicious, but lightened up just enough. The amazing smells of the homemade Alfredo-ish sauce and caramelized onions will get it on their plates… and the rich, succulent taste of bacon will have them all throwing compliments your way, and coming back for seconds. And it's all topped off with that great crunchy onion topping. The flavor is incredible, making this Creamy Green Bean Casserole with Bacon the perfect addition to your holiday table!
Creamy Green Bean Casserole- forever a thanksgiving staple
Every single Thanksgiving, I look forward to one thing the most – that thing is Green Bean Casserole. Every family I know has some version of this casserole on the Thanksgiving table… It's just the right thing to do, it's an American staple. I highly doubt it was on the first Thanksgiving table, but change can be very good, y'know? Now I'm not gonna lie, I grew up on the Cambell's version. I have no shame in admitting that I loved it with my whole heart, and still love it to this day. I even have a Green Bean Casserole recipe from a couple years ago that features good ol' canned soup. But I can't deny it's in my nature to "shake it up" and try new things, like reinventing something that's been done the same way for so many years. This year I decided to make a Creamy Green Bean Casserole with Bacon… and folks, it's insane. Off the chain. In the membrane. Stupid delicious. You need it!
And trust me, no worries- It's pretty quick and easy to throw it all together!
So once again, Let's get into the kitchen, y'all.
Chop up a large sweet onion, and five slices of center-cut bacon. Bacon and beans go together like peanut butter and jelly, friends!
Also, go ahead and start preheating your oven to 350 degrees.
Mince up a few cloves of garlic, because garlic makes everything a lil' better.
Throw the diced bacon into a skillet over medium heat. Cook for a few minutes.
Now add in yer onions, and do a little stirring to let'm mix and mingle with the bacon.
Cook like that for about 5 minutes until the bacon is crispy, and the onions are nice and caramelized.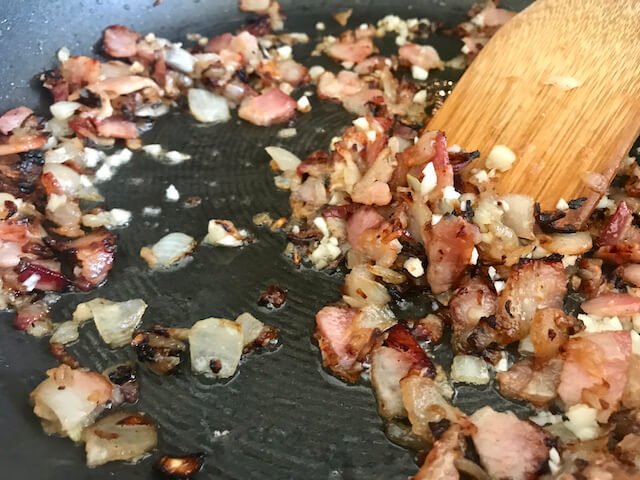 Add the minced garlic with the bacon and onions, and let it cook for about 30 seconds.
Add 8 cups of frozen green beans (that have been thawed) to the bacon and onion mixture.
Meanwhile, gather your ingredients for the sauce: You'll need olive oil, milk, Parmesan cheese, chicken broth, flour, and salt & pepper.
I didn't actually do step-by-step photos of the process of making the sauce, because it's kind of an "All hands on deck" situation- You need to constantly whisk it, and whisk it real good. If you've made my recipe for Chicken & Broccoli Alfredo Stuffed Shells, then you're good to go. This is basically the sauce from that recipe, minus the garlic… it is oh so delicious. And yes, it's pretty much an Alfredo. And yes, I promise- it really, really works perfectly with this casserole!
For the sauce, you'll put a medium sauce pan on the stove over medium-high heat, and heat up 1.5 tbsp of olive oil. Then sprinkle 3 tbsp of flour into the pan while whisking constantly. Add 1 cup of 1% milk, followed by 1 and 1/3 cup chicken broth… remember, we're still whisking! After a few minutes, when it hits a gentle boil, reduce heat add the parmesan cheese in a little bit at a time and continue to whisk well for a few more minutes, until it's thickened. Season with salt & pepper to taste.
This might sound complicated, but please don't bail out now- it's not nearly as tough as it sounds, and most importantly, it's delicious.
Grab a 3 quart casserole dish, and spray it with cooking spray.
Put half of our green bean mixture in the dish, and level it out.
Top with half of that luscious sauce.
Over that, add the rest of the green beans…
…and evenly pour on the rest of the sauce. Ahhhh… heaven!
Slide it in the oven (preheated at 350) for about 30 minutes.
Now carefully remove from the oven, and stir it together!
Top it evenly with wonderful, crunchy, French-Fried Onions. I use French's, Is there any other brand? (I've seen alotta people make their own, and I've tried homemade ones…but I honestly prefer these. Plus it's easier, and there's less dishes, so I'm good with that decision.)
Pop'm right back in the oven for 5 minutes or so, until the onions are golden.
And whoa baby, it's tasty.
So go out into the world this holiday season with this new kid on the block, Creamy Green Bean Casserole with Bacon, and serve it to your friends and family.
They'll love you, I promise!
Eric's exact words: "This is a home run, it's the best green bean casserole ever!"
When he uses a baseball analogy, it means things are getting serious…
he's serious, y'all.
RUN TO YOUR KITCHENS AND GET IT DONE!
Good luck, and good night.
With love, from my kitchen to yours,
Star
Print
Creamy Green Bean Casserole with Bacon
This scrumptious Green Bean Casserole with Bacon is filled with green beans, an Alfredo sauce from scratch, caramelized onions and bacon, and topped with crunchy french fried onions.
Materials
8

cups

frozen cut green beans

thawed

6

slices

center cut bacon

diced

1

medium

yellow onion

finely diced

3-4

cloves

garlic

minced

1-½

tbsp

olive oil

3

tbsp

all purpose white flour

1

cup

1% milk

1- ¼

cup

chicken broth

⅔

cup

parmesan cheese

shredded

1

cup

French's French Fried onions

salt & pepper

to taste

cooking spray
Instructions
Preheat oven to 350 degrees. In a medium skillet, add diced bacon and cook for a couple of minutes. Add onion, and continue to cook bacon and onion together until the bacon is crispy, and onions are golden and caramelized. Add minced garlic and cook together for about 30 seconds or until fragrant. Reduce heat to low and add green beans to pan. Stir together and let sit for a few minutes while making the sauce.

In a medium sauce pan over medium-high heat, add olive oil and allow it to heat up for a minute or so. Sprinkle in flour a little bit at a time while whisking constantly. Slowly pour in milk followed by chicken broth. Continue to whisk constantly until it reaches a gentle boil. Reduce heat to low and add in the Parmesan cheese, a little bit at a time, while whisking. Continue to whisk for a couple more minutes until thick. Make sure to Salt and Pepper to taste!

Spray a 3 quart casserole dish with cooking spray. Add half the green bean mixture followed by half of the sauce, then the rest of the green bean mix, and then the rest of the sauce evenly over the top. Place into preheated oven for 30 minutes. Remove from oven and stir well. Add crispy french onions on top. Place back into oven for about 5 minutes, or until golden brown.
Notes
Serving size: heaping 1/2 cup.
Calories: 156, Fat: 10g, Saturated Fat: 4.5g, Carbohydrates: 8.5g, Fiber: 1g, Sugars: 2.5g. Protein: 9.5g
WeightWatchers Points: 3 Points