Creamy Chicken Noodle Soup
This post may contain affiliate links (meaning I earn a small comission if you purchase an item through a link I provide) I only provide shoppable links to items I love and are helpful. As an Amazon Associate, I earn from qualifying purchases.
Creamy Chicken Noodle Soup is a hearty, easy, and healthy must-have recipe that's filled with tender chicken, vegetables, and a savory slightly creamy broth.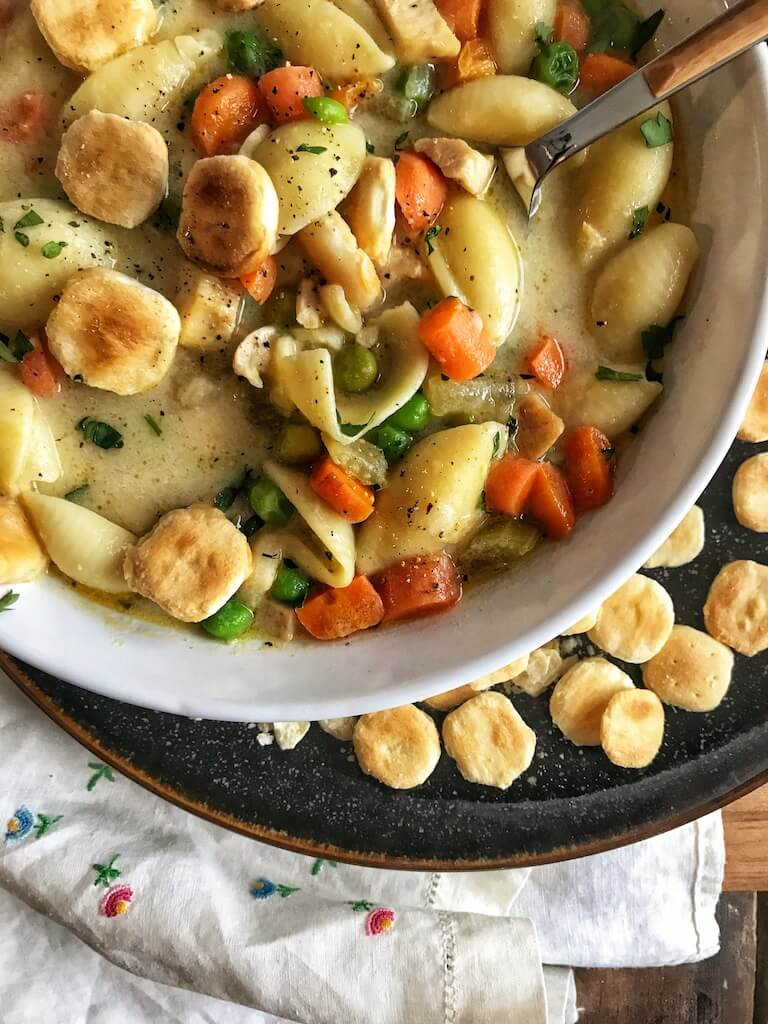 I'm going to start by telling you that every single person should have a really, really, really good Chicken Soup recipe in their back pocket. It's pretty much a kitchen staple. This recipe is loosely based off of my Chicken Pot Pie Soup recipe so if you love that, you'll really love this because it's kind of like Chicken Pot Pie soup on a whole new level. But, much more broth-y goodness going on.
I swear I've made this soup at least 12 times in just the past month! Hello cold and flu season! It's so flavorful and probably one of the best things to have when you're not feeling the best. This Creamy Chicken Noodle Soup is easy enough to make so that when you are actually sick it wouldn't be too hard to throw together. Hello mom life! In this house, we've all been down with multiple colds this winter and this is my go-to. Little Pepper even requests it and that says a lot for a kid who doesn't like soup.
All that being said, this soup is too good to only make when you are sick. Trust me! I loooooove to make a big batch for lunches throughout the week and create my very own pick-two in my kitchen! Soup & a big ol' turkey sandwich is my go to and it's so satisfying. I honestly think this will be your new favorite Chicken Noodle Soup recipe!
Let's make some Creamy Chicken Noodle Soup!
Before anything else! Yer gonna need some chicken, 3 cups to be exact! You can take the extra easy way and just pick up a rotisserie chicken or you can take the homemade route and bake up a batch of my super yummy Easy Baked Chicken or make some Instant Pot Shredded Chicken. Whatever way you choose will be delish. Pictured above is my Easy Baked Chicken and it's personally my favorite, but I'm a little biased.
Tip: make your chicken a day or two ahead of time to save time!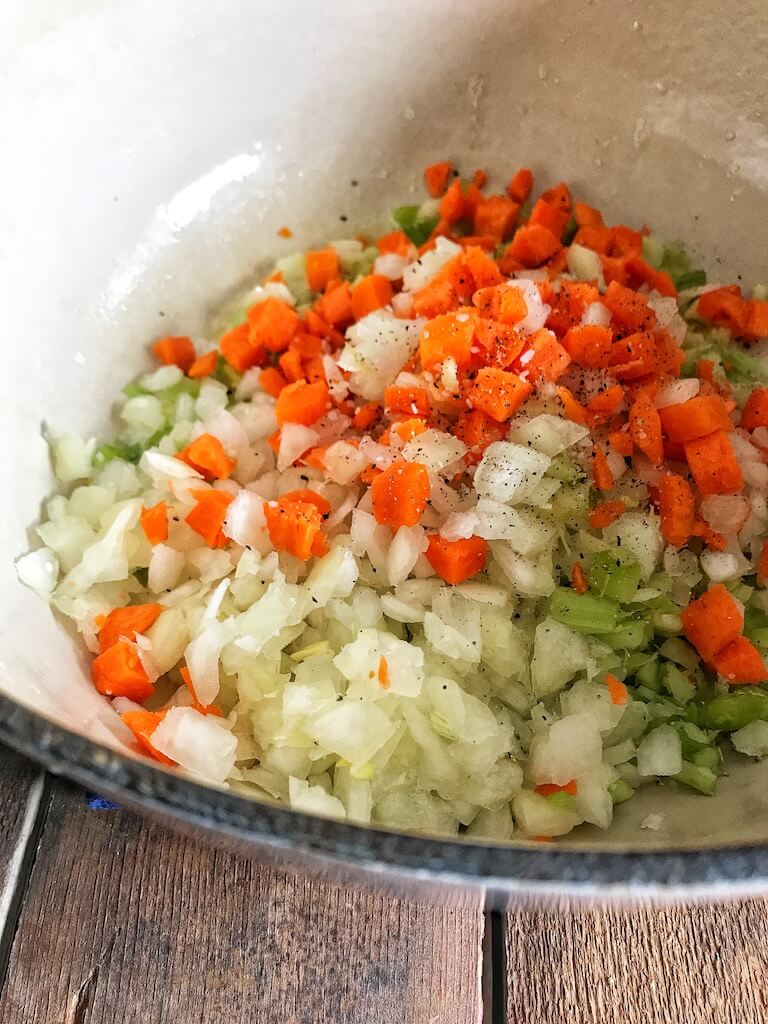 In a large pot or dutch oven over medium heat add one tablespoon of butter and 1 tsp of olive oil. Let the butter melt then add one cup celery, carrots, and onions. Season with a couple pinches of salt and pepper. Cook until the vegetables are soft. After the vegetables are nice and soft stir in 4-5 minced or pressed garlic cloves …or more. Honestly, let your heart tell you how much garlic is enough. Ha!
2. When the vegetables are softened sprinkle (just a lil at a time) 1/4 cup all purpose flour. Stir well after each addition of flour then let it all cook together for about 30 seconds.
3. Stir in 8 cups of low sodium chicken broth and 1 cup of 2% milk. After that stir in 1 tbsp of better than bouillon and if ya got it, a parmesan rind. Also, add 1/2 tsp turmeric if you want to put it in! Increase heat to medium-high and bring to a boil for a minute or two. Reduce heat to simmer for 15-20 minutes.
My secrets for the best Creamy Chicken Noodle Soup
Better than Bouillon! Use the Low Sodium version if available. It's a miracle worker when it comes to making soup taste about a billion times more awesome. Just one tablespoon will take any soup to next level delish. You can find it in ANY grocery store right by where you'd get chicken broth.
Parmesan rind! Okay, I know y'all are probably NOT going to have a Parmesan rind laying around. I rarely do, but one of the coolest things happened last month. I was at Mariano's Market and in their cheese department they had a little case of just the rinds for like two dollars. Best two dollars I've ever spent. THROW IT IN THERE if you happen to have it. I'd almost go as far as to say buy a block of parmesan and cut the rind off, but I'm not going to TELL you to do that. OH and, I personally don't count any points/calories for it because it's just a rind and you remove it, but you do you! I PROMISE the soup is delicious without if you don't have one.
Turmeric (optional)! I don't always add it, but if we're sick I definitely throw some in. From what I've read, Turmeric is apparently magic. In my opinion, it just kind of tastes a little pepper-y and it will add a lot of color. I'll usually add about a half of teaspoon in when I'm making it more for healing purposes.
Lemon! (not pictured because I forgot to add it to this photo) What? Yes. Right at the end… squeeze a half of a fresh lemon into the soup and stir it in. I don't know why or how or what, but its like it balances every flavor and just creates absolute perfection.
My other tip when making creamy chicken noodle soup is to make the noodles separately! You want that delicious rich and savory broth to enjoy with each bowl, right? I sure do. Whenever I've made chicken noodle soup and cooked the noodles in the soup. The broth is almost non-existent especially when it comes to leftovers. I want that broth, man! So, I just decided one day. Enough was enough. I now make the noodles separately and add them as I eat. While you're letting the soup simmer away cook the noodles according to package directions (remember to salt the water!), drain, and set aside.
So in conclusion make whatever noodles you want (I normally do egg noodles pictured above or medium shells, my personal favorite and pictured in the "finished recipe" photos. This way you can also add as many noodles as you'd like. I do a half cup of cooked pasta in my bowl and then add the points/calories to that.
After the soup as simmered for about 20ish minutes add in the frozen peas and chopped (or shredded) chicken breast. Cook for just a few minutes until everything is heated through. If you're using parmesan rind, remove it.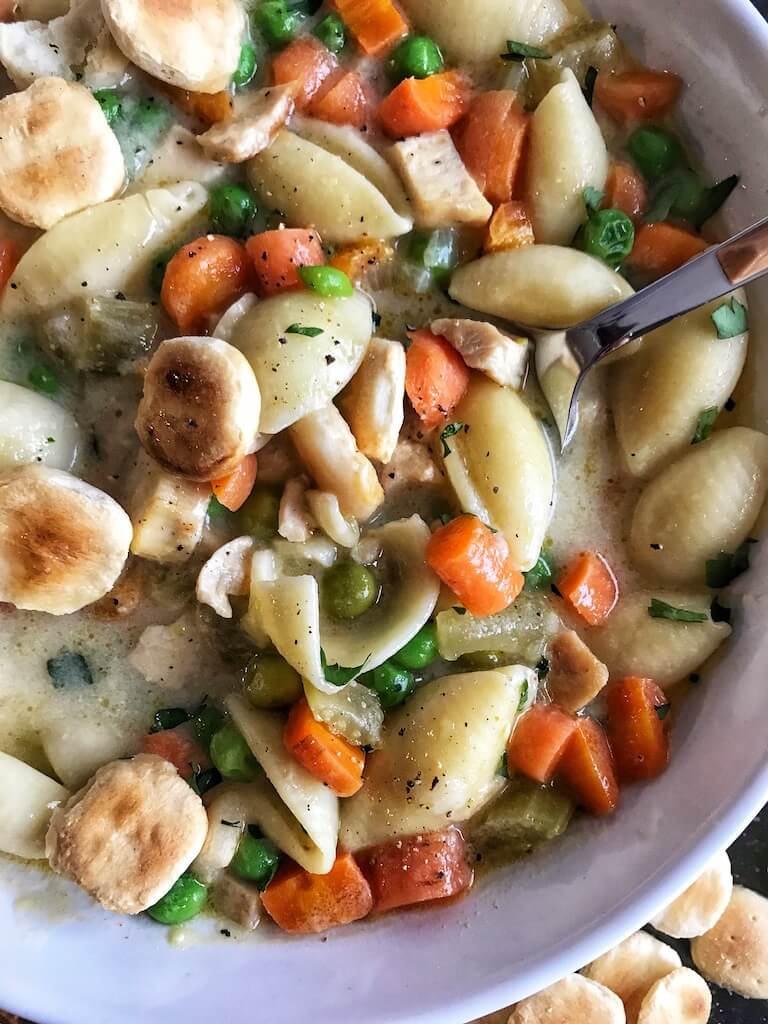 And my final tip? Add oyster crackers. As many as you possibly can.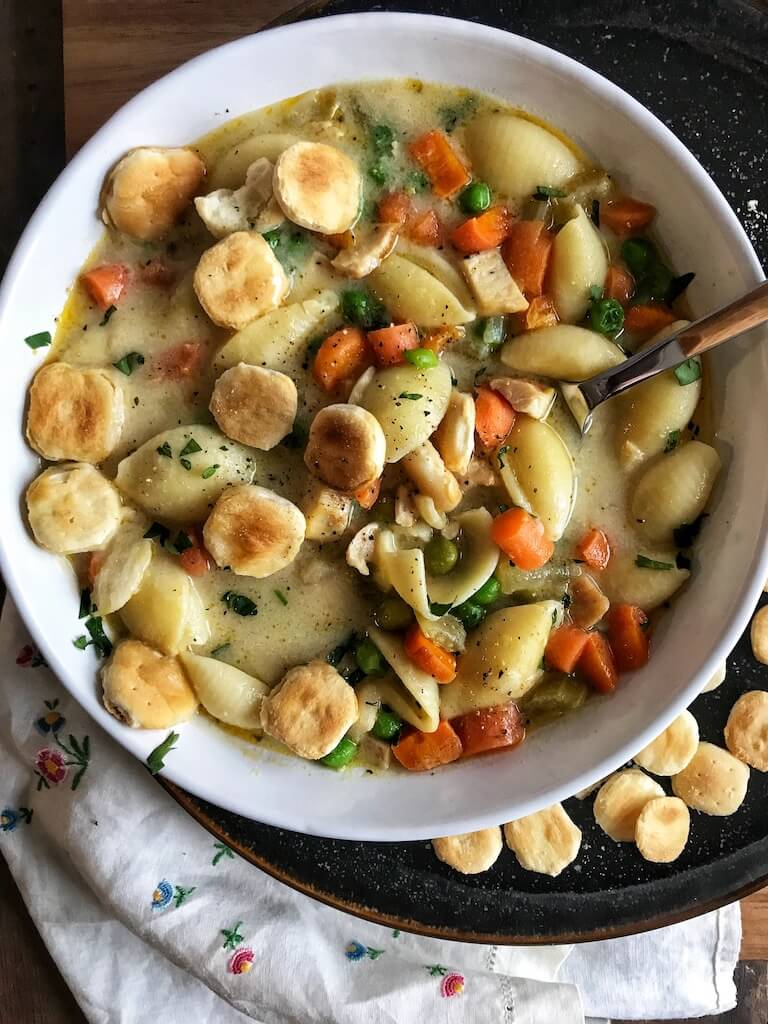 This soup is warm, inviting, scrumptious, and so gorgeous. I don't think you'll ever need another chicken noodle soup in your life. Truly!
I hope you love it as much as we do in this house, but mostly, if you're not feelin' so great- I hope it warms you right up.
Let me know how it goes if you try it!
With love from my kitchen to yours
Star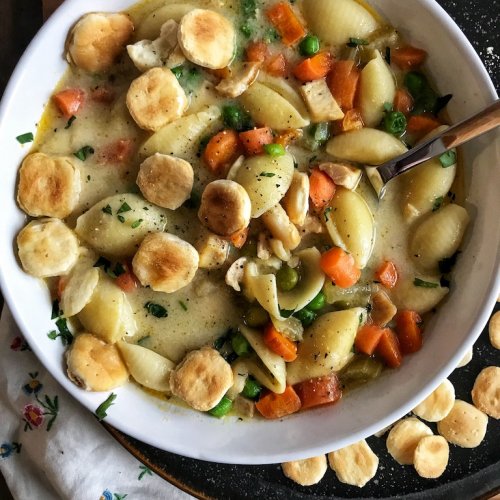 Print
Creamy Chicken Noodle Soup
Creamy Chicken Noodle Soup is a hearty, easy, and healthy must-have recipe that's filled with tender chicken, vegetables, and a savory slightly creamy broth.

Materials
1

tsp

olive oil

1

tbsp

butter

1

cup

celery

chopped

1

cup

carrots

chopped

1

cup

yellow onion

4-5

cloves

garlic

minced/pressed

1/4

cup

all purpose white flour

8

cups

low sodium chicken broth

1

cup

2% reduced fat milk

1

tbsp

better than bouillon

1/2

tsp

turmeric (optional)

1

Parmesan rind (optional, but if you can- make it happen!)

1/2

lemon

salt and pepper, to taste

6

cups

cooked pasta (egg noodles/medium shells/elbow noodles)

3

cups

chicken breast

cooked chopped/shredded

1

cup

peas

frozen
Instructions
In a large pot or dutch oven over medium heat add olive oil and butter. When the butter is melted add celery, onions, and carrots and cook for 5-7 minutes until soft.

When the vegetables are soft, Stir in garlic and cook until fragrant (about 30 seconds).

Sprinkle flour over the vegetables a little at a time stirring after each addition. Cook all together for another 30 seconds.

Stir in chicken broth, milk, and the better than bouillon.

*If using turmeric and/or a parmesan rind also add it in now.

Adjust heat to medium-high and bring the soup to a boil for a couple of minutes and then reduce to simmer. Stirring occasionally until slightly thickened for about 20-ish minutes.

While the soup is simmering. Cook pasta in another pot according to package directions. Don't forget to salt the water while waiting for it to come to a boil. When it's done, drain, and set aside.

After about 20 minutes, stir in the chopped chicken breast and peas. Continue to cook until chicken and peas are heated (should take just a few minutes). Squeeze half of a lemon and stir all together. Salt and pepper, to taste!

*if you put the parmesan rind in- remove it.

Add 1/2 cup (or desired amount) of pasta to each bowl of chicken soup. Add oyster crackers and/or dip a peice of delicious bread in it. Enjoy!
Notes
*Since the recipe calls for making and adding the noodles separately for best results. I'm including WW points with and without pasta.
1 cup soup without pasta
142 calories. 2g saturated fat, 3g fat, 8g carbohydrates, 1g fiber, 4g sugar, 0g Added sugar, 16g protein
WeightWatchers Points: 2
Serving size: 1 cup soup
with 1/2 cup cooked pasta (would total 1-1/2 cups)
WeightWatchers Points: 5