This post may contain affiliate links (meaning I earn a small comission if you purchase an item through a link I provide) I only provide shoppable links to items I love and are helpful. As an Amazon Associate, I earn from qualifying purchases.
If you came here hoping that I was a miracle worker and that I had somehow lightened these up… I am SO sorry, I did not. I honestly don't even know where to begin to even try to make that happen. Some things just aren't meant to be lightened up. Some things are meant to be enjoyed just as they are. I definitely feel like Christmas Cookies are one of those things.
My mom has made about a million, give or take a few, Christmas cookies every year ever since I can remember. The baking goes on for almost a week each year and it's a glorious time. My childhood home is so warm, so cozy, and well, as you can imagine it smells insanely good! I can only remember one Christmas that we did not bake. That was the Christmas after losing my dad. Nothing really felt like Christmas that year, and to this day, every Christmas is still hard without him, but if I know my dad, I know he'd kicking us in our butts for being sad around Christmas without him especially because he knew how much my mama LOVED Christmas time in our home. The following Christmas, we picked ourselves back up and baked our little hearts out. It still hurts a little when we get done making a sheet of cookies and he's not there to be our official taste tester… It's like he knew whenever there was a new cookie coming out of the oven because he'd come into the kitchen grab a couple and then disappear back into the living room watching something on the history channel. I hope wherever he is that he gets endless amounts of Christmas cookies, preferably my mom's recipes. He deserves that. My mom deserves an award for her baking, honestly. She makes every single cookie look so perfect every time and they all taste just out of this world. I could only hope to be half as good of a cookie baker as she is.
I remember taking lots of cookie tins to the local fire department and police department with my dad when I was a little girl, and I remember how great it felt to share my mom's cookies. I would bring them to school. I'd bring them to friends houses. It was perfect. We still make up little tins for friends and family each year, but somehow we are almost always still left with about 700 cookies. And, I promise you. They are almost all gone by New Years Eve. I really don't eat cookies again until the next year at about this time! The occasional chocolate chip cookie, but other than that, I save my cookie eating for December!
I wasn't planning on sharing any Christmas cookie recipes this year mostly because this blog is known for lightened up comfort food, but I'll let you in a little secret.. as the blog grows and I grow as a blogger, I realize this is my little, tiny corner of the internet. I really can do what I want here. I've decided that next year I might not post ONLY lightened up food. I mean the majority of it will be because I don't need to be eating a bunch of recipes that aren't lower in calories, trust me, but I have so many recipes that just need that extra few tablespoons of butter or a little bit of heavy cream.. maybe a extra 1/2 cup of freshly grated aged white cheddar cheese without worrying about how many points and/or calories I have to cut out somewhere else in order to get a deliciously lightened up plate of comfort food. I am a huge enthusiast in the world of lightening things up and making it taste identical, if not even better, but I don't want push myself into a little box. I want to share all of the good things I have up my sleeve when it comes to the kitchen, and trust me there's some good stuff. Plus, life is all about balance in more ways than one including my little corner of the internet here.
Anyway, I actually didn't plan on this, but what is a more perfect "not so healthy" recipe to share for the first time than one that I've been eating almost every single Christmas since I can remember and one that's so special to my heart. My mama's thumbprint cookies!
These require a few steps, but the outcome is incredible. The cookie itself is incredibly simple. It's when you get fancy with filling that the steps start to add up. Those extra steps will be the most delicious steps of your life though, I promise.
This morning I went to make another batch of these to photograph for the blog and I just couldn't find the recipe card anywhere! I had set it on the coffee table the night beforehand so that I could get to it shortly after I woke up. I guess someone and their little hands got it (ahem, Pepper) and LOST the recipe card! My mom could only remember parts of the recipe since she bakes so many different kinds at this time. I was about to just cry, because I was so scared the recipe might have been lost forever. (I can be quite the alarmist.) And THEN, my mom remembered that this actually my Grandma's recipe! So I was able to call up my sweet grams and she read the recipe right off to me from her collection after having a good laugh that Miss Pepper had lost it somewhere at some point this morning. Thank goodness for Grandma's!
(Note to self: Stop setting important things and/or coffee on the coffee table. For the love of God, woman.)
Here's whats going to happen in the kitchen!
Start by adding two egg yolks (reserve the whites) 2 sticks of butter, 1/2 cup brown sugar, and 1 tsp vanilla
Beat together with a mixer
Add flour and salt and mix together until combined completely
This step is apparently optional because when talking to my grams asking her for the recipe. She said she never refrigerates hers, but my mom always has refrigerated her dough. She refrigerates any cookie dough that needs to be rolled out because it makes it easier to work with. So if you chose to do it the way my mama and I do it. Refrigerate it for about a hour, but you don't have to if you don't feel like waiting.
If refrigerating wrap it up in some plastic wrap and stick it in the fridge along with the bowl of egg whites you separated in the beginning of the recipe.
Now finely chop some pecans or pop them in a food processor. Grab your egg whites and dough from the fridge. (If refrigerating)
Roll into small ball, dip in egg white mixture, and roll in the chopped pecans
Place onto a lightly sprayed cookie sheet
And press your thumb into the middle of each cooking creating a nice indent for you to later fill with some deliciousness. Pop into a 350 degree oven for 10-12 minutes.
For the caramel, I use 1 cup of these little caramel bits and melt them down with about 3 TBS of sweetened condensed milk over medium heat, stirring occasionally. You can make homemade caramel or buy a different type to fill the divots. You can also fill these with chocolate frosting, jam, lemon curd. The possibilities are endless. Traditionally, we do caramel and jam!
Oh my yum….. these little darlings are my favorite.
Now for the chocolate drizzle on top, melt about a cup of semi-sweet chocolate chips with a couple more tablespoons in the microwave. I always melt chocolate in 15-20 second intervals. Stirring in between.
This is when the kitchen also starts to become quite a mess, but these cookies are so worth it!
I use my super fancy piping bag to drizzle my chocolate… also known as, a plastic baggie! I fill the baggie, seal it, cut the tip off, and drizzle over the thumbprints. MMMMM, doesn't even begin to describe.
Now, if you don't feel like dirtying a bunch of extra dishes and melting chocolate and caramel, all of that. Even though, It's absolutely worth it. I understand. We also fill with a bit of jam! This year I'm using homemade strawberry lemon jam from a family friend, and oh my goodness! It's perfect. Your favorite jam will go perfect in these.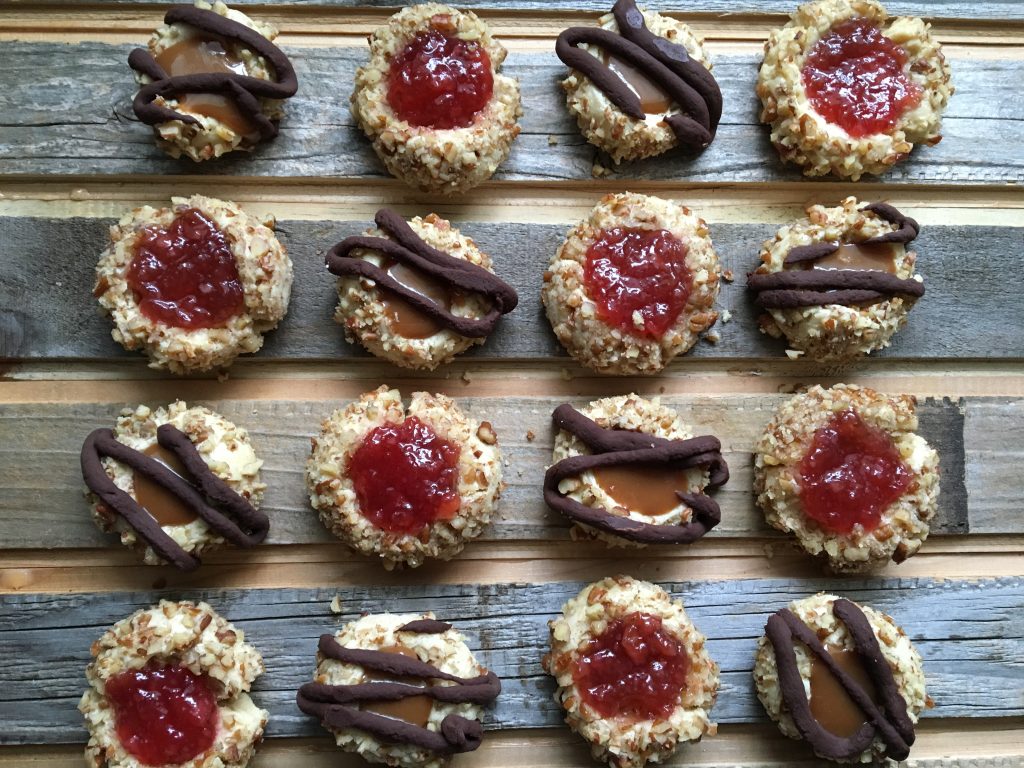 So pretty… and so delicious! I couldn't ask for more!
Now pop one or two in your mouth… and then into a tin and spread some Christmas cheer to family and friends.
Merry Christmas and Happy Cookie Baking!
With love from my kitchen to yours,
Star
Print
Christmas Thumbprints
The perfect Christmas cookie.
Materials
For the thumbprint cookie
2

stick of unsalted butter

1/2

cup

brown sugar

2

eggs

, seperated reserve egg white

1

tsp

vanilla

2

cups

flour

1/2

tsp

salt

2/3

cup

chopped nuts
For the caramel filling and chocolate drizzle
1

cup

caramel bits

, melted

3/4

cup

chocolate chips

, melted

5

TBS

canned sweetened condensed milk
Instructions
For the thumbprint cookies
Blend butter, egg yolk, vanilla, and sugar. Blend flour and salt into the mixture. Refrigerate for one hour. Lightly beat egg whites. Roll the dough into balls about the size of a golf ball. Dip the balls into egg whites. Roll into chopped nuts. Place on a lightly greased cookie sheet. Press down on the middle of the ball with your thumb. Bake for 10-12 minutes. Place on cooling rack. Fill with caramel, frosting, lemon curd, or jam.

Note: Some of the cookies may poof back up a bit after baking, when they are slightly cooled just press again with your thumb.
For the caramel filling and chocolate drizzle
While cookies are cooling. Melt 1 cup caramel bits with 3 TBS sweetened condensed milk in a small sauce pan over medium heat stirring occasionally. When that is done fill each thumbprint. In a microwave safe bowl add chocolate chips and 2 TBS sweetened condensed milk. Microwave chocolate chips to melt in 15-20 second intervals stirring well after each time. When the chocolate is melted drizzle over the thumbprint cookies.
For the jam filled Thumbprints
Fill each thumbprint with your favorite jam. Enjoy!