Christmas Chocolate Chip Cookies
This post may contain affiliate links (meaning I earn a small comission if you purchase an item through a link I provide) I only provide shoppable links to items I love and are helpful. As an Amazon Associate, I earn from qualifying purchases.
If I had to choose one sweet treat to live with for the rest of my life it would be Chocolate Chip Cookies! They are the perfection to me. I've been making the same Chocolate Chip Cookie recipe for almost 12 years and a few years ago I simply added some white chocolate chips, extra cinnamon, and red n' green sprinkles to give them a Christmas-y twist.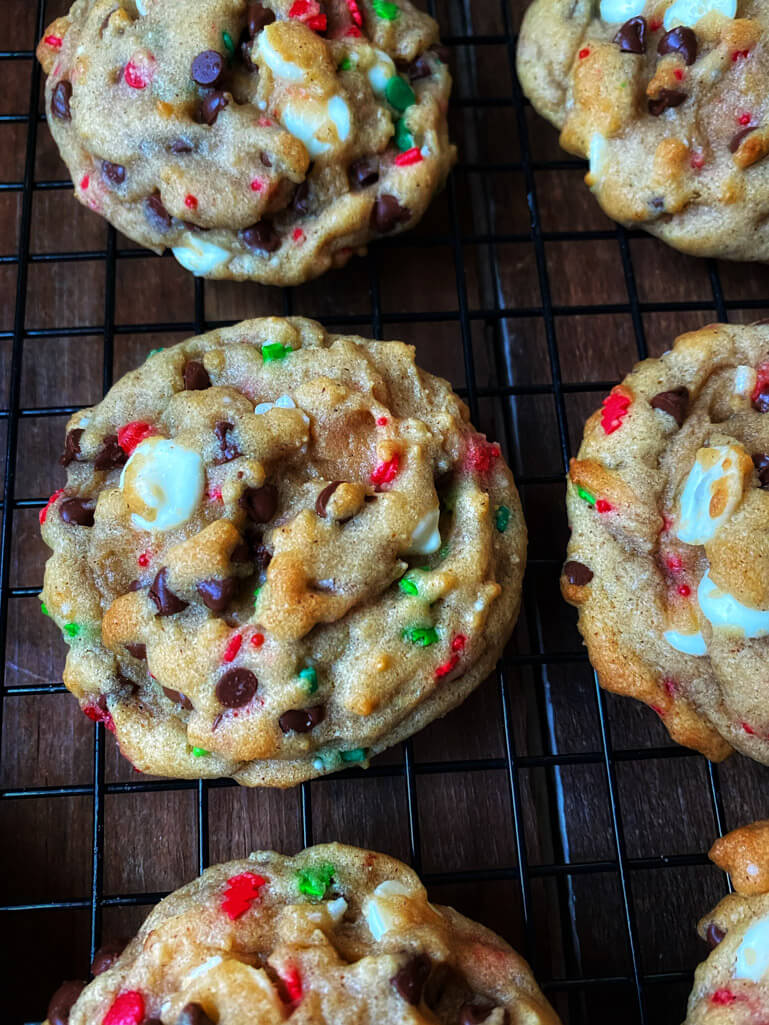 The original Chocolate Chip Cookie has been in my life longer than Eric has so its pretty important to me! I've never really shared it with anyone before so y'all must be pretty special! They are the most perfect balance of sweet and salty while being perfectly ooey gooey chewy perfection. I just love them so much. The cinnamon in these cookies is actually apart of the original recipes, but the extra also gives it a nice Christmas flair! Christmas and cinnamon go hand in hand to me. I think it's because growing up my mom always got those cinnamon pinecones to use as decoration around our home.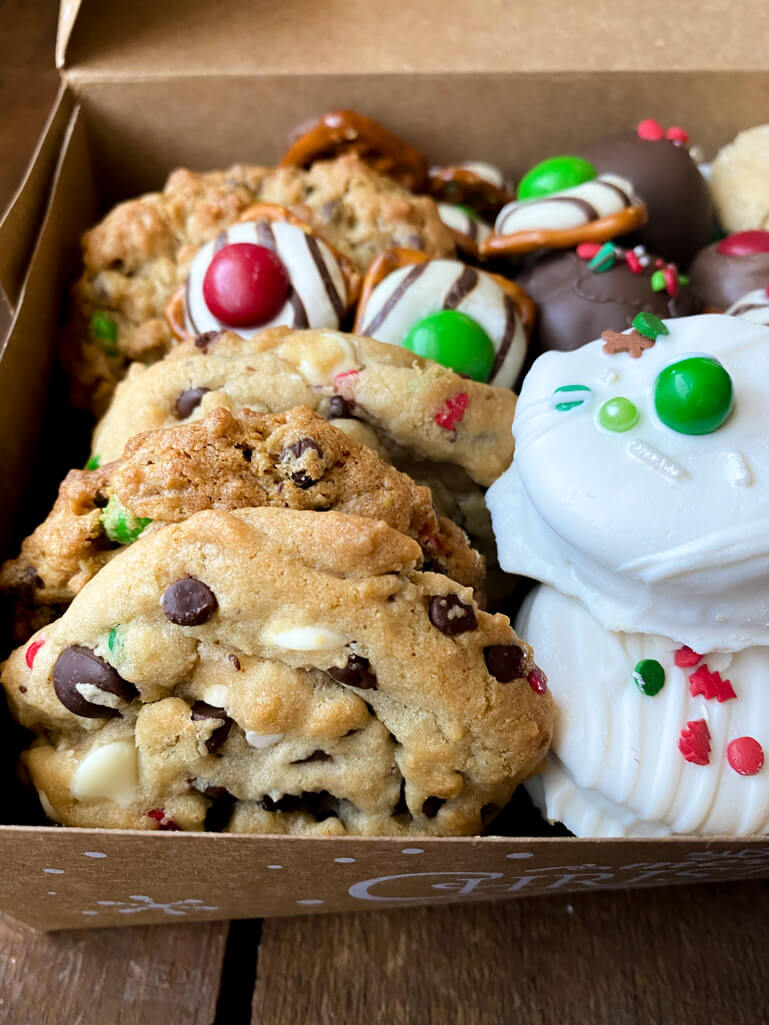 Every year my mom and I make a huge mess of cookies and divide them up and make cookie trays and tins for friends and family. This year is quite a bit different because of you know what and being 500 miles away from each other due to our move to Tennessee earlier this year.
I almost didn't continue our cookie baking tradition, but I'm so glad I did. Normally I don't share this part of my life with ya because it's not so "skinny-ish" and I didn't want to tick ya'll off by posting cookies, but to my surprise, when I decided to share my cookie baking adventures with Pepper over the last week or so you guys loved it so much and I got countless requests for some of the recipes we made! I promise this website won't be sharing tons of cookie recipes from now on, but a few each year is just fine in my book. It's called balance, folks.
Next year, I hope to be back in the kitchen with my mom AND Pepper baking Christmas cookies because even though I dedicated almost two entire days to baking I didn't even make HALF of what we normally do and I sure missed my mom telling me what to do.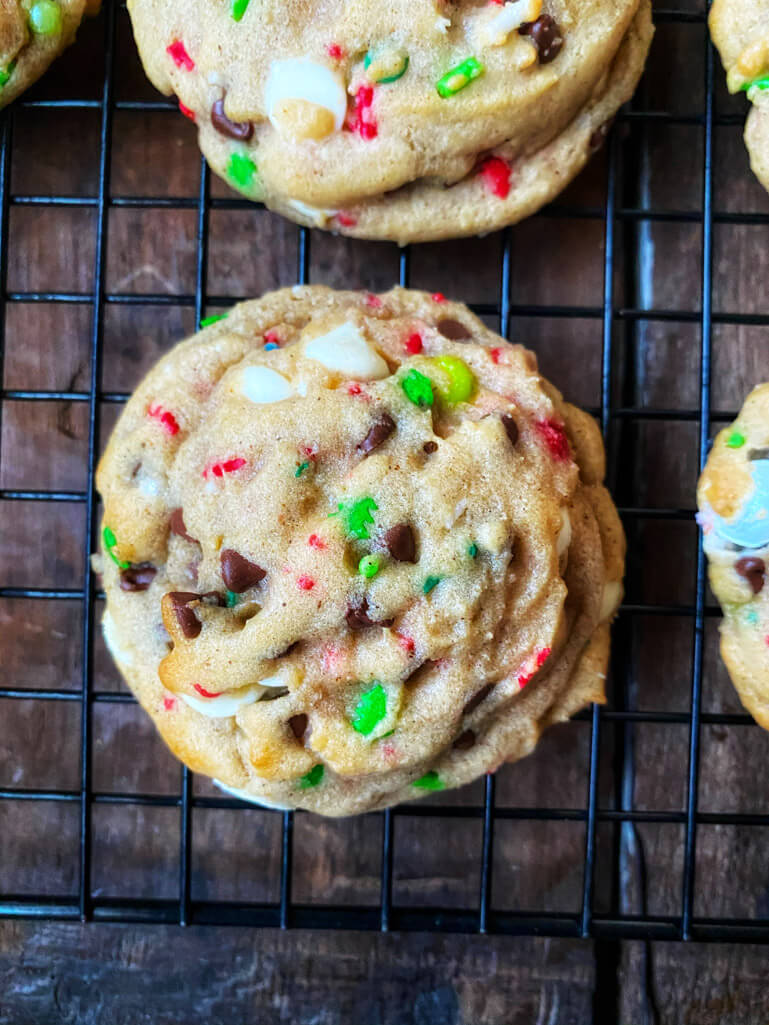 I hope you enjoy this recipe as much as we do! I know this isn't the typical skinny-ish dish post that you're used to seeing, but I promise it'll be back to regular scheduled content until next holiday season starting… right after this post!
Merry Christmas and Happy Holidays!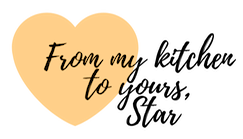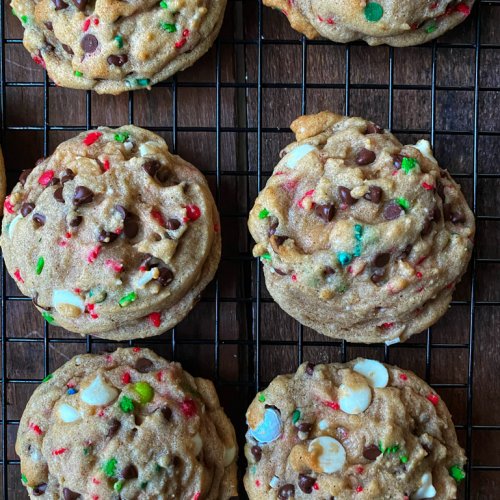 Print
Christmas Chocolate Chip Cookies
The Best Chocolate Chip Cooke Recipe Ever With and Christmas Twist!
Materials
1

stick

salted butter (1/2 cup)

(melted in microwave for about 25 seconds or until completely melted)

1/2

cup

light brown sugar

1/4

cup

white sugar

1

large

egg

2

tsp

vanilla

1⅔

cups

all purpose white flour

1

tsp

ground cinnamon

(do ¼ or ½ a tsp the first time if you're not sure if you're a huge cinnamon fan)

1

tsp

baking soda

1/2

tsp

salt

1/2

cup

mini semi-sweet chocolate chips

1/2

cup

white chocolate chips

1/4

cup

Christmas red/green/white mix sprinkes

(flat confetti sprinkles taste better texture wise than the harder sprinkles, but either will work)
Instructions
Preheat oven to 350°F. Line cookie sheet with parchment paper.

In a small bowl combine flour, cinnamon, baking soda, and salt. Stir together well with a fork.

In a large mixing bowl add melted butter, brown sugar, and white sugar. Mix together until combined. Add egg mix well followed by the vanilla extract.

Add the flour mixture and mix until combined.

With a rubber spatula or wooden spoon stir in chocolate chips and sprinkles until combined.

Use a 2 tablespoon cookie scooper (or make two tablespoon mounds) and place on cookie sheets. It should make 16 cookies.

Bake for 11 minutes, remove from oven, and keep the cookies on the cookie sheet for at least 10 minutes to finish "baking". They will be super soft still, but move them to a cooling rack to continue cooling.

If you like your cookies a tad bit less ooey gooey. Bake for 12 minutes then let them sit for at least 10 minutes before moving to a cooling rack.

*If your oven runs hotter or colder adjust time accordingly.