Chipotle Chicken Burrito Bowls
This post may contain affiliate links (meaning I earn a small comission if you purchase an item through a link I provide) I only provide shoppable links to items I love and are helpful. As an Amazon Associate, I earn from qualifying purchases.
Happy Sunday guys! How's your week been? I know what you're thinking… "Two posts in one weekend?? Where is Star, and what have you done with her?!" Ha! I don't know, y'all. I've just gotten into a groove lately. I started taking some new vitamins, maybe that's the ticket! Haha! But enough of that. We're talking about Chicken Burrito Bowls today!
I'm convinced that the perfect Chicken Burrito Bowl has three main components to make it really really good, and here they are:
Flavorful and perfectly cooked chicken
Flavorful and perfectly cooked Beans, and…

Flavorful and perfectly cooked

rice!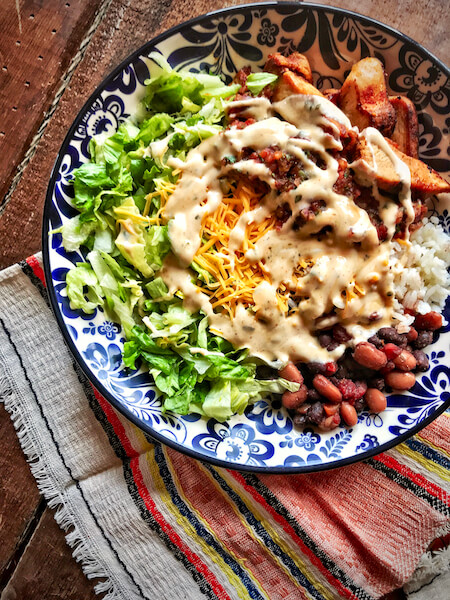 I posted each of those three recipes for ya last week, so we've got that covered. I guess you don't have to use these specific recipes to make it work, but I'll tell ya what- My family and I give you our GUARANTEE that it's worth whatever time and effort it takes to make these three. The only thing missing is a good corn salsa… I'm still workin' on that recipe. I would've had it done, but it needs Poblano peppers. And for some reason, it seems like we're having a Poblano pepper shortage here in Illinois. I say this because the last few times I've gone grocery shopping (even at different stores), I can't find a dang Poblano pepper anywhere! So the Corn Salsa recipe is on hold for a bit, but I'll get it to ya some day soon. It's basically the cherry on top of the burrito bowl sundae, but you don't need to it to dive in and experience this serious deliciousness!
Some factual info that y'all need to know bout these bowls:
You need them in your life.
They are bursting at the seams with flavor.
They make for the ultimate meal prep. Seriously, perfect for make ahead lunches/dinner.
Healthful and filling!
A lot less calories and weight watchers points than the ones from the restaurant!
They're just so perfect for parties. Seriously, BYOBB Bar- "Build Your Own Burrito Bowl" Bar!
Did I mention how yummy they are?
I'm sure your first thought is "This is A LOT of food to make for one meal, isn't it?" I'm not going to beat around the bush, It kind of is. You will have dishes, so let's get that one out of the way. Coming from your girl who hates dishes more than mushrooms, let me just say- these are worth doing a few extra dishes. I make these weekly, and they are the perfect thing for me to have in the fridge to stay on track. Eric is also completely obsessed with them, so he takes them in his work lunches. While it takes a little time to get all the components made, you get 5-6 burrito bowls out of it. And that makes them perfect for workday lunches, am I right? (You will have some extra beans & rice to work into other meals or on their own too!)
Basically, what I am trying to tell ya is- these are well worth the extra bit of work, I promise.
Now let's talk about whatcha need, and how to go about it. Obviously, you can make all this in any ol' order that ya want, but this is how I go about makin' my burrito bowls for meal prep.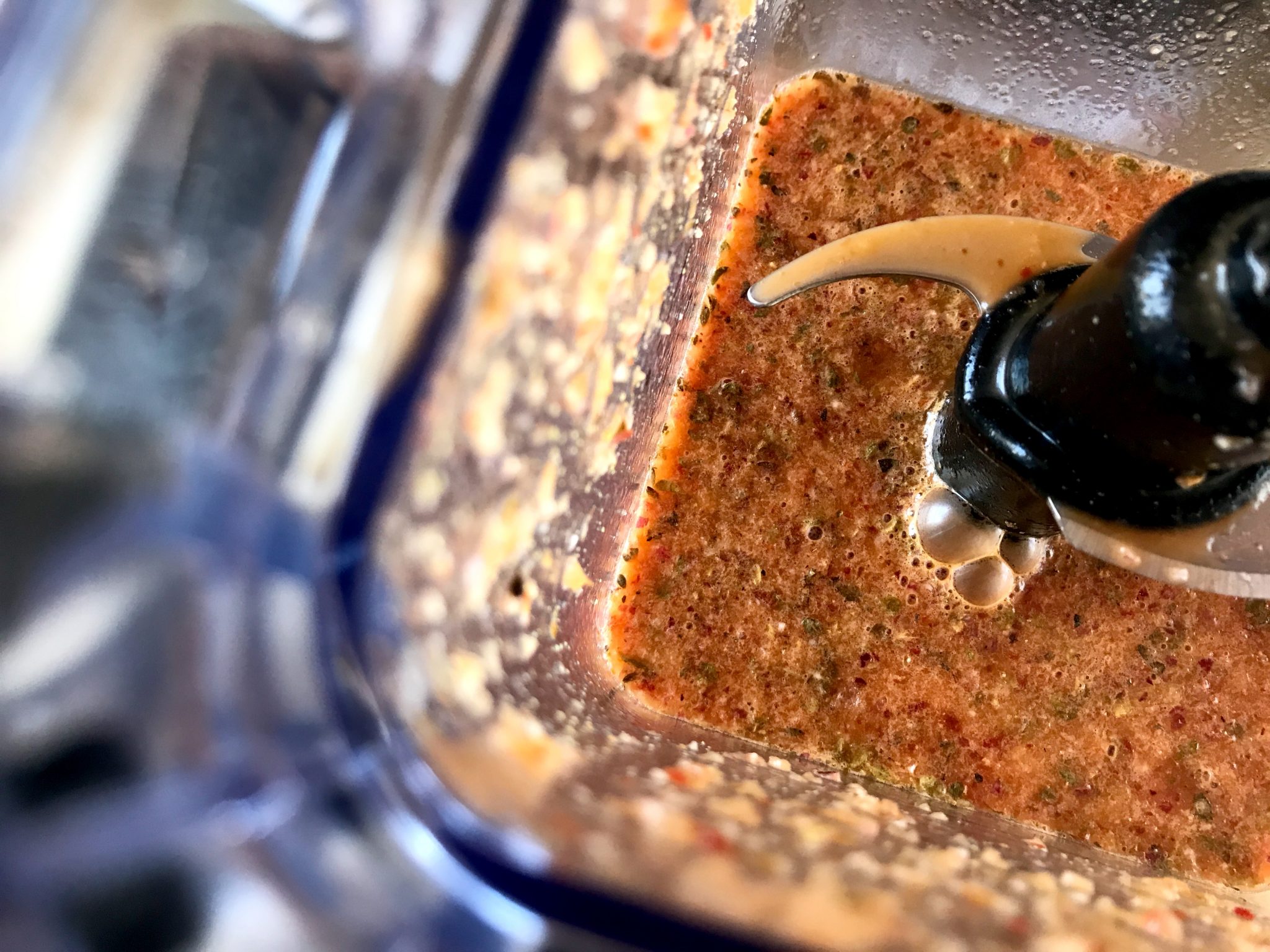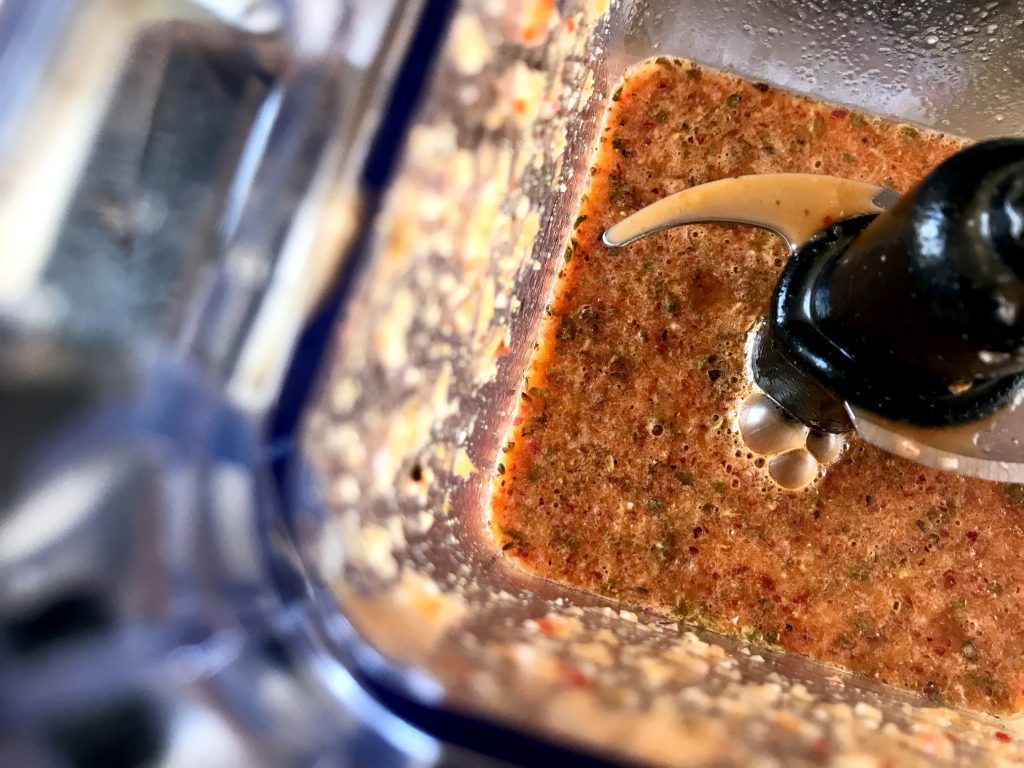 First off, You need to make the marinade for the Chipotle Skillet Chicken. This needs to be done at least 8 hours before you want to cook up the chicken/make the burrito bowls. Honestly, I usually make the marinade and throw the chicken in it the night before I plan to prep the burrito bowls. It's up to you! Just be sure you allow the chicken to marinate for at least 8 hours. (The longer the better- I had it in there for 18 hours once!) You can check out the full recipe for the Chipotle Skillet Chicken HERE!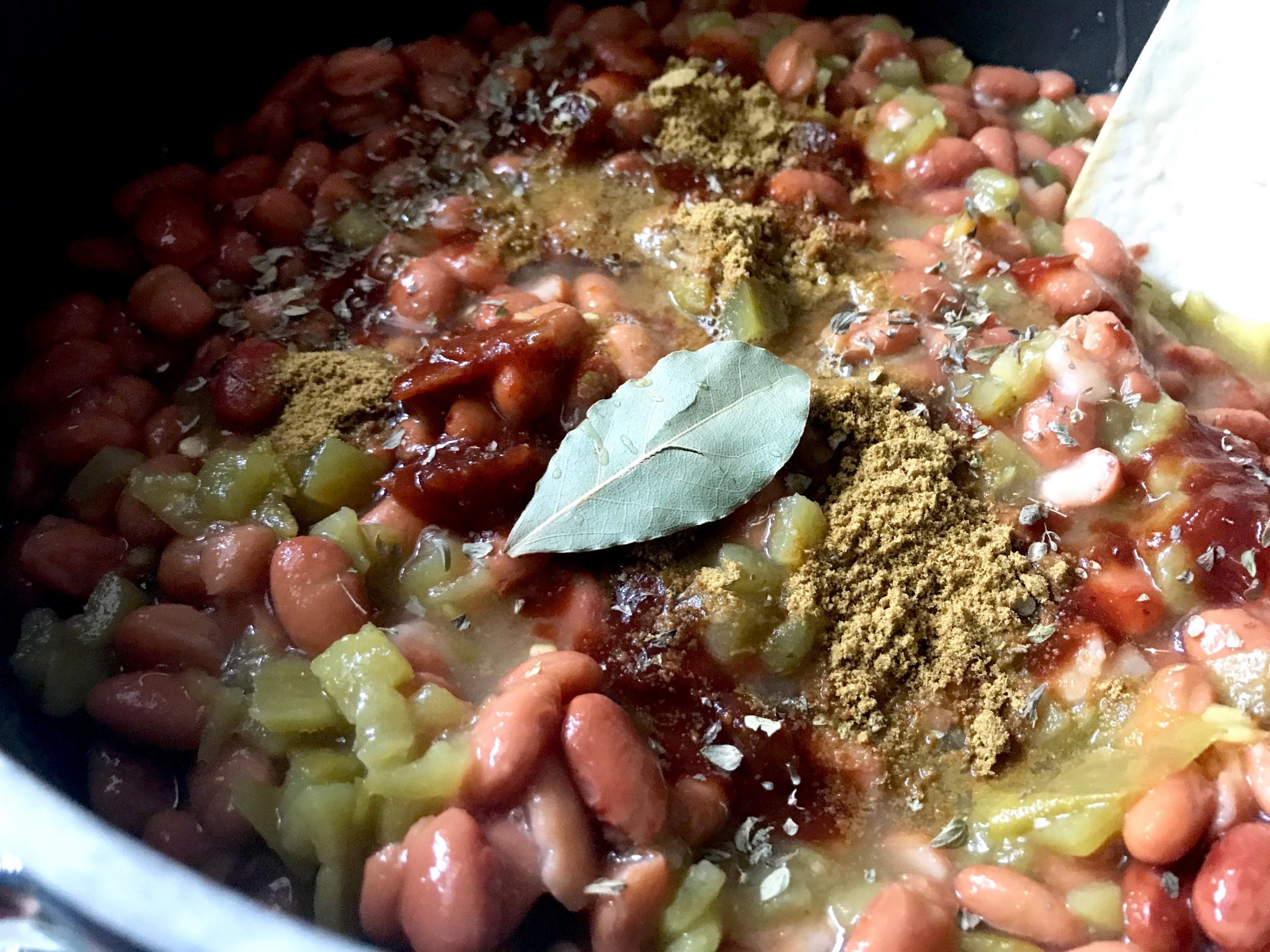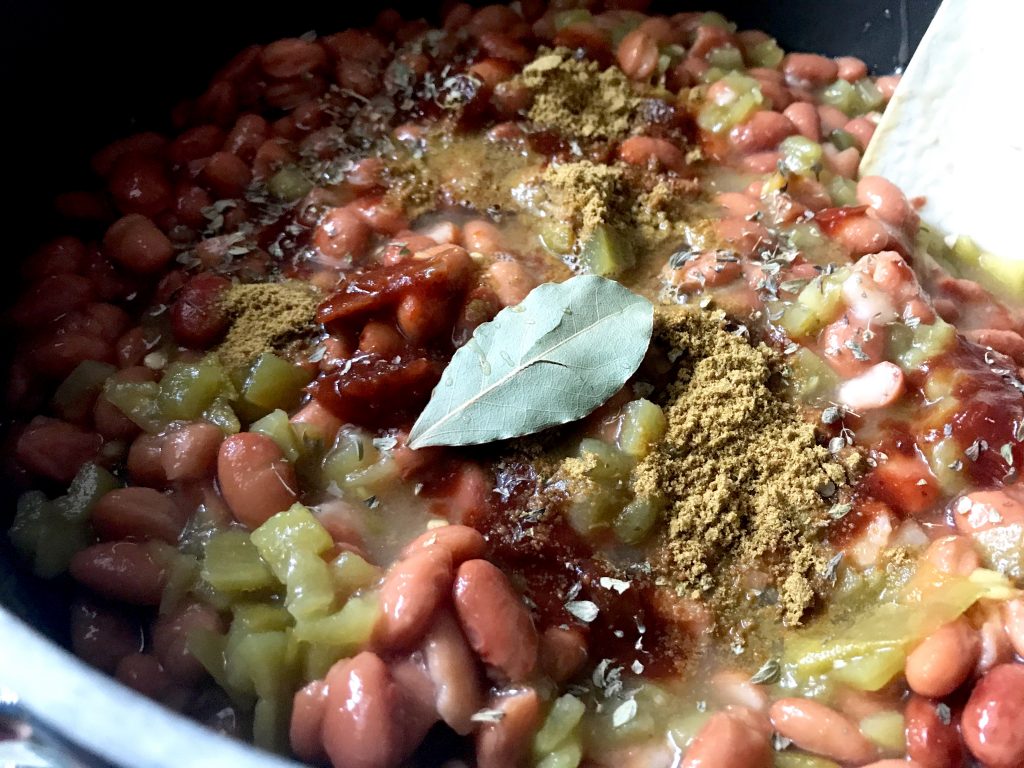 Now It's time to make some burrito bowls! In a pot, combine the ingredients for Quick Chipotle Pinto Beans, move it to the back burner, and put in on medium-low heat. This recipe is so delicious, and literally could not be any easier… you just throw a bunch of stuff in the pot, and you let it be. The recipe says to let it cook together for 10-12 minutes, but you can just reduce the heat to low and let is simmer while you're prepping other stuff, for pretty much as long as it takes ( should be bout 25-30 minutes). I get this one out the way first, because I don't even need to think about it. You can grab the full recipe for Quick Chipotle Pinto Beans HERE!
Next, I get the Cilantro Lime Rice ready and on the stove. Fill a pot full of water and put it on the stove over high heat. While waiting for it to come to a boil, I rinse the rice, squeeze the lemon/lime juice into a small bowl, and mince up the cilantro. When the water is ready to go I throw in the rice cumin, bay leaf, olive oil, and kosher salt, cover it, and set the kitchen timer for 15 minutes. When it's done, ya add a tiny bit more kosher salt, cilantro, and lime/lemon juice. Now you can let it sit for a bit while you finish cookin' up your chicken. You can find the full recipe for Cilantro Lime Rice HERE!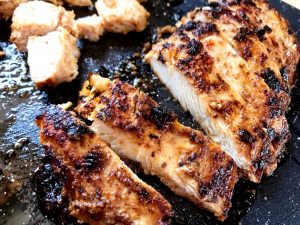 While that rice is cooking up, start your chicken! (Did anyone else read that like "Start your engines!" I know, I'm weird, whatever.) Okay- Chicken. Focus. Get a big ol' skillet, add a bit of oil, let it get nice and hot, and cook it up. A couple'a things: You'll need to cook the chicken in multiple batches, even if you have a big skillet. Be sure not to crowd the pan because if you do, you won't get the extra-tasty charred bits on your chicken. And that delicious detail, I believe, is of the utmost importance. So cook your chicken, let it rest, dice it up. Then throw the pieces back in the pan for just a few minutes, and you're GOOD TO GO. You can see the full recipe for Chipotle Skillet Chicken HERE!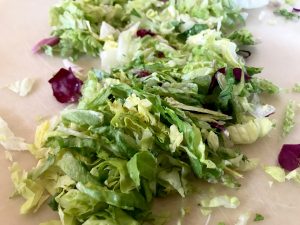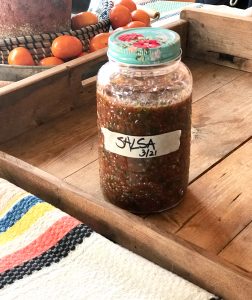 Oh and Don't forget, You'll need some shredded lettuce to make a proper burrito bowl. I don't know why, and maybe it's just me being slightly weird and a bit picky, but thinly cut romaine lettuce is really the ONLY lettuce I like in these Chicken Burrito Bowls. I don't need any of that fancy green leafy stuff and I definitely don't want iceberg (because iceberg is basically WATER in lettuce form…. that can be good sometimes, but not right now). I feel very strongly about this. Chop your romaine lettuce into thin strips, and love it as much as I do, please!
Bonus recipe one: SALSA. Homemade Salsa is perfect, fresh, and full of flavor. It's the perfect addition to your burrito bowl! I call this a bonus because while I think it makes the Chicken Burrito Bowls even more yummy, it means another step and more dishes. So honestly, if ya don't feel like it, don't. Just grab your favorite salsa, and plop it on top! You can make this salsa while you're making everything else which I don't really recommend. You may start to hate making burrito bowls, because your kitchen sink will be overflowing with dishes… OR you can make it days ahead of time (recommended!). You can find The BEST & EASIEST Salsa Recipe HERE!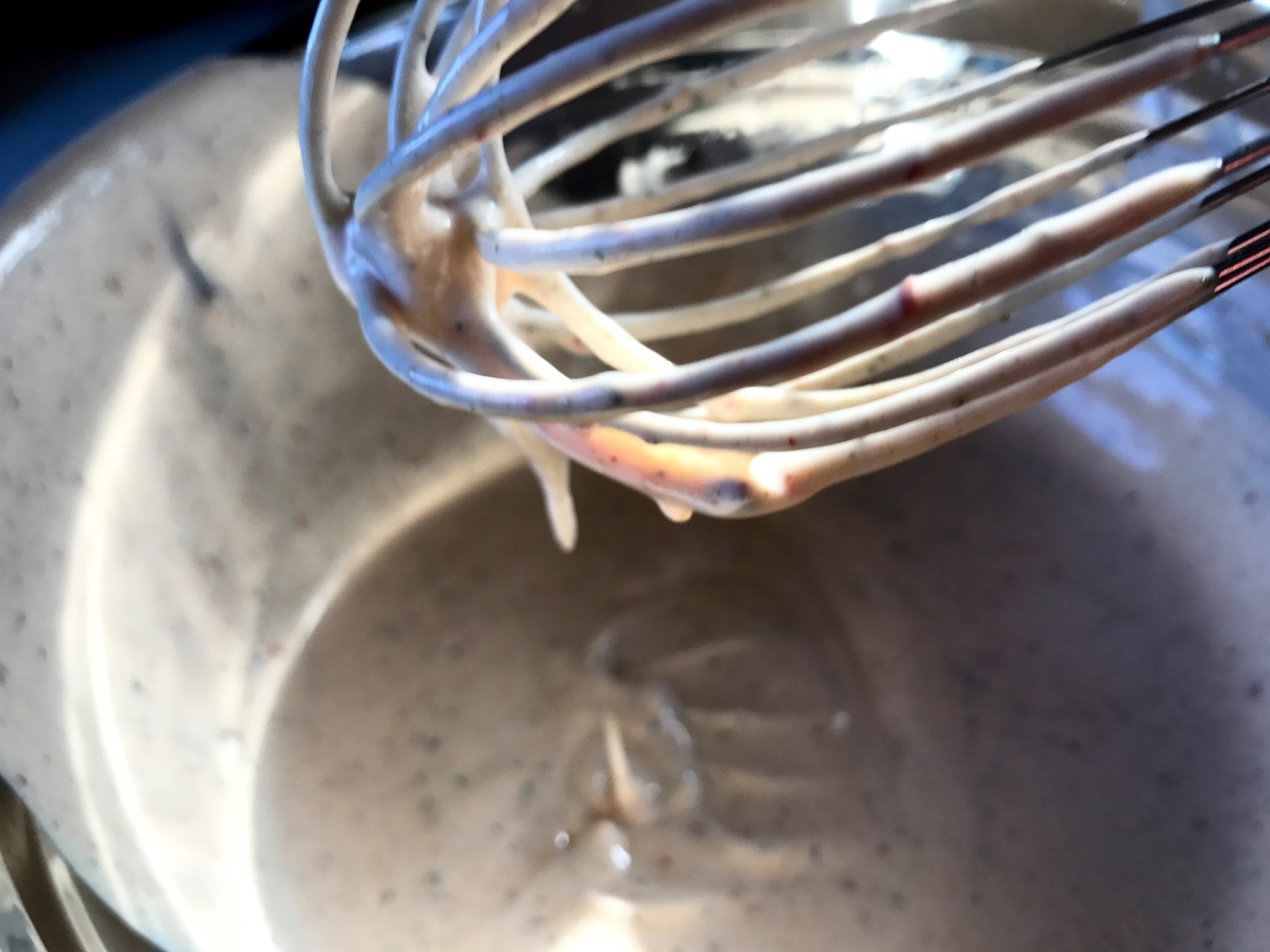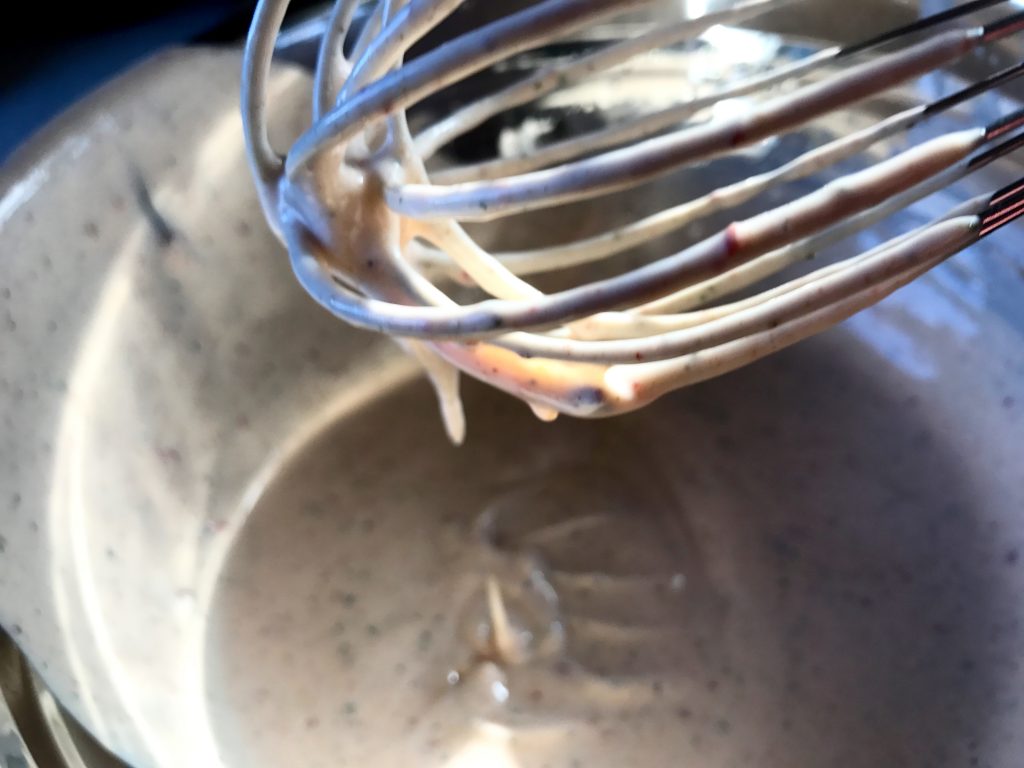 Bonus Recipe Two: Southwest Chipotle Ranch. Here's another recipe that can be made DAYS ahead of time. Again, this is not necessary, but it sure is yummy to top off your bowls with! You can find the recipe for the Southwest Chipotle Ranch HERE!
These are just so dang delicious and filling, and it's an absolutely beautiful plate of food. What more could we want out of life, friends?
I know this requires a few steps, but I wouldn't be posting it if I didn't think it was worthwhile. And I surely wouldn't be doing those extra dishes! Haha!
I know all of you will just LOVE these Chicken Burrito Bowls. I don't know if I'm qualified to say this, and I'm probably just the tiniest bit biased… but I think these might even be better than the actual Chipotle Burrito Bowls! I hope you love'em as much as we do.
With love from my kitchen to yours,
Star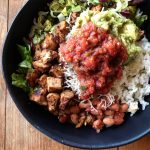 Print
Chicken Burrito Bowls
Bowls filled with cilantro lime rice, seasoned pinto beans, shredded romaine lettuce, and perfectly seasoned and charred chicken breast. Makes for perfect meal prep!
Materials
5

cups

Skillet Chipotle Chicken

2.5

cups

Cilantro Lime Rice

2.5

cups

Quick Chipotle Pinto Beans

3-4

cups

Romaine lettuce

chopped into thin strips/shredded

Salsa

optional, not included in points or calories

Guacamole

optional, not included in points or calories

Shredded Cheese

optional, not included in points or calories

Southwest Chipotle Ranch

optional, not included in points/calories
Instructions
Marinate Chipotle Skillet Chicken 8 hours (or over night) before making Chicken Burrito Bowls.

Make Pinto Beans, Cilantro Lime Rice, and Skillet Chipotle Chicken.

Assemble bowls: Add 1/2 cup of rice, 1/2 cup of beans, and 1 cup of chicken into bowl. Top with shredded lettuce. Mix together.

Optional: Top off with shredded cheese, guacamole, salsa, and/or southwest chipotle ranch for optimal flavor!
Notes
Suggested serving size: 1 bowl (1/2 cup Quick Chipotle Beans, 1 cup Chipotle Chicken Breast, 1/2 cup Cilantro Lime Rice)
WeightWatchers Points: 5
450 calories