Chili Cheese Spaghetti Bake
This post may contain affiliate links (meaning I earn a small comission if you purchase an item through a link I provide) I only provide shoppable links to items I love and are helpful. As an Amazon Associate, I earn from qualifying purchases.
Chili Cheese Spaghetti Bake is full of ALL the flavor and marries two of my favorite things: chili and pasta. A big dish of comfort and perfect to serve a crowd!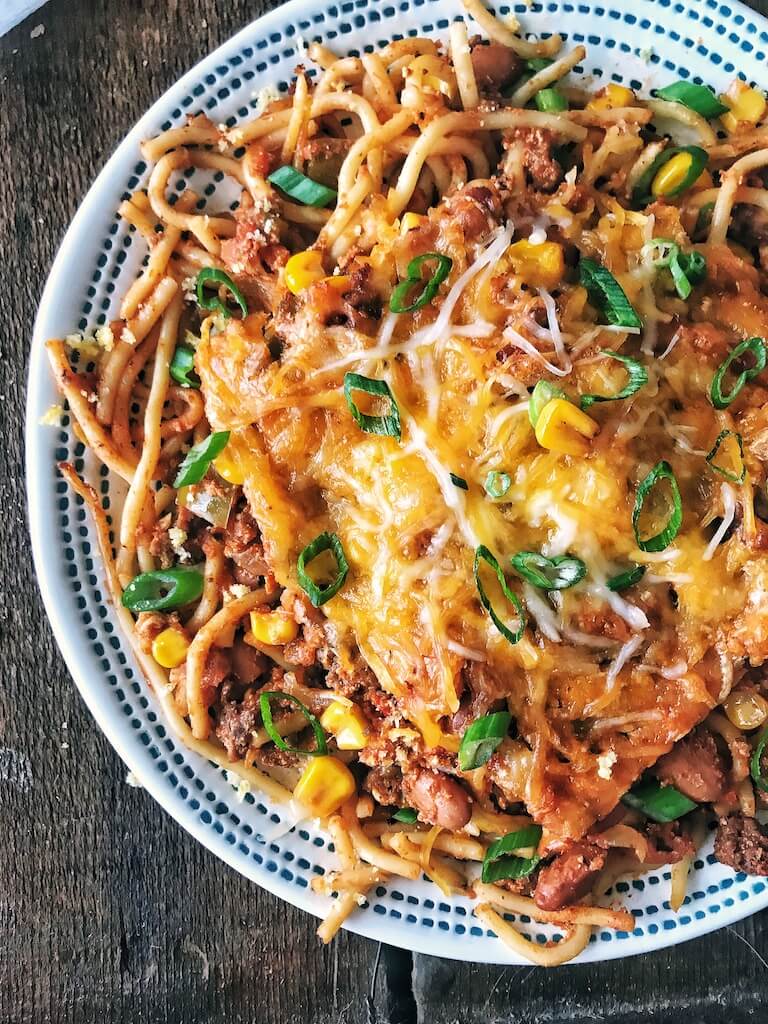 First off, I'm sorry I didn't have a recipe for ya last week. We decided to dive head first into potty training. I didn't really realize how involved it would be… (Hi, my name is Star and I'm a first time mama!) I really wasn't prepared and potty training practically beat me to a pulp. I figured I had minnie mouse stickers and minnie mouse potty and we were all set! Reality check, there were so many tears for both Pepper and I. I decided after the third day that I didn't think she was ready quite yet so we will be visiting it again in a few months. I do feel like I kind of failed as a mom, but at the same time, I think that I know what's best and for now, what's best is to take a little break. I think potty training might quickly become my least favorite thing about parenting. I don't dislike too many things when it comes to being a mama… well except for the whole forgetting to take care of myself sometimes part. haha. BUT, I am hoping that when she shows a few signs that she's ready that it may come easier for the both of our sakes because man, that was just NOT my cup of tea.
Now for some food talk, in this brand spankin' new post you are going to see two worlds collide. The world of chili and the world of spaghetti. I didn't even know this world existed until Eric and I started dating each other 700 years ago (Ha! Just Kidding… it only feels like 500 years). It's been almost 9 mostly wonderful, sometimes terrible, usually hilarious, and kind of perfect years together now. When we first started dating Eric basically lived off of chili, pizza, fried chicken from a local spot, and… canned minestrone soup. As you can imagine, his world got a little rocked when I declared to him that the oven has many more uses other than to just store some random pans in and also that take out pizza from Bianchi's was in fact not an actual food group.
Now, I'm sure you're wondering why I am going on about Eric and the food he ate before he knew I had existed. Here's the thing, Eric taught me everything I now know about chili. It's the only thing he says that he knows how to make. He's actually a two time chili cook off champ (so proud)! He has also taught me about Chili Spaghetti. Up until about a year ago I didn't realize Chili and Spaghetti together was actually a thing that normal people enjoyed from time to time. Truth is, I never really thoroughly enjoyed a bowl of chili until about two weeks ago. My entire life I was convinced that I hated chili, that I hated beans, that I never wanted anything to do with either of them. EVER.
I take it back. right here, right now. You see folks, it turns out I just really, really, really hate kidney beans and since MOST chili is made with those terrible littles things I made the decision very early in life that I hated chili. One beautiful fall-like afternoon a few weeks ago, I decided to make chili all by myself and just use the beans we had on hand. Black beans and pinto beans both of which I actually kind of enjoy mashed up in a lot of Mexican dishes. I figured I'd give it a try and if I didn't like it Eric would eat it and life would still go on, I'd still hate chili, and the world would keep on'a turnin'.
Ya'll… I like chili and I apparently even like some of the dang beans in it.
So in conclusion, a few nights ago I had some leftover chili and I boiled a pot of noodles and I topped it off with some sour cream and cheese just like my better half has always done and it. was. magical. I decided right there on the spot that I was going to be making some sort of Chili Cheese Spaghetti Bake and I told Eric and he said, "That's a great idea!" and I replied, "Thanks!" and yesterday morning I made said Chili Cheese Spaghetti Bake for the first time ever and it was so delicious and the smell permeating throughout the house woke Eric up and he ate it for breakfast. and lunch. and dinner.
There is a teeny tiny piece left that that I've hidden under a bunch of lettuce and cilantro in the crisper. (Eric, if you read this and if you touch that piece of Chili Cheese Spaghetti Bake. I won't cook for you for a week! Make that two weeks. Better stock up on that minestrone if ya do, babe)
Okay, let's get in the kitchen and make some delicious food.
First up, chop up a green bell pepper, a sweet onion, and a few cloves of garlic. You can totally use a red bell pepper too! I wanted to, but I only had one lonely green pepper on hand.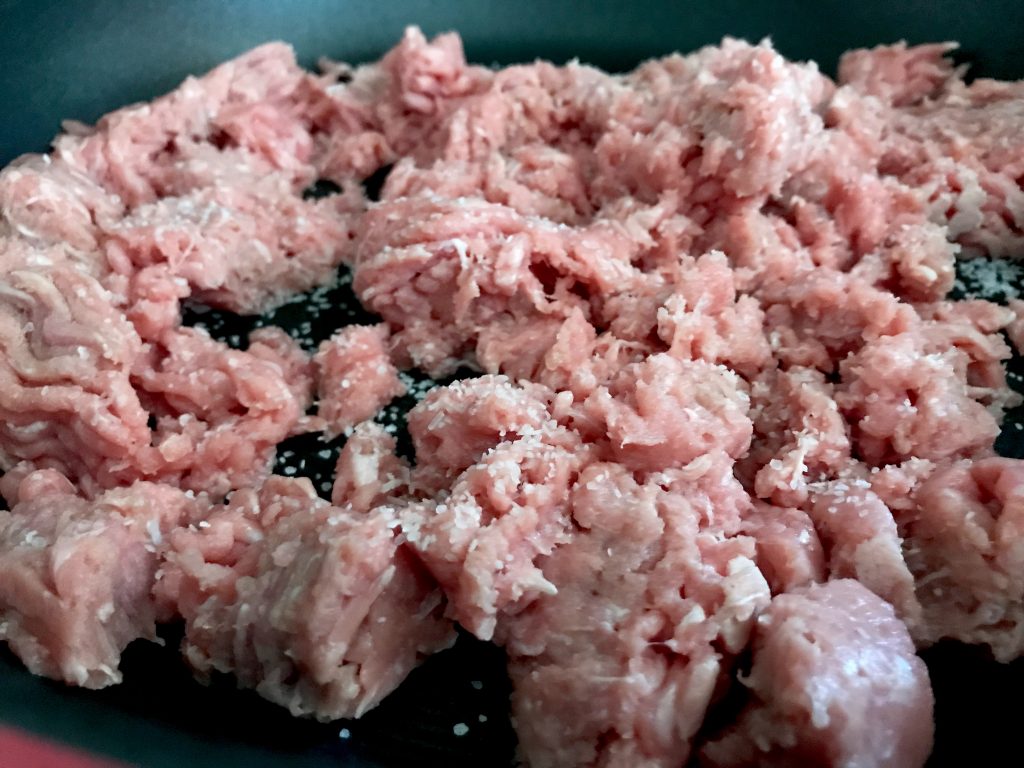 Throw a pound of lean ground turkey in a large pipin' hot skillet, sprinkle with a bit of kosher salt, and break it up with a spatula.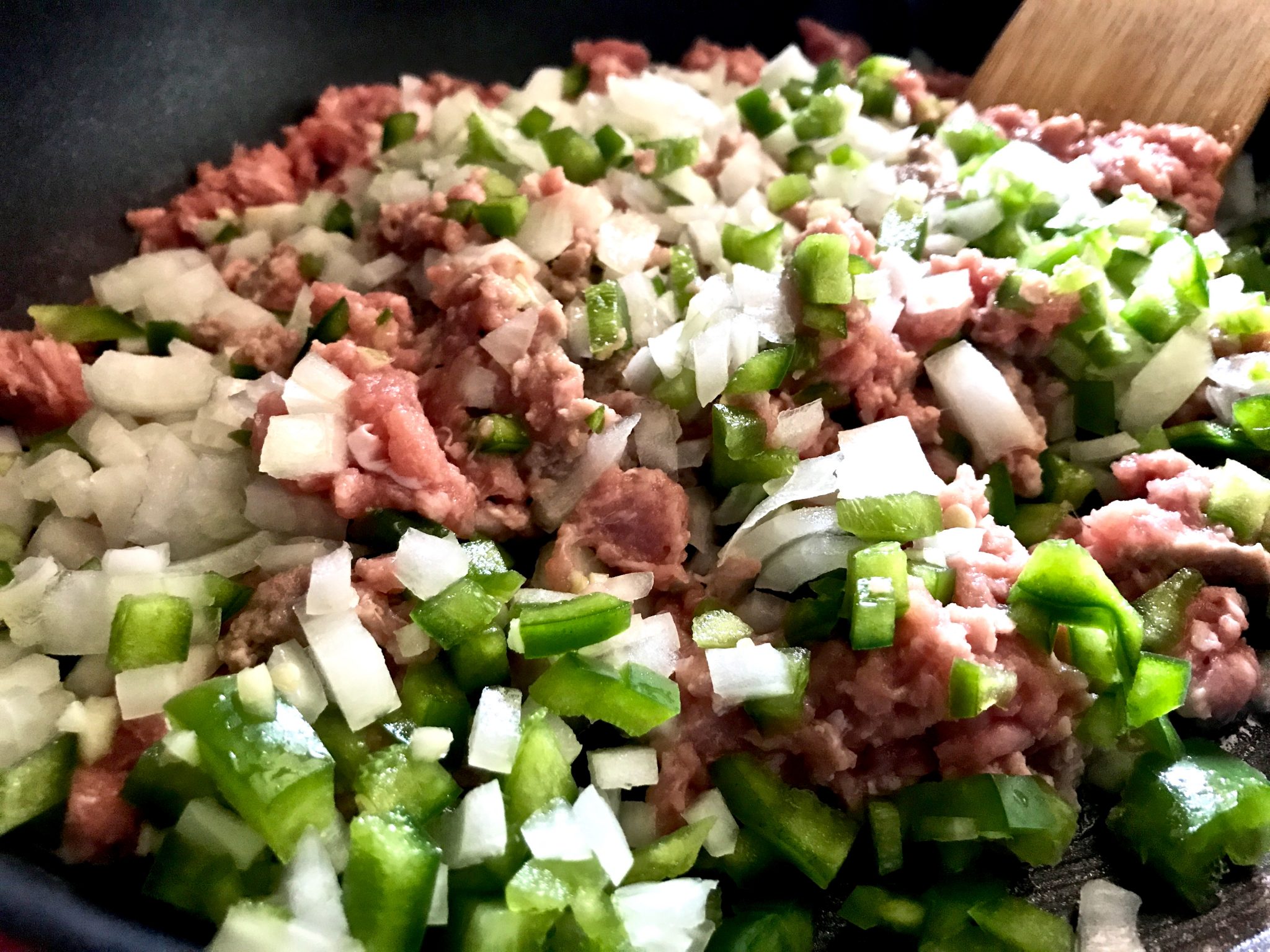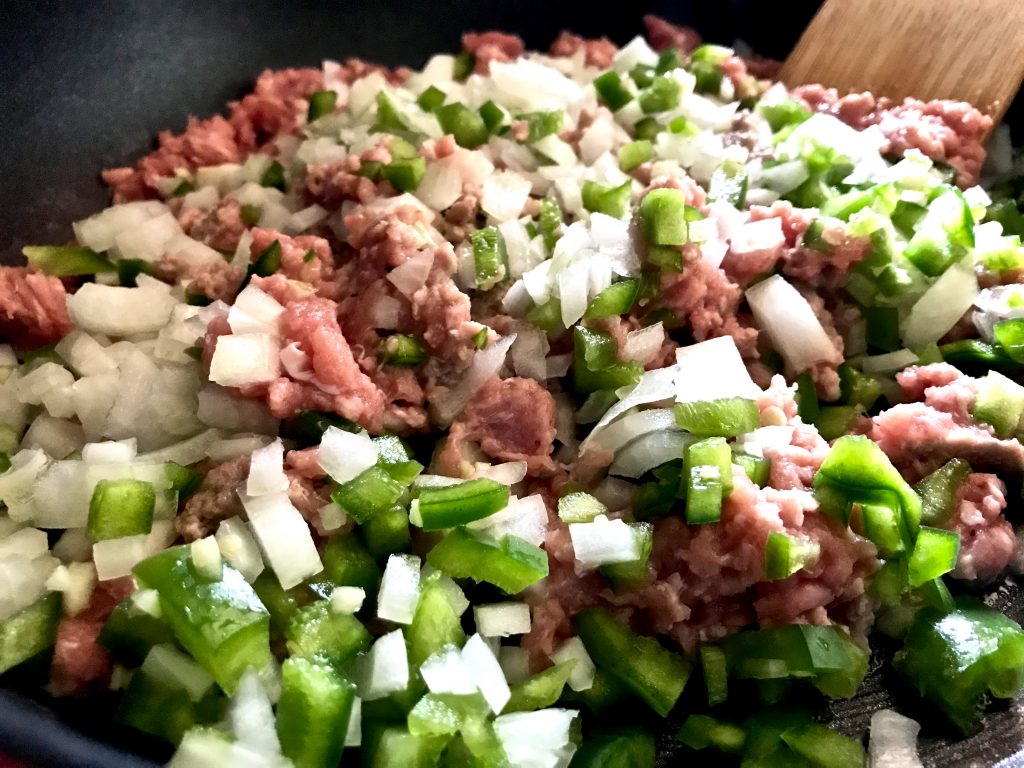 When the turkey is mostly broken up add the chopped green pepper, onion, and garlic to the pan. Continue to cook together over medium-high until the meat is cooked through and veggies are softened.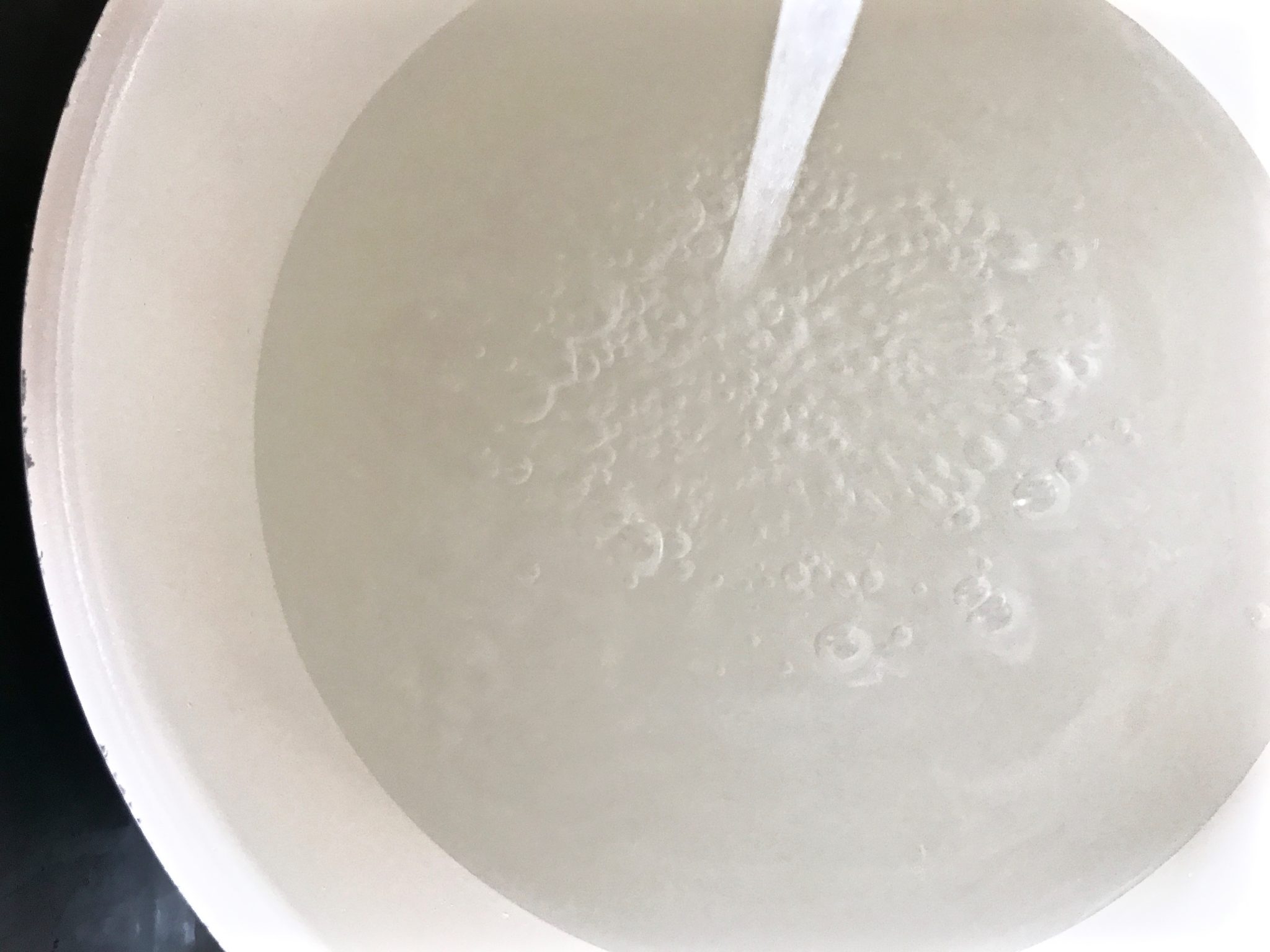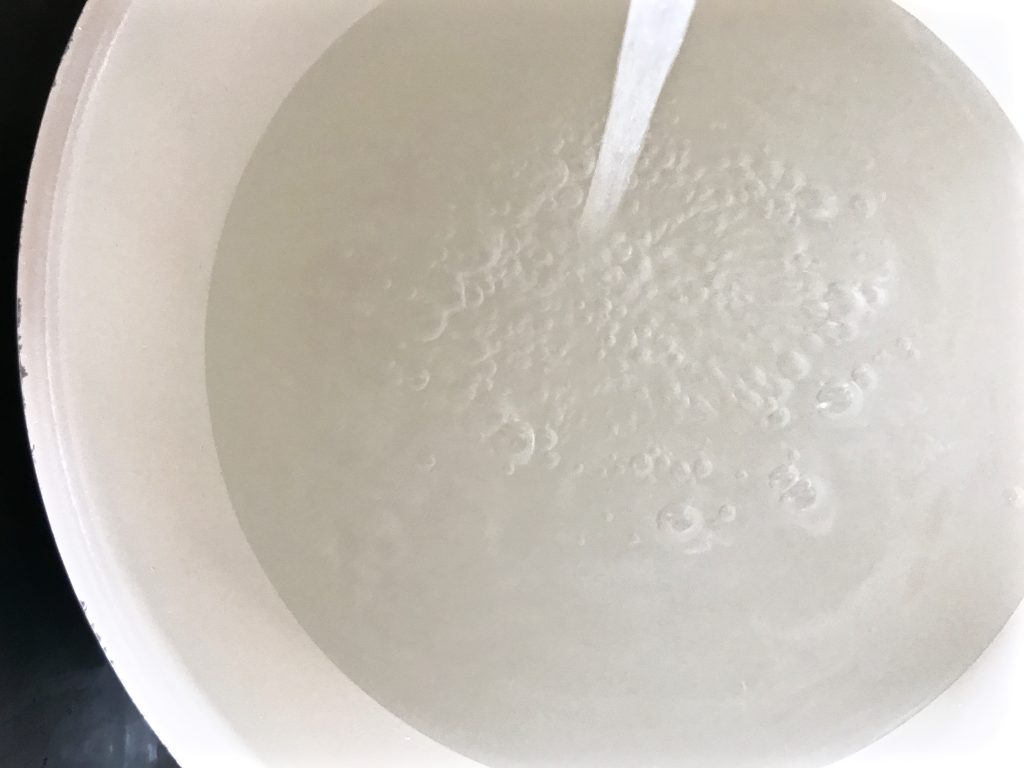 Fill up a pot with water and don't forget to salt that water!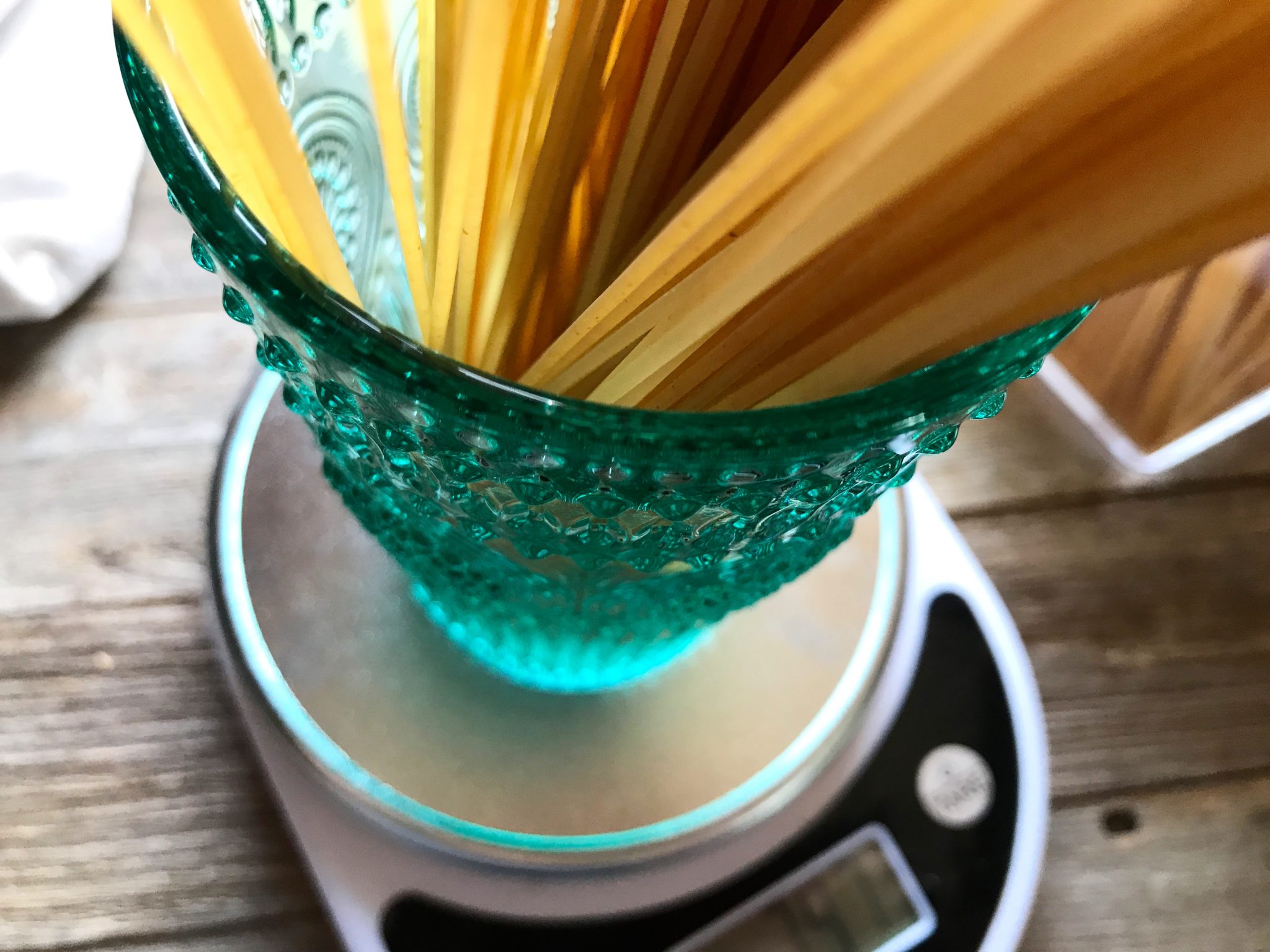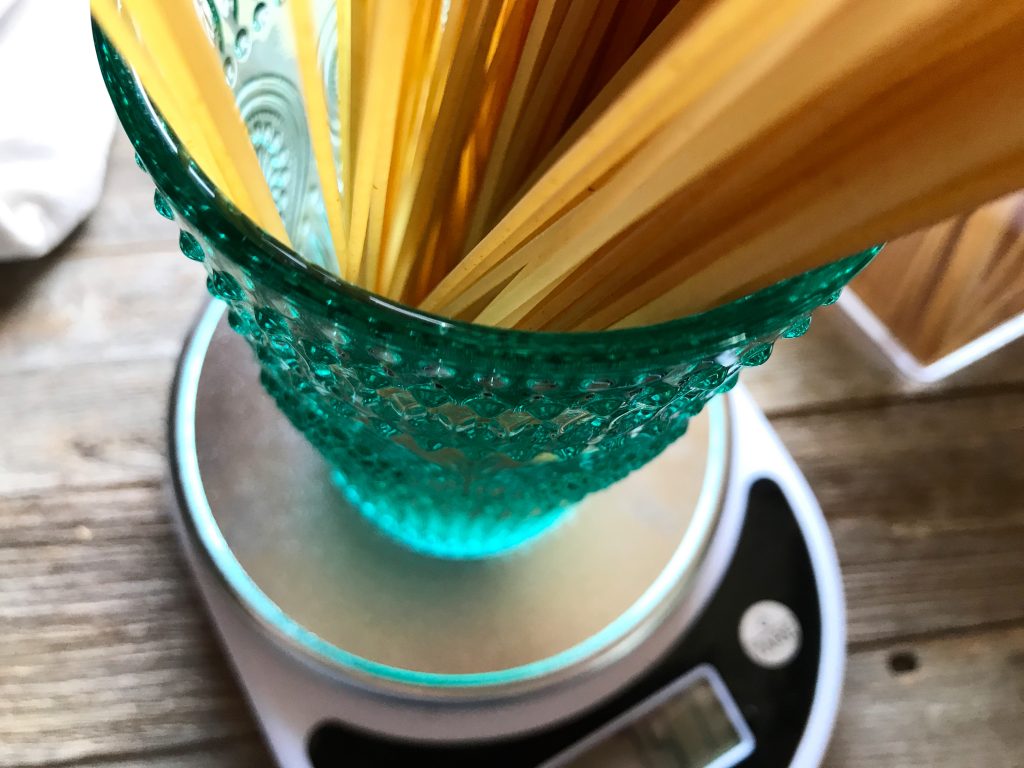 Add 6 oz of dry spaghetti noodles to water when it's boiling and cook according to package directions.
Also, break up those noodles into a few pieces before thrown'm into the boiling water. It'll make stirring it all together a bit easier.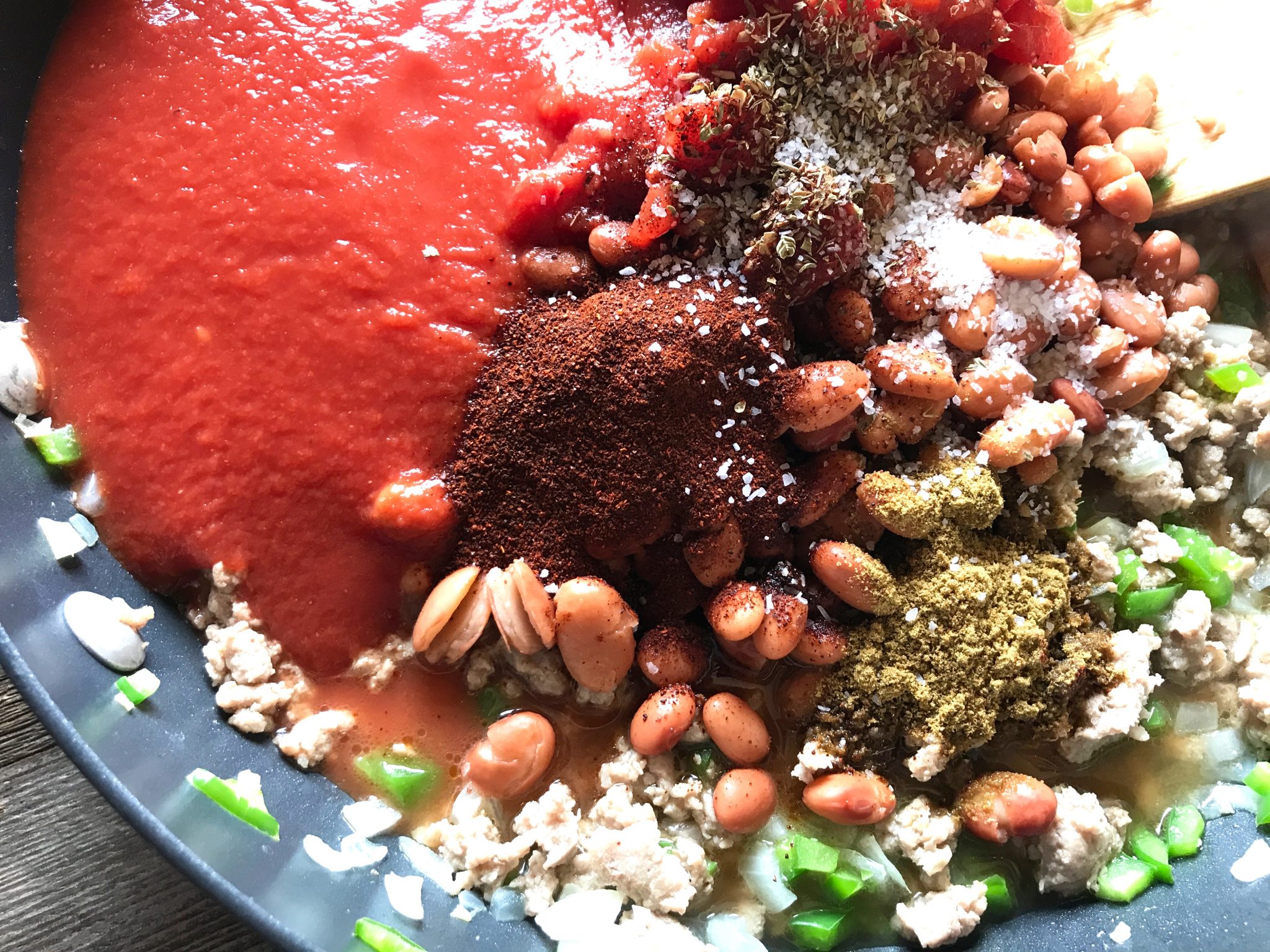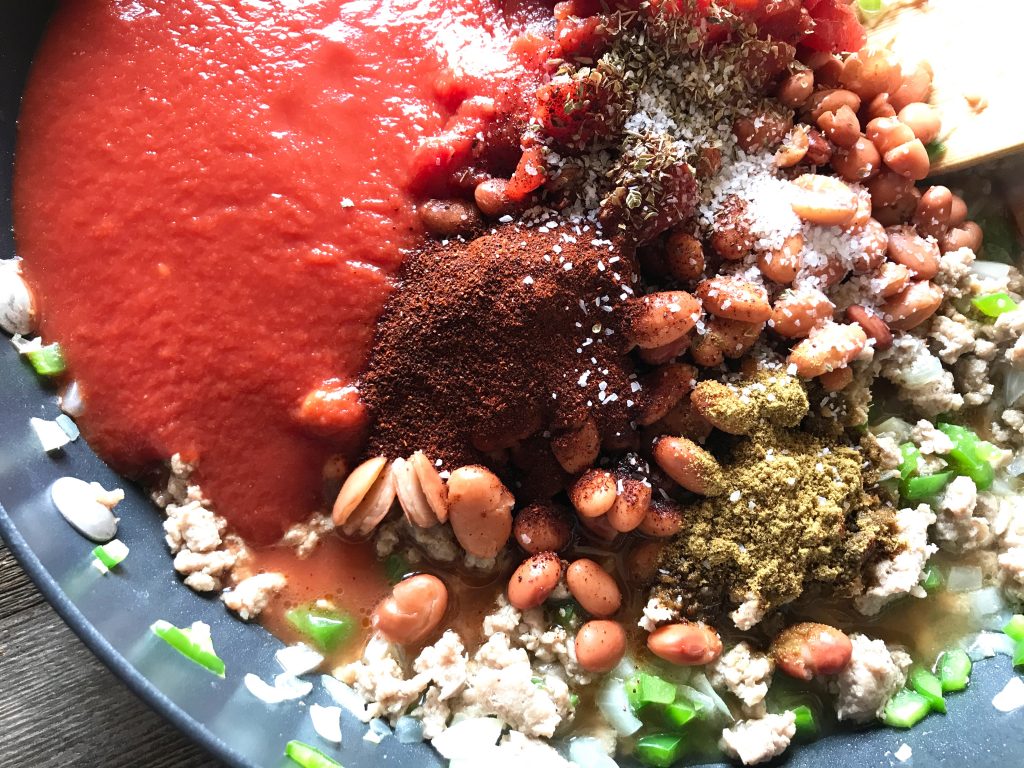 Now let's get back to that delicious skillet of goods you've got on the stove. Add your drained can o' beans, tomato sauce, diced tomatoes, oregano, cumin, chili powder, kosher salt, Worcestershire sauce, and don't forget a dash or two, or five of your favorite hot sauce!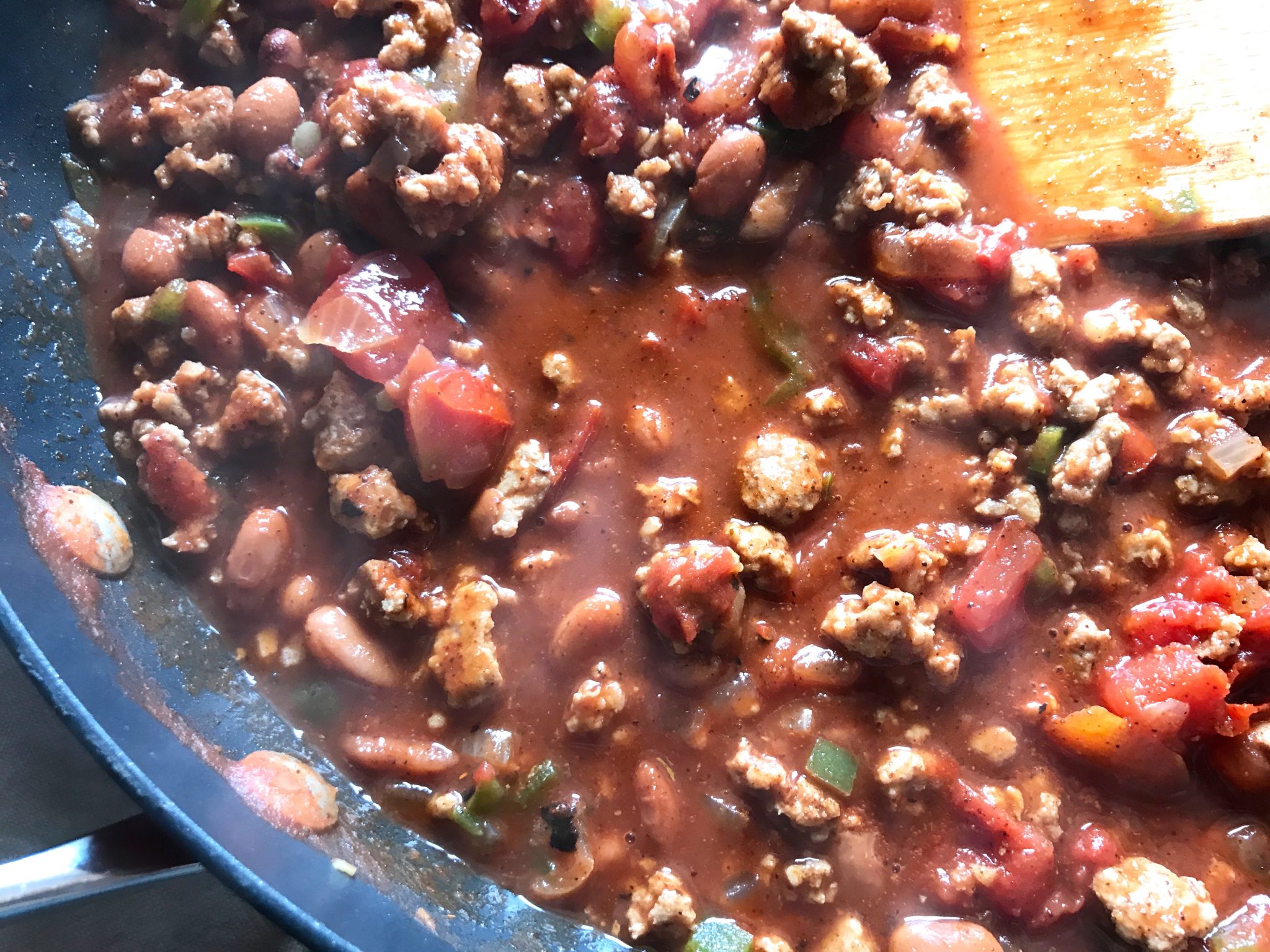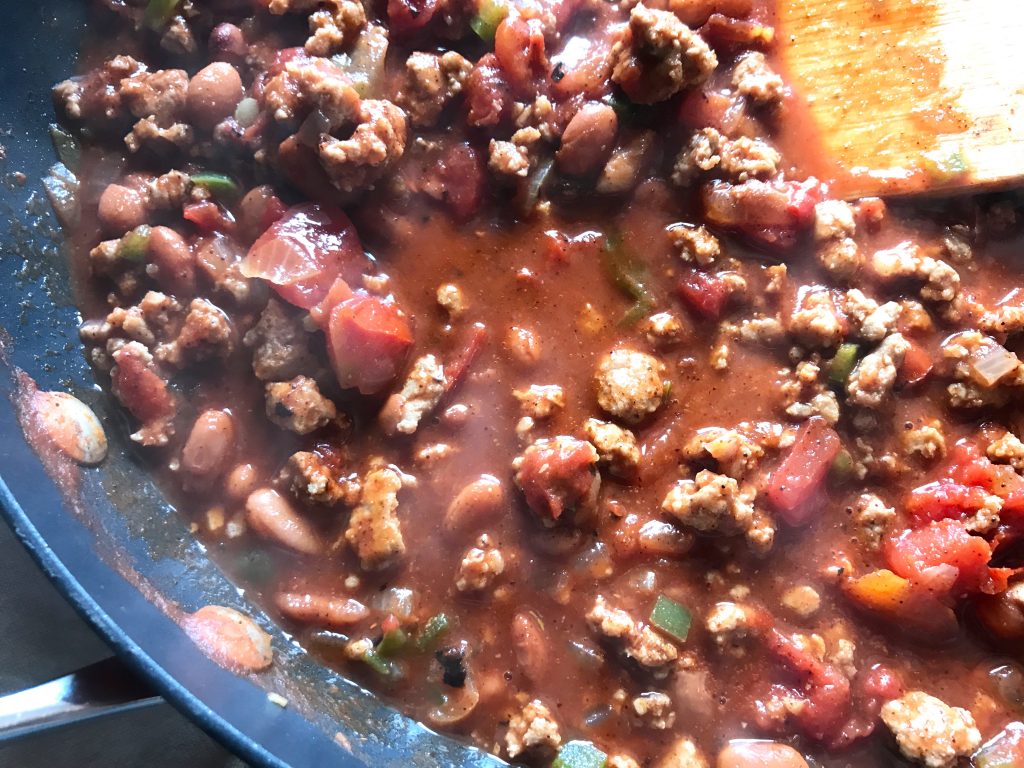 Stir it all up, bring to a quick boil and then reduce the heat to low, and continue to cook until everything is ready to go into the casserole dish.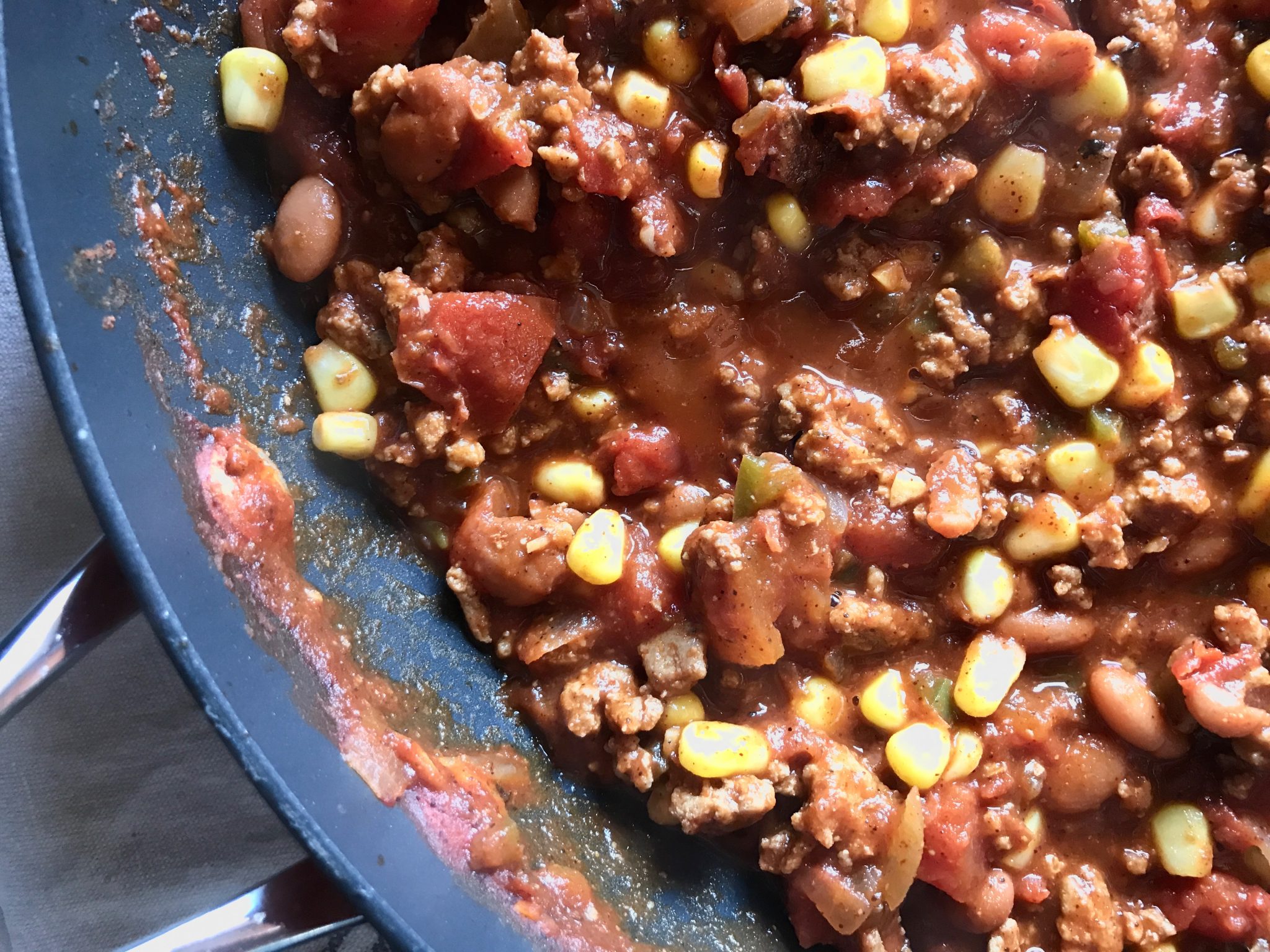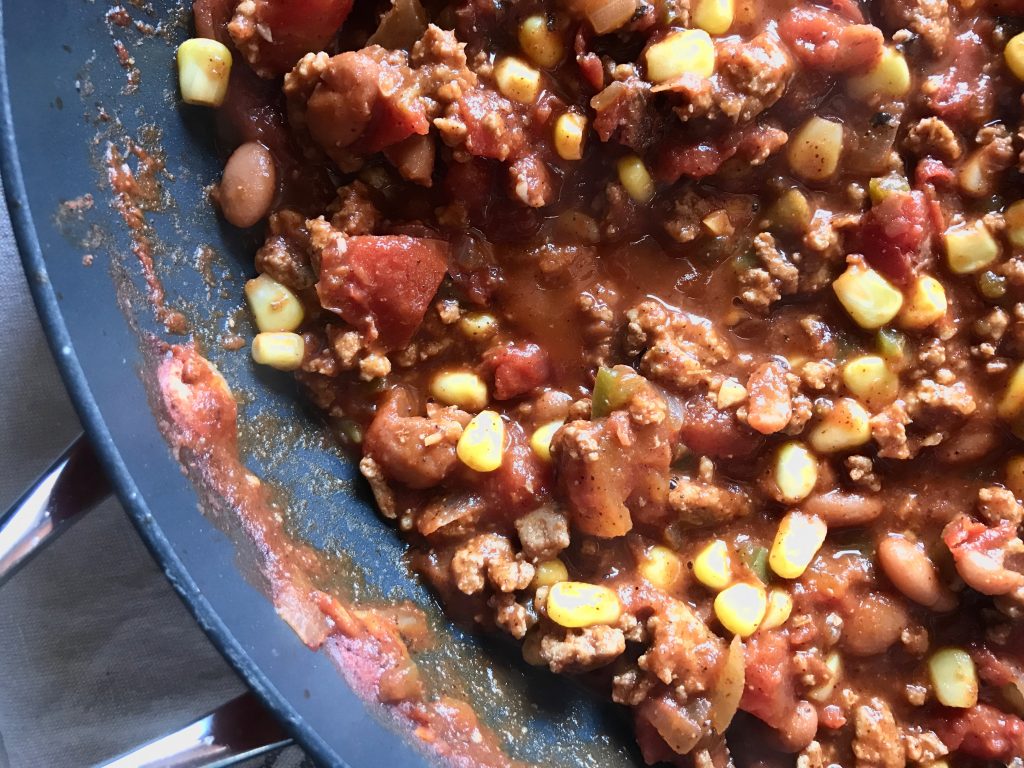 Oh! and make sure to add some corn because it's really delicious. Eric has always added sweet corn to his chili and I think it adds a perfect amount of sweet to it.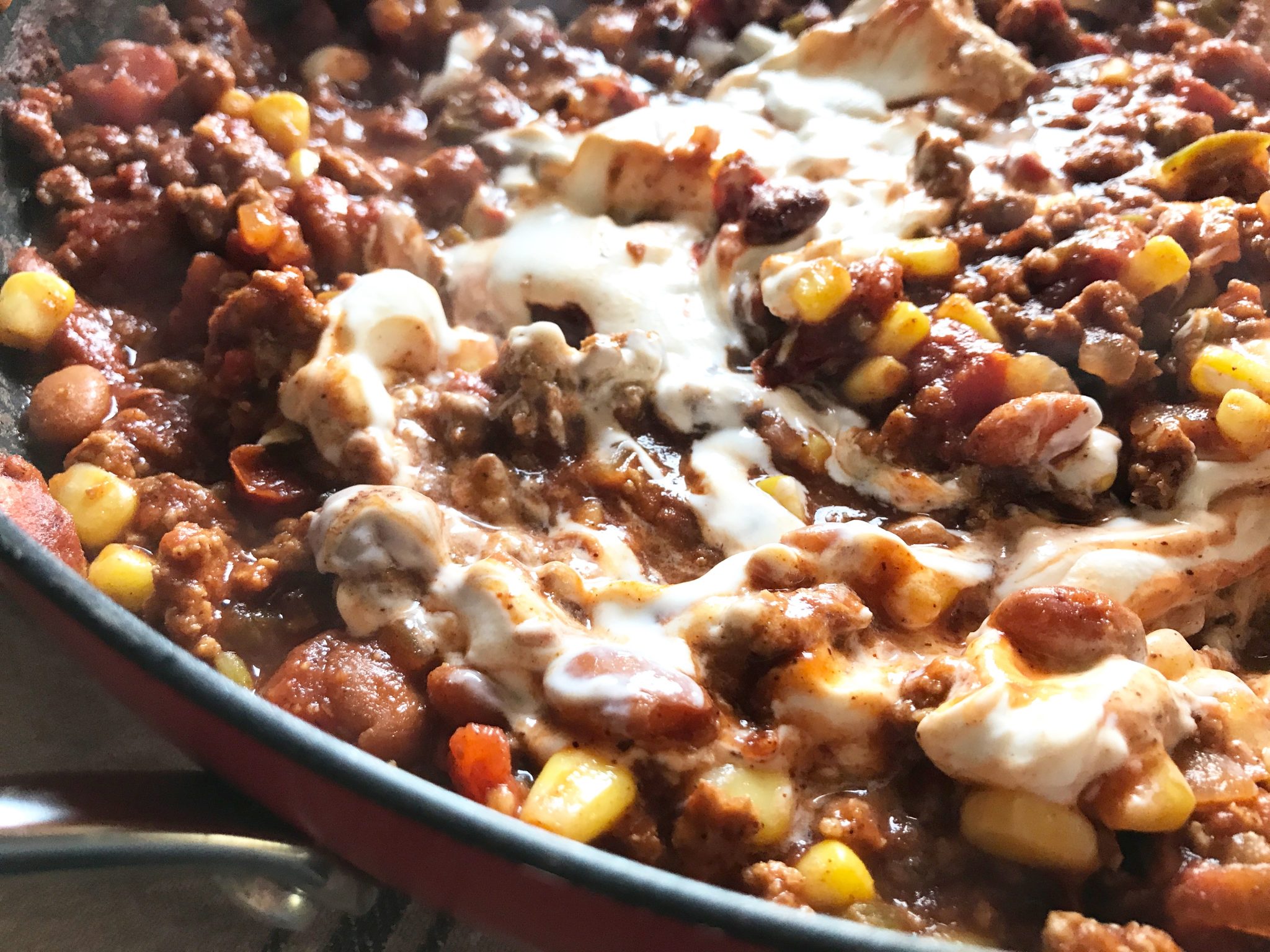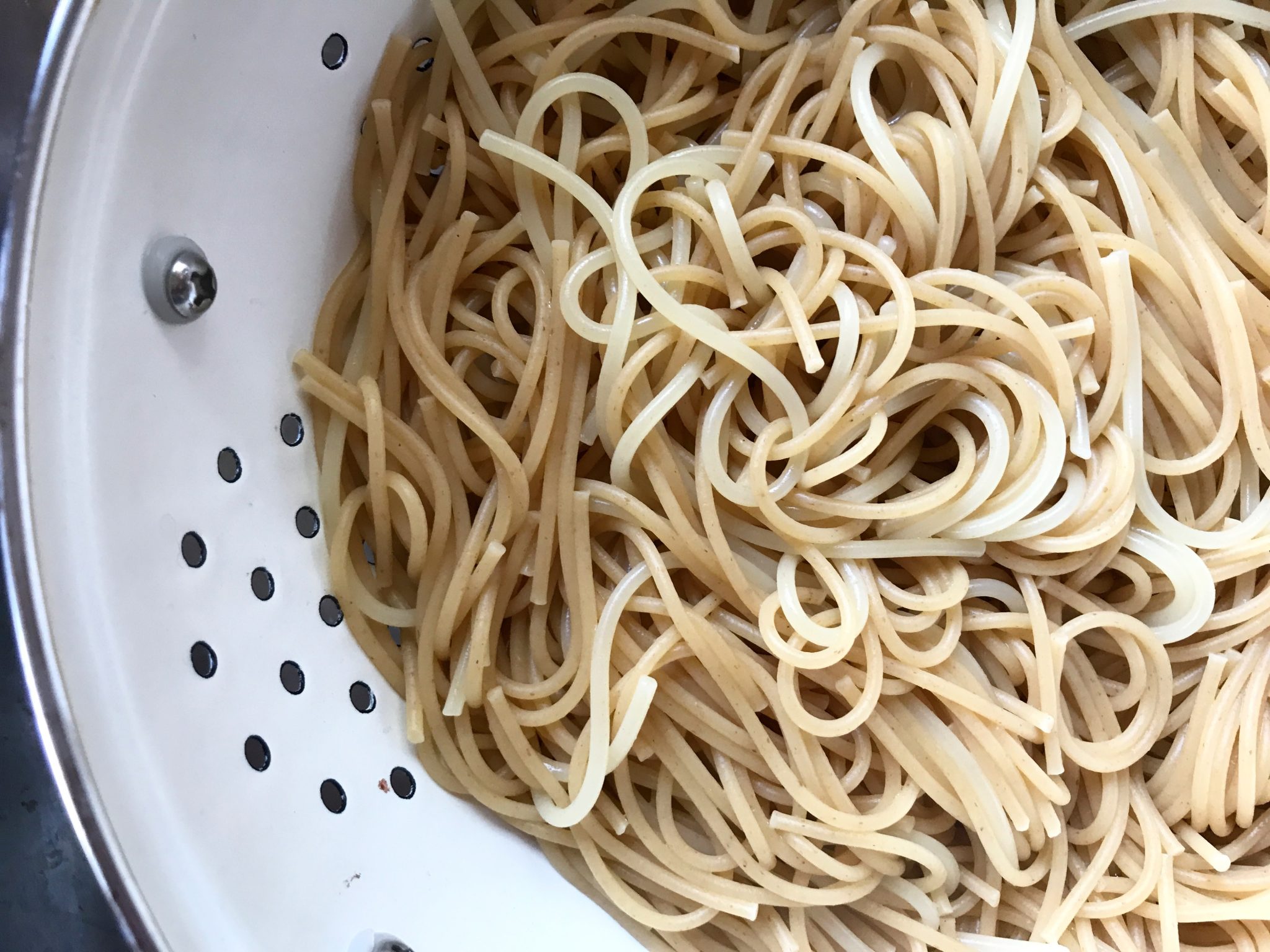 Last, but not least stir in some sour cream. mmmmm…..Grab your cooked spaghetti noodles. (Almost done!)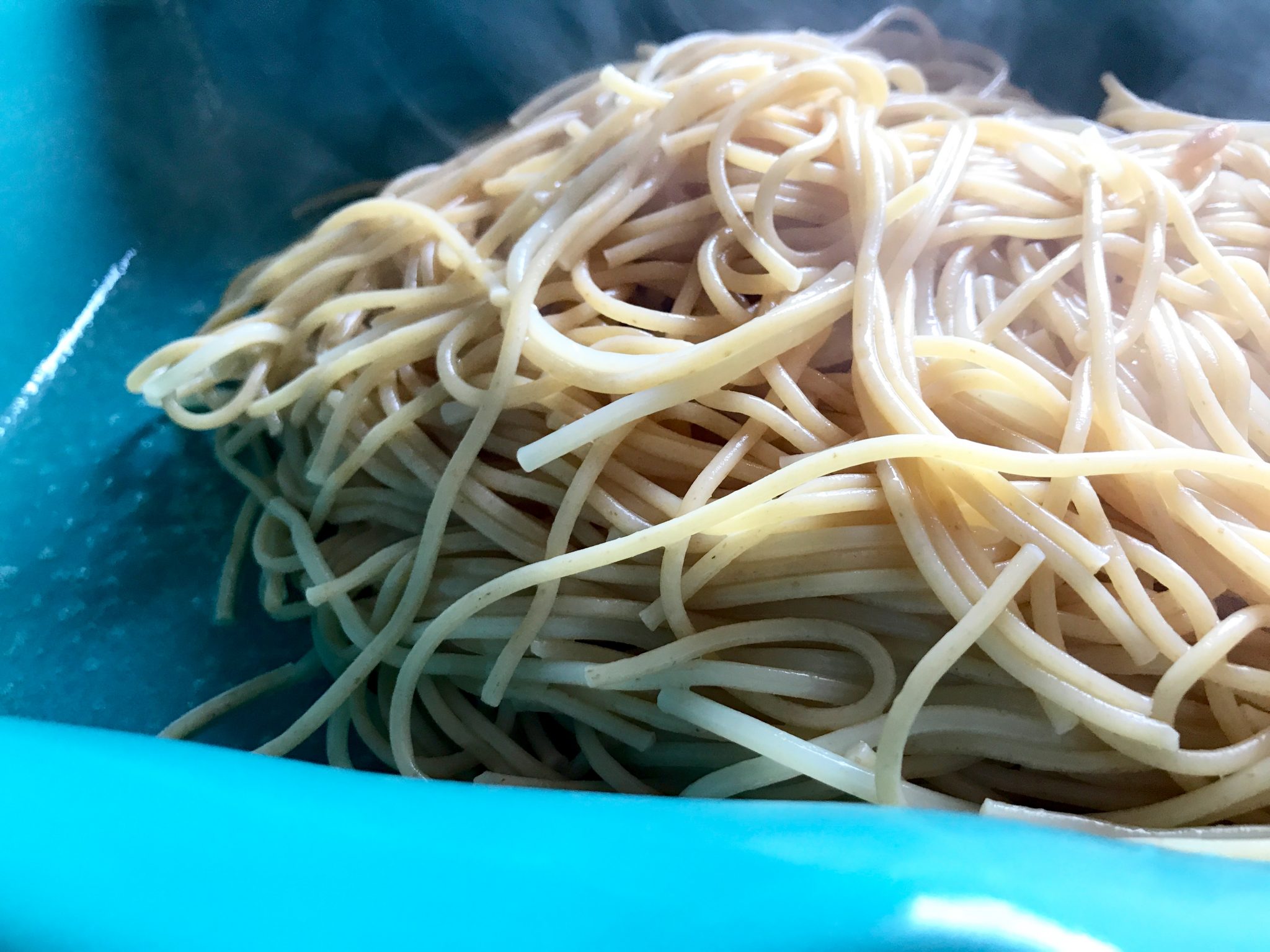 And pour'm into a lightly sprayed (with cooking spray) 9×13 casserole dish and spread'm around evenly.
Layer the chili mixture on top of the noodles.
Then, throw some cheese on top! Because life is meant to be enjoyed.
Cover it up with some tin foil, place dish into a preheated 350 degree oven, and bake for about 30 minutes.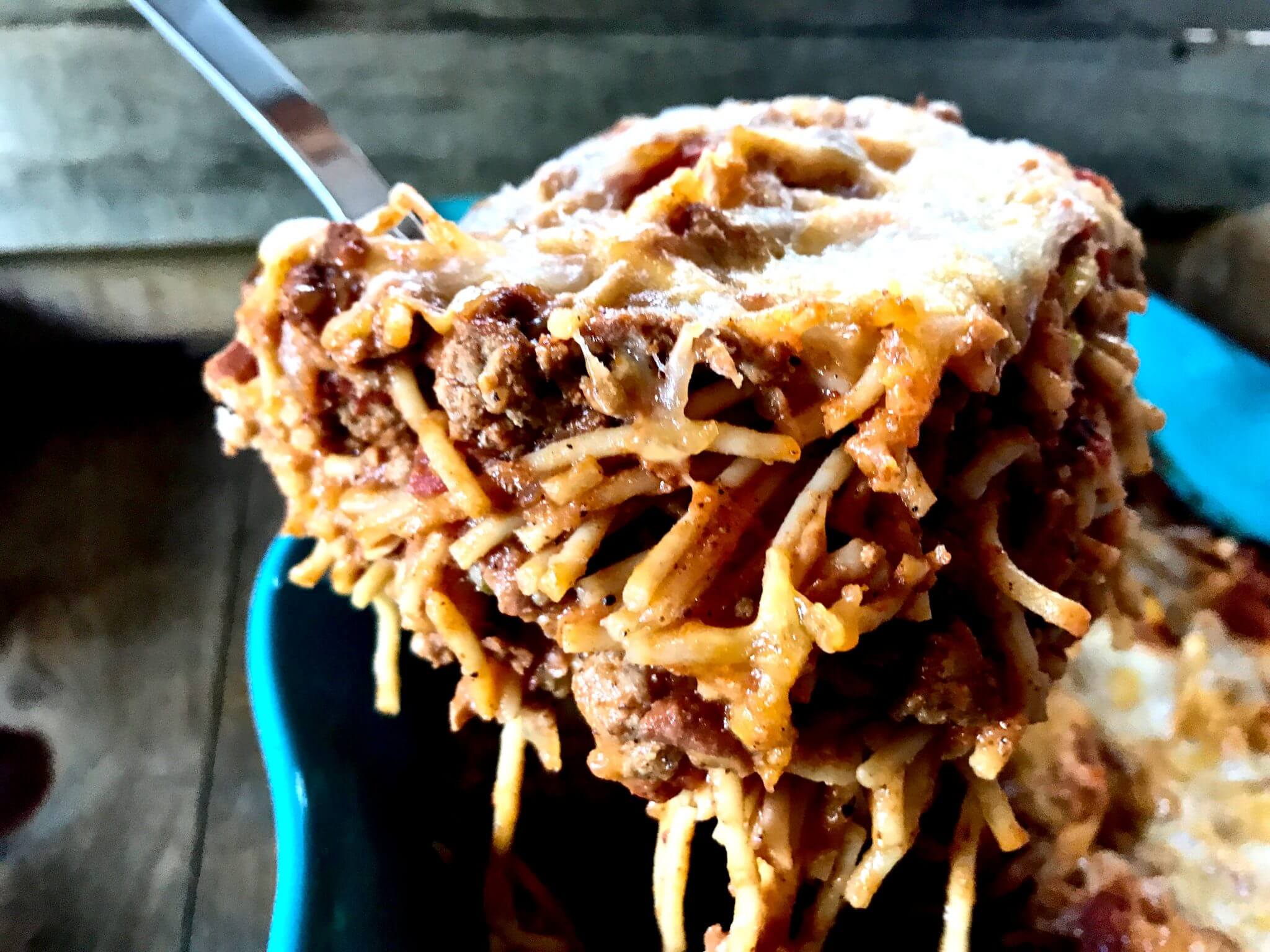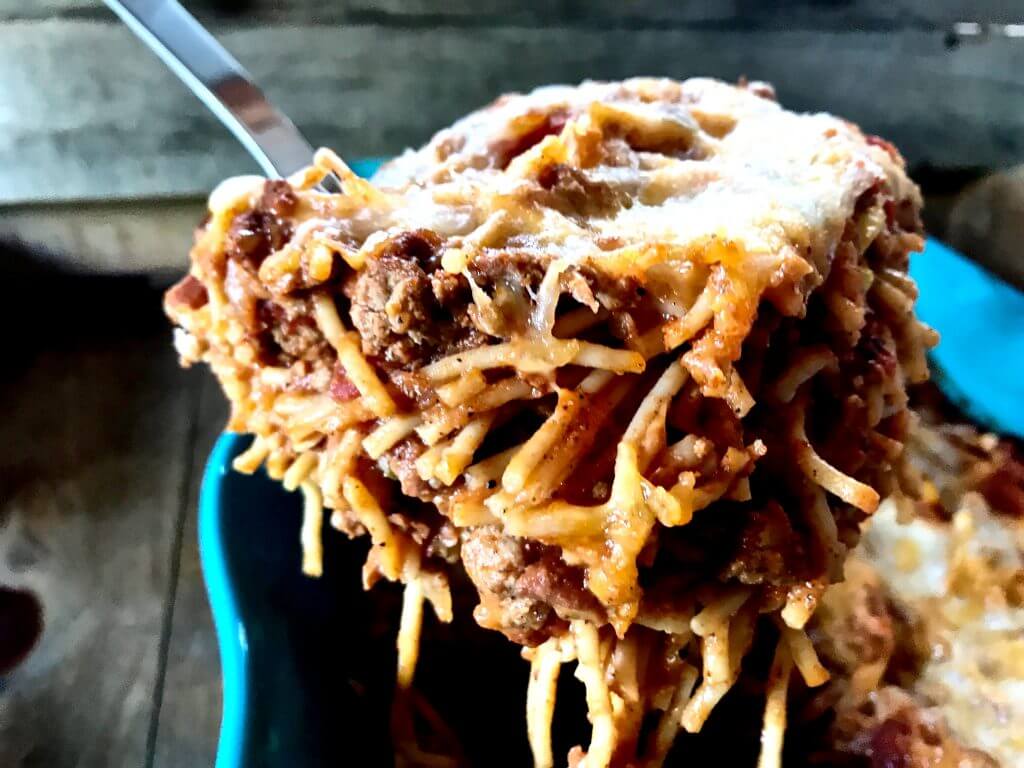 And then you'll have somethin' like this when ya take it outa the oven. In Eric's words, I literally "tortured" him because I told him he could not touch this until I got a few decent pictures for this here blog. I made him stand to the side and hold this spatula full Chili Cheese Spaghetti until I got a few decent photos. He was NOT happy that I wouldn't just let him grab a piece with his hands. haha! I'm the worst, I know.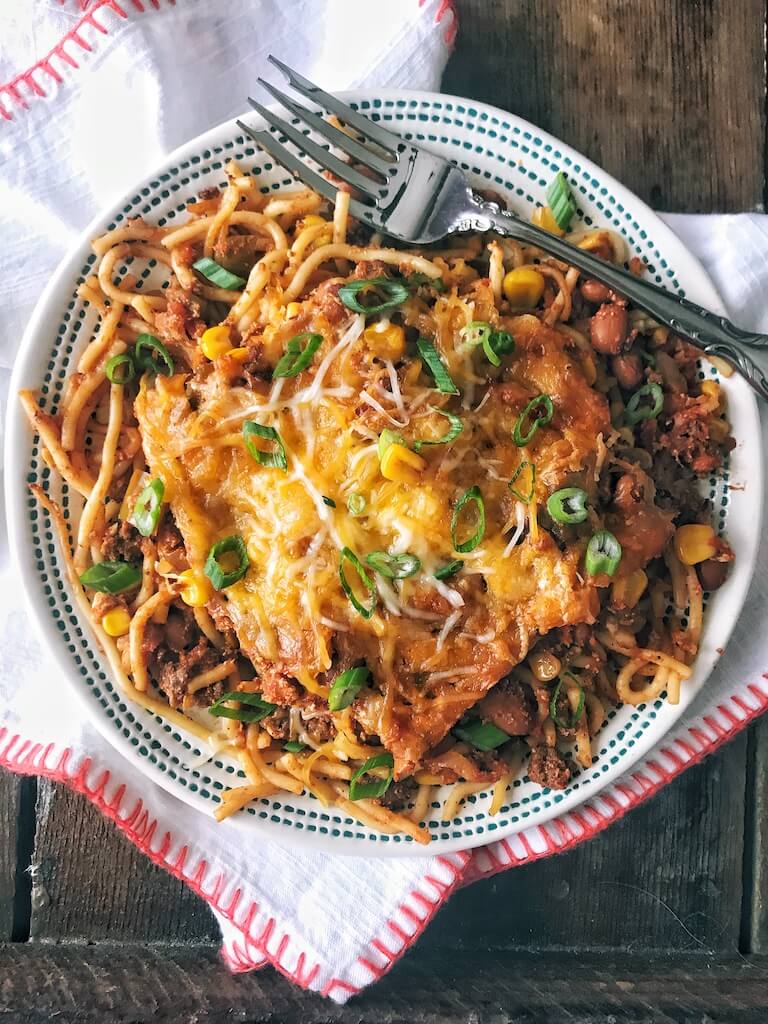 It's a messy little pile of creamy, cheesy, flavorful goodness and I love it a whole bunch!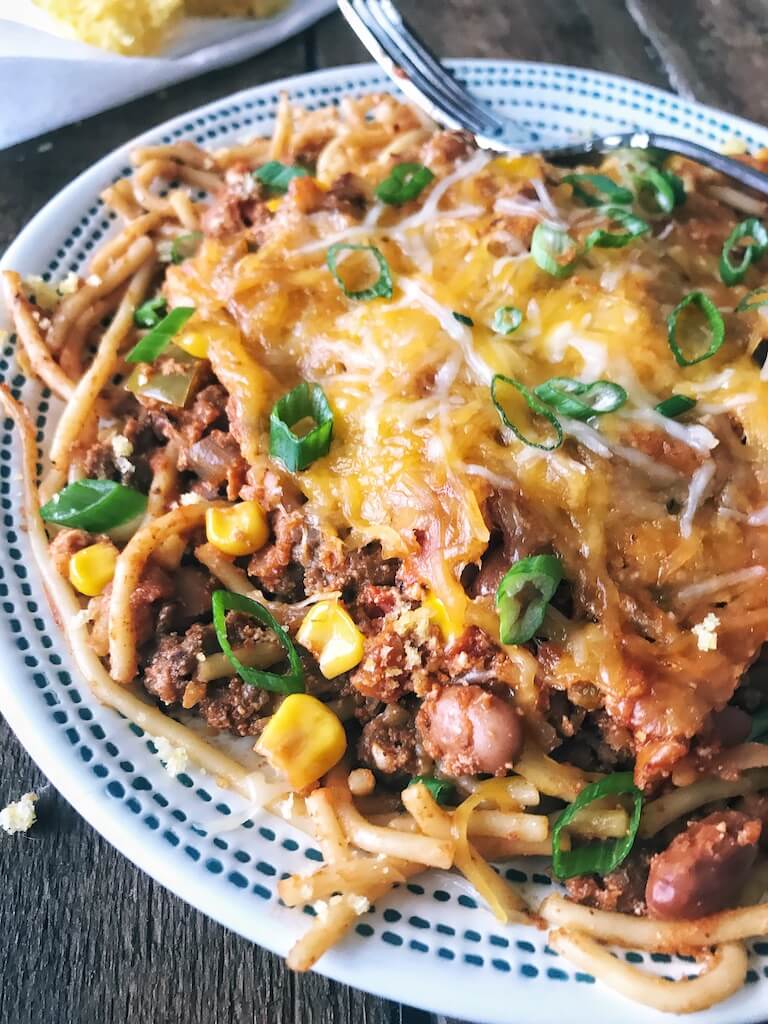 I hope ya make this! and I really hope ya love it! It's just perfect for the fall weather that is quickly approaching. It's comfort food at it's best and it's lightened up just enough for y'all to enjoy any day of the week.
If you have a husband, boyfriend, or anything of the sort hide yo leftovers. Trust me.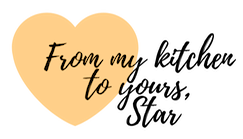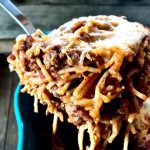 Print
Chili Cheese Spaghetti Bake
A delightfully delicious chili piled onto spaghetti noodles, topped with cheese, and then baked in the oven to create a super easy and delicious dinner!
Materials
1

pound

lean ground turkey (93% lean/ 7% fat) uncooked

1

medium

sweet onion

chopped

1

medium

bell pepper

chopped

4-5

cloves

garlic

minced

1

14.5 ounce can

tomato sauce

1

14.5 ounce can

diced tomatoes

1

14.5 ounce can

pinto beans, drained but not rinsed

(about 1- ½ cups)

1- 1/2

cups

sweet corn kernals

fresh, frozen, or canned will work

1

tsp

Kosher Salt

reduce by half if using table salt or fine salt

1

tsp

Oregano

1- 1/2

tbsp

Cumin

2

tbsp

Chili Powder

3

tbsp

Worcestershire Sauce

dash or two of your favorite hot sauce

I use Frank's

3/4

cup

non-fat greek yogurt

6

ounces (dry)

spaghetti noodles

broken up into pieces

4

oz

Colby Jack or Cheddar made with 2% milk

cooking spray

salt & pepper

to taste
Instructions
Preheat oven to 350 degrees. In a large skillet over medium-high heat add ground turkey, sprinkle kosher salt on, and break up with spatula.

Add the chopped bell peppers, onions, and garlic to the ground turkey. Cook together until turkey is cooked through and vegetables are softened.

Add diced tomatoes, pinto beans, tomato sauce, corn, Worcestershire sauce, oregano, cumin, chili powder, hot sauce, and salt. Stir the non fat greek yogurt into the chili. Bring to boil then return to low and cover.

While the chili is simmering prepare spaghetti noodles according to package to directions.

When the noodles are done, strain, and add to a lightly sprayed 9×13 casserole dish. Layer the chili on top of the noodles and then sprinkle the cheese over the chili. Cover with tin foil and bake for about 30 minutes.

Let set for at least 5 minutes before cutting into. Serve and enjoy!
Notes
Makes 6 servings. Serving size: 1/6 of the casserole 353 calories 10g fat, 3.5g saturated fat, 40g carbohydrates, 6.7g fiber, 7.6g sugars, 25g protein WeightWatchers Points: 7