This post may contain affiliate links (meaning I earn a small comission if you purchase an item through a link I provide) I only provide shoppable links to items I love and are helpful. As an Amazon Associate, I earn from qualifying purchases.
Chicken Street Tacos are oven baked delicious tacos that are filled with a chicken and bean mixture that's perfectly seasoned with out of this world flavor. These tacos are the perfect thing to prep once and eat all week because they reheat wonderfully and also freeze too!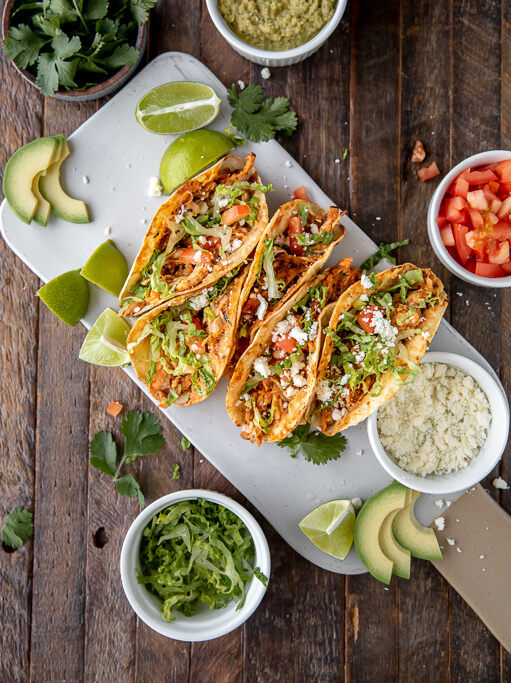 Hey September Second- you're lookin' good! Today, I'm going to share with you one of my favorite recipes in the history of recipes. These Chicken Street Tacos came together by accident and my goodness, It's probably one of the happiest accidents that I've had in the kitchen to date.
It's time for Fall. It's 62 degrees outside right now. The windows are open. Pepper is wearing the cutest little button down jean shirt and leggings. And here I am, in my pajamas still. Mom-life at its best. Pepper will forever be better dressed than me, but I'm okay with that. I clean up alright when I get the chance. Eric even told me I was just as beautiful as the combine we saw on the road this past weekend… Okay, he said more beautiful. But, I'm being compared to a big, green combine .. so, whats the difference?
I've been dutifully in the kitchen whipping up some comfort classics like Mom's Chicken and Rice, stove top fried apples, the best chili ever, and our favorite chicken and dumplings!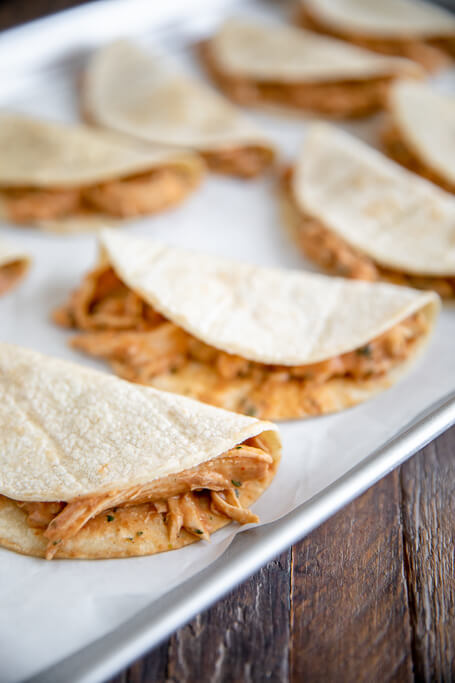 A little about Chicken Street Tacos:
What's the different between street tacos and tacos?
I don't know. I have no idea. Please don't ask me again.
Here's my take on Chicken Street Tacos. They may not be super authentic, but I do what I want in my kitchen. This recipe makes a MESS of tacos. I don't mean mess as in they are messy, I mean mess, as in they make like 500 tacos (not really, but close). They are quick, delicious, filling, mess-free, not a ham and cheese sandwich, and they also reheat super great! I love'm more than just about anything except for Pepper, and Eric, and my mom, sister.. dad.. nieces and nephews.. dogs.. my fuzzy blanket, our couch, christmas, okay I love them a lot, but not more than some stuff.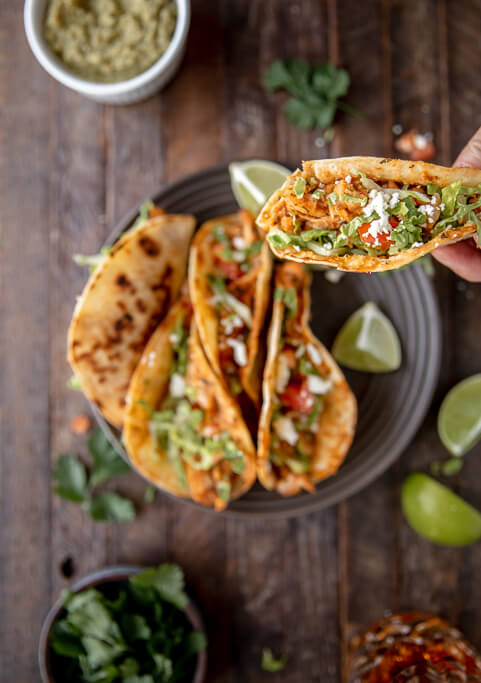 Let's get in the kitchen and make some Chicken Street Tacos: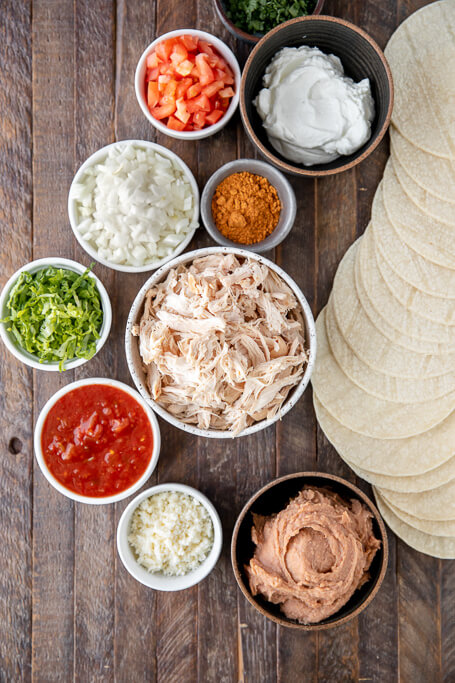 Grab your Chicken Street Taco goodies! Taco seasoning, fresh cilantro, refried beans, corn tortillas, salsa, chopped onions, tortillas, and shredded chicken breast. If you're wondering, yes! You can use chicken thighs in this recipe too.
Also some toppings! I like to keep'm simple I do lettuce, diced tomatoes, Queso Fresco, guacamole, or a yummy cabbage slaw like the slaw in my Crispy Fish Taco recipe.
I love to use the Mission Extra Thin Tortillas to keep my WW points lower, but you can use whatever corn tortillas your heart desires!
These also work great with flour tortillas!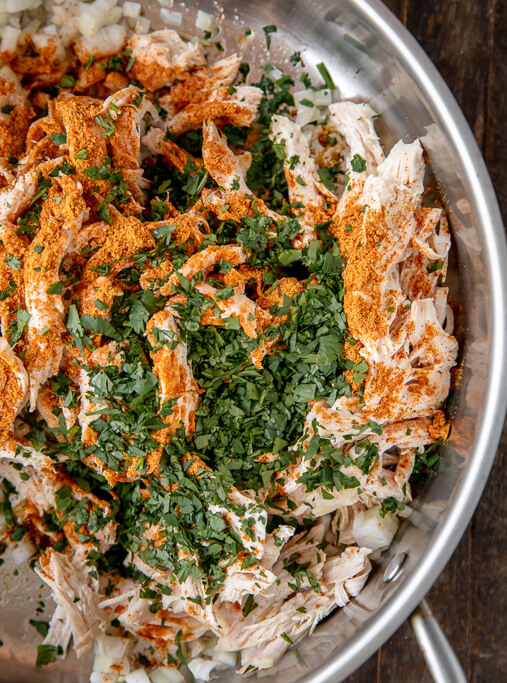 Grab a large skillet and lightly spray with a bit of cooking spray. Throw in shredded chicken, cilantro, onions, and taco seasoning. Stir it all up over medium heat until the onions are a bit soft.
Quick homemade taco seasoning recipe (equal to one packet): 1 teaspoon onion powder, 1/2 teaspoon garlic powder, 1 teaspoon chili powder, 1 teaspoon salt (i use kosher salt), 1/2 teaspoon oregano, 1/2 teaspoon smoked paprika, 2 teaspoon ground cumin, 1/8 tsp cayenne pepper (more or less depending on spice preference), and about 1/8 teaspoon black pepper. Stir them all together and set aside. If you'd rather use a good ol' packet of taco seasoning or your own blend of taco spices that will work too!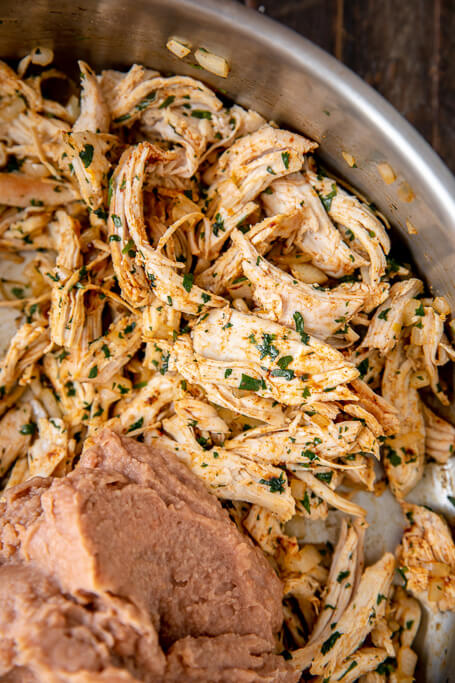 Next up throw in a can of the non fat refried beans. I know you're like how is this going to be good? Trust me. It is.
Add the greek yogurt and salsa. Stir until combined well. Stay with me, y'all. It's good. Give it a lil taste and add some salt if ya need it. Set this aside.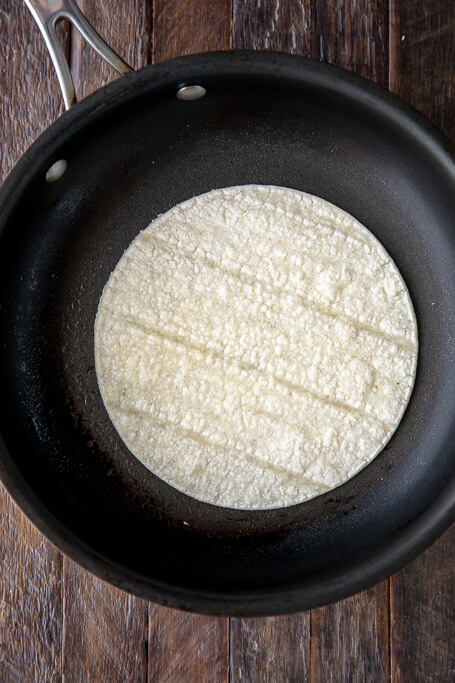 Next up, grab another skillet, lightly spray with cooking spray, and then plop a tortilla on it. Lightly spray the top of tortillas with cooking spray and flip after about 30 seconds. These only need to be lightly warmed because they will get a nice crunch when we pop them in the oven later on. Repeat this until you're out of tortillas.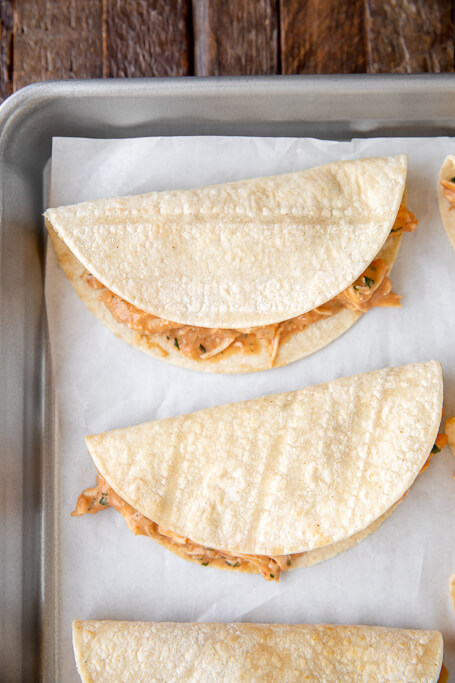 Every four-five tortillas I would stop and fill the tortillas up with the chicken and bean mixture. You can do it after every one that you fry, or cook a few and then fill. It's up to you.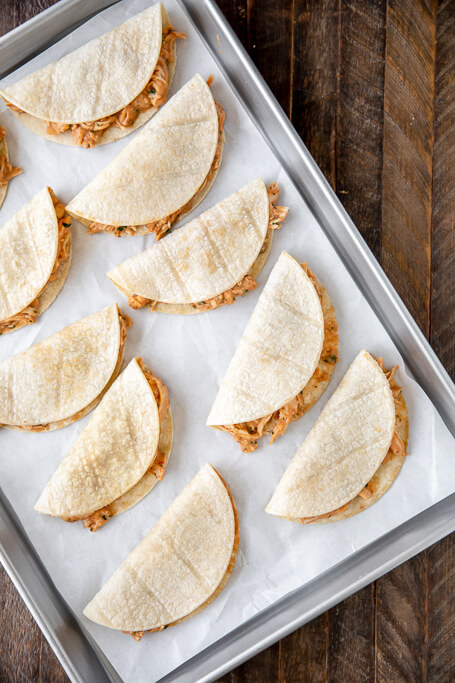 Once they're folded up- line them on a extra large sheet pan or two smaller sheet pans and pop into a 425 degree oven for about 8 minutes or until golden brown and they are hard to touch.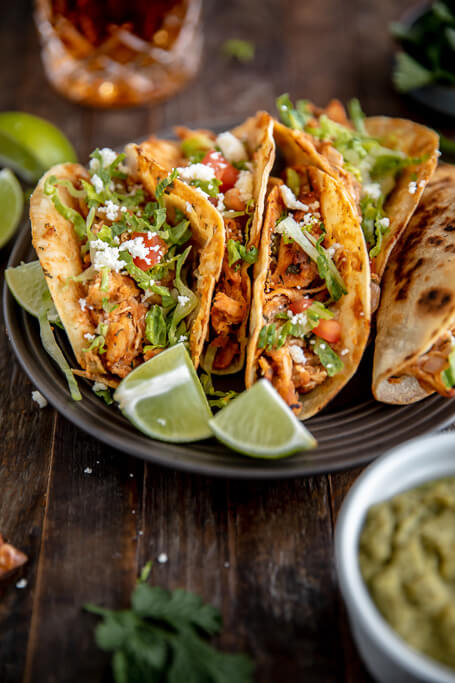 When they're done you'll have the ultra delicious crispy little tacos that are a blank canvas for so many goodies! You can pull'em open just a bit and stuff them like an American style taco (lettuce/sour cream/tomatoes/cheese), do more Mexican Style (lots o fresh cilantro/crumbled queso fresco/onion/pico de gallo), or do a mix of both!
Use some lime juice, garlic powder, and avocado to make a quick avocado mash then pile that on taco too. So good!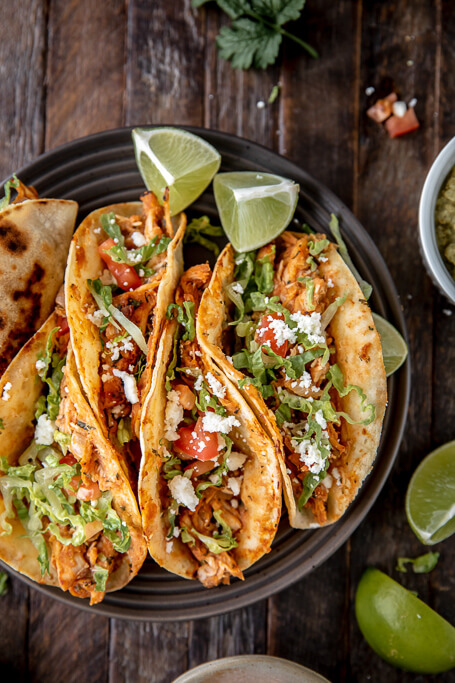 How to store & reheat Chicken Street Tacos:
Wrap tacos in foil to prevent them sogging up, yep "sogging up" is a technical term. I wrapped three at a time then placed in a freezer safe bag. When I went to reheat, I took them out of the foil and laid flat on a cookie sheet in a 400 degree oven for about 10-12 minutes. These also reheat great in the Air Fryer 365 for about 6 minutes flipping half way through should do it.
You could easily halve this recipe, but I really like having lots of tacos to eat throughout the week plus you can freeze for a rainy day! These also makes the best football food! Make a mess of tacos and throw the toppings in small bowls and let people dig in.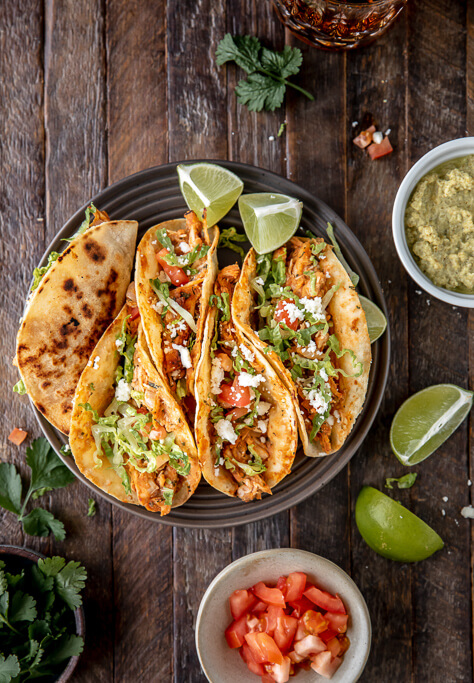 I'm currently obsessing over the Creamy Taco Truck Green Salsa from In Krista's Kitchen! You can see it on the side of the picture above. Just POUR IT ALL OVER THESE TACOS!
If you're a long time reader you might notice the photos above got a glow up, but can't forget my roots y'all. This picture here is from the original post back when I first started blogging. These tacos were one of the firsts. I literally just wrapped up these tacos and walked around in our driveway out on the farm back in Illinois. So much has changed since I did this, but one things for sure, whether your photos are perfectly executed or you go outside and take a cell phone photo when it's almost dark out while you walk down a gravel road. Doesn't matter. They're good either way! Haha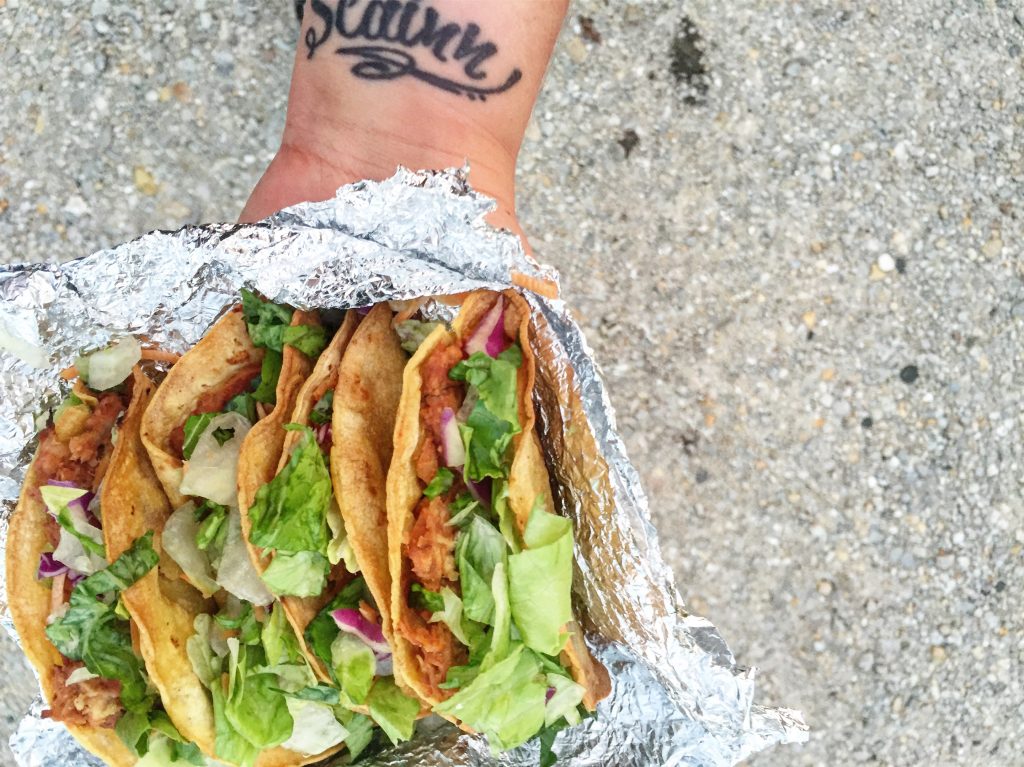 Now go make these!
Xo-Star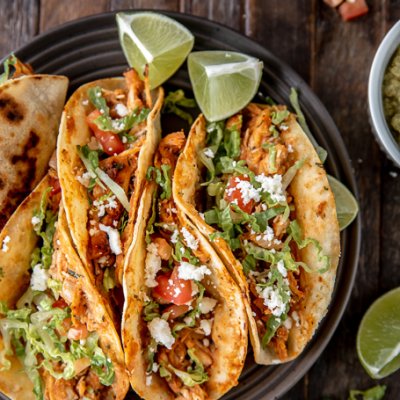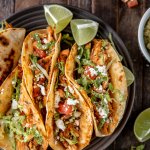 Print
Chicken Street Tacos
A crispy tortilla stuffed with super flavorful chicken and beans
Materials
21

extra thin corn tortillas

(Mission brand)

1

lb

cooked & shredded/chopped chicken breast

16

oz

can fat free refried beans

1/2

cup

non fat greek yogurt

1/2

packet low sodium taco seasoning

(or about 2 tbsp of homemade seasoning)

1/2

cup

salsa

1/2

cup

fresh cilantro

minced

1

medium onion (I've used all kinds doesn't matter which kind)

chopped
Optional Toppings
Lettuce

thinly sliced

Cabbage/Carrots

thinly sliced

Cilantro

Tomatoes

Cheese

(cheddar/monterey jack/queso fresco)
Instructions
Preheat oven to 425 degrees.

In a large pan heat the chicken, onion, taco seasoning, and cilantro together over medium-high heat until the onions are tender.

Add the refried beans, mix thoroughly and then add the greek yogurt, and salsa. Mix together and heat for a few more minutes. Set aside.

In another non stick pan lightly spray with cooking spray and place tortilla cook for about 30 seconds, lightly spray top side of tortilla, flip, and cook for another 30 seconds. Repeat this step until you are done cooking the tortillas.

When the tortillas are finished evenly distribute and spread the chicken and bean mixture on each tortilla.

Fold the tortillas in half and place on to a cookie sheet. You will most likely need two cookie sheets to fit all of them on.

Bake for about 8 minutes or until the tacos are crispy and lightly browned.

Let cool for a few minutes and top with lettuce, tomatoes, cabbage, cilantro, carrots. Whatever you fancy.

Enjoy!
Notes
Per Taco
WeightWatcheres Points: 1 Point
80 calories, .5g fat, 0g saturated fat, 11g carbohydrates, 2g fiber, 1.5g sugar, 0g added sugar, 2.5g protein