Chicken Salad with Grapes
This post may contain affiliate links (meaning I earn a small comission if you purchase an item through a link I provide) I only provide shoppable links to items I love and are helpful. As an Amazon Associate, I earn from qualifying purchases.
Chicken salad with Grapes is a delicious recipe for easy meal prepped lunches, but it's also fantastic to take on picnics and to potlucks. Chicken Salad seems to be one of those things that a baby shower just can't be without which I'm thankful for because I'm a serious chicken salad fanatic. I like to eat it on top of'a bunch'a lettuce, in a toasty roll or scoop it up with chips, crackers, celery, or spoon. I'll take it anyway I can!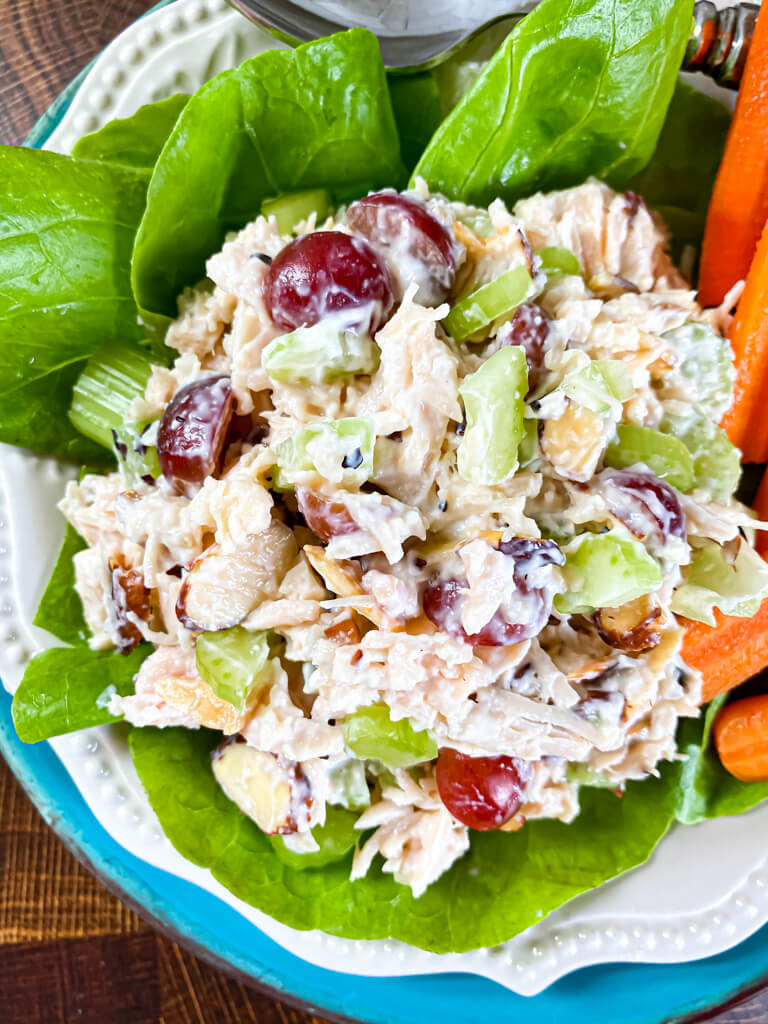 I make this Chicken Salad with Grapes version just lil healthier by mixing light mayo and non fat greek yogurt together. I like to add just a kiss of honey for sweetness instead of sugar. This recipe is absolutely full of amazing flavor, totally simple to make, and is totally some of the best chicken salad I've ever made! If you're not a big fan of fruit in your chicken salad, I get it. I used to be that person too. Check out my original Skinny Chicken Salad it's doesn't have any bells or whistles, but it's also top notch!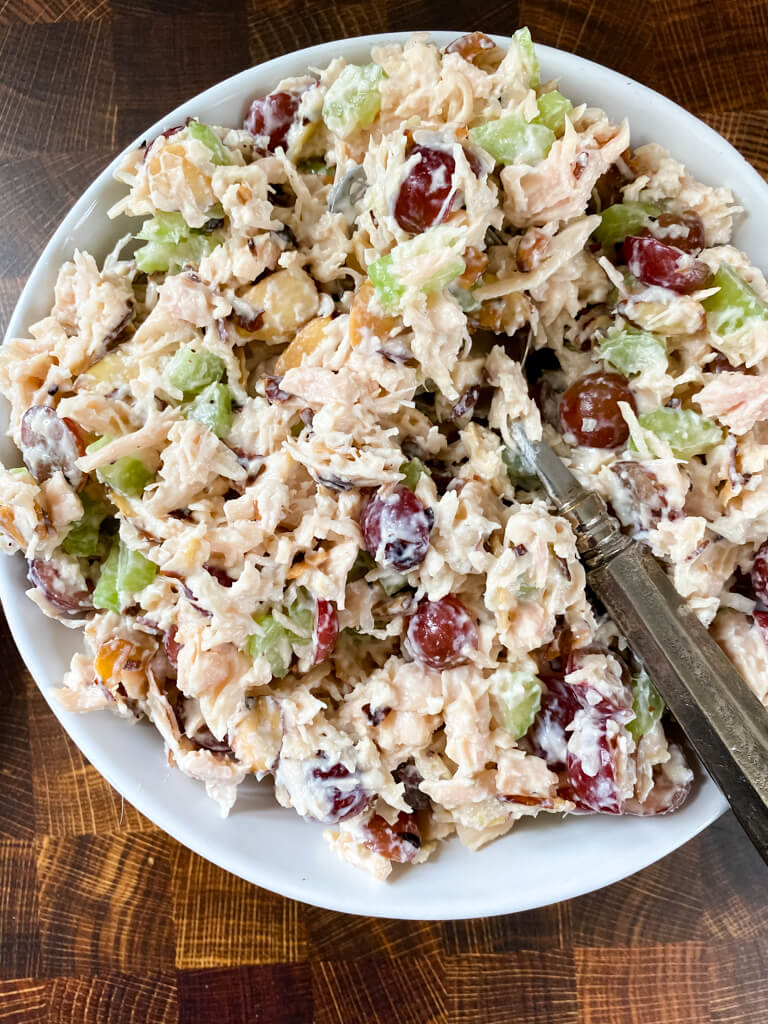 This makes a great salad for lunch, a light summer supper, and takes hardly any time to mix all together. When warmer weather hits, I almost always have a dishes of chicken salad, egg salad, and/or pasta salad in the fridge for grab and eat lunches that require zero work and no heating the kitchen up. I love eating it just with some lettuce or crackers, but it also makes for the best sandwiches and wraps.
How to make Chicken Salad with Grapes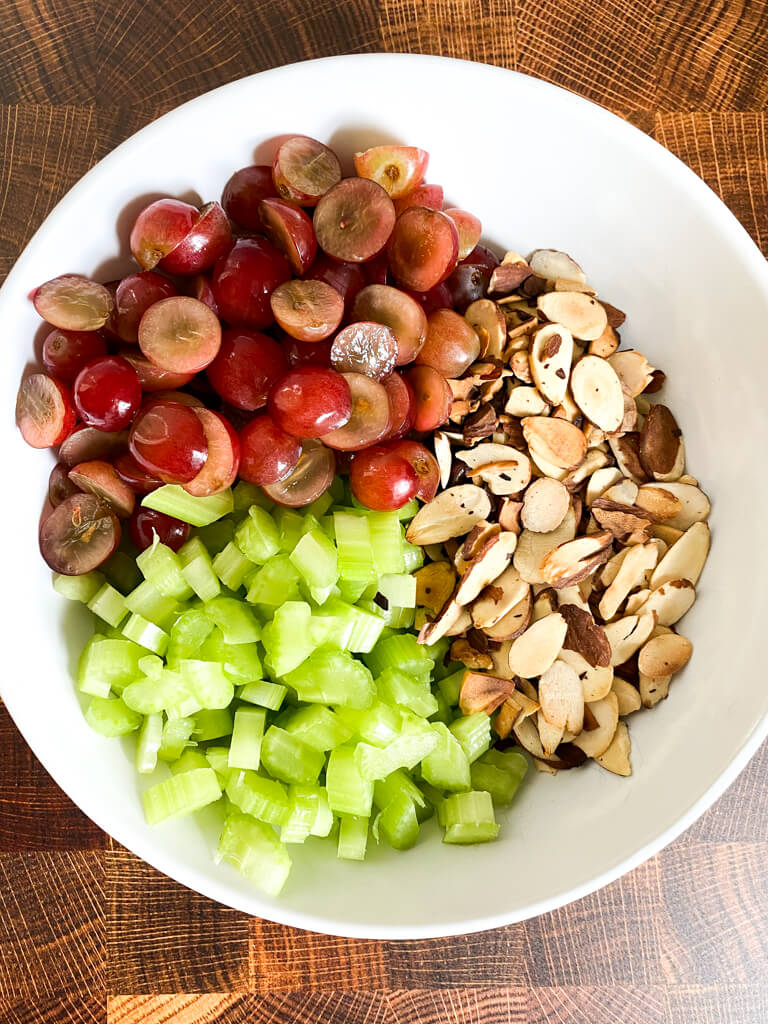 You'll need to prep just a few ingredients! Wash and slice red seedless grapes in half, dice celery, and grab some sliced almonds.
Toast your almonds!
Have you ever toasted almonds before? Super simple. I always grab sliced or slivered raw almonds (usually found in the baking aisle at the store) and toast them up before adding them into any recipe. Toasted almonds add a whole different level of flavor that you'll sure appreciate when you take a bite.
Simply grab a pan and heat over medium heat. Add raw sliced or slivered almonds to the pan and shake the pan/stir almost constantly for about 3-4 minutes over medium heat. You'll be able tell they're toasty by the golden brown color and delicious smell.
In a bowl stir together 1/4 cup light mayo, 1/4 cup nonfat greek yogurt, 2 tsp apple cider vinegar, 1 tsp honey, 1/4 tsp celery salt, and 1 tbsp dried minced onion.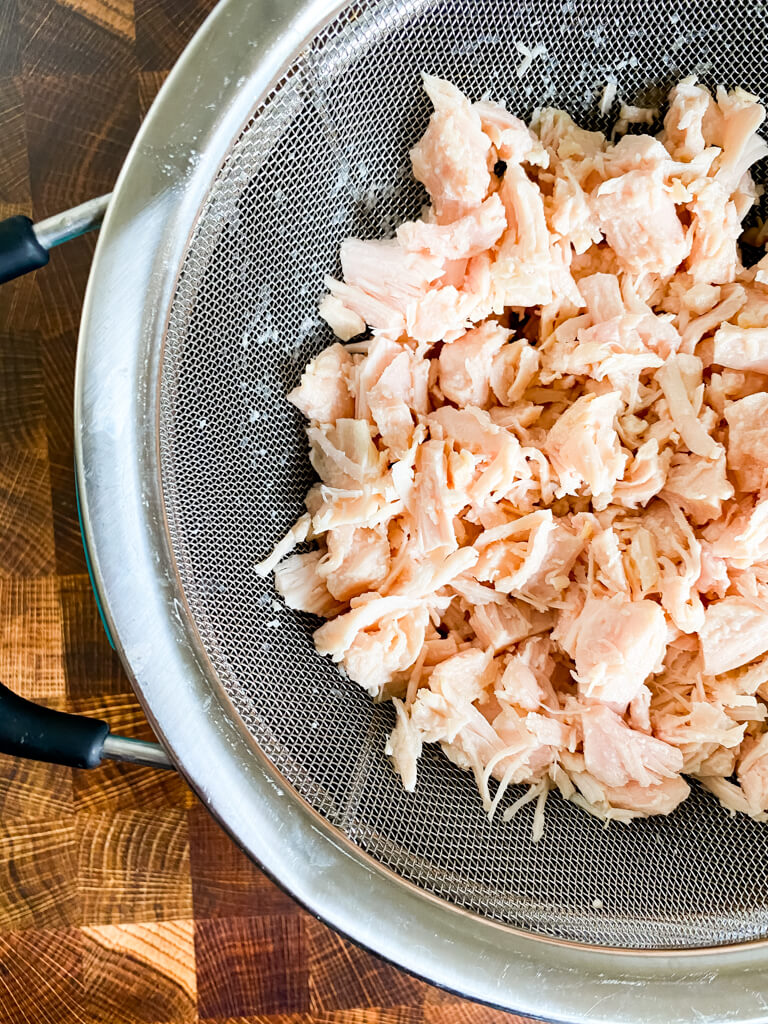 Wanna know a secret to really good chicken salad? Canned chicken breast. I don't know why, but it just always tastes so much better. I forgot how much I preferred canned chicken breast in chicken salad until I was organizing my pantry and realized I had a lot of canned chicken because we bought some before the "lockdown" started back in Illinois.
Not a fan of canned chicken breast? No problem at all. Use some homemade shredded or diced chicken. You can always grab a rotisserie chicken from the store for ease too!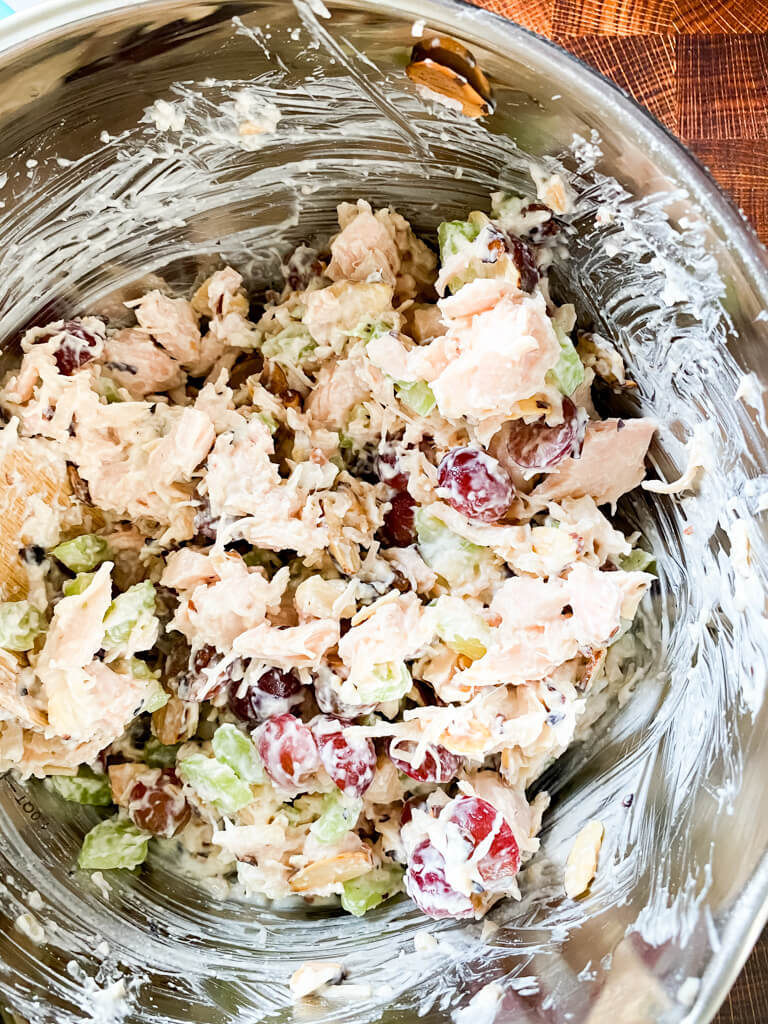 Add the celery, grapes, toasted almonds, chicken, and mayo/yogurt mixture and stir together real well.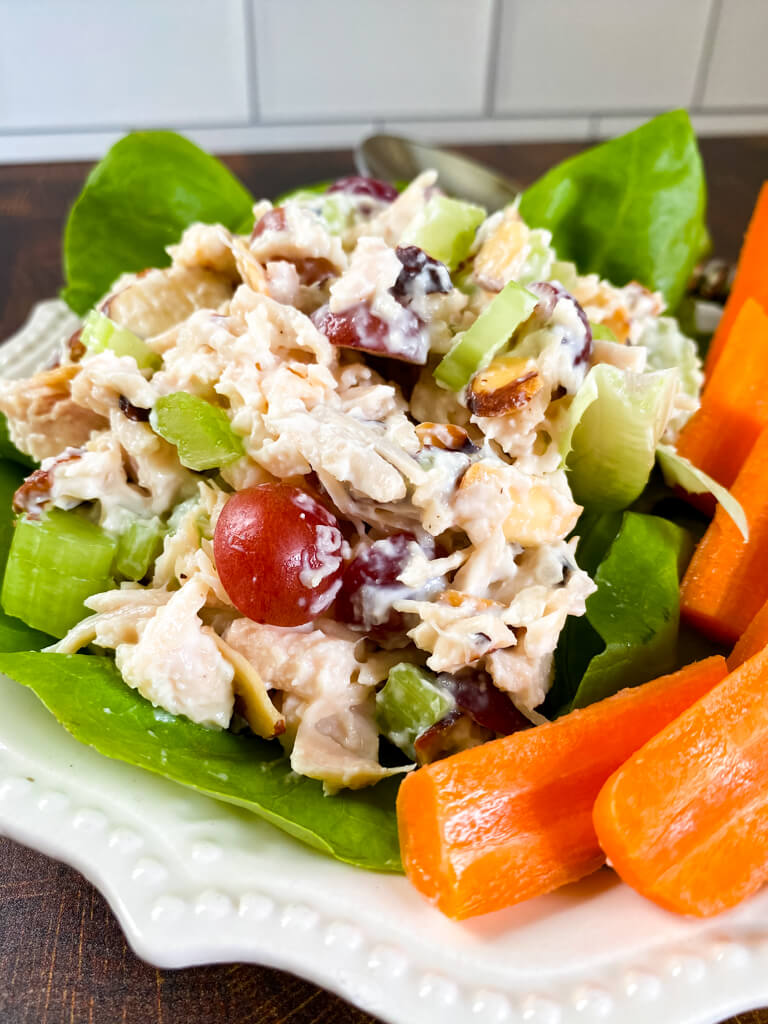 And we're done! Simple and satisfying!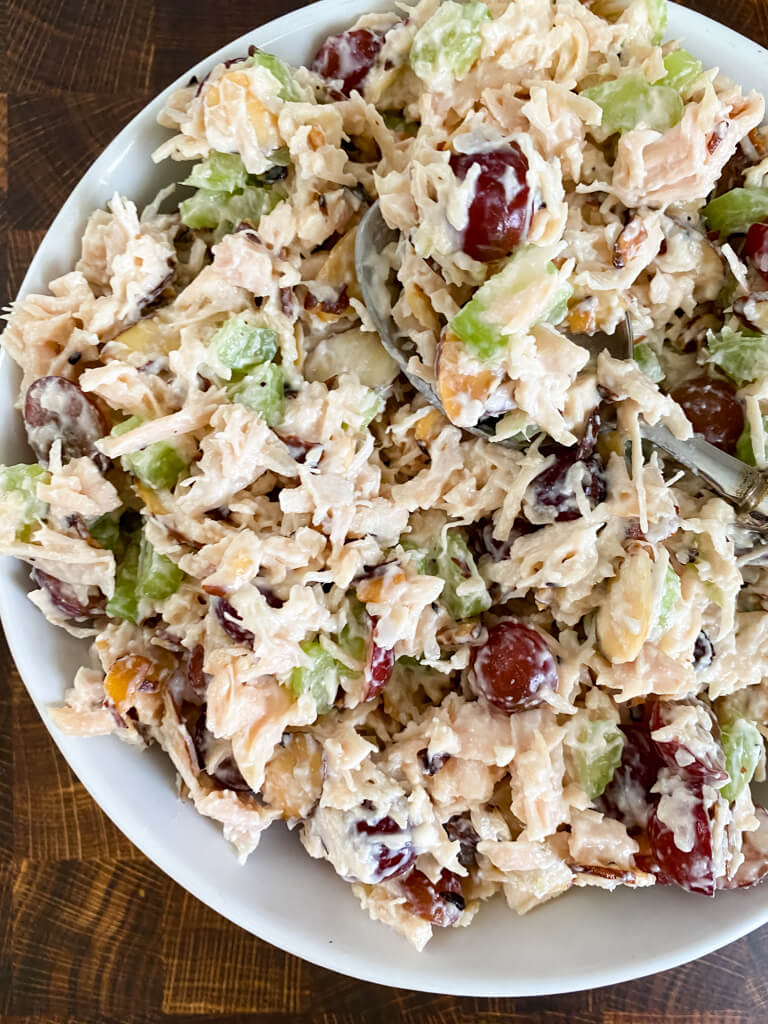 I hope you enjoy, friends!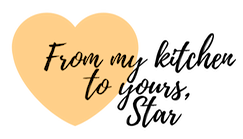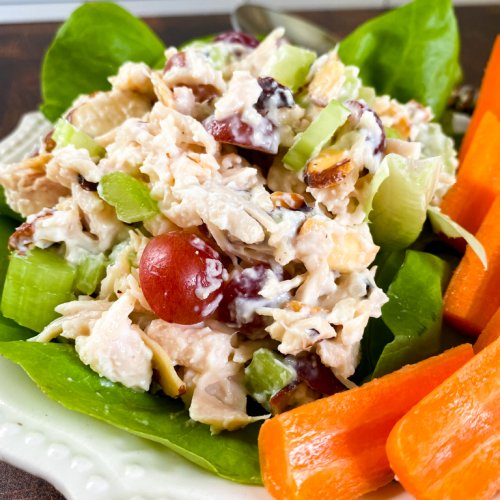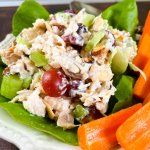 Print
Chicken Salad with Grapes
This Chicken Salad with grapes is so simple and delicious! The perfect recipe for healthy meal prep or a quick meal!
Materials
2 ½

cups

chicken (chopped or shredded)

(I like using canned chicken breast, but use whatever you prefer)

1/2

cup

diced celery

1/2

cup

red seedless grapes

quartered or halved depending on size

1/4

cup

sliced almonds

(chopped pecans work well too)

1/4

cup

light mayo

1/4

cup

non fat greek yogurt

1

tbsp

dried minced/chopped onion

(you can find this with other spices in the stores)

2

tsp

apple cider vinegar

1/4

tsp

celery salt

(can use regular salt if need be)

1

tsp

honey
Instructions
Toast almonds: In a nonstick pan over medium heat shake/stir sliced almonds until fragrant and light golden brown.

In a bowl stir together mayo, greek yogurt, honey, dried minced onion, celery salt, apple cider vinegar, and honey then add diced/shredded chicken breast, diced celery, grapes, and almonds. Make sure it's combined well. Cover and store in refrigerator for at least 25 minutes before eating to let the flavors hang out and meld together (it also softens the dried onion).

Enjoy chicken salad with lettuce, toasty bread, crackers, chips, or celery!
Notes
WW Points: 3
(points for 1/2 cup serving)
180 calories. 9.5g fat, 1g saturated fat, 6g carbohydrates, 1g fiber, 3.5g sugar, 0g ADDED sugar, 17g protein (for one full cup)