This Chicken Pot Pie soup is just every bit of creamy and comforting as the old classic, Chicken Pot Pie Casserole. I just love a good, flavorful, and creamy soup. It's what makes Fall days so much more warm and cozy. I like to prepare a big ol' pot of soup on Sundays and have the amazing smells permeate throughout the entire house. After a big Sunday dinner, we normally have leftovers so it makes for the perfect lunch throughout the rest of the week.
Eric is a, "I'll eat soup in 100 degree weather" type of guy. Me? not so much. I need the cooler weather. Every once and awhile, I'll make a pot of soup for him during the hot summer, but it's not often, because he's nuts for wanting steaming hot soup on a 105 degree summer eve. (I apologize to any one who is a hot soup summer eater reading this.. I don't think you're nuts in general, just nuts for eating hot soup in blazing' heat)
BUT. It's been a perfect past few days for soup.
Am I the only one that the weather impacts my dinner choices so much?
I'm sure I'm not, but I am totally the type of person who eats fairly seasonably and I stick to my guns.
Also, I can't believe it is the end of September. Not even a little.
We have a big old small town festival every year at this time called…. Corn Fest. Yep, that's right.
It's a good time to see and catch up with old friends, eat lots of yummy food, enjoy a few drinks, and this year I'll be partaking in some of the more Family Friendly type of activities seeing as Pepper is old enough to enjoy it now. It's one of those things being from a small town that you don't pay much attention to… I grew up with Corn Fest. I went there each year with my parents and we did many different things together like petting zoos, the parade on Sunday, the carnival, and Thursday night Firefighter Water Fights!
As I got older, I went with friends.
And then I got even older and I avoided it for a couple years.
Then a little bit older and I felt nostalgic and wanted to go again, if not just for some yummy treats and eats with the smell of kettle corn in the air on a cool night.
And now? It's time to carry on the cornfest tradition and make this another small part of my little girls big life.
Isn't it funny how that works? I'm seeing more and more that life is such a cycle since having my sweet gal.
Did I mention it's my Ten Year HighSchool Reunion this coming weekend also? Oye.
Now that I've gone completely off track from this soup. I'll get back to it. I just love this soup. I just love Chicken Pot Pie. Speaking of Chicken Pot Pie, I've also got a yummalicious Chicken Pot Pie Bake if you're feelin' that instead. I'm so happy that I didn't even need to let go of the butter or the olive oil in this recipe to lighten it up. It's got all the creaminess that this soup should have and I am so excited to share it with you! I am also very happy that I didn't need to deviate from my original Chicken Pot Pie Soup recipe. I just switched up whole milk with unsweetened almond milk. Every single time I do this, I get nervous, but I've been doing this with a lot of soup recipes lately to lighten up the caloric intake and it's been working beautifully! You are more than welcome to use milk in this and it will work just the same as that is the original recipe.
Now, Here's what goes on in the kitchen:
Gather up some ingredients. I always show all of my vegetables already cut up because before I start cooking. I always make sure to have them ready to go and measured out. It makes cooking SO much easier. For this soup you'll need, chopped onion, carrots, celery, and garlic, frozen peas and corn, shredded/diced chicken, parsley, 4-5 sprigs of fresh thyme, Salt&Pepper and turmeric. The turmeric is completely optional so if you don't already have some in your spice cabinet, no need to grab it at the store. Turmeric has a peppery flavor, so you can just add pepper. I like to use it in some recipes because it just adds a beautiful rich yellow color and it has some awesome health benefits. You'll also need chicken broth, unsweetened almond milk, butter, flour, and olive oil. Those things aren't the most photogenic, so I didn't put them in the photo. I make the rules here. I know this list of ingredients is like WHOA, but i promise this soup is easy to throw together and well worth the hefty list of ingredients!
In a soup pot over medium heat, heat olive oil and add your chopped carrots, celery, onion, and garlic. Cook until your onions are translucent.
When the onions are translucent, add butter, let it melt and stir it into the veggies.
Next you'll add the flour and stir constantly for about 30 seconds
Next up! Add your milk and chicken broth
Add the parsley, turmeric, and thyme sprigs. I add the whole sprig and then fish them out later on. Sometimes I leave them in there and when someone finds them in their soup, I shout "You Win!" and they are like, "What do I win?" and I'm like "the hot bowl of delicious soup that you're eating, you're welcome"
Now, bring the soup to a boil and then let it simmer stirring occasionally until thickened, this takes about 15-20 minutes.
Add your frozen peas and carrots
Stir and heat until the frozen peas and carrots are heated. Salt & Pepper to taste!
And here's your soup… hearty, delicious, creamy, and perfect.
and a close up of this delicious, hearty, creamy soup…
And another photo to convince you this soup is amazing.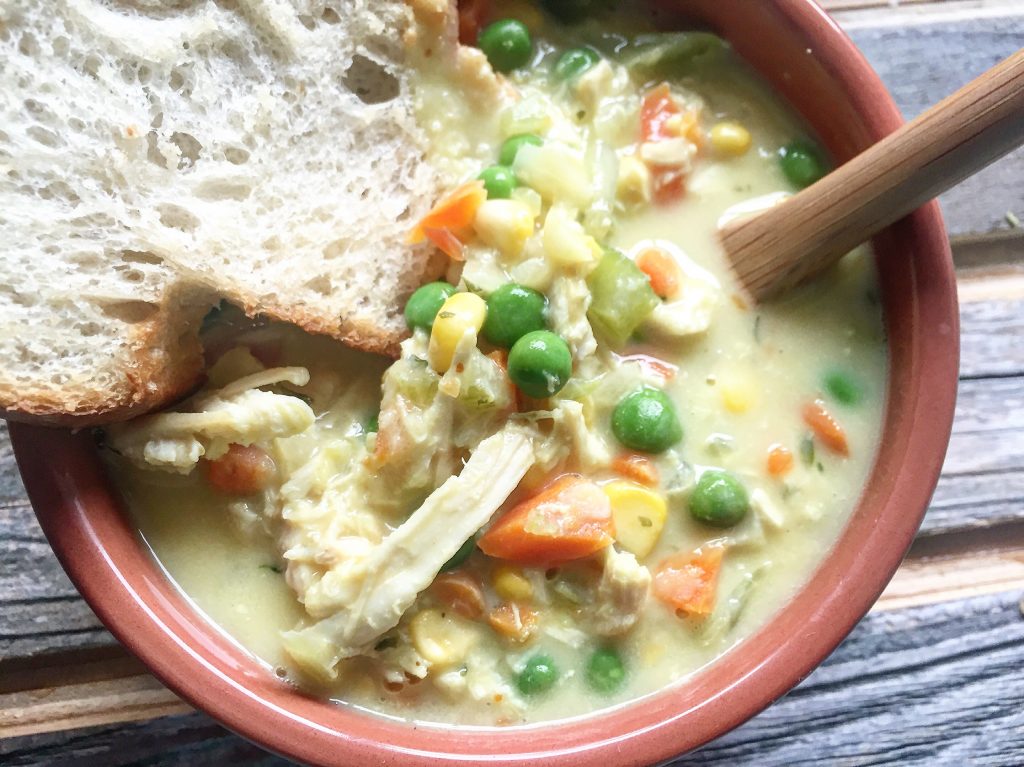 Okay last one, I probably got carried away with the photography part of this soup. It just looked so good!
Now go on and make this and let me know how it went!
Xo! Star
Chicken Pot Pie Soup
Hearty, creamy, delicious soup.
Ingredients
1

tbs

olive oil

2

tbs

butter

2

cups

almond milk

, plain & unsweetened

2

cups

chicken broth

, low sodium

1/4

cup

flour

2

cups

chicken

, cooked and shredded

1

cup

frozen peas

1

cup

frozen corn

3

ribs celery

, chopped

1

onion

, chopped

4

carrots

, chopped (about 3/4 cup)

2

tbs

garlic

, minced

1/4

tsp

turmeric

2

tsp

parsley

4-5

sprigs fresh thyme

salt & pepper

, to taste
Instructions
In a pot over medium heat, warm up the olive oil and add carrots, celery, onion, and garlic. Cook until the onions are translucent.

When the onions are cooked, add the butter, melt, and stir until coated.

Add the flour and stir constantly for about 30 seconds.

Add milk and chicken broth.

Add parsley, turmeric, and thyme sprigs.

Bring soup to a boil and then simmer for 15-20 minutes, stir occasionally until thickened.

When thickened, Add peas, corn, and chicken.

Continue to cook on low until the corn and peas are heated through.

Salt & Pepper to taste.

If soup gets too thick add a bit more milk and stir.

Last, but not least... Enjoy!
Recipe Notes
Serving Size: One heaping cup.
3 Freestyle Smart Points (Calculated with Weight Watchers Recipe Builder)
5 Smart Points (Calculated with Weight Watchers Recipe Builder)
4 Points Plus (Calculated with the My Score Plus app)
200 calories 8g fat. 3g saturated fat. 14g carbohydrates. 1.5g fiber. 3g sugar. 18g protein. (Calculated with My Fitness Pal)