Chicken Parmesan Meatballs
This post may contain affiliate links (meaning I earn a small comission if you purchase an item through a link I provide) I only provide shoppable links to items I love and are helpful. As an Amazon Associate, I earn from qualifying purchases.
This recipe for Chicken Parmesan Meatballs is healthy, tasty, and totally easy enough to throw together any night of the week and special enough for a weekend too! I love serving them over a plate of pasta or in a bun for a tasty spin on a class meatball sub!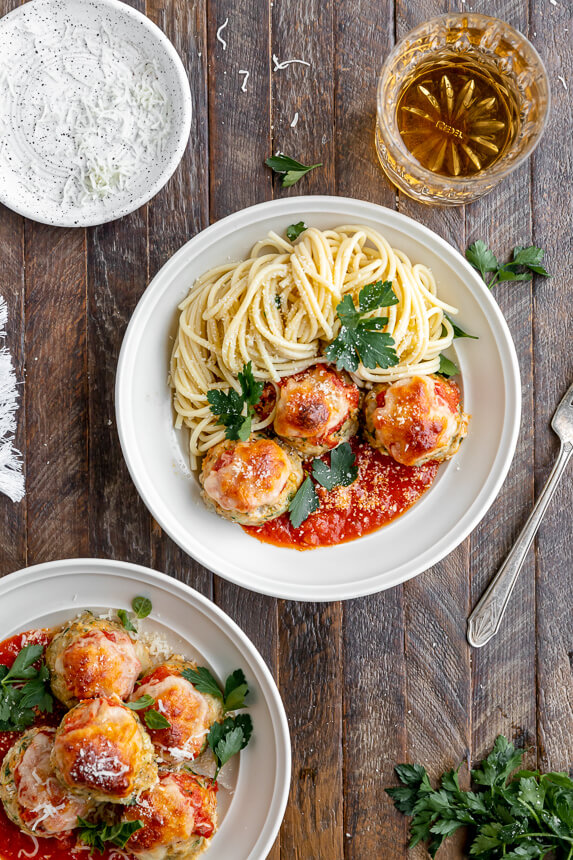 So excited to share these Chicken Parmesan Meatballs with y'all today. Truth, I don't use ground chicken very often. It's not because I don't like it. I just don't think of it. I was scavenging through the ice cold dark pit of my kitchen (aka my freezer). I was attempting to use some of the stuff up, so that meat doesn't become freezer burnt and old. I found two lbs of ground chicken in the way back that I had forgotten about. Chicken Parmesan Meatballs came to mind and sounded like a good plan to me!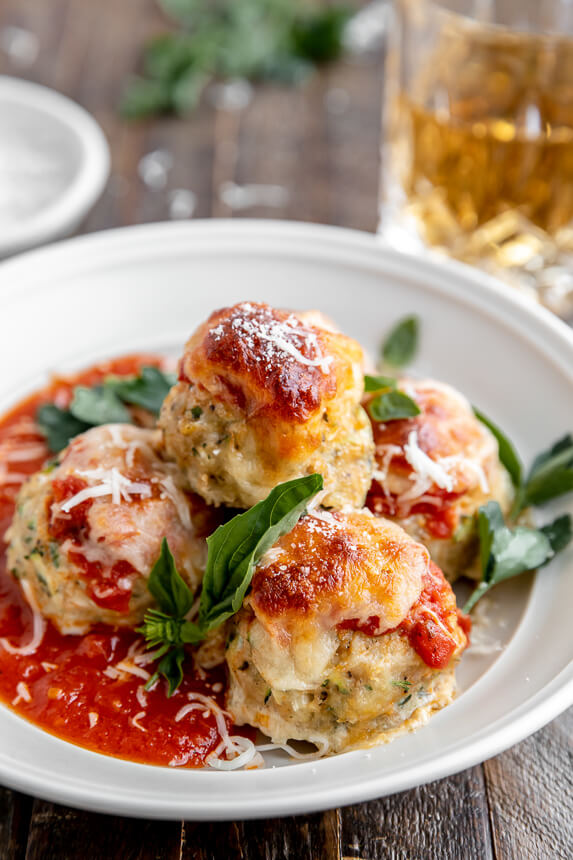 So amazing how much they remind me of actual Chicken Parmigiana! Even Miss "I don't eat anything except for waffles & bananas now" was asking for more after she ate up what was on her plate. Honestly, that one felt good. I've been fighting with her to eat things other than the previously mentioned food items for the past two weeks. I know all kids go through this, but I was determined to be the mom whose child didn't. Funny story, that didn't happen. This little chiquita doesn't touch any kid-friendly, quick, convenient type of food. She won't even touch chicken strips anymore. What is going on??
So this past week I've spent a lot of time in the kitchen cooking up some new (and old) things for this little blog here, and her favorites? Chicken Parmesan Meatballs and Chicken Stew. Whose child is this? I mean, I LOVE both of these things, but I'm fairly positive that at the tender age of 17 months…. I didn't touch either of them. But her? She won't touch macaroni and cheese. Just no interest at all. Did your heart just skip a beat? Mine does every time I think about it.
These babies are just too good, and they're also super light on calories and totally WW friendly, so you can make some pretty scrumptious meals out of them! So far I've done Chicken Parm Meatball Pasta and Chicken Parmesan Meatball Subs! These meatballs would also be good just all by themselves, to be honest. With lots of delcious flavor coming from the garlic and freshly grated parmesan in the chicken and then being topped with my slow cooked flavor packed marinara, these will be a definite crowd pleaser. You could even just stick a toothpick in them, grab a bowl and put some of my delicious marinara sauce in for dipping, and call'm an appetizer for parties! I love when one simple recipe can be turned into so many good things.
HOW TO MAKE CHICKEN PARMESAN MEATBALLS: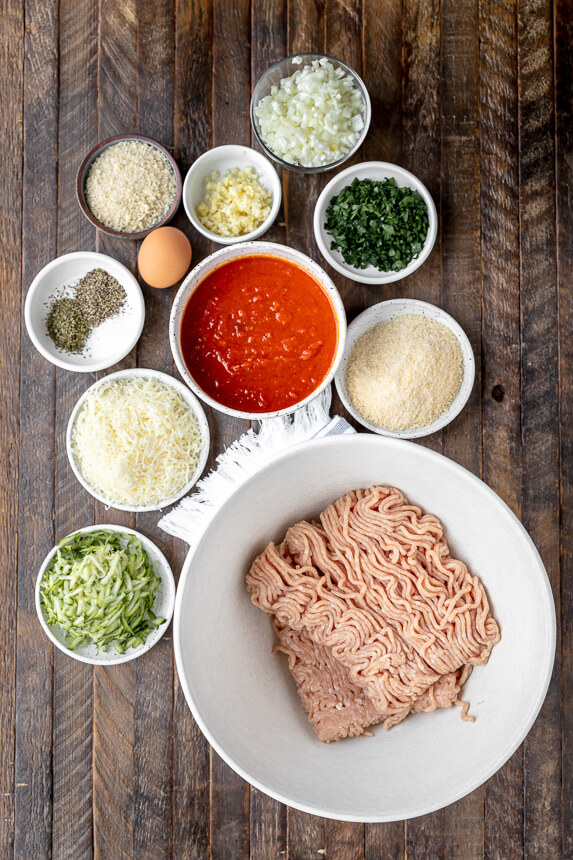 What you need to make Chicken Parmesan Meatballs:
2 lbs lean ground chicken
one small zucchini grated- you only need about a cup so if you have a large zucchini don't use the whole thing (run it through a food processor for extra quickness)
1/2 freshly grated parmesan (run this through the food processor too! literally takes seconds) you can use already grated parmesan, but a freshly grated parmesan tastes better.
onion- in meatballs I usually use a couple tablespoons of dried minced onion (found with other spices in the grocery store), but you can finely dice about 1/4 cup of onion too
one whole egg
3-4 cloves garlic or about 1 tbsp minced
Panko breadcrumbs! I like to use panko style breadcrumbs instead of fine breadcrumbs. Be sure you're using the plain panko ones for best results!
1 tablespoons Italian Seasoning
1/2 teaspoon oregano
1 tsp kosher salt and 1/4 tsp pepper
1 and 1/2 cups Marinara- of course, I use my super popular and yummy recipe for marinara, but it's just fine to grab a jar off the shelf at the store too!
1 cup shredded mozzarella
All this talk about a food processor, I'm gonna link my food processor here. I was team food processors are unnecessary for a really, really long time. I literally just started using one a lot more this past year after Eric gifted me one hoping that it would help me save time. He was right. They are incredible time savers and I will always have one from this day forward. But I, more than anyone, understand sometimes extra space in the kitchen and room in the budget doesn't allow for something like that, a good grater will always get the job done! Just takes a little extra time.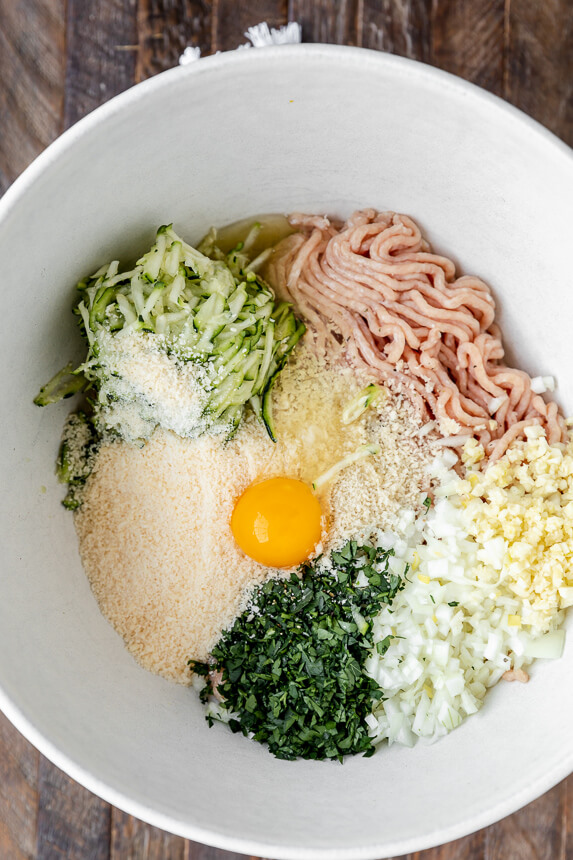 Grab a bowl and throw in all of the ingredients except for marinara and mozzarella.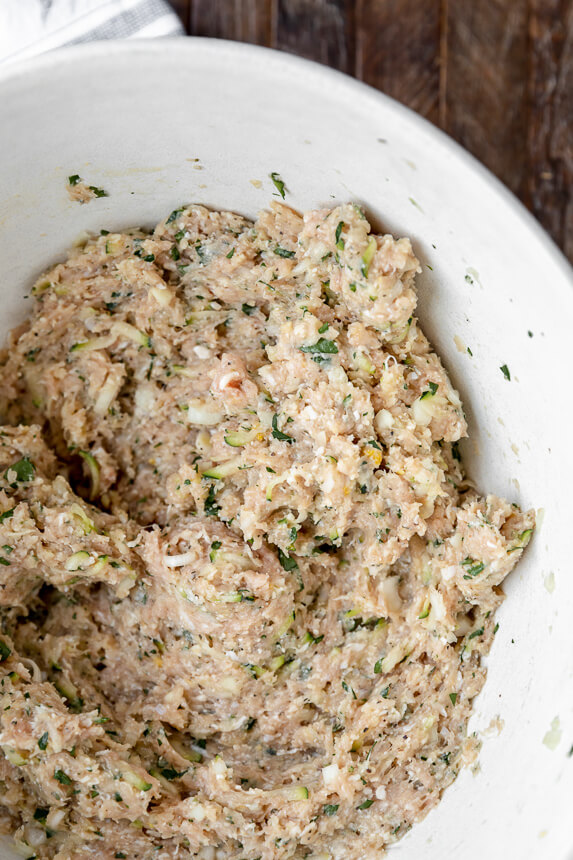 Now wash your hands and get in there and mash together! (you can also use food safe gloves)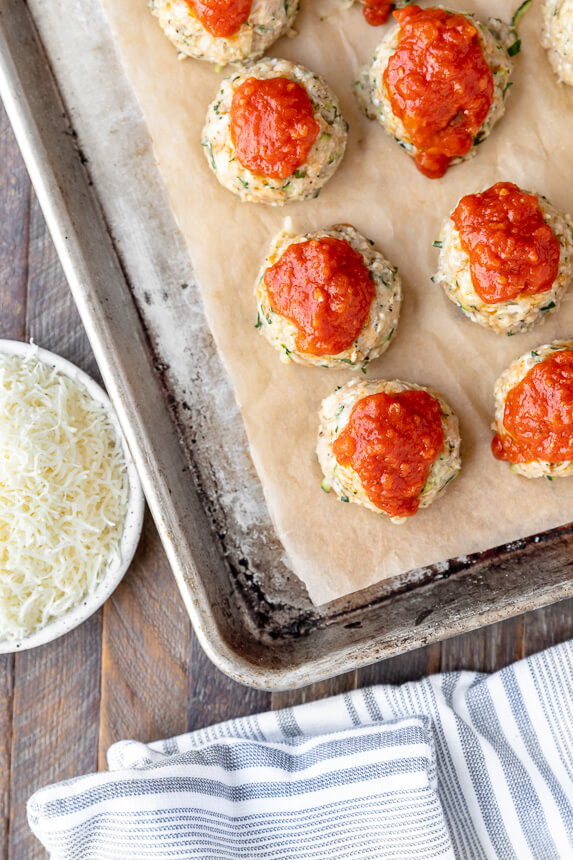 Grab a sheet pan (with sides) and line with parchment paper or aluminum foil. Start to roll your meatballs up then top with about 1 tablespoon of marinara on each meatball.
Tip: to prevent sticking while you roll into a ball spray your hands with just a little cooking spray.
Now top with a pinch or two of mozzarella, about a tablespoon per meatball.
Pop these into a preheated 400 degree oven for about 25 minutes.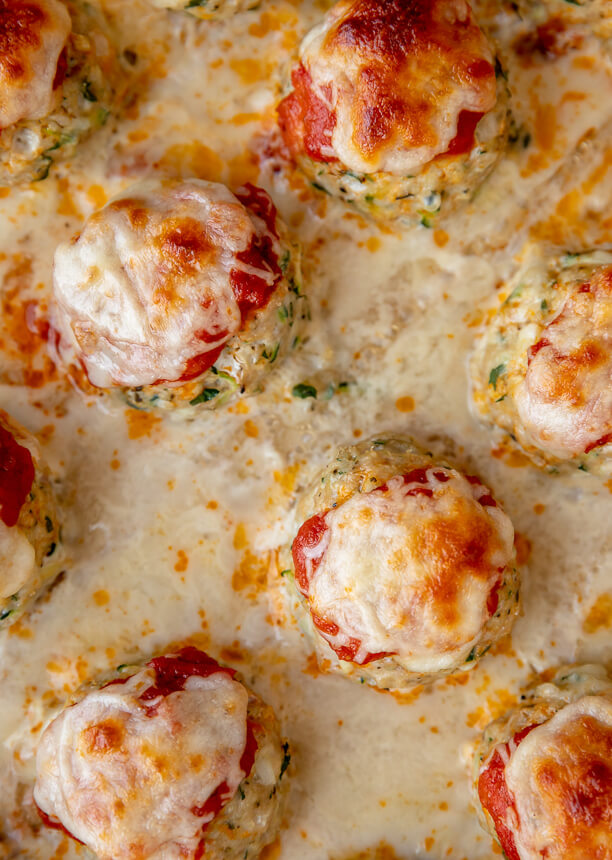 Hot outta the oven! Delicious and heathy Chicken Parmesan Meatballs!! Now toss them with your favorite pasta and sauce, stuff them in a warm bun, or stick a tooth pick in them and call it a day.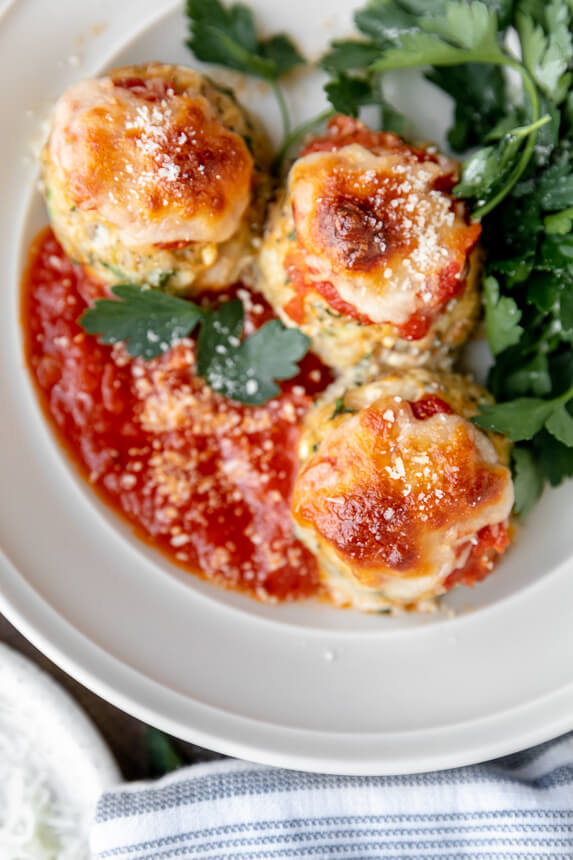 Lots of Love from my kitchen to yours..
Star
This post was originally published 10/2016, but I updated 03/2022 to with improved photos and minor recipe adjustments.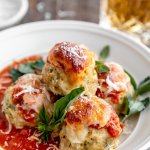 Print
Chicken Parmesan Meatballs
Crispy chicken meatballs, topped with a flavorful marinara and mozzarella cheese.
Materials
2

lbs

lean ground chicken

1

small zucchini (shredded/grated)

(about 1 cup total))

½

cup

parmesan

freshly grated is best, but already grated will work just fine!

¼

cup

finely diced onion

or two tbsp dried minced onion

3-4

cloves garlic

or about 1 tablespoon minced garlic

1/4

cup

panko breadcrumbs

1

egg

1/2

tbsp

italian seasoning

1/4

tsp

oregano

1

tsp

kosher salt

1/4

tsp

pepper

1½

cups

marinara (extra for serving if desired)

I use my easy peasy homemade marinara, but store bought is just fine

1

cup

shredded part skim mozzarella

Cooking Spray
Instructions
Preheat oven to 400 degrees.

In a large bowl add all of the ingredients except for the marinara and mozzarella cheese.

Roll meatballs slightly larger than a golf ball. You should get 24 meatballs. Place onto a sheet pan lined with parchment paper or aluminum foil. Top each meatball with about 1 tbsp of marinara and mozzarella.

Place in oven and bake for about 25 minutes. Garnish with extra parsley if desired.
Notes
WW Points: 2
(Points caluclated for each meatball. They are larger than average meatballs so I find 2-3 is the perfect serving size depending on what I'm using them for.)
260 Calories 11g fat. 4g saturated fat. 4g carbohydrates. 1g fiber. 1g sugar. 28g protein (per 3 meatballs)