This post may contain affiliate links (meaning I earn a small comission if you purchase an item through a link I provide) I only provide shoppable links to items I love and are helpful. As an Amazon Associate, I earn from qualifying purchases.
Looking for a delicious and satisfying dish that's perfect for any occasion and/or a protein rich meal prep? Look no further than chicken macaroni salad! Packed with tender chicken, al dente macaroni, and crisp veggies, this classic recipe is a crowd-pleaser that's easy to make and sure to make your taste buds dance!
Whether you're hosting a summer barbecue, packing a picnic lunch, or just craving a no heat summer meal, chicken macaroni salad is the answer for a super easy side dish recipe or totally craveable meal!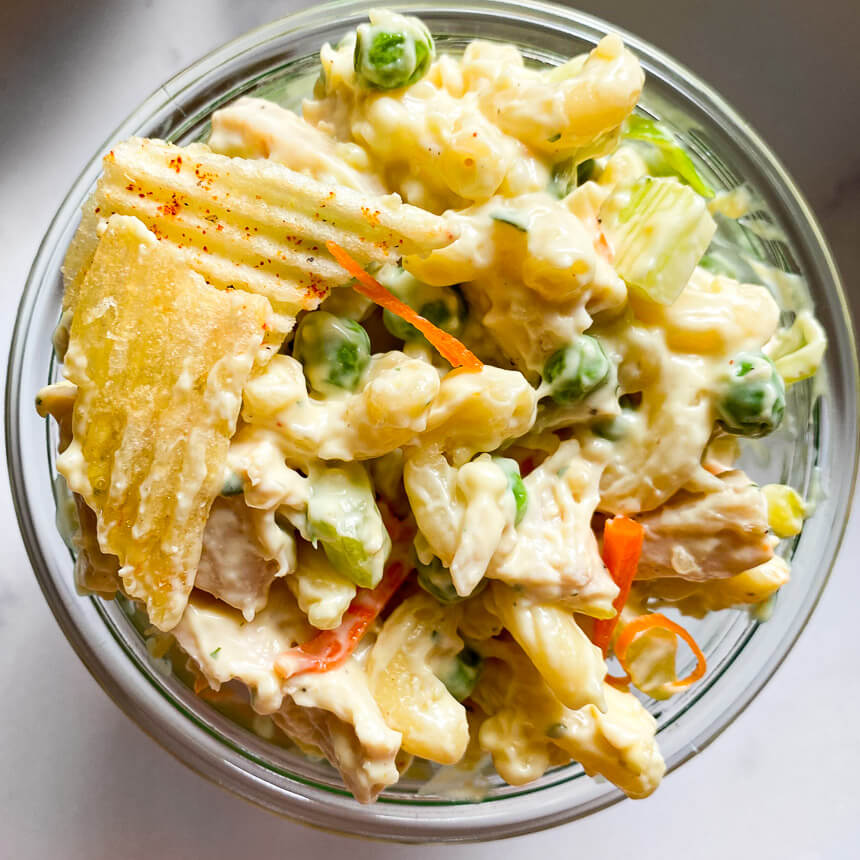 The BEST Chicken Macaroni Salad Recipe
Chicken Macaroni Salad is a popular dish that is typically made with cooked al dente macaroni pasta, cubed or shredded chicken, fresh veggies, delicious seasoning, and coated in a creamy savory dressing.
It's meant to be served chilled, making it a refreshing meal option especially during the summer months. Chicken Macaroni Salad is a versatile dish that can be served as a main course, a side dish, or even as a party or potluck dish to pass!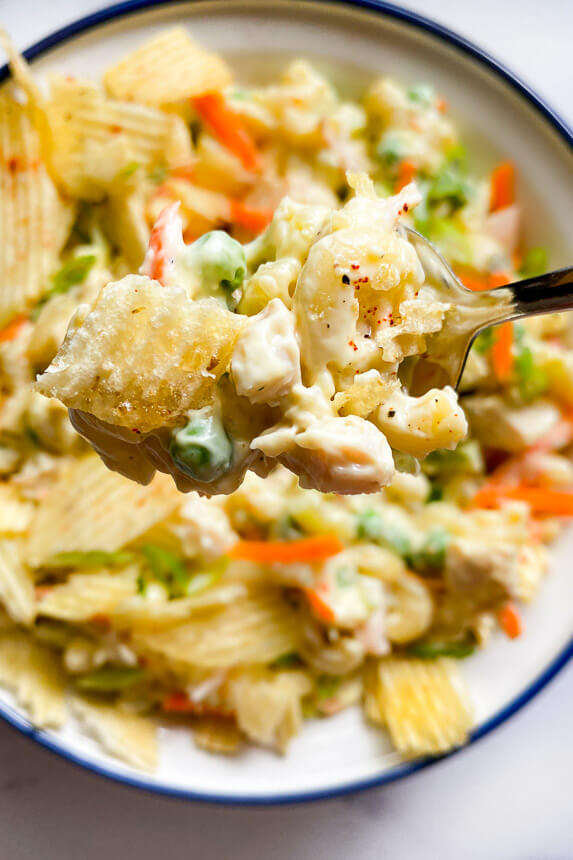 If you're in the mood for no heat easy summer recipes meals be sure to try out my tuna pasta salad, ramen noodle salad, or chicken salad with grapes! I know you'll just love'm. All of these recipes are sure to hit the spot and they are so easy to throw together.
When I was younger my family would always make cold pasta salad with chicken or tuna in to enjoy in the hot summers. I remember my dad especially would request my mom meal prep different pasta salads for him to have while he was at work along with fresh fruit salad. I can't remember a time when I was younger these type of salad recipes weren't in the fridge during the summer.
We even had a little family secret that make salads like this chicken macaroni salad even more delicious. Wanna know? It's crunchy. It's salty. Potato chips!! It's the best.
Think of this chicken macaroni salad basically kind of like summer style chicken noodle casserole and you're going to love it, okay!?
Salad Ingredients List
You only need a handful of simple ingredients to make this Chicken Macaroni Salad. Most of these you probably have on hand.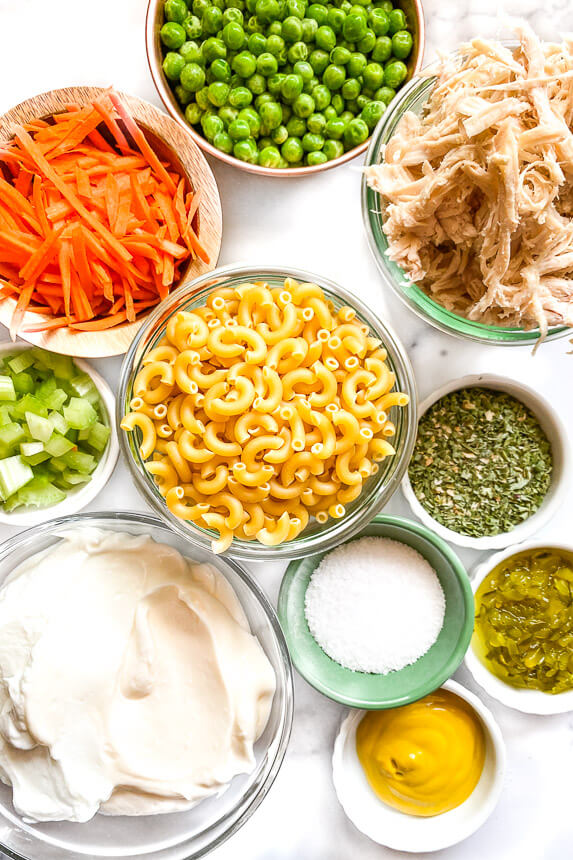 Elbow macaroni noodles- you can use any small pasta, but I love macaroni noodles!
Cooked shredded or diced chicken breast
diced celery
shredded carrots
mustard (yellow or dijon mustard!)
dill relish
mayo (I use light, but full fat or avocado mayo works great)
greek yogurt (I use non fat, but any % works well)
milk (I tend to stick to 1% or 2%, but skim or whole will work fine, low fat buttermilk is also a great option here!)
frozen peas
ranch seasoning (homemade mix or hidden valley packet!)
lemon (not pictured above)
kosher salt
How to make Chicken Macaroni Salad
Prepare the chicken
You can really prepare chicken any way you would like for this macaroni salad. The only thing is that I would use freshly made chicken, not leftover chicken. This ensures that the pasta will taste fresh in the fridge for you for multiple days.

There are a number of ways to get shredded or diced chicken. Here's a few of my favorite!
Instant Pot: Check out my Instant Pot Shredded Chicken recipe. I would just leave out the paprika in the recipe so it doesn't over power the chicken macaroni salad.
Crockpot: Check out my Crockpot Shredded Chicken recipe.
Bake: Check out my Easy Baked Chicken recipe. One of my most popular recipes to make and use for different things. Just diced into small peices.
Boil: In a large pot over medium heat, add 1.5 lbs chicken, chicken broth, and season well with salt and pepper. Bring to a boil, then cover and reduce heat to a simmer. Let the chicken cook through, which should be about 10-12 minutes. Remove from pot. Let it rest for at least 10 minutes before dicing or shredding.
Store-bought: Rotisserie chicken works great for this! It's a delicious and easy shortcut.
Canned chicken: In a pinch, you can use canned chicken; but I recommend using one of the methods above or your own recipe for shredded chicken.
Since cooking is my job, I tend to have extra time to make homemade chicken, but trust me because cooking is such a big part of my job I also crave short cuts! Using rotisserie chicken from the store is a huge time saver and it's absolutely delicious! If you're near a Costco, you're so lucky! Go grab a 5$ rotisserie chicken- I know whenever we make the trip I usually grab TWO.
Prepare the macaroni noodles

Boil a pot of water and prepare noodles according to package instructions. Be sure to salt the boiling water before adding in the noodles. When they are al dente (meaning a slight bite to the noodle) drain in the sink and rinse well with cold water until the pasta feels cold.
Two very important rules for cooking pasta for pasta salad
Make sure to salt the water while cooking the pasta. I use one and a half tablespoons of kosher salt for half a pound of pasta. This really is non negotiable. It flavors the pasta while cooking and this isn't able to be done after the pasta is cooked. Ever had really bland pasta? The cooking water wasn't salted.
When the pasta is done cooking you MUST rinse it really well with cold water in a colandar. This is also a non negotiable because this prevents the macaroni noodles from soaking up all the delicious creamy dressing.
FAQ: Can pasta be cooked ahead of time?
Yes! This works well since the pasta needs to be cold before adding in with the other ingredients and dressing anyhow.
Make the creamy dressing
To me, the creamy dressing is the most important part of a perfect chicken pasta salad. The flavors need to be balanced, the dressing needs to be creamy, and it needs to be healthy too! I love this dressing.
First off, add mayonnaise, milk, Greek Yogurt, mustard, dill relish, juice from half of a lemon (about 2 tbsp) and a ranch seasoning packet into a small bowl. Whisk together until combined.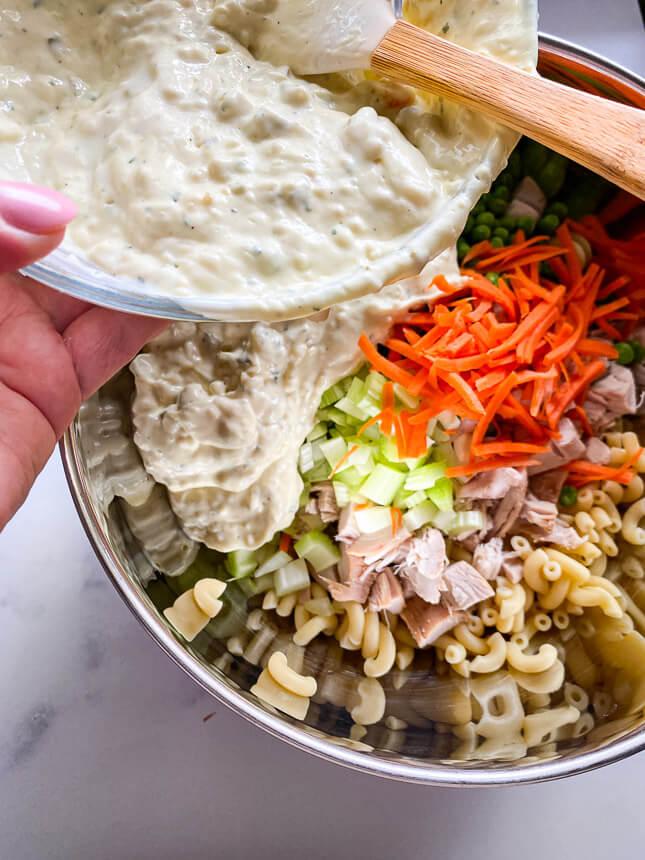 Let's assemble this easy chicken macaroni salad
In a large mixing bowl add diced chicken, celery, carrots, cold pasta, peas, and creamy dressing. Stir together until everything is combined.
While you can eat this right away and it does taste super good, it does taste best if you cover it and let it sit in the refrigerator for about an hour.


No heat lunch meal prep
I grew up on cold macaroni salads just like this being two things: a side dish for cookouts OR a delicious cold meal to have on extra hot summer days.
Recently, I asked my readers on Instagram what they would like to see more of here on the skinny-ish dish and while I got a ton of response, one thing stood above the rest, no heat lunches for meal prep.
My mind immediately went to this cold chicken macaroni salad recipe.
I love to add it to a meal prep container with lettuce and a hard boiled egg. It's one of my favorite ways to eat it and ask we get into these insanely humid southern summers, I will CRAVE it.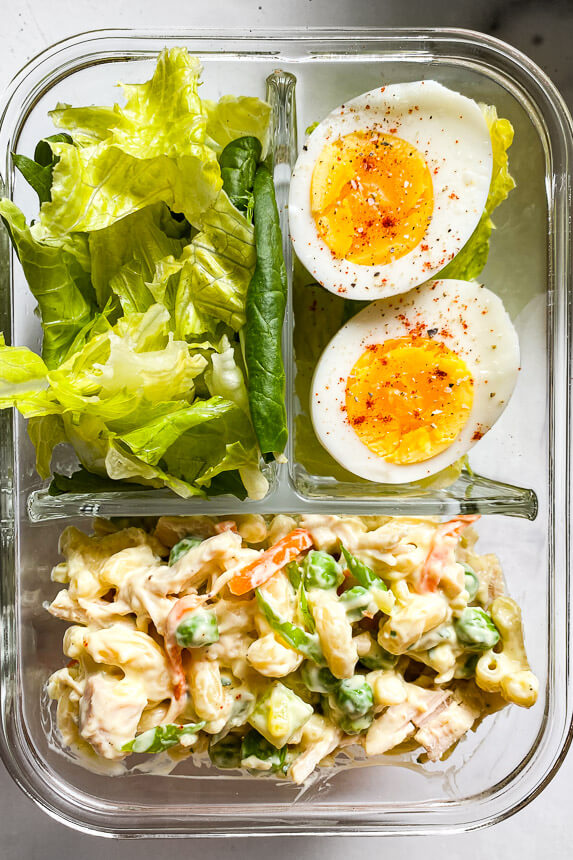 What do you eat chicken macaroni salad with?
There are many different foods that pair well with macaroni chicken salad. It's super versatile and just so good!
Food off the grill, such as chicken, steak, or pork chops
Sandwiches or wraps
Cheeseburgers/hot dogs/ brats off the grill
BBQ Ribs
Fresh vegetables: chopped lettuce, cherry tomatoes, cucumbers, and/or bell peppers
Fruit: sliced apples, grapes, fresh watermelon, honey dew, muskmelon, pineapple
Chips, pretzels, or crackers for a yummy salty and crunchy texture
Ultimately, chicken macaroni salad is pretty versatile and makes for a super easy side dish recipe with other foods. It all depends on how you want and what you have on hand.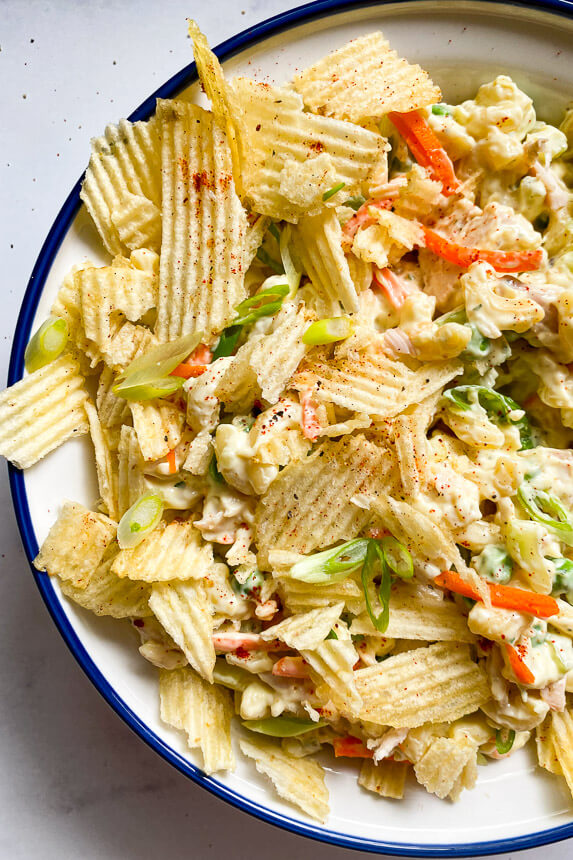 Easy Chicken Pasta Salad Add-Ins!:
I know sometimes it's easier to use what you already have on hand, switch up flavors or add different ingredients in to breathe new life into a favorite recipe. Here are a few ideas to make your chicken macaroni salad unique, I would switch up the same amount of something already in the recipe for a new addition to keep the creamy dressing the same. Example: switch 1 cup sweet peas for 1 cup corn.
Sweet pickle relish! Add some sweetness instead of the dill relish
Olives/capers- a good brine-y bite, yes please.
diced red bell pepper- sweet fresh crunch!
tiny cubes of cheddar cheese
red onion or green onion
hard boiled eggs
corn- I love sweet corn in pasta salad recipes, especially when it's in season!
bacon- ummm, bacon makes everything more delicious. Fact.
potato chips- there's nothing better than salty crunch on top of chicken macaroni salad, but be sure to add them in fresh at each serving so they stay crunchy.
More Recipes You'll love!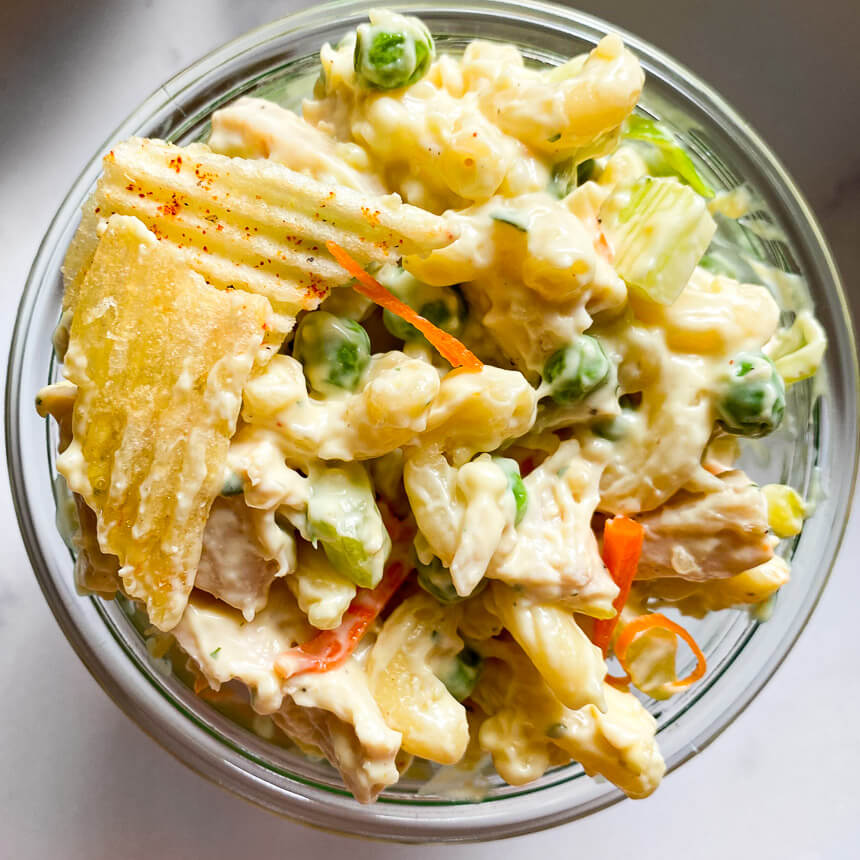 Print
Chicken Macaroni Salad
Easy pasta salad with chicken, macaroni noodles, vegetables, all covered in a creamy tangy sauce.
Materials
8

ounces (uncooked)

Elbow Macaroni Noodles

1½

tbsp

kosher salt

(only for the water you boil the noodles in)

3

cups

fully cooked and diced or shredded chicken breast

1/2

cup

diced celery

1/2

cup

shredded or finely diced carrots

1

cup

frozen peas
Creamy Dressing
3/4

cup

Light Mayo

1/2

cup

nonfat Greek yogurt

1/4

cup

milk

1

packet

ranch dressing seasoning mix

(or about 1½ tbsp homemade ranch seasoning mix)

1

tbsp

dill relish

1

tbsp

yellow mustard

(dijon mustard works here too)

juice of half on a lemon

(about 2 tbsp) This is technically optional, but it really does brighten it up so nicely
Instructions
Bring a large pot of water to boil. Add 1½ tbsp kosher salt to the water. Prepare macaroni noodles according to package instructions, cook to al dente (with a bite).

While the noodles are cooking, in a small bowl whisk together mayo, Greek Yogurt, milk, lemon juice, dill pickle relish, mustard and ranch seasoning packet.

When noodles are finished cooking drain noodles in colander then rinse really well with cold water until the noodles are cold.

In a large bowl add noodles, chicken, celery, peas, carrots, and the creamy dressing. Stir well to combine. This can be eaten immediately, but does taste best after you let the flavors meld in the fridge for 30 minutes.

Store in an airtight container for up to 4 days.
Notes
Serving size: 1 heaping cup
WW Points: 6
*please note I will update the nutrition info for this soon, the software I use to do this wouldn't load*
Nutrition