This post may contain affiliate links (meaning I earn a small comission if you purchase an item through a link I provide) I only provide shoppable links to items I love and are helpful. As an Amazon Associate, I earn from qualifying purchases.
Give Taco Tuesday an instant upgrade with a Chicken Fajita Bowl! These bowls are filled with tender and perfectly seasoned chicken and peppers, fluffy rice, and black beans then drizzled with a lime crema. A totally healthy, protein packed, and ultra delicious dinner idea then whole family will love.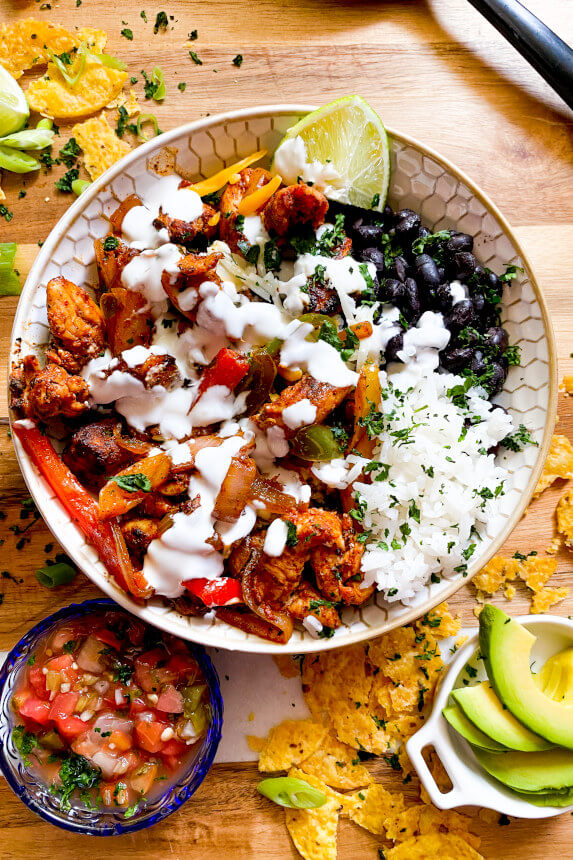 Insanely delicious and perfectly seasoned Chicken Fajitas with easy black beans and rice (also try cauliflower rice for a lower carb/extra veggie version) topped with a lime crema make up your new favorite recipe, Chicken Fajita Bowl! Top this Chicken Fajita Bowl with your favorite toppings and dig in!
I think it's safe to say here on the skinny(ish) dish, we love bowls. Some of my absolute favorite recipes are in bowl form such as: Greek Chicken Bowls, Greek Meatball Bowls, and my just like Chipotle Chicken Burrito Bowls. I find myself reaching for these recipes to make on a constant basis.
I realized one day after making my Air Fryer Chicken Fajitas and adding everything into the bowl, topping it with lots of goodies, and chowing down that this recipe needed to be shared asap with you all. It's a quick and easy bowl that'll satisfy any Mexican craving you might have in a much healthier way.
I focused on how to make the best recipe that's SUPER delicious, healthy, fairly quick, and easy enough for week night cooking. Aka, not too many dishes.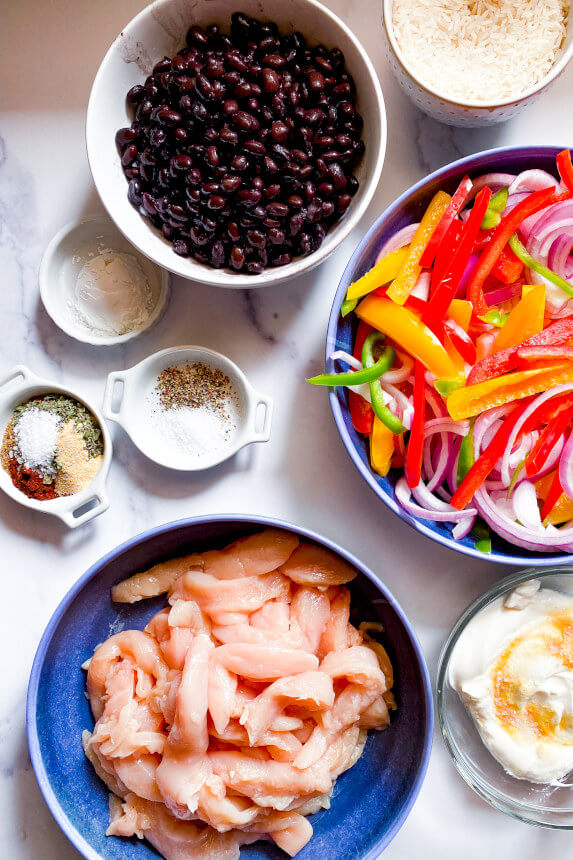 ingredients for chicken fajita bowls
Lime Crema
sour cream
1/4 tsp each garlic powder and kosher salt
juice of one lime
2-3 tbsp water
Rice and Beans
1 cup jasmine rice (uncooked) + 1-1/4 cup water (or 3 cups cooked rice of your choice)
2 -15 ounce canned black beans (about 3 cups total) + cooking spray
salt, to taste
Chicken Fajitas
1 tsp each salt, oregano, ground cumin, and garlic powder
2 tsp chili powder
1 tbsp smoked paprika
1 tbsp cornstarch – this isn't a necessary ingredient- it does help spices adhere better to the meat and gives the finished meat a delicious texture
1-1/2 lbs chicken breast or chicken tenders sliced into strips
3 peppers (mix of bell peppers and/or poblano peppers) sliced into thin strips
1 large onion (yellow onion or red onion works just fine) sliced into thin strips
How to make a Chicken Fajita Bowl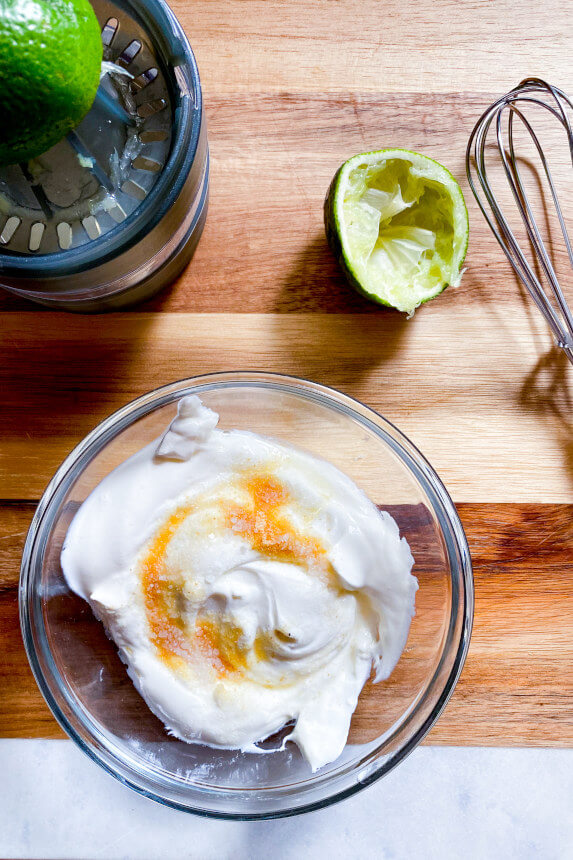 1. Make Lime Crema
Before you start anything else, quickly whisk together the sour cream, lime juice, salt, and garlic powder in a small bowl. Add 2-3 tablespoons of water or until you have an easy drizzle consistency. Cover and place into fridge until the bowls are ready to serve.
2. Prepare and cook the rice
Next, start the rice. I also really love using my Instant Pot Mexican Rice for the burrito bowls. That's a great option if you want to free up some stove top space.
Plain rice works just fine in this recipe because you have so much flavor from the fajitas and lime crema. Feel free to use whatever rice you want, just make sure it's at least 3 cups cooked.
In a medium sauce pan, add 1-1/4 cup water + 1 cup jasmine rice. Bring to a light boil, uncovered, over medium high heat. Once you see the water boiling, immediately reduce the heat to low, cover the pot, and let it cook for 12 minutes. When the timer beeps, remove the rice from the heat (but keep the cover on!) let it finish cooking for another 10 minutes. When the rice finishes cooking then fluff with a fork. Salt and pepper to taste. I also squeeze a little lime into it if I have extra.
3. Prepare the Chicken Fajitas
Prepare the chicken to cook by rubbing the seasonings into the meat really well.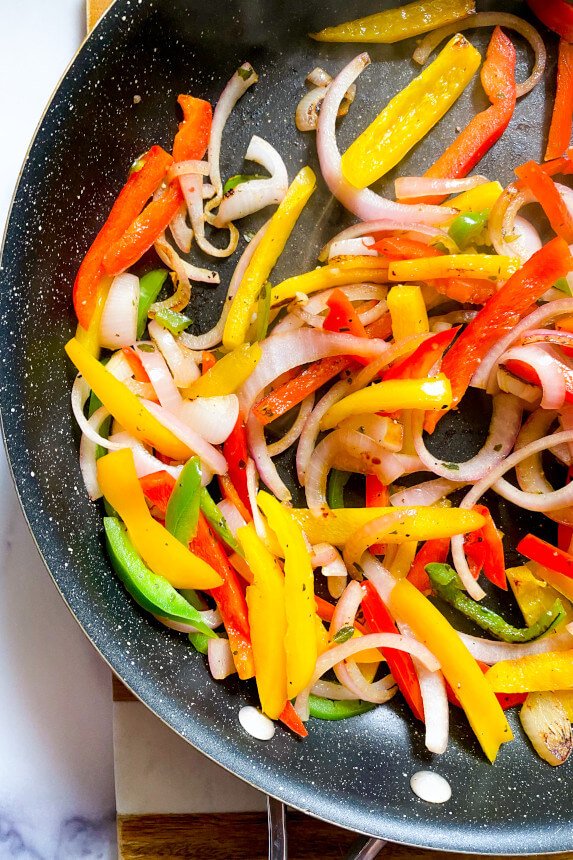 4. Cook the Chicken Fajitas
In a skillet over medium-high heat add 1 tsp of olive oil. Once the pan is hot (check by throwing a little water on in if the water sizzles its hot enough) throw the peppers and onions into it, season with salt and pepper, and let them cook until golden brown and soft. When they are done remove from the pan and set aside.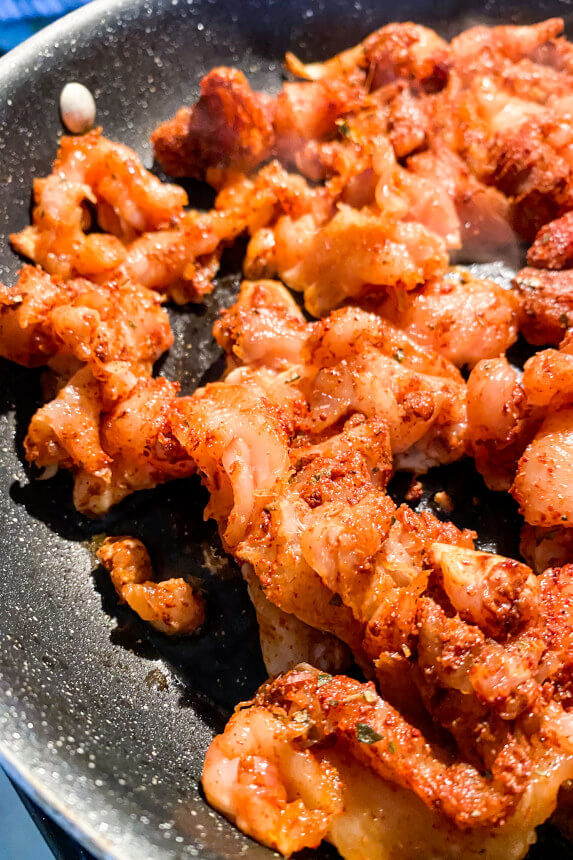 Add two teaspoons of oil into the same skillet over medium-high heat and add the sliced and seasoned fajita chicken. Let it sit (don't move it around or touch it) for about 4-5 minutes. Let it get a nice and golden brown with a nice sear. Then, flip the pieces and let it cook the reset of the way for another few minutes.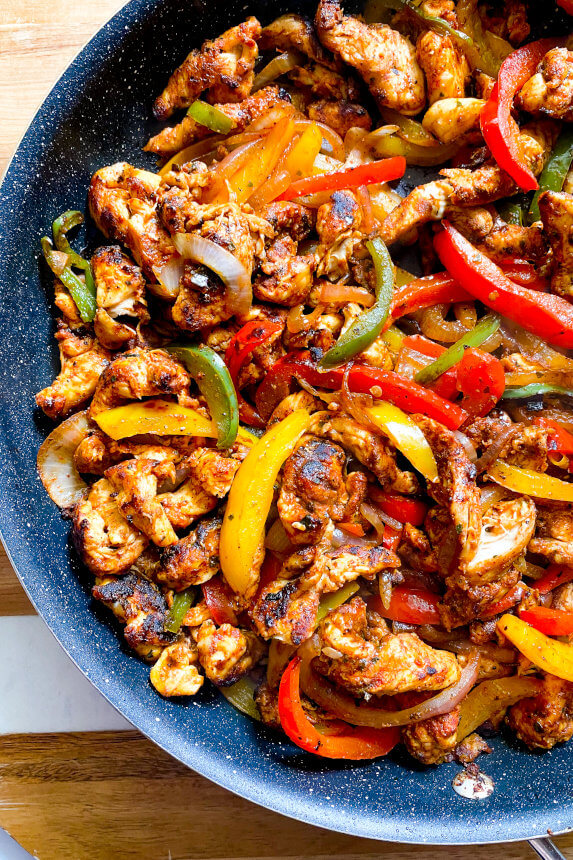 Add the peppers back into the chicken and toss together to warm it all up.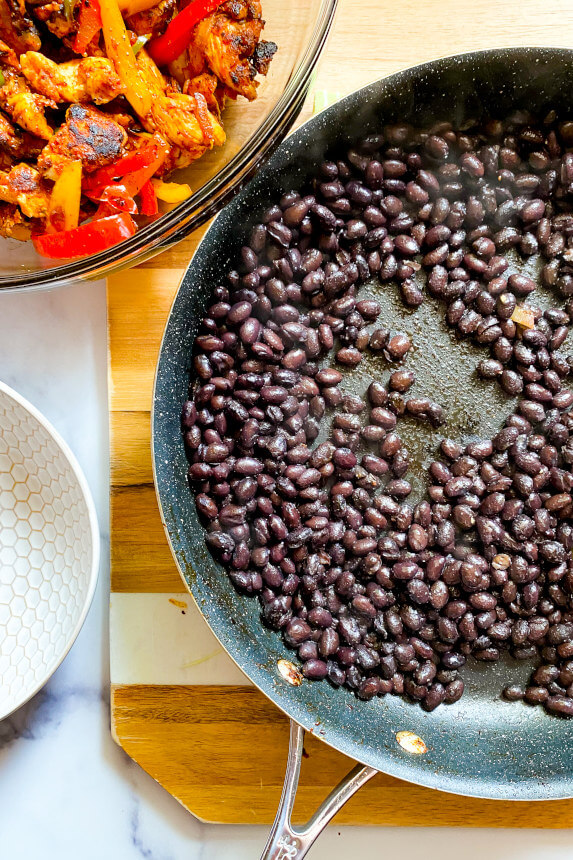 5. Make the beans
You don't really have to heat up the black beans, but I like to quickly throw them into the pan with a pinch of salt and a couple tablespoons of water that the chicken fajitas were made in over medium heat. Cook for a minute or two before adding them into the bowls. The beans take on the seasonings that sadly get left behind from the fajitas. No flavor waste in this house!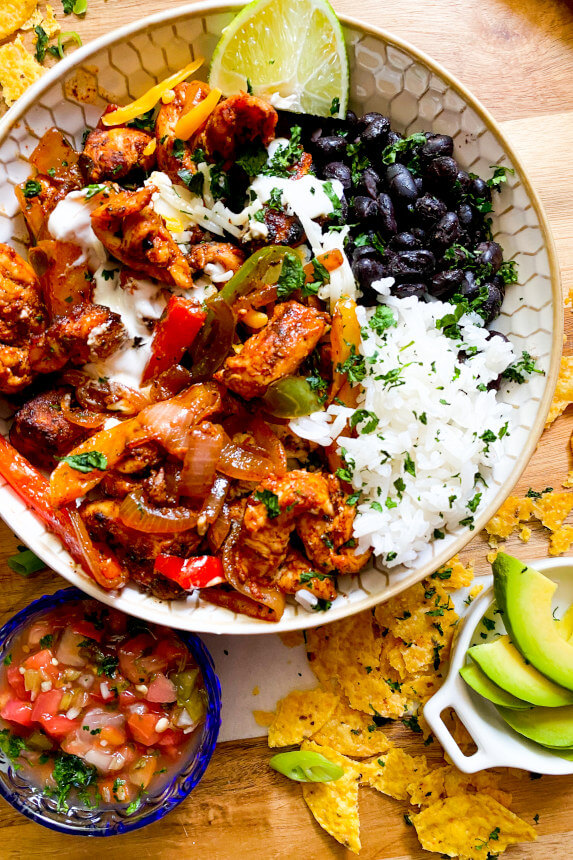 6. Put the Chicken Fajita Bowl together
In each bowl add about 1/2 cup of the rice and beans followed by 1 cup of the chicken fajitas. Drizzle about 2-1/2 tablespoons of the lime crema on top. Enjoy'm just like this OR add some yummy toppings!
Favorite toppings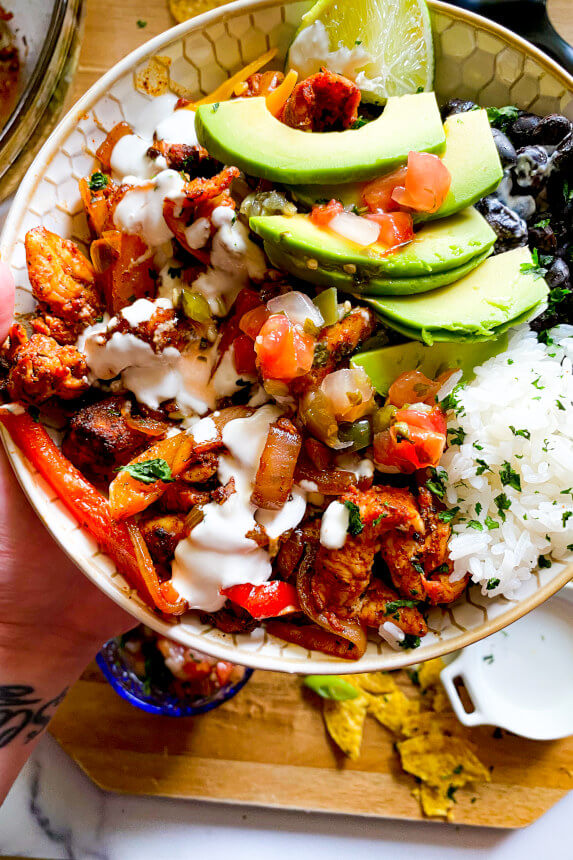 I've said it before, I'll say it plenty more times. I love anything that I can put a variety of toppings on so that I can add even more flavors and textures. I'm a little bit extra about it, but hey that's alright.
Cheese – crumbled Queso Fresco, Monterey Jack, or reduced fat Mexican Blend are my go-to's!
Pico de Gallo or salsa – homemade or store bought works.
Cilantro – I will always add some extra cilantro to my Mexican inspired food. I just love it!
Avocado – sliced, cut into chunks, or smashed into guacamole. I'll take it in any way, shape, or form.
Lettuce – sliced romaine or iceberg cause you want the texture and cool crisp crunch. The ONLY reason lettuce isn't in the photos is because I cut into a pack of romaine and it was not good. Womp womp.
How to store and reheat Chicken Fajita Bowls for meal prep
Prepare the recipe as directed.
Add the rice, black beans, and fajitas into meal prep dish.
Add add the lime crema and any other toppings you want into a small container to keep seperate until its reheated.
Keep in the fridge in for 4-5 days.
Reheat in microwave for 2-3 minutes depending on your microwave. Add an ice cube or a couple tablespoons of water to help the rice reheat best. Add toppings and enjoy!
Other Mexican Inspired Recipes You'll Love!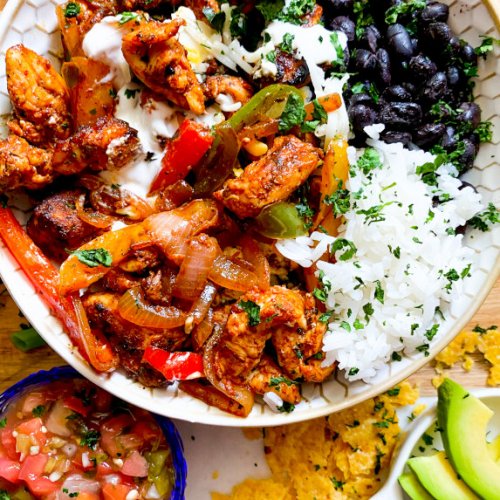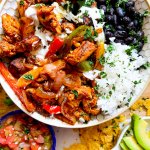 Print
Chicken Fajita Bowl
Chicken Fajitas in a bowl with black beans, rice, your favorite toppings, and lime crema.
Materials
Rice and Beans
1

cup

uncooked jasmine rice

(or 3 cups cooked rice of your choice)

1-¼

cup

water

2

14.5 ounce cans

black beans

drained

cooking spray
Chicken Fajitas
1½

lb

raw chicken breast or tenderloins cut into thin strips

1

red

onion thinly sliced

3

large

peppers

(mixture of red, yellow, green, and poblano works!)

1

tsp

EACH kosher salt, garlic powder, cumin, dried oregano

1½

tsp

chili powder

1

tbsp

smoked paprika

1

tbsp

cornstarch

1

tbsp

olive oil
Lime Crema
3/4

cup

light sour cream

juice of one lime

½

tsp

kosher salt and garlic powder
Delicious Toppings (optional)
cheese, shredded lettuce, avocado, pico de Gallo, salsa, crushed tortilla chips, cilantro, extra lime
Instructions
Make the Lime crema: In a small bowl make the lime crema by whisking together sour cream, lime juice, garlic powder, and salt. Add 2-3 tbsp of water so that it's thin enough for drizzling, but not soupy. Cover and set in the fridge until ready to serve the bows.

Make the Rice: In a sauce pan add rice and water at the same time. Bring to gentle simmer with the cover off. When the water comes to a gentle boil, reduce heat to low and cover. Cook for 12 minutes. When the timer is off remove from heat, but do not remove the cover. Set aside and let it finish cooking for 10 more minutes. When it's finished- fluff with a fork and add salt and pepper to taste.

Prepare the chicken fajitas: While the rice is cooking prepare the chicken fajitas and then make them. Rub all of the cornstarch, seasonings, and salt into the chicken strips well. Set aside.

Cook the Chicken Fajitas: Over medium high heat in a large skillet add 1 tsp of oil. When the pan is hot add sliced peppers and onions. Cook until peppers are soft and lightly charred stirring occasionally (about 5 minutes total). When they are finished remove from pan and set aside.

In the same skillet over medium-high heat: add 2 tsp of olive oil. Add the seasoned thinly sliced chicken to the hot pan and don't touch! Let it sear and create a nice golden brown crust on the chicken. Let it be for at least 4-5 minutes, then start to turn the pieces and stir it a bit to finish cooking for another 3-4 minutes. Add the peppers and onions back in to stir together then remove from the pan.

In the same pan as the fajitas were in. Lower the heat and spray with cooking spray and add in the black beans with a pinch of salt and let them just warm up for minute or two.

note: you don't have to heat the beans. you could skip this part to save time.

Make the bowls by adding 1/2 cup each of the black beans and rice, 1 cup of chicken fajitas, drizzle with 2-½ tablespoons of lime crema, and top it off whatever toppings you choose. Enjoy!

Store leftovers in fridge for up to 4-5 days.
Notes
Serving size: 1 Chicken Fajita Bowls (1 cup chicken fajitas, 1/2 cup black beans, 1/2 cup rice, 2 & 1/2 tbsp lime crema).
422 calories, 10g fat, 3g saturated fat, 49 carbohydrates, 8g dietary fiber, 42g net carbs, 4g sugar (0g added sugar, 0g sugar alcohol), 35g protein, 511g sodium
Weight Watchers Points: 6 Points