Chicken Bacon Taco Stuffed Potatoes
This post may contain affiliate links (meaning I earn a small comission if you purchase an item through a link I provide) I only provide shoppable links to items I love and are helpful. As an Amazon Associate, I earn from qualifying purchases.
We've got these Chicken Bacon Taco Stuffed Potatoes on deck today and they are going to be your new favorite stuffed potato ever! Full of flavor, easy to throw together, and the whole family is gonna love'm! These taters are stuffed with yummy mexican shredded chicken, salsa, and my favorite, bacon!
This week has been just lovely. The weather has been gorgeous, the house has been open, and I've been wearing my favorite type of clothes. (Long flowy shirts, jeans, and booties!) My mind has been wandering towards lots of fall recipes to recreate and lighten up, and I've spent a lot of time in the kitchen making some delicious stuff! I can't wait to share all the lightened up comfort dishes that i've been working on. I'm so gracious that I lighten up recipes otherwise I'm pretty positive my pants would not like me! Today, I'm thankful that after a full week of working on two-three recipes a day that my favorite pair of jeans still fit. Phew! I'm celebrating with a Iced Cold Brew from Starbucks.. that I had to drive 23 miles to get. Don't tell Eric, but I've been doing this a little bit too often lately. It's my one vice. Everybody's got somethin'. We live in a smaller town that does not have a Starbucks and I don't know how I even live here without it. When I make plans to take a drive to this said town for said overpriced coffee .. I actually go to sleep super excited to wake up, get in the car, and sip on my favorite drink. I need an intervention. It's fine, I know.
Okay, now that we've established that I have a problem let's get back down to business and what ya'll actually come here for, huh? Ha! Okay, Chicken Bacon Taco Stuffed Taters, WHAT? Yes. I did that. And it was amazing. It was even better the next day to be completely honest. Eric let me know last night that he liked them even more cold straight outa the fridge the next day. That's up for debate because Eric literally eats cold leftovers out of the fridge all of the time. He's savage sometimes. I however reheated mine up in the oven the next day and, yes they were even better.
This recipe is actually inspired by my sweet Mom! When I was tweaking my Slow Cooker Mexican Shredded Chicken recipe I went over to her house and asked her if it was okay that I made her the chicken for tacos and salads because if Eric and I had anymore of this recipe at the time we would explode. (I had made it two weeks in a row prior!) She agreed because my mom does not turn down my cookin' ever! The first night she made tacos as I had suggested, but the next night she stuffed a big ol baked potato with it and she called and told me it was the best thing ever and I had to do it too. So, I ran to the grocery store to get ingredients, and I turned these babies into a double baked potato recipe because, well, if you haven't noticed I love double baked potato EVERYTHING. See also: Sheperd's Pie Potato Skins, Turkey Cheddar Broccoli Stuffed Potatoes. I also added some extra fun stuff like cream cheese and salsa and Man, they were good. Like, real good. I'm a huge baked potato enthusiast and I really think this might be my new favorite way. So, go on ahead and make these soon because you'll just love'm. I know it!
In the kitchen we will…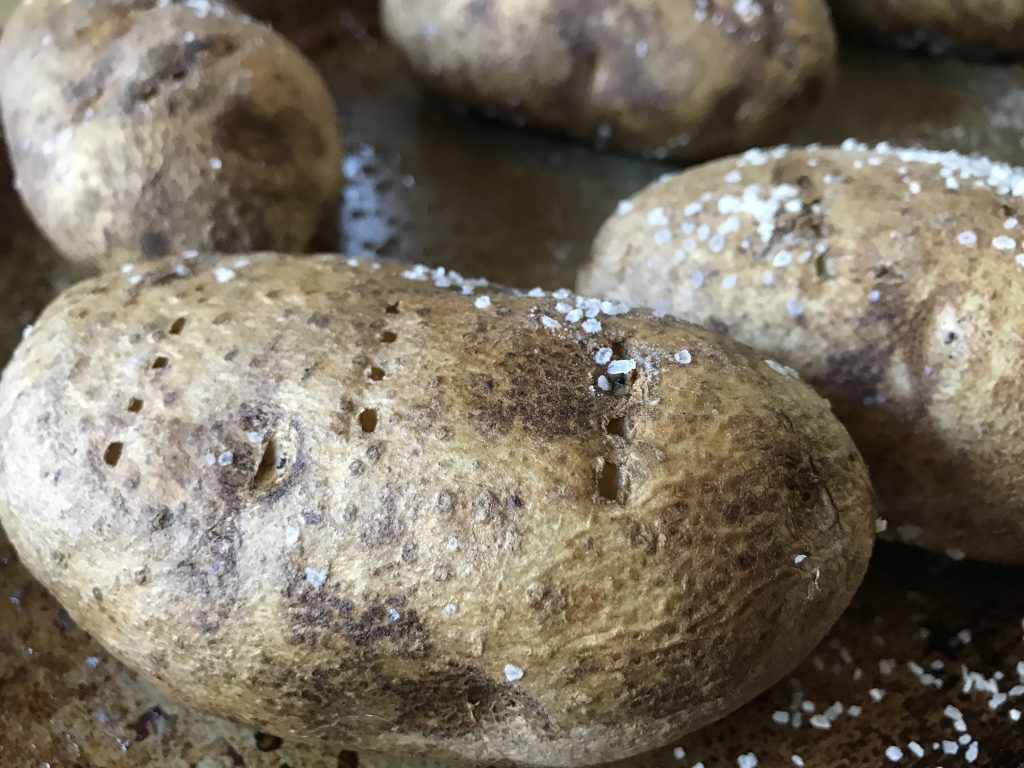 Wash and bake 3 medium sized potatoes, salt them with a bit of kosher salt, and spray'm with a bit of cooking spray. Poke a few holes in'm then throw'm in the oven for about an hour at 400 degrees or until tender.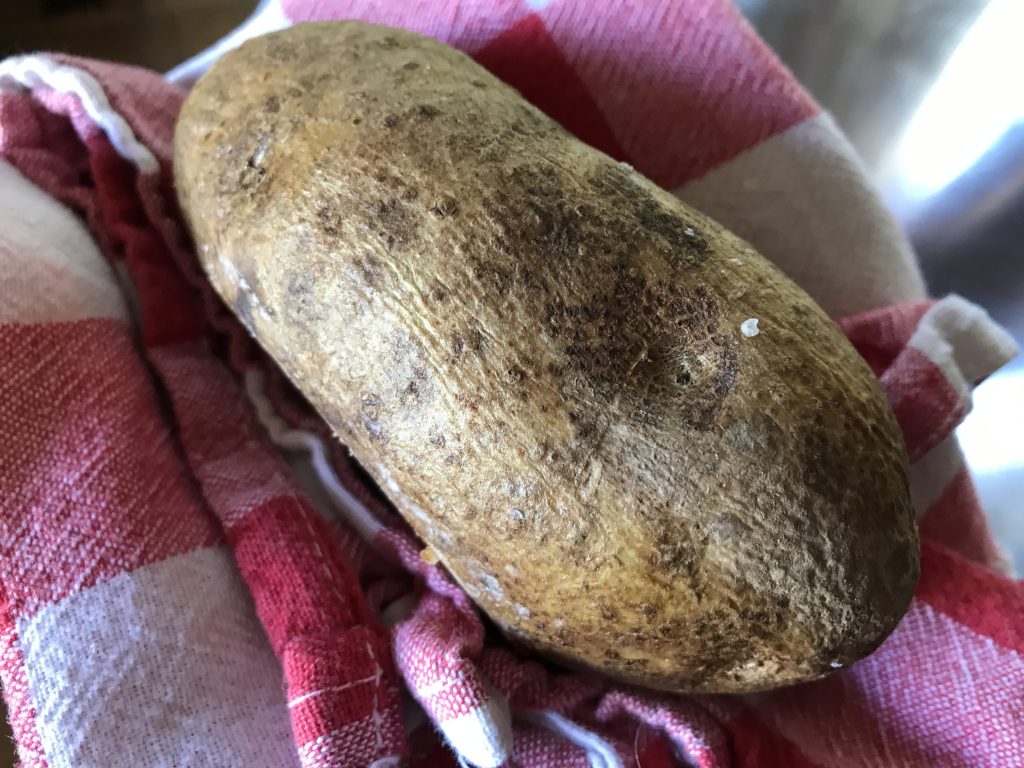 Let'm cool off for a few minutes and grab a kitchen towel and cradle your lil hot potato with it when cutting in half because potatoes are hot! hot! hot!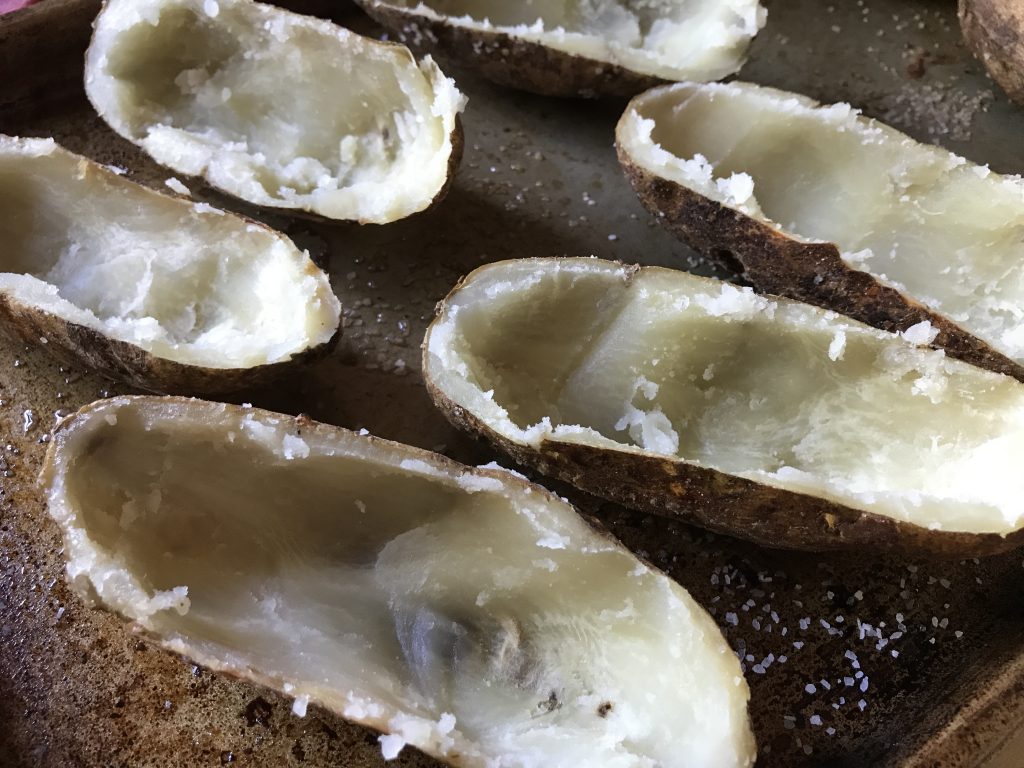 Scoop out their insides into a big bowl.
Yes, I know that sounds just the tiniest bit creepy… but we are talking about a potato here.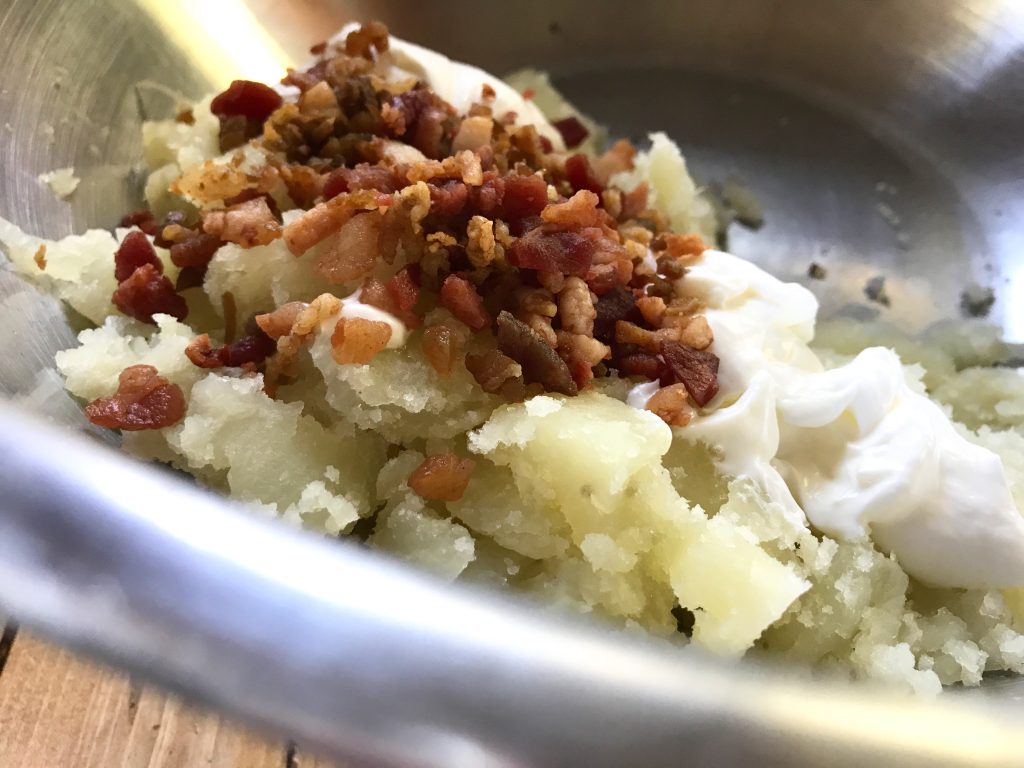 Add bacon, cream cheese, sour cream, and some kosher salt.
I used real bacon bits here. You can most definitely use some center cut bacon strips and fry'm up, but because the bacon part'a this recipe was actually a completely random idea in the middle of doing this. I didn't have any fried up and decided real bacon bits would do just fine.
P.S. I should always have bacon ready to go because when is it ever not a good idea?
Mash it all together with a masher thing-a-ma-bob.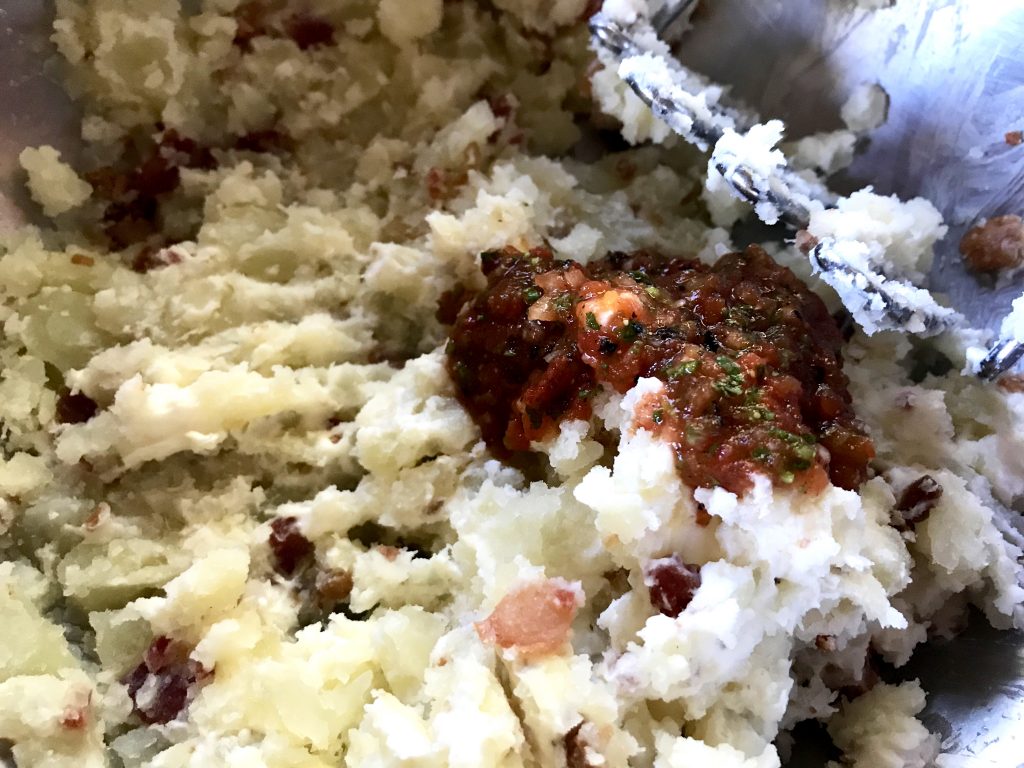 I'll be honest, the salsa was also an after thought. I'm so glad I think of these things. This shows just a lil because I wasn't sure…. but I added probably another half cup and it was goOOoooOOd.
I use my homemade salsa recipe because I love it more than anything in the world and honestly, I can't think of a time when it's not ready to go in my fridge anymore. It also takes all of maybe 5 minutes to make. However, You can use whatever type of salsa you'd like, but make sure you like it because it'll affect the flavor of these taters in a big way.
Now, mash it all together.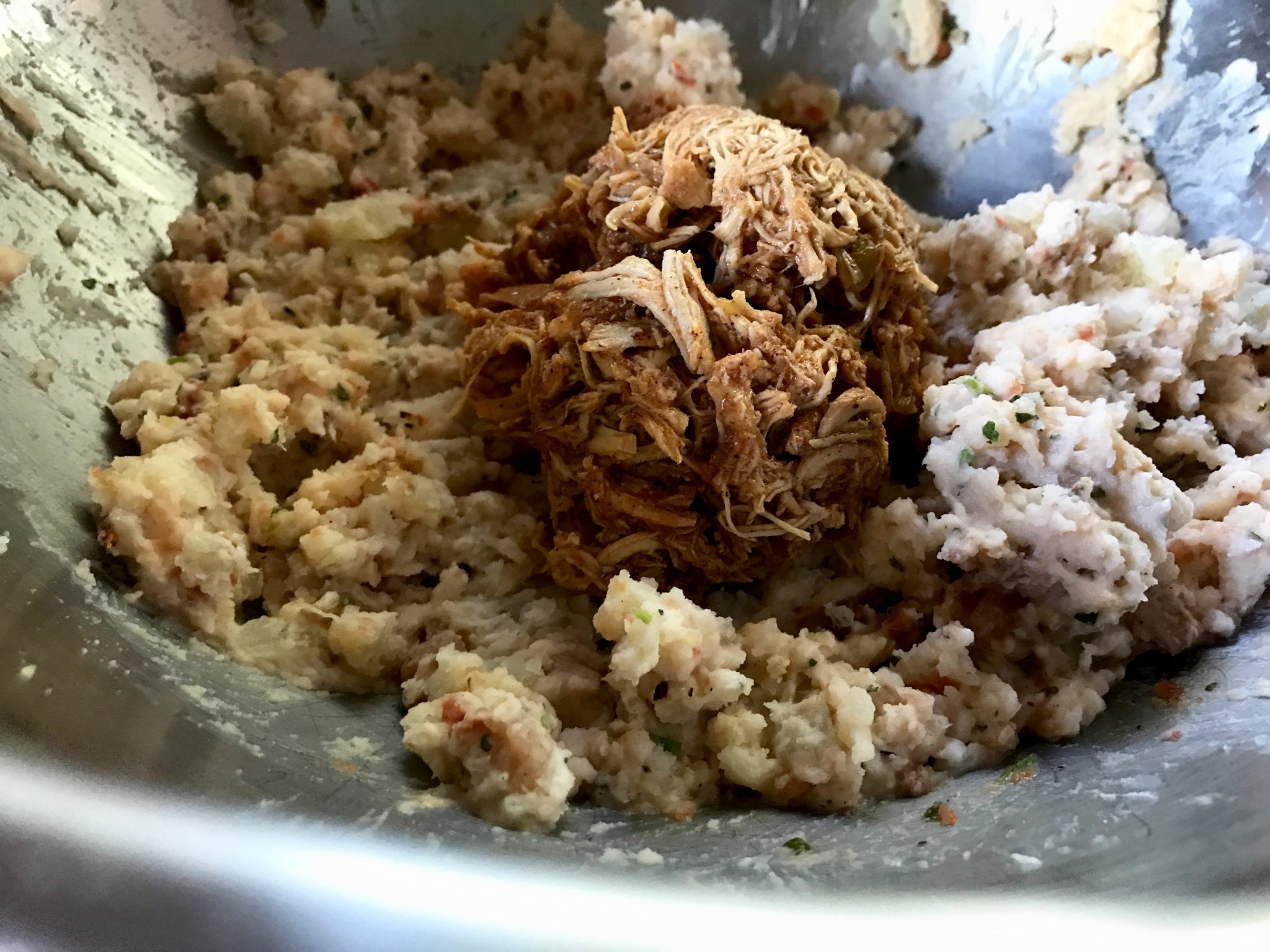 Stir in some Slow Cooker Mexican Shredded Chicken!
Okay, you can also use regular ol diced/shredded chicken, but add a packet of taco seasoning to the potato mix. It'll give it some of the same flavor, but I really do recommend makin' a batch of the chicken because it's the bees knees and it'll make these taters extra special. Which in turn will make your life extra special.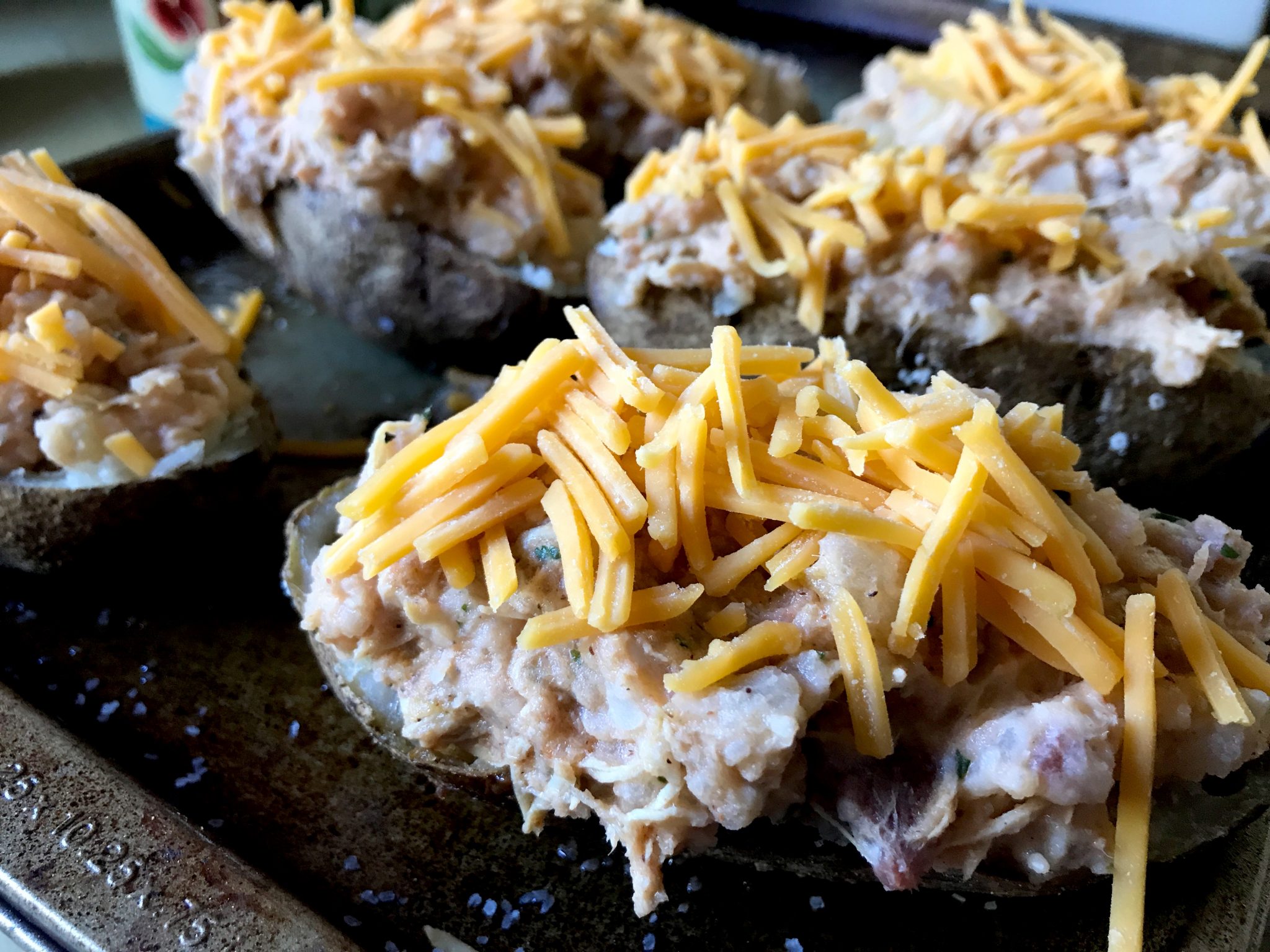 I skipped the picture of just the chicken and potatoes mashed up, because well, I won't tell ya what I think it looks like all by it's lonesome. It doesn't matter too much, because it's real tasty and in the end, that's all that matters to me. Get to stuffin' these taters evenly just as much as you possibly can. They will look over full and they are meant to look like that. The more the merrier! Add some shredded cheese on top of each of'm because it'll cover up the not-so-pretty lookin' potato/chicken mixture… oh, and because it's real yummy!
Here's another photo of the same step just because I thought it was pretty.
Pop'm back into a 400 degree oven for about 15-20 minutes.
And then they will look a lil sumin' like this here.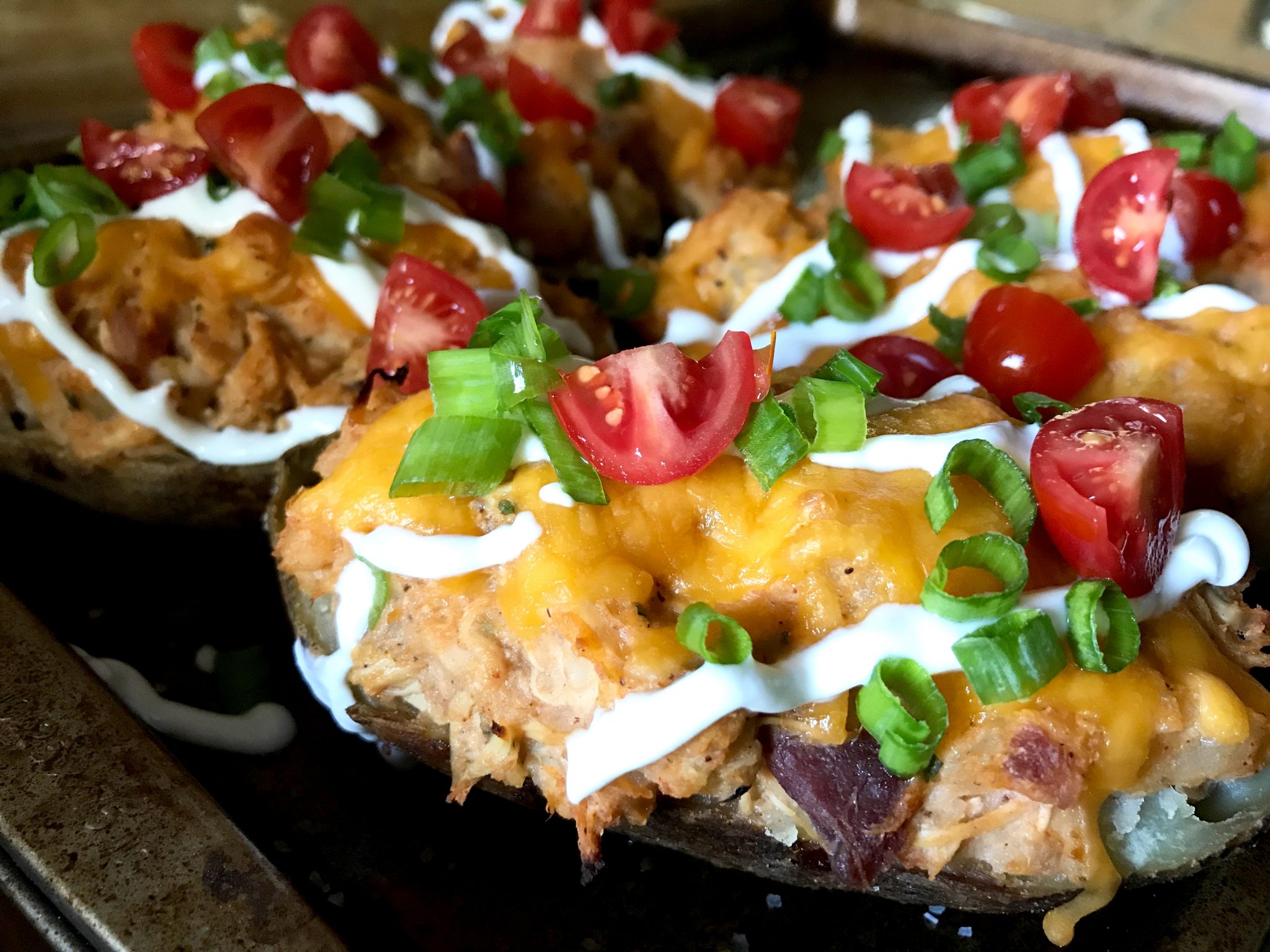 And then dress'm up in some of your favorite taco toppings! I did just a few drizzles of sour cream all over, generously threw some chopped green onions, and diced tomatoes all over it.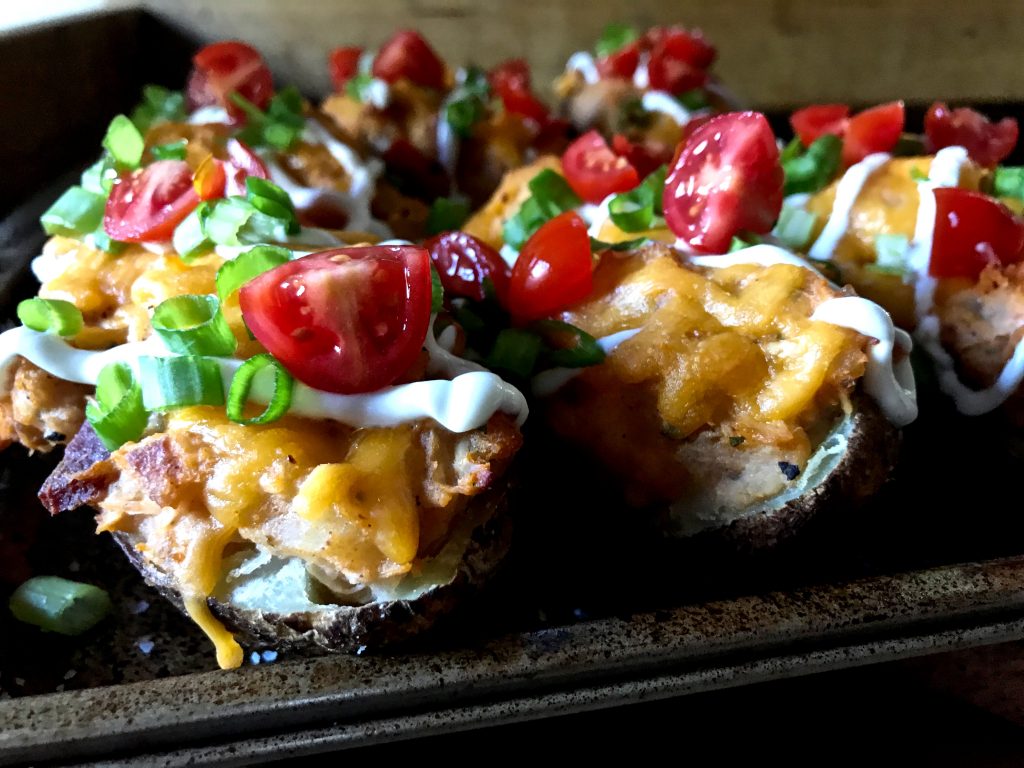 Hi pretty potato.
Make these up for Taco Tuesday, Football Sunday, or Stuff your face Saturday? (That's a real thing, right? I am definitely not speaking from experience.) In any case, make these soon because your belly will just be thrilled with ya. I promise.
Let me know when ya make'm!
With love from my kitchen to yours,
Star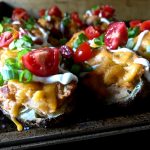 Print
Chicken Bacon Taco Stuffed Taters
A delicious twist on the classic double baked potato. Potatoes are over stuffed with chicken, bacon, salsa, cheese, and topped off with your favorite taco toppings.
Materials
3

medium

baking potatoes

about 10 ounces each uncooked

1

cup

mexican shredded chicken

2

oz

light cream cheese

1/2

cup

salsa

homemade or your favorite kind

1/2

cup

real bacon bits

1/4

cup

light sour cream

1/2

cup

reduced fat shredded colby jack or cheddar

1

tsp

salt

cherry tomatoes, diced

garnish, optional

green onions, chopped

garnish, optional

additional light sour cream

garnish, optional

black olives, sliced

garnish, optional
Instructions
Preheat oven to 400 degrees. Wash potatoes. Place on sheet pan, lightly spray with cooking spray, sprinkle kosher salt, and poke a few holes in them. Bake for about an hour or until tender.

Allow potatoes to cool for a few minutes before handling. Take each potato cradle with a dish towel and cut in half with a sharp serrated knife. Scoop out the potato insides into a large mixing bowl. Take care to not break the skin and leave a thin lining of potato for support.

In the large mixing bowl add cream cheese, sour cream, bacon bits, salsa, and salt to the potatoes. Mash all together. Stir in Mexican Shredded Chicken until combined. Fill each potato evenly and generously. Top evenly with the shredded cheese. Return to oven for 15-20 minutes.

Optional: Add favorite taco toppings to garnish and add even more fun flavor!
Notes
Serving size: 1 Stuffed Potato
280 calories 7g fat, 3.5g fat, 33g carbs, 2.5g fiber, 4g sugar, 21.5g protein
WeightWatchers Points: 6
*You can surely make these ahead of time for any special occasion: Wash'm, bake'm, stuff'm, and pop'm in the fridge for up to three days. Place on a cookie sheet in a 375 degree oven for about 30 minutes and they are ready to go!
*If you'd rather use plain shredded or diced chicken add a envelope of taco seasoning to the potato mixture to get some of the same flavor.
You can find the recipe for Mexican Shredded Chicken here
and the homemade salsa here