Cheesy Italian Rice Skillet
This post may contain affiliate links (meaning I earn a small comission if you purchase an item through a link I provide) I only provide shoppable links to items I love and are helpful. As an Amazon Associate, I earn from qualifying purchases.
This dreamy Cheesy Italian Rice Skillet is filled with lean ground beef, rice, zucchini, green peppers, homemade marinara, onions, garlic… basically everything delicious, and then topped off with a pile of mozzarella cheese. It's not only delicious, but it's all done in one pot. So dinner will be ready in no time and you won't be spending twelve hours cleaning up all the dishes. You'll want to make this every week after you make it once!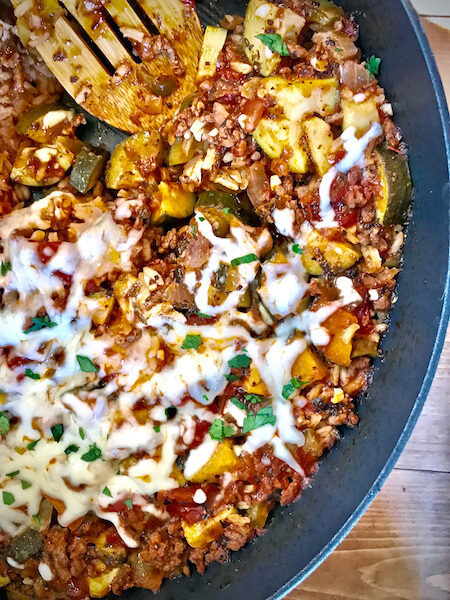 Hey y'all! I figured I better get back to work or I'm gonna get fired from my job. Haha! I'm feelin' a bit rusty with blogging so bare with me. I'm going to edit this post about 9 times probably, but I'll most likely still forget something, somewhere. I took a lot of time off over the holidays. I promise most of it was unintentional due to some technical difficulties, and then Christmas time approached and well, this got put on the very back burner.
I love Christmas just about more than anything in this world and this was the first year having Pepper in our world that she really started understanding what Christmas is all about. Eric and I over did it just enough and wore ourselves out to the max. We saw Santa, we hung lights outside, we baked Christmas cookies for two days straight at my mama's house, we christmas shopped till we dropped, we decorated our little hearts out, and so on and so forth. It was just a few busy weeks and I barely had time to make myself a dang grilled cheese let alone actually tell y'all about a recipe. haha!
I am looking forward to taking a breather, staying home more, cooking more, regrouping, refocusing, organizing, and working a bit more. I actually do like the colder weather (I know, I'm a little nuts) I don't love bringing Pepper out in the zero degree temps unless it's pretty necsessary or we've got complete cabin fever and need to break out for a bit. I am looking forward to this New Year! I am pretty excited to see what this year brings for our family and for Daily Dose of Pepper… I've got some things planned and well, we'll just see when things happen. You'll be the first to know. I promise!
Twenty-Seventeen was full of learning (I don't think I'll ever stop learning when it comes to blogging) and growing! I'm so thankful to already be where I am. You are all the best for being here with me. I'm forever thankful.
Now, Let's talk about this recipe I'm bout' to share with ya. Honestly, this was a "cleaning out the freezer/fridge" meal that was never intended to be anything to write home about and I was just trying to use up some random stuff and put off grocery shopping for another day or two. I am SO happy I decided to write down what I was doing when I was doing it just on the off chance it turned out to be delicious. Without being too bossy, let me just tell ya… make this right now. It's SO delicious. It's so easy! I betcha have most of these items on hand! I'm really digging on one pot meals lately. It just makes life so much easier with a toddler running the show around here. I use my almost famous "Crockpot Marinara" in this because it's the best dang marinara sauce I've ever had, AND it's also ZERO Weight Watchers Points and very low in calories. (No added sugars or oils!) You can definitely use a jar of marinara if you don't have any of the crockpot marinara stashed away in your freezer. I've had Italians tell me that it's just as good, if not better, than their grandma's homemade sauce. Lemme tell ya, I don't have an Italian bone in my body, y'all… so that is such an amazing compliment!
Let's get in the kitchen!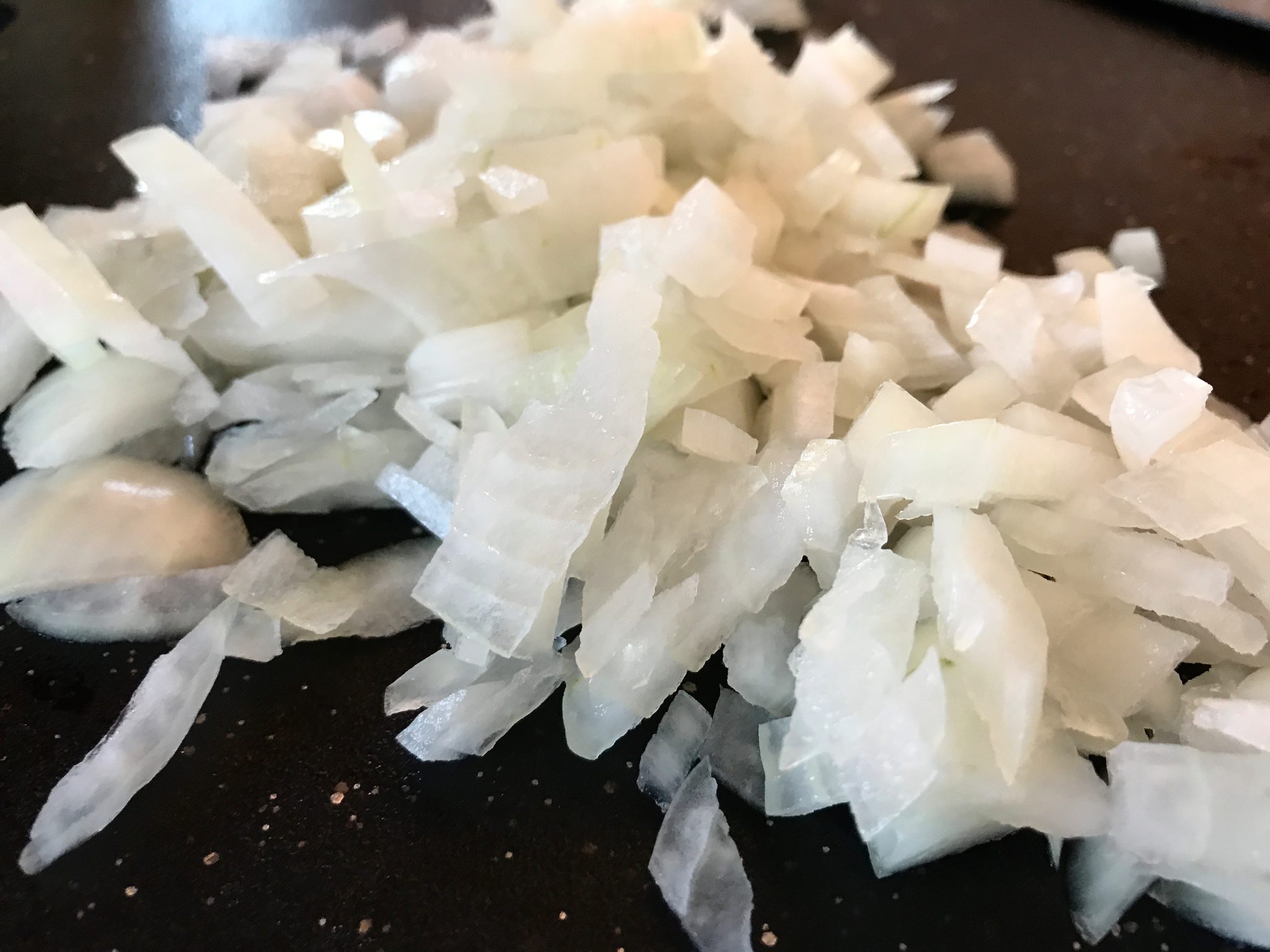 You'll need to chop an onion up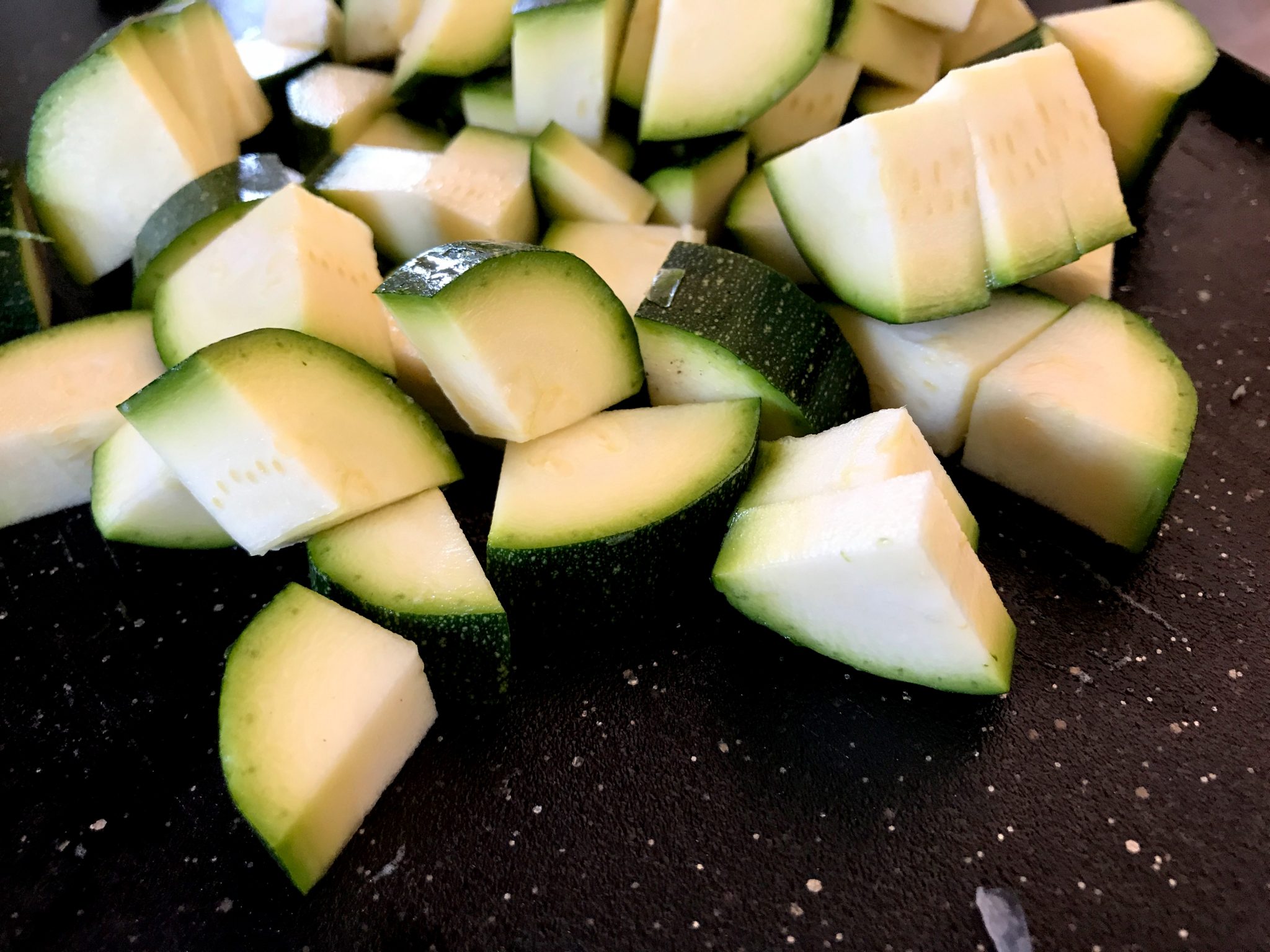 Dice a couple'a zucchinis up. I know zucchini can range in size so I'll tell ya I used 2 medium-ish sized ones. It was about two heaping cups total after being diced.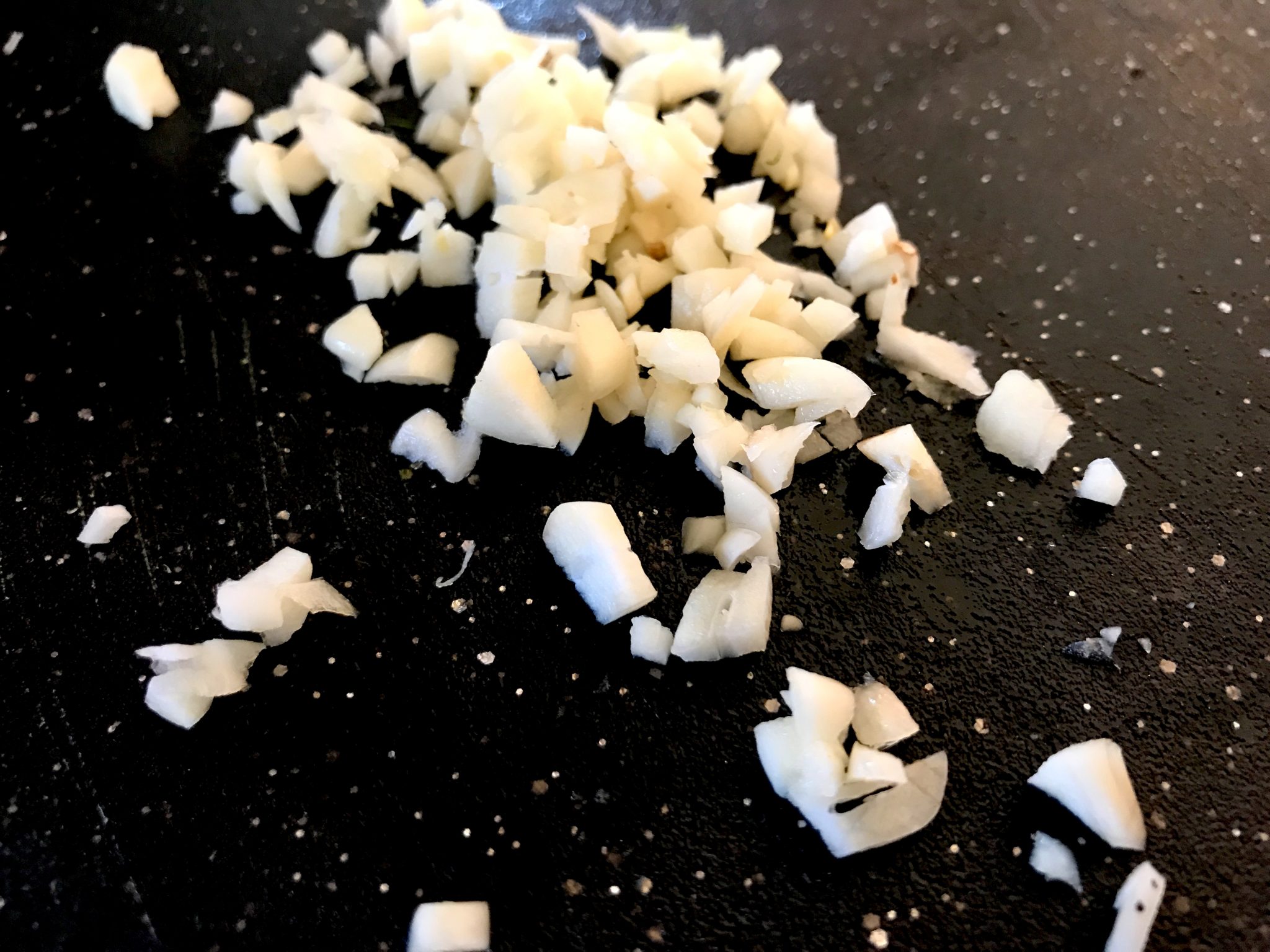 Mince a few cloves of garlic up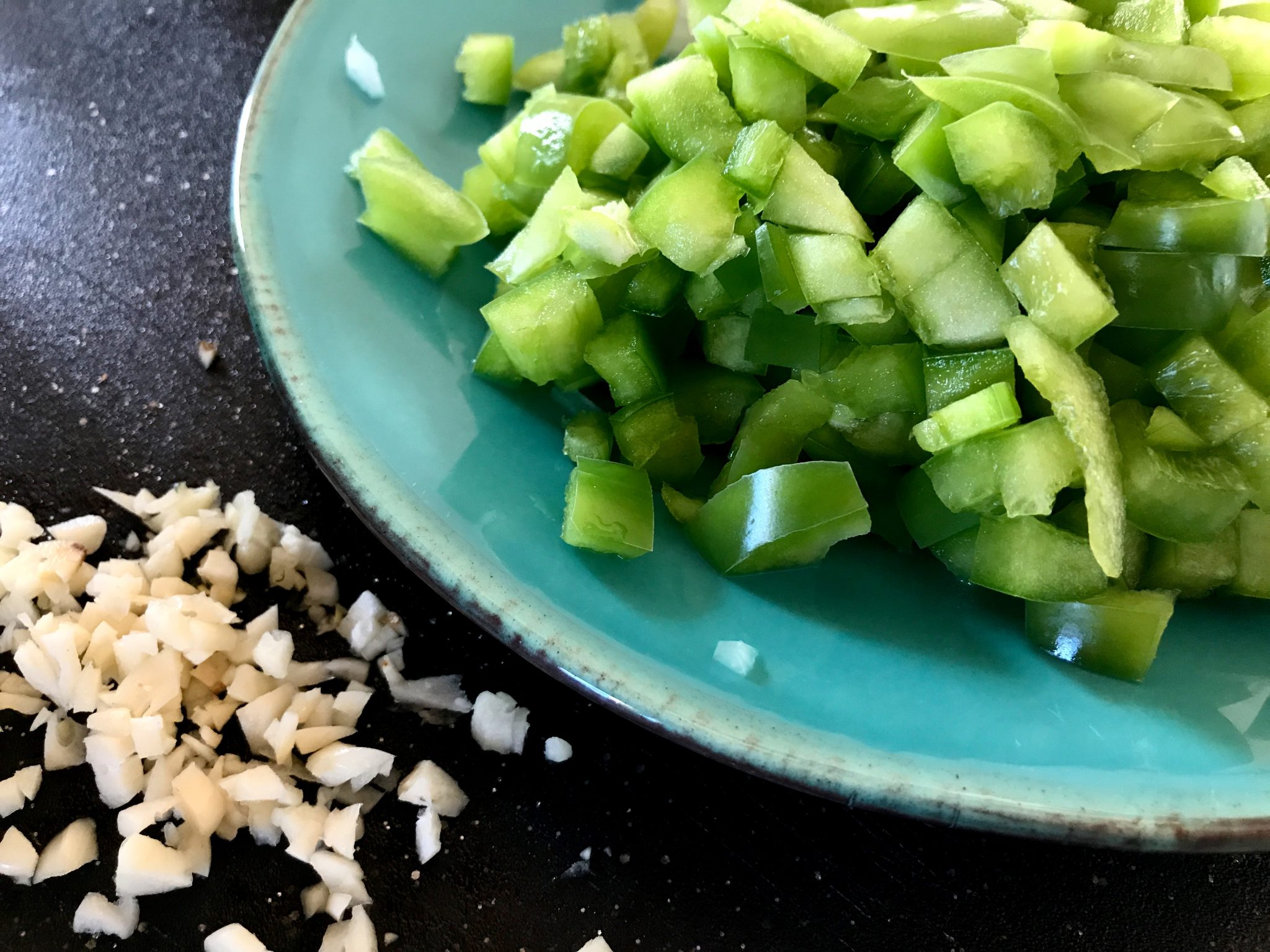 and also chop up a medium bell pepper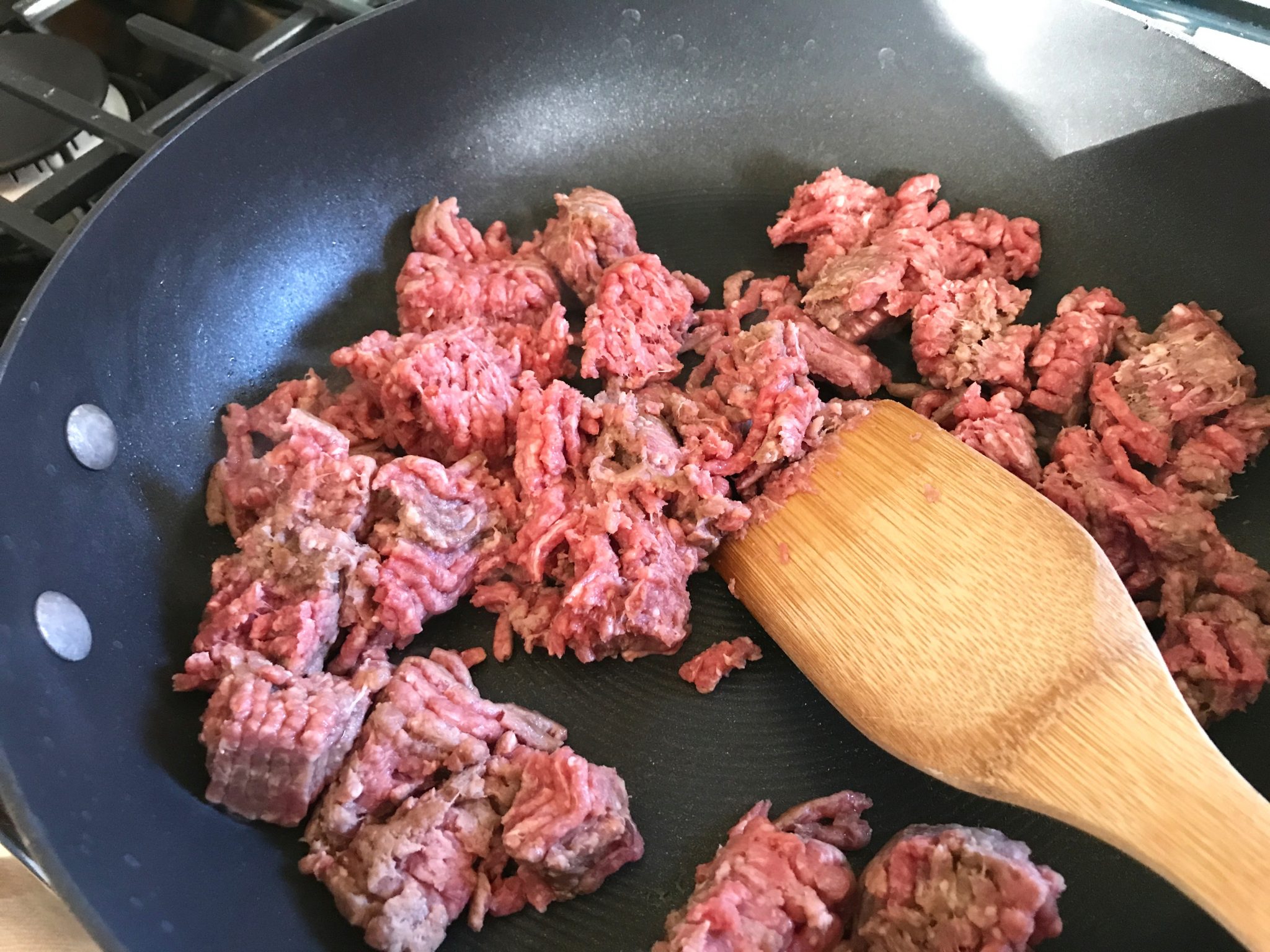 In a large skillet (that has a tight fitting lid) over medium high heat, add lean ground beef and break up with a spatula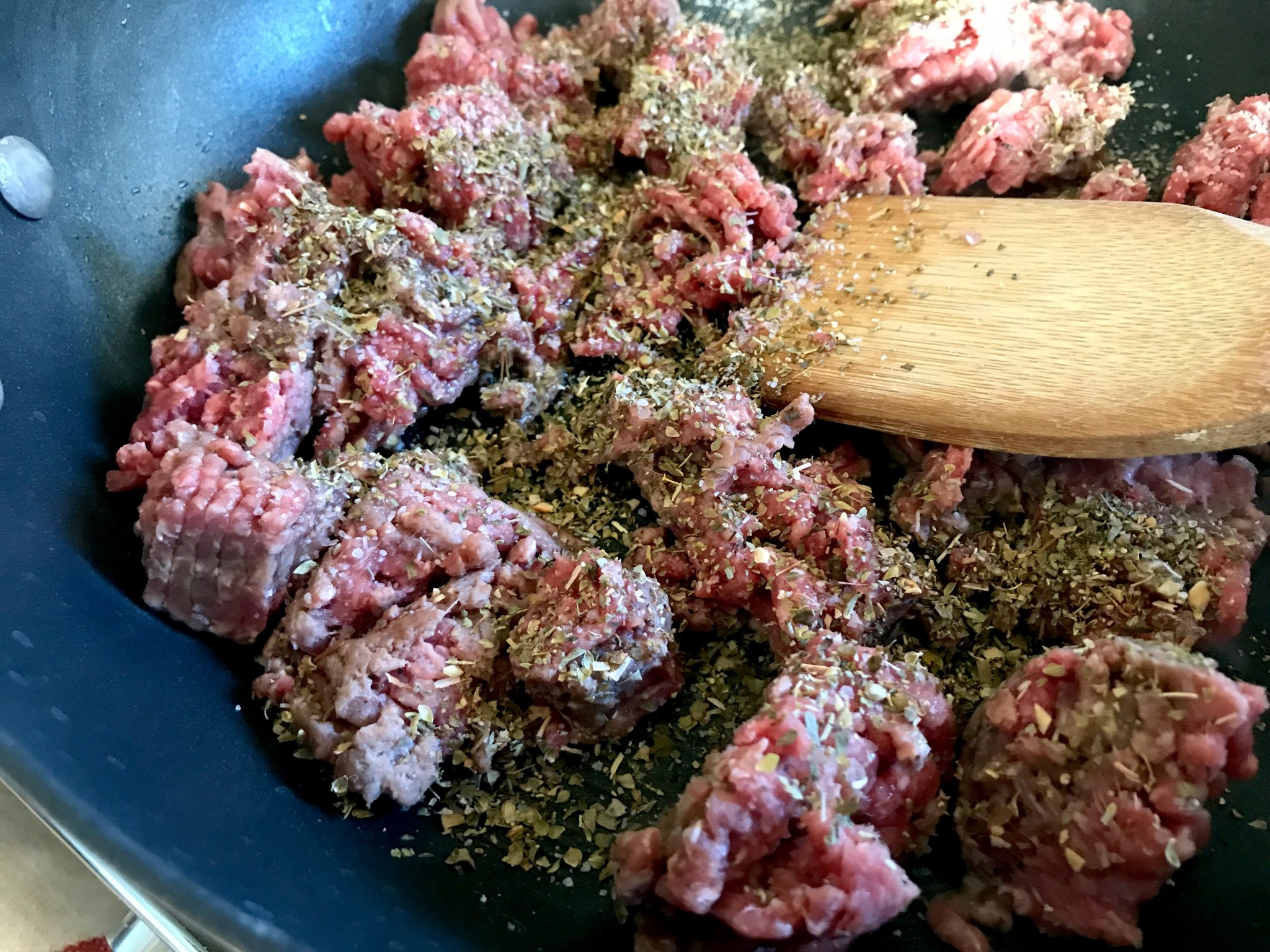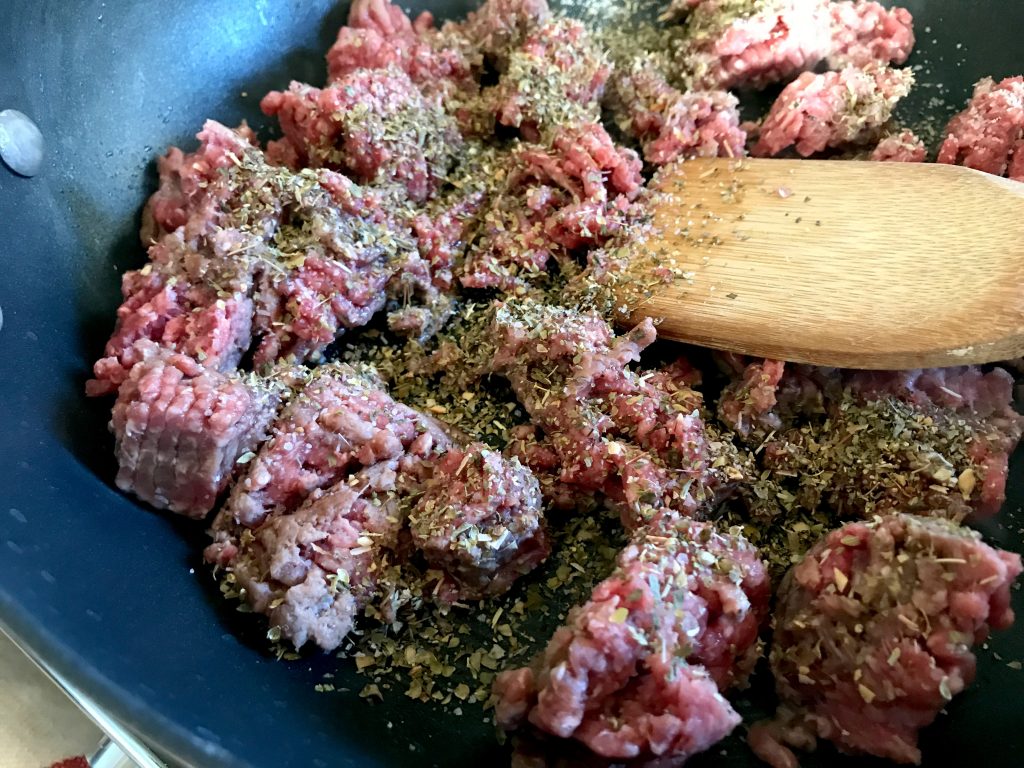 Season ground beef with 2 teaspoons Italian Seasoning, bout 1/2 teaspoon'a kosher salt, and maybe 1/4 teaspoon pepper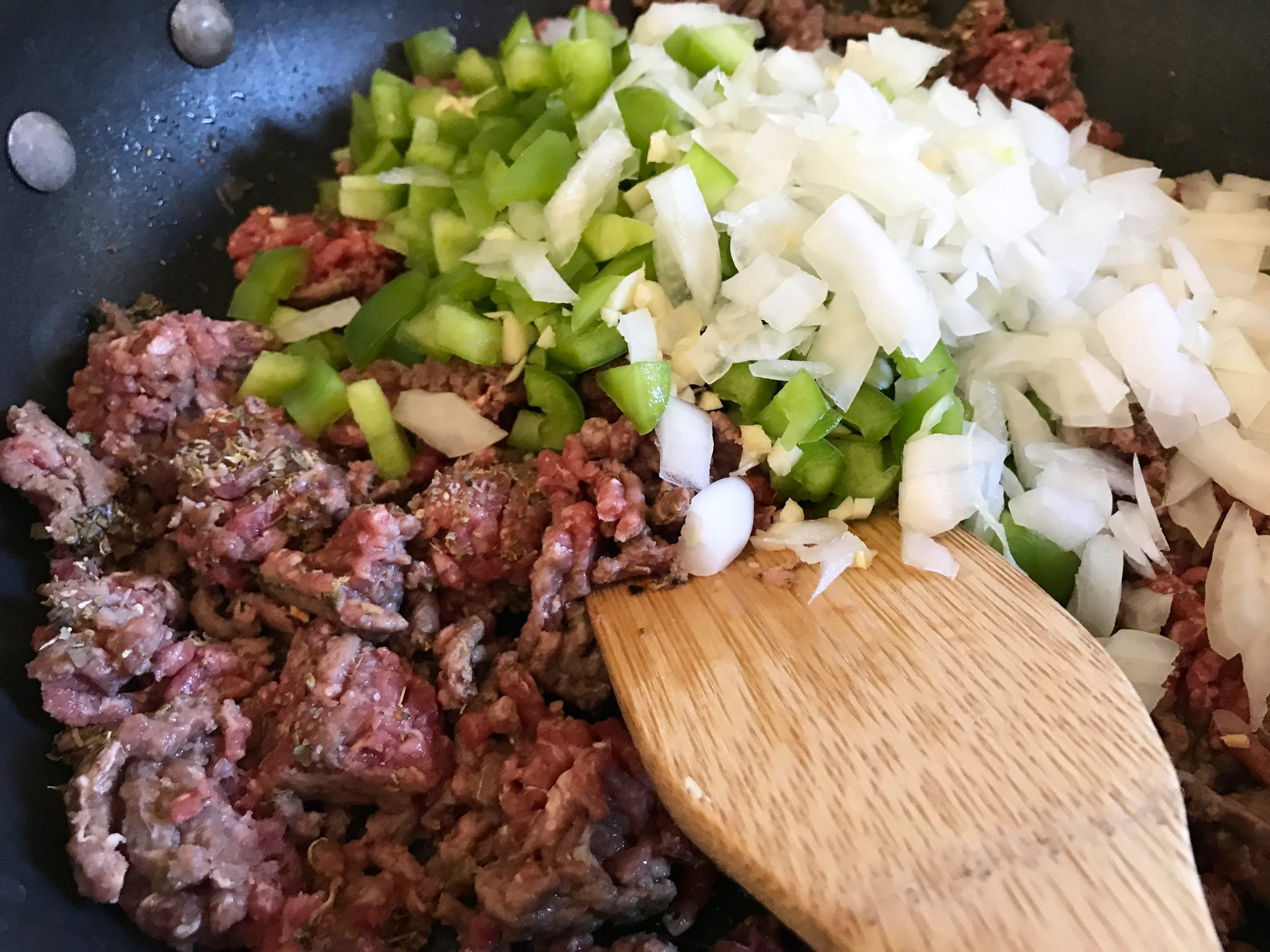 Add green peppers, onions, and garlic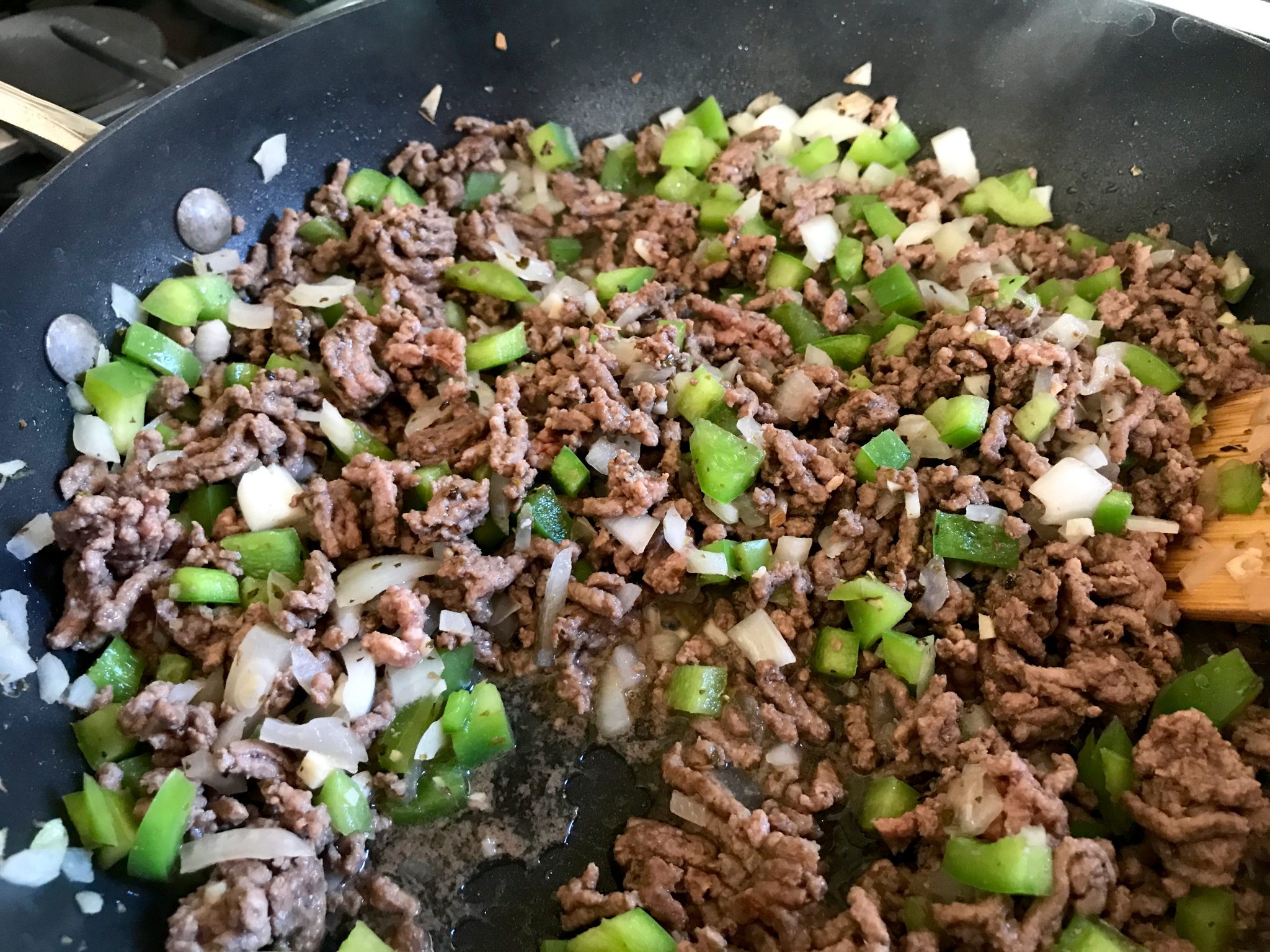 Continue to cook the beef and vegetables until the meat is cooked and vegetables are softened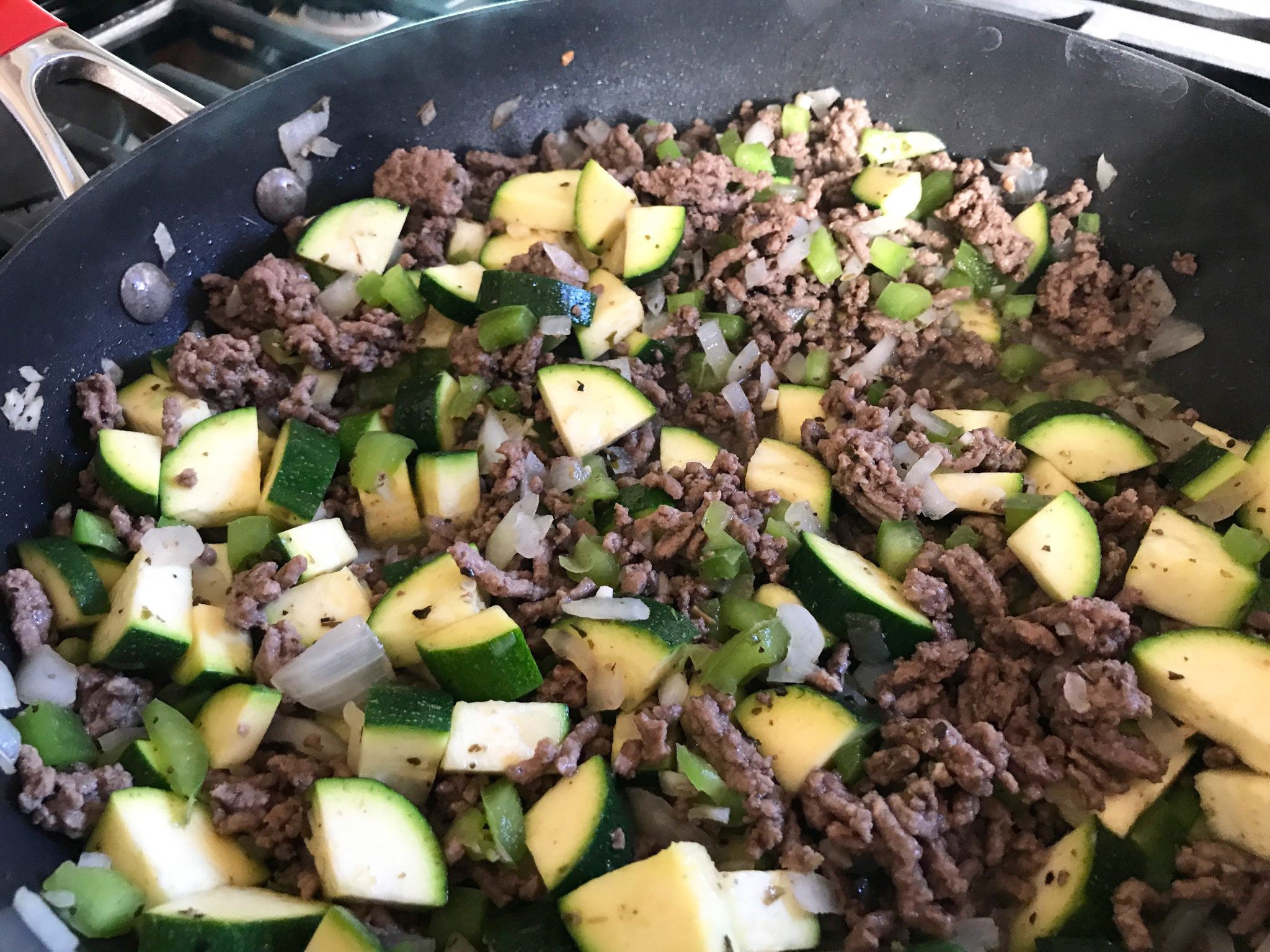 Add diced zucchini and cook for a few minutes all together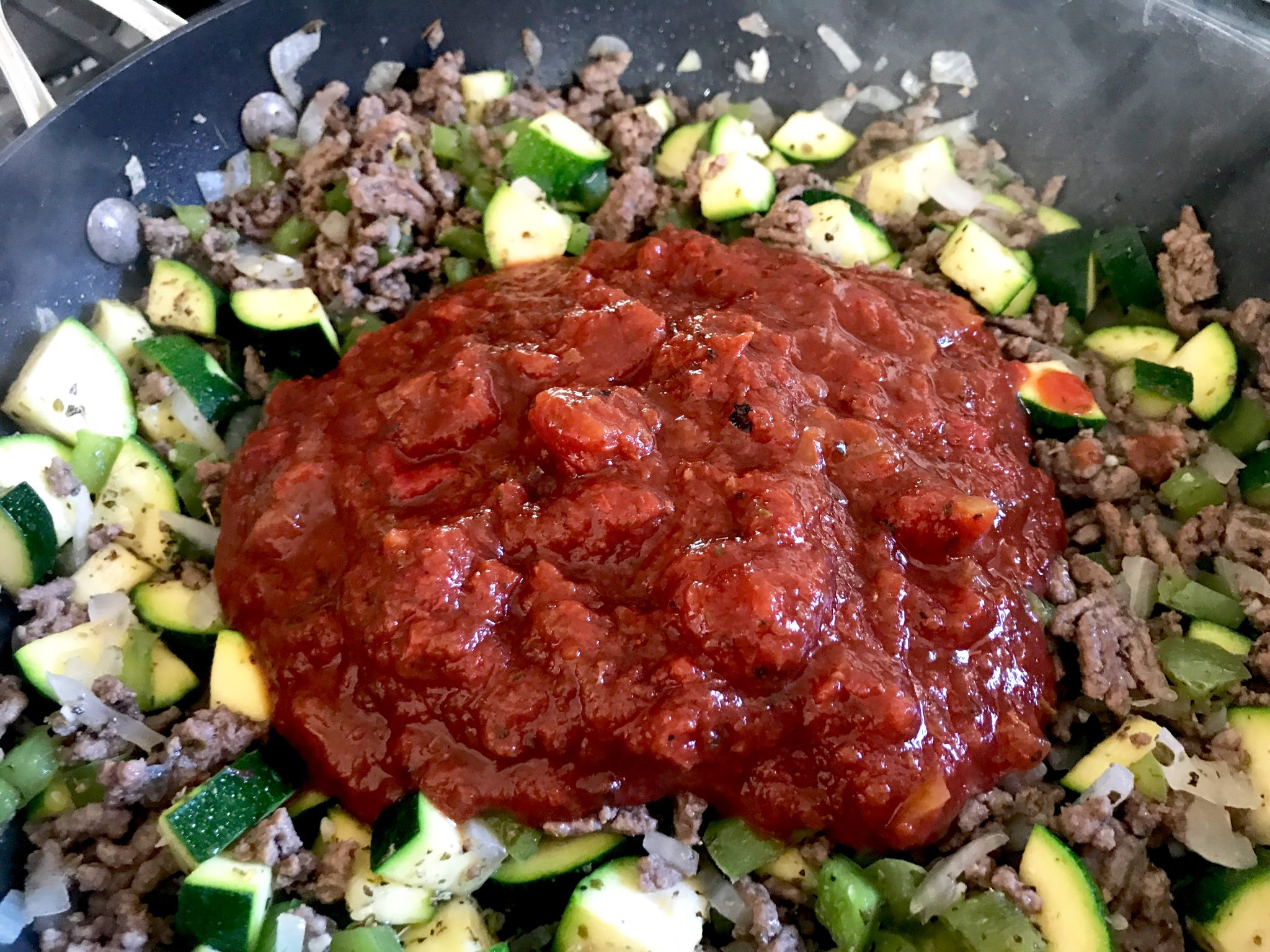 Add two cups marinara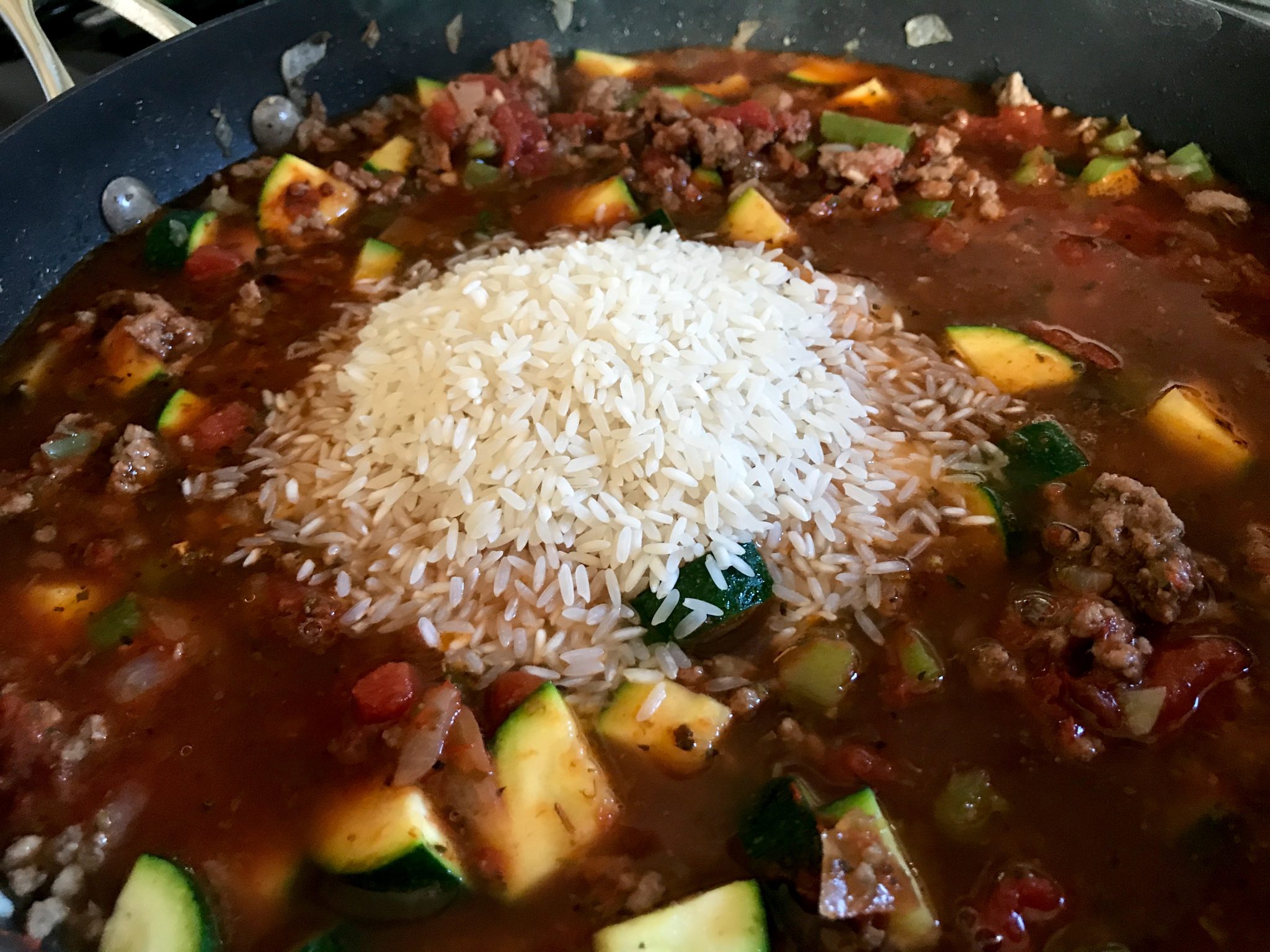 Add one cup of long grain rice (not instant), 2 tablespoons of Worcestershire sauce, and 2 cups of beef broth (low sodium, if it's available!)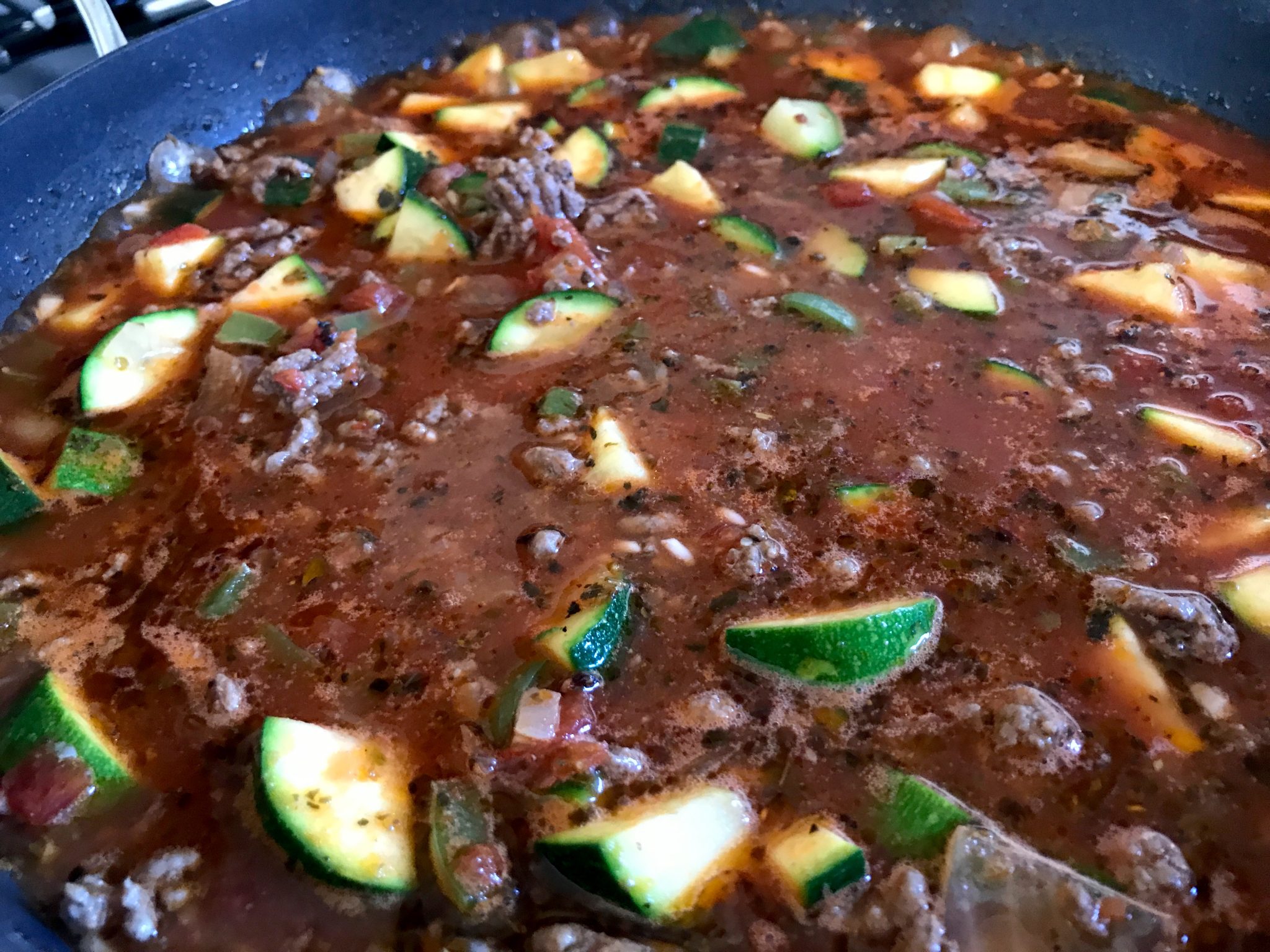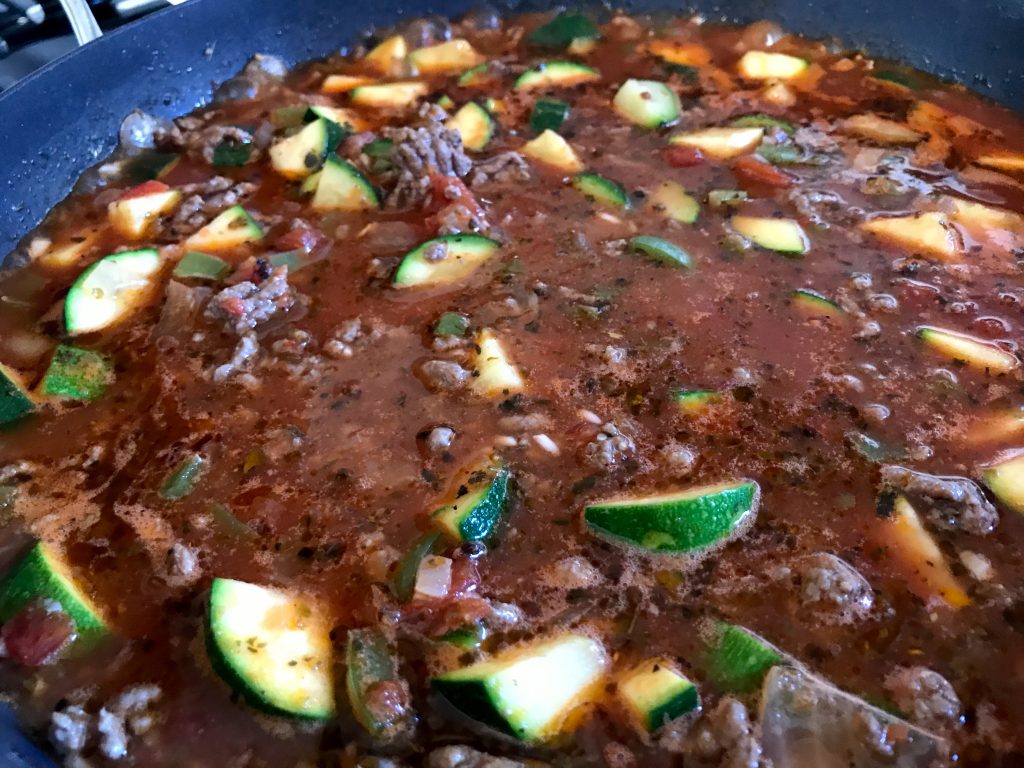 Stir together and bring to a boil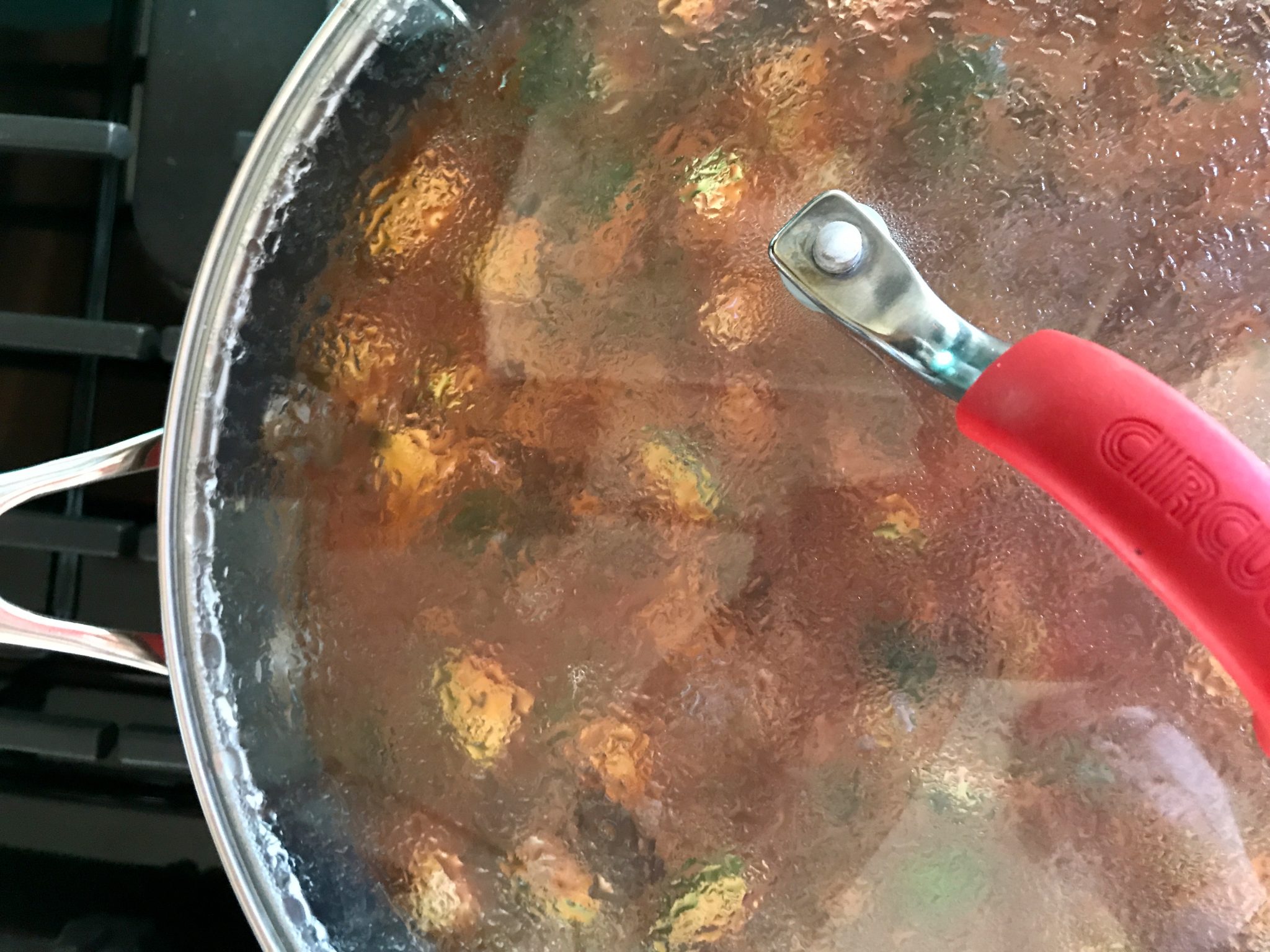 Cover with a tightly fitting lid. Reduce heat to simmer and cook for 16-18 minutes or until the rice is cooked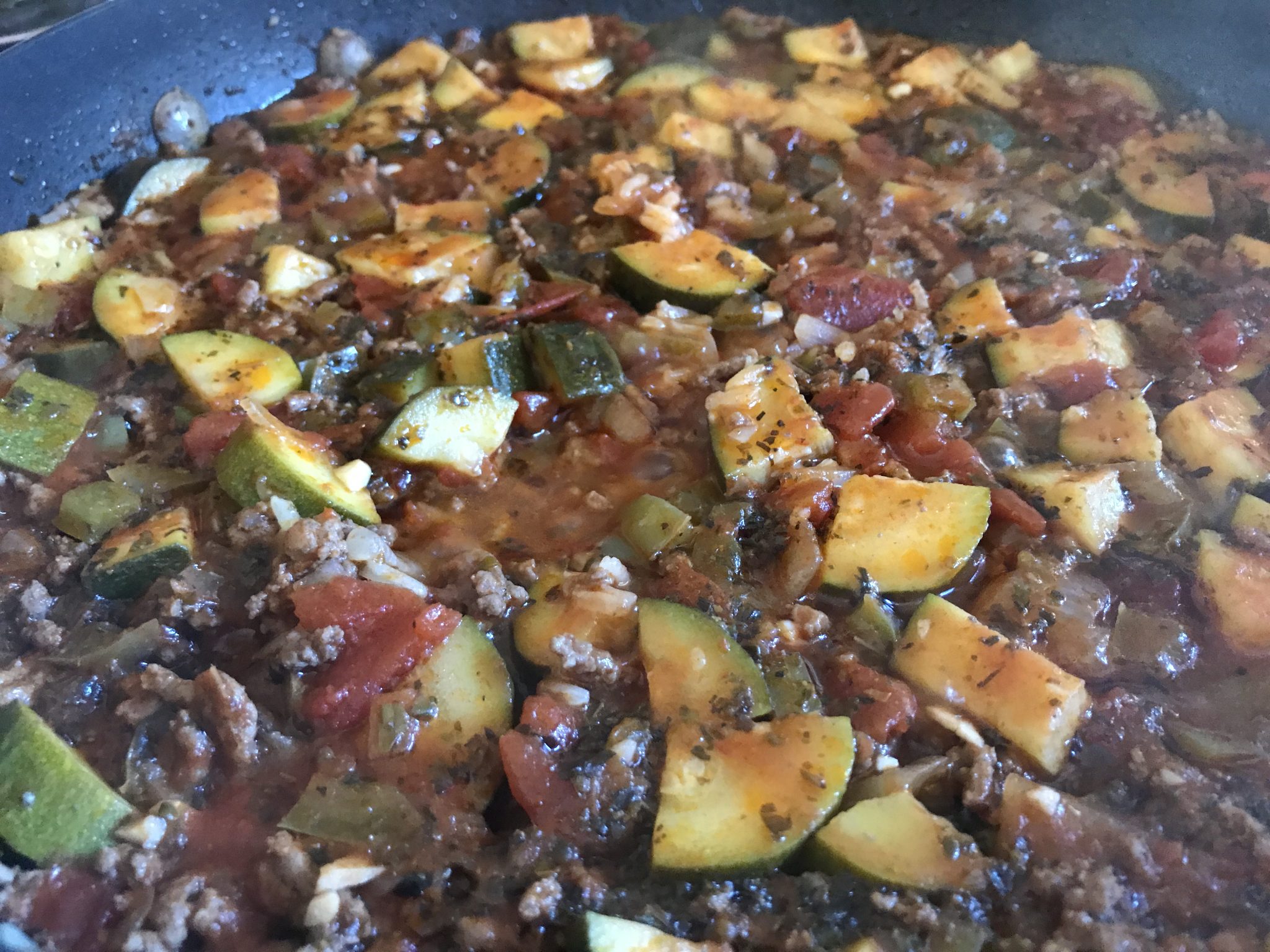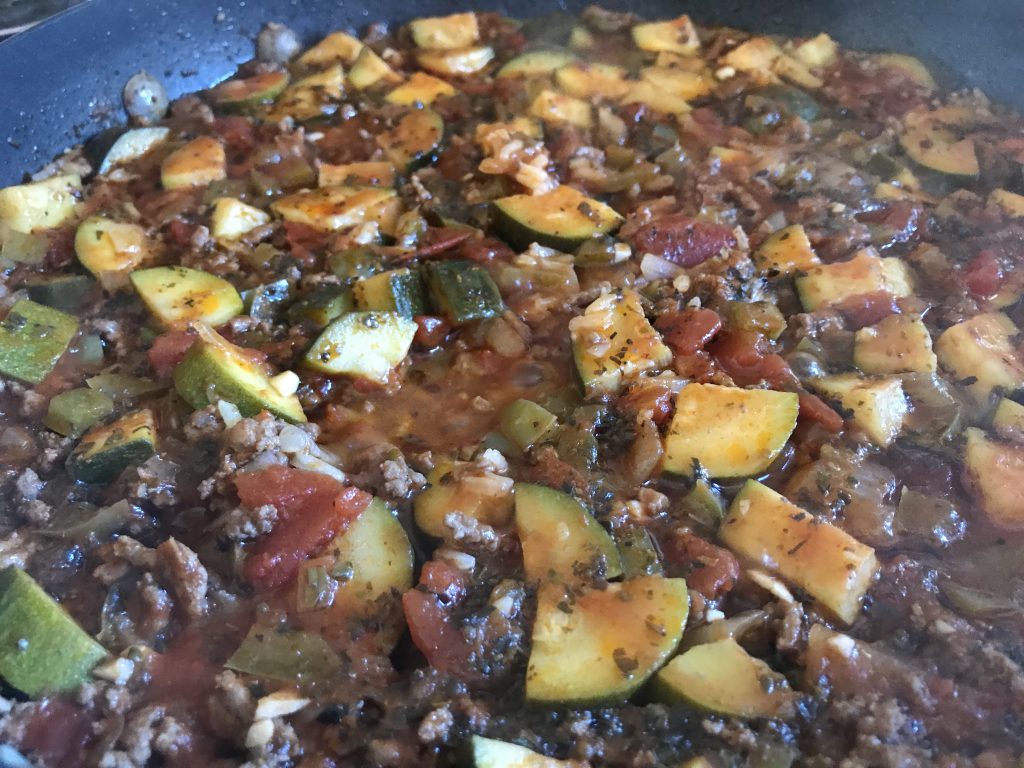 All done!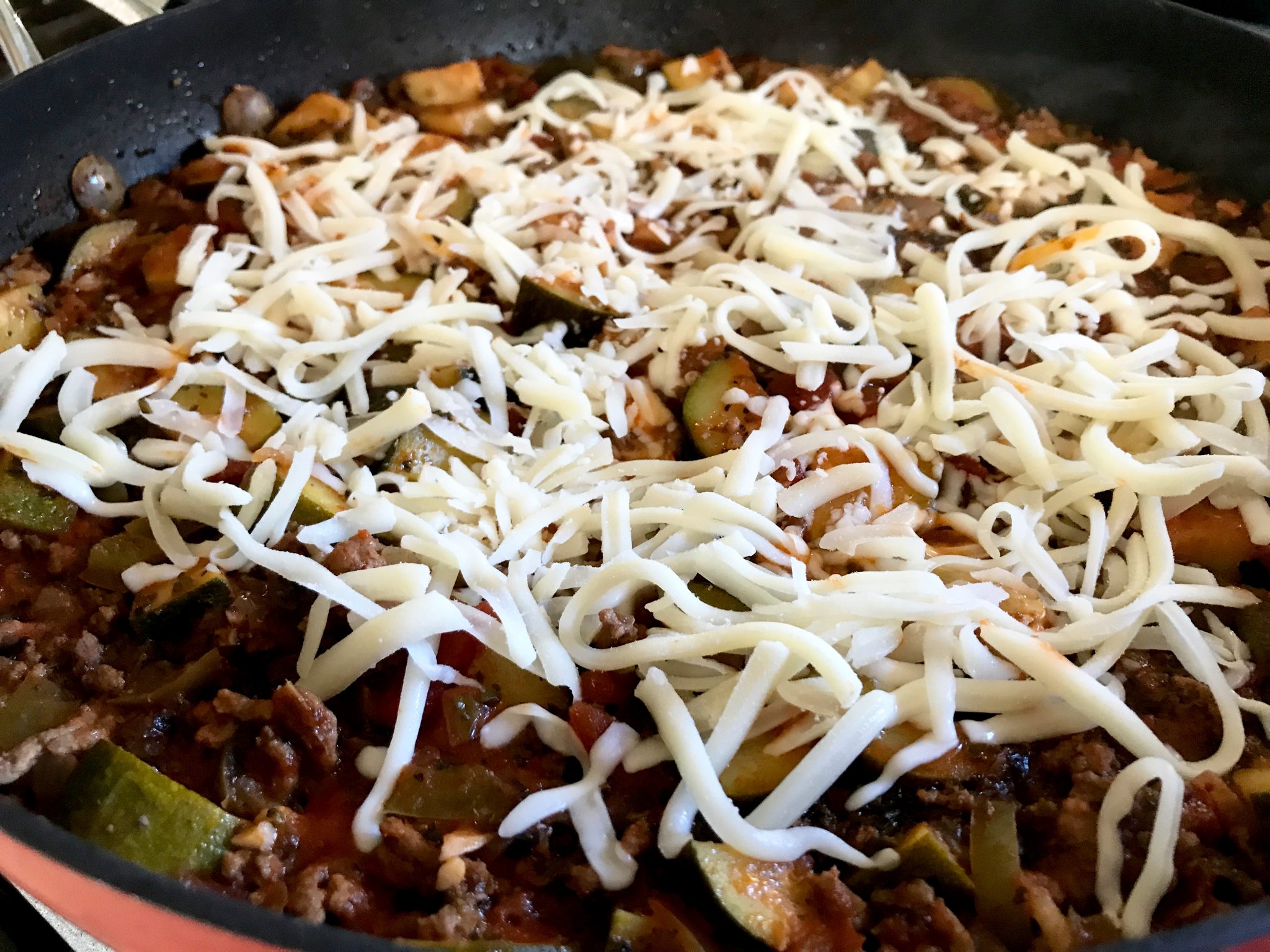 Oh no, wait! Cheese! You need cheese! Add some mozzarella. Pop the lid back on the skillet for a minute or two more so the cheese can melt.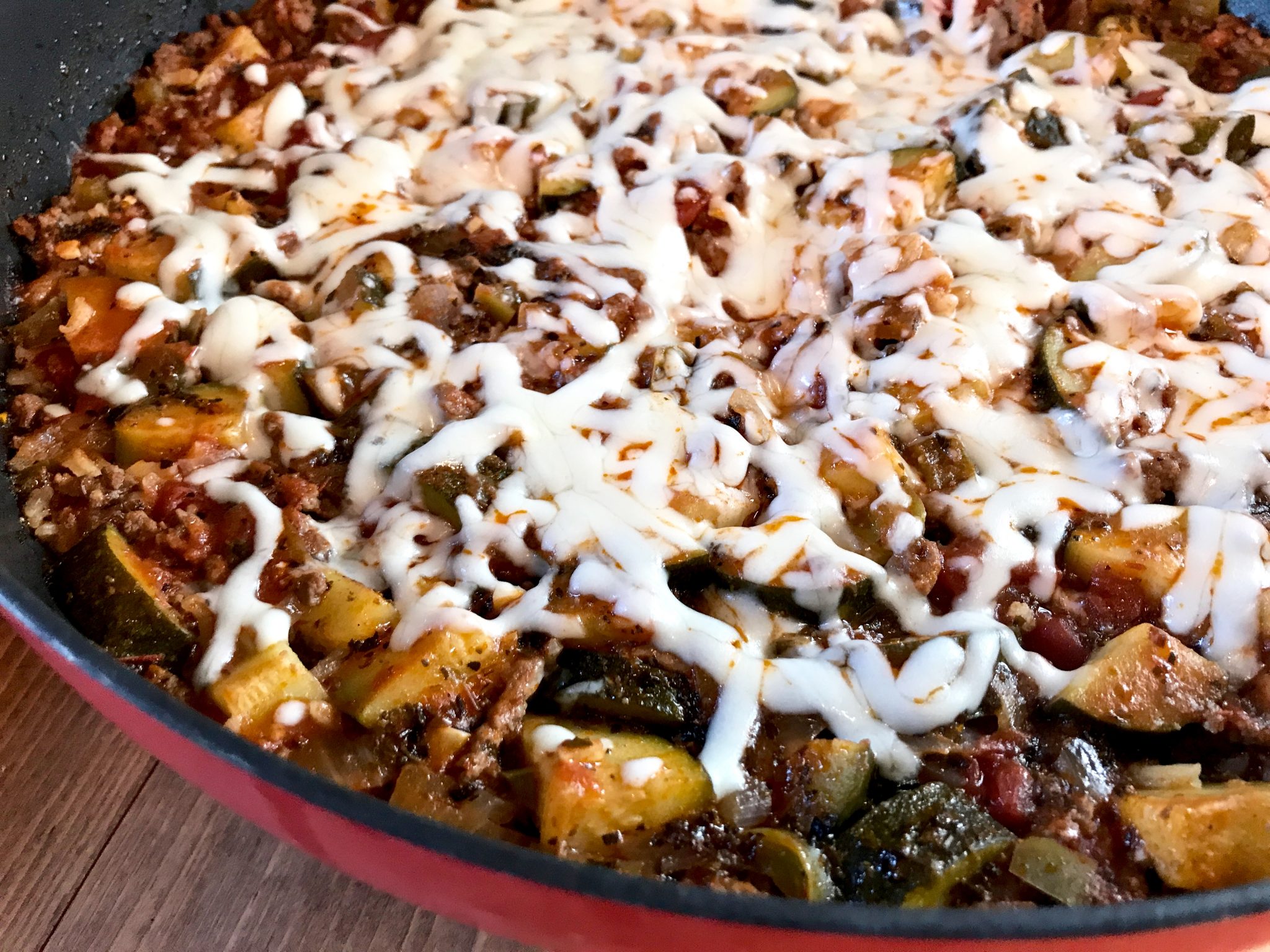 There we go… much better.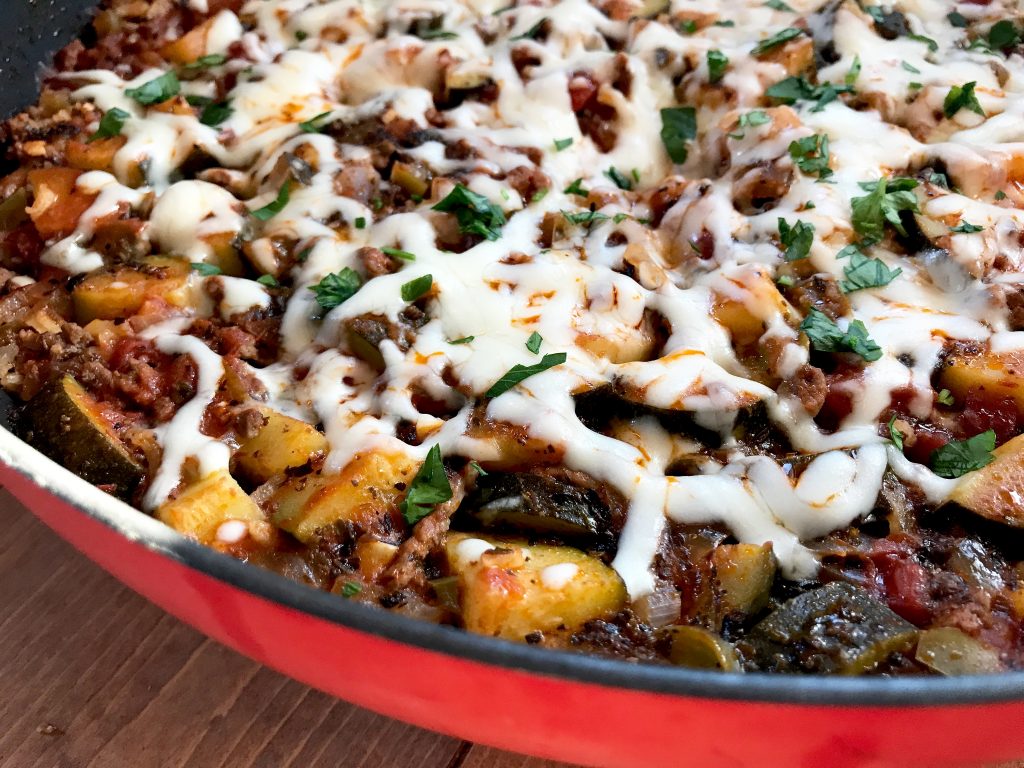 My goodness, It's so yummy!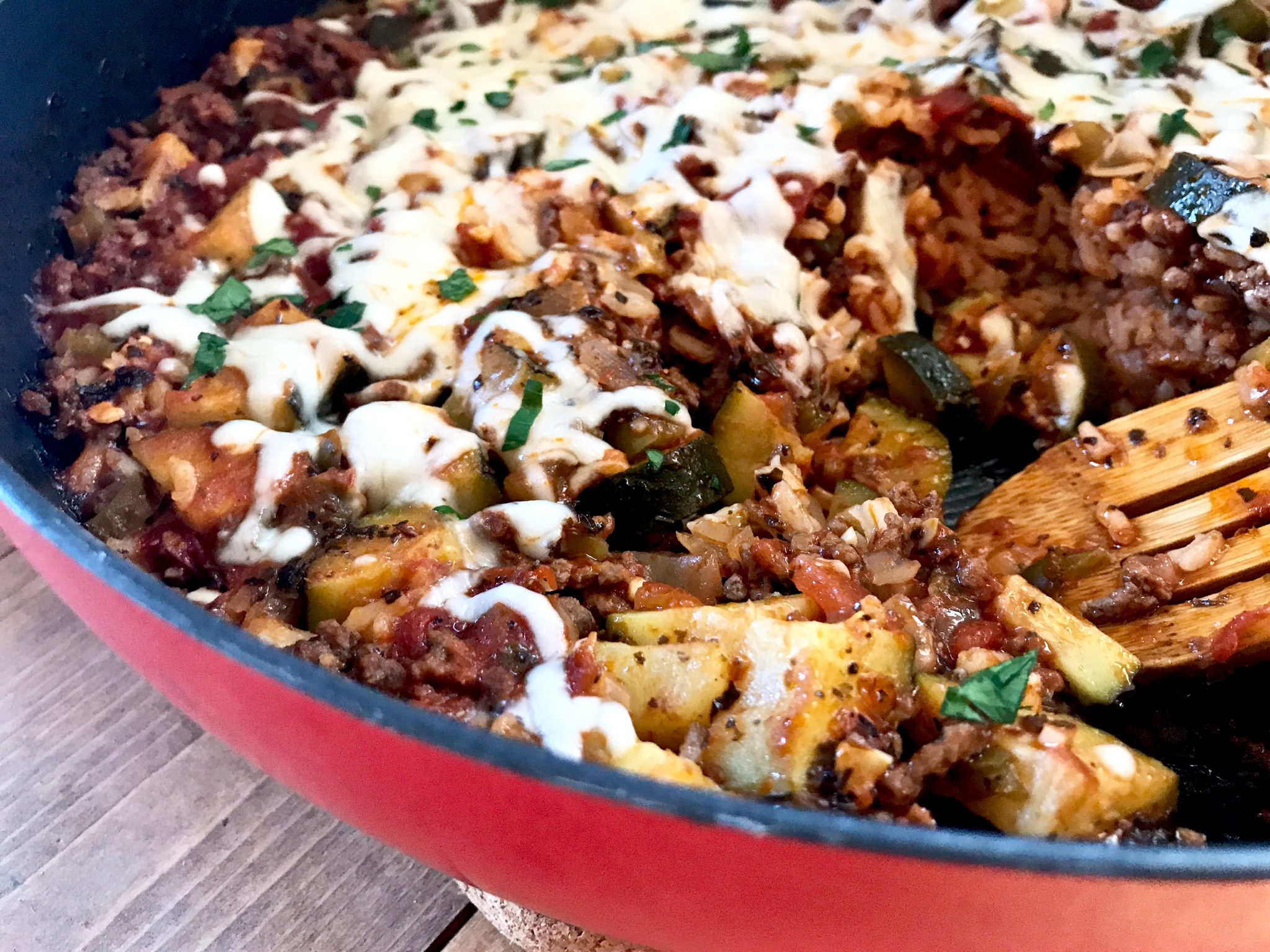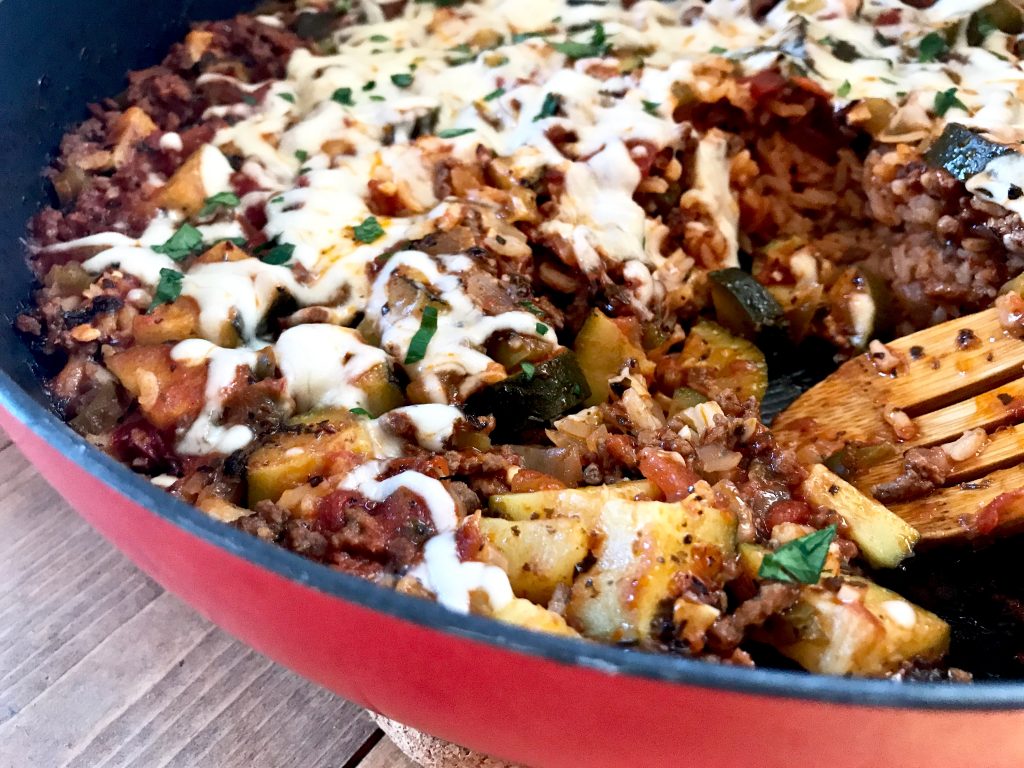 You can really add any vegetables your heart wants to this skillet. Eric would be most excited if I were to add mushrooms, but nope- sorry. Mushrooms aren't allowed in my kitchen. (unless it's his birthday! … even then, it's a little questionable)
Everyone including Miss Pepper really, really enjoyed this! It's super easy. The last time I made it I actually had to make a double batch because Eric loved it so much that I barely got any leftovers the first time around. I really love me some leftovers. This one tastes even better the next day!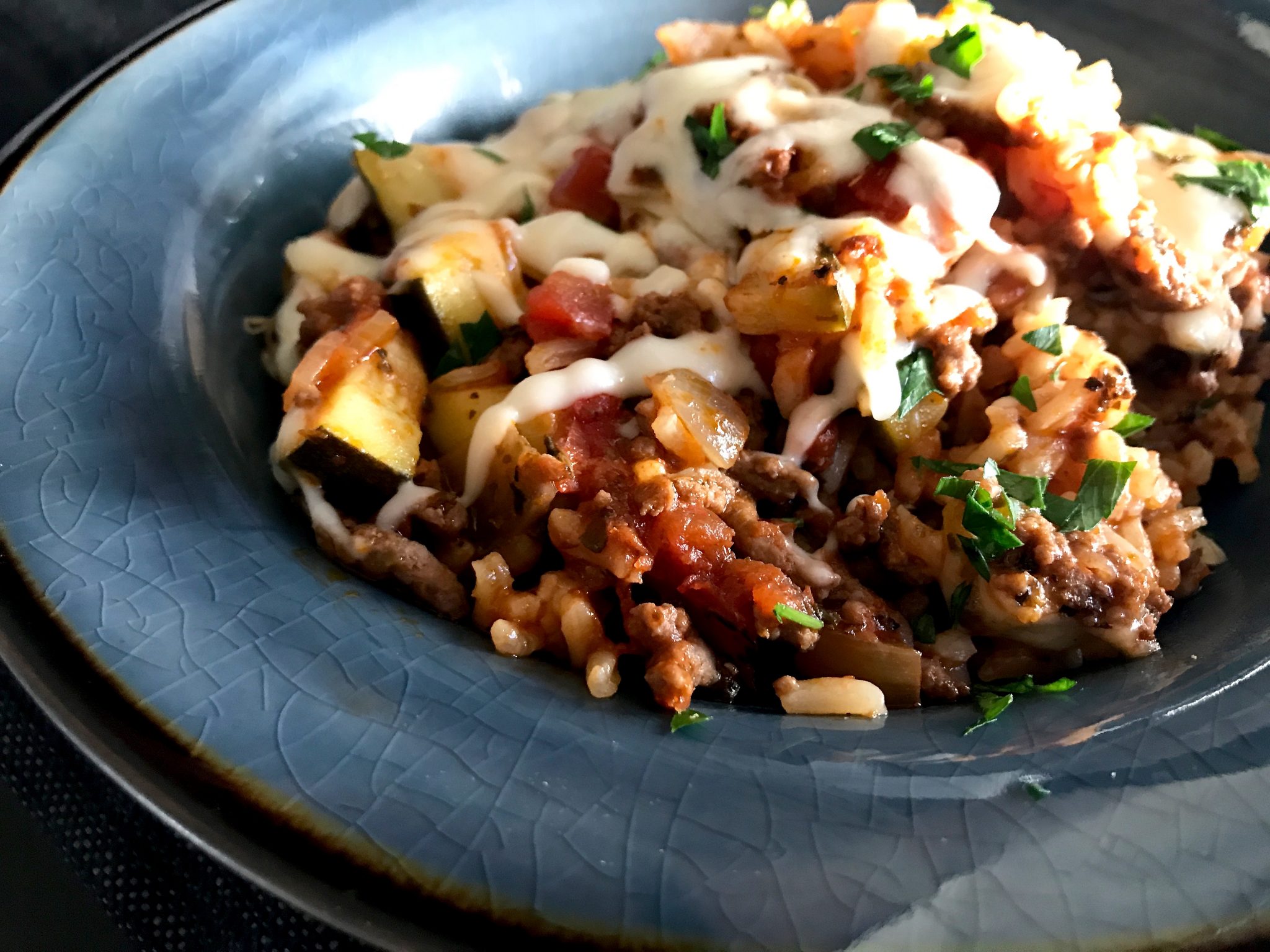 Mmmm.. Make it soon. You guys know how much your girl over here LOVES her rice dishes. Haha!
I hope you love it!
With love from my kitchen to yours,
Star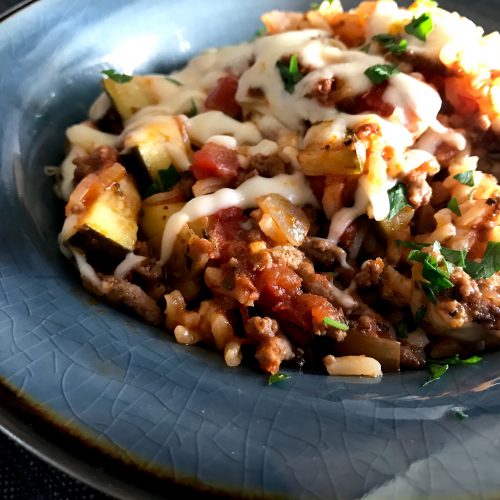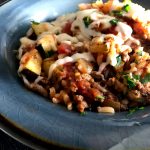 Print
Cheesy Italian Rice Skillet
One pot meal full of vegetables, beef, rice, and flavor!
Materials
1

medium

yellow onion

chopped

3-4

cloves

garlic

minced

1

medium

bell pepper

chopped

2

medium

zucchinis (about 2 cups)

chopped

1

lb

lean ground beef, raw

2

tsp

italian seasoning

1/2

tsp

kosher salt

1/4

tsp

pepper

2

cups

marinara sauce

my marinara sauce recipe here

1

cup

long grain rice

not instant

2

tbsp

Worcestershire sauce

2

cups

beef broth

1

cup

mozzarella cheese
Instructions
In a large skillet over medium-high heat, add ground beef and season with salt and pepper. Break up with spatula. Add onions, green peppers, and garlic. Continue to cook until beef is browned and the vegetables are softened.

Add zucchini and continue to cook for a few more minutes until slightly soft.

Add marinara, rice, Italian seasoning, beef broth, and Worcestershire sauce to the skillet. Stir all together. Bring to boil. Cover skillet with tightly fitting lid and reduce heat to low. Continue to cook for 16-18 minutes or until the rice is cooked.

When the rice is cooked. Sprinkle mozzarella cheese on top. Cover the skillet and let the cheese melt. Serve hot and enjoy! Garnish with a little fresh parsley for some color. (optional)
Notes
Serving size: 1 and 1/4 cups
227 calories 5g fat, 2g saturated fat, 26g carbohydrates, 2g fiber, 3g sugar, 18g protein
WeightWatchers Points: 6 Points
Note: Points/Calories may change if using a jar of marinara sauce. You can find the recipe for the Slow Cooker Marinara here.