Cheesy Ham and Broccoli Rice Casserole
This post may contain affiliate links (meaning I earn a small comission if you purchase an item through a link I provide) I only provide shoppable links to items I love and are helpful. As an Amazon Associate, I earn from qualifying purchases.
Cheesy Ham and Broccoli Rice Casserole is a healthy and easy-peasy weeknight dinner recipe that's filled with broccoli, carrots, cheese, and ham!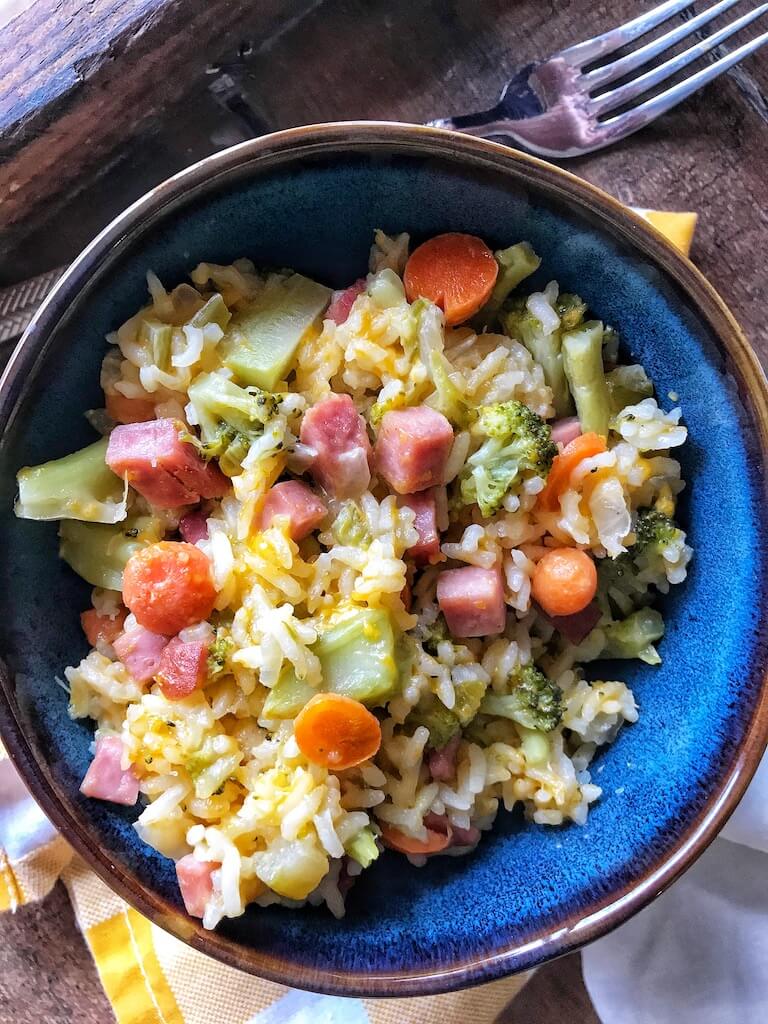 This Cheesy Ham and Broccoli Rice Casserole is soooo good that I made it yesterday for the very first time with ham leftovers from Christmas Dinner and I'm already here posting it for y'all to make! It's so good that I made it yesterday and the entire pan is already gone.
If you've been around for a while you probably know that Mom's Chicken and Rice was the first "rice casserole" to appear on the blog. Since then, I've made quite a few variations of it that are all very, very popular here on The Skinnyish Dish! I decided to end the year with this one because it's so good. I don't think I've posted a rice casserole this year yet so, better late than never (staying true to my life motto)!
It's a great way to use up leftover Holiday Ham if you have some and don't know exactly what to do with it. If you don't have ham leftovers don't worry just grab a ham steak at your local grocery store! Heck, some ham fresh from the deli would probably work just as well too.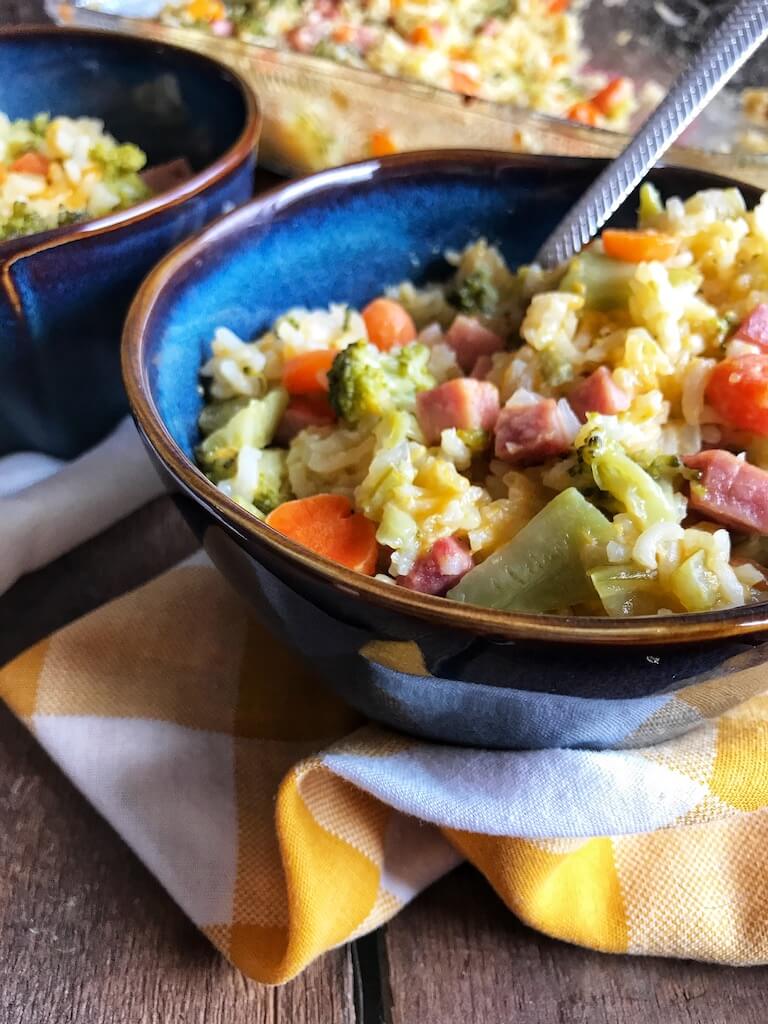 Let's get in the kitchen and make Cheesy Ham and Broccoli Rice Casserole!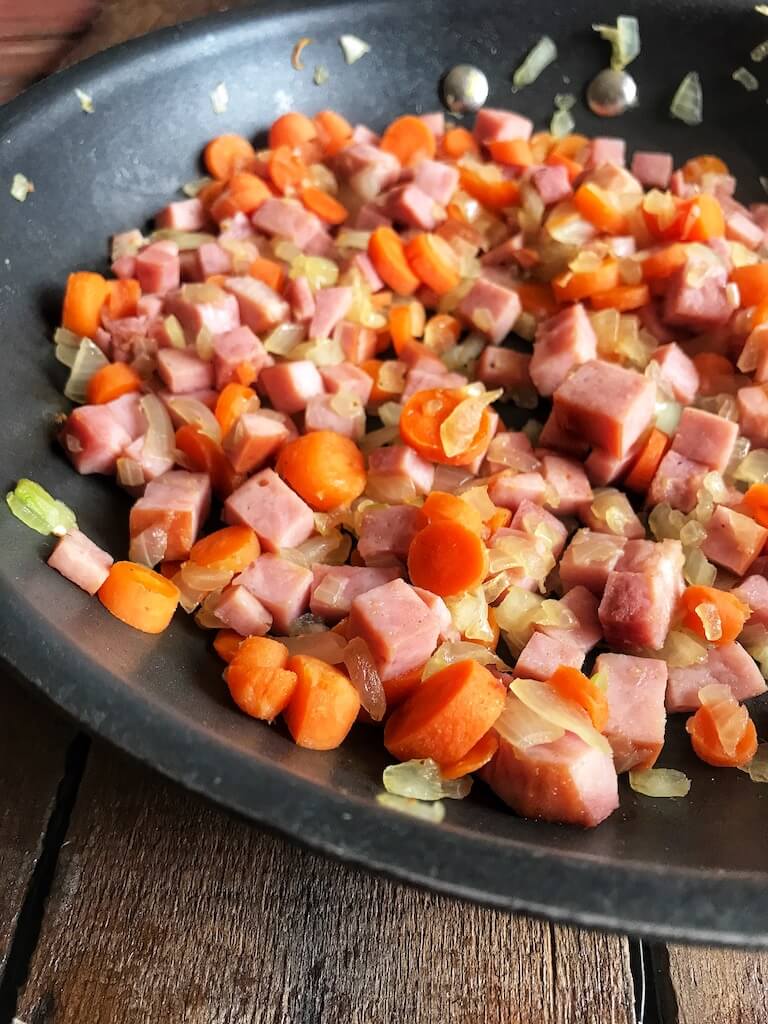 In a large hot skillet sprayed with a little cooking spray throw in one medium chopped onion, one cup'a chopped carrots, and eight ounces of diced ham (or about 1-1/2 cups). Season with just a pinch or two of salt and pepper. Let it all hang out in there for awhile over medium heat until the carrots are softened.
Psst. This would be a good time to preheat your oven to 350 degrees too!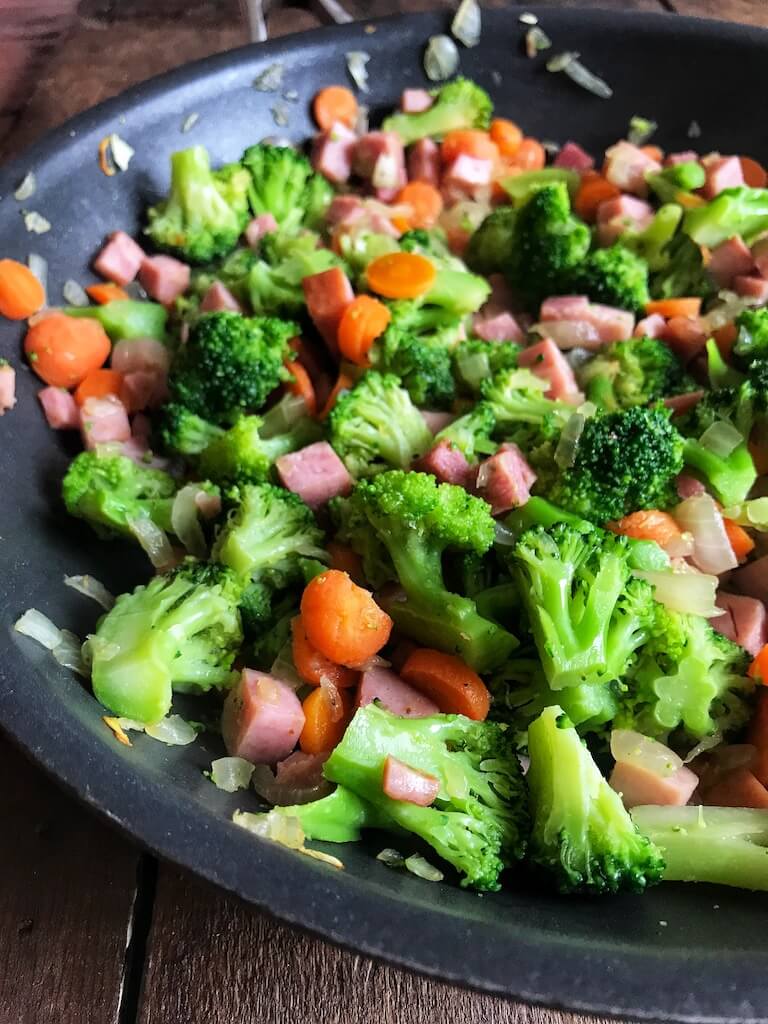 When the carrots are softened stir in about three cups of roughly chopped frozen broccoli. Cook everything together for just a minute.
*I use a bag of the Birds Eye steam fresh broccoli florets. I throw the bag on the counter while I'm chopping up the carrots, onion, and ham to let it naturally thaw for a few minutes. It just makes it easier to chop up into smaller pieces.*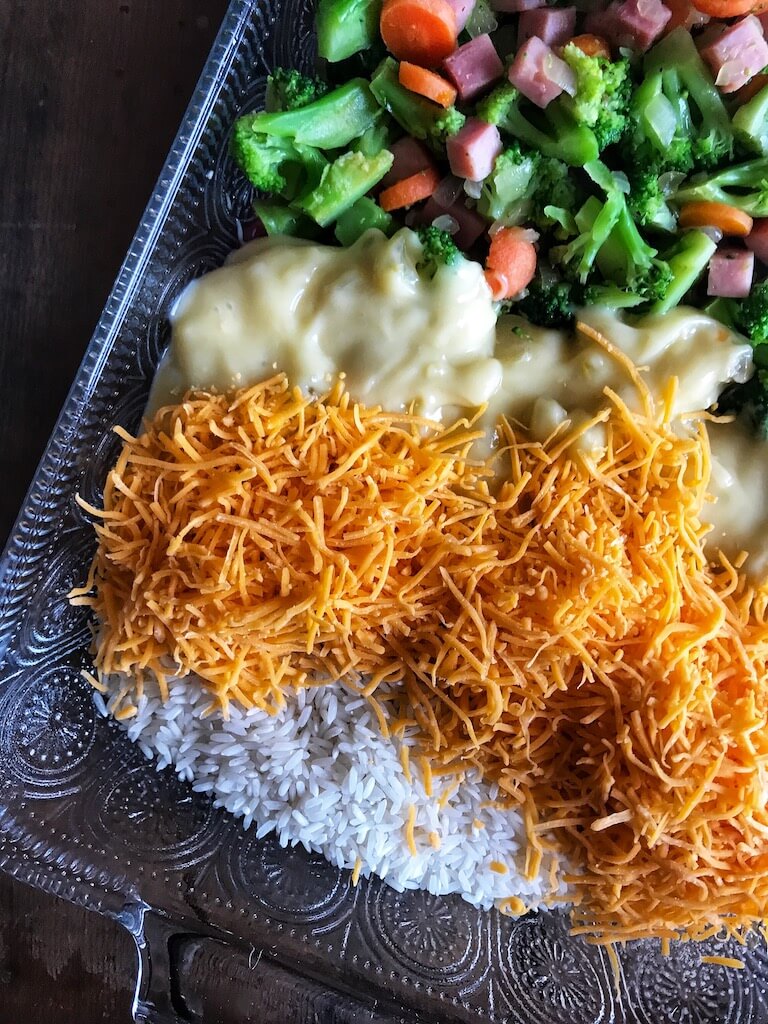 We're already to the last part! See how easy? Grab a 9×13 casserole dish and spray it fairly well with some cooking spray. Pour in one cup of raw white long grain rice (do not use minute rice!), 3.5 ounce of shredded reduced fat sharp cheddar (one cup), one 10.5 ounce can of cream of celery soup, the veggie and ham mixture, 1/2 teaspoon of Lawry's Seasoned Salt, and 2 cups of vegetable broth.
I know y'all are gonna ask if you can use brown rice (especially if you're doing the WW Purple Plan)! Since I just made this recipe yesterday and haven't had a chance to test it using brown rice. I can't tell you it's for sure going to work, but from experience with my other rice casseroles. You can swap out brown rice for the white rice, but it will need an additional 15-20 minutes in the oven. I also always add 1/4 cup extra liquid to be safe when using brown rice in casseroles as well.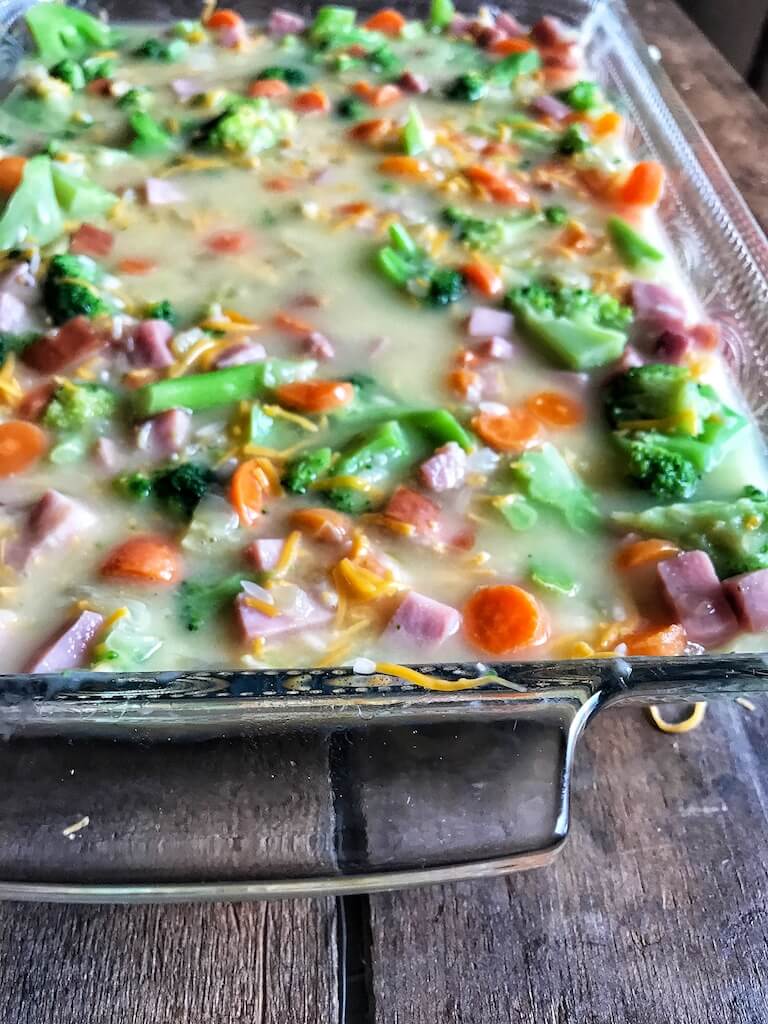 Stir the ingredients up real good!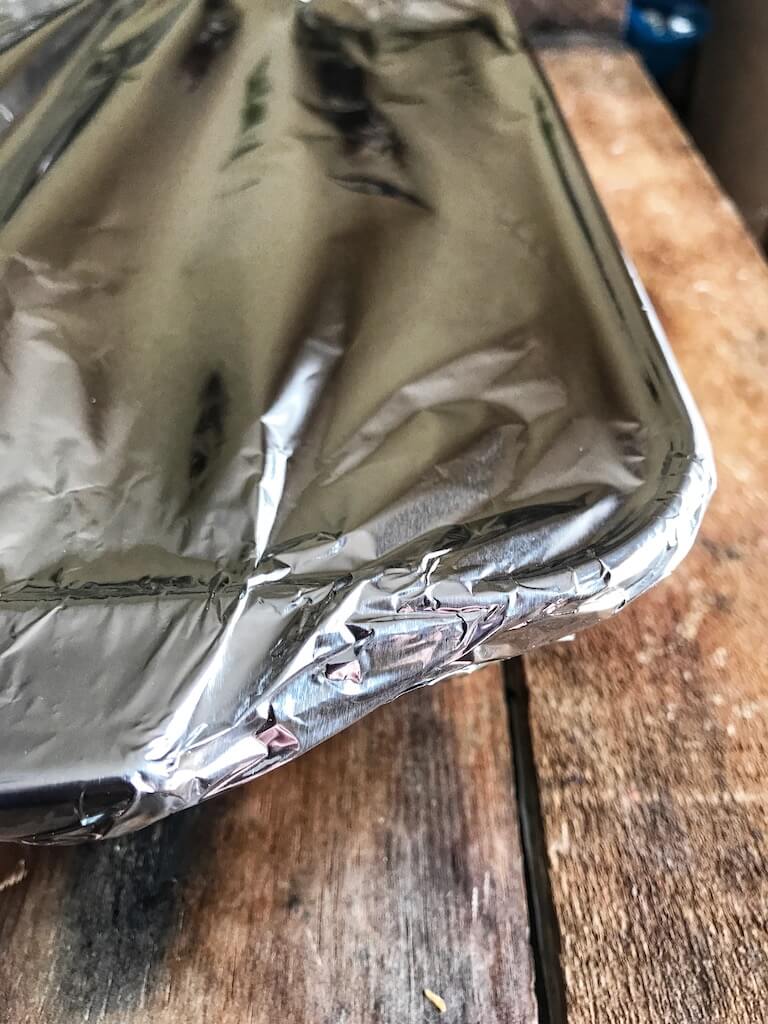 I always take this picture of the last step in my rice casserole recipes. It isn't a very pretty photo, but it's important! I post it here with hopes that it'll be burned into your brains. Ha! Seriously though, do not forget to cover your casserole dish tightly with tin foil. You'll be sorely disappointed if you skip this step.
Now, pop'r in the oven for about an hour! I know, ugh an hour? It's worth it, promise. Now you've got a whole hour of complete hands off time to do whatever you want! …. Or laundry, for me it's always laundry.
All done! Salt & Pepper to taste. Forks out. Dig in!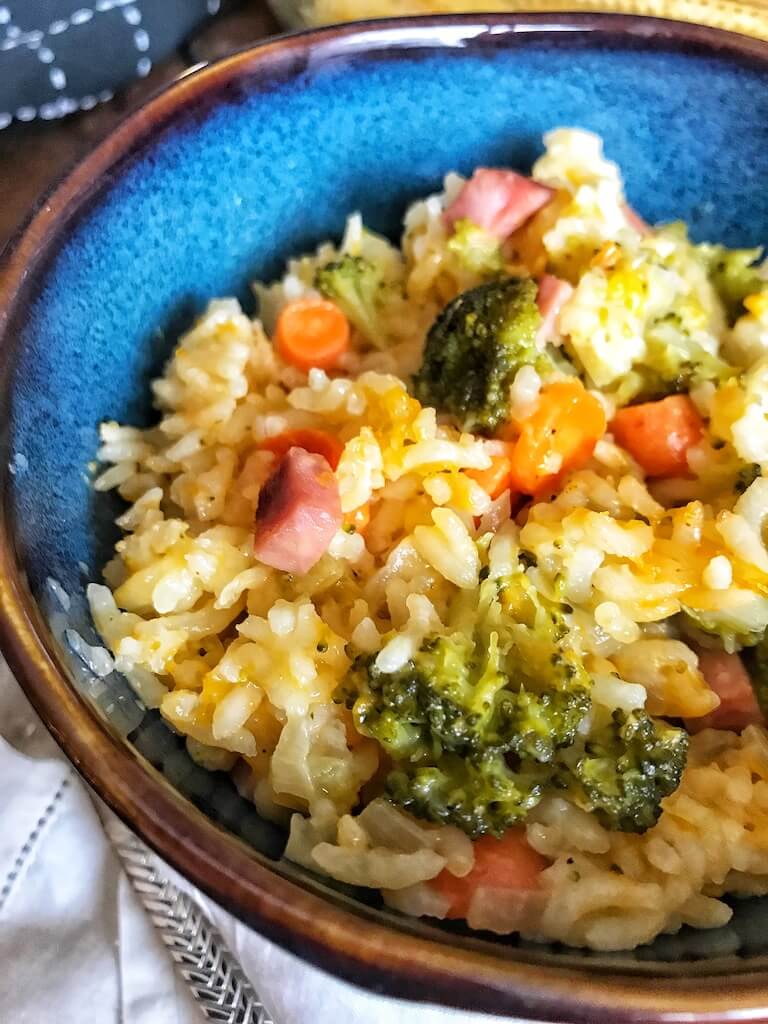 Oh and Pepper gobbled this Cheesy Ham and Broccoli Rice Casserole right up for dinner last night. She's been a bit picky these last couple months. I'm talkin' the kind of picky where I bought unicorn shaped mac and cheese and she lost her dang mind kind of picky so I think we can call her eating this without complaint a pretty big win.
I hope you all enjoy! Remember to let me know how it goes in the comments below. I love to hear your thoughts!
With love from my kitchen to yours,
Star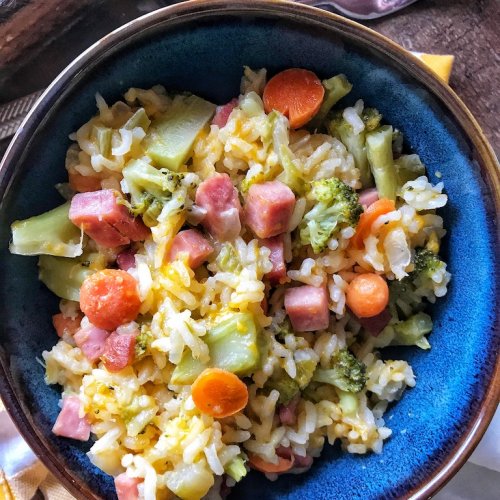 Print
Cheesy Ham and Broccoli Rice Casserole
Cheesy Ham and Broccoli Rice Casserole is an easy-peasy weeknight dinner that's filled with extra veggies and ham!
Equipment
9 x 13 casserole dish

aluminum foil

large non stick skillet
Materials
8

oz

ham

(1-1/2 cups) lean, diced

1

cup

carrots

chopped

1

medium

onion

chopped

3

cups

frozen broccoli

lightly thawed, roughly chopped *

1

cup

long grain white rice

uncooked, instant/minute rice will not work

1

10.5 oz can

cream of celery soup

cream of chicken/mushroom will work fine

3.5

oz

shredded reduced fat sharp cheddar cheese

(about 1 cup full)

2

cups

vegetable or chicken broth

1/2

tsp

Lawry's Seasoned Salt

your favorite all purpose seasoning should work just fine

salt and pepper

to taste

cooking spray
Instructions
Preheat oven to 350 degrees.

In a large hot skillet over medium heat spray with cooking spray and add diced carrots, ham, and onions. Add just a pinch or two of salt and pepper. Cook until the carrots are softened. Stir in lightly thawed and roughly chopped broccoli and cook all together for about a minute.

Spray a 9×13 casserole dish well with cooking spray. Add in the ham and veggie mix, cream of celery soup, uncooked white rice, seasoned salt, shredded cheese, and vegetable broth. Stir together well.

Cover casserole dish TIGHTLY with tin foil. Bake for one hour. When the casserole is done let sit for a few minutes. Salt and Pepper to taste. Enjoy!
Notes
Serving size: 1 and 1/4 cup.
300 Calories | 8.5g Fat, 3g Saturated Fat, 38g carbohydrates, 6g fiber, 4g sugar, 0g added sugar, 19g protein
WeightWatchers Points: 8 Points
*If using brown rice it will take an extra 25-35 minutes to cook.*