This post may contain affiliate links (meaning I earn a small comission if you purchase an item through a link I provide) I only provide shoppable links to items I love and are helpful. As an Amazon Associate, I earn from qualifying purchases.
I'm extremely excited to share these Cheesy Corn Dog Muffins with you today mostly because my sweet little Pepper helped me make them and also because they are insanely yummy. See those baby hands? Awe!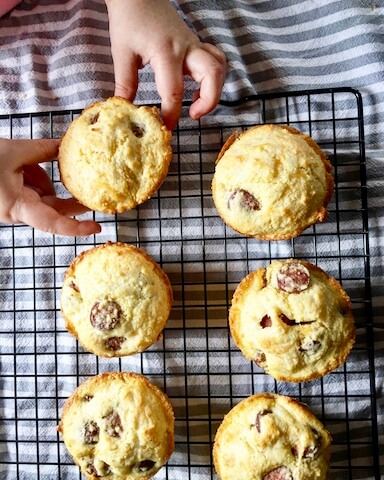 I'm fairly certain that a few days after I had little Pepper I wanted to start baking muffins and decorating cookies with her. If I had it my way she would have been mixing batter before her umbilical cord fell off. Ha ha! Just joking. In fact, I cried my eyeballs out the day her umbilical cord fell off. Don't ask me why, I remember sobbing to Eric saying something along the lines, "She's not a baby anymore!" Hormones are NO joke, people. NO JOKE. Some of my favorite memories involve being in the kitchen with my mama and I really couldn't wait to get into the kitchen with Pepper! Now, I know. I know. She's not even two yet. So, what she actually participates in will be slim pickin's for awhile, but I feel as if there's some stuff she can partake in and sit on the counter top with me to at least watch me do what I spend so much time doing. Please know, because this is the internet and the internet contains crazy people that assume the worst when someone does not clarify. I do not let her do anything or even be up on the counter once the stovetop is on. Because I do a lot more cooking rather than baking this makes this part a bit harder, but it's totally doable. While she's still so young this part of the blog probably won't be updated much more than once a month, but as she grows I am so excited to share more of our adventures together in the kitchen. Now, will it be healthy? Yes and no. Of course I want Pepper to eat healthy things and believe me she has a very balanced diet. The girl will grab an apple and eat it over a cookie any day of the week (she's my hero), but I want to make fun things with her and teach her as she grows that nothing is off limits in terms of food as long as there is balance in life. So, there will be lots of kid friendly foods. Sometimes they will be calorie friendly for us mamas, sometimes they won't be.. and that's just the way the cookie crumbles.
Now, about these Cheesy Corn Dog Muffins. These happen to be fairly calorie/weight watchers friendly so I will include that information at the bottom of the recipe print out. I am so thankful that these are calorie friendly because good God, I ate 5 out of the 9 muffins we made the other day. Yep five! At least they were spread throughout the day, right? right. I already sent Eric to the store to grab more ingredients for them because I would really appreciate it if I could have one every single day for the rest of my life. For real. I've been seeing "corn dog muffins" on Pinterest for years. Probably since the day Pinterest was invented, to be honest. I continually repinned them thinking to myself, "Oh, I'll make these for my nephew sometime." or "Oh, I'm totally going to make these for my future kids." (By the way, I didn't even have a boyfriend at the time) Make these for myself? ha! I have far too advanced of a palate for such a thing. If you do not have any children running around whether they are yours or family. WHO GIVES A HOOT! MAKE THESE RIGHT NOW. I REPEAT, MAKE THESE RIGHT NOW. Thank me later. And if you do have kids, I don't even know.. you better make a triple batch because you'll want/need all of them for yourself, like I did. The good news? I did share a couple with Pepper and she absolutely loved them! Gobbled them up fresh and reheated. I honestly think she has a more distinguished palate than I do, most days. So If she likes them, it means they are really, really are good.
Pepper got up on the counter for the beginning and end of this recipe so be prepared for a couple blurry photos and cute baby hands. Into the kitchen we go!
Here's my two secret weapons. A box of Jiffy Corn Bread! So fancy! So delicious! and a package of these all beef hot dogs! This entire package is like 300 calories or something crazy low which makes these muffins extremely calorie friendly, but they are also all beef with no odd ingredients in them like regular ol hot dogs. Don't get me wrong. I'll eat just about any type of hot dog off the grill that you hand me, BUT I like to be a little conscious of what's going into our bodies on a regular basis. So, the all beef hot dogs from Hebrew National or Applegate are our personal family favorites. Also, I love how Jiffy has never changed their packaging. At least not while I have been alive. It's simple. It's effective. Everyone knows what those little boxes are.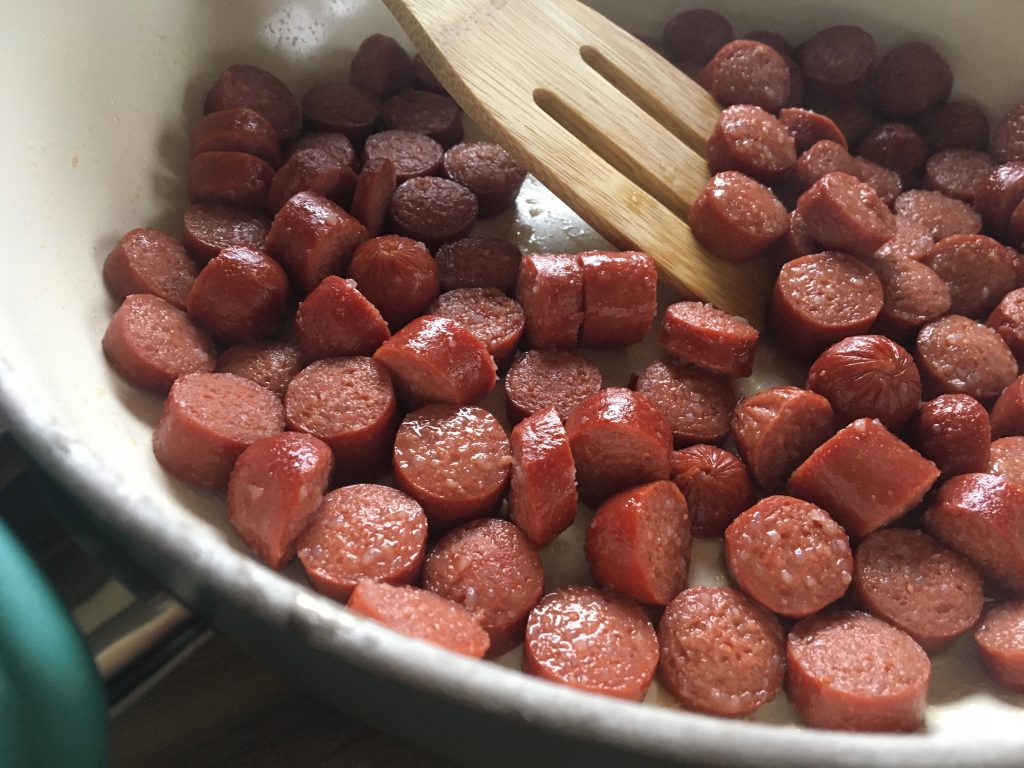 This is a personal preference of mine. The hot dogs are already cooked, so you do not HAVE to cook them, but I am weird and I like to warm them in a pan for a few minutes before adding to the batter. So chop them up, cook them in pan for a few minutes, or don't. Whatever you fancy.
Then grab a toddler, a mixing bowl, and a spoon.
Pour the package of cornbread mix right in there if cooking with a little one. They most likely will go straight for the spoon and want to taste the mix. I let her because why not?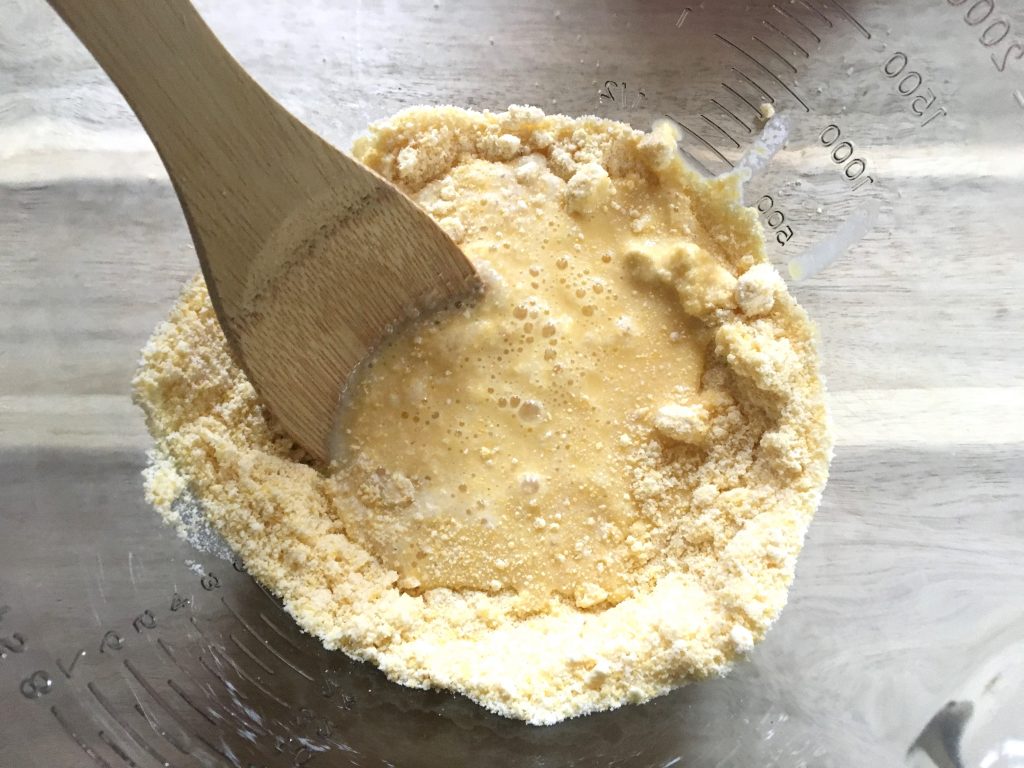 Add 1/8 cup milk (we used 2% milk) and 1/4 cup egg beaters. Mix it up. I let Pepper start mixing, but i finished it up. The batter will be a bit lumpy.
Add in the sliced hot dogs! The toddler will most likely start eating them.
Fold the hot dogs in until evenly distributed.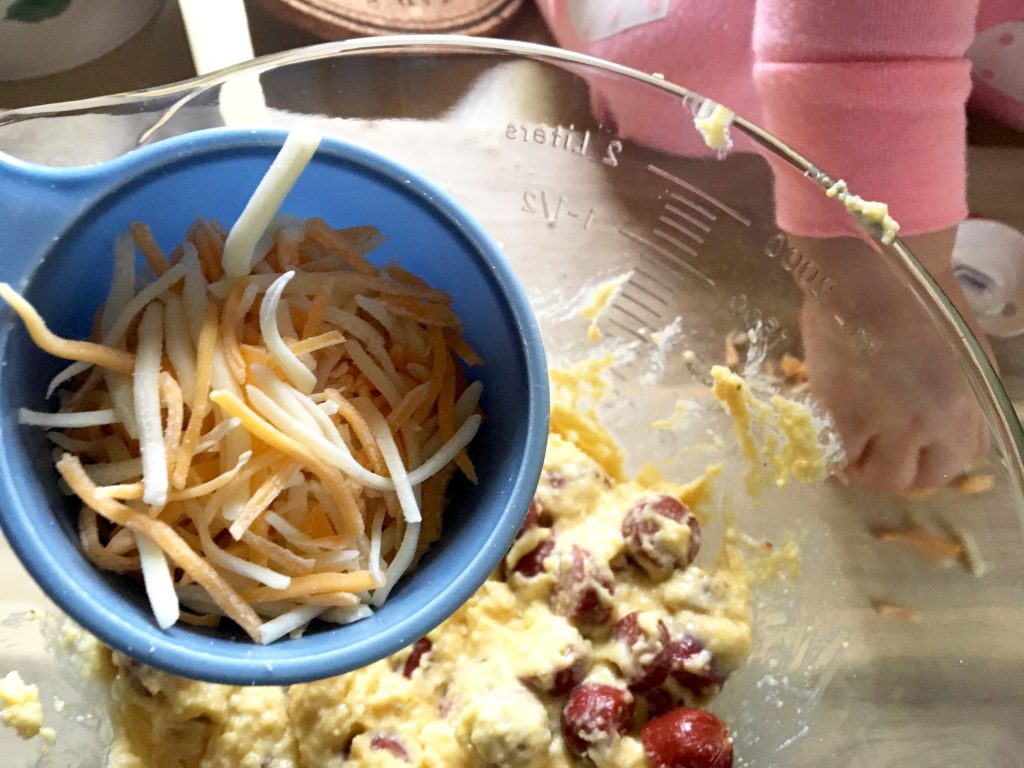 Then add some cheese! This part is up to you, I used Colby Jack made with 2% milk, but if you're not planning on eating them yourself or you don't give a lick about calories add some really yummy whole milk cheddar cheese, I would. I also tossed some cheese on the side to distract lil Pepper from eating the batter because there is raw eggs in it and blah blah blah. Also, let the batter set for about 5 minutes if you can. This isn't something you have to do, but it makes the muffins rise a better while baking.
Grab a muffin tin and spray with some cooking spray see those blurry fingers on the right? They went in there too.
Fill each spot up almost all the way. Then pop into a preheated 400 degree oven for about 15 minutes. If you insert a knife into the muffins and it is not clean place back into the oven for a minute or two.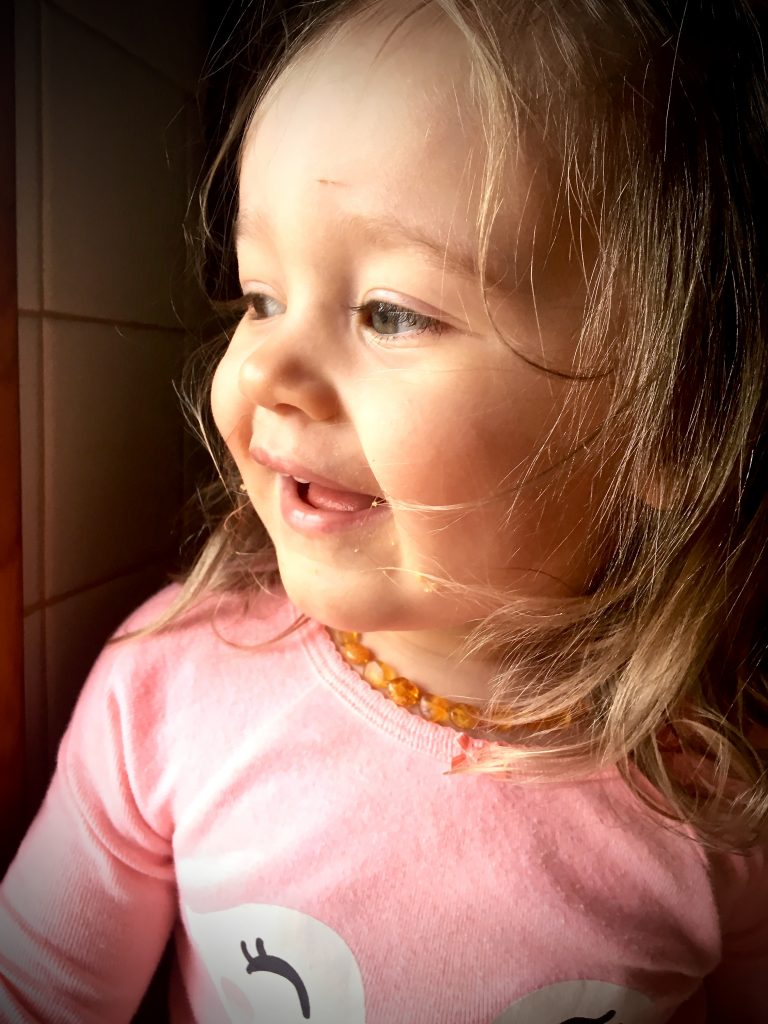 and patiently wait for those babies to cook up. I personally tickled my little girl while she ate more cheese.
And here they are, fresh out of the oven.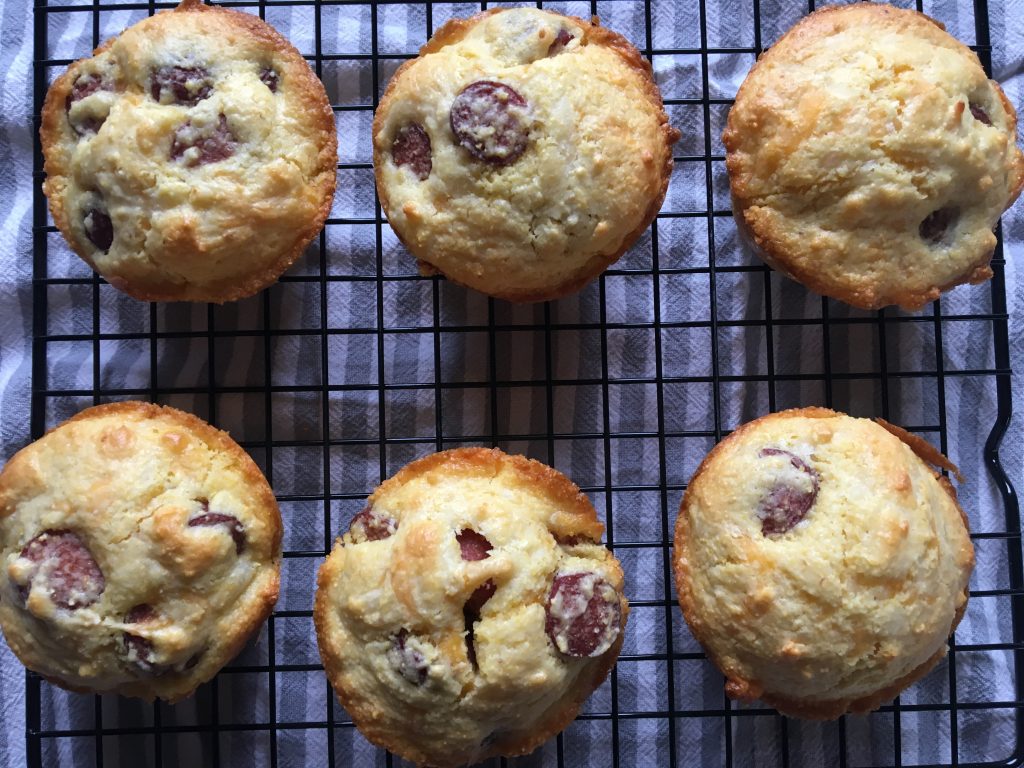 place them on a cooling rack to allow them to cool just a bit before inhaling.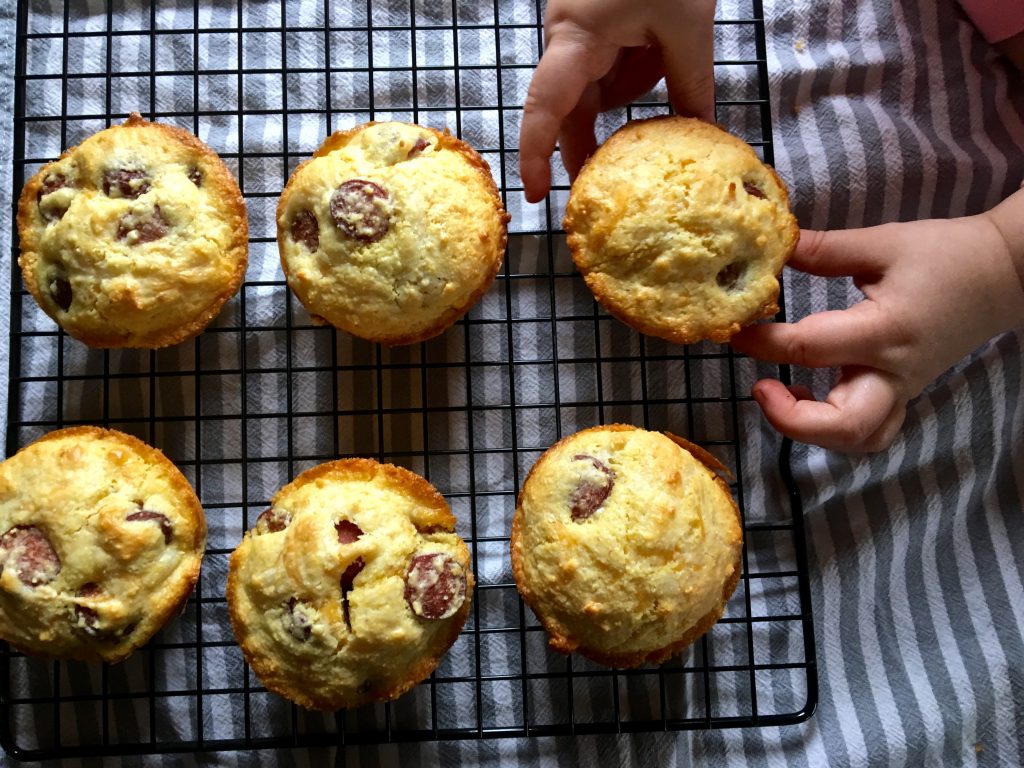 These muffins are a thing of beauty. Truly.
And here's little Pepper's lunch plate. Just so you all know, she dips almost all of her fruit in ketchup and it makes me gag every single time. She loved these little Cheesy Corn Dog Muffins.. So much! Makes my mama heart happy.
And here's my plate. The cutting board. I didn't have time for a plate. I barely had time for a photo. This is just before I shoved three of them in my mouth. It was a glorious 3 minutes. I personally like the ketchup "icing" on top. It's a nice touch and really gives it the corn dog feel.
Peace, love, and corn dogs!
Star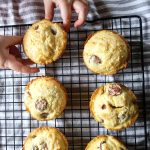 Print
Cheesy Corn Dog Muffins
Delicious little corn muffins filled with cheese and hot dogs.
Materials
1

box Jiffy Cornbread Mix

(about 1 1/2 cups mix)

1/8

cup

milk

, I used 2%

1/4

cup

egg beaters

1

package

(7 hot dogs) 98% fat free all beef hebrew national hot dogs, cut into small slices

1/2

cup

shredded Colby Jack made with 2% milk

cooking spray
Instructions
Preheat oven to 400 degrees and spray muffin tin with cooking spray. In a bowl add cornbread mix, milk, and egg beaters. Mix well, batter will be slightly lumpy. Fold in sliced hot dogs and cheese. This is not required, but for a full "muffin top" let batter rest for about 5 minutes before filling into the muffin tin. Fill each muffin tin about 2/3 of the way. Place into oven and bake for 15 minutes or until golden on top. Enjoy!
Notes
Serving size: 1 muffin 170 calories 5g fat, 2g saturated fat, 4.5g sugar, 20g carbohydrates, 9g protein. WeightWatchers Points: 5 Points *These will work with any type of hot dog, but if concerned bout calories, to keep points/calories lower use a lower point/calorie hot dog or turkey dog.
SaveSave