Easy Cheesy Buffalo Chicken Wraps
This post may contain affiliate links (meaning I earn a small comission if you purchase an item through a link I provide) I only provide shoppable links to items I love and are helpful. As an Amazon Associate, I earn from qualifying purchases.
Easy Buffalo Chicken Wraps are a must make super quick and totally delicious lunchtime meal! A tortilla wrap stuffed with a crazy quick easy cheesy buffalo chicken filling and any vegetables you choose. Lunch time will be done in less than 5 minutes and fully loaded with flavor.
I'm not sure when buffalo chicken became so popular, but I am SO glad it did. I remember the first time I made some buffalo chicken wings in the oven, I was about 17 years old. I remember eating them on the front porch, and talking about how I should probably open up a restaurant and serve only these, forever. Unfortunately, I never opened a restaurant that sold only buffalo chicken wings. But, I promise if I ever get that opportunity to that I will make the menu a bit larger.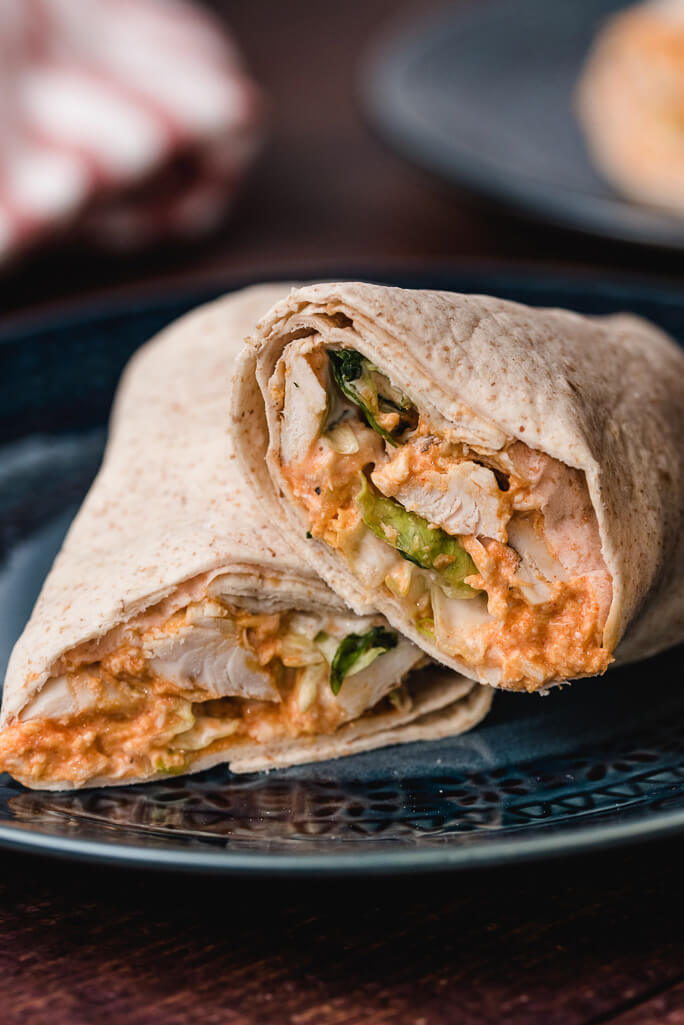 This recipe for Buffalo Chicken Wraps has been one of my favorite quick lunch go to's for YEARS now. It comes together much quicker than it even takes for me to explain how to make it! I quickly prepare Pepper's lunch and also have these ready to go, so I can sit and enjoy lunch with her… while watching her throw food to the dogs.
We've hit that stage.
This is not my favorite stage at all. The dogs sure do love her though.
Sometimes, I use frozen chicken nuggets(my favorite guilty pleasure), or my forever fave Easy Baked Chicken (that I almost always have on hand these days). Whatever your heart desires is just fine! Note: that points/calories will vary a bit if you use breaded chicken nuggets!
How to make Buffalo Chicken Wraps: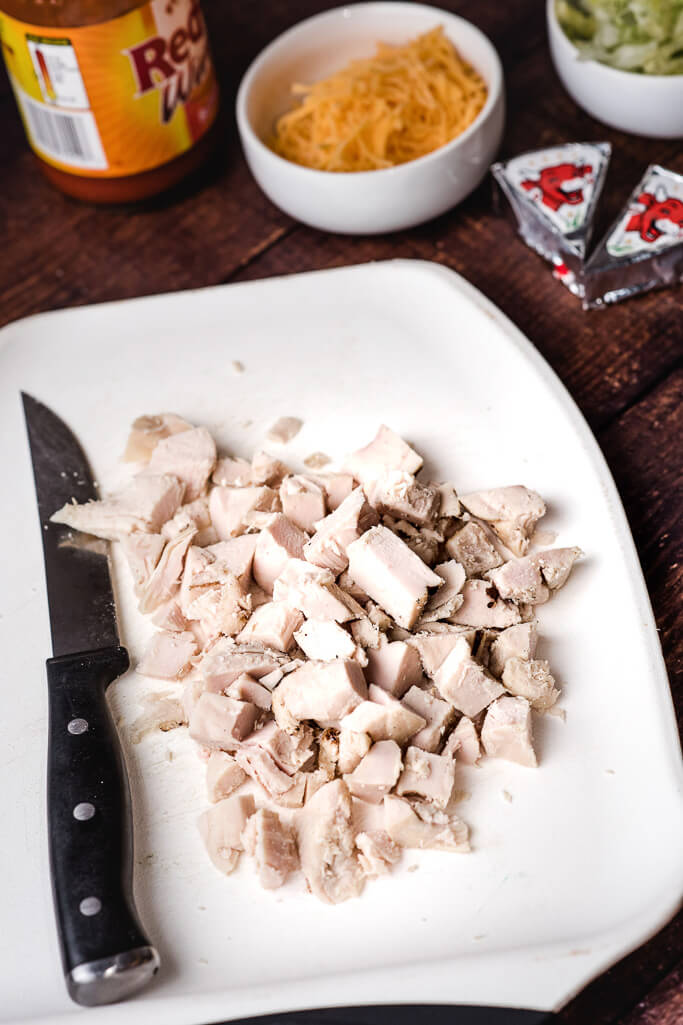 Grab your chicken and chop it into small pieces. I use rotisserie, canned, or my Easy Baked Chicken recipe!
Ingredients for two Easy Cheesy Buffalo Chicken Wraps:
4 oz chicken breast (about one cup)- You can use any chicken breast even canned chicken breast works well here.
Laughing Cow Wedges- I love these little wedges! You can also use about 3 tbsp of whipped cream cheese in place of this ingredient if I can't find the wedges. You should be able to find either one with no problem.
1/4 cup reduced fat shredded cheddar or Colby jack cheese- If you have a Kroger the Kroger store brand reduced fat shredded Mexican cheese is a life line of mine.
Low point/low carb tortillas- I use Ole Extreme Wellness 8-inch Flour Tortilla Wraps You should be able to find them at your local grocery store If not a regular tortilla will work or whatever you prefer, but WW points/calories may change so adjust if needed!
Franks Buffalo Hot Sauce – I cannot stress the importance here that you MUST use the Buffalo sauce not just the Franks Hot Sauce here. It's completely different and you'll love it more if you use Buffalo sauce!
1/4 tsp ranch dressing seasoning powder or 1/4 tsp garlic salt- Honestly, either one. I go back and forth all the time.
Extra veggies: I do lettuce/spinach or thinly sliced red onions. Eric likes tomatoes added to his!
Skinny Ranch or store bought ranch of choice to dip in! Optional and a delicious addition.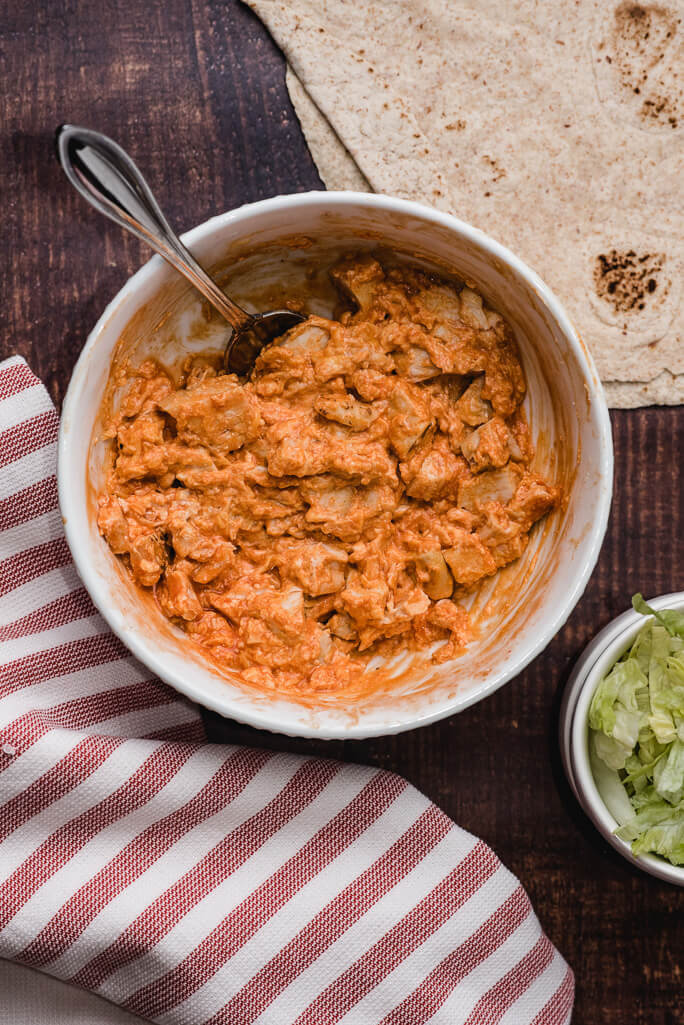 Add diced chicken, cheeses, and seasoning to a microwave safe bowl and stir together really well. Cover and pop into the microwave for about a minute. Stir and make sure it's heated through.
Heat up two tortillas between two damp paper towels for about 20 seconds in the microwave. Spread the Buffalo chicken mixture evenly onto each tortilla.
This is where you have options. I like mine with a little lettuce and a little Skinny Ranch (thin sliced red onion too lately). Sometimes I throw some super finely chopped tomatoes, cucumbers, carrots, or even broccoli if I'm feeling extra healthy. After I decide what goes in I roll it up and chow down.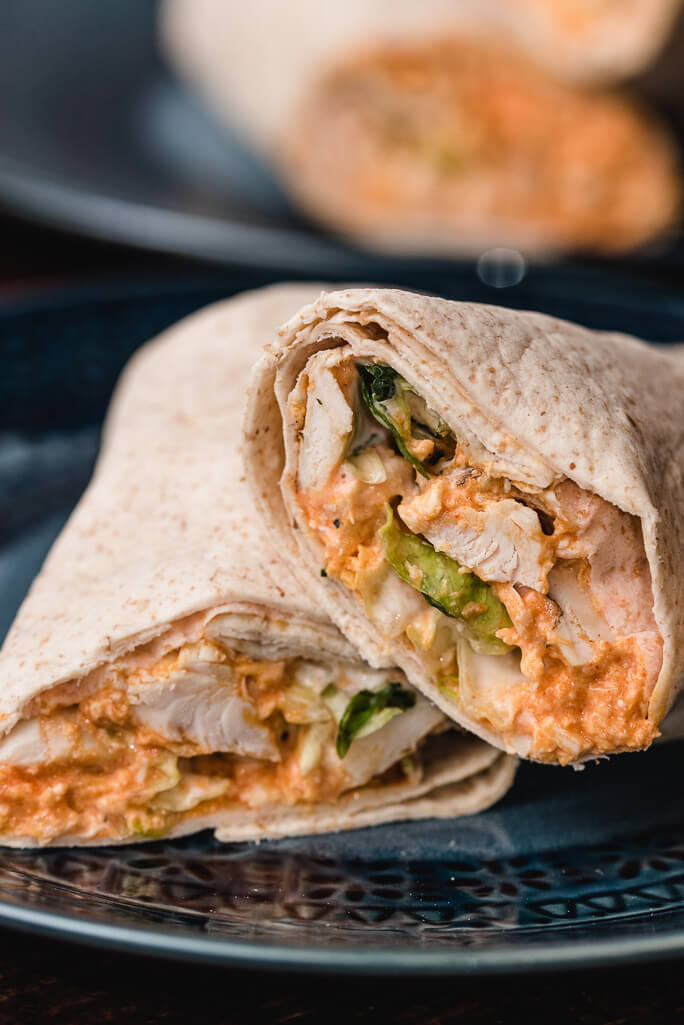 I promise that this recipe takes a heck of a lot less time to throw this together than it did to read this post. The most perfect lunch. I usually make two and throw one in the fridge for the next day or Eric eats the other one or I eat both and call it a day.
Anyway, I hope y'all are having a great week! Don't forget to let me know how it goes if you make this recipe!
Xo, Star
originally posted on the skinnyish dish: 07/15/2016 updated photos and made a few tweaks to the instructions: 02/09/2021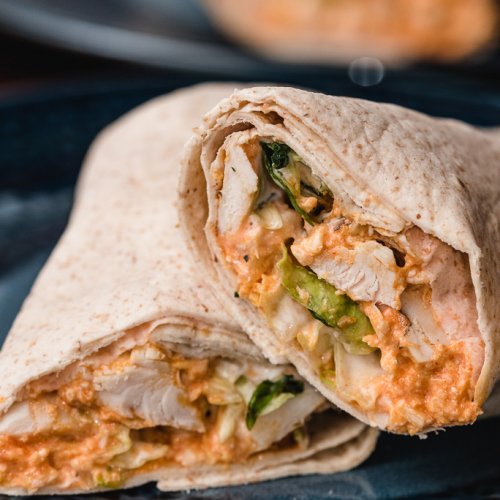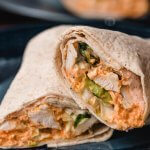 Print
Cheesy Buffalo Chicken Wraps
A quick, delish, pleasantly spicy wrap!
Materials
4

oz

chicken breast (1 cup)

(cut up into small pieces or shredded canned chicken breast will also work)

1/4

c

reduced fat shredded Cheddar or Colby Jack cheese

2

laughing cow light creamy swiss wedges

(i've also used whipped cream cheese super good)

2

low point tortillas**

(I use 8-inch ole extreme wellness flour tortillas)

1/4

cup

Frank's buffalo sauce

(less if you don't like it too hot!)

1/4

tsp

ranch dressing seasoning mix or garlic salt

shredded lettuce, thinly sliced onion, chopped cucumber, diced tomatoes, diced carrots

(optional, but at least one or two of things add a delicious fresh crunch)

Skinny Ranch or other ranch dressing

(optional)
Instructions
ln a microwave safe bowl, stir together chicken, cheeses, seasoing, and hot sauce.

Place in microwave and cover heat for 45 seconds – 1 minute.

Stir together and spread evenly onto both tortillas.

Sprinkle some lettuce (or whatever vegetables if you choose) then roll the wrap up.
Notes
Serving Size: 1 Wrap

190 calories Fat 7g, Carbs 14g, Fiber 7g, Sugar 1g, Protein 23g
WeightWatchers Points: 3 Points
**Note: I use 8 inch Ole Extreme Wellness Flour Tortillas. The points may change if you use a different tortilla.