This post may contain affiliate links (meaning I earn a small comission if you purchase an item through a link I provide) I only provide shoppable links to items I love and are helpful. As an Amazon Associate, I earn from qualifying purchases.
'kay friends, let's go ahead and get real excited about these Cheesy Bruschetta Bites, mmmm'kay? Because they are a dream come true! Teeny tiny adorable little phyllo cups filled with creamy-dreamy Alouette Garlic and Herb Cheese, and then topped off with outta-this-world fresh (and super easy) bruschetta. And it's all in one cute lil' bite! …maybe two if you want to savor it, but these are so good, I don't even know how you could do that. And as always, they're skinnyish. So you get all the rich, savory taste of a fried or cheesy appetizer or side, without lick'a guilt. And when you can do the health thing without giving up any of that luscious flavor, everybody loves that, am I right?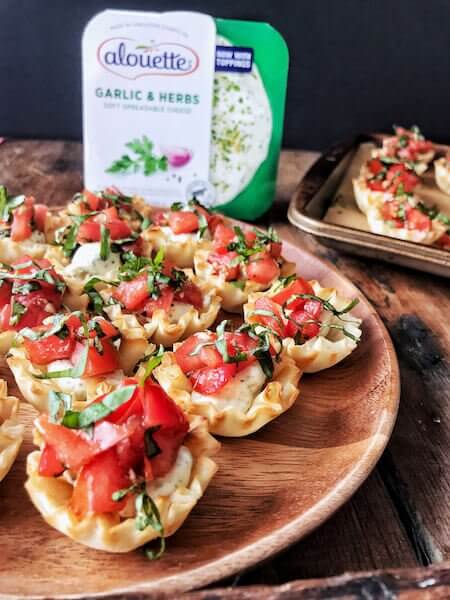 Let's talk for a few seconds about how perfect these bites will be at get-togethers of all kinds.
Holiday work party? Job done.
Book Club? You're covered.
Wine Club? Is that a thing? A perfect pairing.
At this year's Super Bowl? A guaranteed touchdown.
For that Valentine's Day party? You'll win their hearts.
They take only 10-15 minutes to prep. Really, this depends on how fast you can scoop out the flesh of a tomato, and chop them into little pieces. I've gotten kinda quick at it, so any newbies should add a few minutes. Either way, just 15ish minutes? They look and taste like so much more work than that… and friends, that's where the magic's at!
So let's make up these little bite-sized appetizers, and we'll munch one or two… five? Okay, make it five!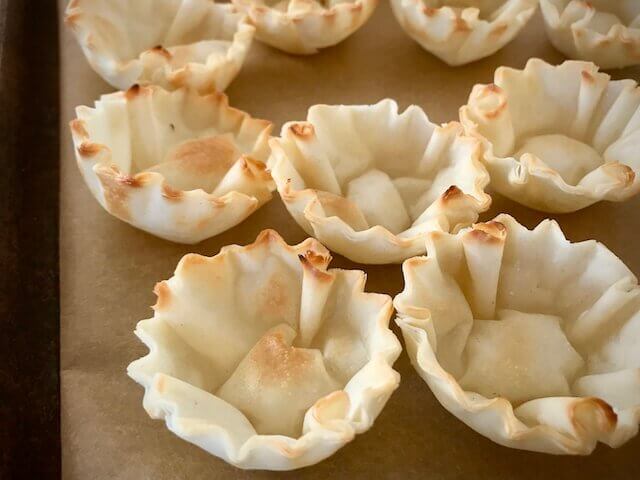 Number one: Preheat oven to 350 degrees. Pop your phyllo dough shells into the oven for about 5 minutes, to get'm crispy. Take them out and set aside.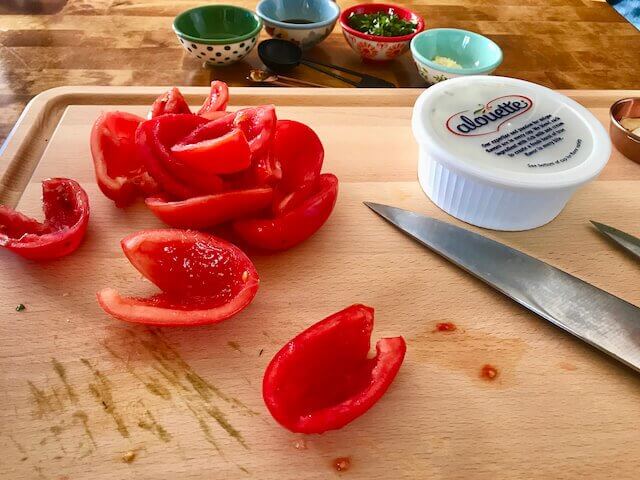 Scoop out the flesh of the tomato, and throw it out. I know this might not be a popular decision, and I guess you don't have to. But when you scoop out that seedy, juicy flesh, there's no watery stuff that bogs down your Bruschetta, k? It's science. Star science… it's a thing.
Then chop those puppies up into lil' pieces. They don't need to be exactly the same. Just try and get'm kinda tiny and square and you're good.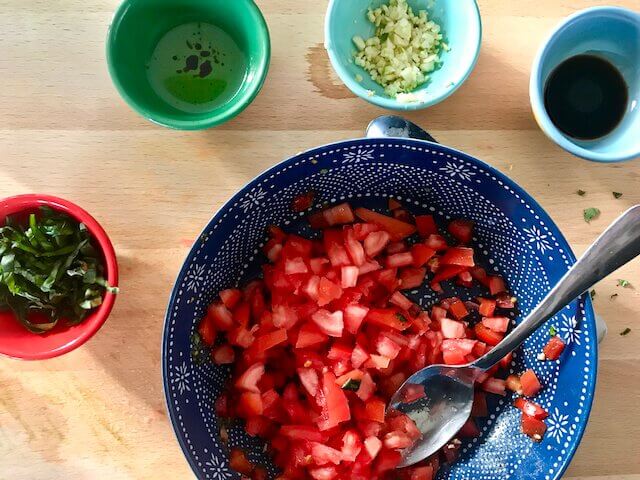 Throw'm in a bowl. You'll also need about 1/4 cup fresh basil, chopped up. Please use fresh basil, PLEASE! Chop up a lil more if you wanna garnish these babies with it.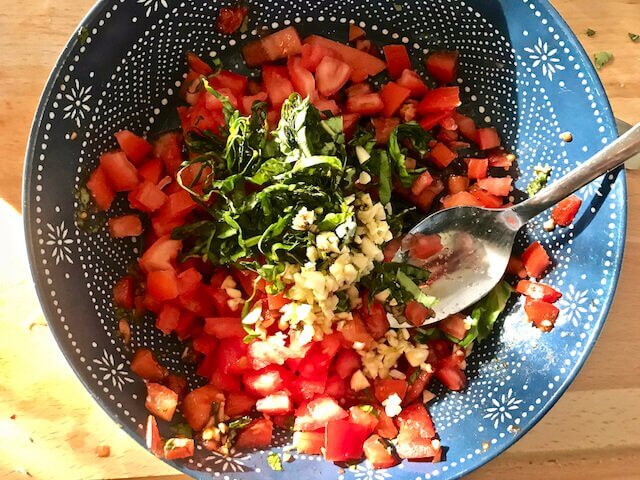 Aaaand 3 cloves of minced garlic, 2 tsp of balsamic vinegar (my secret ingredient for the very best bruschetta), 1 tsp of olive oil, and salt and pep to taste!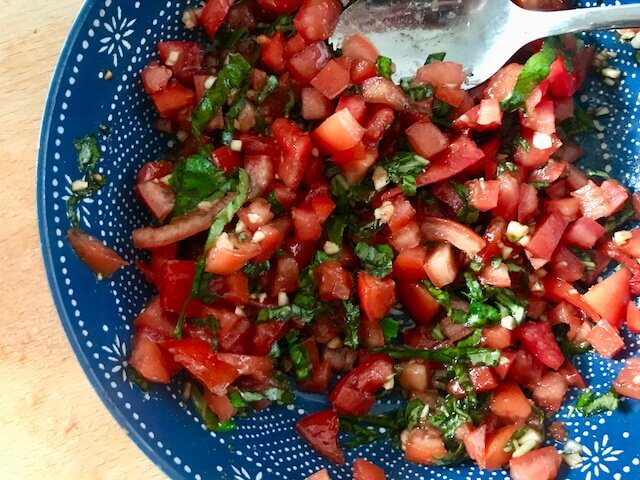 Give it a stir and set it aside. Let it all mingle together for a few minutes.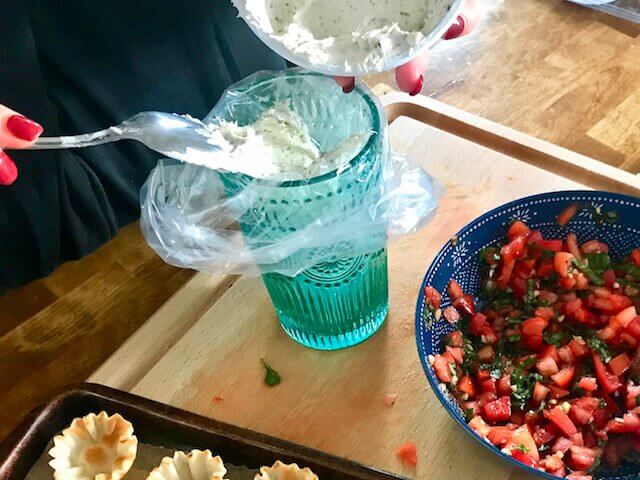 Folks, let's get fancy. Grab a baggie, and a cup or bowl. Place baggie into said cup. Fill with Alouette Garlic and Herb Cheese.
Then take it outta that cup and make it look like an actual pastry bag. Snip off the tip with a scissor.
Why are we doin' all this? It makes it 100 times easier and quicker to fill up our lil' fillo cups with the delicious Alouette Cheese Spread. It's one of those extra steps, that actually makes your life easier.
So I know you're going to ask… "Where can I find that cheese?" The answer: Pretty much EVERYWHERE. Maybe not the North Pole, but they are in all the big American-y grocery stores like Walmart, Target, Kroger, Hyvee, Jewel Osco, Aldi, Safeway.. and so on and so forth.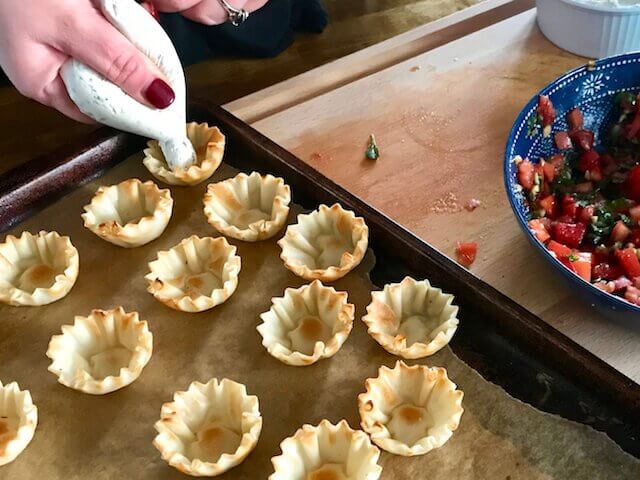 Now take our makeshift piping bag, and evenly add a lil' dollop of cheese spread into each cup.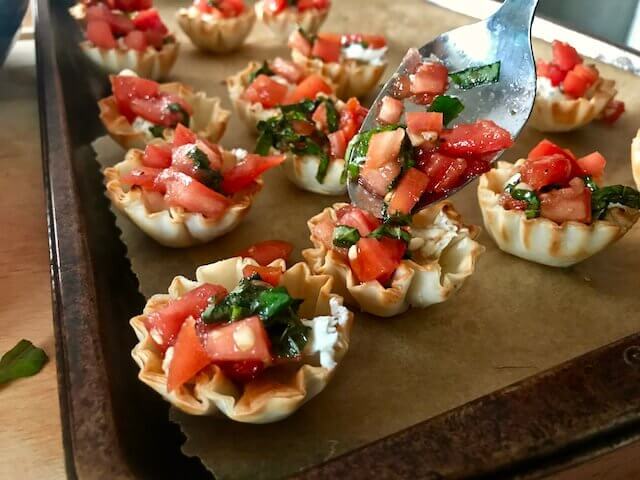 …and now add a little scoop of bruschetta on top of each one. You don't have to fill them evenly- perfection isn't necessary here, I promise all the taste is in there!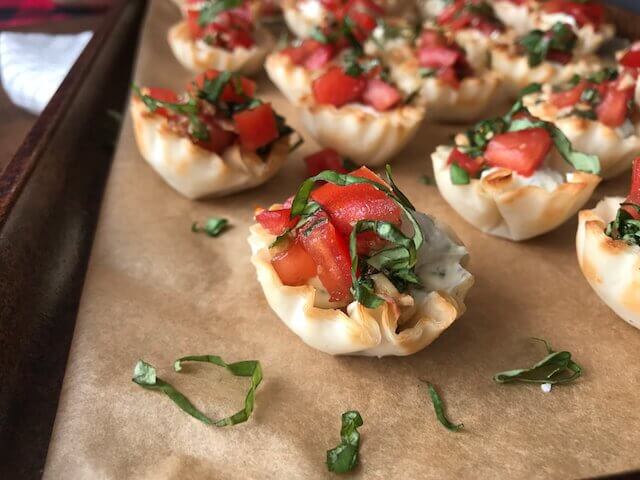 Up for debate:
Garnish with a lil extra basil, and finally, pop'm in your mouth.
Eric says they might've tasted better after I threw'm back into the oven for another 5 minutes. I told him no- this is an appetizer, and if our people are bringin 'em to parties and stuff, they don't want to show up at said party and be like…
"Hey, oh my gosh it's so great to see you! Can you preheat your oven to 350?"
We just want to throw the plate on the table, grab four or five of them, and find the wine… Right? Am I right, guys??? Okay for real, he's kind of right too. After a second time in the oven these did taste like a delicious, warm little pocket of cheesy, tomatoey, basil-y masterpiece. But I'm making it an optional step because both ways are equally great! And both ways, warmed up or cold, we ate them all within twenty-two and a half minutes.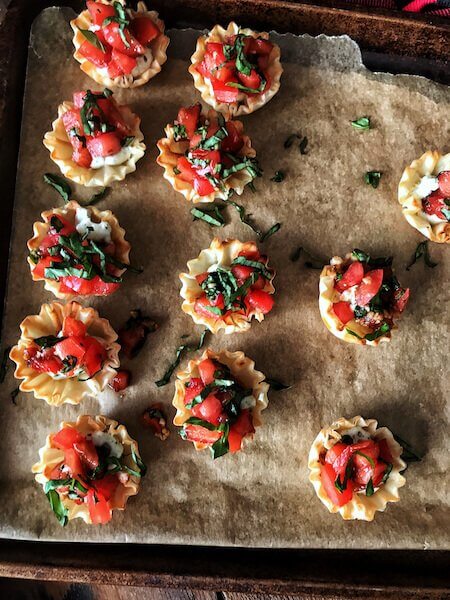 Lip smackin' delicious!
It's a gorgeous mix of scrumpdillyicious… and these are totally going to impress everyone, including you.
And – BOOM. Mic drop.
Love ya G'bye!
From my kitchen to yours,
Star
(This post is in partnership with Alouette. But the recipe, the ramblin's, and the cheese eating are all mine. Sound good to ya?)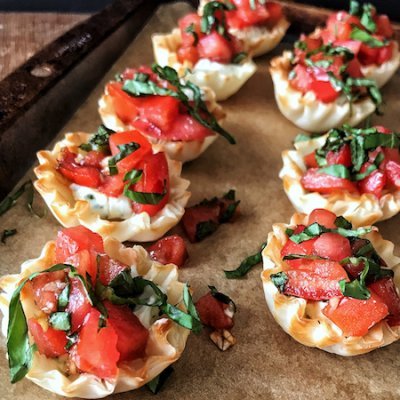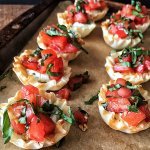 Print
Cheesy Bruschetta Bites
mini fillo shells stuffed with garlic and herb soft cheese and topped off with fresh bruschetta. It's perfect for any kind of any time and any party!
Materials
1

container

Alouette Garlic and Herb Soft Cheese Spread

30

mini phyllo Shells

I use Athens brand. Find these in the frozen section near desserts

5

roma tomatoes

sliced in half and flesh scooped out

3

cloves

garlic

minced

1/4

cup

fresh basil

extra for garnish

2

tsp

balsamic vinegar

1

tsp

olive oil

sea salt and pepper

to taste
Instructions
Preheat oven to 350 degrees. Place mini fillo shells in and bake for about 5 minutes.

Chop tomatoes up, place in a bowl and add basil, garlic, balsamic vinegar, olive oil, salt and pepper to taste- stir together and set aside.

Grab a plastic baggie and a cup or a bowl. Fit the baggie in to the cup so that you can scoop the garlic and herb cheese into it. Fold up like you would a pastry bag and cut the tip off. This makes it easy and quick to get the cheese into shells.

Evenly pipe a small amount of cheese into each shell.

Top cheese with a small scoop of bruschetta.

Garnish with fresh basil.

Optional, but delicious if you have the time: Place Cheesy Bruschetta Bites back into a 350 degree oven for 5 minutes just before serving.
Notes
Serving size: 3 Bites WW Points: 3 Calories: 96. Fat: 5g, Saturated Fat: 2.5g, Carbs: 10g, Fiber: 1g, Sugars: 2.5g, Protein: 3.5g