Cajun Chicken, Sausage, and Rice
This post may contain affiliate links (meaning I earn a small comission if you purchase an item through a link I provide) I only provide shoppable links to items I love and are helpful. As an Amazon Associate, I earn from qualifying purchases.
Cajun Chicken, Sausage, and Rice is an extremely easy, out of this world tasty, almost completely hands off recipe that is sure to please just about anyone at the dinner table! A cozy rice casserole filled with Cajun inspired flavors, tender chicken breast, smoked sausage rounds, tomatoes, and peppers.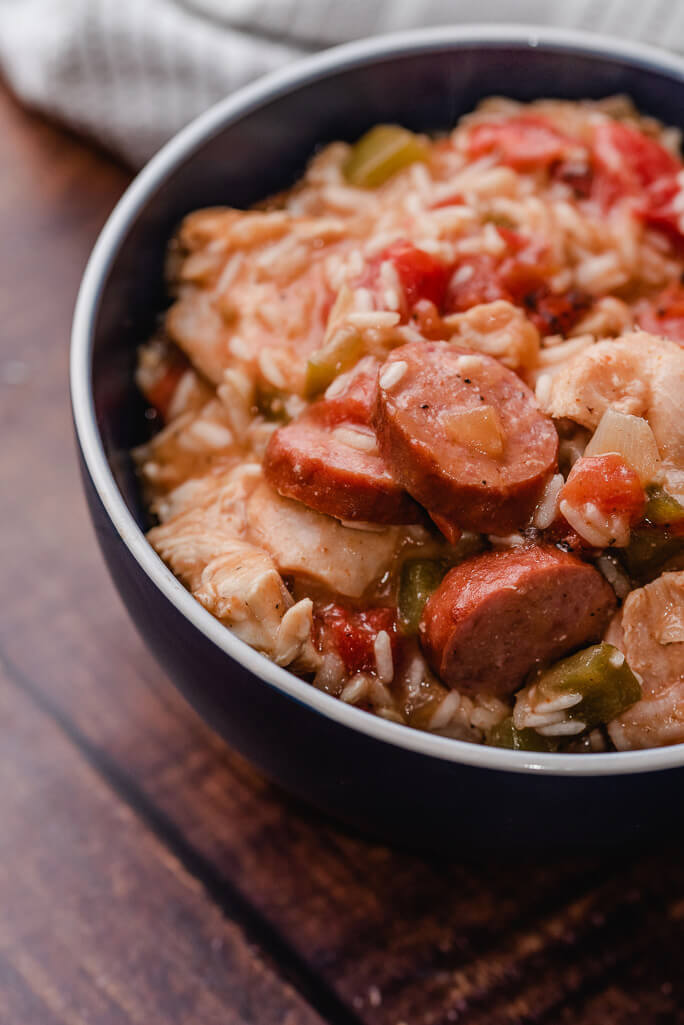 Cajun Chicken, Sausage, and Rice came about at some point when I was craving a bowl of jambalaya. In small town USA thats just not something that you can go out and get so you figure out how to make your own! I decided to make my own version of it by reading a few different recipes and doing my own thing. It came out… okay. I don't know. It was good, but it wasn't my favorite thing. I decided to put the recipe on the back burner after making it twice and not being super satisfied.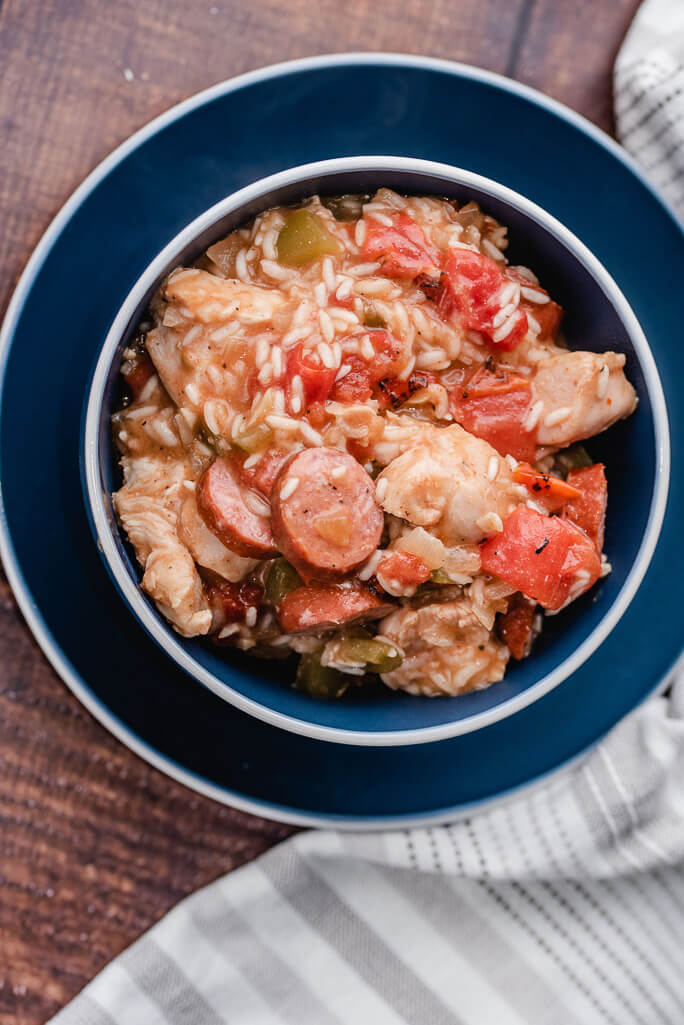 After a few failed attempts I decided to just go back to the basics of what I learned from mama and her Chicken and Rice. I invited all the Jambalaya-ish ingredients to my party, but totally took a a left turn when it came to the traditional way of doing anything having to do with Jambalaya. So in conclusion, Cajun Chicken, Sausage, and Rice was born and I know it's not Jambalaya, but it makes my tummy happy so I bet it'll make yours happy to. It has a creamy comforting casserole feel, but with a kick of bold and spicy flavor. And, as always it's lightened up just enough!
Lets get in the kitchen and make Cajun Chicken, Sausage, and Rice!
Chop up a medium onion into small pieces.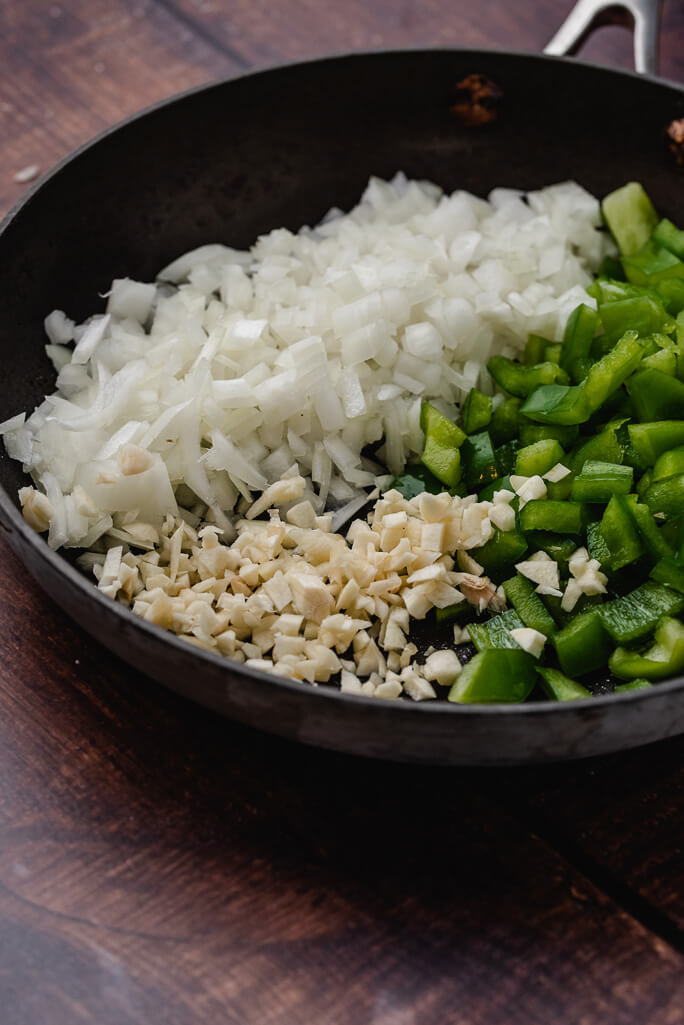 Throw diced peppers, onion, and minced garlic into a pipin' hot skillet with a lil bit of avocado oil and sauté until onions and peppers are soft. Set aside.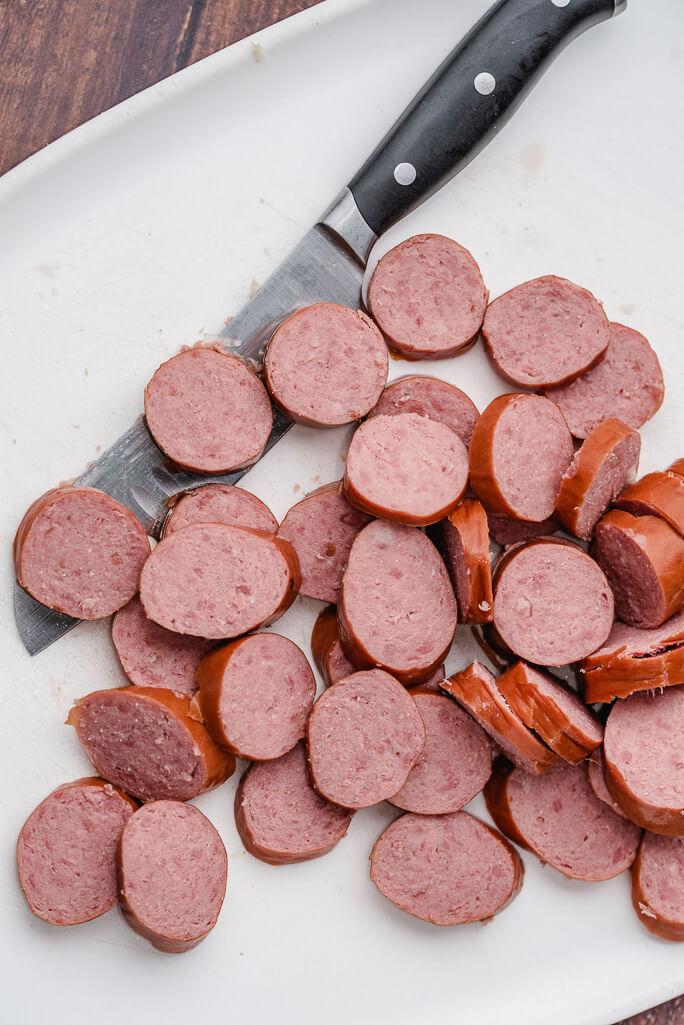 Slice some Turkey Smoked Sausage into thin rounds.
This is where I'll probably get yelled at because this isn't what you would traditionally use in Cajun cuisine, but I make the rules over here in my kitchen so I'll tell ya what. This is delicious and it works! If you want you can use some andouille chicken sausage. I've used it before and it's good! But, it's not something I'm easily able to find unfortunately.
I know, it's a total crime.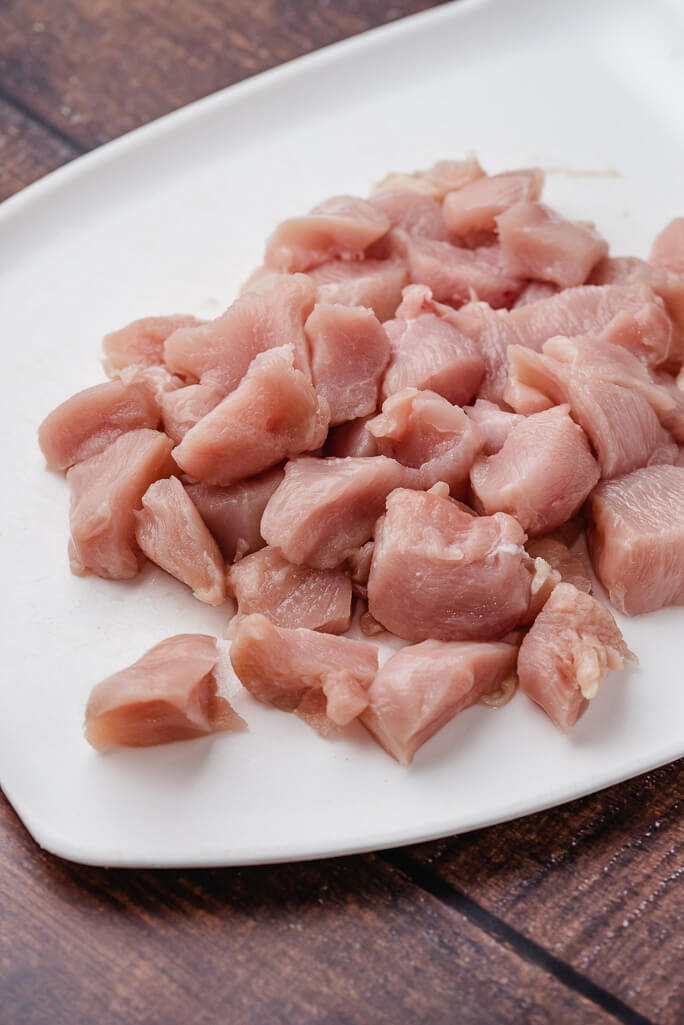 Okay now lets get some chicken breast cut into small-ish pieces. Not too big, not too small. Small-ish.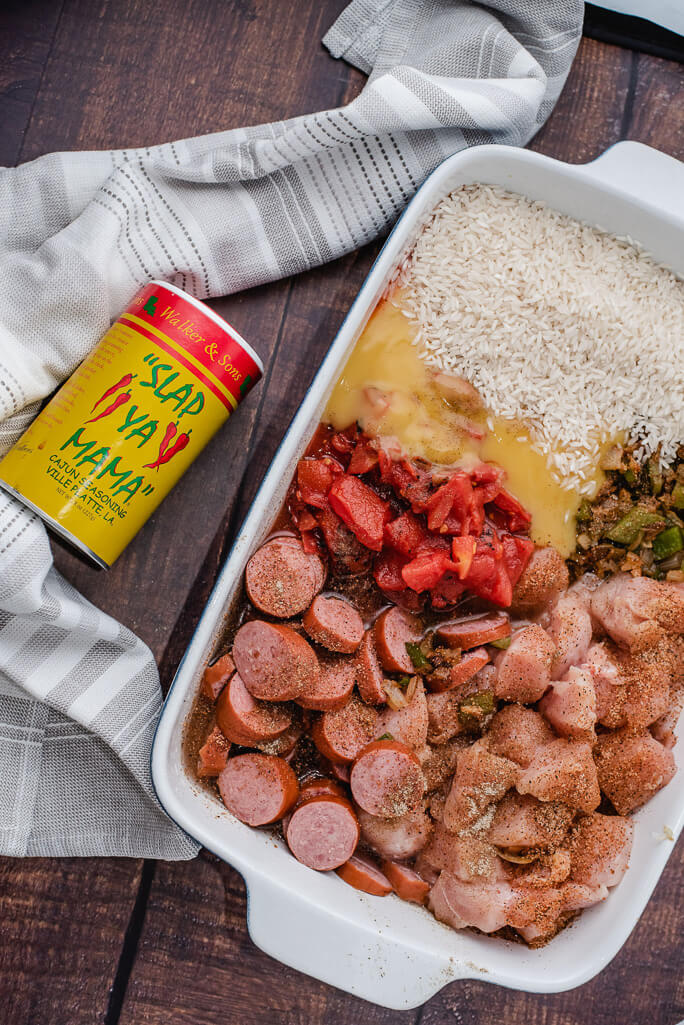 Now in a 3 quart or 9×13 casserole dish. Spray it well with cooking spray then add all the goodies. Really in no particular order. You'll need to add the chicken, turkey smoked sausage, sautéed green peppers, onions, and garlic, cajun seasoning, celery salt, cream of chicken soup, diced tomatoes, and uncooked rice. I know it might seem like a really long list and quite random list of ingredients, but it's worth it. I promise.
Don't forget to add the water! You can also use chicken broth, I just decided to use water since there's enough flavor going on in this casserole and it's one less ingredient to add to the party.
I know there's a lot of different Cajun Seasonings out there. Slap ya Mama is the one I use most of the time! I actually also really love it sprinkled on hard boiled eggs or on top of deviled eggs too. So yummy. But, use your favorite one it'll be good stuff!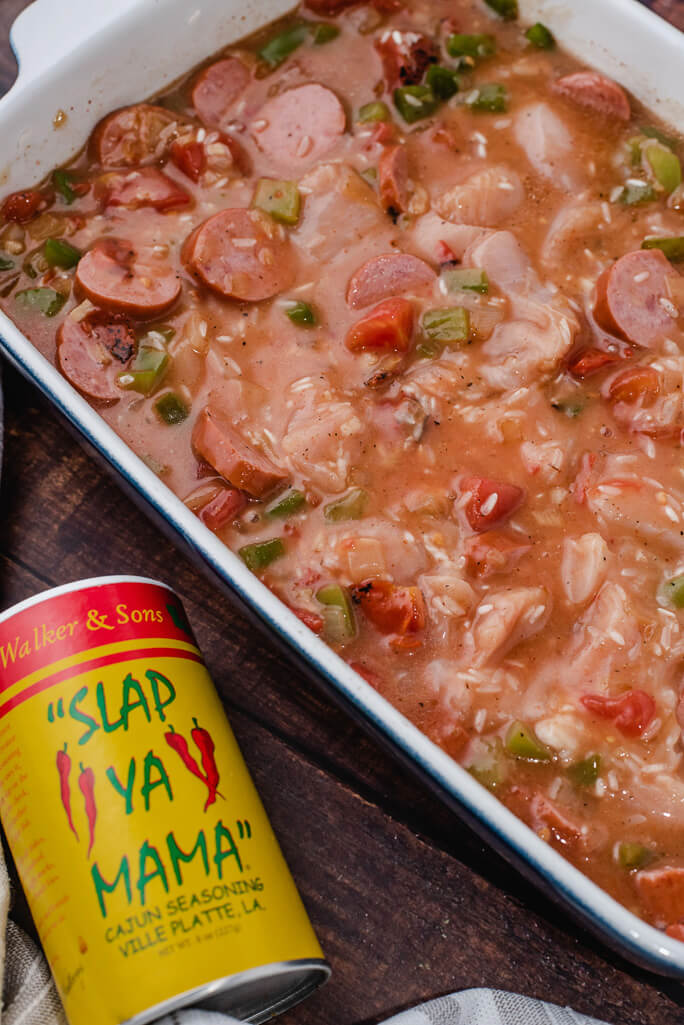 Mix it up real good. I know it doesn't look like the prettiest thing on earth, alright? Food doesn't always have to be pretty to be good and I stand by this statement forever.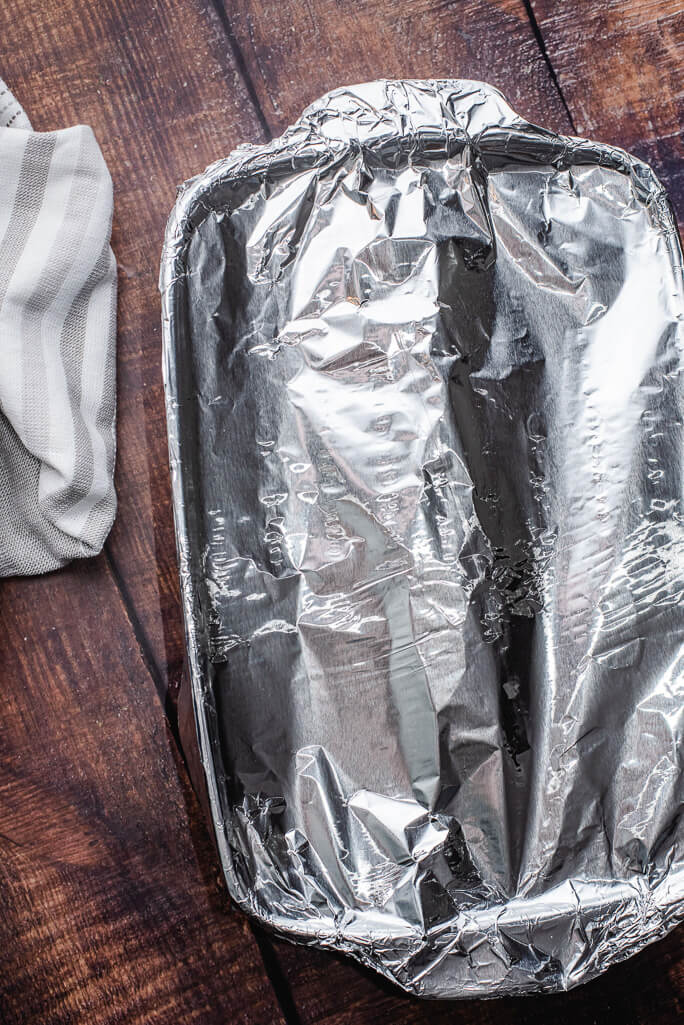 Yall please look at this photo of the casserole dish covered tightly in foil and burn the image into your brain. hah! Why? because… from time to time, I get a message or a comment asking about what could have gone wrong if the rice didn't cook in a couple of my casseroles featuring rice.
My first question is always, "Did you cover it with foil?" 9 out of 10 times, They didn't cover it with foil. I am soooo GUILTY of not completely reading recipes ALL of the time, so I understand. Trust me! This is just a friendly reminder If you're reading this and are making this…
Please cover your casserole dish tightly with aluminum foil!
P.S. If your casserole dish comes with a cover.. It probably won't work. Rice can be kind of finicky and we don't want to anger it. It likes the foil. I don't make this stuff up. This is my experience.
Then place that sucker in a preheated 375 degree oven for an hour.
It'll come outa the oven pipin' hot and lookin' a lil somethin' like this. Fluff it up with a fork and give it a quick mix.
PSA: Your house is going to smell absolutely fantastic!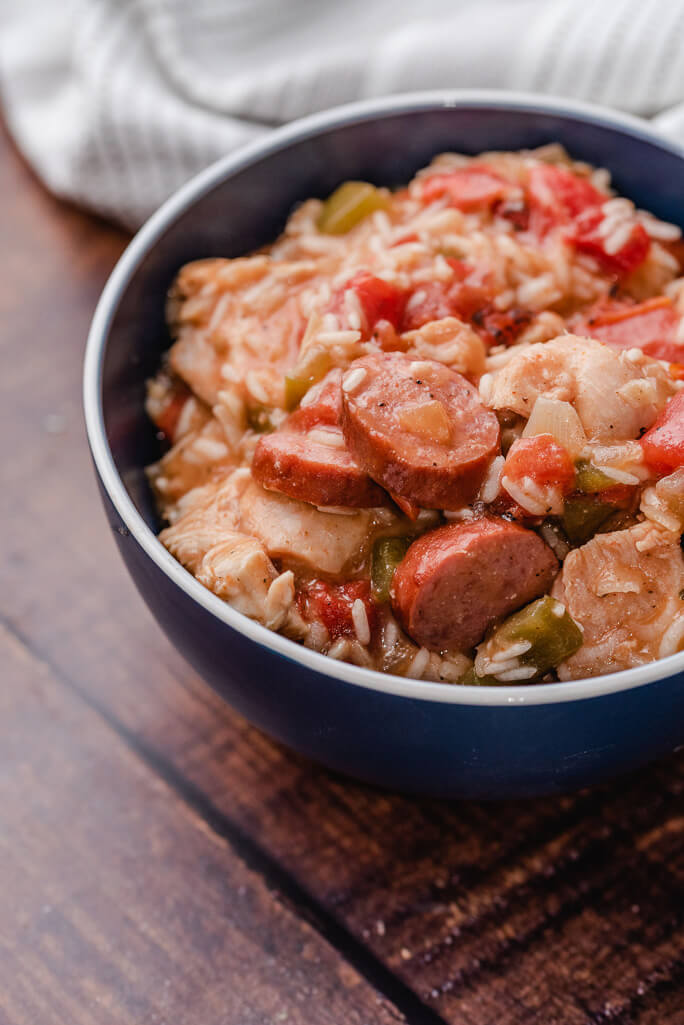 And your taste buds are going to do jumping jacks and y'all might lose your minds!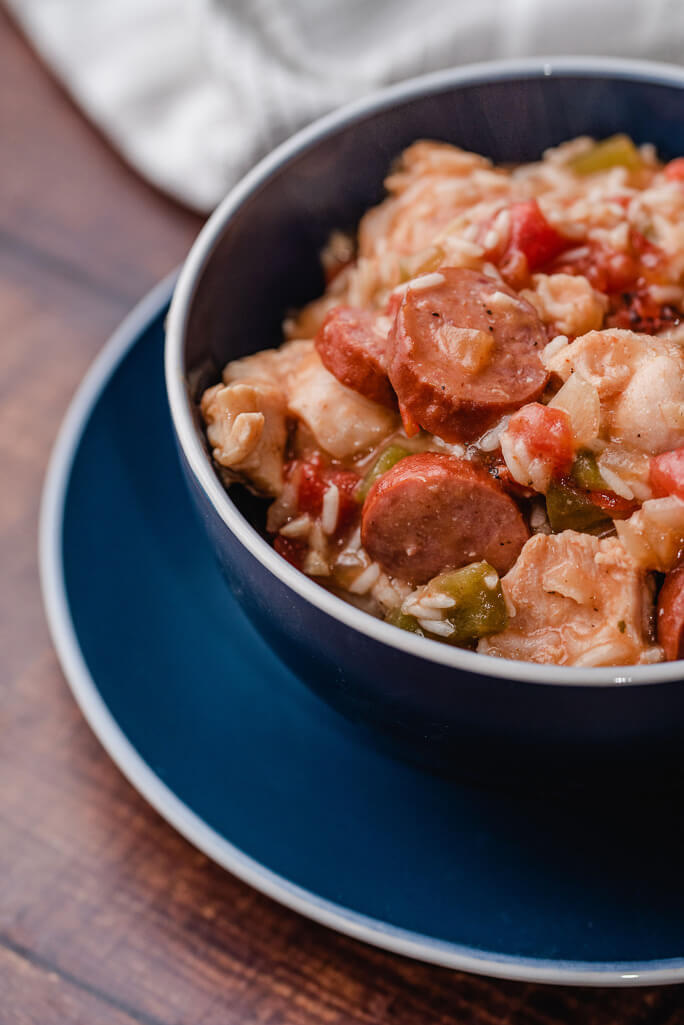 Make this immediately.
I really don't mean to boss ya around, but this is of utmost importance… make this today.
and then let me know how it goes, because I really, REALLY, really think you're gonna just love it!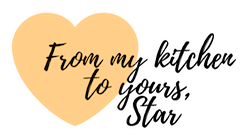 The recipe Cajun, Chicken, Sausage, and Rice originally appeared on the skinnyish dish 10/06/2017. The post was updated with new photos on 02/12/2021.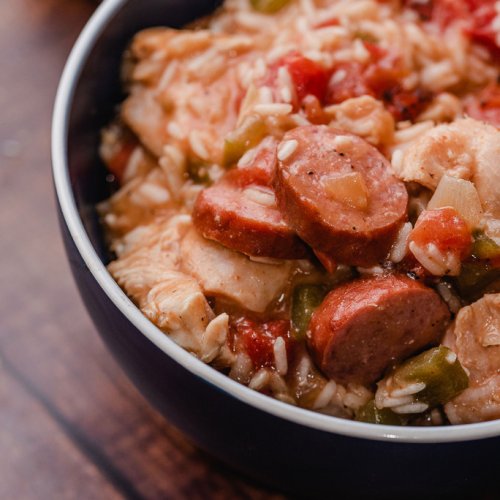 Print
Cajun Chicken, Sausage, and Rice
A creamy, spicy, comforting, cajun casserole with turkey smoked sausage, chicken breast, and rice.
Materials
1

tsp

avocado or olive oil

1

medium

diced yellow onion

1

medium

diced green bell pepper

4-5

cloves

minced garlic

1

pound

raw boneless skinless chicken breast cut into small pieces

14

oz

Turkey Smoked Sausage, sliced into rounds

(I use the brands Jennie O or Hillshire Farm)

14.5

oz can

fire roasted diced tomatoes

10.5

oz can

98% fat free cream of chicken soup

1

cup

uncooked long grain white rice

*see notes*

1¼

cup

water

1

tbsp

cajun seasoning

(a little more if you love spice, a little less if you're not a fan of spice)

1

tsp

celery salt

(celery seed will not work as a replacement)

cooking spray
Instructions
Preheat oven to 375 degrees. In a hot skillet add oil. Then add green peppers, onions, and garlic. Sauté until softened.

In a 9×13 or 3 quart casserole dish generously spray with cooking spray and then add cooked peppers, onions, and garlic, turkey sausage rounds, raw chicken breast, rice, cream of chicken soup, diced tomatoes, cajun seasoning, celery salt, and water. Mix together well.

Cover casserole dish tightly with aluminum foil and place into preheated oven for one hour or until rice is cooked. Lightly fluff with a fork. Serve! Leftovers are just as good if not better!
Notes
Serving Size based on points/nutriton info: 1 and 1/4 cup
WW Points: 8
335 Calories

8.5g fat, 2g saturated fat, 38g carbohydrates, 2.5g fiber, 3.5g sugar, 27g protein.
*Type of rice: this recipe calls for long grain white rice. This recipe will not work out using the same time/measurements if you use a different type of rice because different types of rice cook a little differently and need different amounts of liquid.
*Check rice doneness if it still has a bit of a bite cover back up with til foil and cook for another 5-10 minutes.