Butternut Squash Mac and Cheese with Bacon
This post may contain affiliate links (meaning I earn a small comission if you purchase an item through a link I provide) I only provide shoppable links to items I love and are helpful. As an Amazon Associate, I earn from qualifying purchases.
Looking for a great way to cure those winter blues? Then cozy on up with a bowl of this Butternut Squash Mac and Cheese with Bacon! It's creamy, rich, easy, and it tastes so much like the classic counterpart. It's straight up cold weather comfort food, and It's just as deliciously indulgent as it is healthy. You're gonna want to add this one to your family menu soon! This dish works well as a main dish because it's truly hearty or as a side dish on the holiday table.
This isn't a drill. This recipe strikes a great balance between healthy and indulgent, and it's my new best friend.
I fell in love with butternut squash a couple years ago, but I don't get to play around with it too much in the kitchen. You see, Eric is squishing my squash lovin' life by being a squash hater. But I'd had this lil' recipe in the back of my mind for about a week, and I was excited to finally give it a go! So I decided to try and fool him. I cooked this up, and my plan was to add the magic ingredient all sneaky like… SPOILER ALERT- it didn't work. Because, y'know, he's around home a lot more now. So when I was in the kitchen doin' my thing, he spotted that bag'a cubed butternut squash tucked away on the counter. A bit later, I yelled from the kitchen- "Babe, This is gonna be the best Mac And Cheese ever!" Welp, the squash hater wasn't gonna be fooled. He caught on to my tricks… this time. 😉
LISTEN TO THIS THOUGH… He took a couple bites, and here's what he said – "Honey, if I didn't know there was squash in it, I would probably really like this."
Does that even make sense? *shrug* "More for me, man! Go grab yourself a box of instant Mac & Cheese."
After that honest (but weird) statement about this recipe, I needed a second opinion. so I made up another dish, and brought it to family Thanksgiving. I didn't tell anyone that there was squash in it, and everyone loved it! No one knew it was squash, muahahaha! I didn't get Eric this time, but I got everyone else… so I'm very happy about that.
So… Dang… Delish!
So here we go… Let's get right down to it. Alright? Alright! We'll grab our pans and get to work: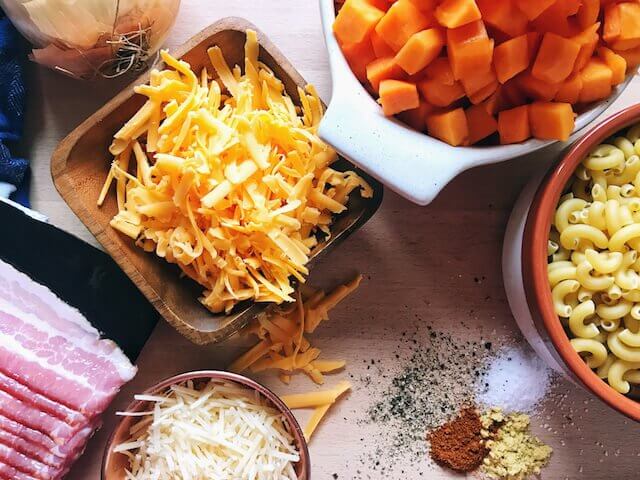 You'll need these goodies: Center-Cut Bacon, Extra Sharp Cheddar, Parmesan Cheese, Cubed Butternut Squash, a small yellow onion, Elbow Macaroni, Dry Mustard, Salt & Pepper, and pinch'a Nutmeg.
Didn't make the cut for the photo: Chicken Broth and Lowfat Milk.
A teeny tiny note on cheese: You really need to trust me when I say this… When it comes to homemade Mac And Cheese: Grate Your Own. Now I swear, I'm a total shredded Bag O' Cheese lover. But making sauces like this one, and doing it right, almost always demands freshly grated cheese. It'll be more delicious, and it's a mini-work out. Win win!
Psst… Make it easy on yourself – Bags of fresh Butternut Squash cubes are sold in the produce section!
Grab a 5 quart stock pot, and prepare 10 ounces of elbow macaroni according to the package directions.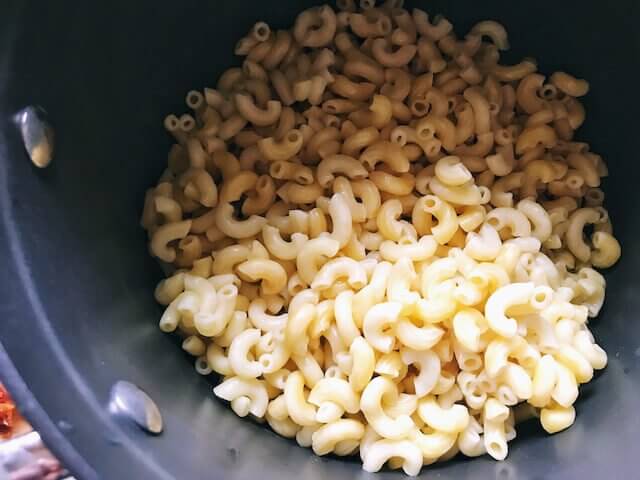 Drain pasta, throw it back in the pot, and set aside. You'll need it in just a few minutes.
In the sauté pan, add bacon over medium heat, and cook until crisp. Remove from heat, and leave just a lil bit of bacon grease in the pan for the onions to sauté in. As soon as that bacon is cool enough to handle, quickly chop it up.
Mmmmm… chopped onions cookin' up in a smidge of bacon grease. Is there really anything better? Cook these babies on low, and let'm get soft and just a lil bit caramelized.
Add five cups of cubed butternut squash, two cups of chicken broth, and a pinch'a salt. Bring to a boil for a few minutes, then reduce heat to medium-low and cover the pan. Cook for about ten minutes, or until the squash is tender and most of the liquid is reduced.
When they're done, they'll look a little somethin' like this.
Transfer to a large bowl and add remaining chicken broth, milk, dry mustard, and a pinch'a Nutmeg.
With an immersion blender, puree the butternut squash until it's ridiculously creamy and smooth. (If you don't have an immersion blender on hand, a regular blender will work just fine.)
Salt and pepper to taste!
Return the pureed Butternut Squash to Sauté Pan. Over low heat, stir in the grated Parmesan and Extra Sharp shredded Cheddar, saving some to sprinkle on top. Stir until it's completely smooth.
And, finally, add those cooked macaroni noodles back into the sauce!
And my favorite part: Add the rest of the cheddar and chopped bacon on top!
Garnish with'a kiss of chopped parsley, if that's your thing.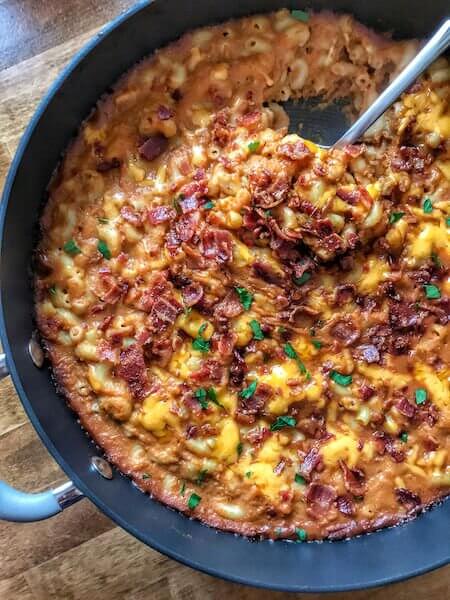 …and there it is my friends!
For extra credit: stick it in the oven for about 10 minutes. Because if you're using this Oven-Safe Circulon Saute Pan, it just makes it all a lil crispy around the edges and extra delish.
Seriously it's optional, but extra credit points like I said.
Make this for lunch, dinner, breakfast, doesn't matter. Just make it! Unless you have a serious hatred for squash, then maybe don't. But y'know maybe you should still try it, because this Mac & Cheese is so darn good it might change your mind forever!
I really love it… and I promise, I don't publish recipes that I don't really love.
And if you want something a lil more protein-y, try adding some Rotisserie Chicken to the mix, and seriously just call it a day- Y'all win.
With love from my kitchen to yours,
Star
(This blog post is made in partnership with Circulon. but the recipe, the ramblin', and the Mac & Cheese eatin' are all me! Sound good?)
Butternut Squash Mac and Cheese with Bacon
This Butternut Squash Mac and Cheese with Bacon is perfect comfort food for the Holidays! It's every bit as healthy, as it is rich and indulgent… Plus it's got bacon! What's not to love?
Print Recipe
Ingredients
10

ounces

elbow macaroni noodles, dry

6

slices

center cut bacon

1

medium

yellow onion

chopped

5

cups

butternut squash cubes

3

cups

chicken broth

low sodium if available

3/4

cup

low-fat milk

1

tsp

dry mustard

3/4

cup

sharp cheddar cheese

freshly grated

1/4

cup

parmesan cheese

freshly grated

salt and pepper

to taste
Instructions
In a 5-quart stock pot, cook Macaroni Noodles according to package instructions. Set aside.

In a 5-quart Saute Pan or Skillet, cook bacon until crisp. Chop up and set a side.

In the same pan, reserving a small amount of the bacon grease to cook the onions in. Cook onions over low heat, stirring occasionally, until soft and lightly caramelized.

Add butternut squash cubes and a pinch of salt to the onions, along with two cups of chicken broth. Cover and bring to a boil. Reduce heat and continue to cook until the squash is soft and most of the liquid has reduced.

Pour squash and onions from sauté pan into a large bowl and blend together with milk, the rest of the chicken broth, dry mustard, and salt and pepper to taste. Now use an Immersion blender to puree until it's completely smooth and creamy. (*If you don't have an Immersion blender a standard blender will work fine)

Pour pureed sauce back into Saute Pan. Over low heat, add the cheese (all of the parmesan and 1/2 cup of the sharp cheddar) a little at a time while stirring. Then, add the noodles and stir together well until combined.

Salt and Pepper to taste. Top with chopped bacon, remaining cheddar, and a bit of chopped parsley, if desired.
Notes
Serving Size: 1 heaping cup.
Calories: 322 Fat: 8g, Saturated Fat: 3.5g, Carbohydrates: 43g, Fiber: 4g, Sugars: 5g, Protein: 16.5g
WeightWatchers Points: 8 Points