This post may contain affiliate links (meaning I earn a small comission if you purchase an item through a link I provide) I only provide shoppable links to items I love and are helpful. As an Amazon Associate, I earn from qualifying purchases.
Hey guys! If you haven't noticed. I really kinda love creamy rice dishes. There is just somethin' about'm that screams "comfort" to me. When I posted Mom's Chicken and Rice last year. I had no idea that I would use that recipe as a base recipe for so many other creamy, comforting rice casseroles. I am SO happy that my mom made that dish for our family growing up because it has been the perfect start for so many of my other favorite dishes like Beef & Rice Taco Casserole and one of my newer recipes Cajun Chicken, Sausage, and Rice! All of these dishes are super popular on this lil ol' blog, so if this is your first time here you just have got to give'm a try! I realized that I haven't done very many "Buffalo Chicken" recipes on here a few weeks ago. Fact: I actually LOVE Buffalo Chicken. It's almost always my go-to when we are out for dinner. I do have a Cheesy Buffalo Chicken Wrap posted that is seriously yummy, but I wanted to share something a little family dinner friendly. If you've made the other rice casseroles which I hope you have, you'll also know that these rice casseroles are SUPER easy to throw together any night of the week. They do require a longer cooking time than most of my recipes, but it takes just minutes to throw together and pop into the oven. You can use that hour to make a scrumptious side dish or just spend some time with the family. I can't tell you how many times these rice casseroles have saved my butt on busier evenings. If you love Buffalo Chicken… You'll love this! I promise. Make this, y'all and make it soon!
Also, it's halloween weekend! Happy Halloween! I'll be honest I'm not very good at planning ahead and getting "themed" food out. I really do apologize. I am trying to get better and hopefully someday soon I will, but sadly, not today. It does have a orange-y tint from the buffalo sauce.. so that's kind of the same thing as a pumpkin which equals halloween basically, right? I'll go with that so I feel better and more organized with life and this here blog.
I am TRYING to prepare for the Holiday season coming up and working on some super yummy recipes.
I have two questions for you today.
1. Would you like to see ONLY lightened up Holiday Dishes? Or do you mind a splurge for special dinners? and If so, would you like to see some splurge-y holiday dishes on here?
2. What dish would you like to see most? potatoes, desserts, vegetables, corn.. etc
If you'd kindly comment your answers. I'd LOVE to read them and take notes.
Okay, I've asked enough of you.. LET'S GET IN THE KITCHEN!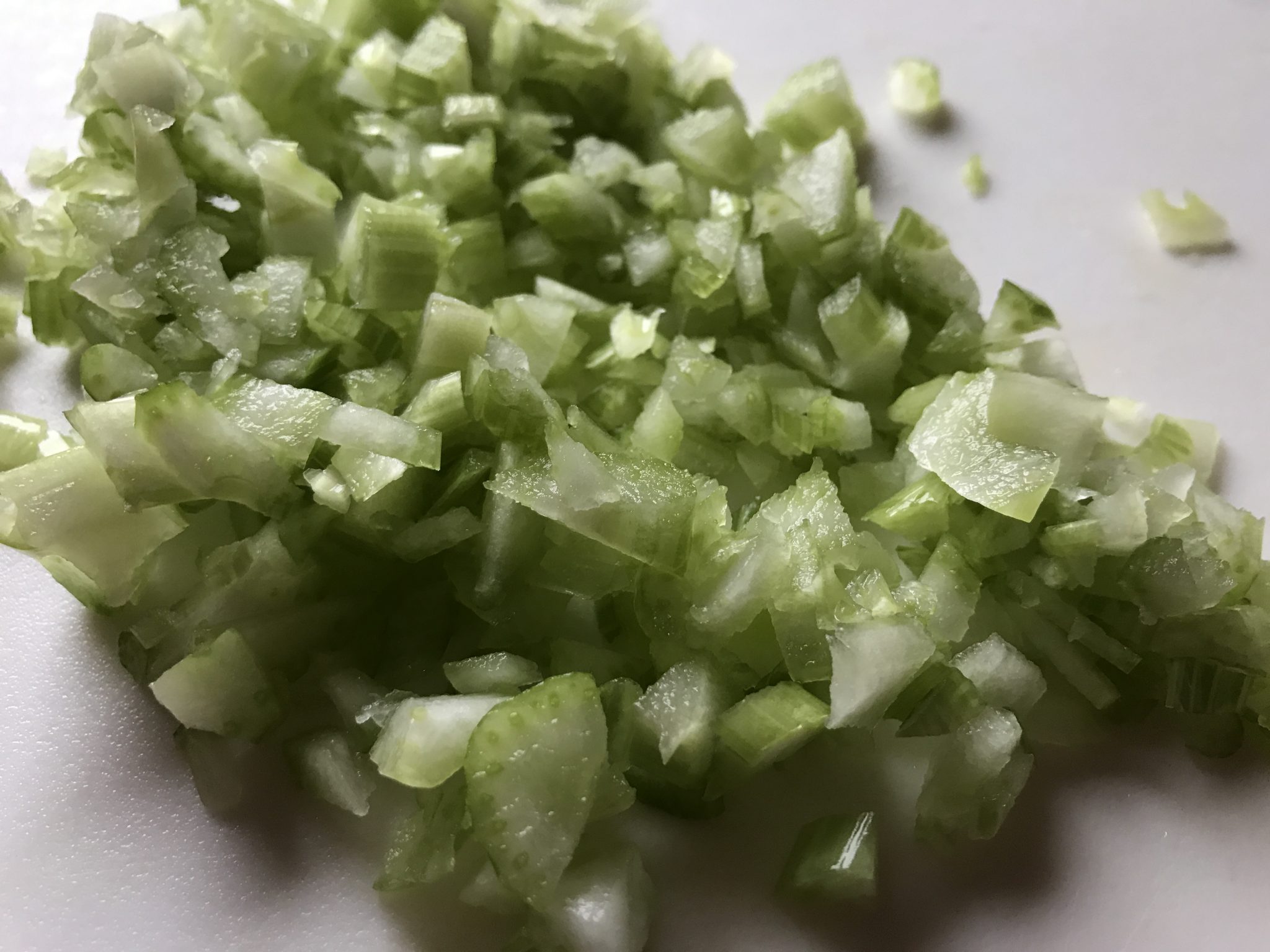 Finely chop 2 stalks of celery. It doesn't need to be perfect. (As you can see.. Mine isn't!)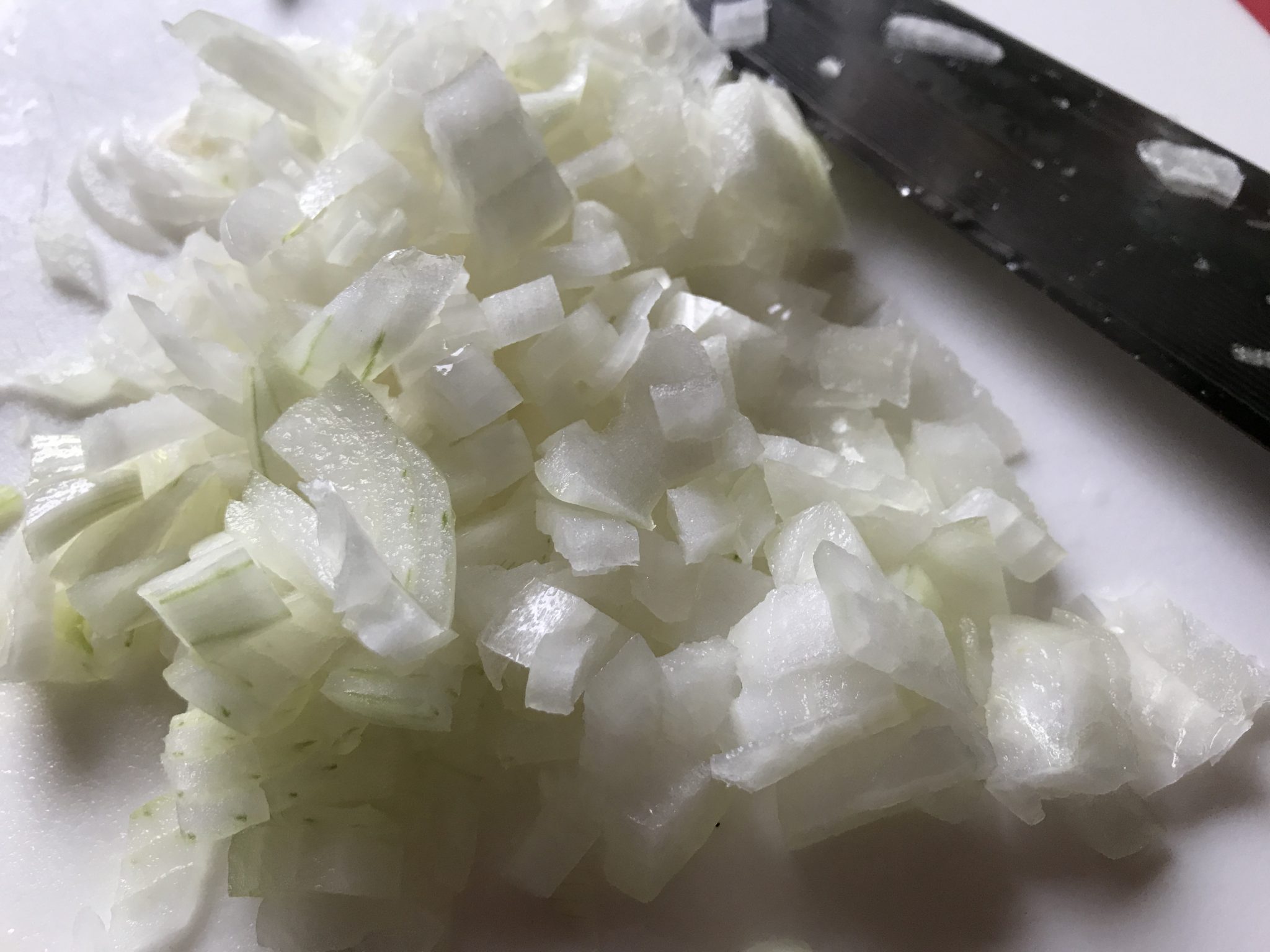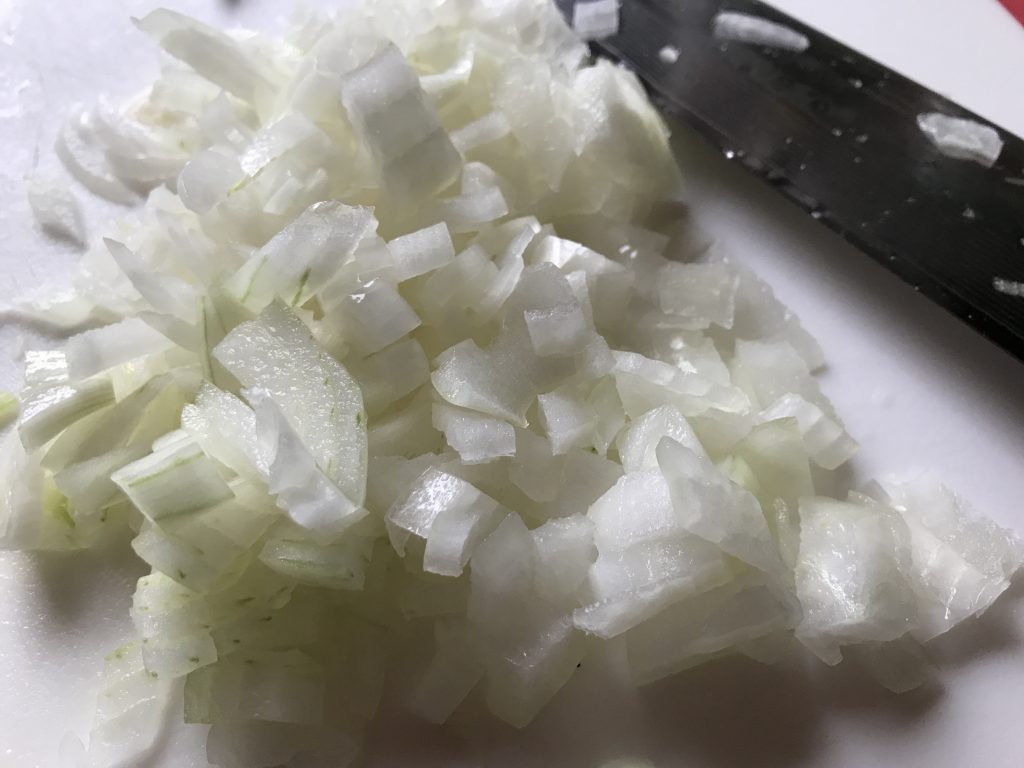 Same for a yellow onion.. (the not-so-perfect rule still applies)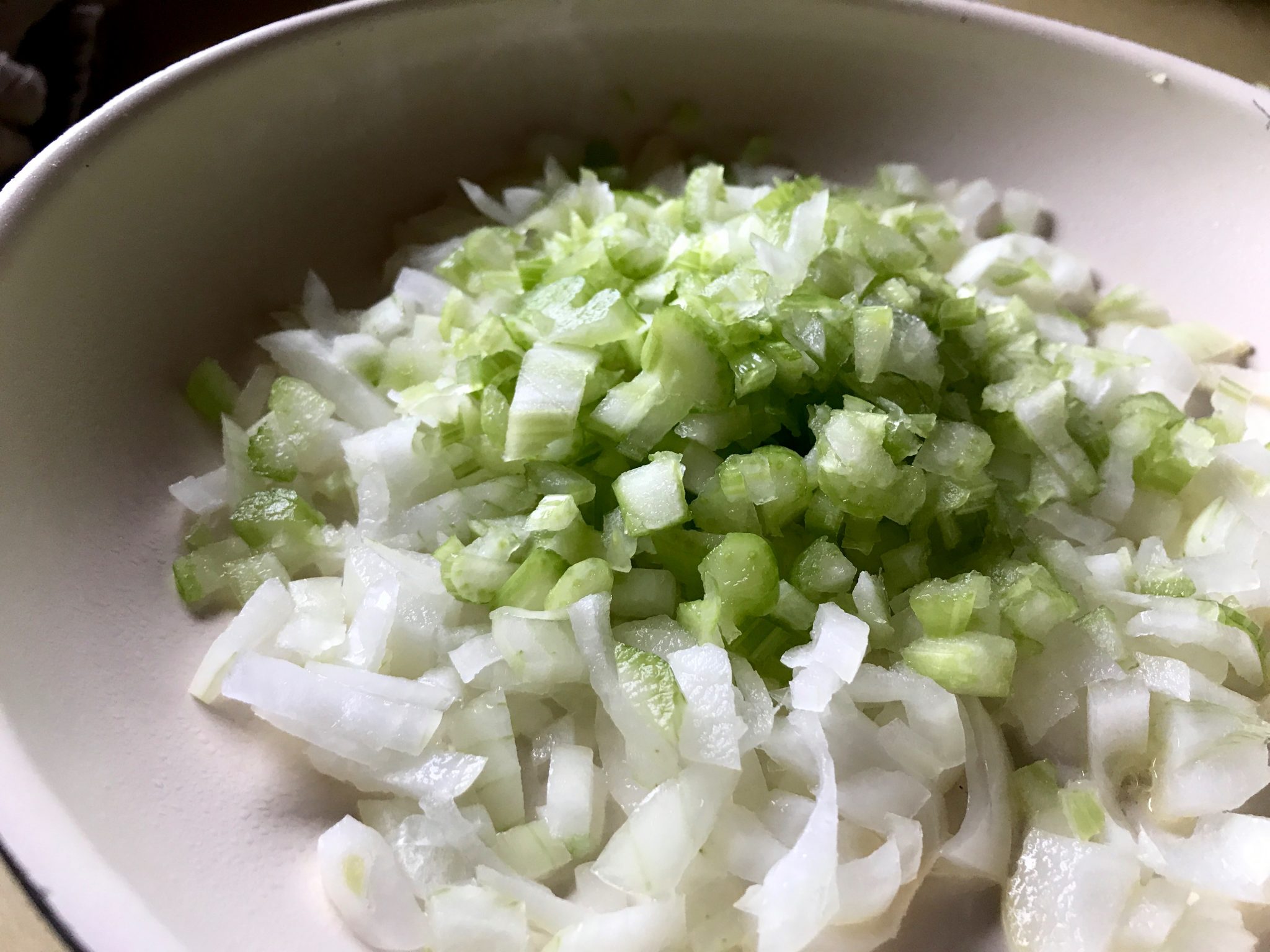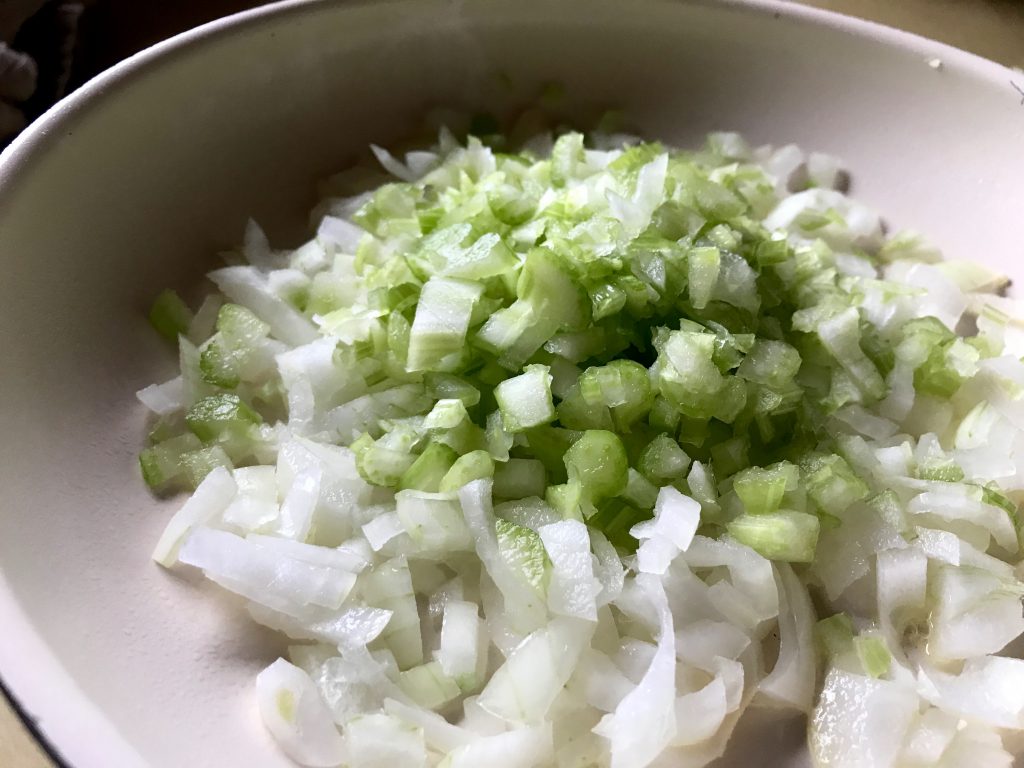 Spray a skillet with some cooking spray and sauté it up until softened.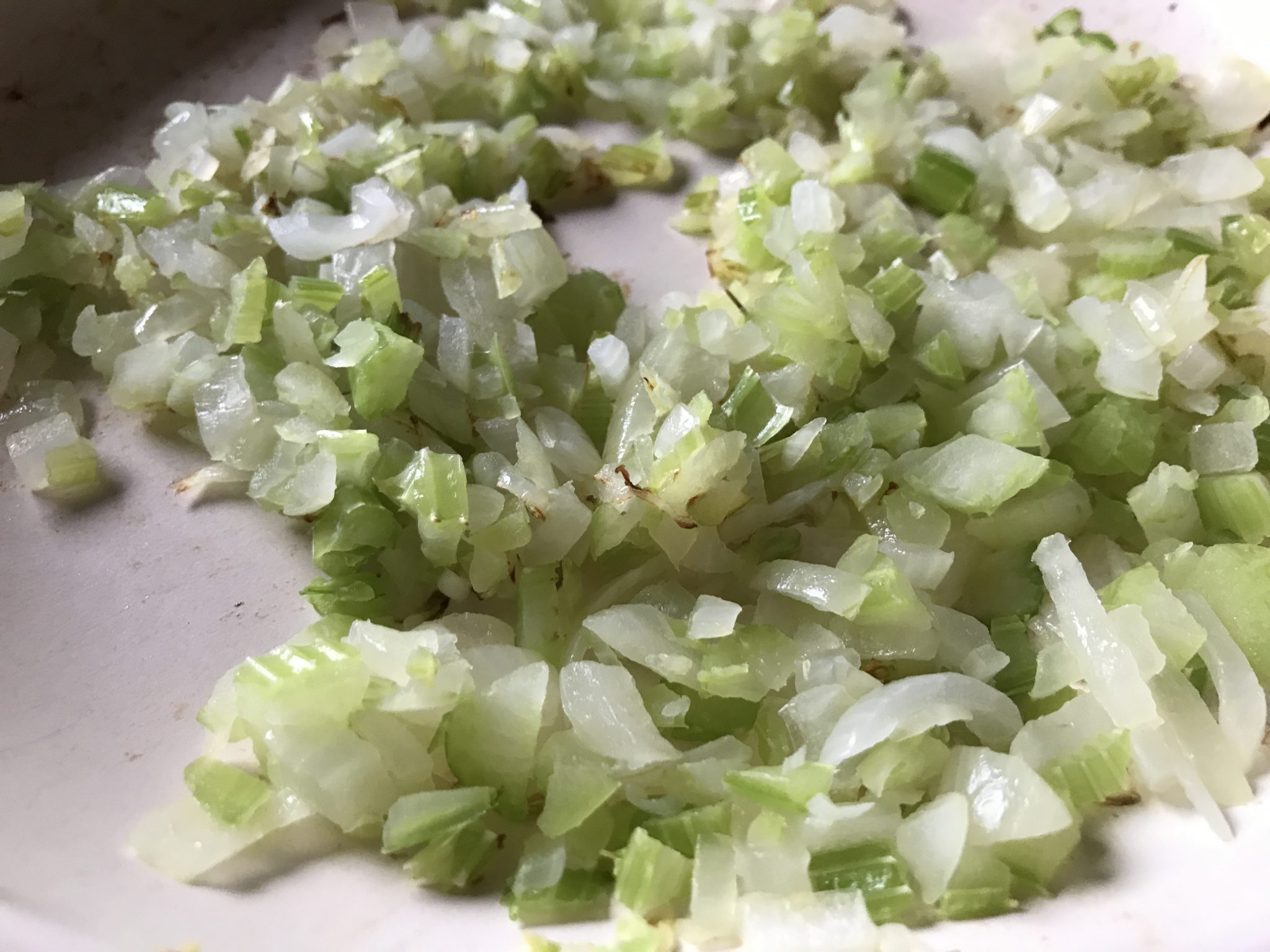 Just like this!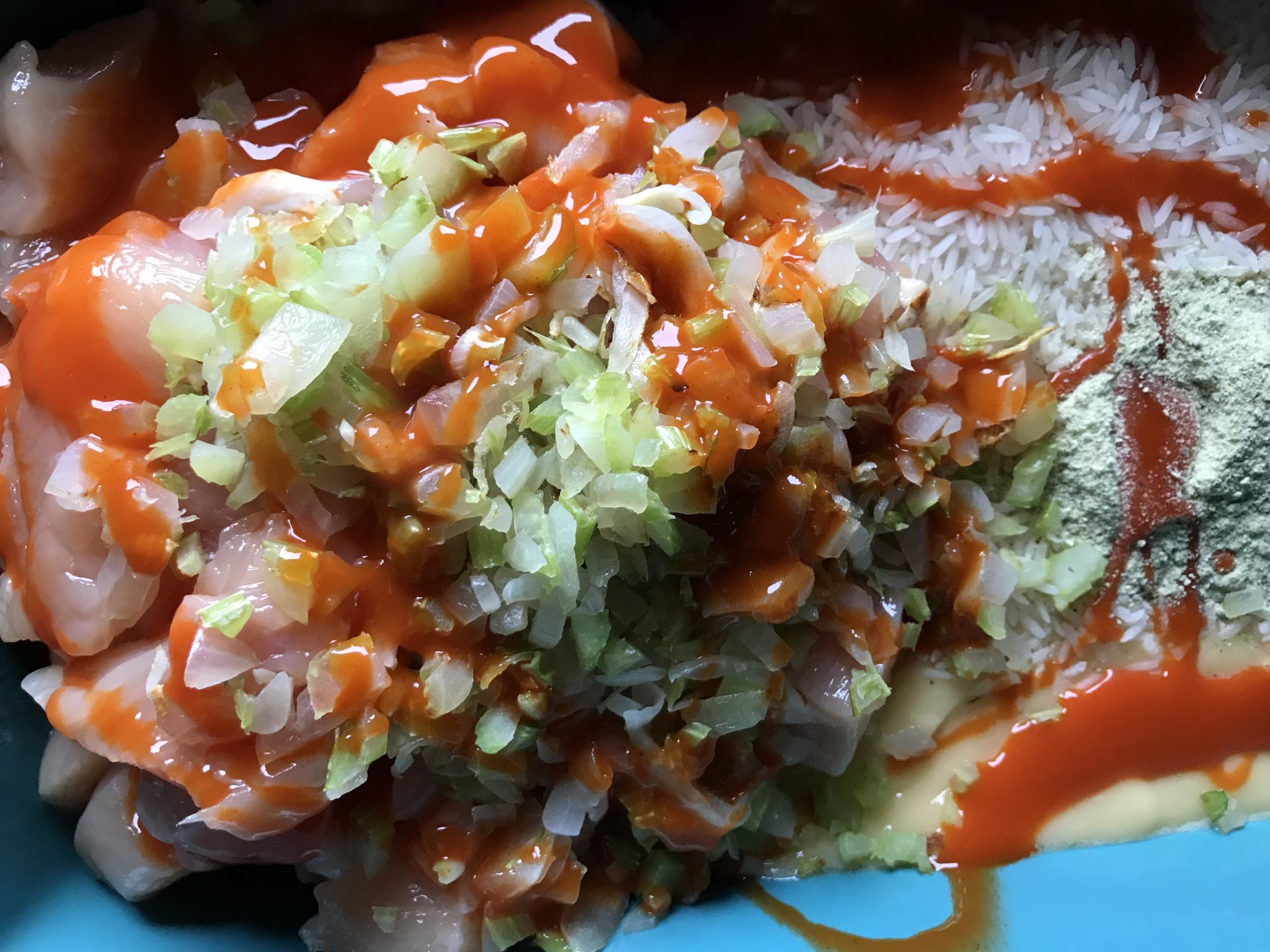 Now add all these ingredients to a casserole dish. (I spared you a photo of raw chicken cut up into bite size pieces. It's just not appetizing. Ha! I also forgot to take the photo.) So you'll add about 2 lbs raw chicken pieces, the celery and onions, 1 packet of ranch dressing seasoning mix, a can o' cream of chicken or celery soup, 1 cup of long grain rice (not instant), and 3-4 tbs of Hot Wing SAAAAAUCE! (I highly recommend using the Frank's Buffalo Hot Wing Sauce instead of just plain ol' Hot Sauce… It's MUCH BETTER!)
If you're not a fan of the cream of chicken/celery soup in the can or just don't happen to have any on hand and want to make this asap you can make a quick version and all you need is a few extra minutes, a small sauce pan, milk, flour, chicken broth, and a few dried spices. Check out that recipe here.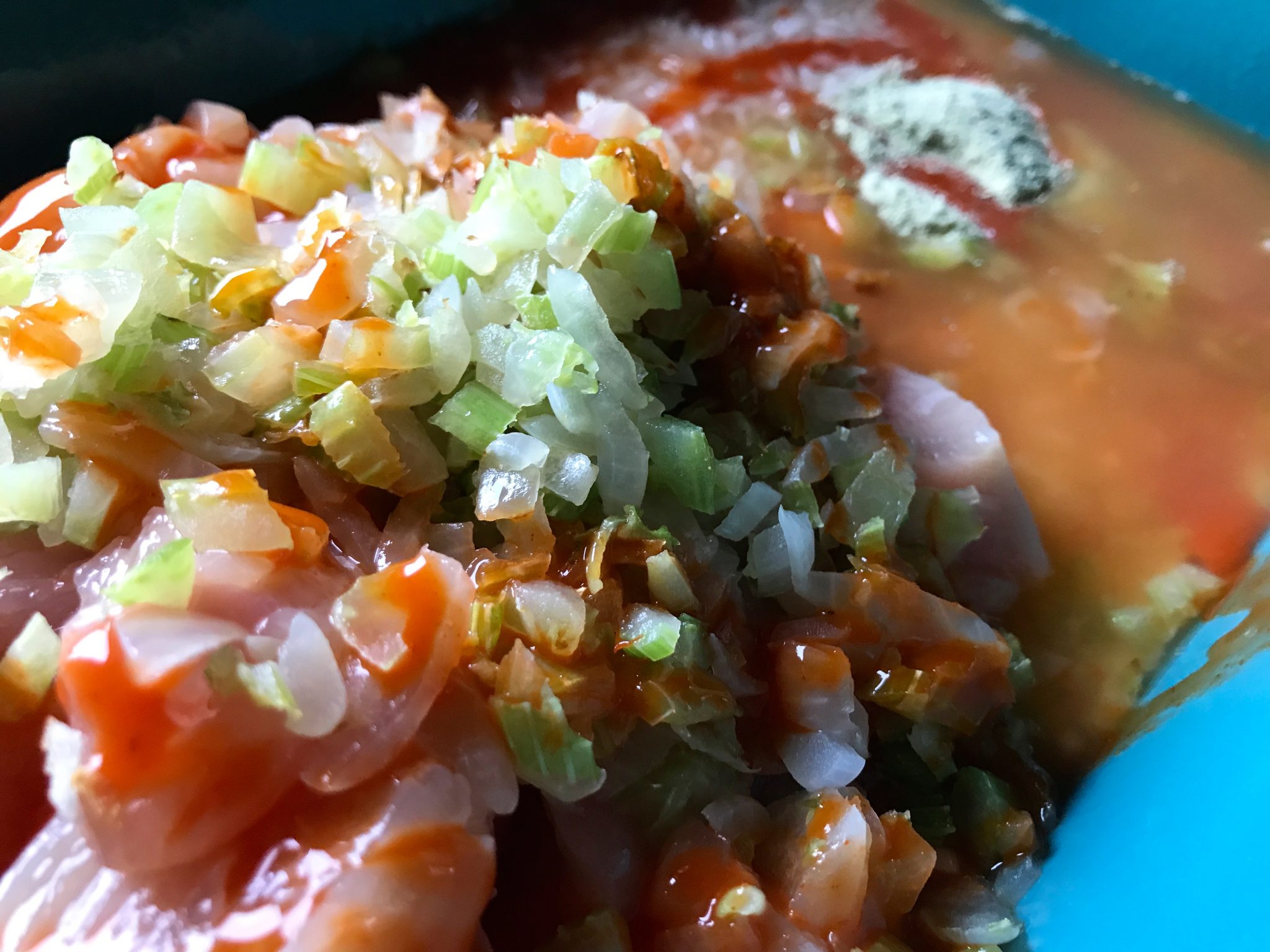 Don't forget 1 cup of chicken broth!
Side note: You can also use water if you can't find the chicken broth in your pantry. This happens to me more often than not.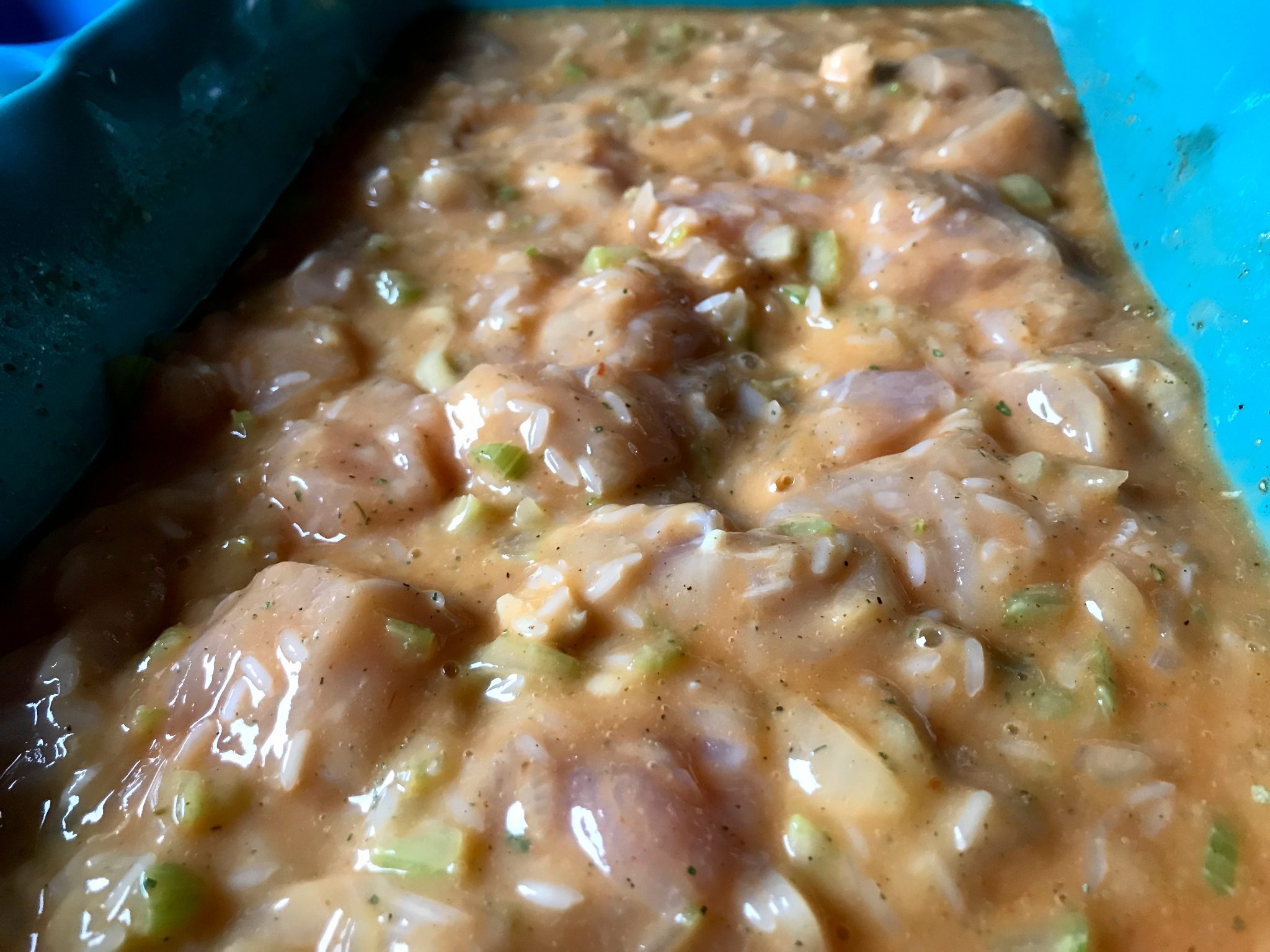 Stir it all up reeeally, really good!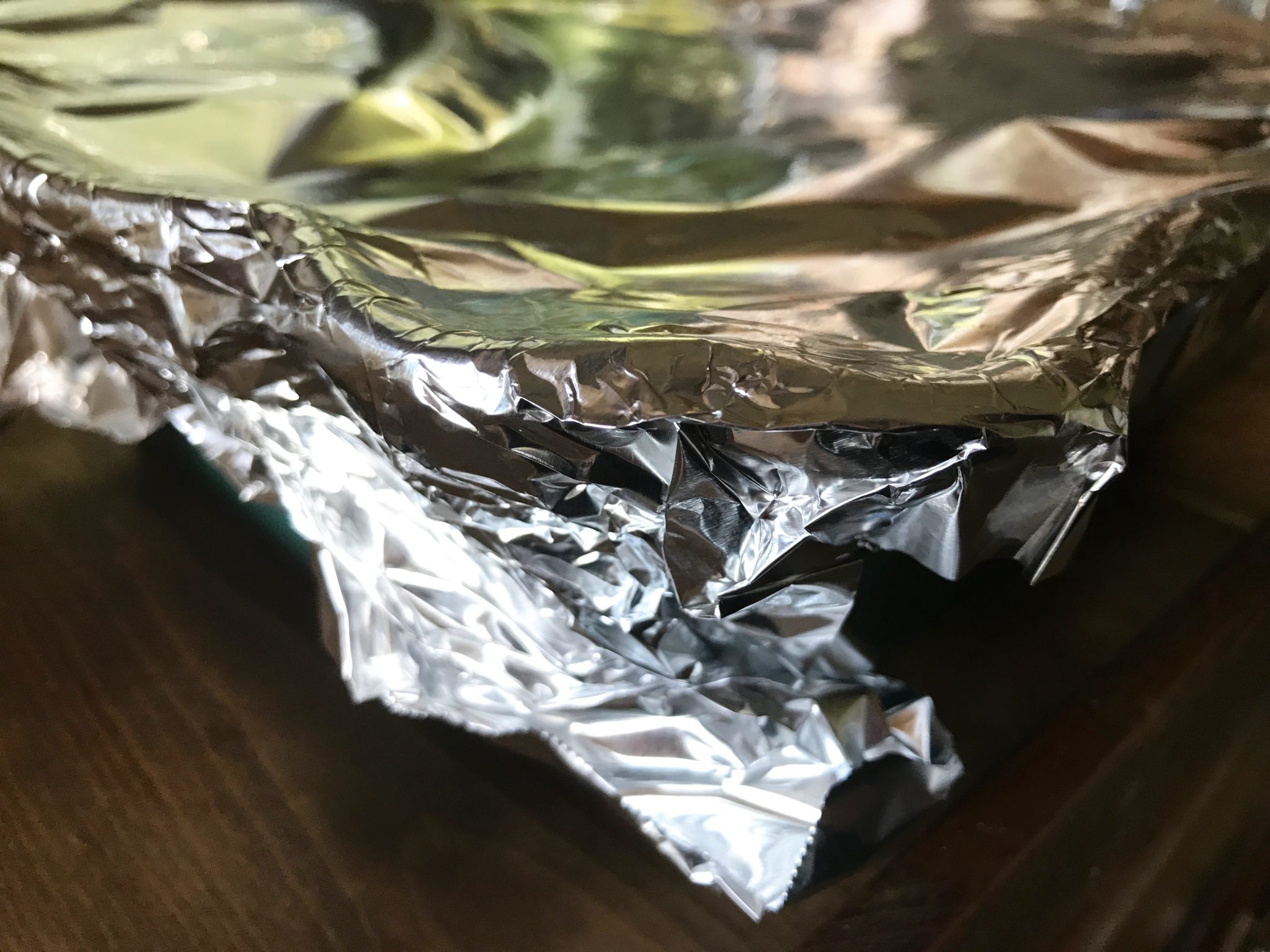 Now, you know from my other rice casserole recipes how much I stress the use of tin foil to cover your casserole dish. (even if your dish has a lid!) Cover it tightly, y'all. Please. It'll just make it easier on yourself. I promise.
Then, place it in a preheated 375 degree oven for an hour or until rice is completely cooked. (If using brown rice it may take longer to cook all the way through)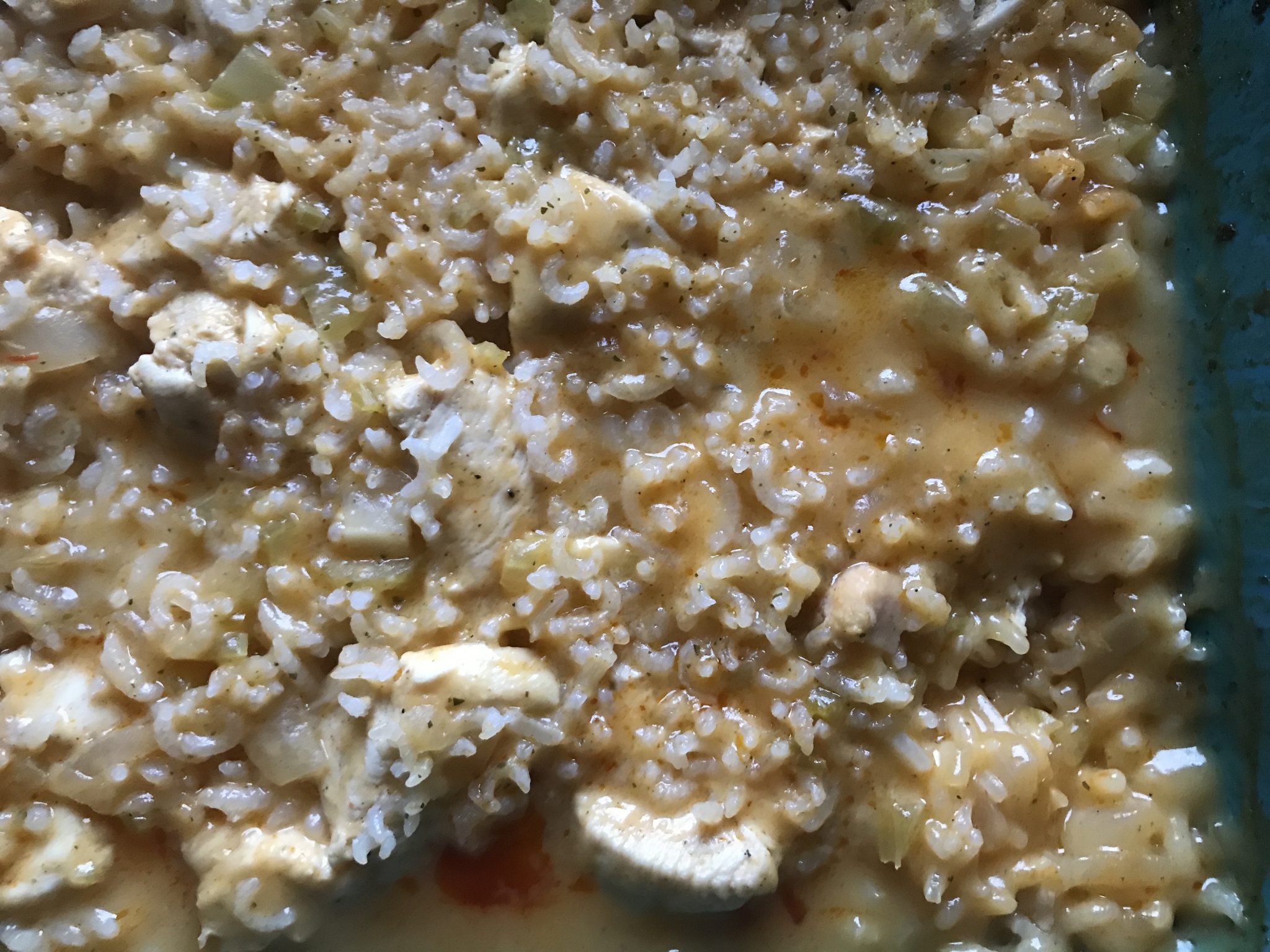 Aaaaaand, Here it is! It doesn't look like much. Oh man, it's really good though. I've made this twice in just the last week because Eric is obsessed with it. (He LOVES Buffalo Chicken flavor)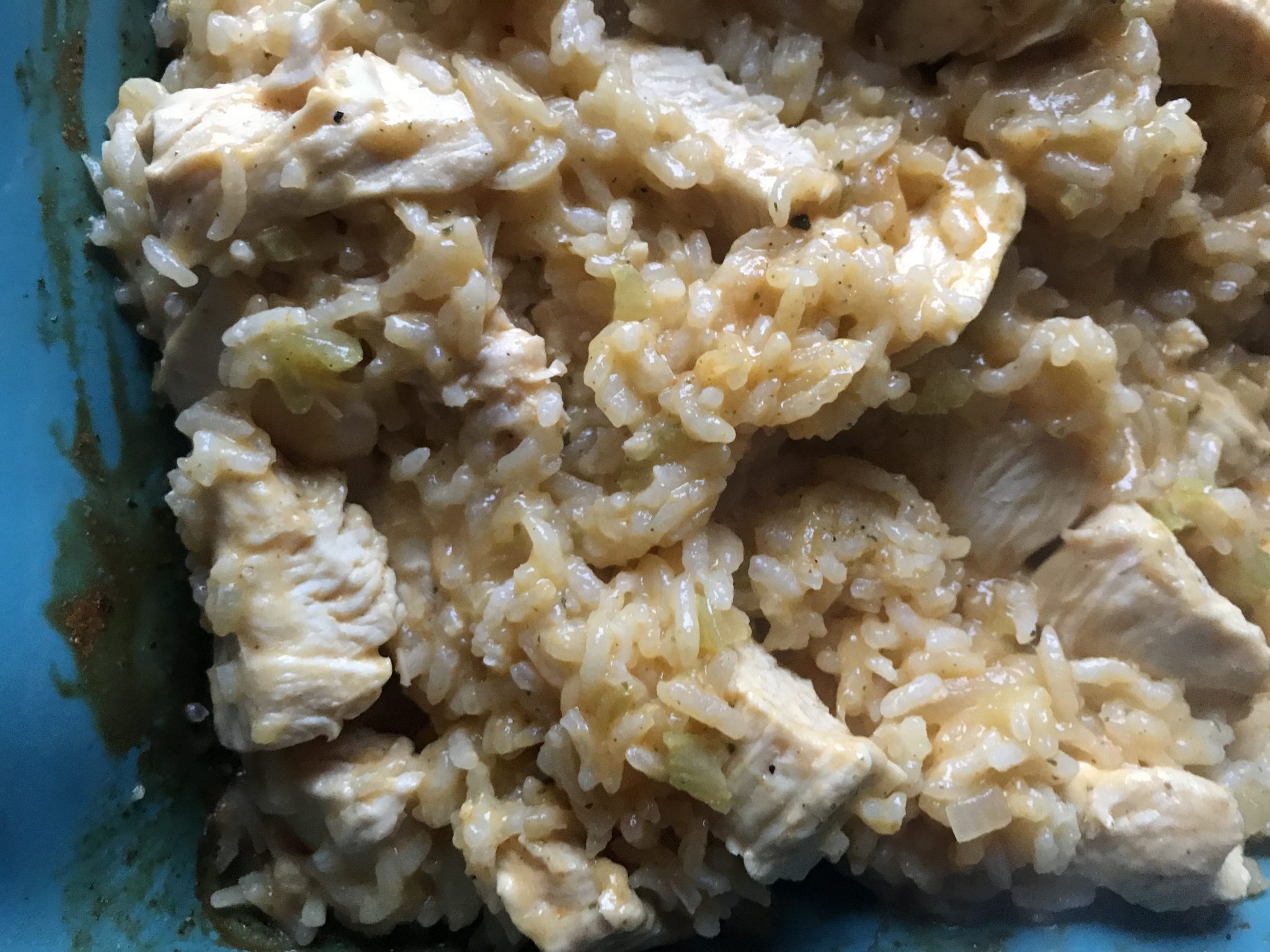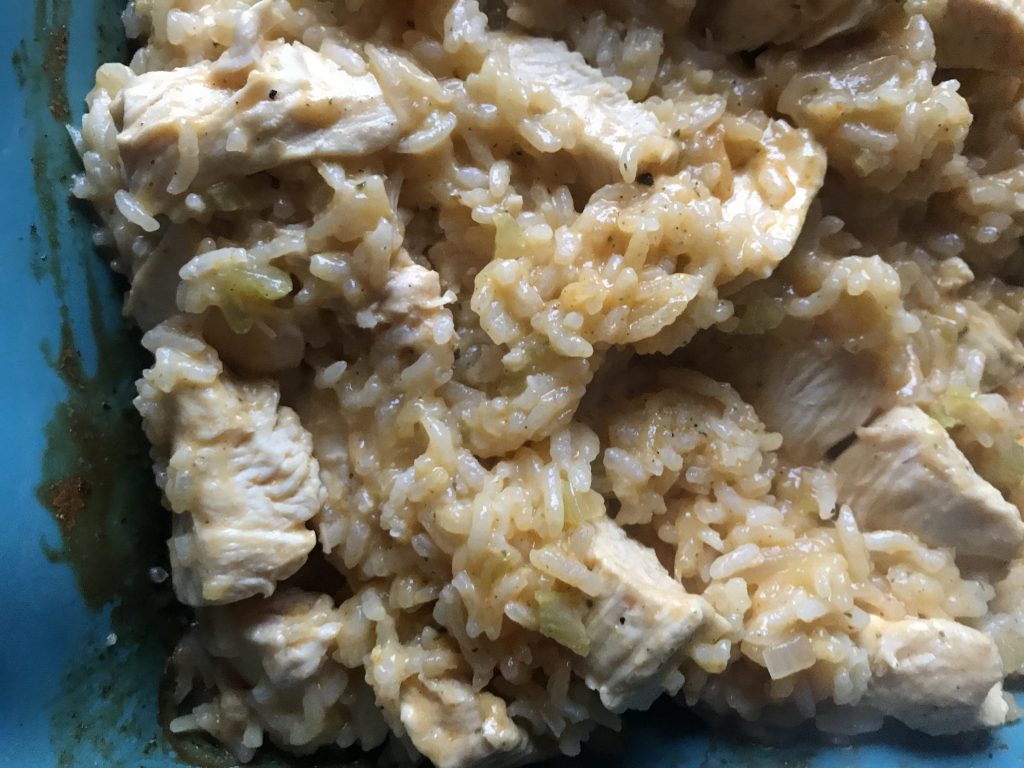 "Fluff" it up with a fork. It's not lookin' like much yet, I know…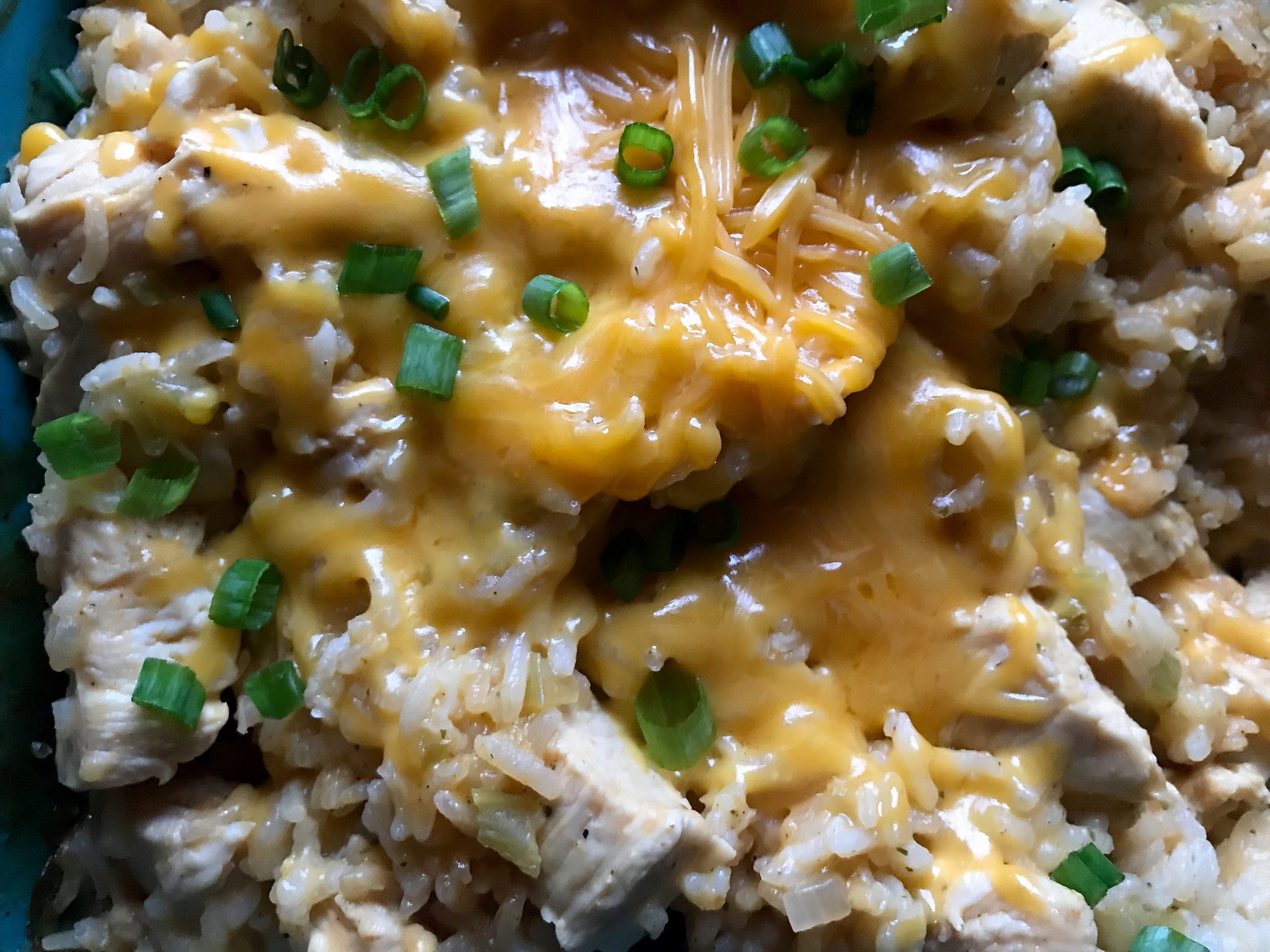 Alright, so this was an after thought. The third time I made it I wanted some cheesy to add to my creamy just for something different. It's PERFECTLY delicious all on it's own, but I added some cheddar to make it even better. It's definitely not necessary if you're not feelin' like spendin' a few extra calories on it. I simply sprinkled the cheddar on top of the casserole while still in the dish and then covered it again the tin foil for about 5-ish minutes to let the cheddar melt. I could have popped it back in the oven, but I didn't want the rice to over cook so I didn't. Do it this way, add it separately, or don't do it at all. Either way, you'll love this dish!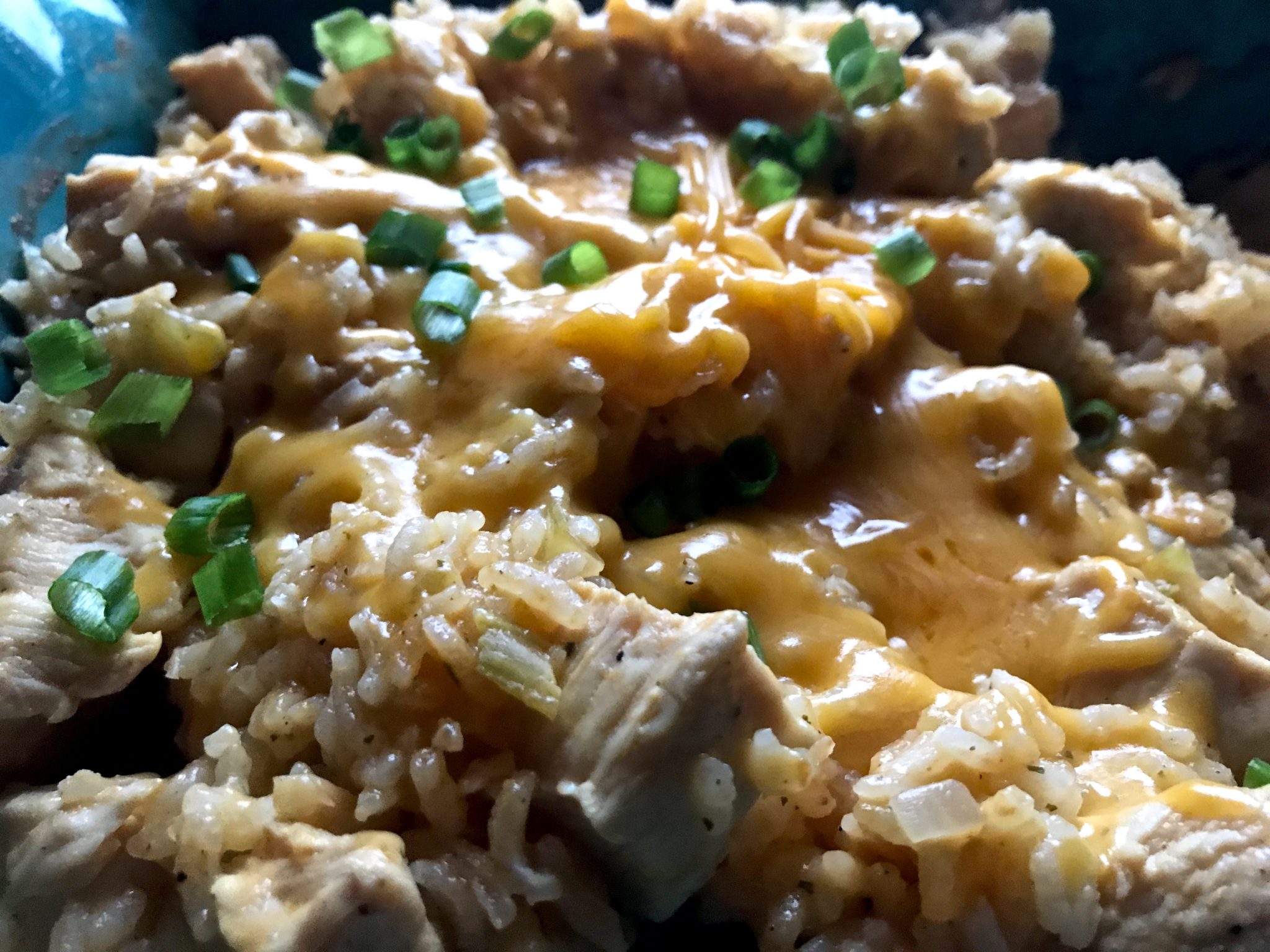 Chop up some green onions for a fresh garnish if ya want'a! It makes it perdy and it makes it extra yummy.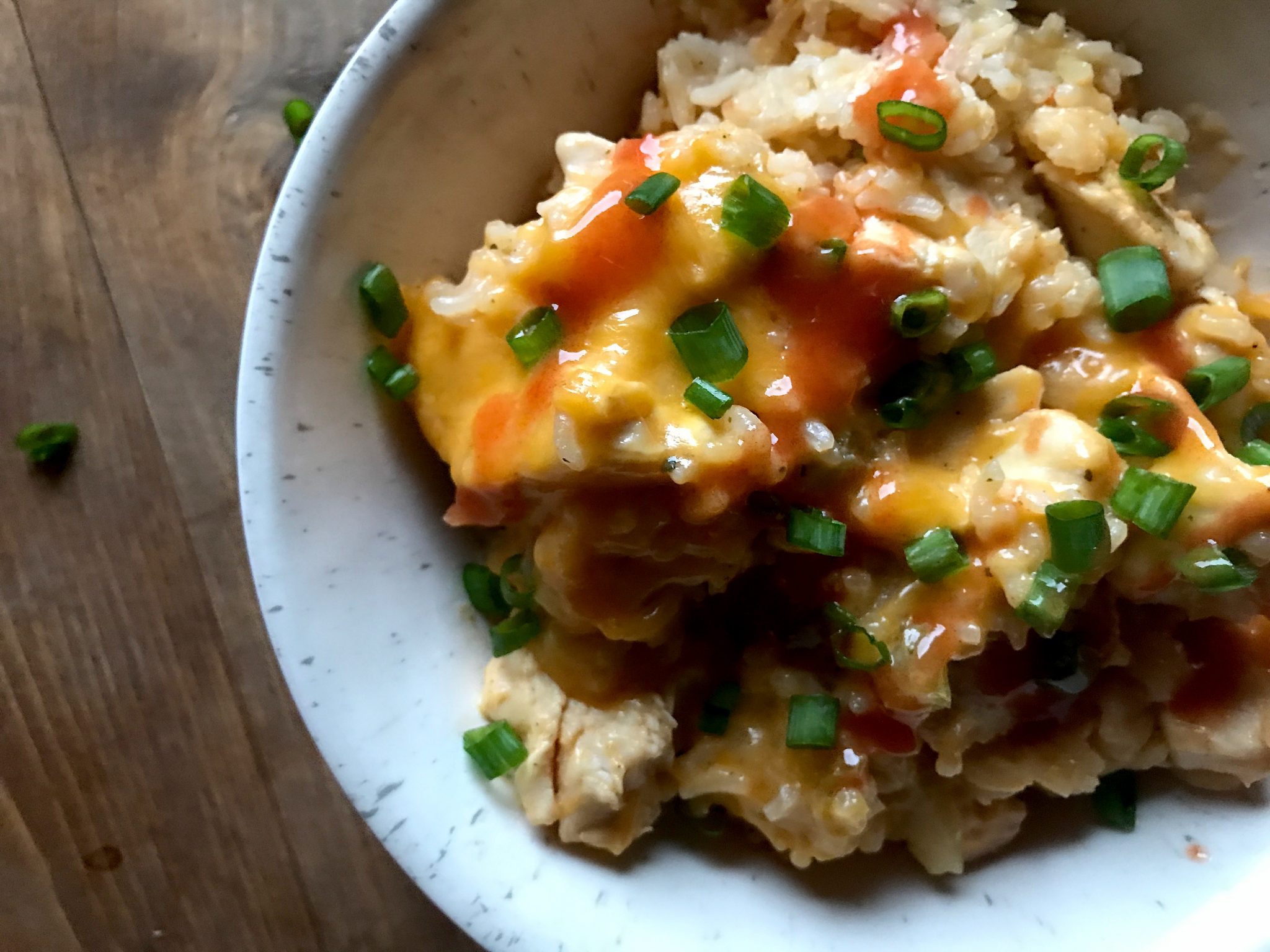 Plop a big serving in a bowl and you are good to go!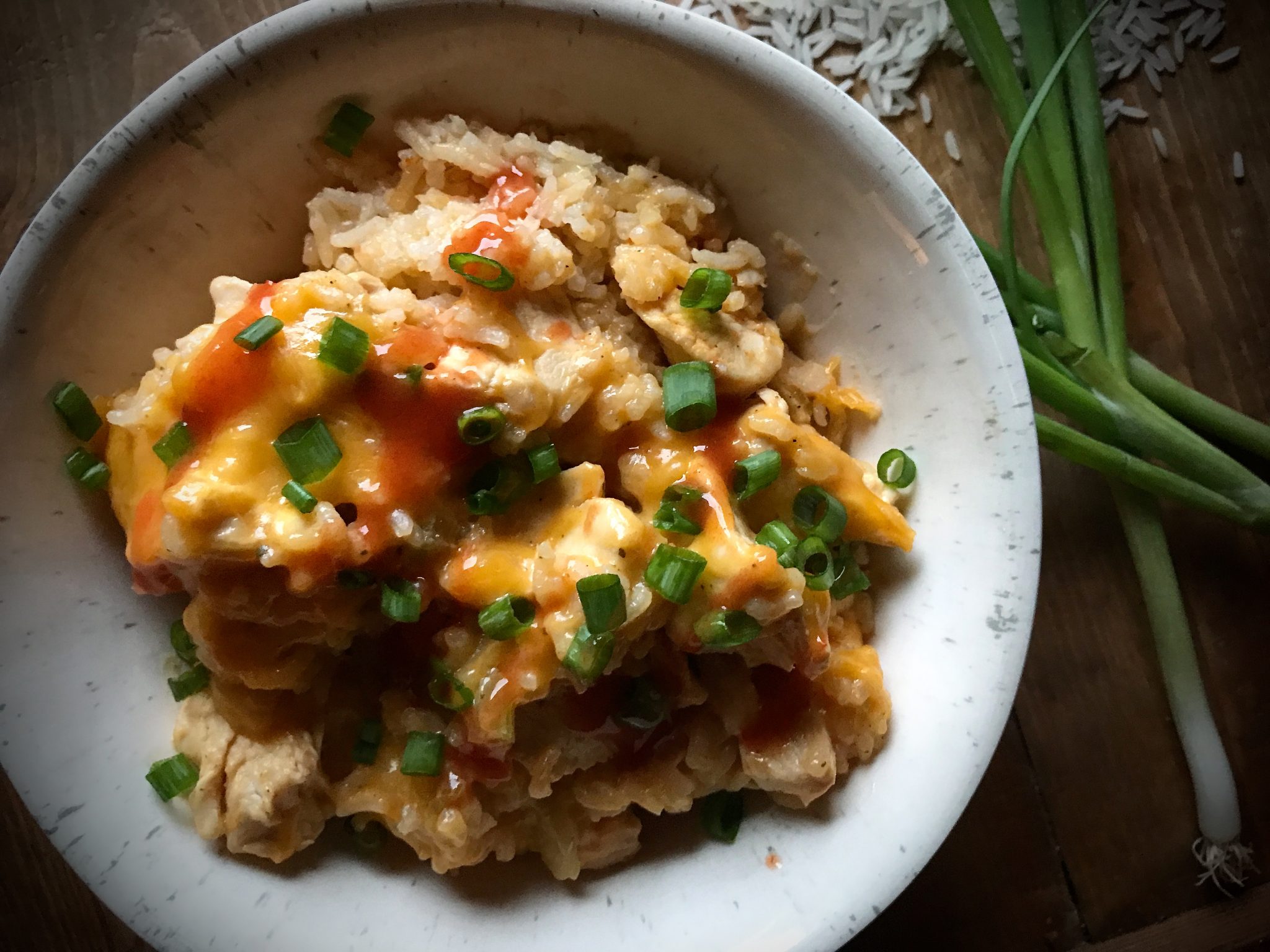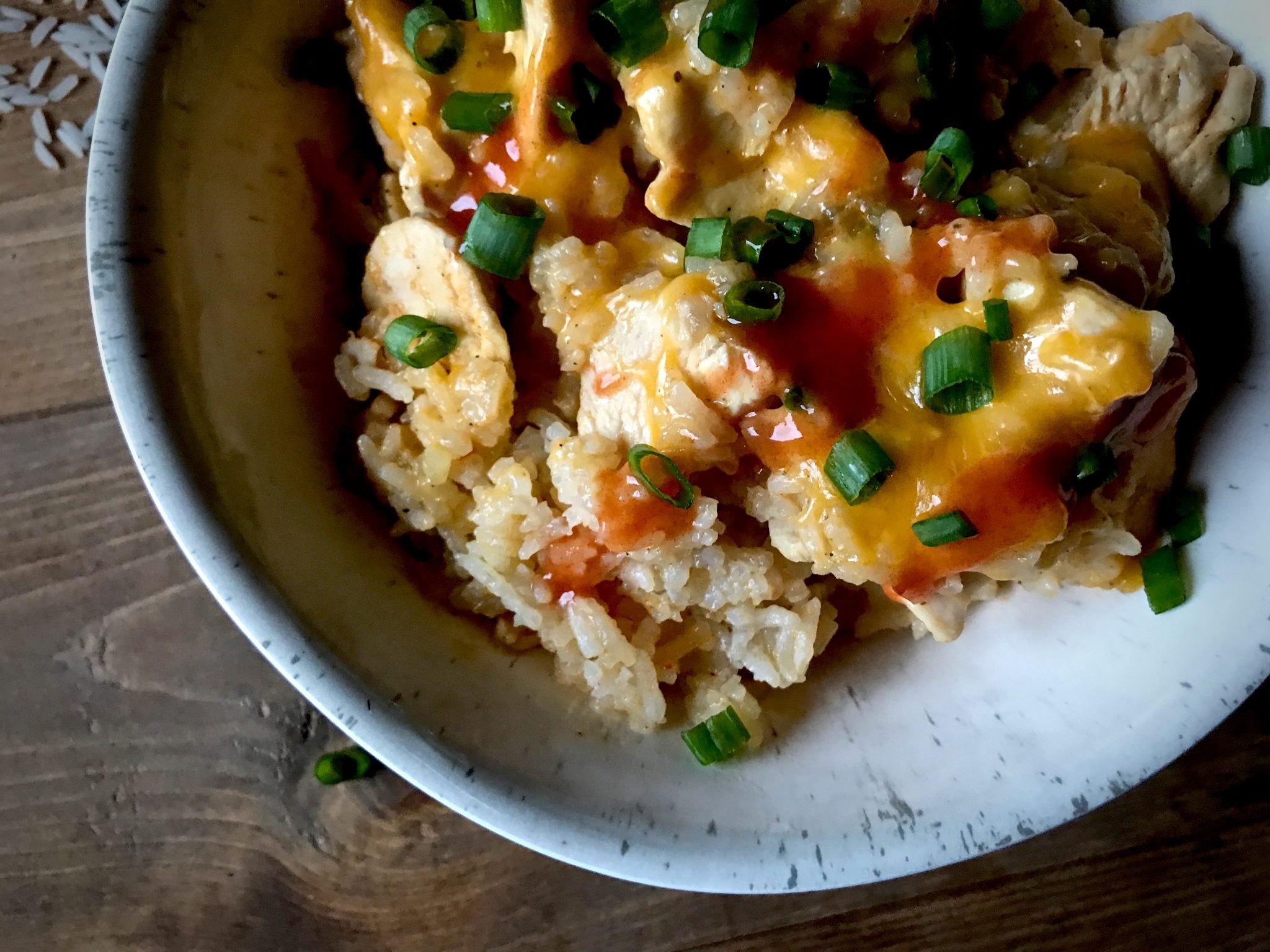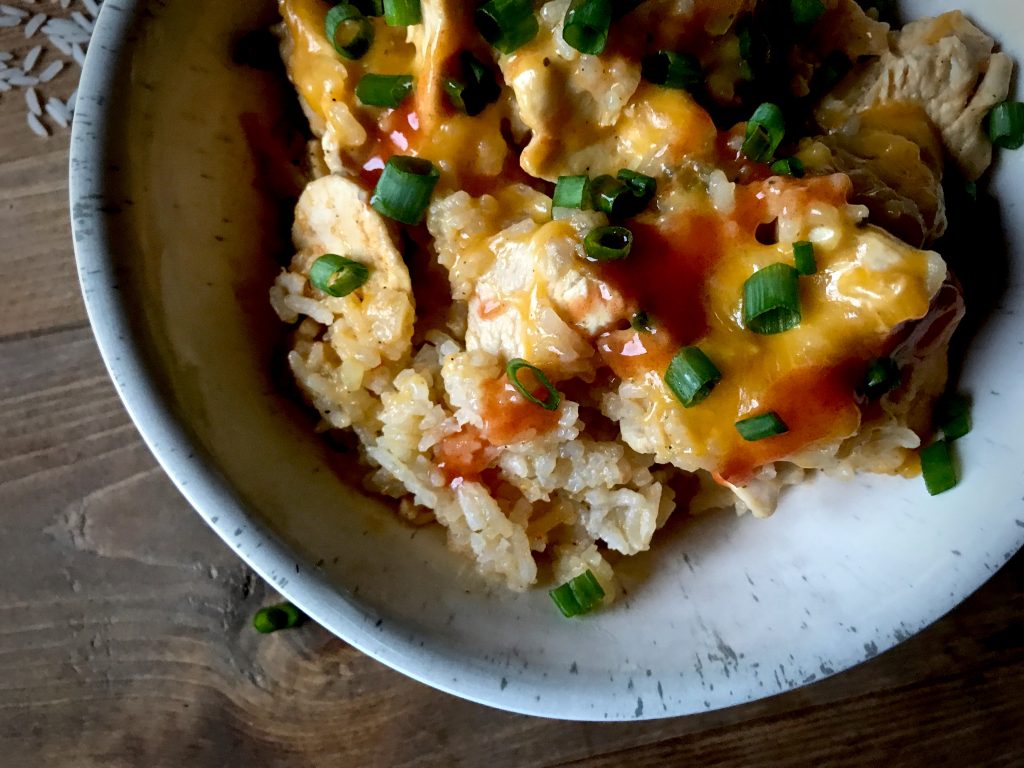 Mmmm.. seriously this is the best of two worlds. creamy rice casserole world + buffalo chicken world.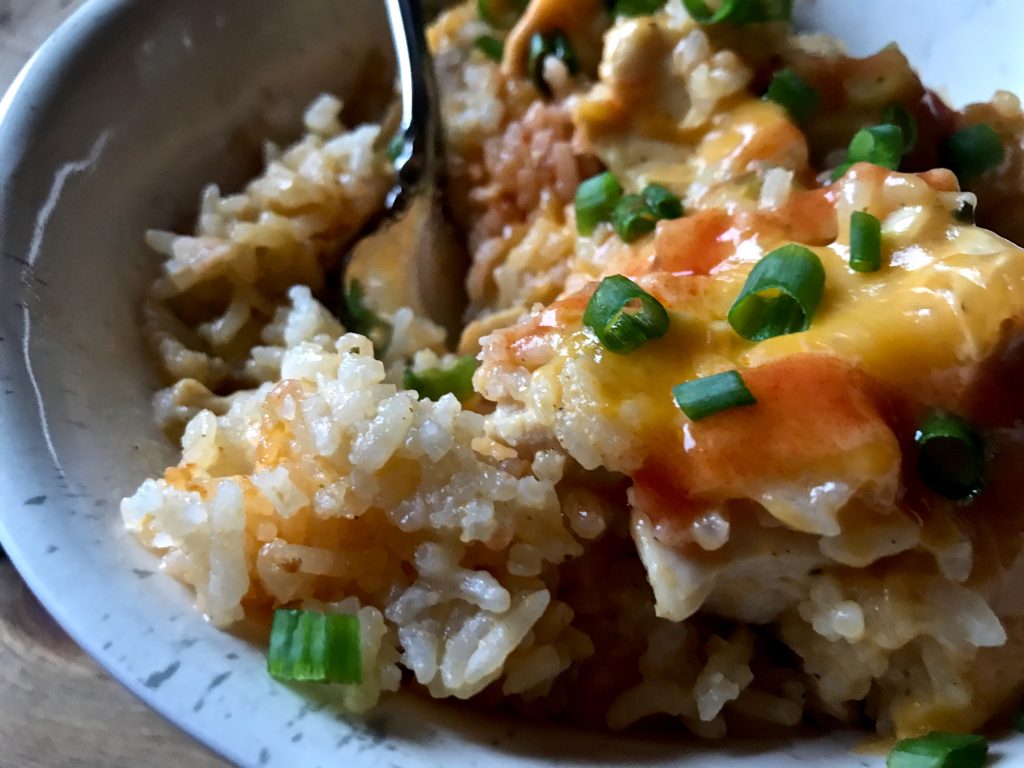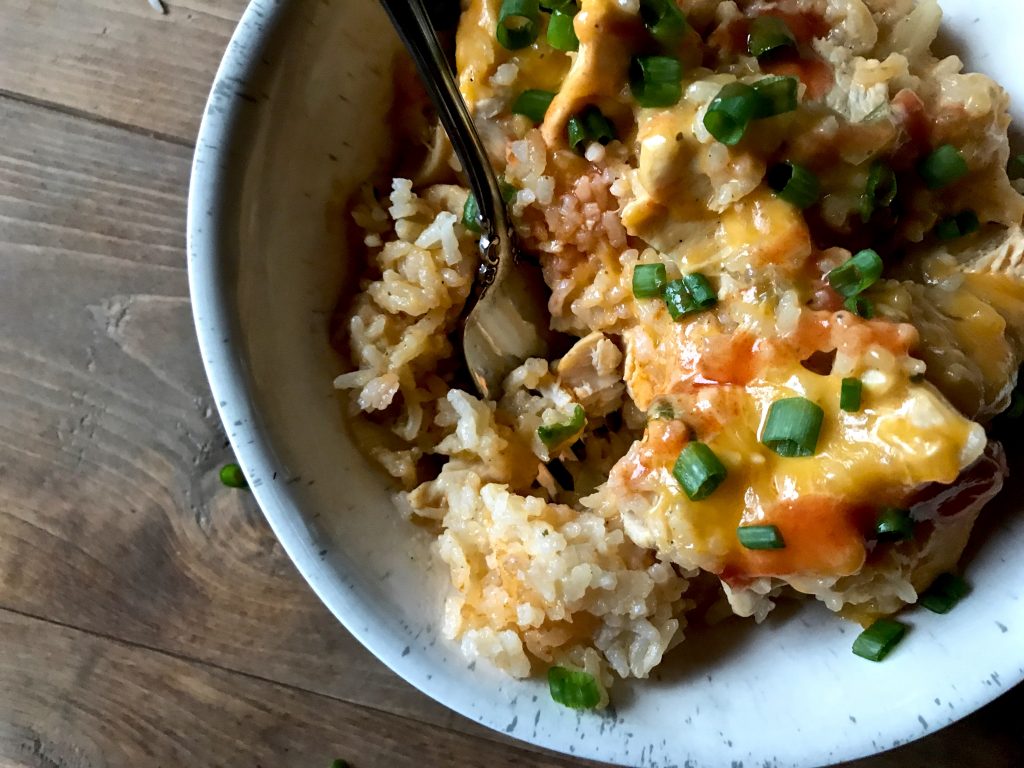 Grab your fork and dig in, y'all.
I hope you love this as much as we do! Let me know if ya make it, guys. I really think you should make it, like, tonight.
With love from my kitchen to yours,
Star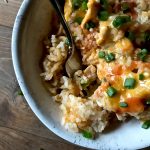 Print
Buffalo Chicken and Rice
Materials
2

lbs

chicken breast

raw and cut into pieces

1

cup

long grain, white rice

uncooked (not instant)

3-4

tbs

hot wing buffalo sauce

preferably Frank's

1

packet

ranch dressing and seasoning packet

i use hidden valley

1

cup

chicken broth, low sodium

1

10.5 ounce can

98% fat free cream of chicken or celery condensed soup

2

stalks

celery

finely chopped

1

small

yellow onion

finely chopped

cooking spray
optional
cheddar cheese

chopped green onions
Instructions
Preheat oven to 375 degrees.

Lightly spray a skillet with cooking spray and cook chopped celery and onion over medium-high heat until softened. (About 5-7 minutes)

Spray a 3-quart or 9×13 casserole with cooking spray. Add celery and onions, raw chicken pieces, rice, condensed soup, ranch seasoning packet, buffalo sauce, and chicken broth. Stir together until combined well.

Cover casserole dish very tightly with aluminum foil to ensure proper cooking with the rice. (Use tin foil even if casserole dish has a lid, please!)

Place in preheated oven and cook for one hour or until rice is cooked.

Top with cheese, green onions, and extra hot sauce if desired. Enjoy!
Notes
Suggested serving size: 1 and 1/4 cups
322 calories, 3g fat, 1g saturated fat, 31.6g carbohydrates, 1.4g fiber, 1.8g sugar, 38g protein
WeightWatchers Points: 4 Points