This post may contain affiliate links (meaning I earn a small comission if you purchase an item through a link I provide) I only provide shoppable links to items I love and are helpful. As an Amazon Associate, I earn from qualifying purchases.
Hey y'all ! This year I've partnered with Jennie-O to bring you some recipes using their products. In January I brought you some delicious Bacon Balsamic Turkey Burgers. And Today, I'm bringing you some delicious Breakfast Enchiladas! Tortillas stuffed full of Jennie O Lean Turkey Breakfast Sausage, hash browns, egg whites, and flavor finished off with a delicious gravy and of course, my favorite ingredient.. cheese!
As you know, I'm a huge turkey breakfast sausage lover and I've been using this product from Jennie O for a very long time. Some of my most popular recipes feature this sausage, Biscuits N Gravy Bake and Cheesy Sausage Hash Brown Bake! These enchiladas are perfect. I've been thinking about making something like this for quite awhile, but never did. When the box of Jennie O showed up on my door step I knew exactly what I was going to do with it! These are the perfect thing to spice up your breakfast. or lunch. or dinner. I solemnly swear these babies are good. We like a bit of heat in our food when it comes to this house so add a little less green chilis if you're unsure about how spicy you want it! I've made these a few times now and they disappear just as fast as they appear. I almost can't stand how yummy they are, and they are lightened up just enough so that you can enjoy a couple without a lick of guilt, even though one is perfectly satisfying!
Let's get in the kitchen real quick because I can't wait for ya to make these..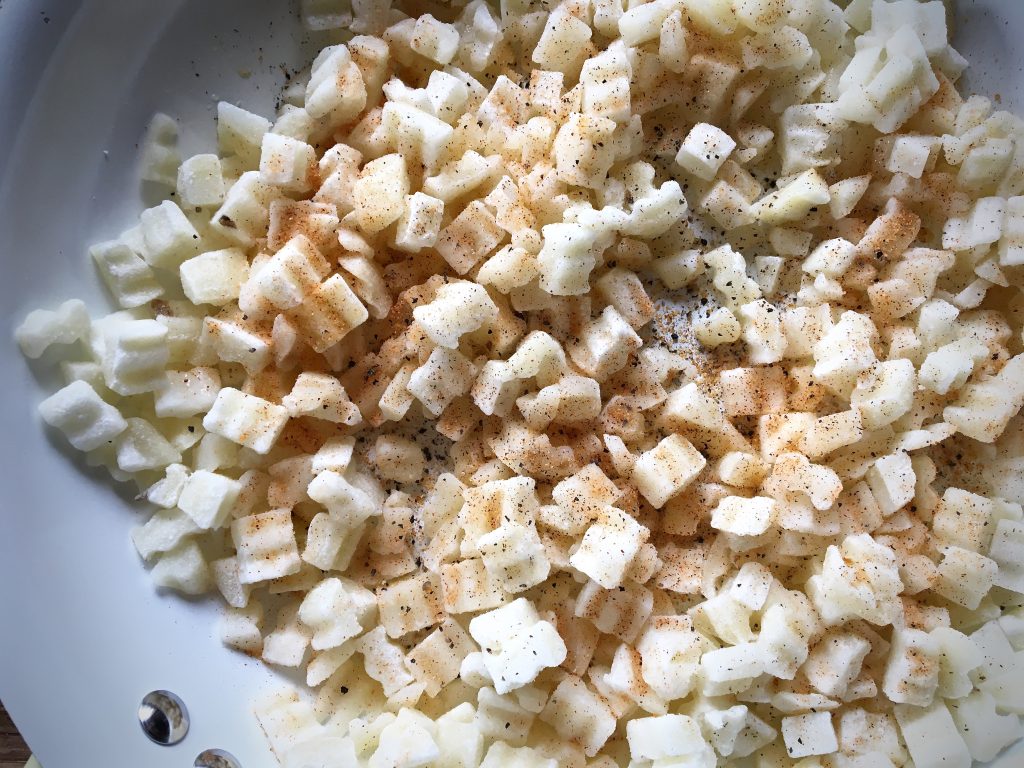 Grab a large frying pan coat with some cooking spray, toss in some hash browns. Whatever you have on hand frozen, refrigerated, or grate your own! Sprinkle in a bit of season salt and pepper and cook them through. They don't really need to be crispy, but warmed through.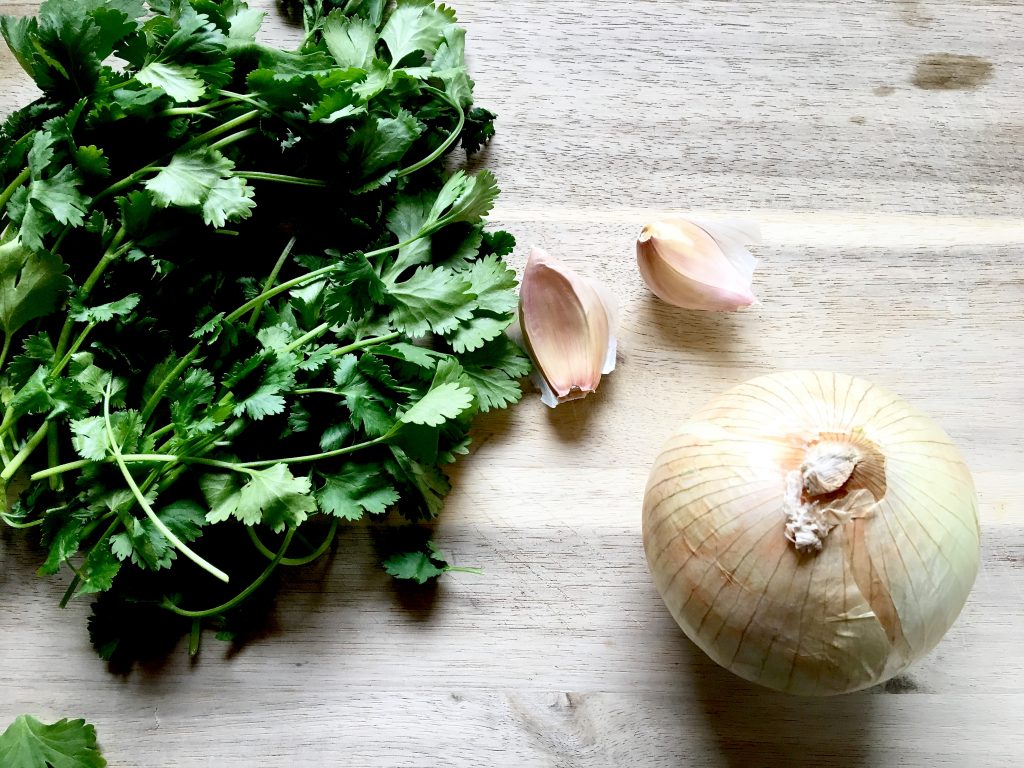 While the hash browns are heating up grab some fresh cilantro, a couple cloves of garlic, and half of a medium onion.
Chop them all up real good! You'll need about 1/4 cup of chopped fresh cilantro. Chop up a little extra if you'd like to garnish with it after it's out of the oven.
Grab a large bowl and throw in the cooked potatoes.
In the same frying pan over medium-high heat start to brown the Jennie O Turkey Breakfast Sausage and break it up a bit.
Add your onion, garlic, and cilantro
And some chopped green chiles! Any kind will do, but I would make sure they are MILD!
Continue to cook the turkey sausage, onions, chiles, garlic, and cilantro together over medium-high heat for 6-8 minutes until the meat is browned and the onions are soft.
Add it to the hash browns! Oh yeah, I forgot I did this. Ha! Pepper woke up from her nap a little earlier than expected as I was photographing these and I threw the sausage in the bowl before I got the chance to cook the egg whites with it. So, don't be like me. Just pour the eggs in the sausage mixture and scramble them all together in your fry pan. It's easier. It's one less step. It doesn't look all that pretty, but it gets the job done. But, if you are like me and forgot to put the egg whites in with the sausage. Grab the same skillet, but if you already put it in the sink with other dirty dishes, like me. Grab another skillet. Make some scrambled egg whites and add it to the mixture. I promise I'm more organized than I seem. Just kidding.
Like this!
Alright, now for the magic…. yep, a packet of country gravy because this stuff is good and this recipe already has enough steps. I use a variety of different packets that my local grocery store carries. They all end up the same and if you can only find the ones that say 'just add milk', you can still just add water. It's the same, but less calories! Make the gravy according to packet directions.
And when it is all done (it takes just a few minutes) Whisk in a dash or two or three of your favorite hot sauce. I use Frank's. I love Frank's.
Now add 1/2 a cup to the bowl of hash browns and sausage.
Mix it all up! Okay, I won't blame you if you just want to forgo the rest of the recipe and eat this, because I might have had a small bowl of just this because it was SO dang delicious!
I'm using these tortillas because they are super low in calories, high in fiber, and honestly pretty delicious! The first time I made these I did half the pan with regular flour tortillas and half the pan with these tortillas because I figured Eric doesn't care about low calorie tortillas. He grabbed two from MY side of the pan, ate them up, and sang praises. He had no idea he wasn't eating a regular flour tortilla. So, if you're wondering if you're husband or significant other would eat these up with this type of tortilla. I'm preeeeeeetty sure they will. If you don't want to share.. hide them in the vegetable crisper like I do.
Okay, here we go. Almost done y'all.. Grab a 9×13 dish, spray with some cook spray, and put a little gravy on the bottom.
Load up each tortillas with about a heaping half cup of the sausage mix.
Roll'm up and place'm in the dish!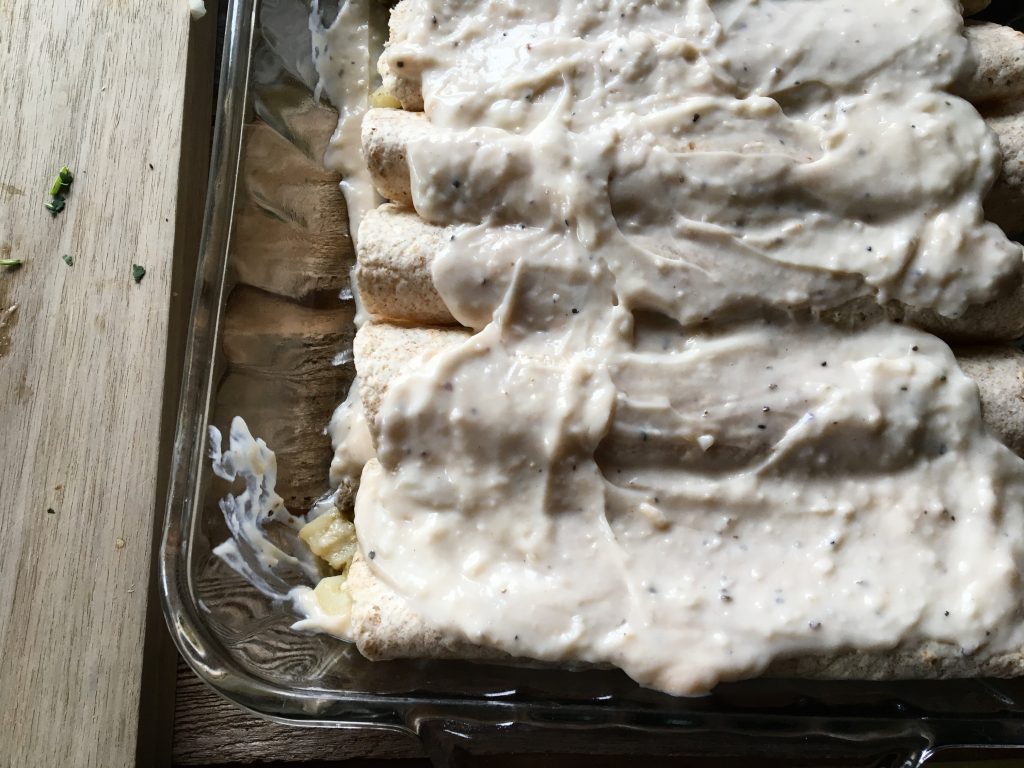 Evenly spread the rest of the gravy on top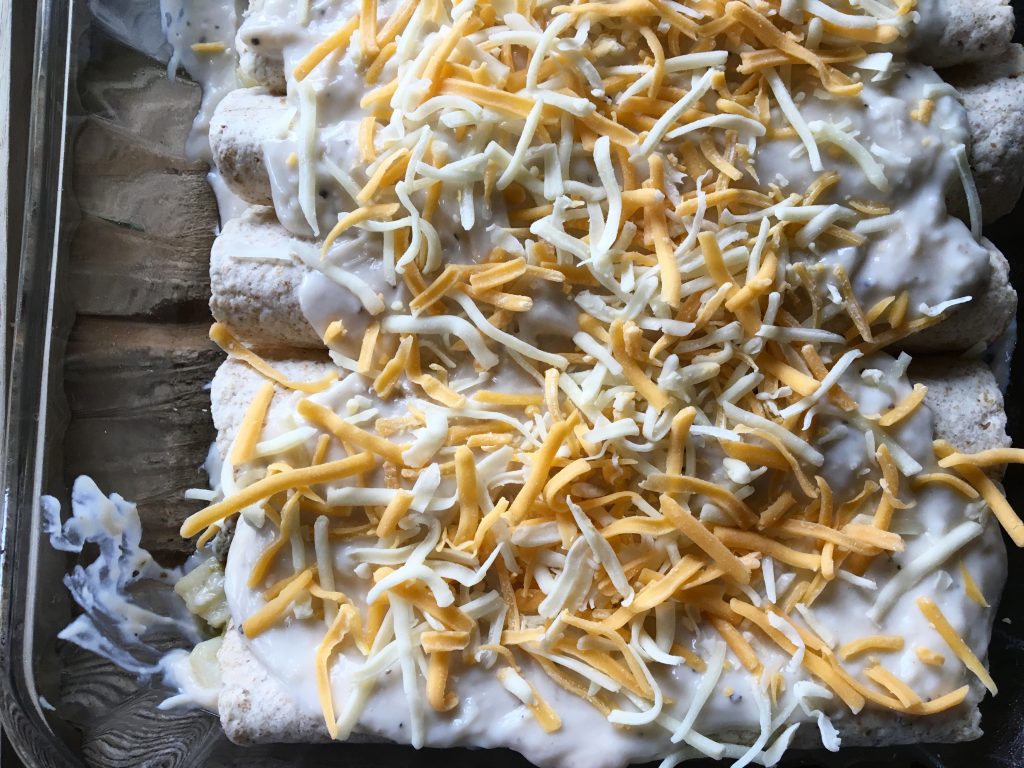 Top with some cheese. always cheese.
Pop'm into a preheated 375 degree oven for about 15 minutes and there we go!
Garnish with a little fresh tomatoes and green onion. I also serve these with a bit avocado, but my avocado decided to betray me and turn brown, really brown.
These just scream, "Eat me, now!" I honestly can't wait to be done writing this post because I am going to go heat one up that was left over from yesterday! Haha! They reheat pretty deliciously, by the way.
These guys will definitely spice up your normal breakfast routine and they are pretty enough to serve guests at a brunch. Do me a favor and make these right now. If there's one recipe you make from me, make these. I've said this a few times, but I really mean it this time.
With love from my kitchen to yours,
Star
*This post is sponsored by Jennie O as part of the Switch Circle Blogger program. Recipe and opinions are my own.*
Print
Breakfast Enchiladas
Tortillas filled with turkey sausage, potatoes, egg whites, onion, garlic, cilantro, and chiles wrapped up and covered in country gravy and cheese.
Materials
1 1/2

cups

frozen hash browns

1/2

medium onion

, chopped finely

1/4

cup

fresh cilantro

, chopped finely

2

cloves

garlic

, minced

1 4.5

ounce

can mild green chiles

1

lb

Jennie O Lean Breakfast Sausage

1 1/2

cups

liquid egg whites

8

whole wheat low fat tortillas

, I use Ole Extreme Wellness Whole Wheat 8 Inch Tortillas

1

packet Country Gravy Mix

, I use McCormick or Pioneer Brand

1-3

dashes of hot sauce

, I use Franks

1

cup

Colby Jack or Mexican Blend Cheese made with 2% milk

1

tsp

season salt

salt & pepper

, to taste

Cooking Spray
Garnish
green onions

, optional

tomatoes

, optional

fresh cilantro

, optional
Instructions
Preheat the oven to 375 degrees. Over medium-high heat spray a large frying pan with cooking spray. Add hash browns, season salt, and pepper. Cook until warmed through, they don't need to be crispy. When finished cooking, remove and place hash browns into a bowl. In the same pan over medium-high heat add turkey sausage, break it up a bit then add chopped garlic, onions, cilantro, and the can of diced chiles. Cook until the sausage is browned and the onions are soft, about 6 minutes. When the mixture is cooked through mix in the egg whites and cook together. Place turkey sausage mixture into same bowl as the hash browns. In a sauce pan, make the gravy packet according to packet directions. When the gravy is done whisk in a couple dashes of hot sauce. Add 1/2 cup of the gravy to turkey sausage and potato mixture and stir together. In a 9×13 casserole dish coat with cooking spray, add about 1/4 cup of gravy to bottom of pan and spread around the dish. Roll each tortilla with a heaping 1/2 cup of turkey sausage and potato mixture inside and place into dish. Repeat until finished. Pour the remaining gravy on top and spread over each enchilada evenly as possible. Top with cheese. Place uncovered into preheated oven for about 15 minutes or until the cheese is melted. Garnish with green onions and tomato if desired. Enjoy!
Notes
Serving Size: 1 Enchilada
265 calories 3g saturated fat, 9.5g fat, 9g carbohydrates, 9.5g fiber, .5g sugar, 24g protein
WeightWatchers Points: 6 Points