This post may contain affiliate links (meaning I earn a small comission if you purchase an item through a link I provide) I only provide shoppable links to items I love and are helpful. As an Amazon Associate, I earn from qualifying purchases.
The Best Classic Beef Chili is my forever favorite go to chili recipe when I'm wanting the classic beef, bean, and tomato based dish! It really is the best beef chili! So easy to prep, best flavor, and it's a total family favorite. We love to make a big ol' batch and make a "chili bar" so we can add a collection of toppings to make it extra delicious.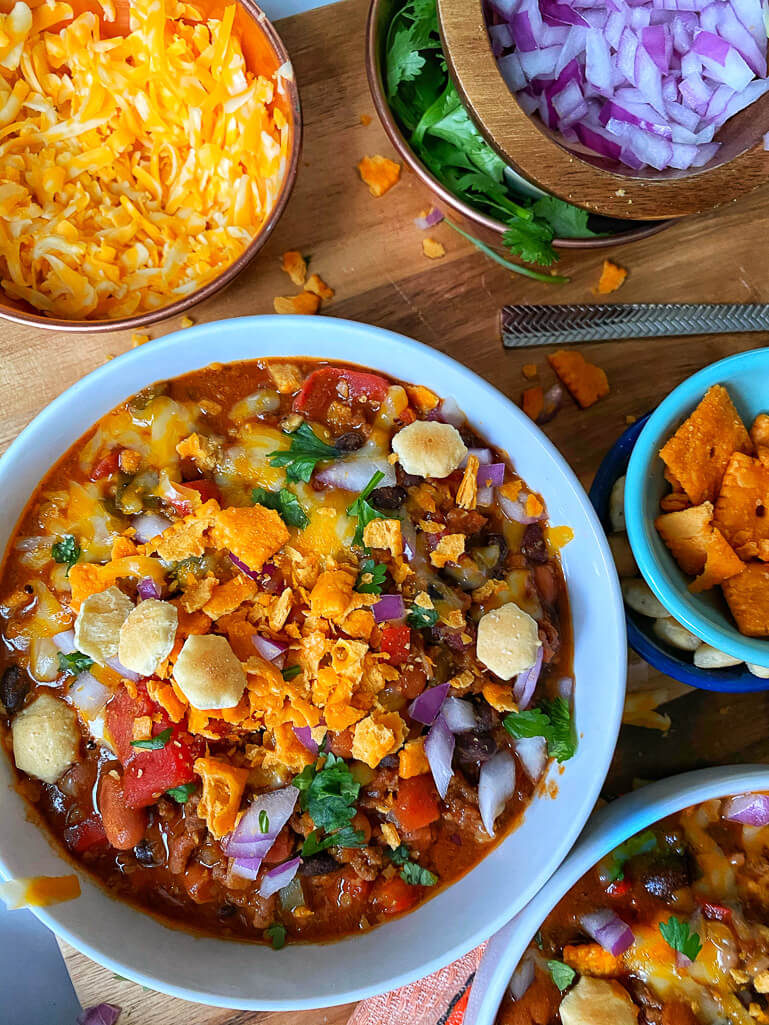 The Best Classic Beef Chili recipe is the best chili recipe. When I think of "classic" chili I think of what most restaurants serve on their menus, what my dad loved when I was growing up, and the only thing Eric actually considers real chili (he's stubborn, haha). Simple ground beef, tomato-y base, beans, and lots of scrumptious seasonings are all what a classic chili recipe requires!
Now a days I feel like there are soooo many different types of chili. Hello White Chicken Chili and Bacon Cheeseburger Chili! While those are both super delicious and each of them are family and fan favorites here on The Skinnyish Dish! We also really, really love classic beef chili on a chilly day and we truly think this recipe is one of the best ones around.
I've been playing with this "classic" chili recipe for almost 5 years y'all and I really think I've finally figured out the best chili recipe. I've always loved it, but I kept thinking it was missing something. Last year I was finally told by a restaurant owner, who's chili Eric and I adore, that one (he wouldn't give me all of them) of their "secrets" to good ol' classic beef chili was a spoonful of sugar and I immediately put my palm to my forehead. Duh!!!! I personally use just bit of whole earth sweetener or swerve, but same difference. I even once put cinnamon in my chili because I thought that was the "secret ingredient". GROSS. Eric still won't let me live that one down.
How to make the best beef chili: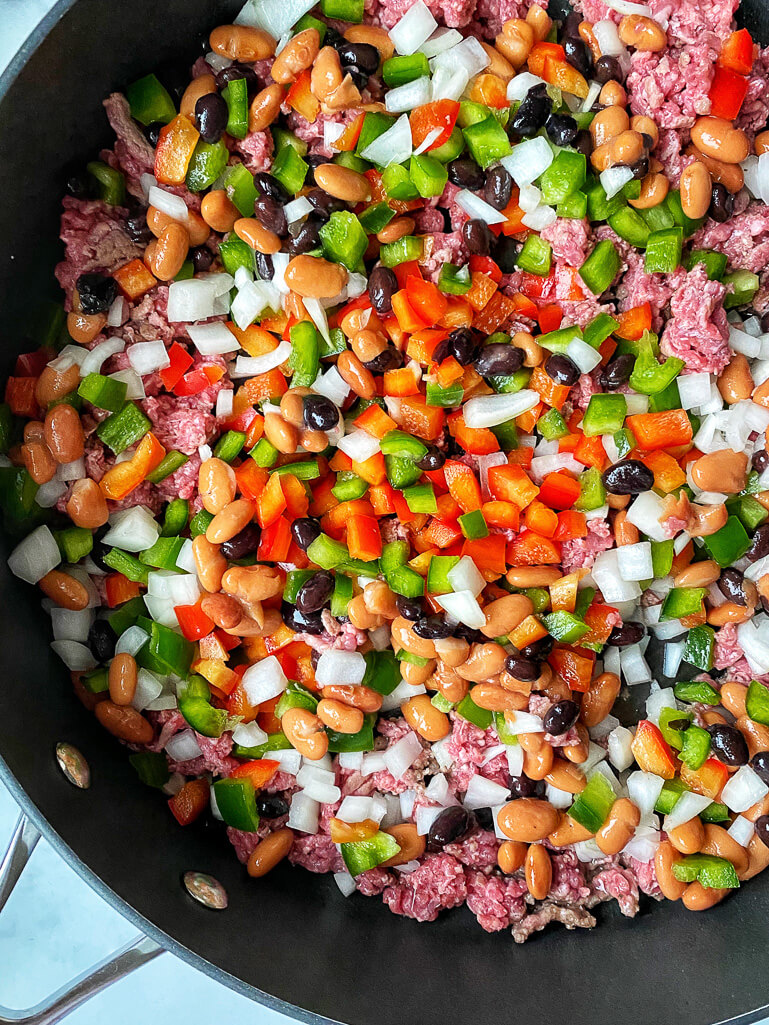 In a large hot skillet, dutch oven, or pot over medium heat add 1 lb lean ground beef and break apart with a spatula while it's cooking. Once the ground beef is broken up add 1 cup of beans, diced green pepper and red bell pepper, diced onion, 4-5 garlic cloves, and season with salt and pepper. While it's all cooking together smash up the beans a bit with the ground beef with a spatula.
I typically use lean ground beef, but if I'm using something with higher fat content I drain the ground beef before adding the beans and vegetables.
Can I use ground turkey?
Yes, it won't taste exactly the same, but I've switched out the beef for turkey before and we all still really enjoyed it!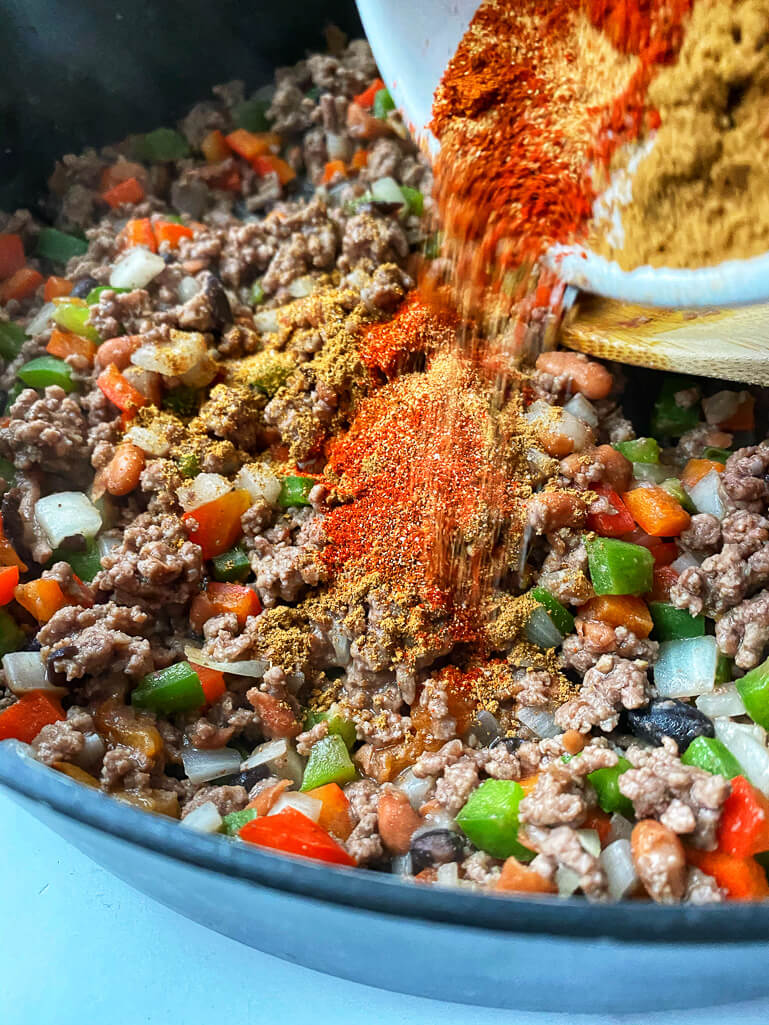 When the onions and peppers are soft and ground beef is browned add in the spices, let the spice mixture cook with the meat for about a minute while stirring. I like to make up my own chili seasoning mix because that means I can make it just the way that I like it.
My chili seasoning mixture:
Note: I would start with 1 tsp sugar replacement and then adjust after you add everything else and it cooks for a bit. I usually stick with just 1 tsp, but sometimes I add a couple extra pinches depending on my mood. Chili can be a very mood forward recipe.
And y'all I know some people have got some "beef" with Lawry's, but I do not and never will. It's a classic seasoning that you'll always find in my spice cabinet because I grew up on it. If you're not a big fan of it or don't have it on hand you can replace it with kosher salt and pepper to taste or another all purpose spice blend that you think would be good in its place, BUT I'd tread lightly with a different spice blend.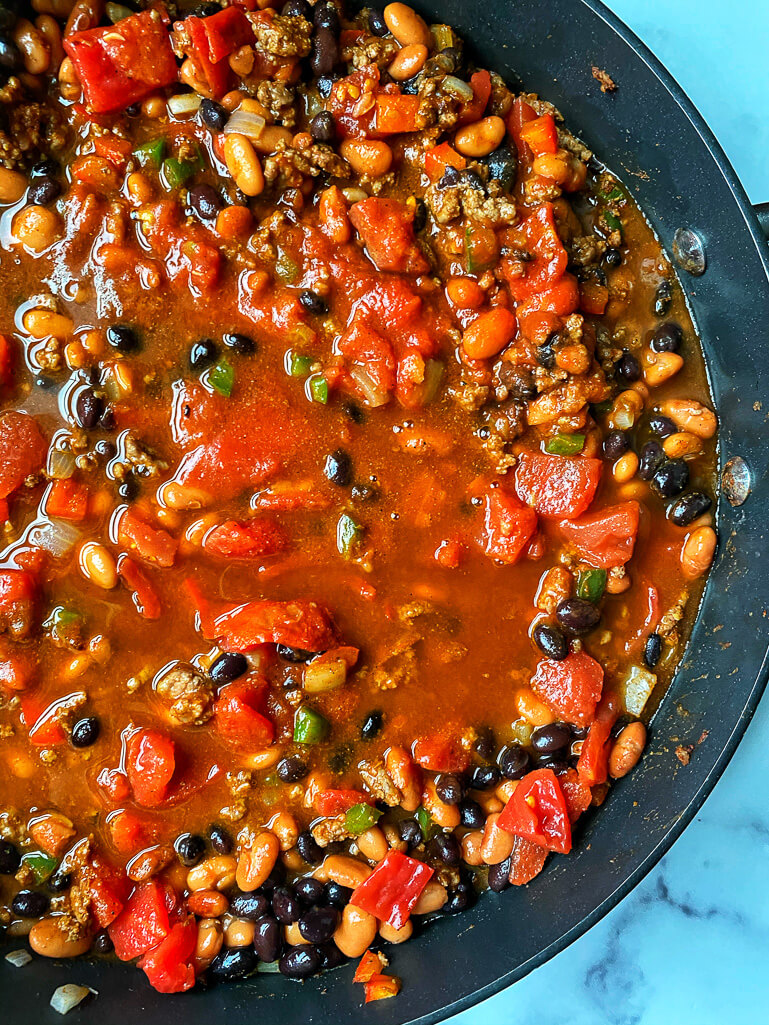 Alright so now we get to addin' everything else and we're pretty much done here. You're going to add the rest of the beans, 2 tbsp Worcestershire sauce, a 8 oz can tomato sauce, 1 can Ro*tel (diced tomatoes and green chiles.. I would stick to MILD or ORIGINAL RO*TEL and not the "hot" version unless you like spicy chili!), and 1-1/2 cups beef broth. Bring to a boil then return it to a simmer. Cook uncovered for about 20-30 minutes stirring occasionally and letting the liquid reduce a bit.
What kind of beans to use?
Pinto Beans
Black Beans (not the first choice of beans in chili for most, but I think they make chili even better)
Red Kidney Beans
mix of all three
a mix of Pinto and Black beans (my preference because I despise Kidney Beans)
mix of Pinto and Red Kidney (a more "classic" combination)
So… Do you like your chili plain jane? No frills? No fuss?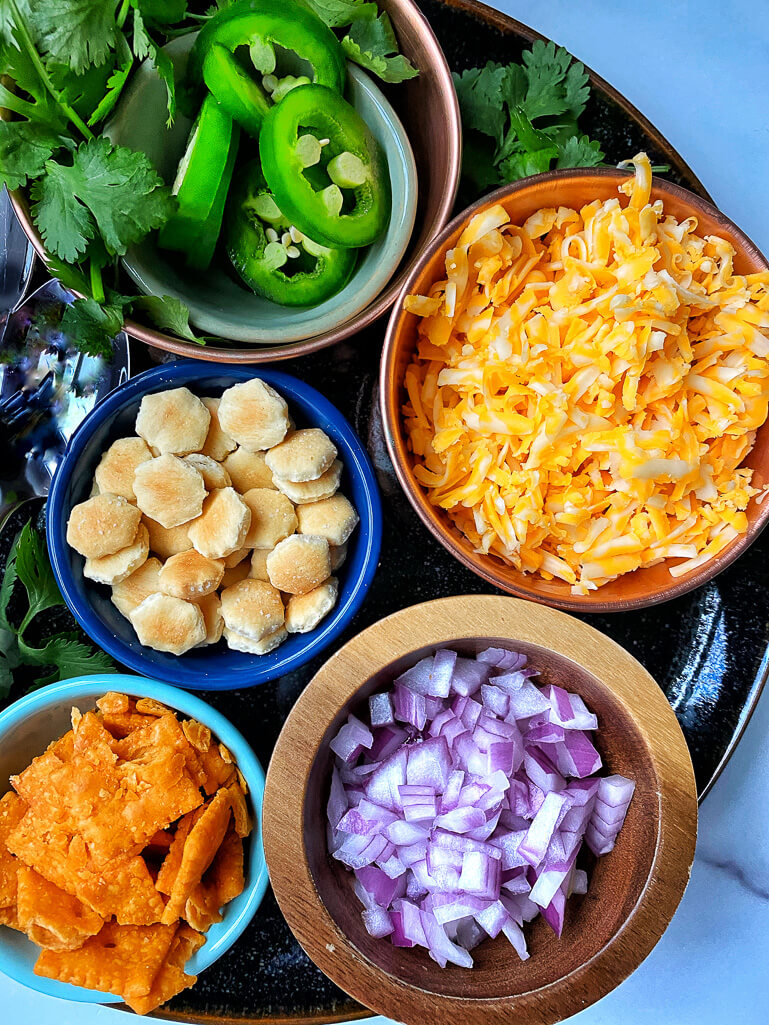 When it comes to chili- I want the fuss! I love making a "chili bar" just set out toppings, bowls, spoons, and maybe a pan of cornbread and let your friends and family go to town. So easy!
The Best Chili Toppings:
What is the secret to great chili? Well, for me. it's the toppings! Adding all sorts of textures and extra flavors MAKES it for me.
Oyster crackers
Diced Red/White Onion
Cheez its (this is my new chili topping addiction that was suggested by a reader.oh myLord! it's good!)
Cilantro
Fresh or pickled jalapeño slices (I actually prefer pickled)
Fritos or tortilla chips (not pictured because somebody :cough Eric: ate the entire bag)
Shredded Cheddar cheese, Colby Jack, Pepper Jack, or Monterey Jack (or a combo of all of the above if you really wanna party)
Low Fat Greek Yogurt or Sour cream
diced Avocado
How do I make chili taste better?
If you want to make chili taste better. The best way to go about it is to make it a day ahead and let it set in the fridge then heat it back up on the stove. Letting all those flavors meld together is such a good way to make the best chili recipe ever! I often meal prep chili for this reason. It's only gets better!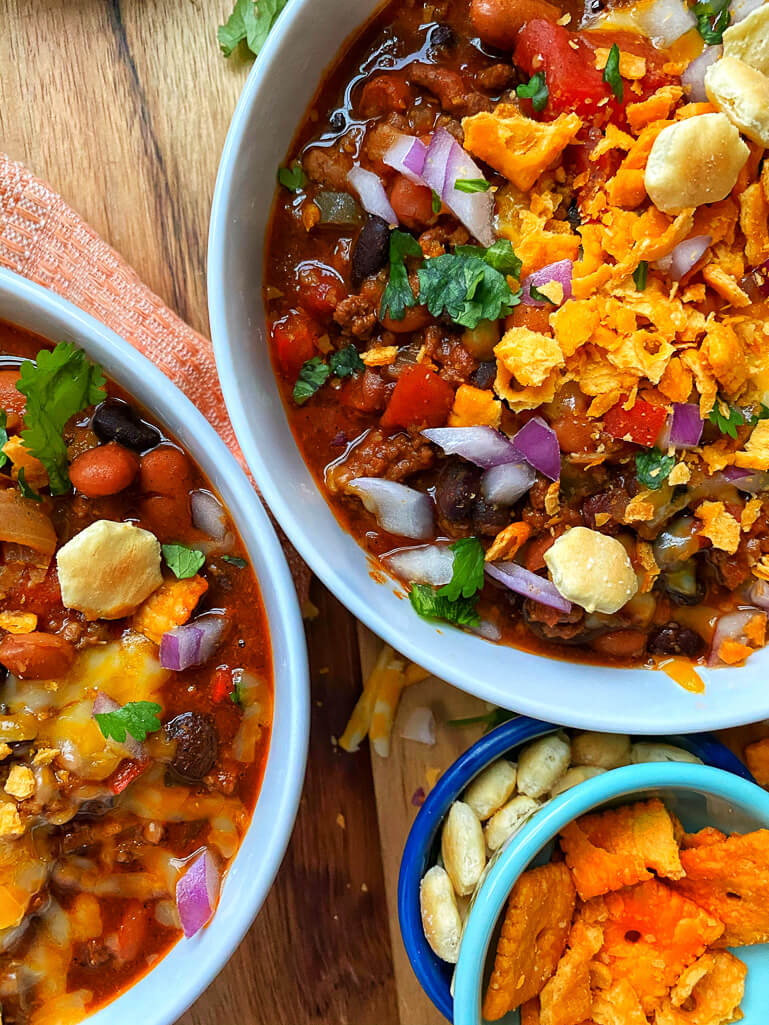 Hello gorgeous. Come to mama. All we need is some cornbread, y'all. This really is the best beef chili!
Can I make this in the crockpot?
Yes you can totally turn this into crockpot chili recipe! Brown the ground beef and cook the onions and peppers in a separate pan then add everything into the crockpot. Cook on low for 7-8 hours or high for 4-5 hours.
Can I meal prep this chili recipe?
Absolutely! I actually recommend it. Chili tastes better and better each day that passes. It makes the BEST leftovers. Just be sure to store it in an airtight container for up 5 days.
Is chili freezer friendly?
Definitely! I always make a double batch and freeze half for a rainy day when I need a break from cooking.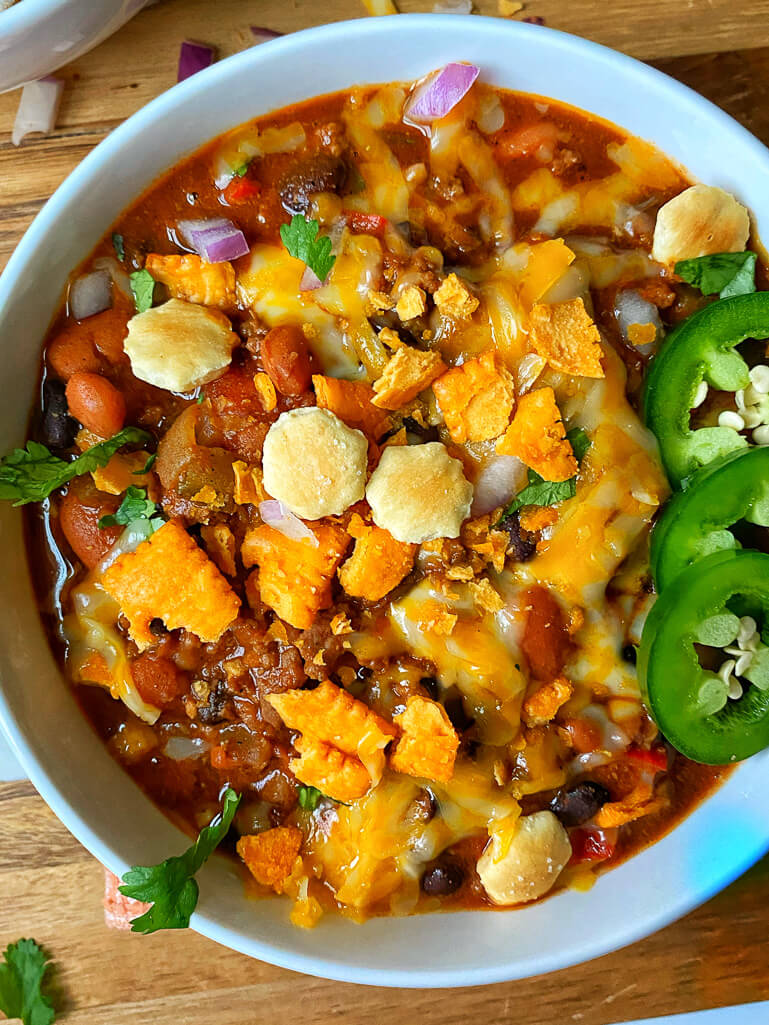 If you make this recipe for the Best Classic Beef Chili be sure to let me know how it went in the comments below!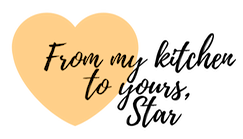 Print
Best Classic Beef Chili
A traditional and easy chili recipe that uses lean ground beef, beans, peppers, onions, tomatoes, and a homemade blend of delicious spices.
Materials
1

lb

lean ground beef

(i use 93% lean 7% fat)

1

large

yellow onion

diced

2

medium

peppers (red or green)

diced

3

cups

canned beans (drained, but not rinsed)

(i use a mix of pinto and black but you can use whatever type of canned beans you love in chili)

2

tbsp

Chili Powder

(i use McCormick. Be sure to use a chili powder that you know and love because some chili powders can be extra spicy and throw everything off!)

1

tbsp

Cumin

1

tbsp

Garlic Powder

1

tsp

Smoked Paprika

1/4

tsp

Oregano

1½

tsp

Lawry's Seasoned Salt

1-2

tsp

sugar replacement

(start off with just one tsp. add some if you think it needs it! I use whole earth sweetener or swerve)

1

can

Ro*tel Mild or Original (diced tomatoes and green chiles)

8 oz

can

tomato sauce

1½

cups

beef broth

2

tbsp

Worcestershire sauce

salt and pepper, to taste
Optional (delicious) toppings:
sliced fresh or pickled jalapenos

fritos/oyster crackers/cheez its

diced red onion or green onion

low fat sour cream or greek yogurt

shredded cheese

Frank's Hot Sauce
Instructions
In a large hot skillet or pot over medium high heat add ground beef and break apart with spatula. When the ground beef is mostly broken apart add onion, peppers, and one cup beans and season a bit with salt and pepper. Continue to cook and use spatula to smash the beans a bit.

When the ground beef is browned and the onions and peppers are softened. Add chili powder, cumin, garlic powder, smoked paprika, oregano, lawry's seasoned salt, and sugar. Stir to coat well and cook for about a minute.

Add the rest of the beans, beef broth, ro*tel (with any juices from the can), tomato sauce, and Worcestershire sauce. Bring to a boil then reduce to simmer and continue to cook for 25-30 minutes uncovered. Top with any desired toppings and enjoy!

**While this recipe is made to be eaten the day of it tastes even better when you let it sit in the fridge overnight and then heat it up again the next day.
Notes
Serving size: 1 and 1/4 cups
272 Calories, 6g fat, 2g saturated fat, 31g carbohydrates, 7g dietary fiber, 7g sugar (0g added sugar, 0g sugar alcohols) 24g protein
WeightWatchers Points: 3 Points