Slow Cooker Beef and Tater Taco Chili
This post may contain affiliate links (meaning I earn a small comission if you purchase an item through a link I provide) I only provide shoppable links to items I love and are helpful. As an Amazon Associate, I earn from qualifying purchases.
Alright, alright, alright! The Slow Cooker Beef and Tater Taco Chili creation that I've got for ya today is not bad. In fact, we think it's really, really pretty darn good. It might even be a recipe that Barney would have probably described as "Legen… wait for it…… dary!" I hope you got that reference. But if you didn't it's okay, we can probably still be friends. Extra credit for everyone who knows what it is, okay?
So let's talk. Y'all know about my Cowboy's Meal, right? Well if you don't, please make that too – it's a family favorite. In a nutshell, this Slow Cooker Beef and Tater Taco Chili is Cowboy's Meal on crack and in chili form. And We love it. And, We've eaten it every single day for two weeks now, and I'm making it again tomorrow. Because since the weather has turned chilly, we're not sure if we can live without it! Am I being a little extreme? Yeah, maybe. Either way, you're gonna love this one, folks.
It's got beans, potatoes, ground beef, corn, rotel, and a crazy-delicious mix of spices that'll put a taco seasoning packet to shame. So don't get a taco packet, because I promise it just doesn't taste as good! (By the way… yesssss you can swap out the ground beef for ground turkey. But Eric's on his "I want red meat" war path again. So until he calms down I'm doing a lot more with beef.) The best part about this recipe is that it takes just a few minutes of prep, which includes browning up the ground beef and using the can opener. Pretty easy, right? Anyone can make this, and everyone can enjoy it!
Like I said, we've been eating this on and off for a couple weeks now because it's so easy to prepare, and it's just so darn good! Last month was a little too crazy for comfort – I found myself grabbing the slow cooker and throwing stuff in it on the daily. So honestly, this recipe was created because I was feelin' tired and lazy, and we just needed to not eat Taco Bell.
Story time. Eric is a Chili Elitist. He has serious issues when I call something chili and it's not a classic chili… so when I told him the name of this soup, he got pretty defensive. We ended up in a pretty serious debate about what chili should be. Long story short- he ended up on the couch that night. HA! Just kidding… not. Yes I am.
For real though, what do you guys think? For a recipe to officially be called chili, must it be limited to a set of basic ingredients such as beans, tomatoes, and beef… or can we just live in the now, and cook what we want how we want? I guess that's a debate for another day.
Now let's get in the kitchen!
Start off by browning a pound of ground beef in a skillet over medium heat. Add a pinch or two of kosher salt, and some freshly cracked pepper. Drain off any grease after it's finished up cooking.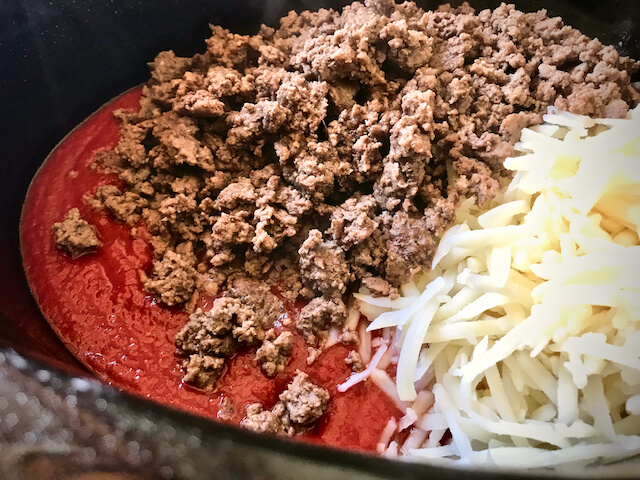 Now just throw a bunch of stuff into your Slow Cooker. It really doesn't matter in which order you do this, but I start off with the can of tomater sauce, the ground beef, three cups of refrigerated or frozen hash browns, a can'a black beans, a can'a refried beans, a can'a rotel, and two cups frozen corn.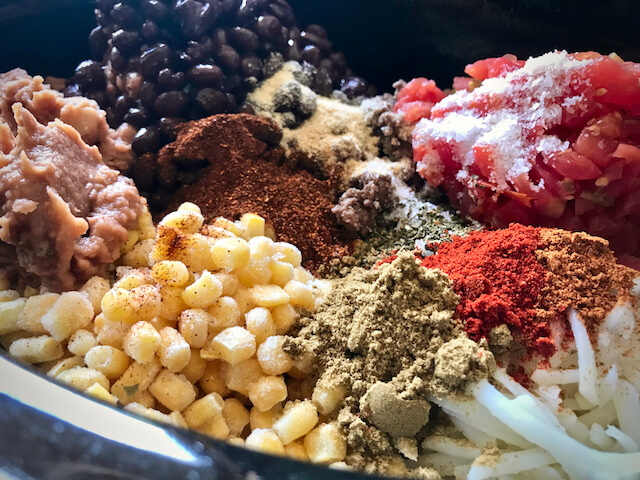 Then add the best part- the spices. That's really what chili is all about, right? You'll add 1.5 teaspoons of onion powder, 1 teaspoon garlic powder, 2 teaspoons chili powder, 1/2 teaspoon oregano, 2.5 teaspoons of cumin, 1 teaspoon oregano, 1/2 teaspoon smoked paprika, and 1.5 teaspoons of Lawry's Seasoned Salt.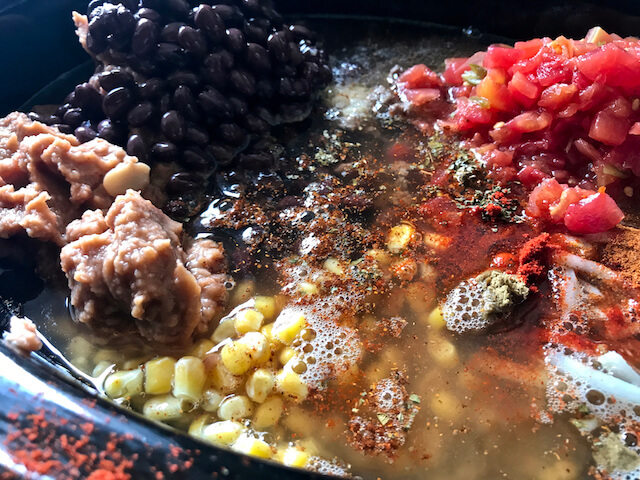 Then you're gonna add two cups of beef broth, preferably low sodium if ya got it on hand.
Stir it all up really good, pop the cover on, and let it sit for about 8 hours on low, or 4-5 hours on high.
Then just Salt & Pepper it to taste before serving!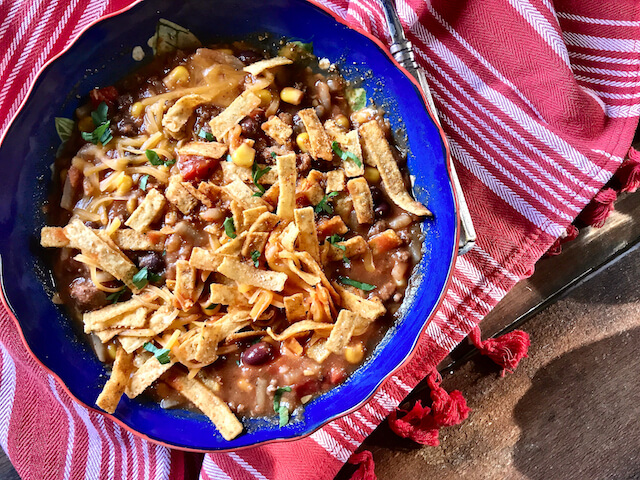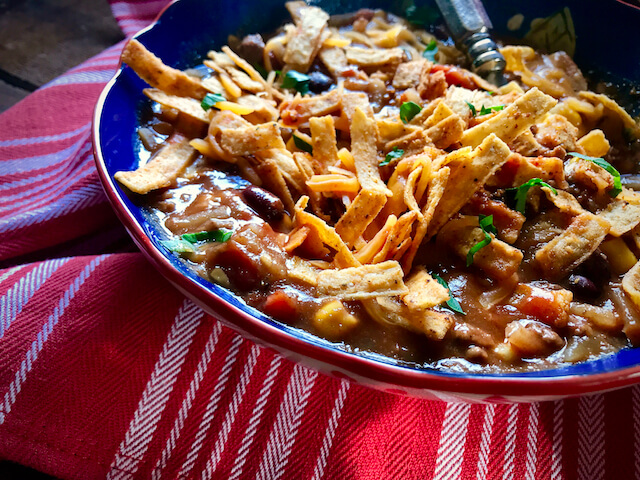 In true soup and/or chili fashion, I love toppings. I need texture, and I pretty much always need cheese. I kept these toppings pretty simple – I just grabbed some tortilla strips you can find these in the grocery store near the croutons), a few pinches of cheese, and just a smidge of cilantro.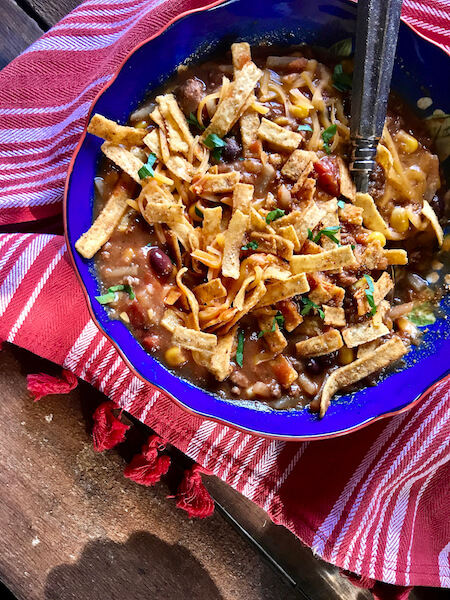 And there you have it friends – it's delicious, healthy, easy, and perfect.
Enjoy!
With love from my kitchen to yours,
Star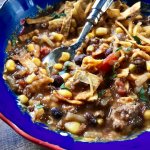 Print
Slow Cooker Beef and Tater Taco Chili
A delicious and easy slow cooker chili full of black beans, refried beans, tomatoes, corn, ground beef, and potatoes with a Tex-Mex taste.
Materials
1

lb

lean ground beef, raw

93% lean, 7% fat

3

cups

shredded or diced hash browns

frozen or refrigerated, i use simply hash browns

1

15 oz can

non fat refried beans

1

15 oz can

black beans

drained, but not rinsed

2

cups

corn

frozen, canned, or fresh

1

15 oz can

tomato sauce

1

11 oz can

rotel

mild

2

cups

low sodium beef broth

1.5

tsp

onion powder

1

tsp

garlic powder

2

tsp

chili powder

1.5

tsp

Lawry's Seasoned Salt

1 tsp kosher salt will work as well

2.5

tsp

cumin

1

tsp

oregano

1/2

tsp

smoked paprika

a pinch or two of red pepper flakes or hot sauce

optional, depending on spice preference

salt and pepper to taste
Instructions
In a skillet over medium heat, sprinkle salt and pepper on ground beef and cook until no longer pink.

Place ground beef and all of the ingredients above into slow cooker. Stir together until combined well and cook on low for about 7-8 hours or on high for 4 hours. Salt & Pepper to taste. Top with cheese, tortilla strips, fresh cilantro, jalapeños, or whatever sounds good! Enjoy.
Notes
Serving size: 1.5 cups Calories: 353. Total fat: 4.7g, Saturated Fat: 1.5g, Carbohydrates: 34.5g, Fiber: 6g, Sugar: 5g, Protein: 18g WeightWatchers Points: 4 Points