This post may contain affiliate links (meaning I earn a small comission if you purchase an item through a link I provide) I only provide shoppable links to items I love and are helpful. As an Amazon Associate, I earn from qualifying purchases.
Hey Guys! I just want to start by saying that I'm so very thankful for the support and love that people have shown this website. I've had to take a little break from it these past couple weeks due to another little business adventure of mine, but this is truly my first love. So I'll be dedicating much more time to this again.
This past weekend My mom, my sister and I had the opportunity to showcase some of our crafts in a bazaar downstate. It was so much fun! It was a lot of work, but also very rewarding. Now I'm taking a small break from the whole bow and headband making world, so that I can focus on my family, cooking, blog, and Pepper's first birthday party!! I've been seriously putting off party plans, mostly because I cannot believe my sweet baby is going to be a one year old in a month. I just can't… where does the time go? I feel like I was pregnant for 700 years, and now her first year has gone by in like 12 days. I'm only almost crying while writing this, but it's okay.
On to the recipe! This is a serious favorite in my home. This one's quick and easy- It takes only about 5 minutes of preparation, if even that. Which makes this one of my favorite go-to weeknight meals, especially when I've got things going every which way, and my brain can't focus! Pair them with a nice big side salad with all the fixins, or some steamed veggies, and you've got yourself a perfect meal in less than 20 minutes.
Disclaimer: It may be extremely hard to eat only two roll ups!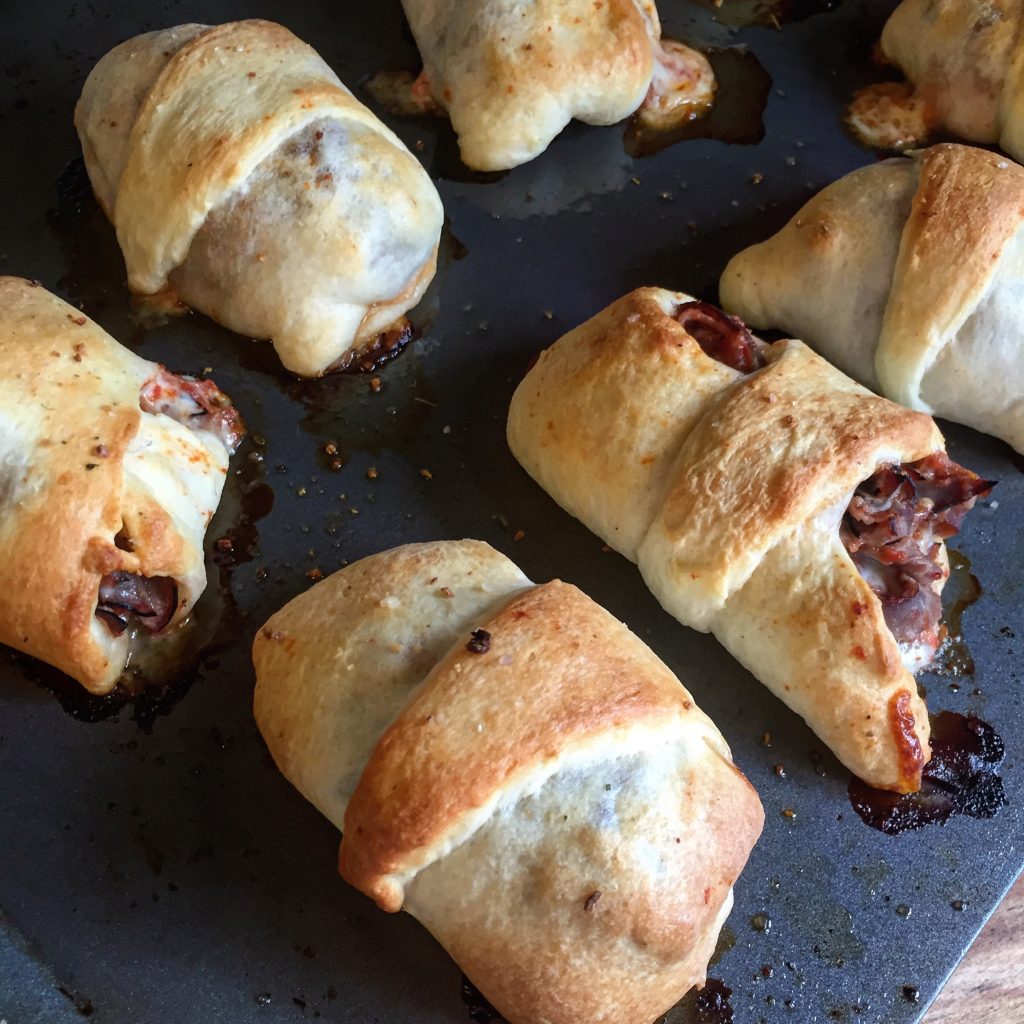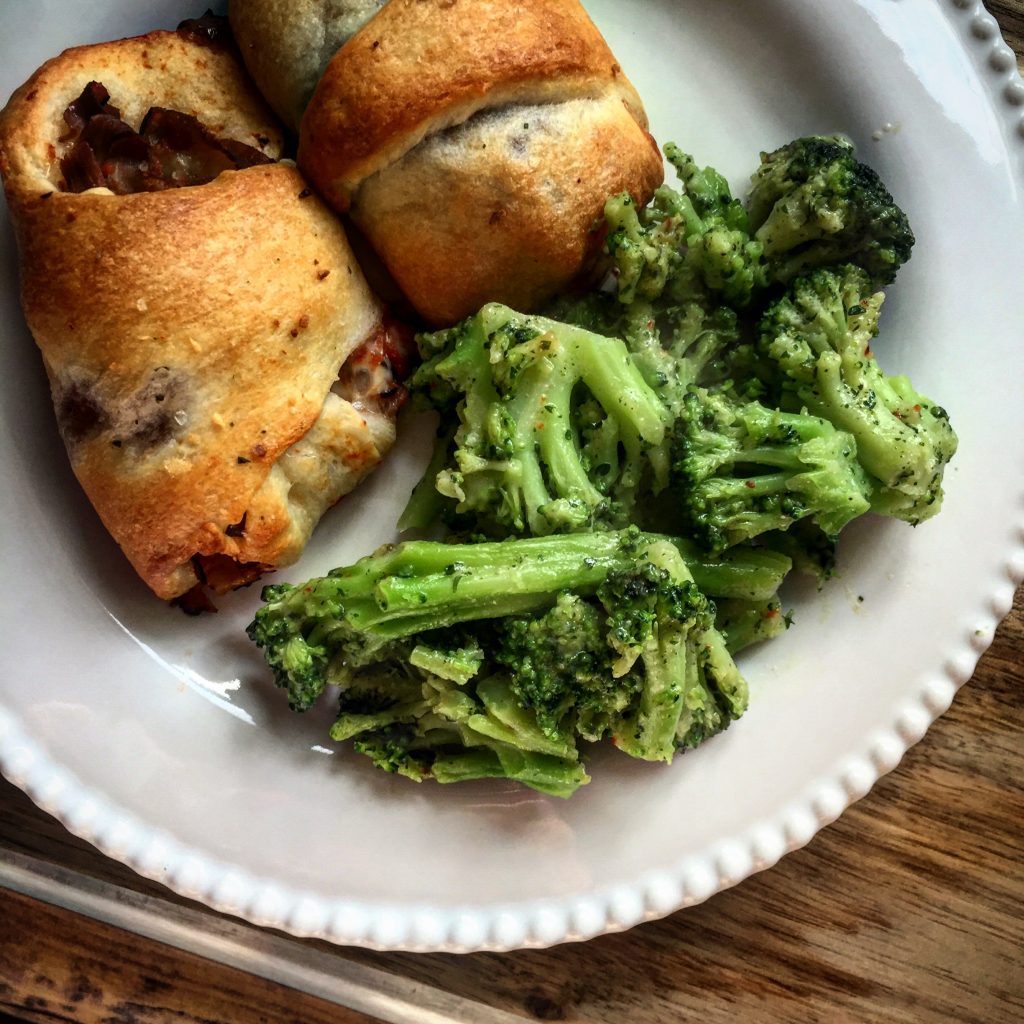 I use my zero Smart Point Marinara sauce in this recipe! You can also make extra for dipping. I was down to my last little bit, and didn't have enough to dip this time while taking photos. It's okay though, there was just enough inside to keep my sauce lovin' self satisfied.
I hope you enjoy! I also hope this recipe helps you out on those nights where the drive thru is soo tempting because you just don't have the time to spend in the kitchen!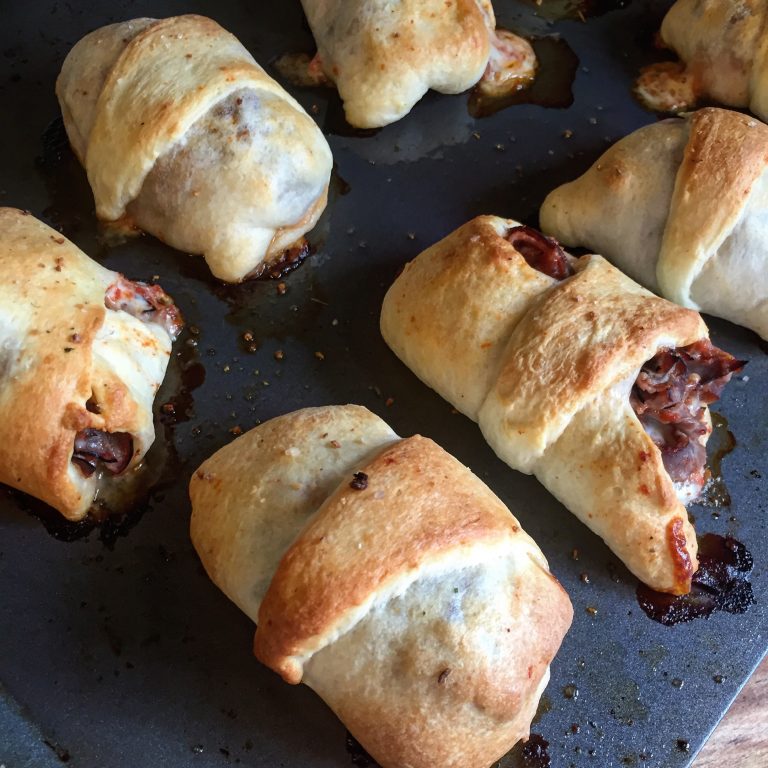 Print
Beef Roll Ups
A beefy, cheesy, saucy, easy recipe!
Materials
6

oz

Deli Sliced Roast Beef, chopped

(I use either a store brand that is 98% fat free, or Oscar Mayer Selects Slow Roasted)

3

oz

shredded part skim mozzarella cheese

1

can Pillsbury refrigerated reduced fat Crescent Rolls

(8 rolls)

3/4

cup

marinara sauce

1/2

tsp

garlic salt

cooking spray
Instructions
Preheat oven to 400 degrees. Lightly spray a cookie sheet with cooking spray.

In a medium bowl add shredded mozzarella, chopped roast beef, marinara sauce, garlic salt, and pepper. Mix until the ingredients are combined well. Set aside.

On a clean surface, roll out your crescent rolls. Take a knife and cut each one apart so that they don't tear. Take a rolling pin, a jar, cup, or use your hands and press and/or roll out the triangles so they become nicely spread out and a bit larger.

Take each triangle and spoon the roast beef and cheese mixture evenly on the widest part of the triangle.

Take each triangle in hand and roll up from the wide part to the top point.

Set on cookie sheet, spray with cooking spray and sprinkle garlic salt on top.

Bake for 10-12 minutes, or until golden brown.
Notes
Serving: 2 Roll Ups
WW: 6 Points
270 Calories 14g fat, 29g carbohydrates, 7g sugar, 1g fiber, 16g protein