Bacon, Egg, and Cheese Biscuit
This post may contain affiliate links (meaning I earn a small comission if you purchase an item through a link I provide) I only provide shoppable links to items I love and are helpful. As an Amazon Associate, I earn from qualifying purchases.
I've got your new favorite breakfast biscuit recipe here for ya today! What better than a Bacon, Egg, and Cheese Biscuit? Answer: One that's a lil better for ya! Yaaaaas.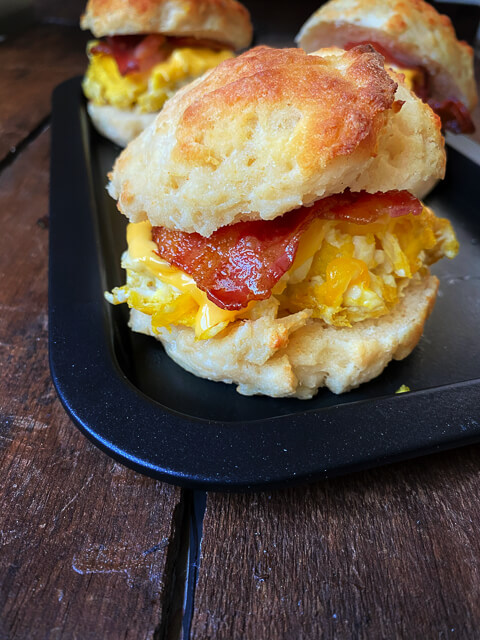 A few things:
Bacon
Biscuits
Loaded with protein because the biscuit is literally half greek yogurt. What?? Ya heard that right!
Skinny-ish
Make ahead AND freezer Friendly
One of the best parts about this recipe is that it's SUPER easy to whip up. It does take just the tiniest bit of upper body strength while mixing the dough (which I don't have, haha!), but it takes just minutes to get it mixed up and on a pan in the oven. I feel like I should warn you that these are surely not your grandma's buttery flaky biscuits, but they are a REALLY, REALLY spot on delicious and healthier substitute. Plus?!? they are packed with protein which helps keep ya fuller a bit longer and I can always use help in that department. #whyamialwayshungry
ya'll need to make these soon. They make for the perfect make ahead grab and go option for crazy busy week days, but they also are the best for weekend breakfast/brunch!
How to make a Bacon, Egg, and Cheese Biscuit: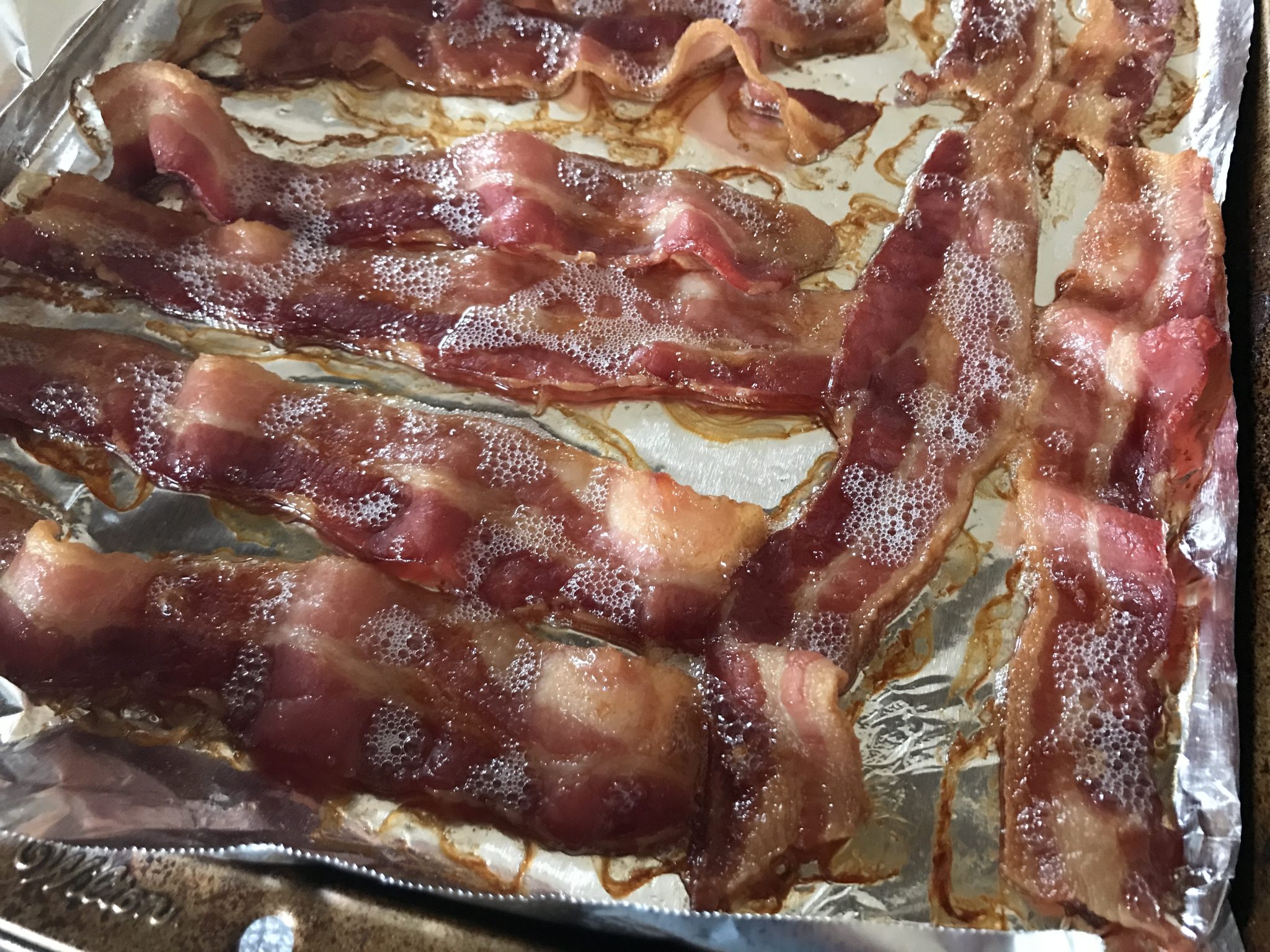 Preheat your oven to 400 degrees and throw some center cut bacon on a sheet pan (covered with foil for easy clean up and so you can reuse the pan for the biscuits in a bit here) in the oven for about 14 minutes (or until bacon is crispy).
You can make it on the stove top too, but I have found that this is the quickest way to get a lot of bacon done at once.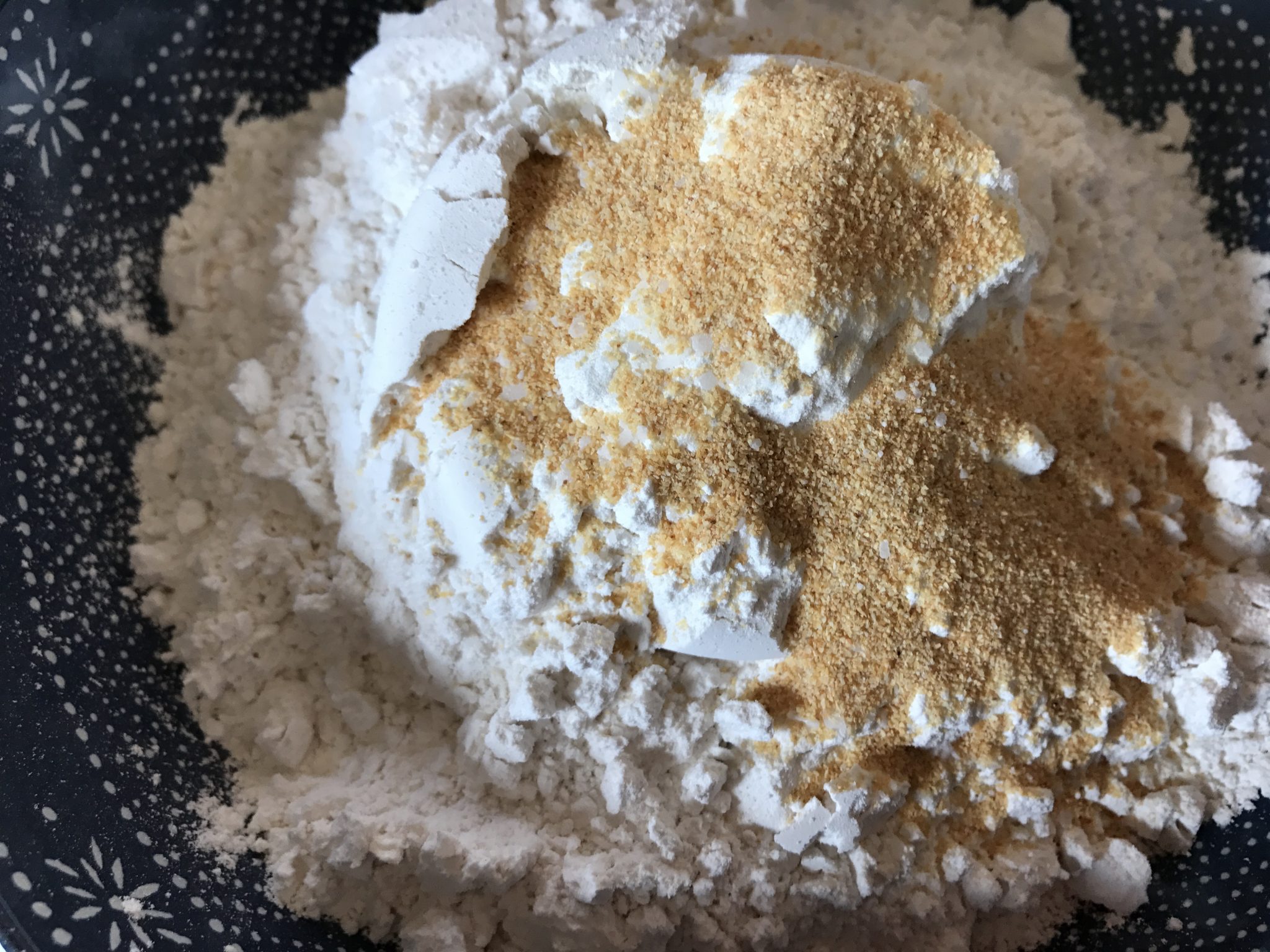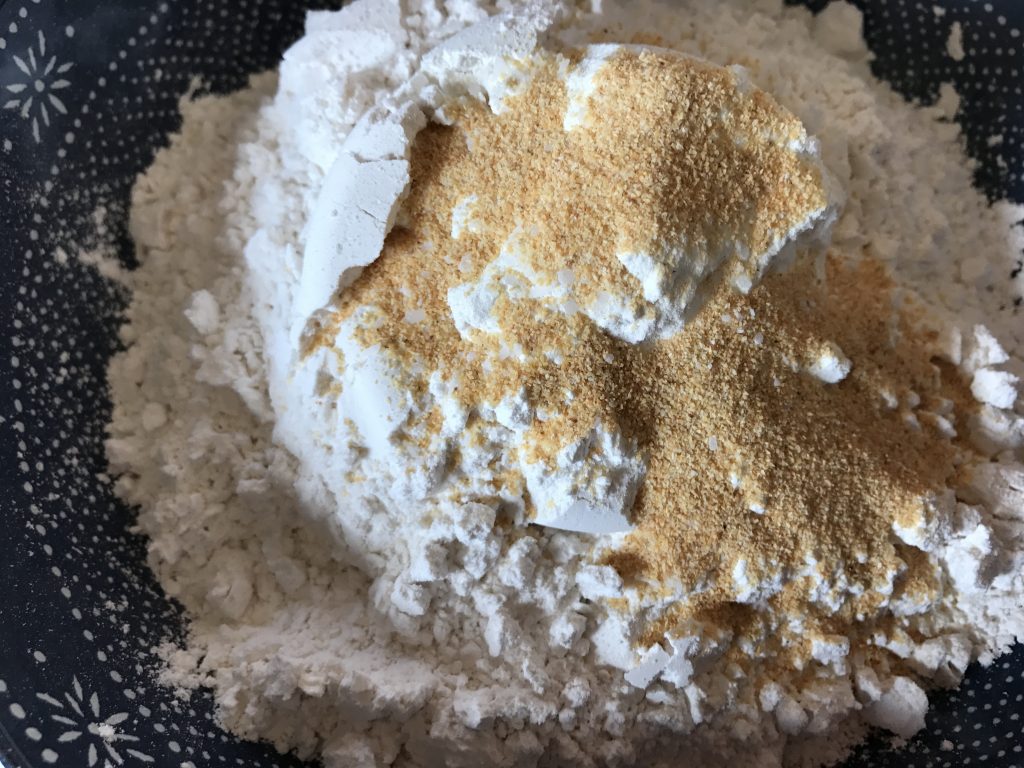 While the bacon is cooking grab a bowl and add 2 cups self rising flour, 1 tsp garlic powder, and 1 tsp kosher salt. Stir together.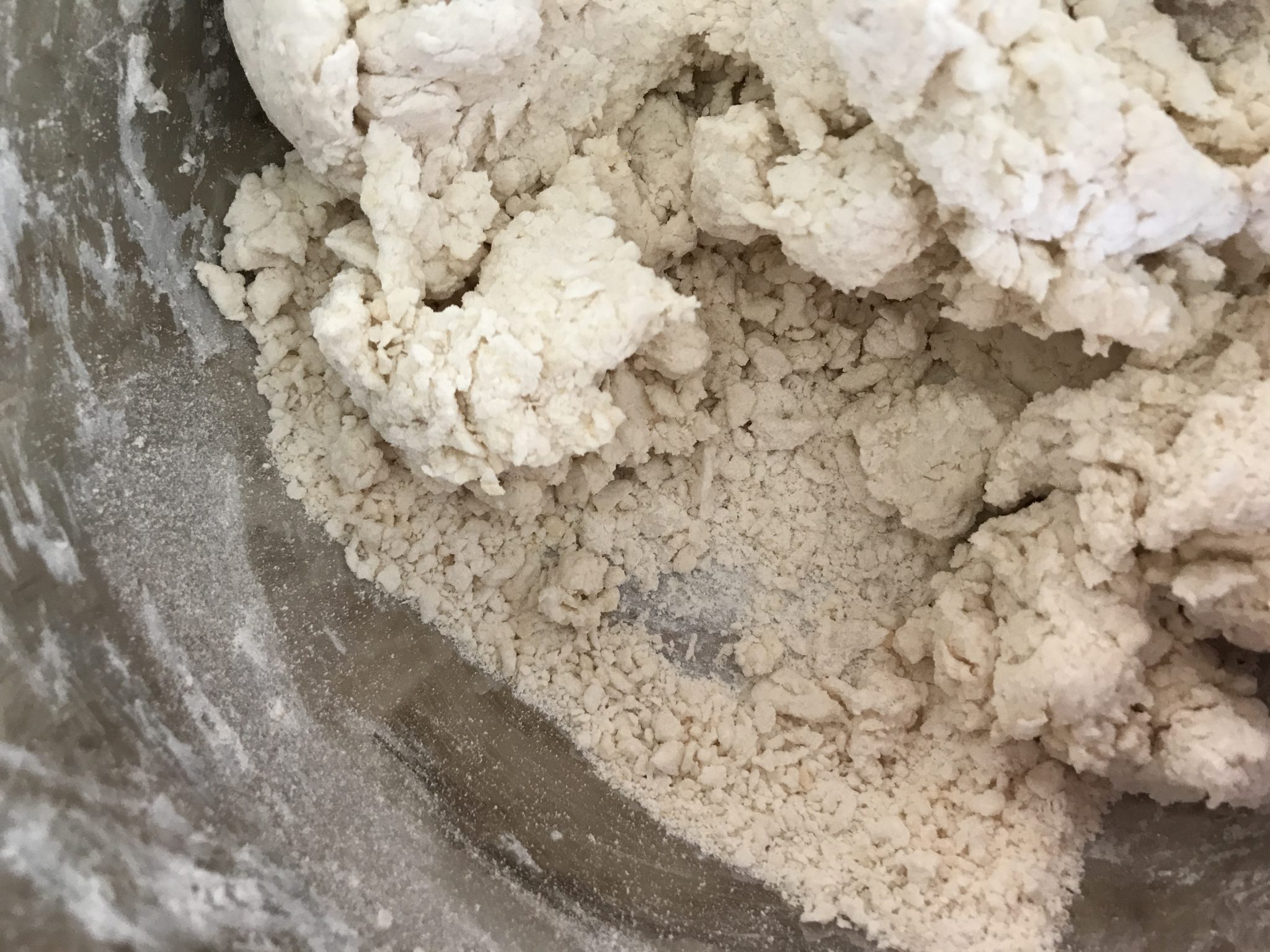 Add in 2 cups of non fat greek yogurt and mix with a spoon REALLY, REALLY well. Do ya see those crumbly pieces at the bottom? You're done mixin' when they are nowhere to be found.
Keep mixing until you feel like your arm is going to fall off.
And you're done mixing basically when you need a new arm.
Just kiddin'. It really isn't that bad. I'm a whiner. When there are no more flour bits & pieces and the sides of the bowl are clean-ish. You're good to go!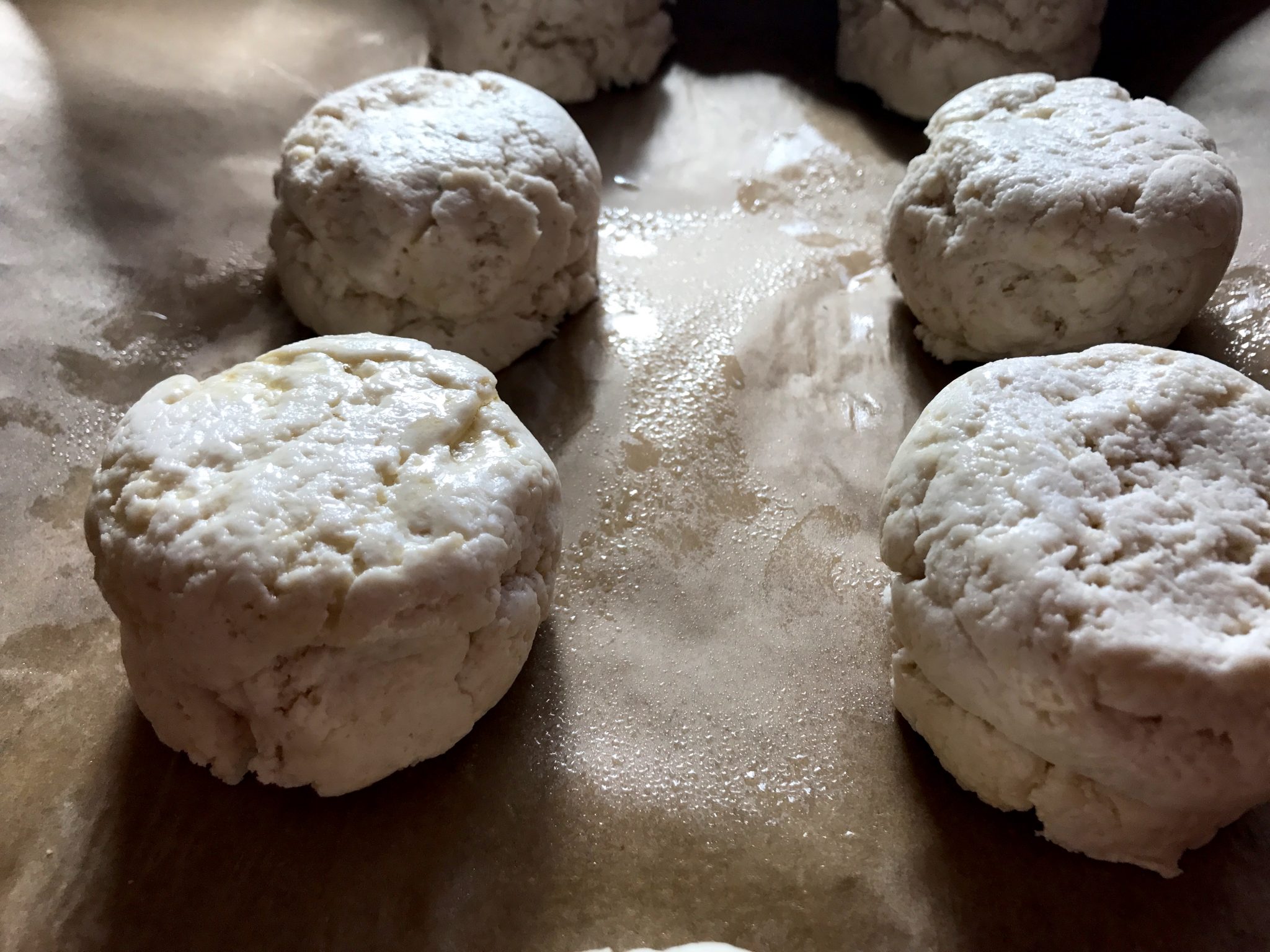 Now, (this part is kind of important) You'll need a 1/3 cup measuring cup for the larger biscuit size. Spray the measuring cup with cooking spray to make it easier to "drop" the biscuits. You might need to spray it a couple of times. Scoop the dough into the measuring cup and drop onto a baking sheet that is lined with parchment paper. Make sure you drop them about'a inch apart. It'll make 9 drop biscuits. You can kind of smoosh them just a bit with your fingers to look just like a regular ol' biscuit.
My favorite part of these are that they're so forgiving online cut biscuits (which are amazing in their own right, but drop biscuits are so much easier)!
Spray the tops of biscuits with some olive oil or butter cooking spray to help them get some brown on top while baking.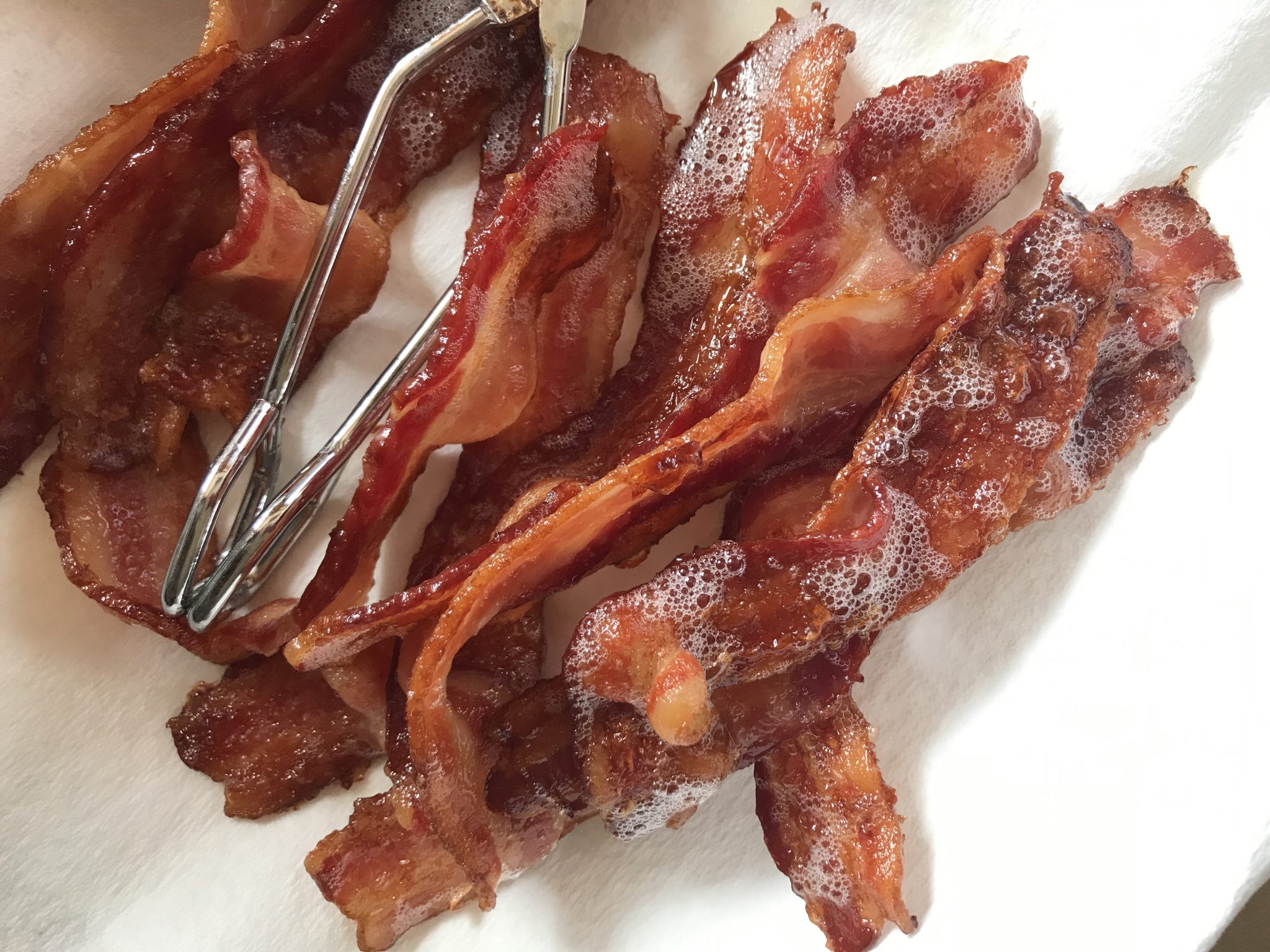 Now your bacon should be done, take it out and lay it on some paper towels to sop up a bit of the extra grease.
Pop your biscuits into the 400 degree oven and let'm cook for about 24 minutes, or until tops are lightly golden brown.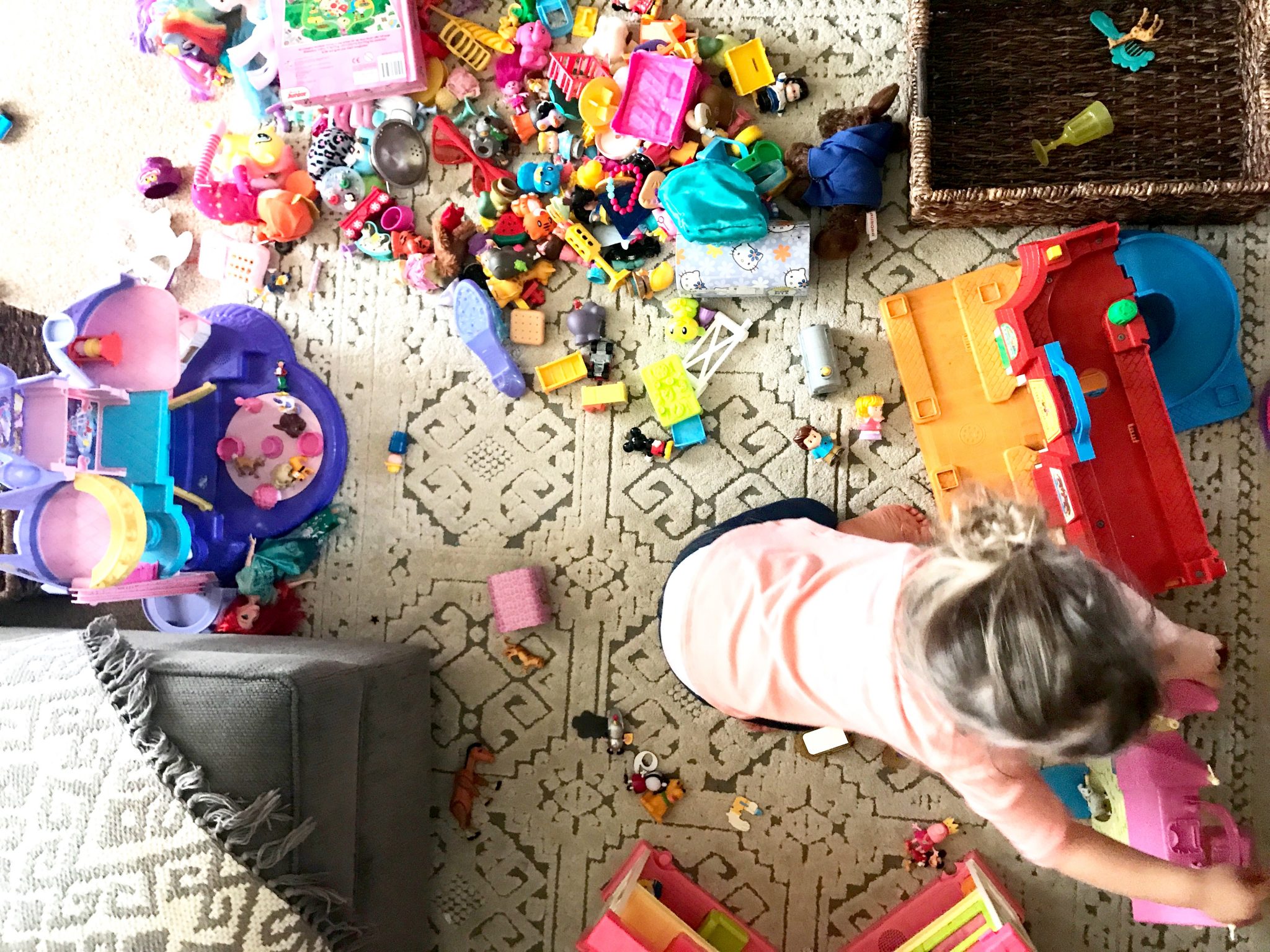 If you're wondering what Pepper is usually doing while I am photographing recipes. The answer is this: making a giant mess.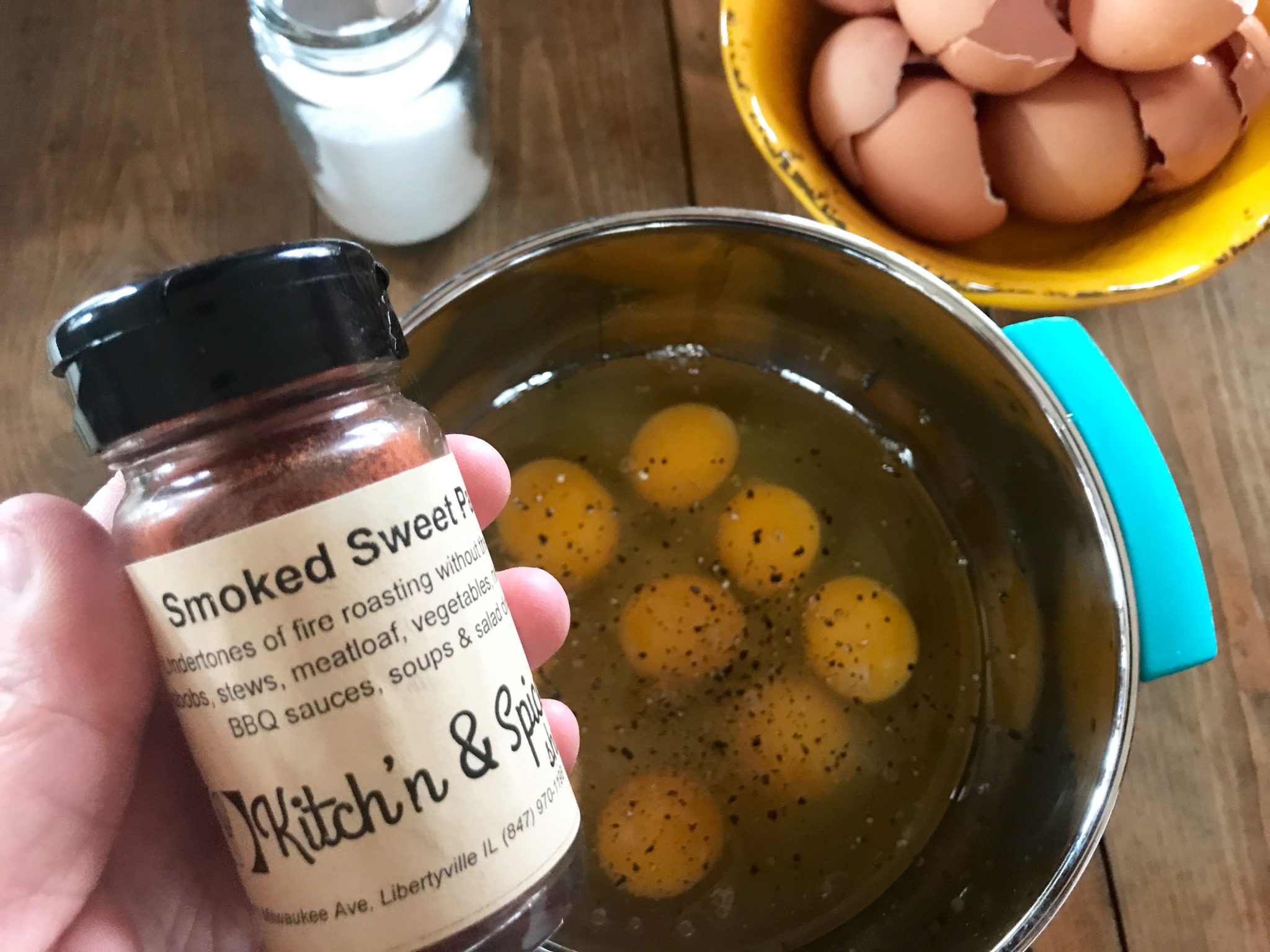 This might seem like there's a lot going on, but trust me it's a really smooth process and the outcome is incredible so it's well worth the few extra dishes and that's comin' from your girl who hates extra dishes.
Now, while you've got your biscuits in the oven get your eggs ready. I normally wait until the biscuits have about 5-10 minutes left to start the eggs just so they aren't sitting for too long, but do whatever works for you. If you're making these to throw in the freezer you can make'm right away and let'm sit and cool. Take 8 eggs and add a couple pinches of salt, a pinch of pepper, and I personally love to add a couple pinches of sweet smoked paprika. If you don't have it, trust me, it's not necessary, but it does add a bit of magic to your eggs if ya do!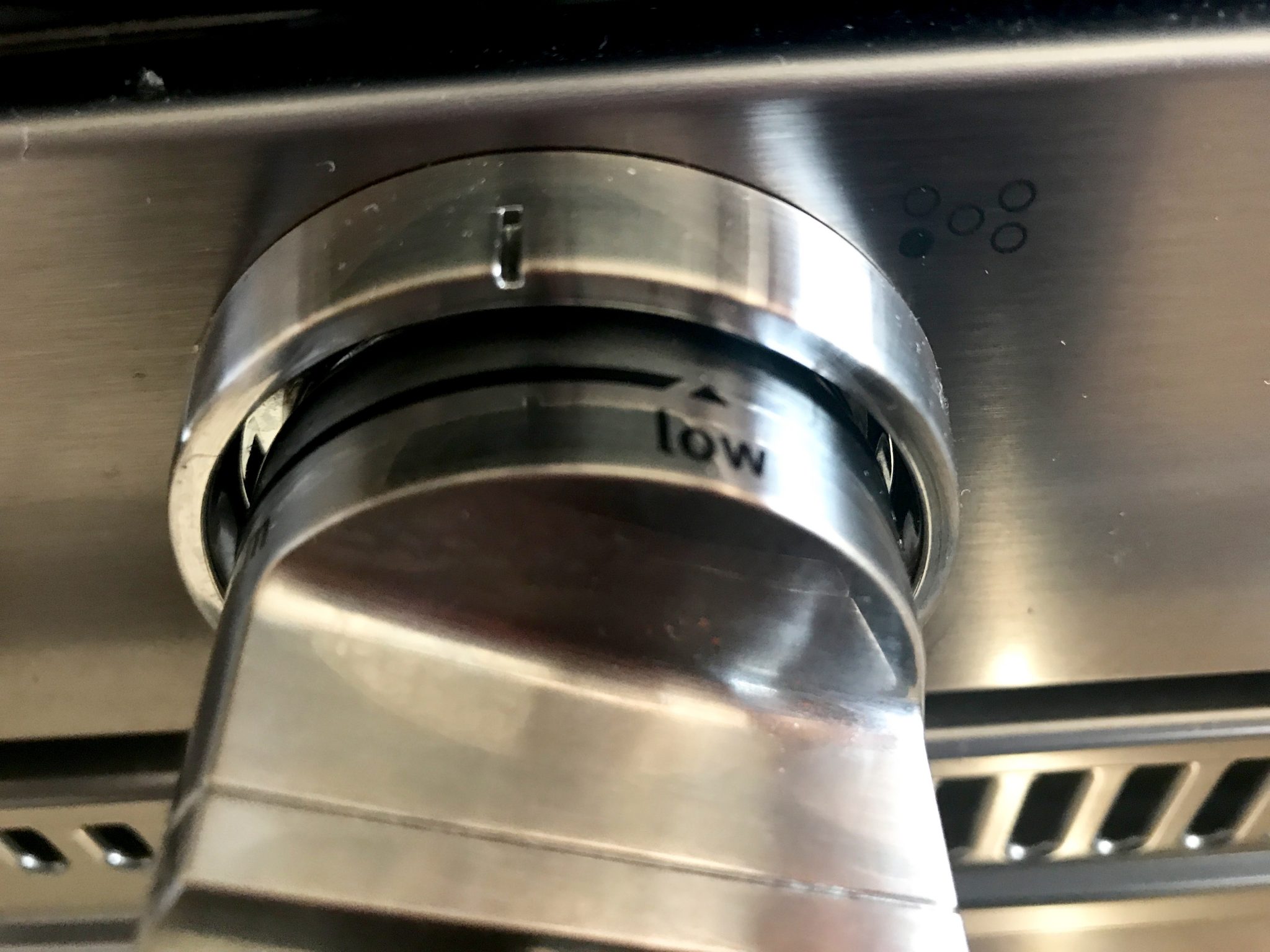 First step to delicious eggs: BURNER ON LOW. No if's, and's or, buts. Turn it on low and don't question me or yourself. Let your skillet warm up for a couple of minutes.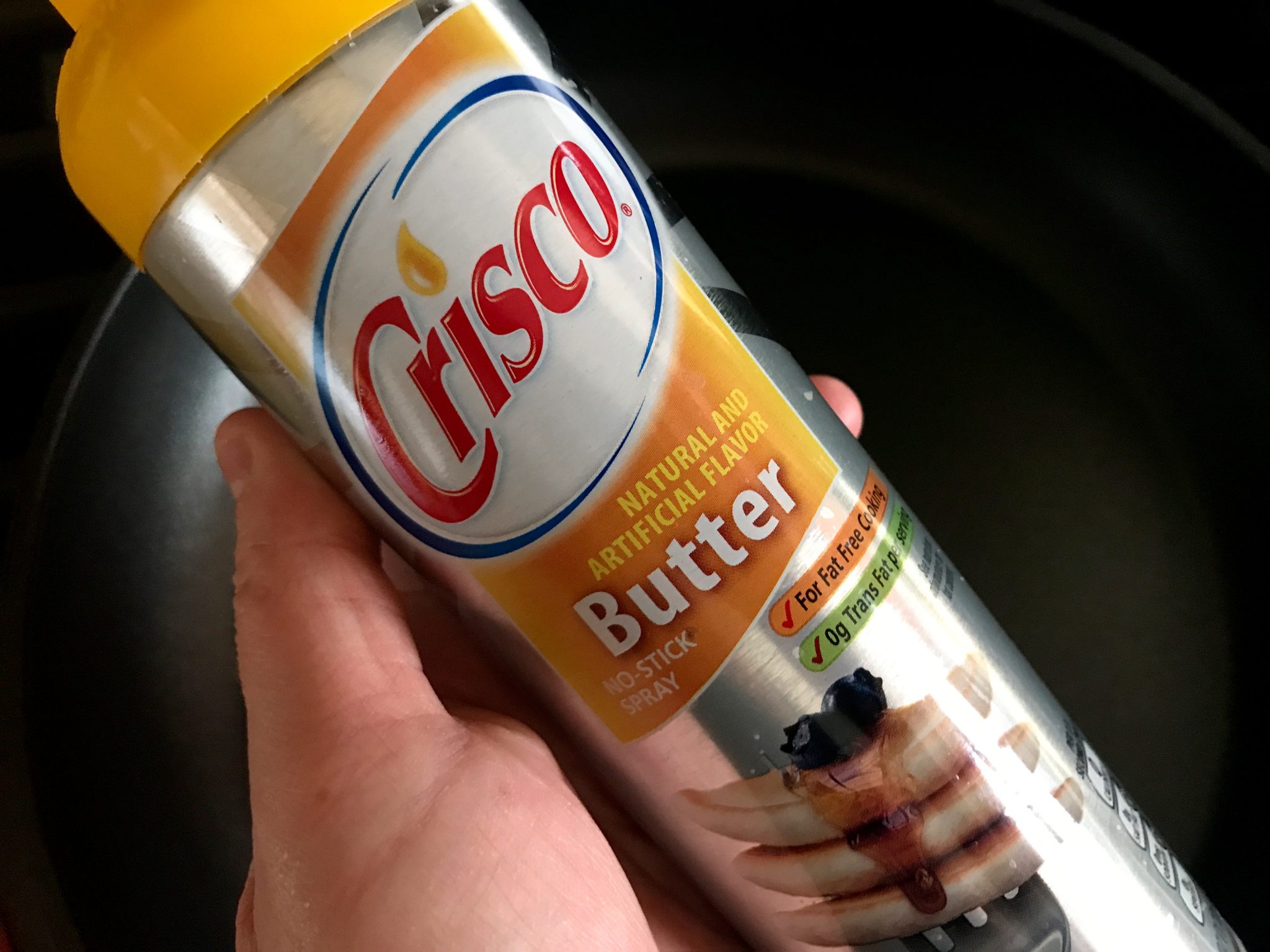 Next up, This is my secret ingredient to getting the "buttery" taste to eggs. I generously spray a non stick skillet with this butter cooking spray. This is another reason you need your burner on low because using cooking spray and a higher heat tends to immediately burn the cooking spray and it turns brown and smells gross. Lets not do that, okay?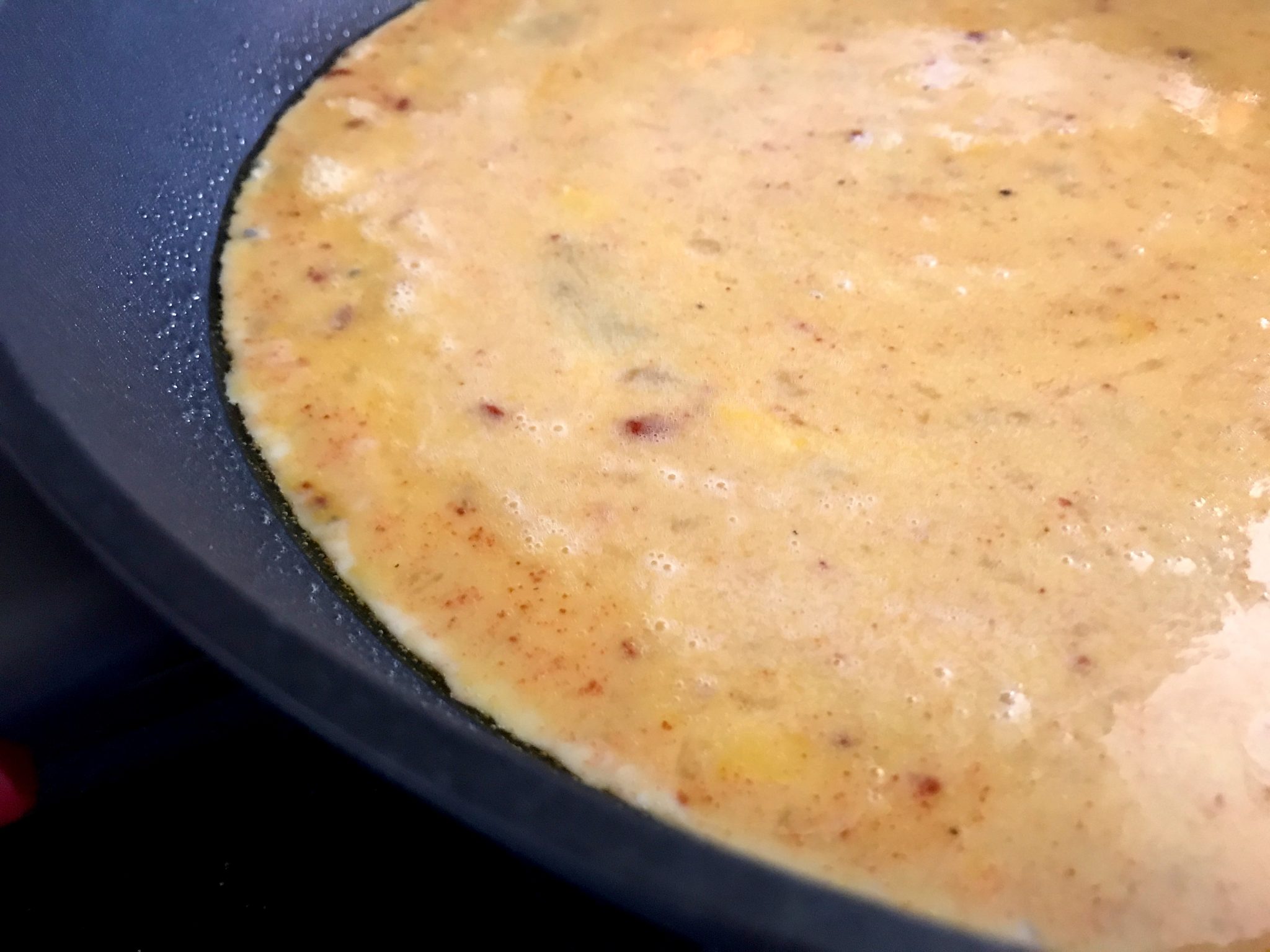 Now, pour your eggs in and just let'm sit for a couple'a minutes.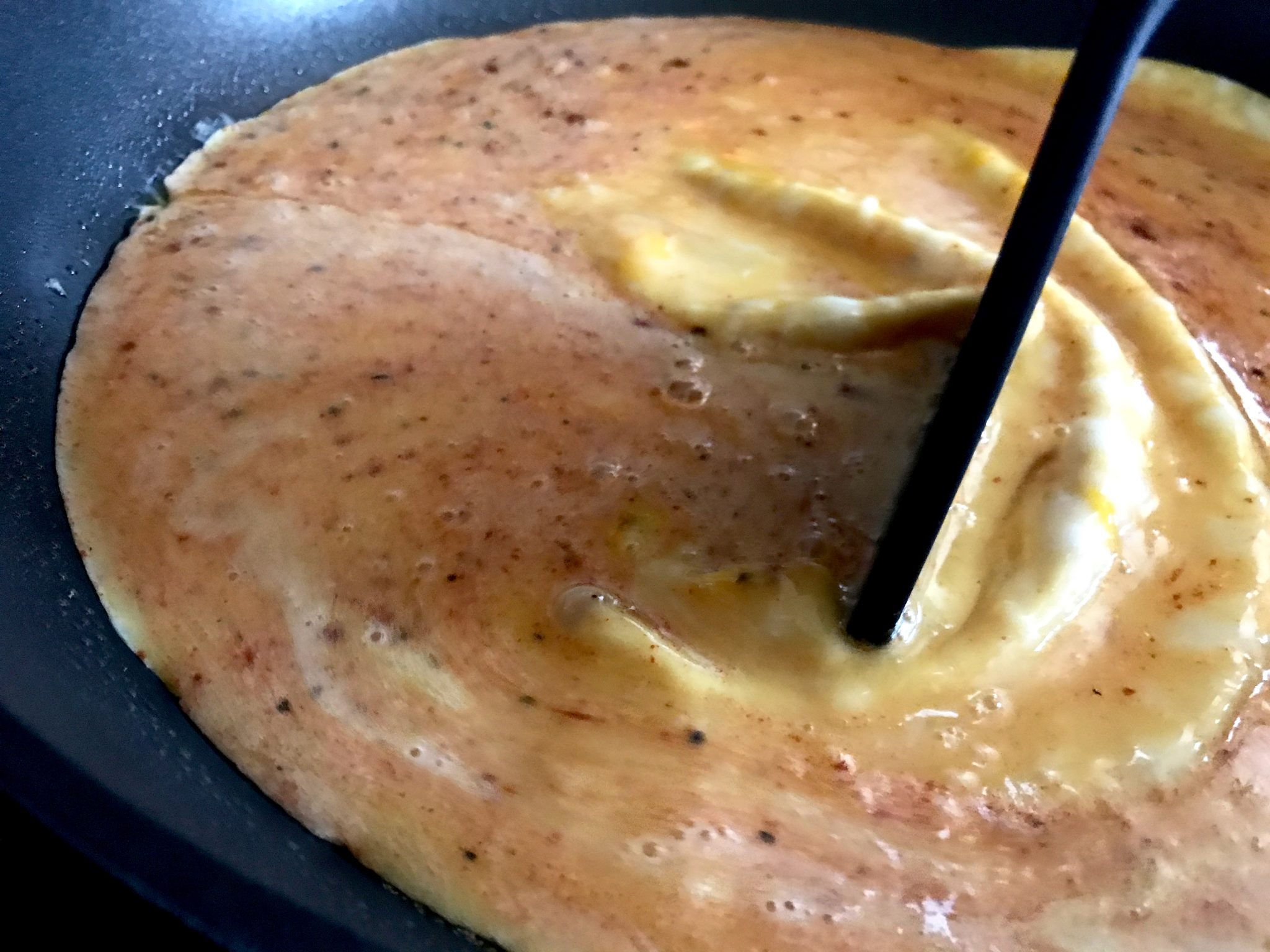 The key to getting the eggs to be more "whole" than scrambled up is to not move them around in the pan very much. Just gently move the eggs in the pan with a spatula a few times while cooking.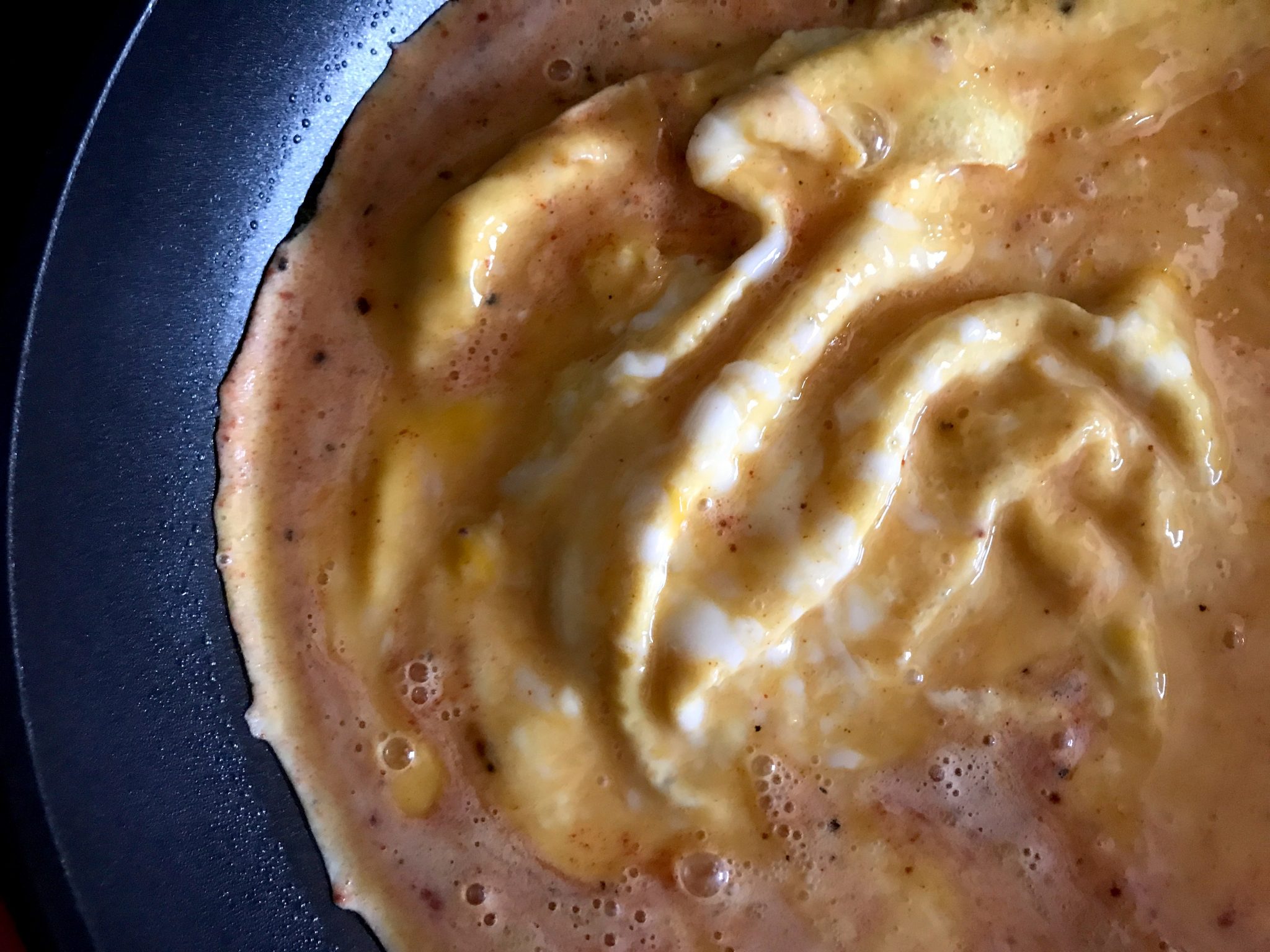 When you see the edges of the eggs kind of form up is when you'll gently move the eggs with a spatula.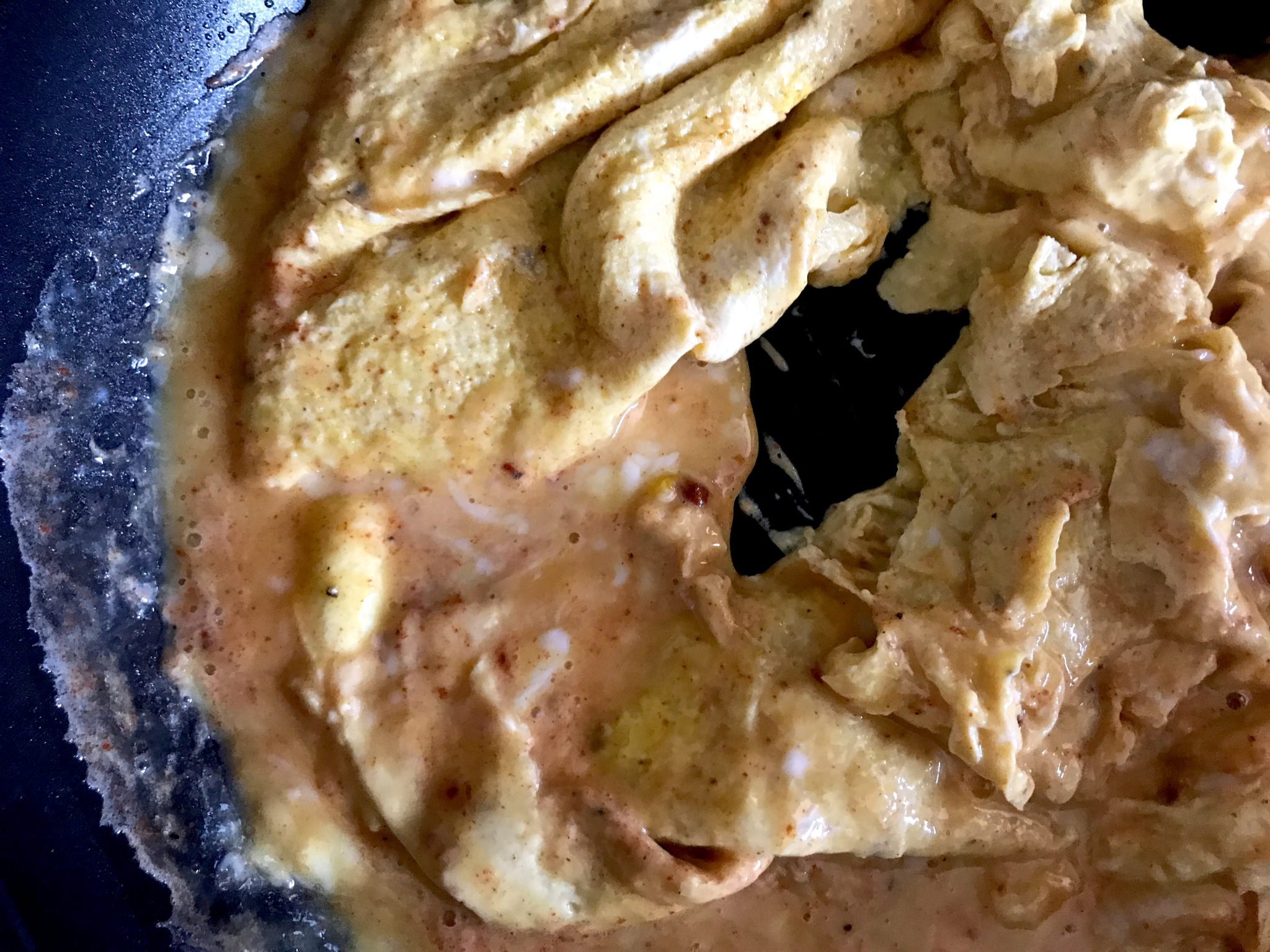 When they get to this point, I usually flip them once. That's probably not correct, but it's what I do.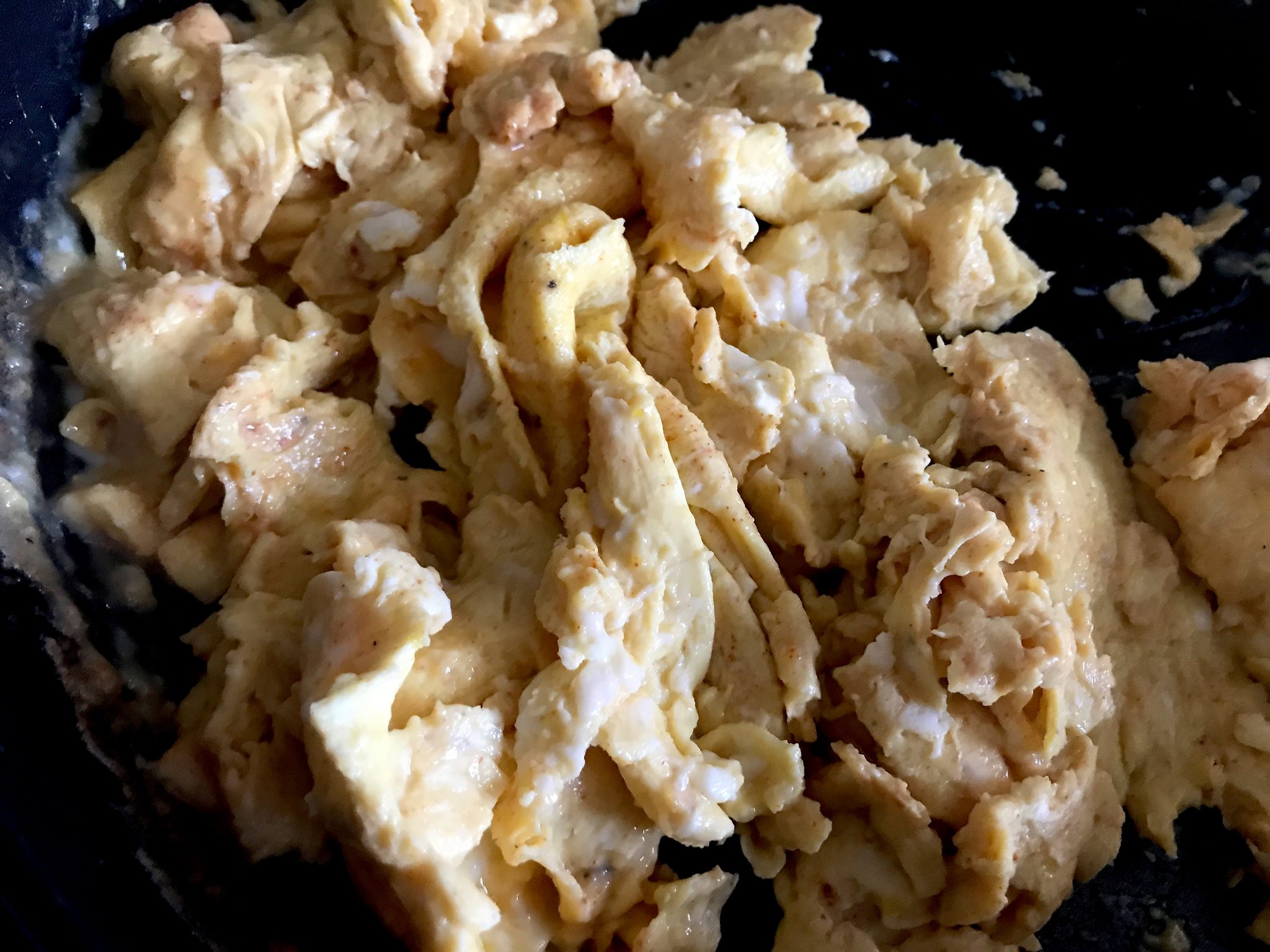 And there we go! These actually broke up a bit more than i'd like, but they are still perfect to me. I'm not a perfectionist in the kitchen in case you haven't noticed. Haha! Remove them from the heat and set aside. You'll need'm in a minute or two.
Now, these might seem like some detailed instructions for some eggs, and I know they kinda are, but I eat a lot of eggs now and I've realized that it really does make a difference on how they are cooked. Honestly, if you have a better way of cooking eggs, then do that! But, just keep in mind they need to stack nicely on sandwich so it's best if they aren't "crumbly" eggs. Does that make sense? I hope so. Let me know if it doesn't!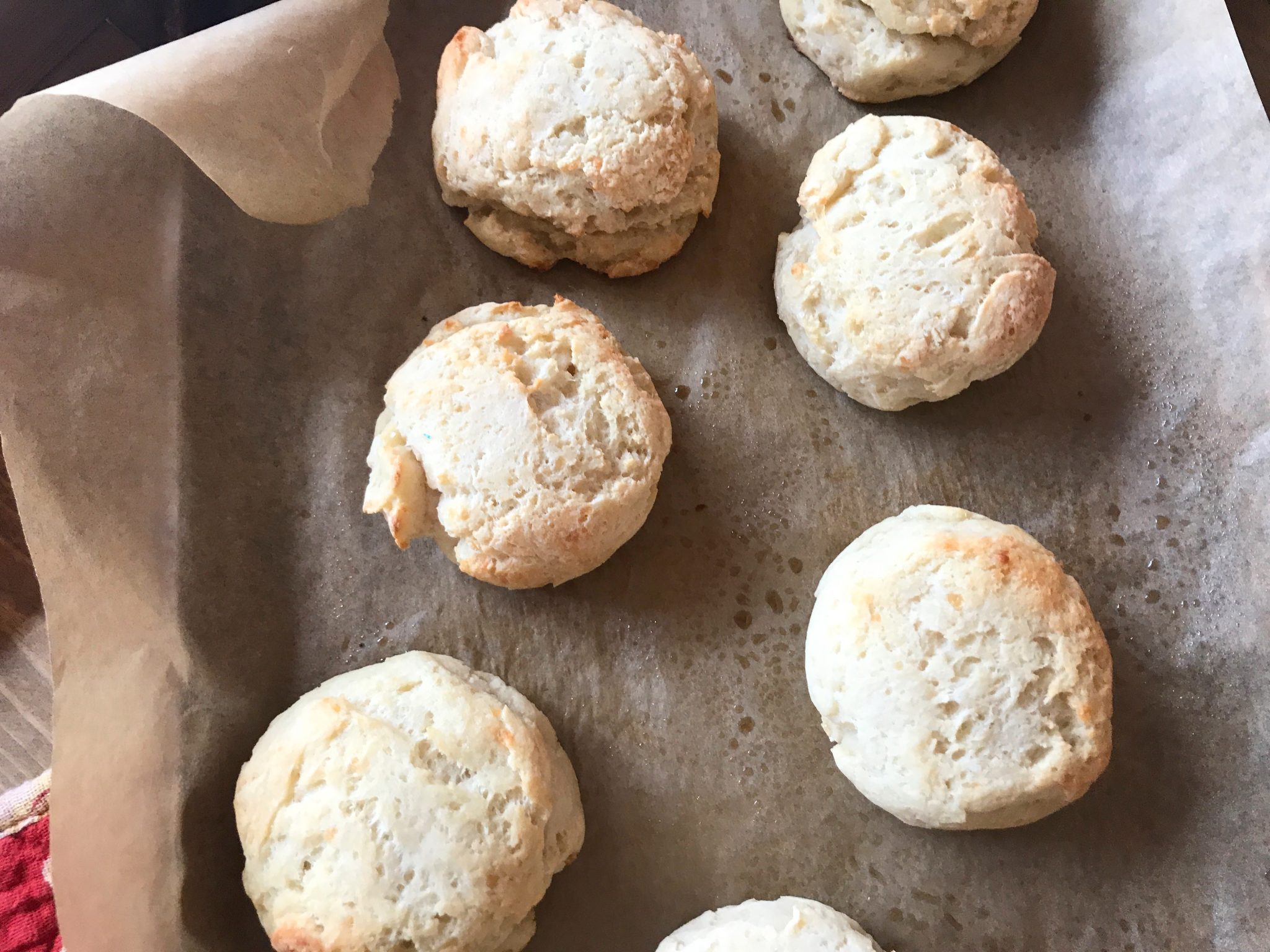 Now grab those biscuits outa the oven. (Well, whenever they are done.)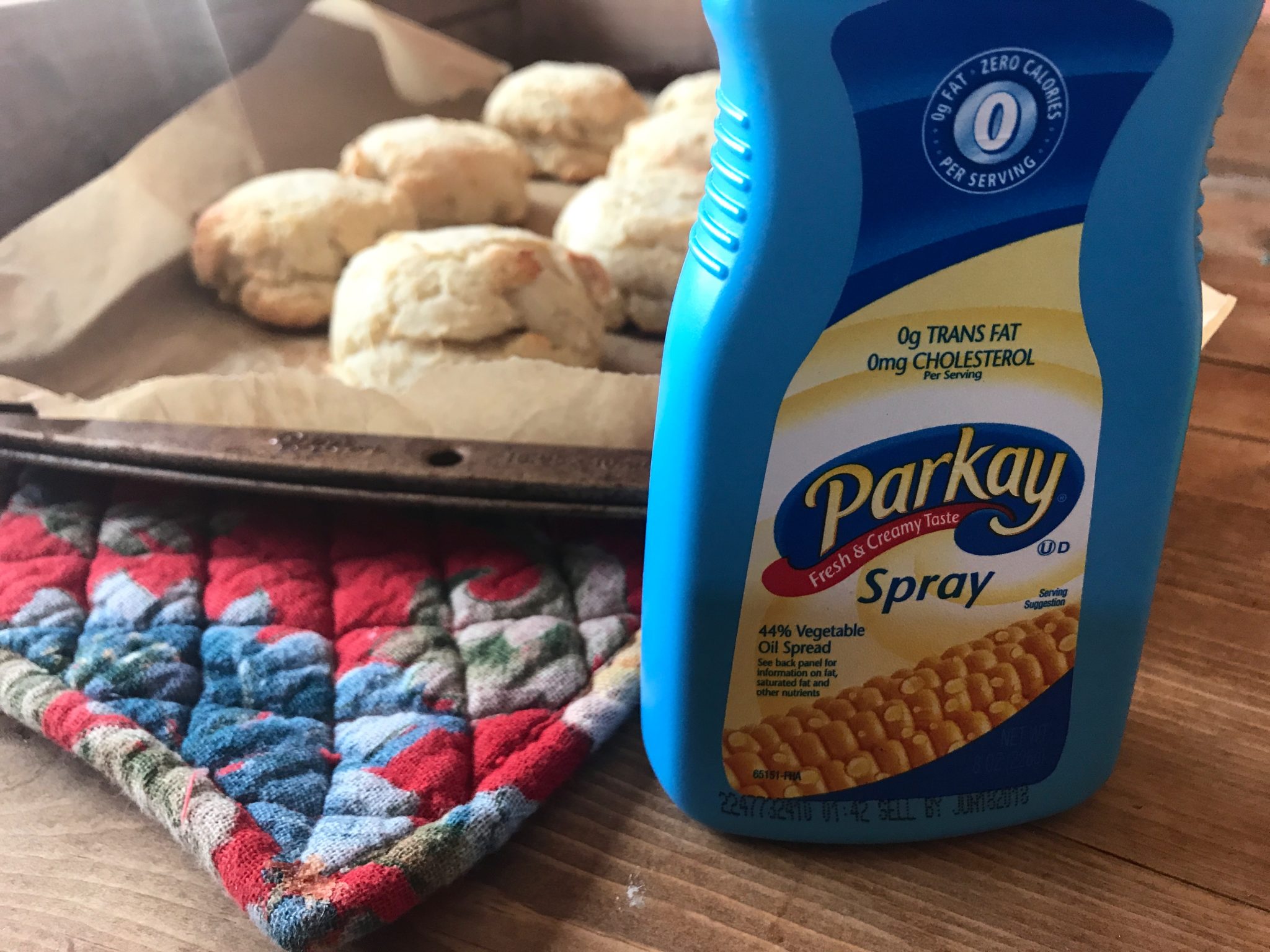 Want to hear another little secret of mine? When the biscuits come fresh outa the oven. I spray the tops with this Parkay Spray butter stuff. It gives them a hint of buttery-goodness. You should be able to find this stuff in any ol' grocery store in the same place you find the butta.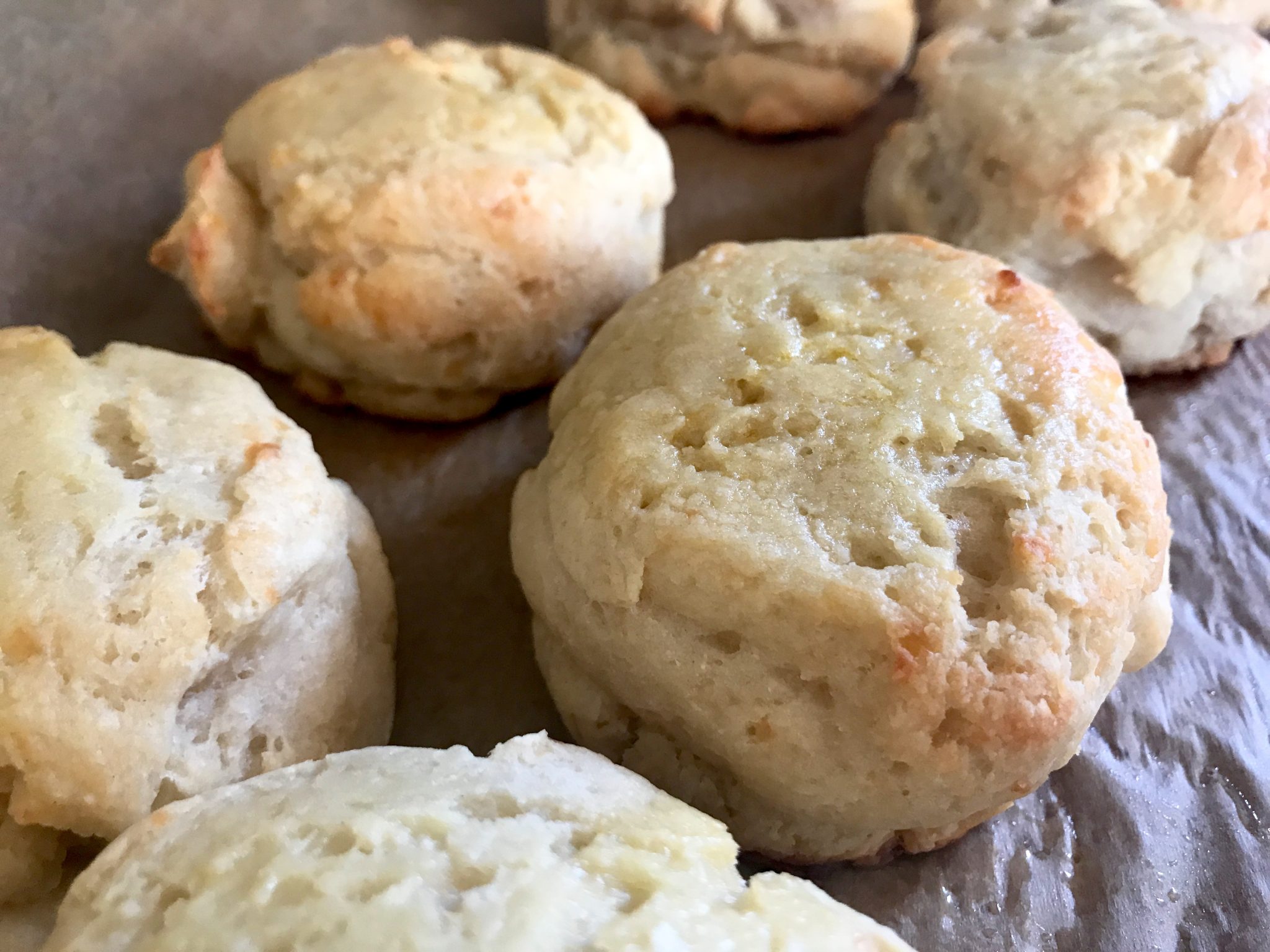 See? Just a couple sprays on each will do the trick.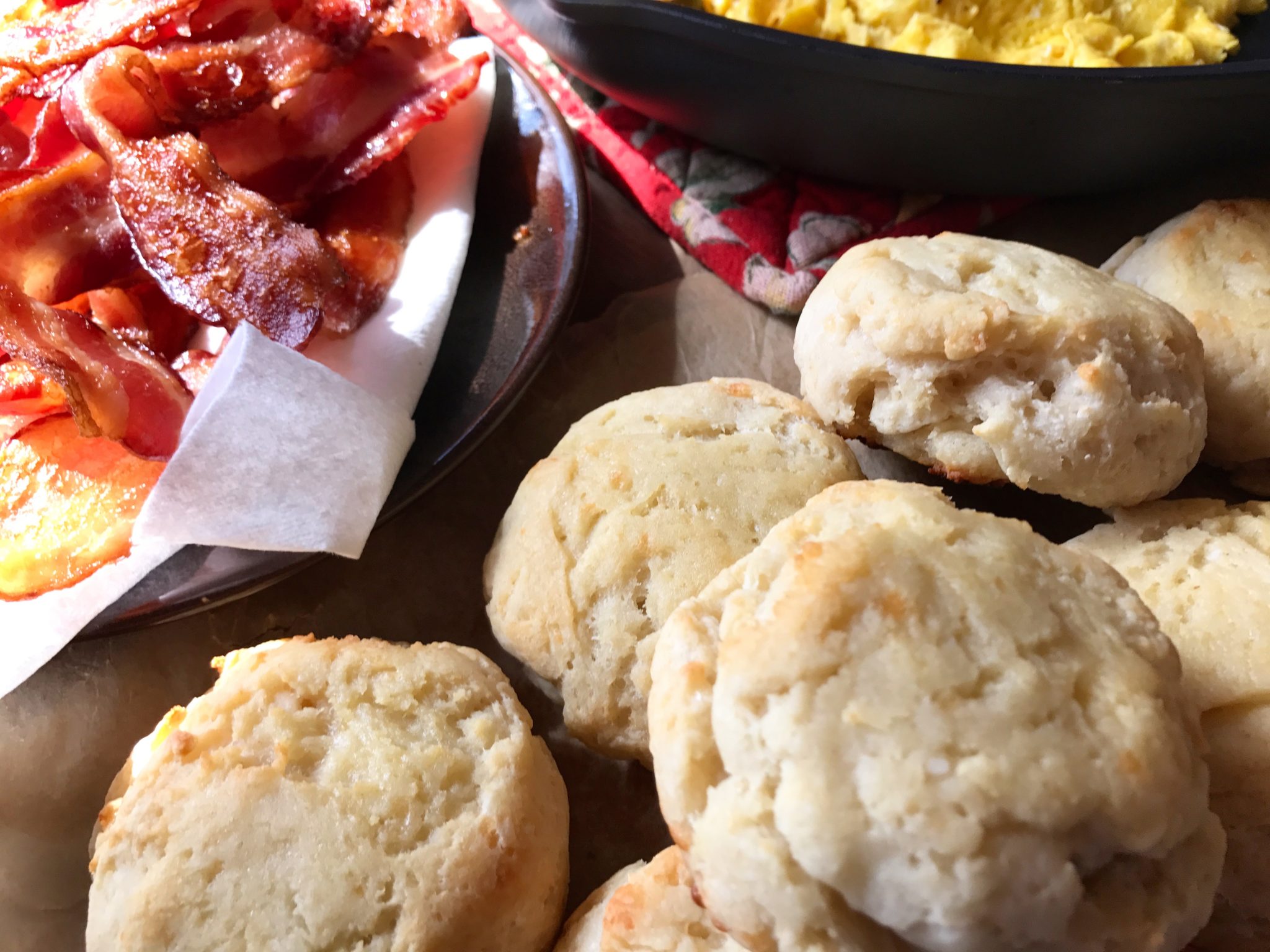 Now, here's where you've got a few options! If you're preparing these for a big breakfast or brunch with a bunch'a friends and/or family and want to save yourself some extra work. Just put everything on a tray and let everyone grab and make their own sandwiches!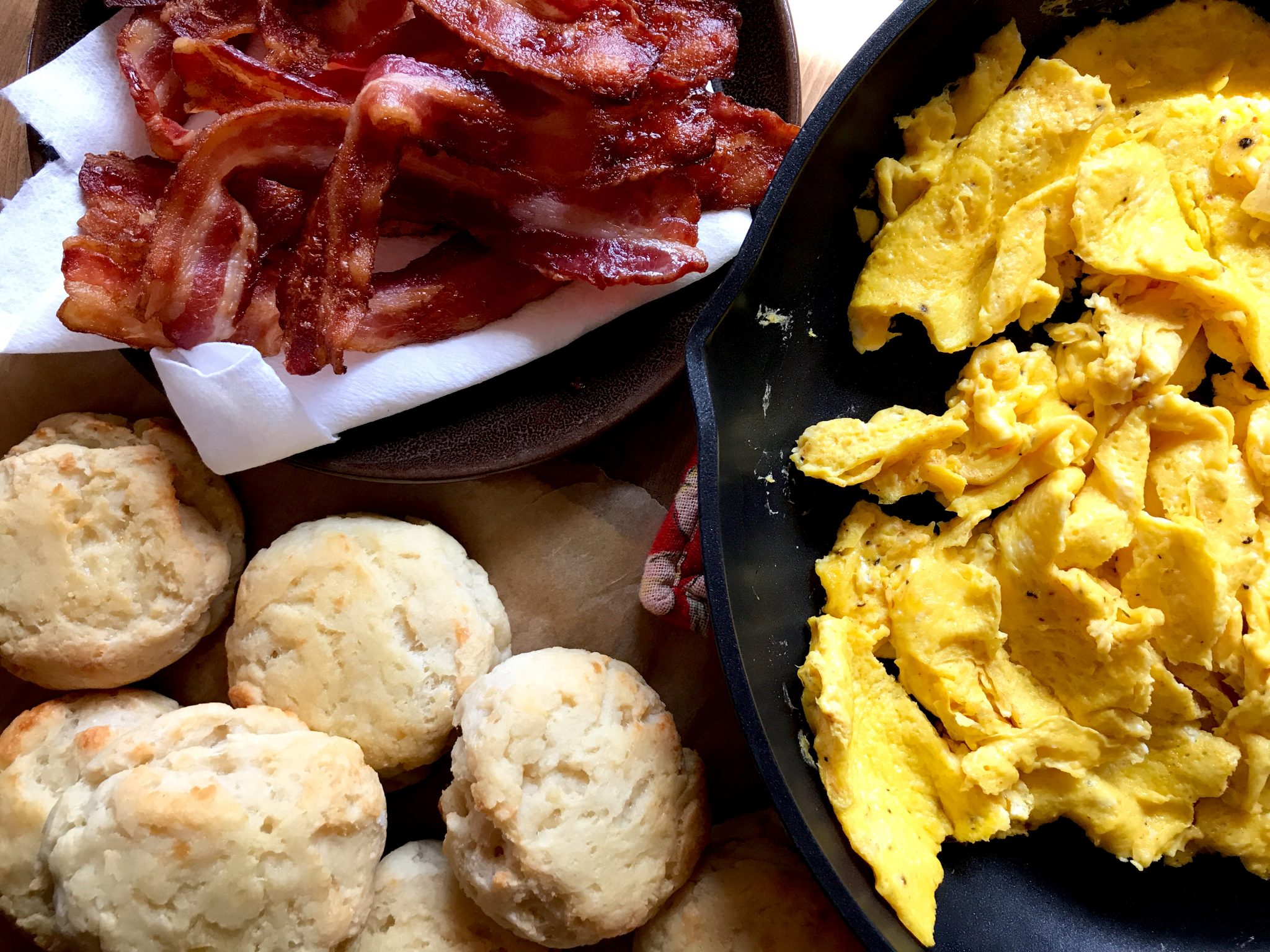 It's a breakfast sandwich bar basically and it's the best thing EVER.
I usually serve'm this way for the family first then make up the rest into sandwiches and put'm in the fridge for quick grab and go breakfasts throughout the week.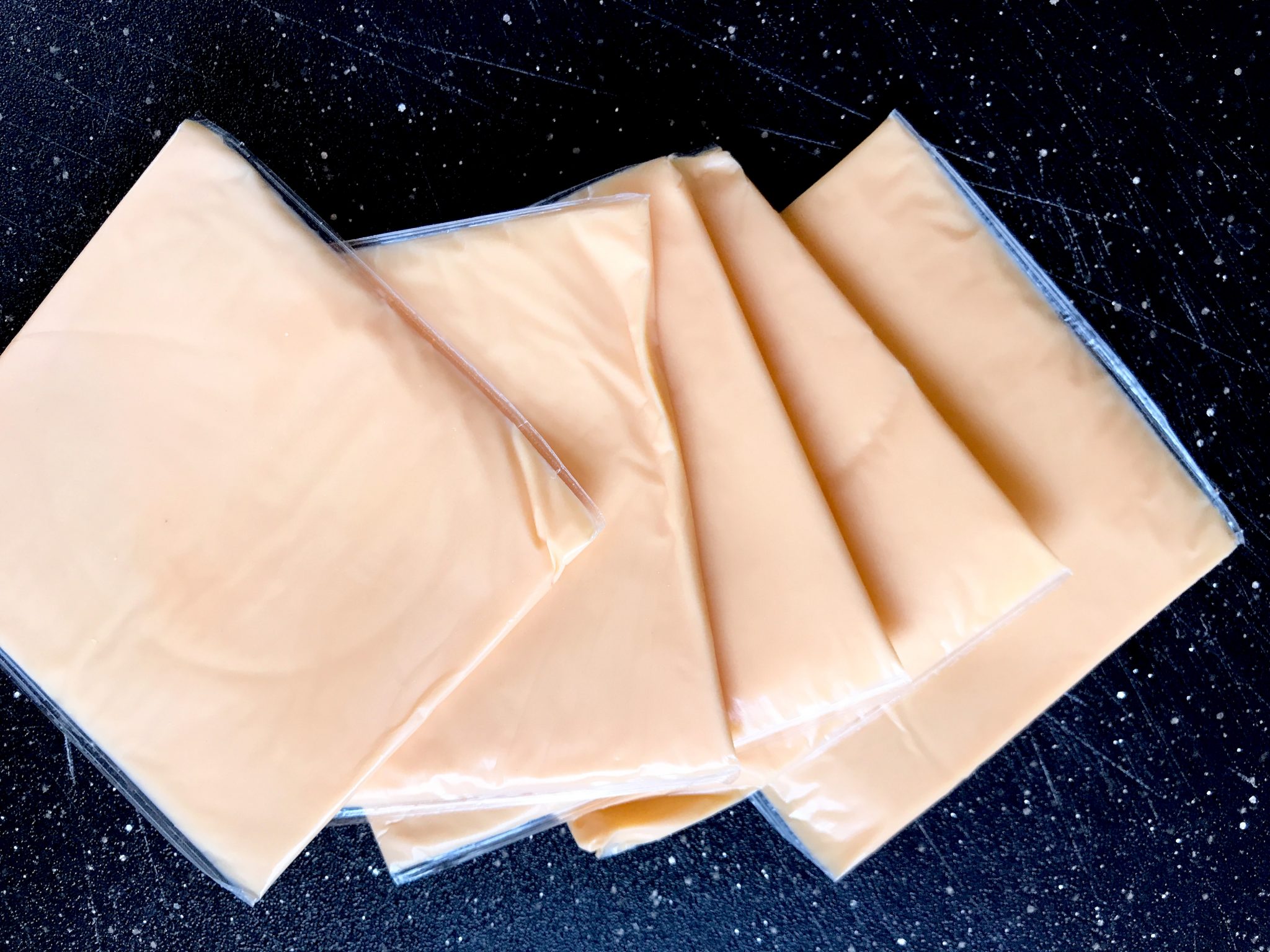 Don't forget the cheese! I use American Cheese Slices. I don't know/care if it's real cheese. It's delicious and, in my opinion, it belongs on breakfast sandwiches and cheeseburgers. I use the kind made with 2% milk and I cut each slice in half for each sandwich. I'm greedy with the cheese and half'a slice is enough, I promise.
Now, if you wanna make all the sandwiches up at once to put'm in the fridge for the week OR FREEZE'M for later. Just like with my "Make Ahead Freezer Friendly Breakfast Sandwiches" you'll pretty much form an "assembly line".
Start off by cuttin' the biscuits in half (use a serrated knife) and lay'm out.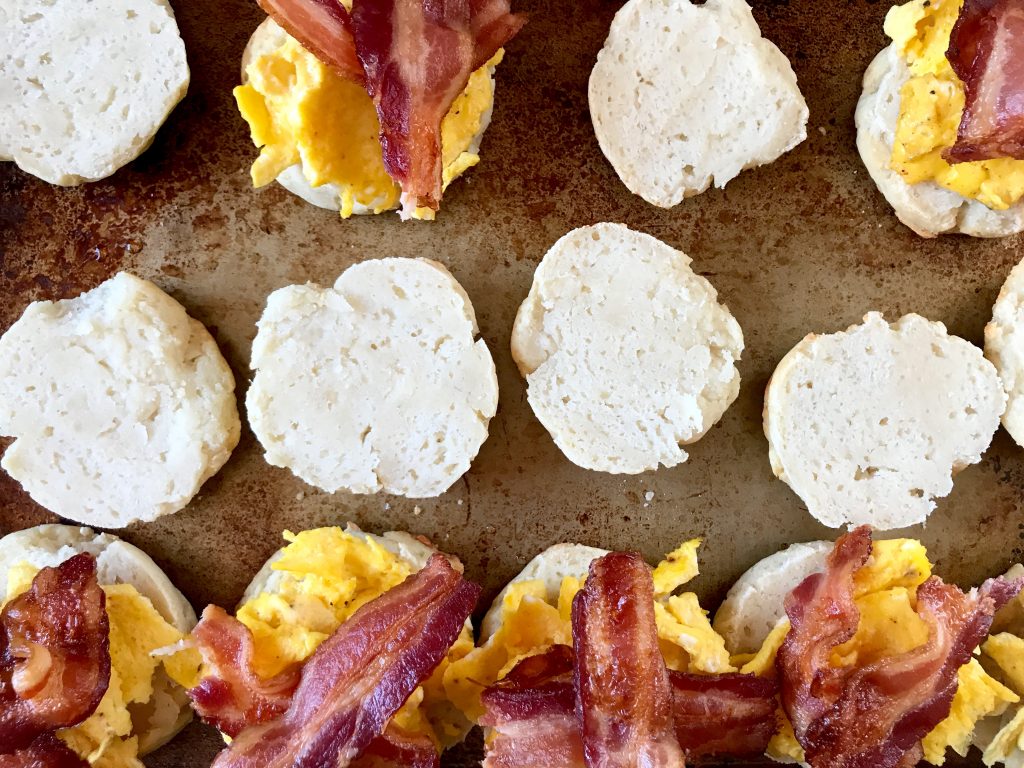 Evenly pile on eggs and then add one slice center cut bacon on top of the eggs.
And then, top that off with a half'a slice of American cheese made with 2% milk.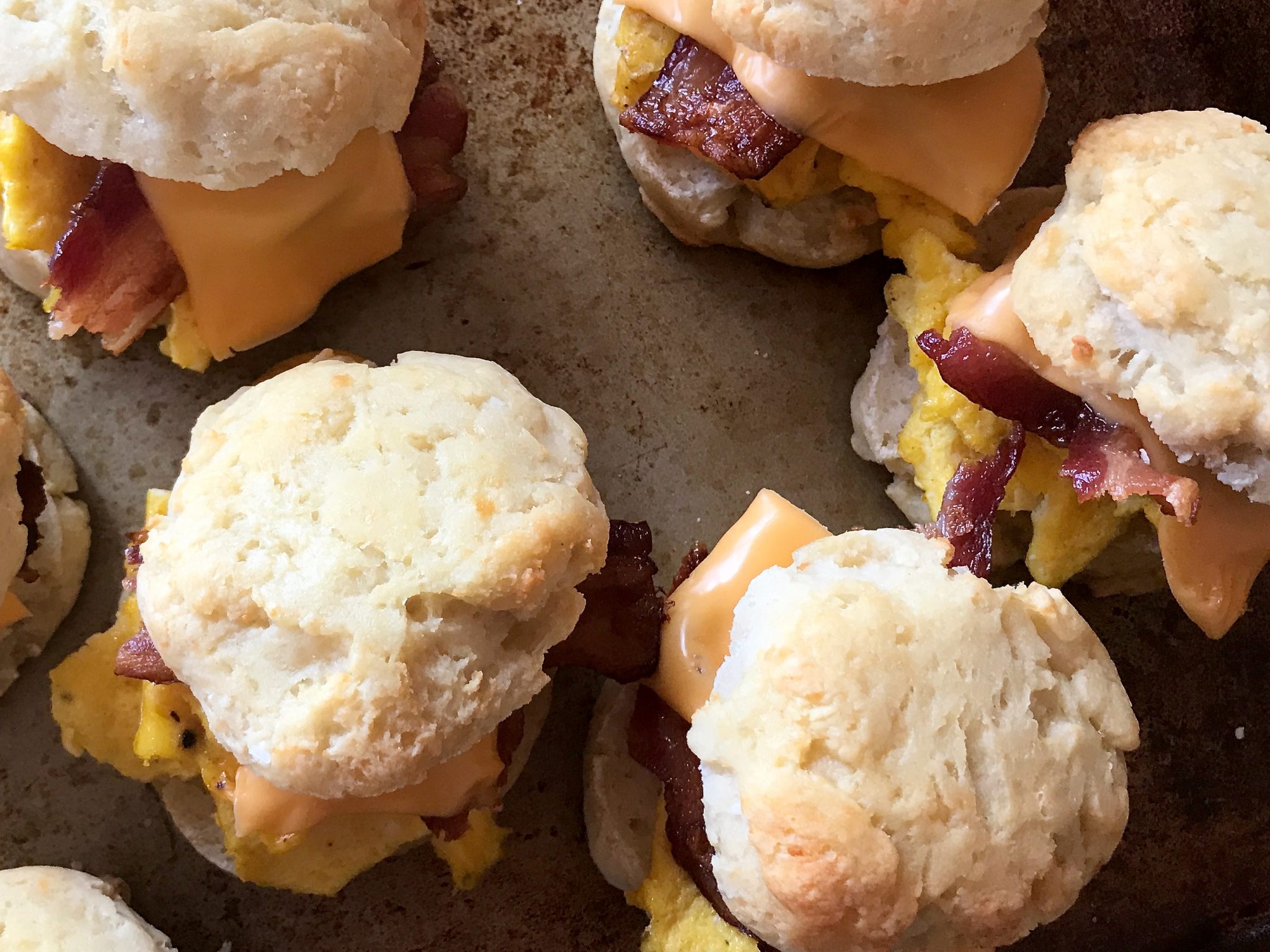 Close'm up!
Ugh, don't they look so good? These might be my new favorite breakfast, ever.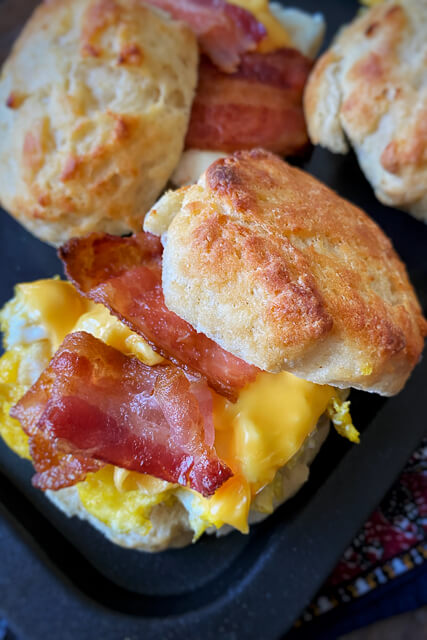 You need these in your life, I promise!
One more thing, guys! I tested these out in the freezer because I knew these would be an absolute hit if y'all could make'm ahead and freeze'm like my other Breakfast sandwiches.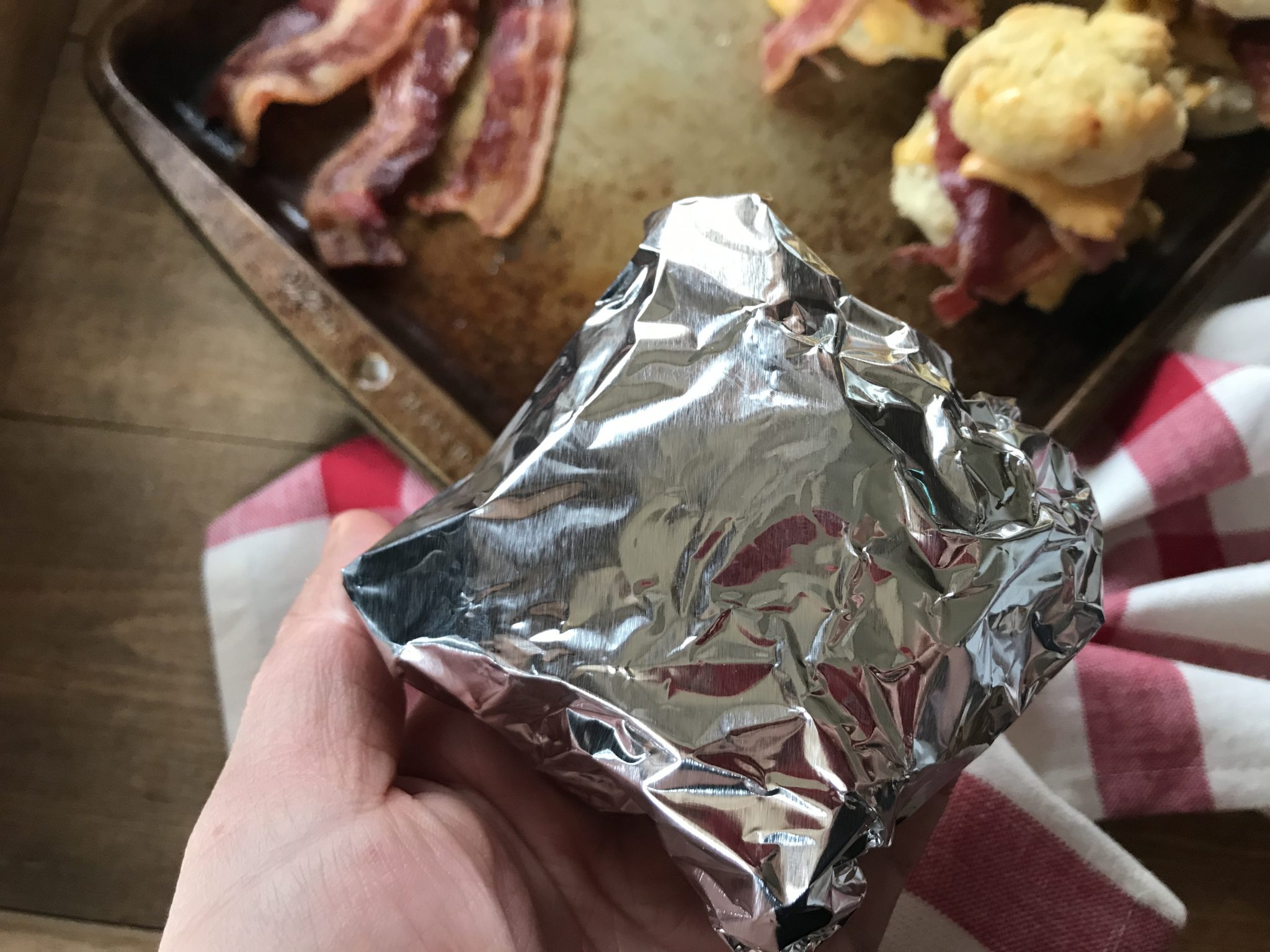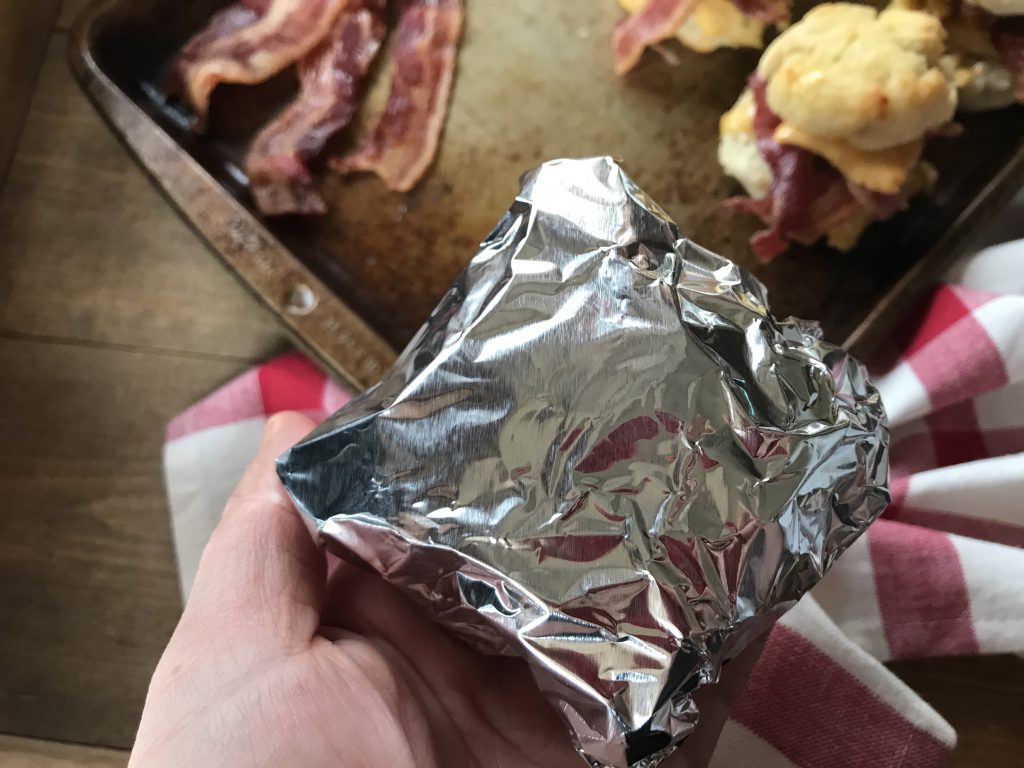 Wrap'm in some foil.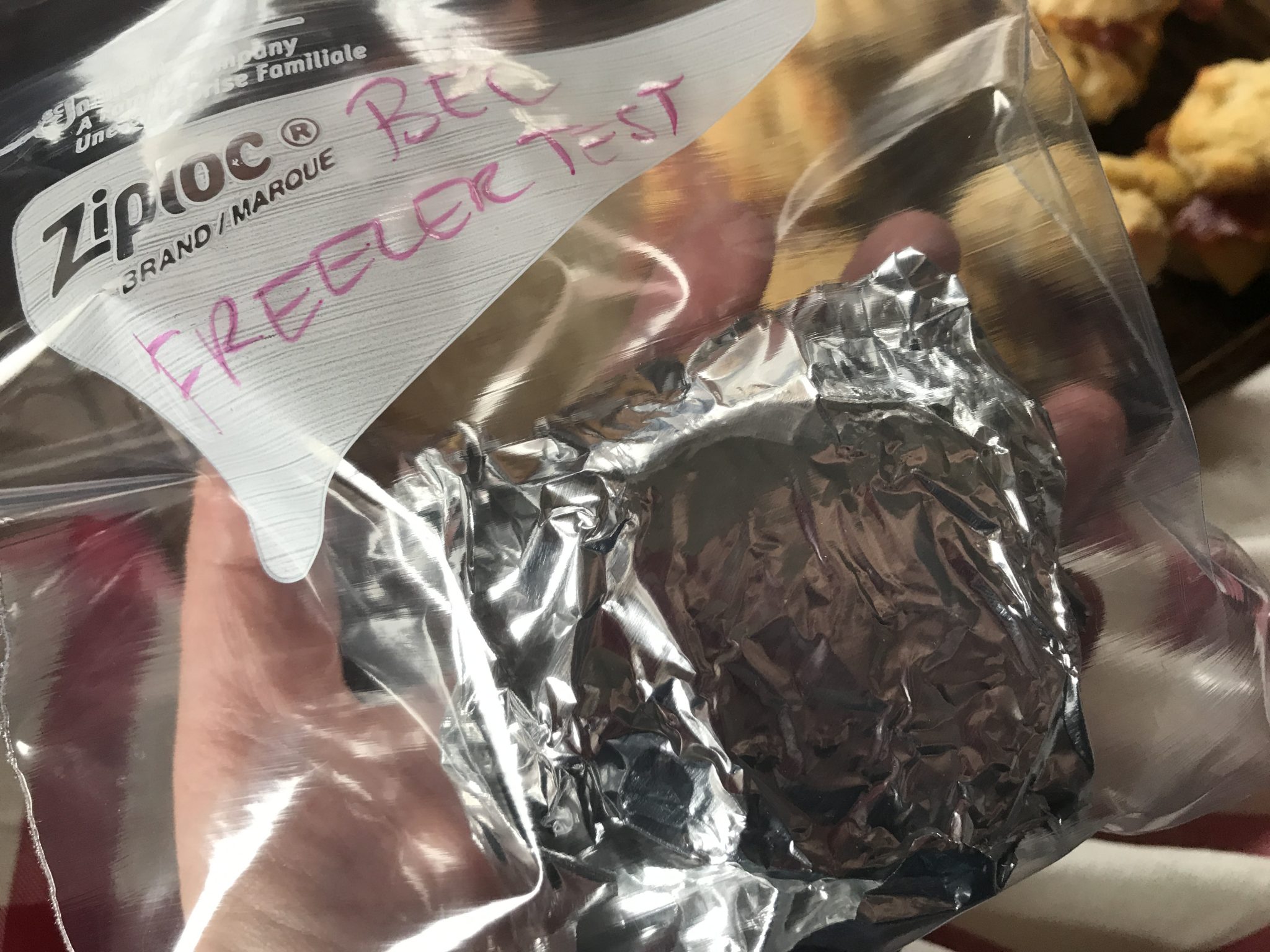 Throw'm in a freezer bag and toss'm in the freezer.
I only tested a few in the freezer because Eric, Pepper, and I ate all of the rest of'm, but the ones that went in the freezer came out FANTASTIC!
Either way, totally freezer friendly.
Remember if you're freezing:
LET EGGS, BACON, AND BISCUITS COMPLETELY COOL BEFORE ASSEMBLING THE SANDWICHES, WRAPPING THEM IN FOIL, AND FREEZING!
Sorry for shouting, I just want you to remember!
FAQ
How do I eat it after it's been in the freezer?
Let it thaw in the fridge. (6-8 hours- I usually let sandwiches thaw overnight and heat'm up in the morning.)
Wrap in paper towel. Microwave for 44 seconds. (Why 44 seconds you ask? Yep, Eric declared that 44 seconds works best.)
Enjoy.
How do I reheat'm if they've just been in the fridge?
Skip step one. Follow 2 & 3.
Can I use Canadian bacon, sausage/turkey sausage, or ham?
Sure can! Adjust your points/calories accordingly if you care about that sort'a thing!
Mmm, mmm, mmm! I hope you love'm as much as I do because I really, really, REALLY, REALLY do!
Let me know if ya give'm a try in the comments below!
With love from my kitchen to yours,
Star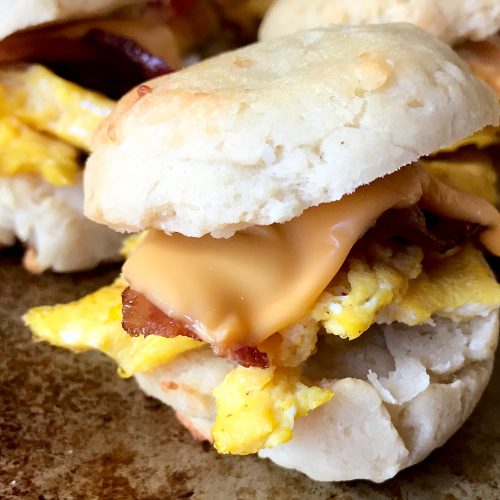 Print
Bacon, Egg, and Cheese Biscuits
A classic breakfast sandwich lighter in calories and full of protein. Biscuits made from scratch with two ingredient dough.
Materials
The "Biscuit" Part
2

cups

self rising flour

i use Gold Medal

2

cups

nonfat greek yogurt

i use Fage

1

tsp

kosher salt

1

tsp

garlic powder

cooking spray
The "Eggs, Bacon, and Cheese" Part
8

large eggs

couple pinches of salt

pinch of pepper

pinch of smoked sweet paprika

optional

9

slices

center cut bacon

4.5

slices

American cheese made with 2% milk

I use Kraft or Borden

Avocado cooking spray

(olive oil cooking spray works too)
Instructions
Preheat oven to 400 degrees. Line sheet pan (that has sides!) with aluminum foil. Arrange bacon and bake for 12-14 minutes until crispy.

While the bacon bakes, grab a mixing bowl and add self rising flour, salt, and garlic powder. Stir together. Add in greek yogurt. Mix together VERY well with wooden spoon until a lump of dough forms in the bowl. Make sure there are no flour bits on the bottom or sides of bowl. (See pictures in post for better description)

Line baking sheet with parchment paper. Spray 1/3 cup measuring cup with cooking spray and scoop dough and drop biscuits onto sheet pan about 1 inch apart. You'll have 9 biscuits. Spray the top of biscuits with cooking spray.

Remove bacon from oven and set aside on a paper towel to sop up a little extra grease. Keep the oven heated to 400 degrees and place biscuits in. Bake for about 24 minutes or until tops are lightly golden brown.

While the biscuits are baking, Make eggs. Whisk together 8 eggs in a bowl, add a couple pinches of kosher salt, some pepper, and a pinch of sweet smoked paprika. (paprika optional, but delicious)

Heat a non stick skillet over LOW heat on stove top. Spray skillet generously with Butter Cooking Spray and add eggs. Cook on low gently moving the eggs with a spatula a few times, careful not to over scramble and break up the eggs. Flip eggs once if they need it. (See process pictures in post above for description)

When eggs are firm and cooked remove from heat and set aside.

Remove biscuits from oven when lightly golden brown. Let cool for a few moments and cut open with serreated knife. Evenly pile eggs on top of the bottom of biscuit, followed by a piece of bacon, and top with half slice of american cheese. Top with the other half of the biscuit. Repeat until finished.

Make Ahead/Freezer Instructions: Let eggs, bacon, and biscuits completely cool, assemble sandwiches, wrap in aluminum foil, place in a freezer bag. To Reheat: Thaw in fridge 6-8 hours or overnight, wrap in a paper towel, and heat for 44 seconds in the microwave.
Notes
Serving size: 1 sandwich WW Points: 4 269 calories 9g fat, 3g saturated fat, 24g carbohydrates, net carbs 24g, sodium 580mg, 0g fiber, 2g sugar, 0g added sugar, 0g sugar alcohol, 20g protein
Nutrition
Serving:
1
sandwich
|
Calories:
269
kcal
|
Carbohydrates:
24
g
|
Protein:
20
g
|
Fat:
9
g
|
Saturated Fat:
3
g
|
Sodium:
580
mg
|
Sugar:
2
g