This post may contain affiliate links (meaning I earn a small comission if you purchase an item through a link I provide) I only provide shoppable links to items I love and are helpful. As an Amazon Associate, I earn from qualifying purchases.
Just like most people, I have weaknesses. Side dishes aren't my strong suit. I'm a side salad kind of girl. I often put most of my focus on the main event, and slack when it comes to the side dish(es).
I normally throw a quick salad together with some cucumber, sunflower seeds, diced green olives (don't knock it till you try it), and homemade ranch or yogurt ranch. Done!
I'm trying to get better at making different vegetables to go with main courses, because I LOVE A GOOD SIDE DISH! I mean, when dining at a restaurant, there's a section on the menu just for sides. You could literally make a delicious meal out of side dishes… yes, I have done that!
In my experience, side dishes mean extra calories/points. So I've been on a mission to bring you not only delicious sides, but healthy ones that are reasonably low in calories.
Last week I posted the Loaded Potato and Cauliflower Bake. This week, I bring you Bacon and Brussels! I'm sure this isn't a new concept, but honestly, it's new to me. I have never liked Brussels sprouts, not even a little. Turns out, I had just never had them prepared and cooked the right way! I literally googled "Brussels Sprout Facts" before I attempted this, because I like to know what I'm working with and how to work with it.
Brussels Sprouts are known for their extremely bitter taste, which is one reason why I was never a fan. I'm going to try to explain this the best way I can for you guys. (Eric, have fun editing this one! Everyone say Hello to Eric, he's my main squeeze and the behind the scenes dude who edits all of my posts. So if something is misspelled, BLAME HIM!) So here's some ground rules:
Before you go to cook your sprouts, make sure they're washed and thoroughly dried. This helps them cook properly.
Cut away any loose yellow leaves. They will prevent the sprouts from cooking properly.
Trim the stems down, but not too much, because then the leaves will fall apart- be sure to leave enough of the 'stump' to hold it all together.
Cut each one in half. The center of a sprout is where all of the bitterness is hidden- cutting them in half lets it release while cooking, and also helps them cook evenly.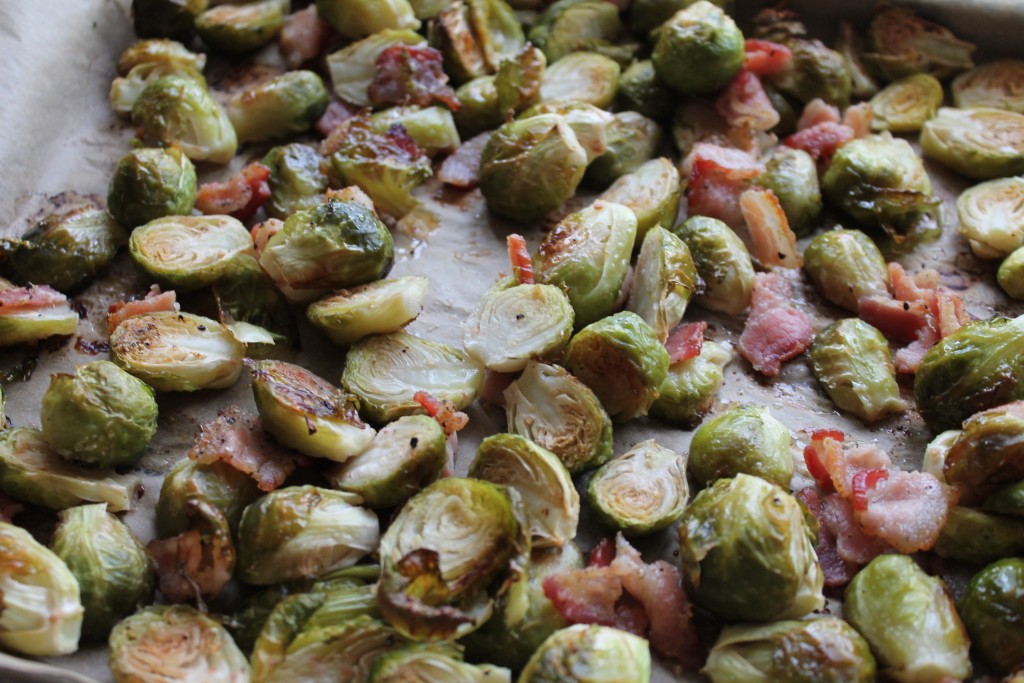 And now a couple facts-
Brussels Sprouts are apparently one of the healthiest vegetables for your digestive system. Who knew!?
They are actually the number one most hated vegetable by kids and adults. Why? Probably because not enough people know how to cook them. When the Brussels sprout is overcooked, it begins to release sulfur, and this goes on as long as the overcooking continues. So that's why they can taste like the smell of rotten eggs. NO ONE WANTS TO EAT ROTTEN EGGS!
I'm not going to lie, I wasn't a fan of prepping these things. I'm sure the more I do it, the easier it becomes. If you give it a try and you're like, "this is just way too much work," I don't blame you.
However, trust me- the outcome is worth it! We almost ate the entire pan.
and I am a former sprout hater!
Eric couldn't keep his greedy little hands off these!
I cant believe how much I actually enjoyed them. Try making these for your sprout-hating friends. I think you may just change their minds forever! I hope you all ENJOY 🙂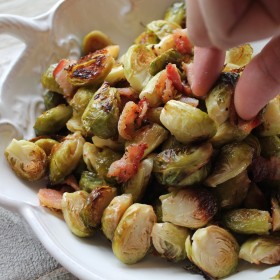 Print
Bacon and Brussels!
Materials
3

lbs

Brussels Sprouts

(washed, dried, trimmed & halved)

8

slices

Center Cut Bacon

(raw, cut into pieces)

1

tbsp

Olive Oil

Freshly Cracked Pepper

Sea Salt
Instructions
Preheat oven to 400 degrees. Lightly spray a baking sheet with cooking spray.

Lay the sprouts evenly. Drizzle with olive oil. Sprinkle the center cut bacon, salt, and pepper. Mix together with hands until coated extremely well.

Place in oven and cook for about 25-30 minutes until lightly browned and tender to touch. Enjoy!
Notes
Serving size: 3/4 cup
140 calories 7g fat, 12g carbohydrates, 6g fiber, 9g protein
WeightWatchers Points: 2 Points