This post may contain affiliate links (meaning I earn a small comission if you purchase an item through a link I provide) I only provide shoppable links to items I love and are helpful. As an Amazon Associate, I earn from qualifying purchases.
y'all…It's pretty rare that I make something once and then immediately post, but I just can't wait to get more ingredients, prepare again, take more photographs, and then post. Sometimes with my crazy life that can take weeks!
Can you guys tell asparagus is in season? I've been cooking with it so much these past couple weeks and coming up with some delicious recipes in the process.
P.S. they also tasted wonderful next to a pile of eggs and bacon for a delicious brunch.
I'm having a "shop the pantry" week at my home. Which means for the most part that I have to make meals out of what is in the pantry and freezer. I like this because it forces me to be a little more creative in the kitchen, as I'm almost always missing one important ingredient for recipes that I've already made. You could say I'm kind of addicted to grocery shopping- it's one of my favorite things! I have a terrible habit of over buying, especially when I'm at stores that are far away from my small town, stores that have lots of goodies that I don't normally have access to. I might need a intervention… BUT at least I give myself a timeout every couple of months, and use up all the random things I've bought!
Last night I looked in the pantry and saw that I had a Boboli Whole Wheat Pizza crust that needed to be used before it expired. My first thought was a traditional pizza, with all the delicious fixins, but then i realized I had no homemade sauce in the freezer, no pizza sauce, and no pizza type meat. So that idea went straight into the garbage. What I did have was mozzarella cheese, fresh asparagus from the produce stand, and a pizza crust. I've never actually had an asparagus white pizza before, but i've seen them on menus, and I've always wanted to try it!
I'm sure this is a little different from how a pizza joint would make it, but this what I had on hand, and it turned out DELICIOUS, and lightened up!
The absolute best part of this recipe? It looks and tastes like you probably spent at least an hour in the kitchen preparing such a delightful pie, but it took less than 30 minutes to prep and cook. Yay!
Also, I want to top this with some center cut bacon. How divine does that sound?
I'll have more photographs of this soon, but for now I just took this one because I honestly did not know how it would come out, and figured I'd have to tweak a few things. I didn't, but i'll be gathering ingredients to make this again as soon as my grocery store time-out is over!
ENJOY!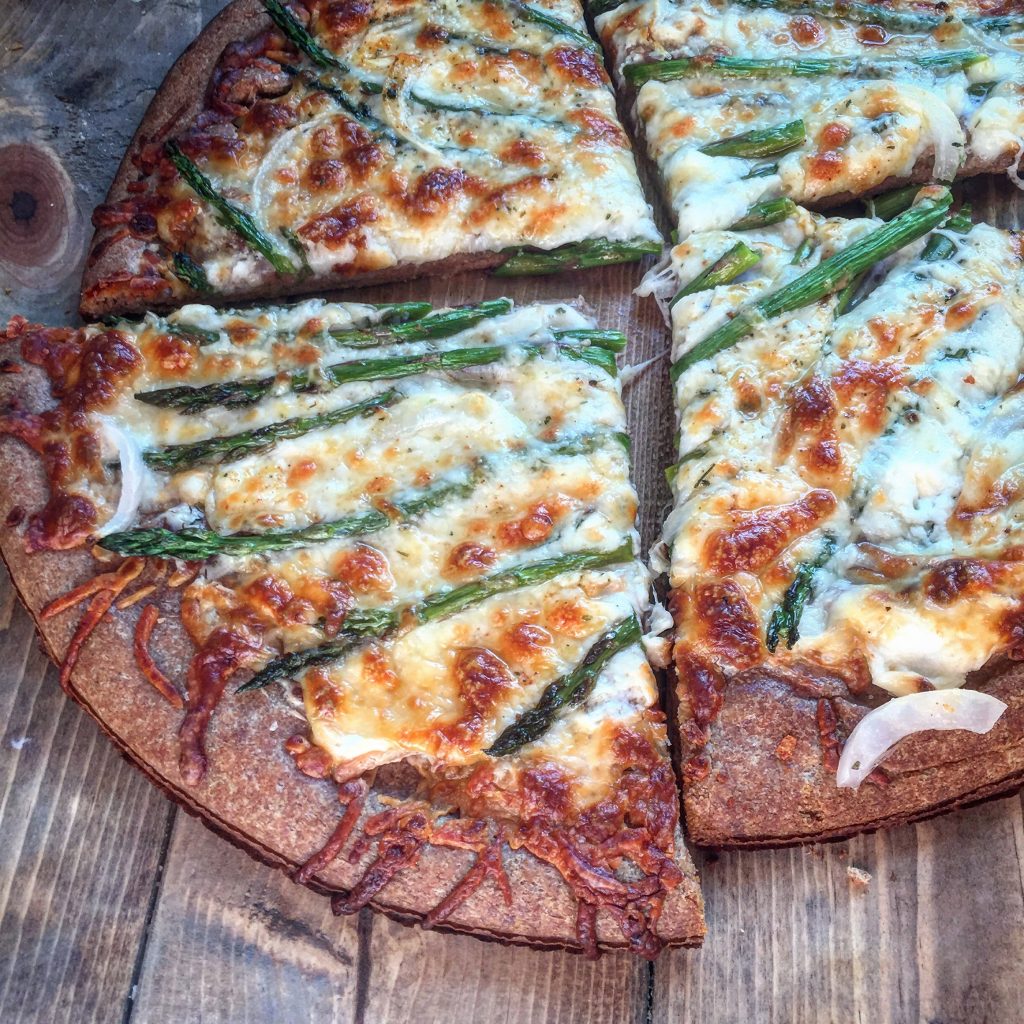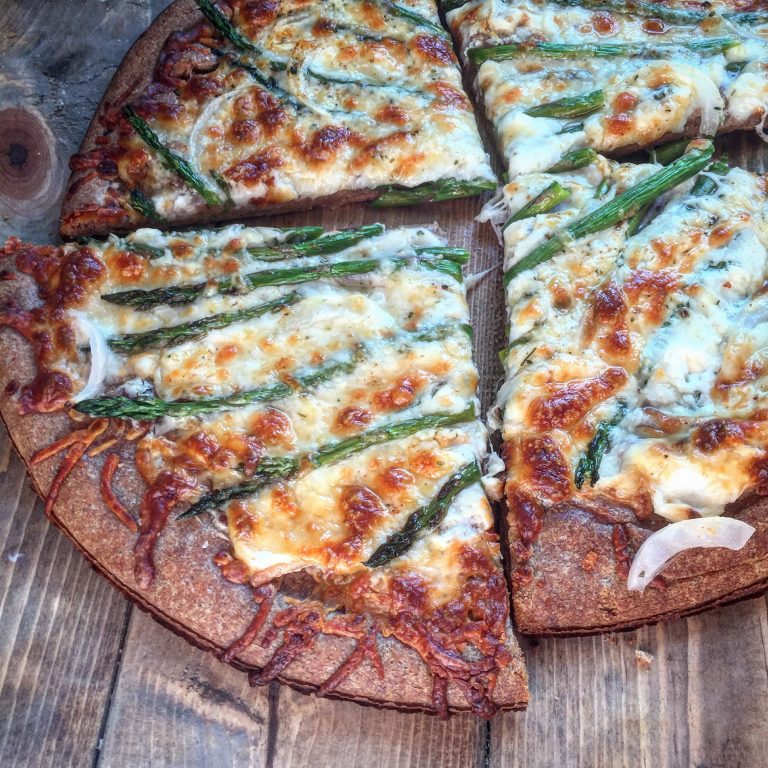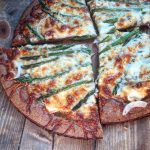 Print
Asparagus White Pizza
A little slice of heaven with some farm fresh asparagus and gooey mozzarella
Materials
1

Whole Wheat Pre-made Pizza Crust

, I use Boboli

10-12

Asparagus Spears

4.5

oz

Shredded Light Mozzarella Cheese

, I used Trader Joes Lite Mozz

2

tbs

light cream cheese

Garlic Salt

Cooking spray

, I prefer Olive Oil or Coconut Oil cooking spray
Instructions
Preheat oven to 450 degrees.

Lightly spray pizza crust with cooking spray, Lay on a cookie sheet or pizza stone, and prebake the crust for about 3 minutes.

When your crust is done, remove from the oven and shmear your light cream cheese evenly across on top.

Top with about half your mozzarella cheese, then asparagus, some garlic salt, and then the rest of the cheese. Lightly spray the top of the pizza with your cooking spray.

Place back onto the cooking sheet or pizza stone and bake for about 12 minutes or until your cheese is melted and golden brown.

Remove from oven and cut into 4 slices.

Enjoy!
Notes
Serving Size 1 slice. 7 smart points, 7 points plus. 260 calories, 9g of fat, 33g of carbs, 6g of fiber, 3.5g of sugar, 16g of protein