This post may contain affiliate links (meaning I earn a small comission if you purchase an item through a link I provide) I only provide shoppable links to items I love and are helpful. As an Amazon Associate, I earn from qualifying purchases.
This Apple Pie Bubble Up is officially the dessert of Fall in our home. It has everything in it to give you that nice warm feeling you need as the weather turns cooler. It's sure to be one of your favorite things to make!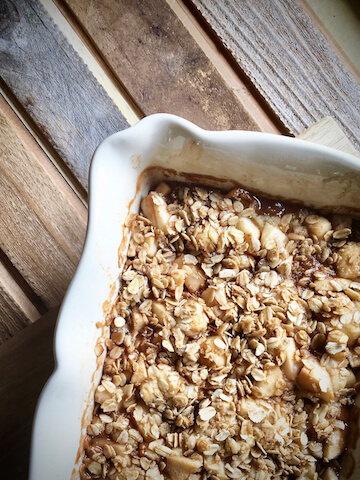 So, if you've been following me on here for awhile you probably know that I don't do sweet. I just don't really crave it, and I'm not a huge fan of spending my calories on it. I used to bake ALL of the time for relaxation, but I haven't really done so for years now. Also, I just don't know how to bake with less sugar and butter. Honestly, how is that even a thing? I will never turn down a really good piece of dessert… but for the most part, I don't need it, and I don't crave it. Don't worry, I want french fries and onion rings like every day of my life, so I'm not some crazy health nut who "just doesn't want something." …except for donuts, 98.7% of the time. Sorry y'all, I know I am nuts. Bring me some chicken nuggets instead. Seriously.
I posted a little sneak peek of this yesterday on Instagram, and my friend Lauren about lost her mind that I made something sweet! I thought I'd lost my mind too. But honestly, this turned out SO GOOD. Like, crazy delicious. I had two pieces hot out of the oven with some whipped cream on top, and I can't begin to tell you how delicious it was. It tasted like home. It tasted like grandma's cooking. It just tasted perfect! Lauren had me laughing like crazy. She was concerned that something was wrong with me, and also said to have someone get me a roast beef, stat! I agree. Someone get me some roast beef, mm mm mm! It would be the perfect evening. A big piece of tender roast beef, some of my Homestyle Cauli-Tater Mash, maybe some Bacon and Brussels …. and then THIS for dessert. Life complete!
I kind of struggled with naming this because it's a mixture between a crumble, a cake, a bar, but it reminds me of apple dumplings! So I went with a simple name- I hope it does it justice. If not, feel free to recommend another name for this. Sometimes, It takes a village!
Now you're probably wondering why I was in the kitchen with a dessert. Well… I have almost an entire fridge full of all sorts of apples. I had no idea what I was going to do, I kind of just started grabbing things from the pantry and fridge and it came together beautifully! I honestly kind of impressed myself because I don't do desserts very well. Ha Ha!
The other day Eric and I took lil Pepper to a Pumpkin Patch/Apple Orchard and we had so much fun! We absolutely love taking her on little adventures because for her it's the FIRST time doing something and we love when her eyes light up when she's experiencing new things. She's such a precious girl. I hit the lottery with her, that's for sure. She makes the most mundane things seem so exciting again! We sat in a big ol' bin of corn kernels, and played with sand toys and toy trucks, scooping corn kernels up and letting them fall from our hands. She was absolutely hypnotized by this. The things you start doing when you become a parent are some of the best things in the world, seeing the world through a child's eyes again, and it's remarkable. You realize simplicity is a virtue, and you start cherishing moments and time again.
She's been such a gift to us. I could go on and on about this, but I'll spare you. She's just a very special little girl and If I loved her any more, my heart would spontaneously combust.
Here's the sweet that happened in my savory kitchen yesterday…
But first, let's take a little look at the delicious apples from the pumpkin farm. These are called 'Ida Red' and they are the perfect mixture of tart and sweet. I'm not sure, but I don't think this specific variety is usually found in the grocery store. My go-to baking apples have always been Granny Smith or Honey crisp, and those are in most of the grocery stores that I've ever been to.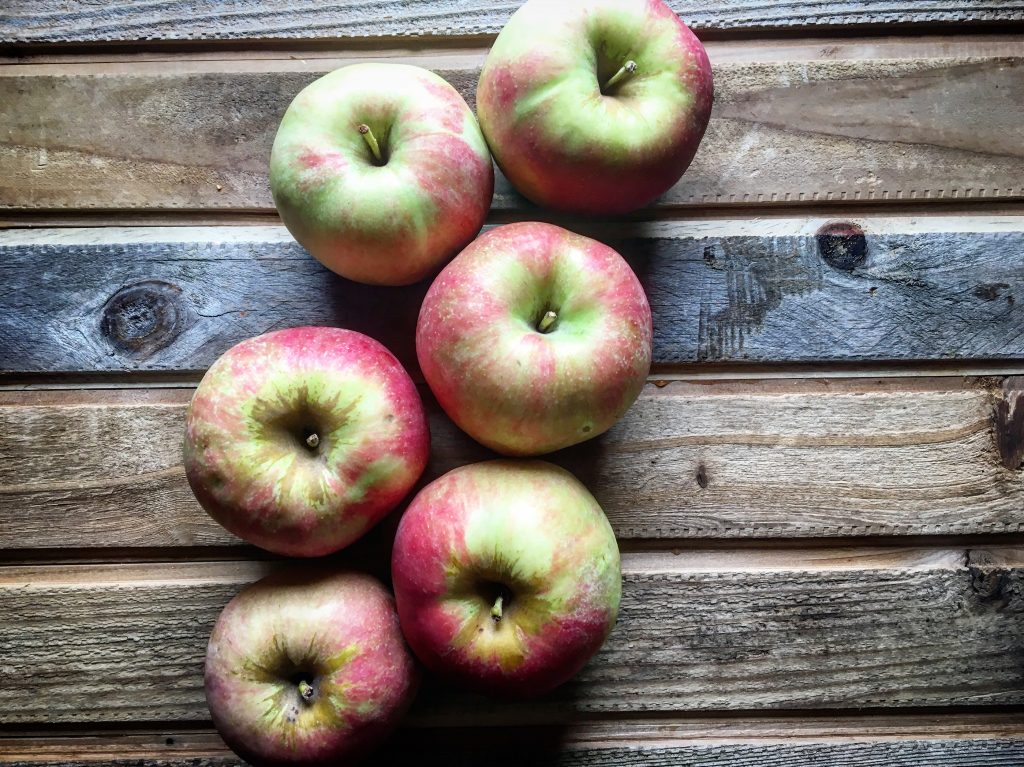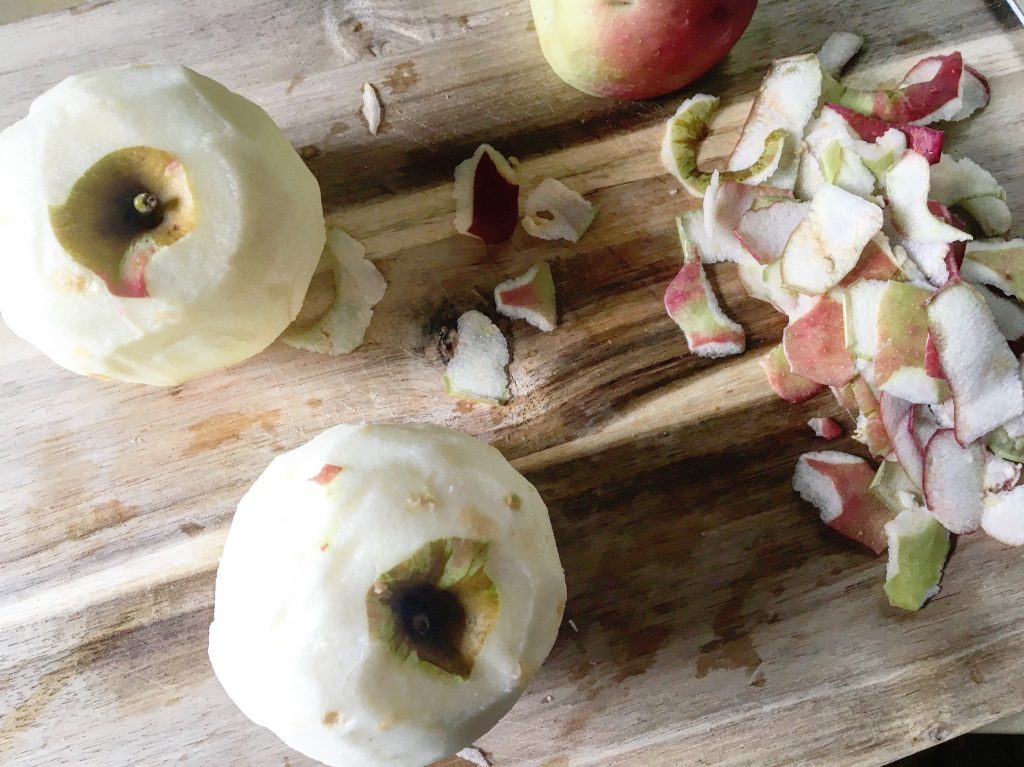 Peel and core two large apples. There might be an easier way to peel your apples, if there is, go ahead and do that, but I just use a potato peeler to get it done quickly.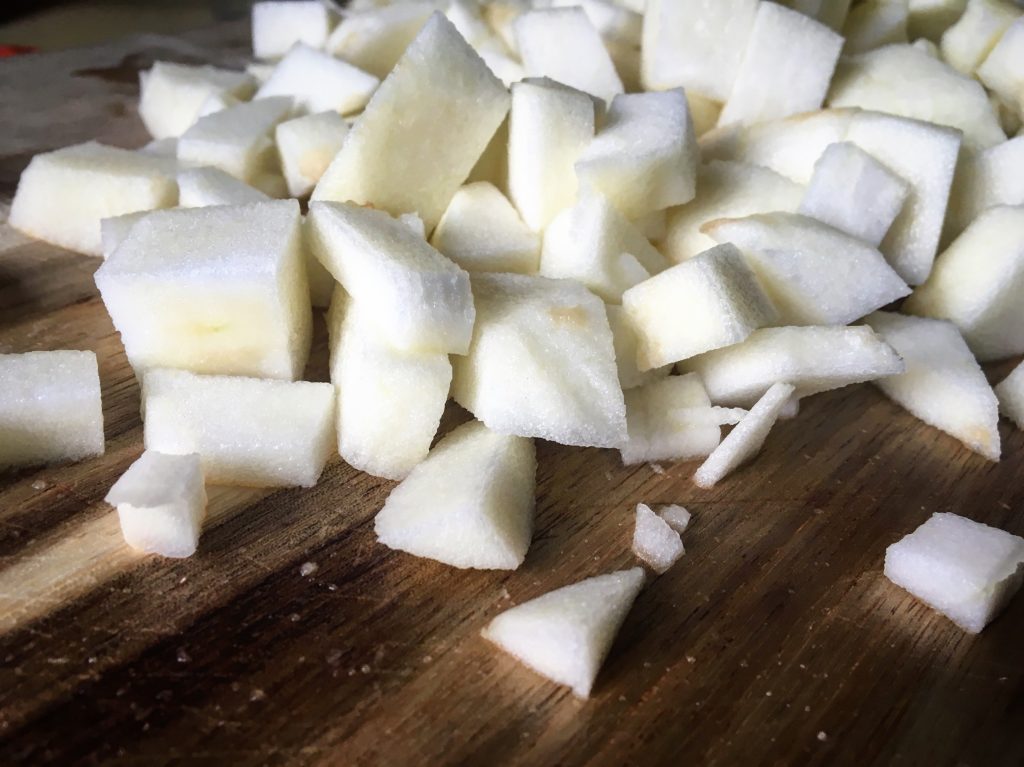 Next roughly chop them into smaller pieces.
In a mixing bowl combine apples, 1 1/2 tsp cinnamon, 1/4 cup brown sugar, 2 tsp vanilla, 1/4 cup non fat sour cream, and 1/2 cup of water, and mix together.
I know most people don't have this lying around their kitchens, but if you do- use Pure Vanilla and not the extract. It's so amazing! Does anyone have the slightest clue why the US refuses to sell Pure Vanilla? It's probably one of the most annoying things ever. This was bought in Mexico for me as a gift, and I don't use it much. so when I get the chance, It makes all the difference! Vanilla Extract will work just as well.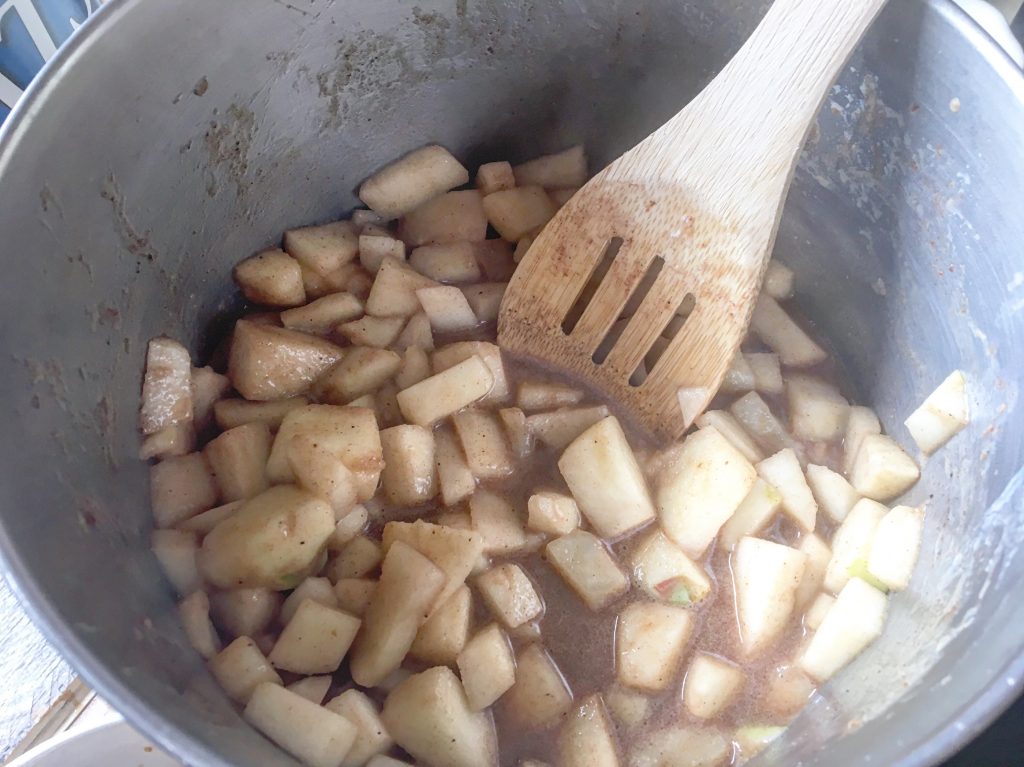 In a medium saucepan, cook the apples for about 8-10 minutes over medium heat, until they are softened.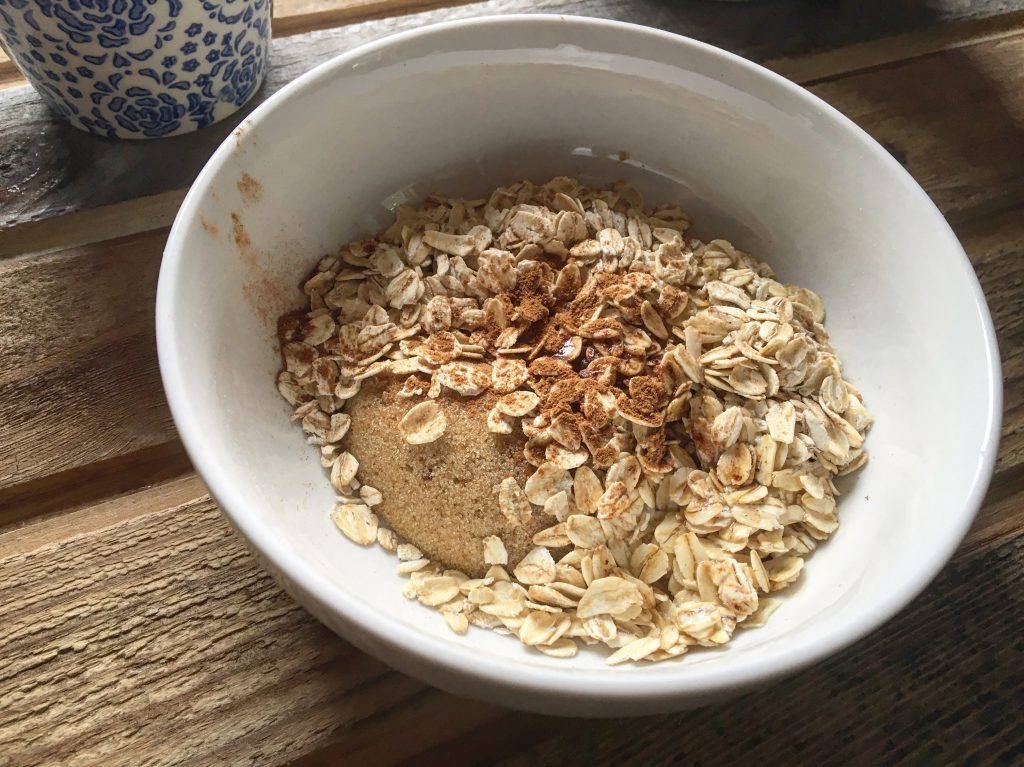 While the apples are cooking, mix together 1/2 cup old fashioned oats, 2 tbs brown sugar, 1 tbs melted butter, and a few more sprinkles of cinnamon.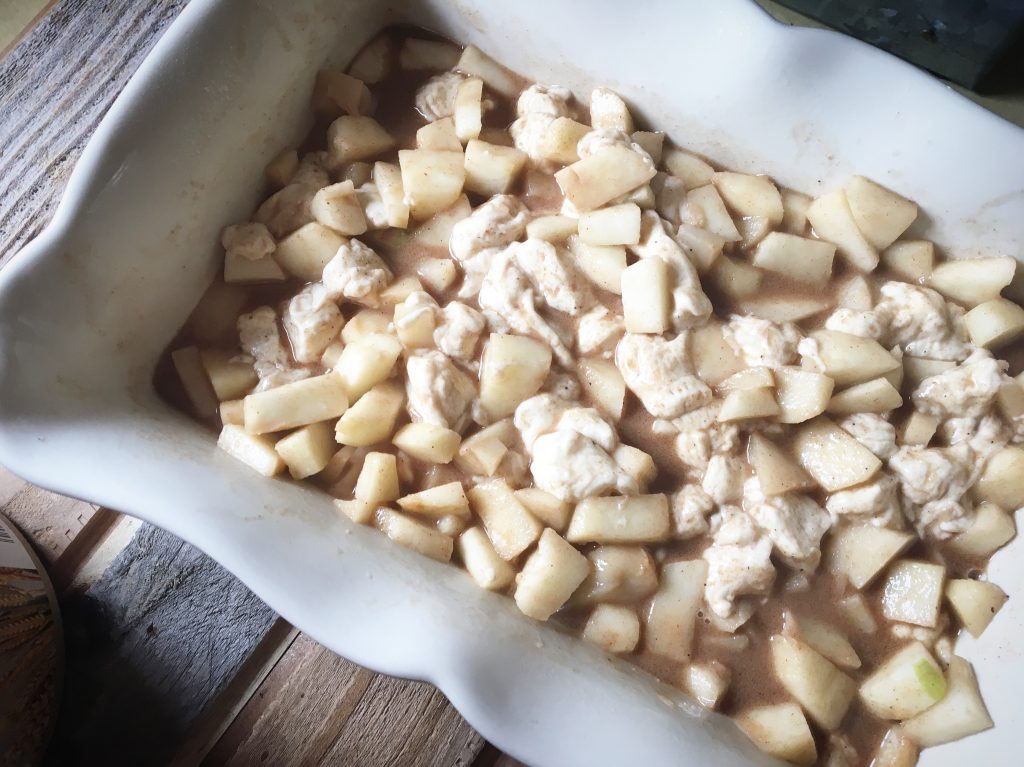 Now, I just realized I totally forgot to photograph a step… OOPS. Cut up some of those handy dandy biscuits (the ones we all love and use so much) into tiny, bite-sized pieces. Spray a smaller casserole dish with cooking spray (This one is a 3 quart). Toss the biscuit pieces in with the apple pie filling. Combine well. Sprinkle with the oat topping mixture.
Place in preheated 350 degree oven and bake about 22 minutes.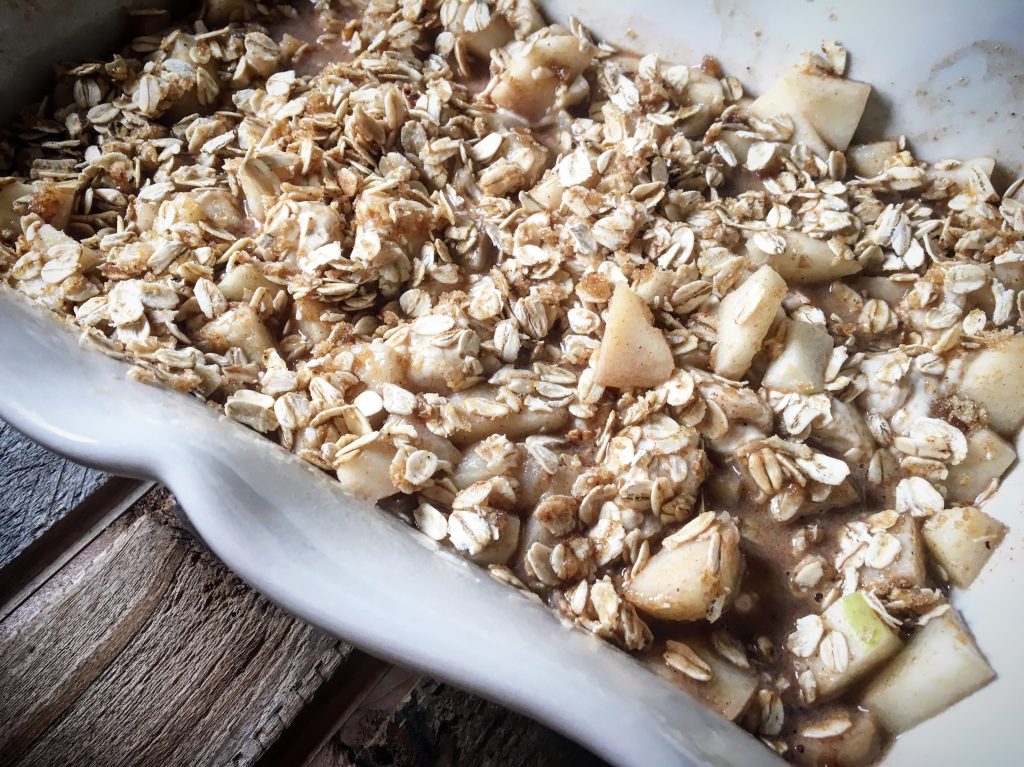 Now take out of the oven, and let it sit for maybe 5-10 minutes (or however long you can wait) to let it cool and set.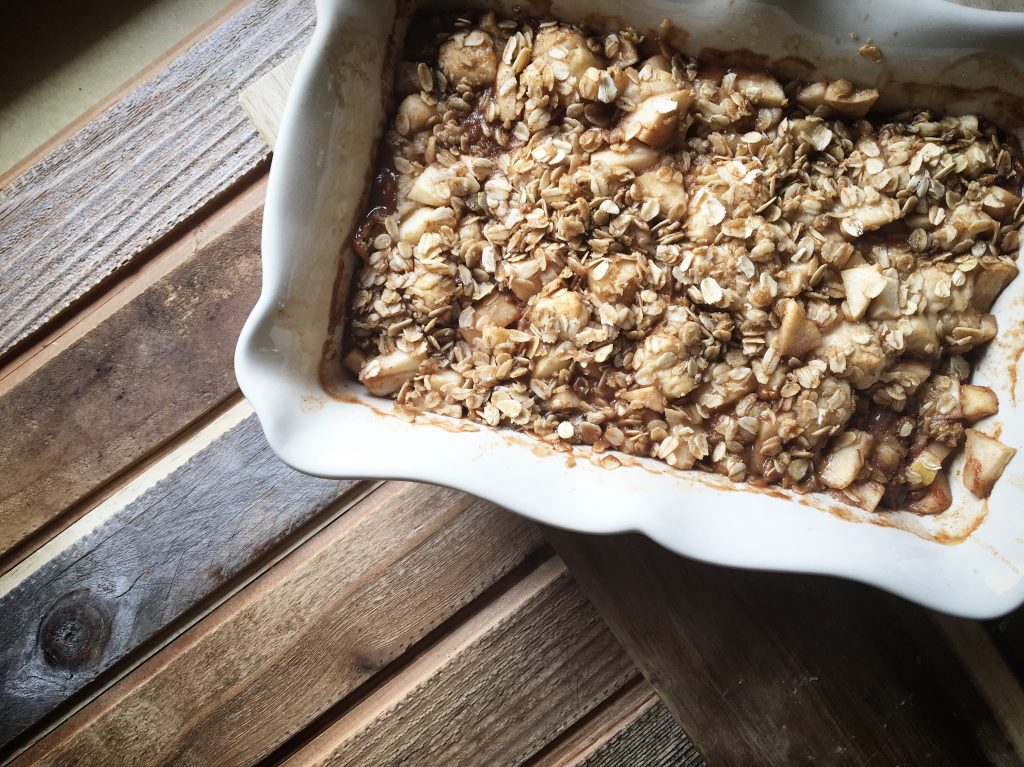 oh my goodness..YUM!
Now get yourself a plate and a fork, and scoop it up. This tastes DELICIOUS alone, but with whipped cream and/or ice cream….. positively MAGICAL.
Side Note: this is placed on a salad plate, so it's a very generous helping!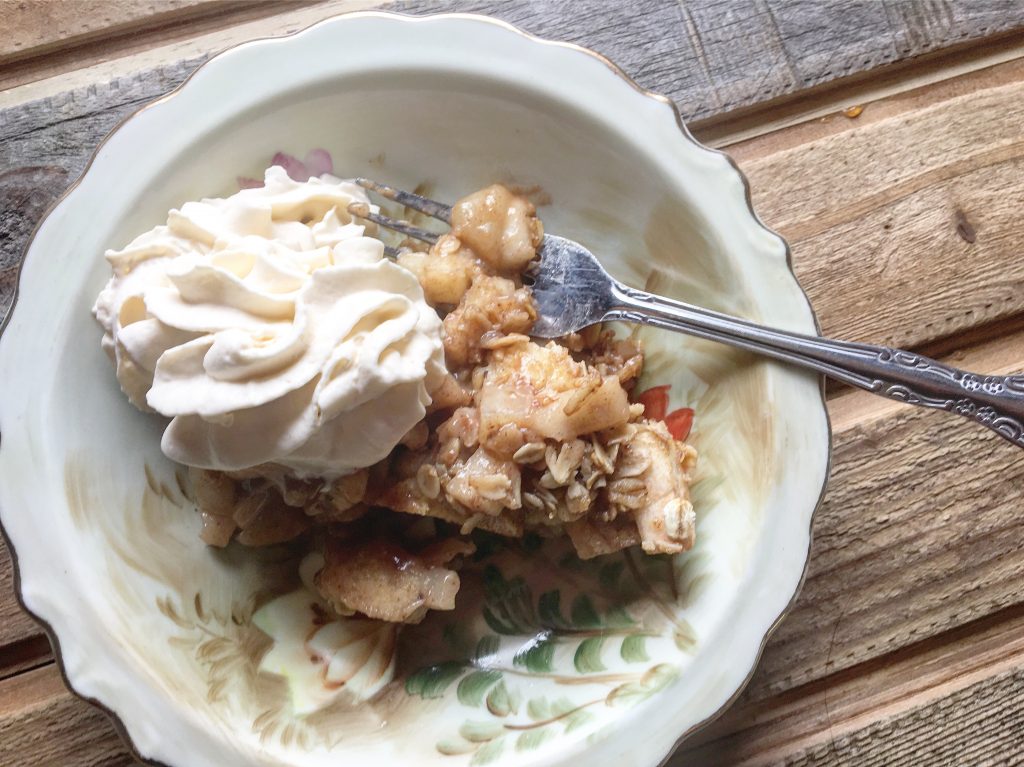 One more… because YUM!
and just one more thing, My mom came over this morning to help with Miss Pepper and some yard work… I served it to her on a plate for breakfast and she LOVED it. She's a total sweets enthusiast, unlike me. She said it tasted like Christmas morning! So, be sure to think about this one not only as a dessert, but possibly even a little breakfast dish for special occasions!
Lots of love from my kitchen to yours…
Star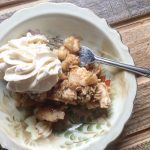 Print
Apple Pie Bubble Up
a dangerously delicious mix between an apple crumble, pie, and dumpling!
Materials
2

large tart apples *granny smith or honey crisp- cored

, peeled, and roughly chopped into small pieces

1 1/2

tsp

cinnamon + a little extra for topping

2

tsp

pure vanilla or vanilla extract

1/4

cup

brown sugar + 2 tbs for the topping

1/4

cup

nonfat sour cream

1/2

cup

water

1

tbs

butter

, melted, for topping

pinch of salt

, for topping

1/2

cup

old fashioned oats

, for topping

1 7.5

oz

can refrigerated buttermilk biscuits

, each biscuit cut into eighths (Pillsbury makes these in four packs, but recently I have seen store brands carry these in a single can- If you cannot find these smaller cans. You can get a regular pack of buttermilk biscuits and weigh 7.5 oz out)

Cooking Spray
Instructions
Preheat the oven to 350 degrees. In a large mixing bowl add chopped apples, 1/4 cup brown sugar, water, vanilla, cinnamon, and sour cream. Mix until combined. In a medium saucepan add the apple mixture and cook over medium-high heat until the apples are softened. While apples are cooking grab a small bowl add oats, 2 tablespoons brown sugar, melted butter, a few more shakes of cinnamon, and a pinch of salt. Mix well. Spray a 3 quart casserole dish with cooking spray, add the cut up biscuit pieces and the top with the warmed apple pie filling. Lightly stir into the biscuits. Sprinkle the oat topping mix on top. Place into the oven for about 22 minutes or until the top is lightly browned and biscuits are bubbled up.
Notes
Serving size: 1/8 of the pan
152 calories 2.5g fat. 29g carbs. fiber 1g. sugars 13g. protein 3g
WeightWatchers Points: 5 Points