Skillet Gnocchi Pizza Bake
This post may contain affiliate links (meaning I earn a small comission if you purchase an item through a link I provide) I only provide shoppable links to items I love and are helpful. As an Amazon Associate, I earn from qualifying purchases.
I'm just getting settled back into my home and kitchen after a long weekend in Minneapolis with family and a beautiful wedding! I have sure missed my kitchen. I ate a lot of not so good foods, and I'm feeling it right now. Bring on the bottled waters and vegetables! How do all of you recoup after some time off of weight watching?
I'm trying out a new recipe card, as well. I think I like the way this one flows better with my template. Let me know how it works for you guys! I am learning that this whole blog thing is a lot of trial and error. Eric actually said to me this afternoon, "I wish we could just start from scratch, we've learned so much since we started working on this." I almost gave him the go ahead, but that would mean making the site unavailable again. I just don't think I want to do that, even for a short time. So please bear with me, there will be some changes here and there that might not make much sense!
On to this new recipe I whipped up a few weeks ago while having pizza cravings. I crave pizza at least once a day. I mean, Pizza is everything. I'm fairly positive I lived off of frozen pizzas for at least a year when I was younger and my metabolism was (a little) better.
This recipe is so delicious. I really didn't think it would be as good as it actually turned out to be. It's also only SIX smart points. I seriously couldn't believe it! I'm terrible at doing the points/calories until after I have come up with something, so nine times out of ten I have to make adjustments. Nope, not this time… and BONUS, for whatever reason this is incredibly filling. The gnocchi really adds so much to this skillet.
Because I'm a firm believer in hiding as many vegetables as I can into a recipe, I made sure to pack this one with all your favorite pizza toppings, including some zucchini, because why not?
This all comes together in the skillet as perfectly as I had hoped, and then the final touch of baking it in the oven so the cheese gets that nice, melted crispiness, just like your favorite pizzas. Ah, bliss!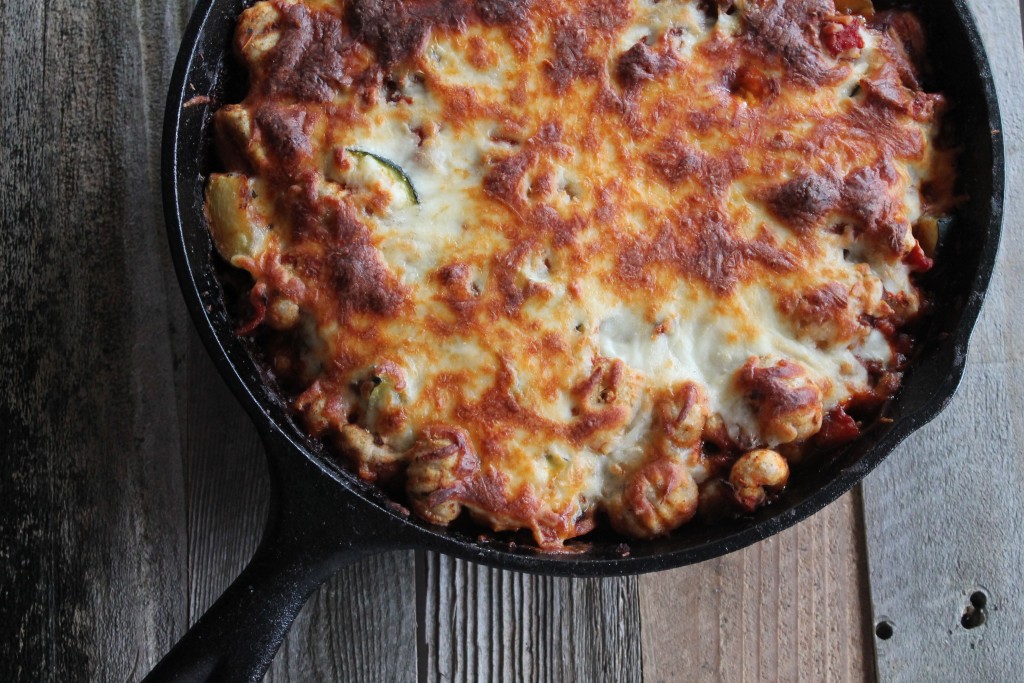 I told you it was perfect. *insert lots of hearts*
If you notice, I left mine in the oven to bake quite a bit longer, I'm a burnt pizza lover. Guilty as charged.
I am new to the cast iron skillet world. Eric has been swearing by these things forever, and I was all, "Eh… " and then I realized I could put it in the oven and make cheese do things like this, and I was sold. I decided I would start experimenting more with Skillet cooking. If you do not have a cast iron skillet, they do make other skillets that can go in the oven, but it has to say "Oven Safe," so confirm that before you go putting your favorite pan in there.
You could also transfer to a casserole dish and top with cheese, either way is fine. I'm always in favor of less dirty dishes though!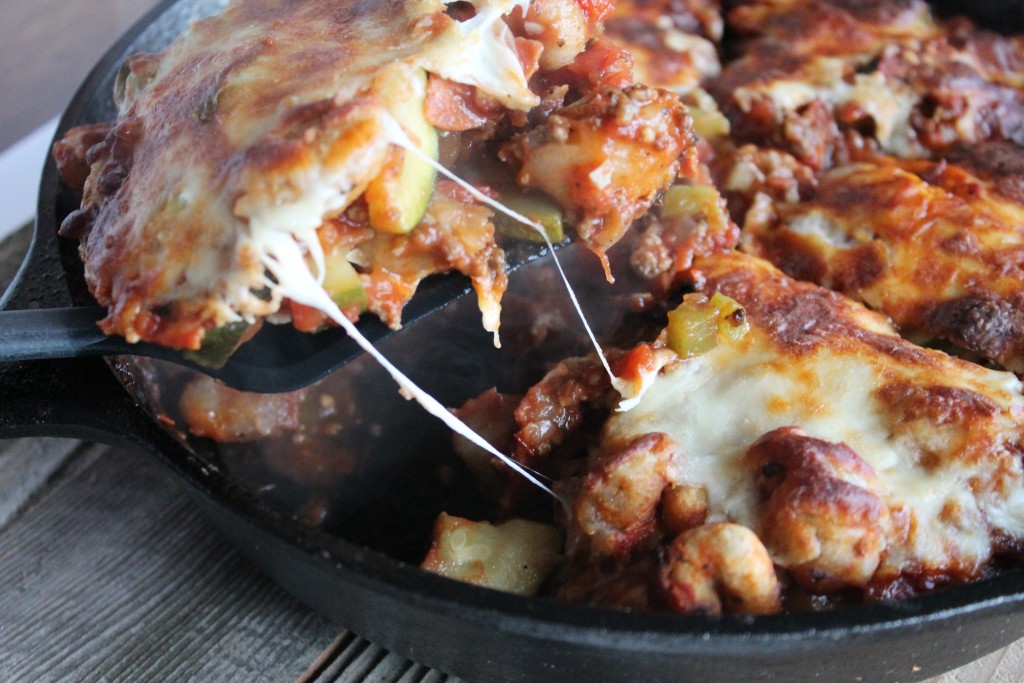 ENJOY!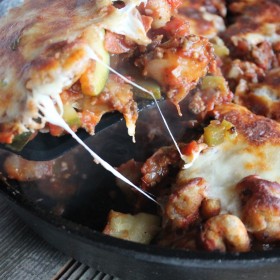 Print
Skillet Gnocchi Pizza Bake
A delicious and healthier new take on an old tradition!
Materials
1

tbsp

olive oil

16

oz

potato gnocchi

4-5

cloves

minced garlic

1

diced onion

2 1/2

oz

Turkey Pepperoni

roughly chopped

1

large

diced bell pepper

2

medium

diced zucchini

1

tsp

garlic salt

1

tsp

dried basil

2

tsp

dried oregano

1

cup

shredded Mozzarella
Instructions
Preheat oven to 400 degrees.

In a cast iron skillet or oven safe skillet, add the olive oil and toast the gnocchi for about 5 minutes. Remove gnocchi from skillet and set aside.

Add onion and garlic, and sauté for about 3 minutes.

Add the zucchini, bell peppers, and turkey pepperoni. Cook until vegetables are softened.

Stir the marinara sauce, oregano, garlic salt, and basil into the pan. Let simmer for about 5 minutes.

Stir in the gnocchi. Salt & Pepper to taste.

Top with mozzarella cheese.

Put into the oven for 10-12 minutes until the cheese is melted, and browned.

Let sit for about 5 minutes, cut into six servings. Enjoy!
Notes
Serving size: 1/6 of the skillet
260 Calories, 8.3g fat, 3g saturated fat, 700g sodium, 37g carbohydrates, 5g dietary fiber, 6g sugar (0g added sugar, 0g sugar alcohols, net carbs 32.5g), 13.5g protein
WeightWatchers Points: 7 Points
SaveSave
SaveSave