This post may contain affiliate links (meaning I earn a small comission if you purchase an item through a link I provide) I only provide shoppable links to items I love and are helpful. As an Amazon Associate, I earn from qualifying purchases.
Looking for a protein-packed dinner that's easy and crazy delicious? These air fryer steak bites are a total win! They're super simple to make and require no time in a marinade, which means you can have perfectly seasoned steaks bites in under 15 minutes from start to finish!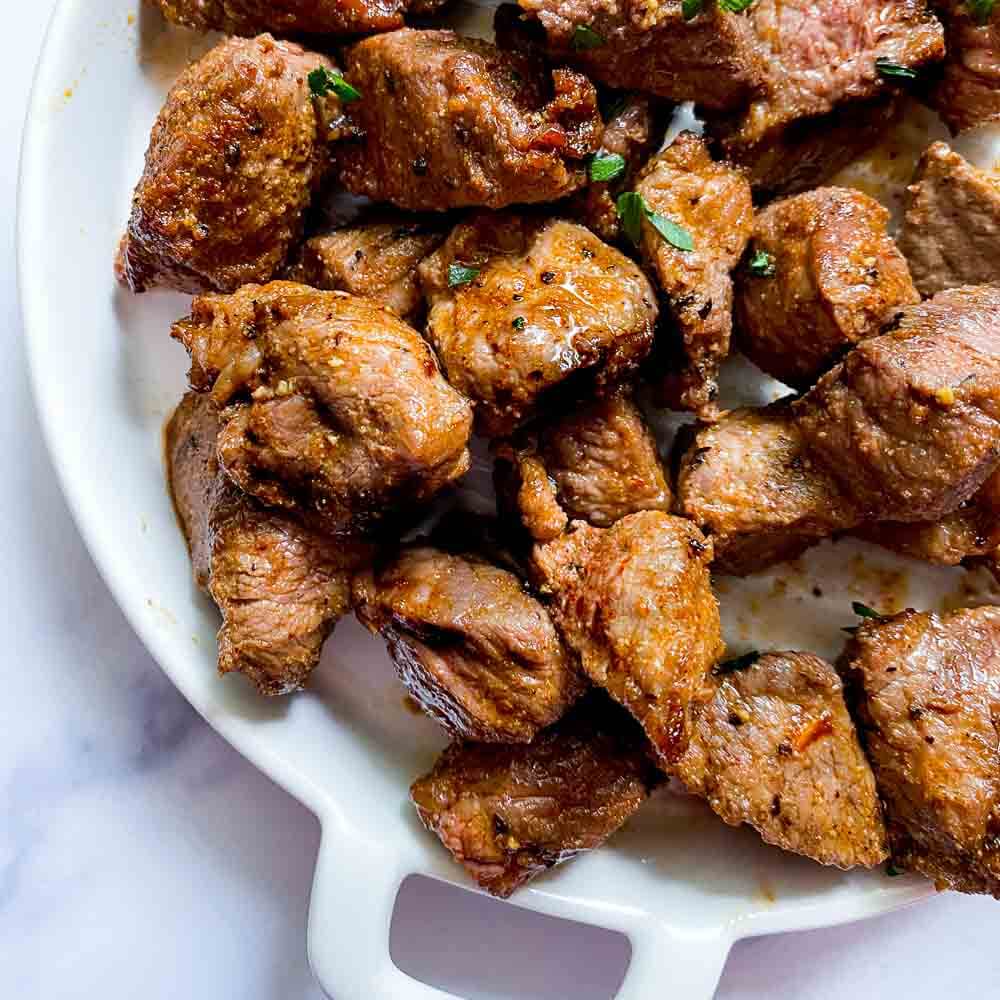 Introducing air fryer steak bites – a quick and easy way to enjoy steak
Who doesn't love a delicious Air Fryer meal? Our latest obsession: Steak bites in the air fryer! Low carb, full of protein, and oh so delish. These tiny, but mighty meaty treasures can be tricky to cook, cause they can become tough and chewy. Here's my little secret: cook'm up in the air fryer for a to die for caramelized outside, while still retaining a tender and juicy inside. To make this recipe totally foolproof, be sure you take the extra step of letting the bites rest (meaning don't eat/touch them for a few minutes).
File this one under insanely easy weeknight meal just like my Air Fryer Chicken Fajitas or Air Fryer Monterey Chicken recipe!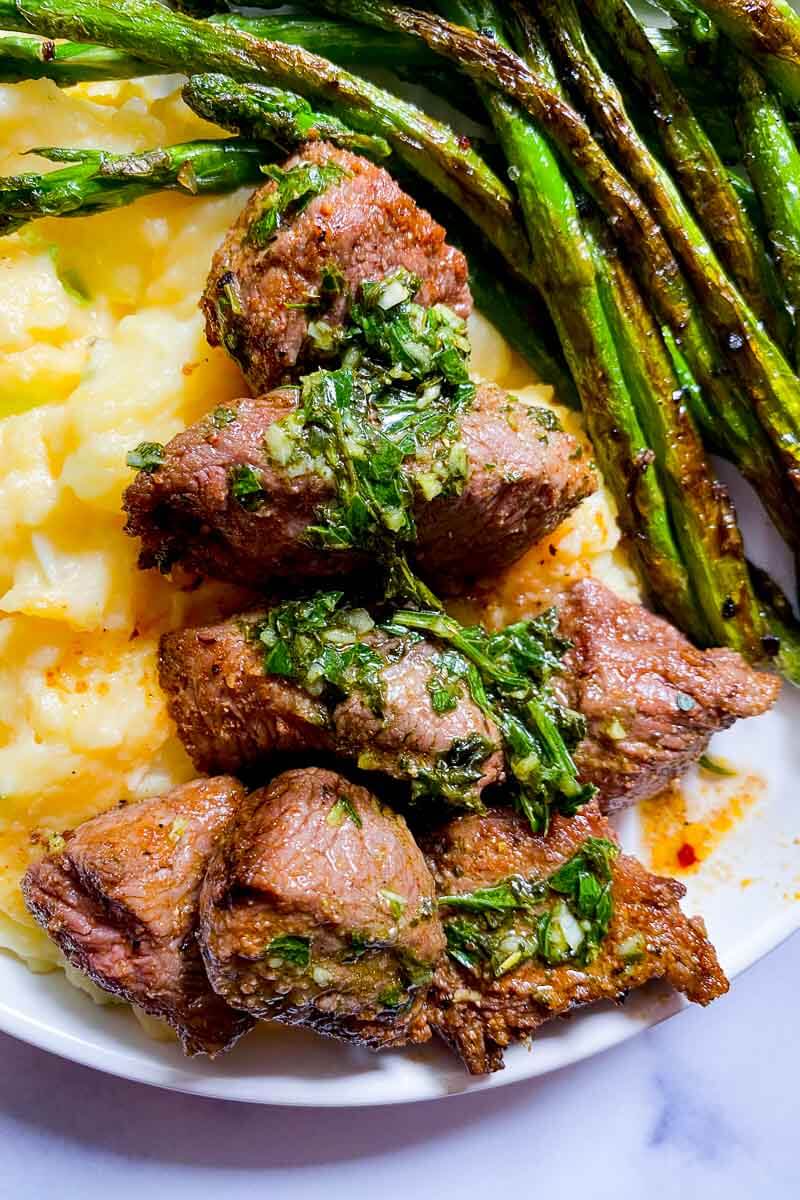 When it comes to cooking steak …the beloved air fryer has entered the chat, and the result is the ultimate juicy and flavorful steak bites. In just under 10 minutes, the extra hot air works its magic, giving your steak that has a totally gorgeous and lightly crispy char on the outside. Trust me, you'll just love it! The taste is just *chefs kiss*.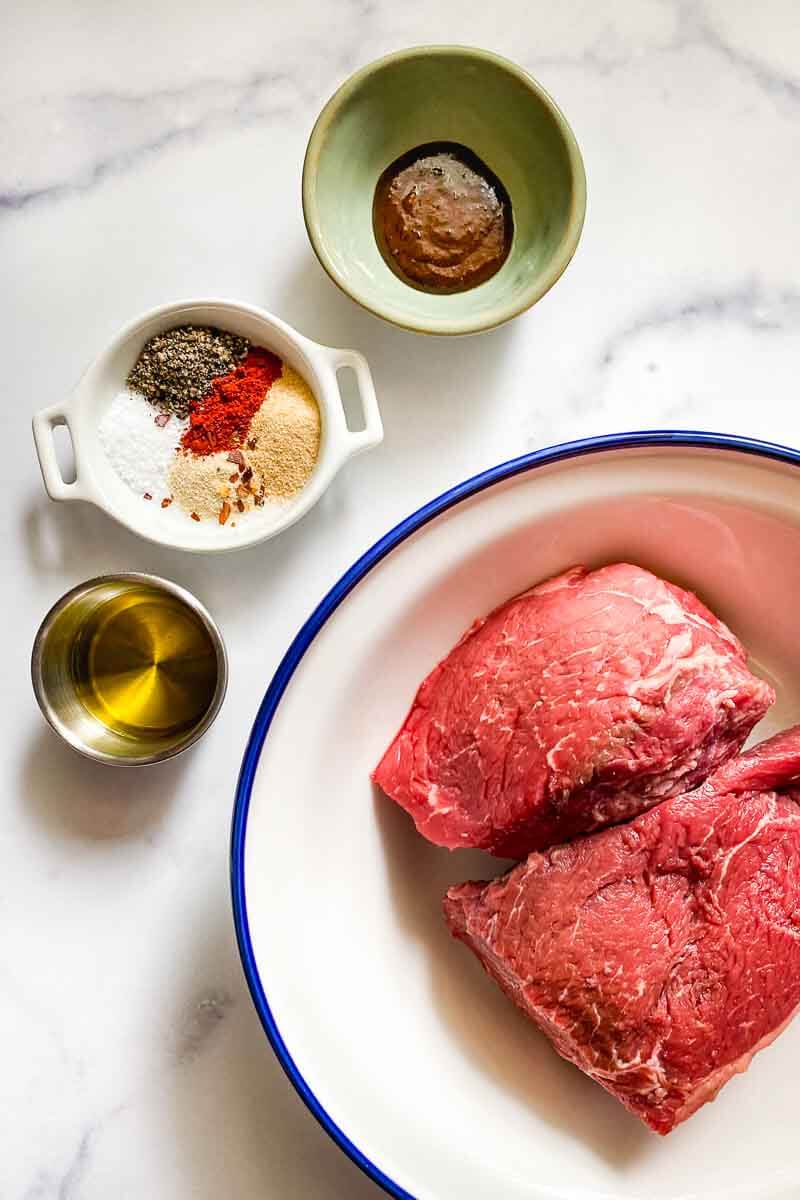 Ingredients (and variations)
Another big benefit to making this recipe is that the ingredient list is actually super short and aside from the steak itself, the ingredients are items that are easy to keep on hand!
How to cook Air Fryer Steak Bites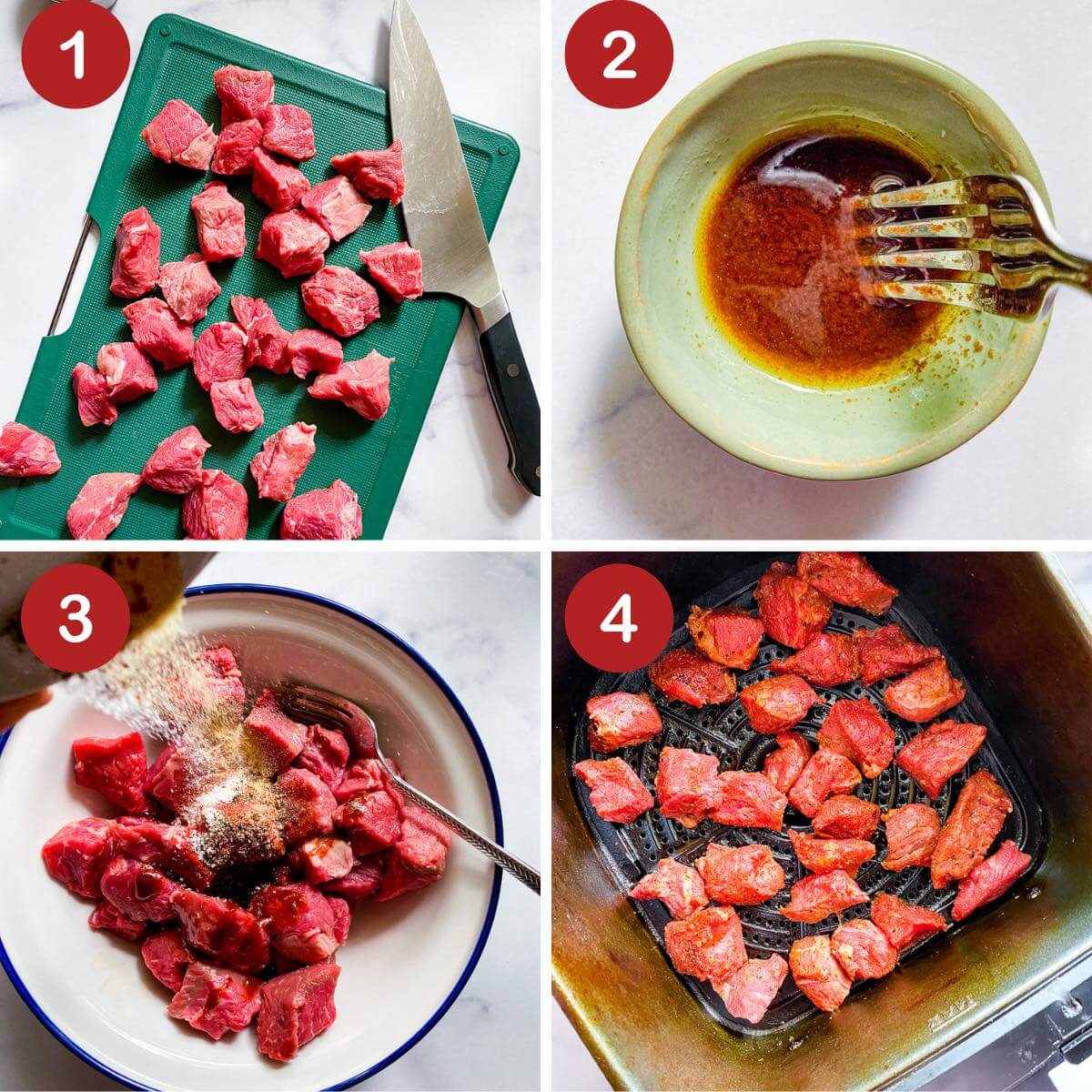 Preheat Air Fryer to 400 degrees for 5 minutes.
Cut steak evenly into 1-inch cubes.
In a small bowl stir together olive oil and better than bouillon.
In a bowl toss steak cubes, seasoning, and flavored oil mixture together. Rub the seasoning and oil in the steak bites well.
Add steak to air fryer basket be careful not to over crowd. Air fry for about 4 minutes, shake the basket, and then cook steak bites for another 3 minutes.
This cook time will give you about medium doneness meaning just a little pink inside. If you enjoy steak more on the medium-rare side, you may want to cook for less time. Medium-well done? Cook for a couple minutes longer.
Let steak rest for a few minutes before eating.
Note: if you want to double the recipe, cook in multiple batches!
Hot Tip!
Psst… wanna know a juicy secret? When meat is cooked, its juices move towards the outside. So, if you're tempted to dig in immediately (who wouldn't be?), your meat will end up dry and tough. IT DOESN'T HAVE TO BE THIS WAY. Simply give it some time to rest (literally) and let those juices redistribute.
Steak Temperature Details
If you're all about that perfectly cooked steak life, you probably want to try using a meat thermometer to get the internal temperature spot on. Now, I'm not going to tell you how done it should be (we all have our preferences!), but if you're unsure, I personally opt for a happy medium and it never disappoints. Just remember, the more pink you go, the less caramelized the outside will be.
Medium rare (pink)- 130-135 degrees
Medium (some pink)- 145-145 degrees
Well (tiny bit of pink)- 145-155 degrees
Well done (99% brown)- 155-165 degrees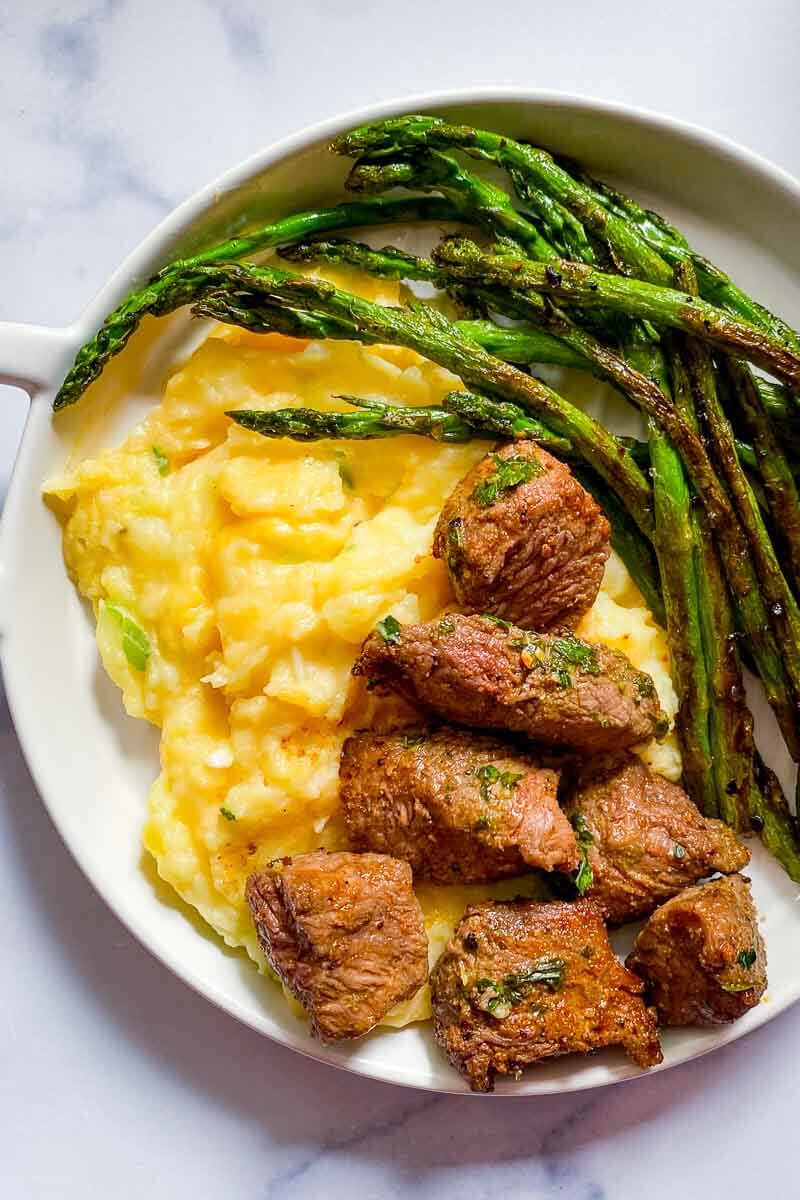 Can I make Air Fryer Steak Bites without an Air Fryer?
Love steak bites, but no Air Fryer? No worries! I gotcha covered with stove top instructions. Heat up a big cast iron skillet over medium-high heat, add steak bites, take care not to crowd'm. Hear that sizzle? Let'm cook for about 4 minutes without touching/stirring then stir'm and let'm cook for another 3-4 minutes. Remove from skillet and let them rest before eating. That's it. Juicy and delicious steak bites perfectly cooked on the stove top instead of the air fryer!
Tip: When checking to see if your skillet is hot enough just run your fingers under the faucet with some water. Flick the water on the pan. If it sizzles, you're good to go!
How to serve
If I'm looking to step it up I just love serving steak bites with gravy for extra comfort food vibes, like pictured below, with tiny spoonfuls of chimichurri sauce (basically blended fresh herbs like, parsley, oregano, and cilantro) for an incredible flavor boost, or tossed in a little garlic butter concoction (melted down 1-2 tbsp butter with garlic powder and dried parsley).
What's the best side dish to serve with steak bites?
Top Air Fryer Tips
Preheat your air fryer.
Just like you would preheat the oven, it's important to preheat the air fryer.
This ensures food cooks every and gets crispy and/or carmelized.

Use Avocado Oil Spray not regular cooking spray.
Avocado oil spray has a higher smoke point so it doesn't create that weird residue
thats really hard to clean.

Don't over crowd the basket.
Probably the most important rule, to be honest.
When you overfill the air fryer basket it makes it hard for the air to circulate
and results in soggy or unevenly cooked food.

Shake the basket!
Always shake the basket at least once during the entire cooking time.
This promotes even cooking and browning. I usually do it at the half way point.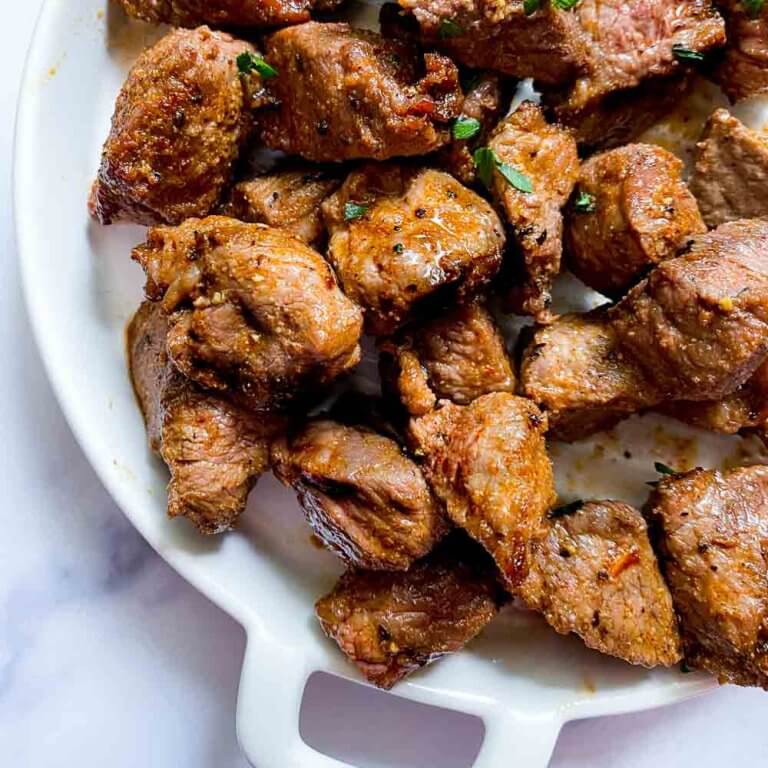 Print
Air Fryer Steak Bites
Tender and juicy Steak Bites made in the Air Fryer in less than 10 minutes!
Materials
1

lb

top sirloin steak

1/2

tsp

garlic powder

1/2

tsp

freshly cracked pepper

1/2

tsp

onion powder

1/4

tsp

smoked paprika

1

tsp

beef better than bouillon concentrate paste

or Worcestershire sauce

2

tsp

olive oil

avocado oil cooking spray
Instructions
Preheat your air fryer to 400 degrees Fahrenheit for 5 minutes.

Cut your steak into even 1-inch cubes.

In a small bowl, blend together olive oil and better than bouillon (or worcestershire if using).

In a large bowl, toss the steak cubes, seasoning, and flavored oil mixture together. Gently massage those flavors into each cube.

Place the steak bites into the air fryer basket, being sure not to overcrowd it. Fry the bites for roughly 4 minutes, give the basket a good shake, and then cook them for another 3 minutes. This will give you that delicious, medium doneness. If you want medium-rare or medium-well, just adjust the cook time accordingly.

For the best results, allow the steak bites to rest for a few minutes before digging in this allows the juices to redistribute and results in the most tender meat!

Store any leftovers in an airtight container. I recommend reheating in the air fryer, in a skillet, or eating them cold.
Notes
Serves 4 at about 3 oz each serving
WW Points: 4
Calories: 170 calories, 6.5g fat, 2g saturdated fat, 179mg sodium, 0g carbohydrates, 0g fiber, 0g sugar, 0g net carbs, 26g protein
Nutrition
Serving:
3
oz (cooked)
|
Calories:
170
kcal
|
Protein:
26
g
|
Fat:
6.5
g
|
Saturated Fat:
2
g
|
Sodium:
179
mg
|
Potassium:
381
mg