Air Fryer S'mores Banana Boats
This post may contain affiliate links (meaning I earn a small comission if you purchase an item through a link I provide) I only provide shoppable links to items I love and are helpful. As an Amazon Associate, I earn from qualifying purchases.
Do you want a quick, healthy and hassle-free dessert idea? Try making Air Fryer S'mores Banana Boats that everyone in the family will love! This quick and easy dessert combines the irresistible flavors of gooey s'mores and sweet bananas, all cooked to perfection in an air fryer.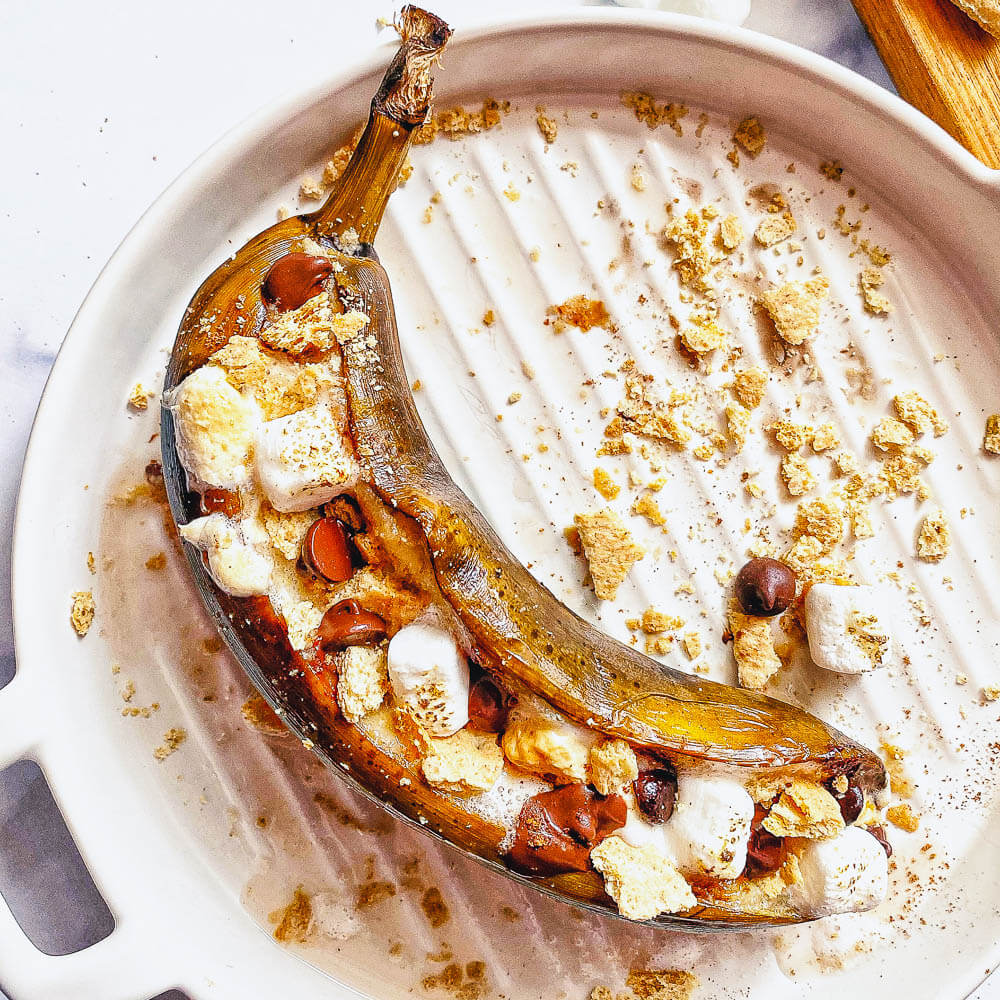 Alright, folks, let's talk about these yummy treats that are not necessarily easy on the eyes. But believe me, once you take a bite, you won't care what they look like! They're a heaven-sent solution for any sweet tooth out there, and the best part? You can make them in under 8 minutes!
Let me tell you about my obsession with Banana Boats. They take me back to my girl scout days (I was a proud member until 3rd/4th grade). These used to be a regular occurrence, and I still love them to this day! The best part is that you can stuff them with so many different types of toppings. But my go-to will always be the classic s'mores banana boat. I know they're usually made in a campfire, but waiting for a campfire makes it really hard to have them daily…? So, I decided to try them in my Air Fryer, and oh my gosh! They turned out so delicious so I have to share them with you all!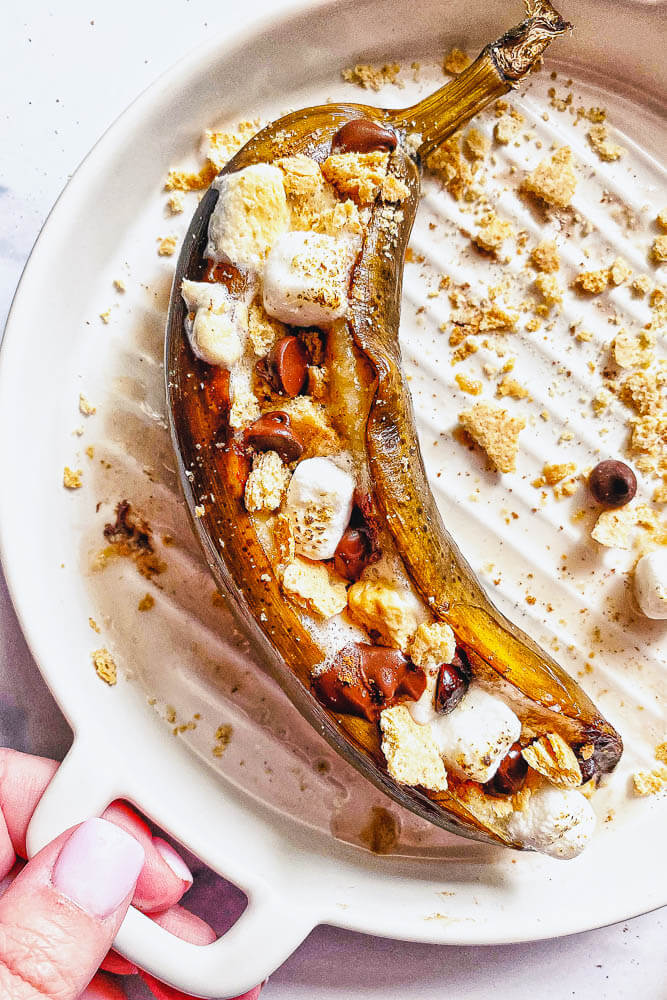 I feel like bananas sometimes bananas get a bad rep. Did you know that bananas are jam-packed with nutrients? Yup, you heard me right! These yellow treats are fully loaded with vitamin C and B6, potassium, great source of fiber, and even probiotics! So not only is this easy and tasty dessert the perfect treat, it's also the perfect fuel to help you live your best life. Pretty great, right?
Want to be the extra fun mom this summer? Make these for breakfast! I made these for breakfast with a side of vanilla yogurt the other morning and Pepper was so so so excited!
Let's make Air Fryer S'mores Banana Boats!
Let's talk ingredients!
Banana– I typically use a small/medium size one, but go ahead and use the large ones if you want, just make sure you stuff them with plenty of marshmallows and chocolate chips!
Cinnamon– If you're a cinnamon skeptic, feel free to skip it. But let me tell you, I think it adds such a delightful warmth to this dessert.
Milk Chocolate Chips- I recommend using No Sugar Added Chocolate Chips from Lily's or Hu Kitchen – both are fantastic brands, but you can totally use regular chocolate chips or a chopped up chocolate bar!
Mini Marshmallows– I just use regular old mini marshmallows. If you have big marshmallows you can use those too just cut them to be a little smaller in size.
Graham crackers– Just regular ol honey ones! You could switch it up and use the cinnamon or chocolate ones too.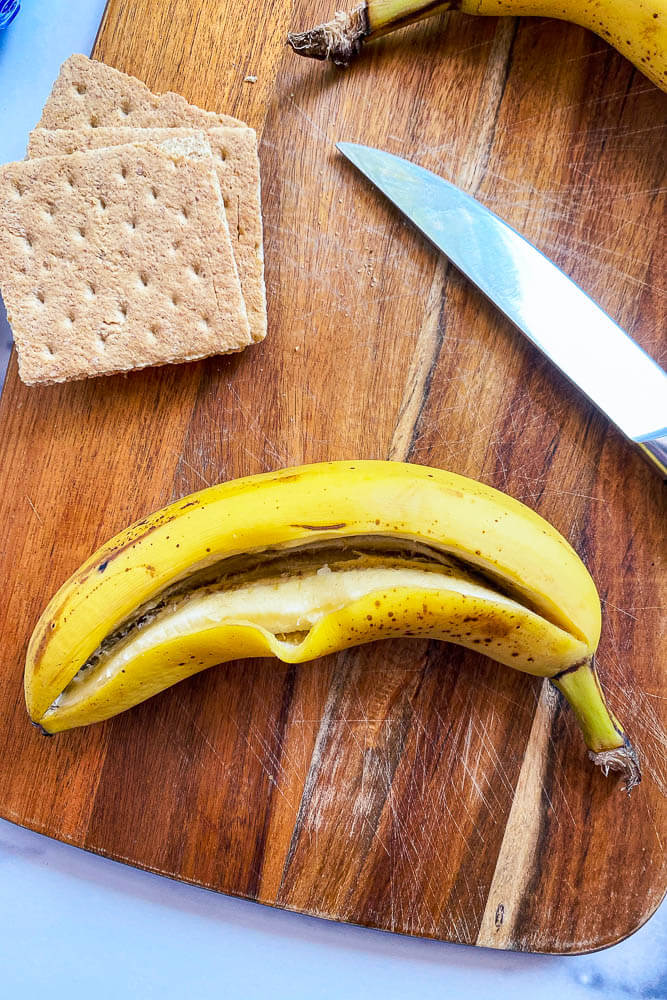 Prep the banana!
Lay it on its side and slice it slowly, careful not to cut through all the way. Gently pry it open and rub about 1/4 tsp of cinnamon on the insides.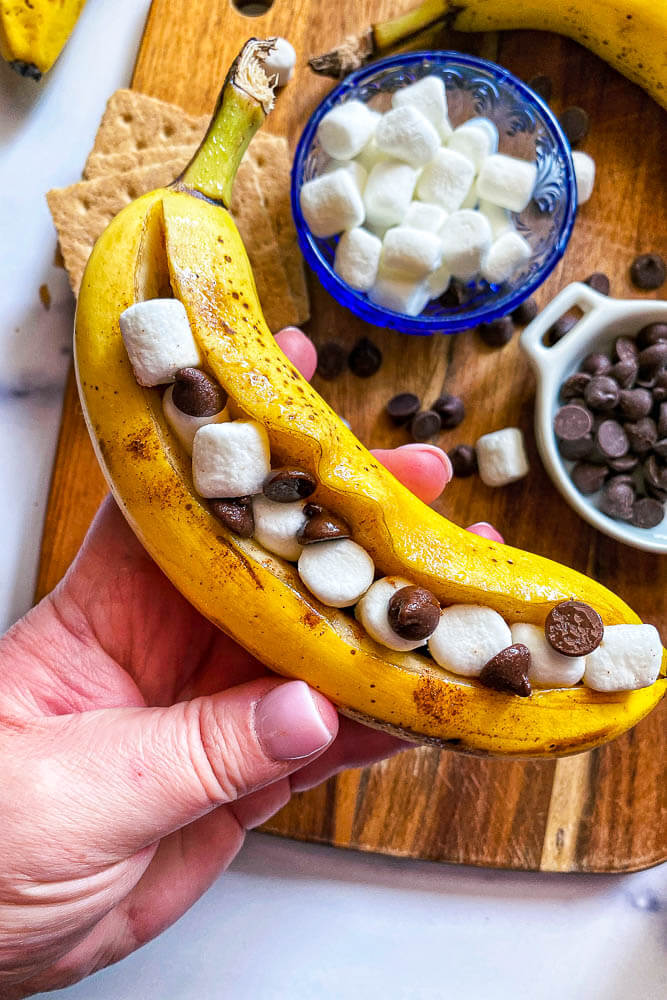 Stuff the banana boat
Now you can add the chocolate chips and marshmallows. Stuff them inside.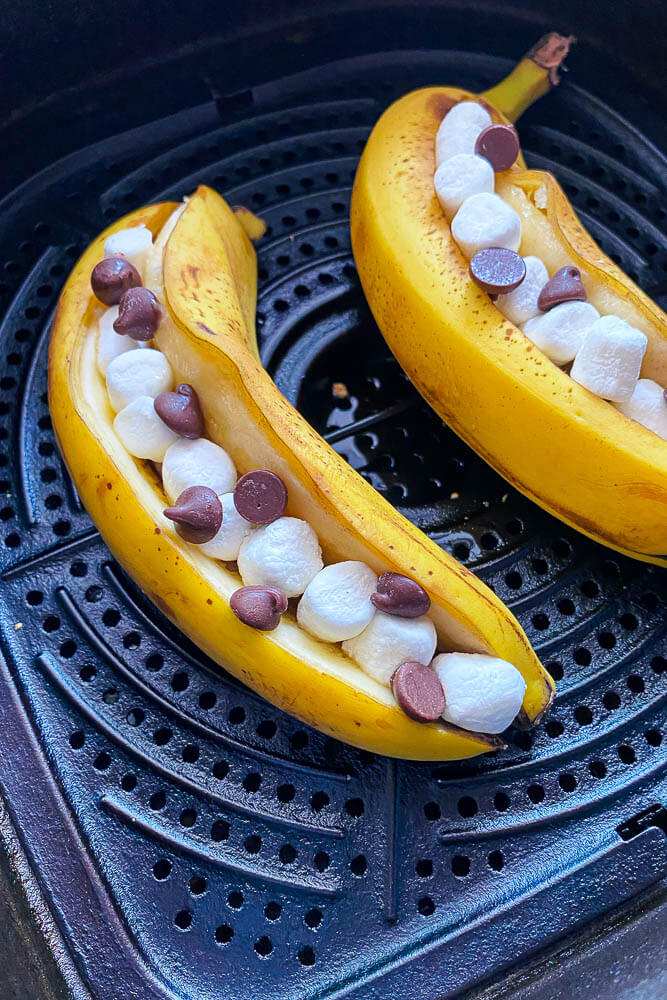 Preheat air fryer to 400 degrees for a few minutes and then add the banana boats. Cook for 4 minutes.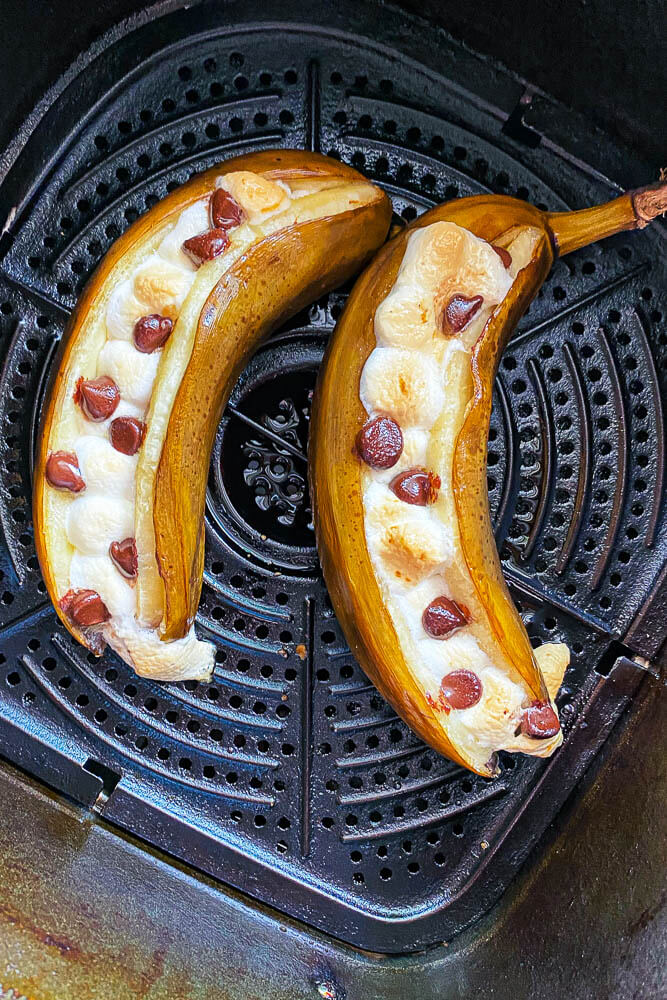 Ta-da! All finished. Be gentle when removing from the air fryer because they are ooey-gooey perfection. Place on a plate and crumble 1 square of graham cracker on top.
Make Banana Boats without an Air Fryer
Oven method: Preheat oven to 400 degrees. On a baking sheet add the banana boats and cook for 7-8 minutes until the banana peel has darkened and marshmallows and chocolate chips have melted.
Campfire method: Build a campfire, rake out the coals, wrap stuffed bananas in aluminum foil and place on the hot coals (not directly into the fire). Let it sit for about 5 minutes. Carefully remove from coals and let sit for another few minutes before trying to handle.
These are seriously so good a total ooey gooey mess- and to make things even sweeter, they're WW friendly (only 2 points!). This delightful little healthy treat may just become your new obsession!
More Extra Easy Air Fryer Recipes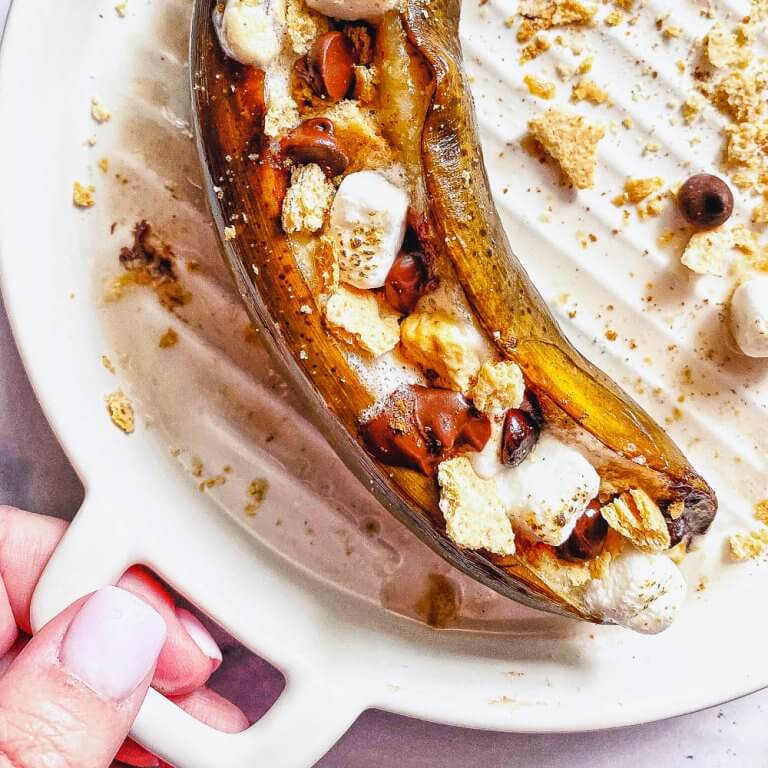 Print
Air Fryer S'mores Banana Boats
This quick and easy dessert combines the irresistible flavors of gooey s'mores and sweet bananas, all cooked to perfection in an air fryer
Materials
1

medium

banana

7

no sugar added chocolate chips

I use lily's or hu kitchen

10

mini marshmallows

1

square

graham cracker

couple good pinches of cinnamon

(optional, but highly recommended)
Instructions
Preheat Air fryer to 400 degrees for a few minutes.

Lay a banana on it's side so it doesn't fall over. Gently cut a slit through the the banana peel and through the fruit, but careful not to cut all the way through the other side of the peel. If using, rub cinnamon into the inside of the banana.

Stuff chocolate chips and marshmallows into the banana.

Place the banana into the air fryer and cook for 4 minutes. Gently remove from the air fryer and crumble one graham cracker square over it and stuff into the banana as well.
Notes
Serving size: 1 banana boat
WW Points: 2 Points
254 calories, 1.5g fat, 3g protein, 61g carbohydrates, 4g fiber, 34g sugar (0g added sugars), 58g net carbs, 0.5g saturated fat, 69g sodium
Notes
You can easily make up to 4 of these banana boats in a 7 quart air fryer, but i listed it as an easy single serve dessert idea
You can use more/different chocolate and marshmallows, but just adjust calories/ww accordingly if that's your thing!
Nutrition
Serving:
1
Banana Boat
|
Calories:
254
kcal
|
Carbohydrates:
61
g
|
Protein:
3
g
|
Fat:
1.5
g
|
Saturated Fat:
0.5
g
|
Sodium:
69
mg
|
Potassium:
423
mg
|
Fiber:
4
g
|
Sugar:
34
g