This post may contain affiliate links (meaning I earn a small comission if you purchase an item through a link I provide) I only provide shoppable links to items I love and are helpful. As an Amazon Associate, I earn from qualifying purchases.
Air Fryer Ranch Carrots will become your new go-to side dish! This recipe requires three of the easiest ingredients ever, goes with practically anything, and they're zero WW points!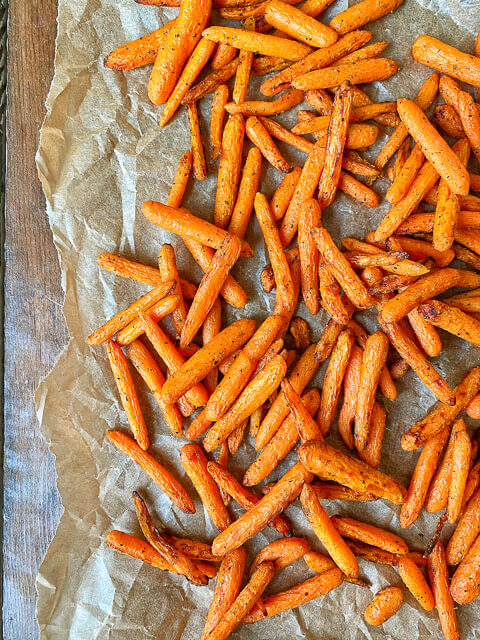 If you've followed me on Instagram in the past year then you've probably already made these! I've shared this quick and easy recipe for Air Fryer Ranch Carrots multiple times over there! These Air Fryer Ranch Carrots are totally family friendly and go with just about anything. Sometimes its the only thing I can get Pepper to eat on her plate, but if you ask me.. that's kind of a mama win since it's a vegetable.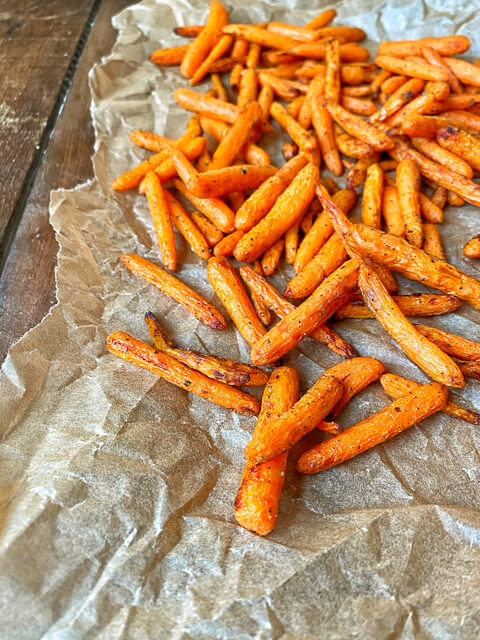 What to make with Air Fryer Ranch Carrots?
How to make Air Fryer Ranch Carrots!
Start off with a bag of carrots (1 lb), cooking spray, and ranch seasoning packet.
A few things, apparently I have a lot to say for such a simple recipe:
Carrots: I love these sweet petites and I've been buying this exact package for 5 + years, but I know not all grocery stores have them. Any bag of baby carrots will do, but the thicker carrots may need to be cut in half or cooked for a bit longer. Bags of carrots normally contain water to preserve the carrots a bit. Be sure to drain water and blot the carrots with a paper towel so that they cook properly.
Cooking spray: I prefer Avocado Oil Spray especially in the Air Fryer because it cooks much better at high heat and it doesn't leave that stick on residue that takes forever and a day to scrub off.
Ranch Seasoning Packet: I almost always use the "buttermilk recipe" seasoning packet. There are small differences between this and the regular seasoning packet, but they taste mostly the same. The big difference is portion. In the buttermilk seasoning packet there's just under a tablespoon of mix so I use the whole packet in this recipe, but the regular ranch seasoning packet has closer to 2-2.5 tbsp in it. Big difference! Use about a tablespoon of Ranch seasoning mix. I also recommend using Hidden Valley. Off brands are just terrible, I'm sorry.
Air Fryer: I use the GoWISE USA 7-Quart Electric Air Fryer. It's been good to me and I love it!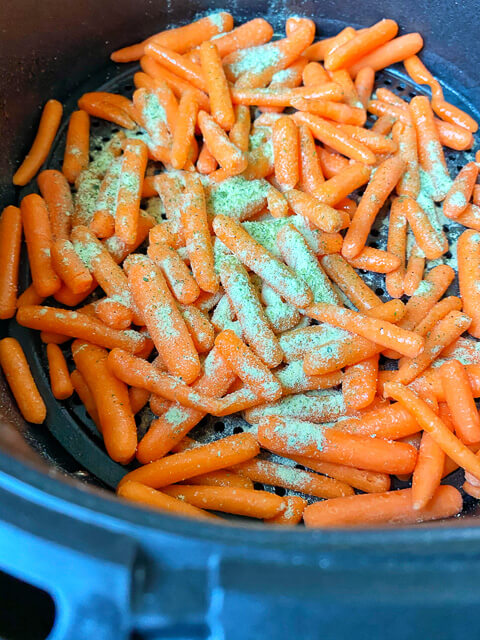 These Air Fryer Ranch Carrots are almost completely hands off. Hands off side dishes are something I really appreciate in this stage of life.
Preheat your Air Fryer at 400 for about 4-5 minutes. Toss the carrots into the Air Fryer followed by one tablespoon of ranch dressing seasoning mix then spray fairly well with Avocado Oil Spray. Shake it up real well to coat the carrots with the seasoning. Cook at 400 degrees for about 10-12 minutes shaking the tray once halfway through until carrots have some crispy brown bits on'm. Mmmm! So good, folks.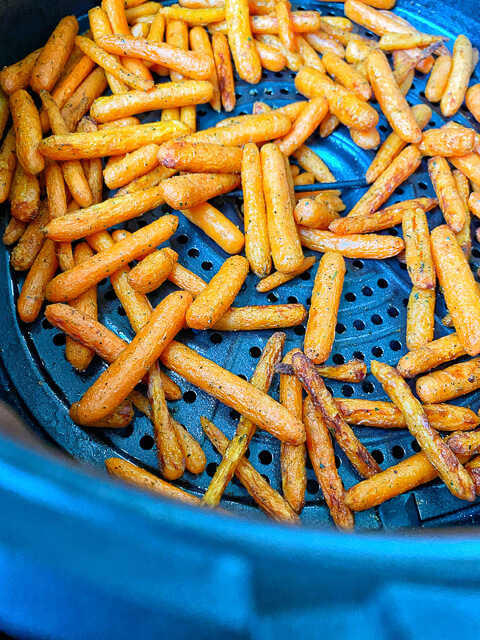 We're all done, y'all. Seriously, so easy! You could make these ranch carrots in your sleep (don't do it in your sleep).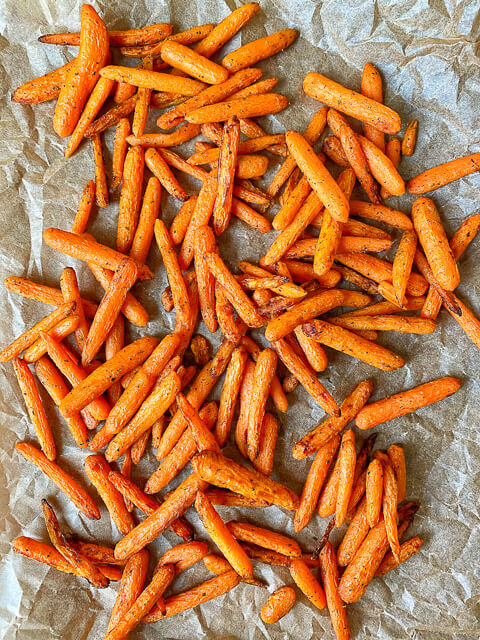 For awhile last year this was the only cooked vegetable Pepper would eat. She's graduated slowly to green beans and roasted broccoli, but these were on repeat in our house daily (still are because I'm obsessed). I'd seriously buy 6 bags of baby carrots every grocery trip. I'm surprised our noses didn't turn orange, but hopefully she'll have good eyesight,eh?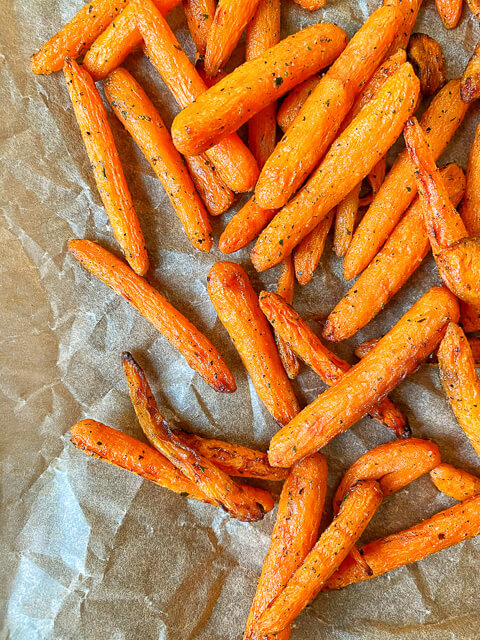 And the shrively ones that look kind of weird and gross? They're the best ones. We fight over those ones!
No Air Fryer? No problem. You can make these in the oven at 425 degrees for about 20 minutes or until desired texture. Just toss baby carrots with ranch seasoning on a sheet pan and spray with avocado oil spray until coated.
I hope you love these as much as we do!
If you give this recipe a try don't forget to comment and leave a rating below!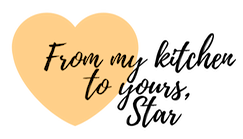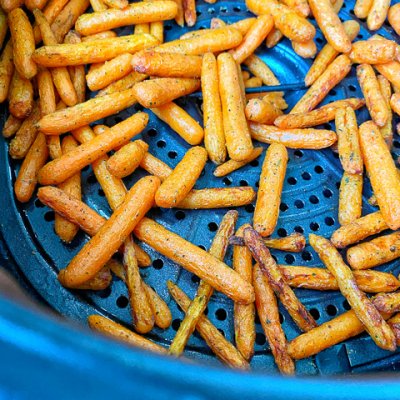 Print
Air Fryer Ranch Carrots
A quick and easy side dish seasoned with ranch dressing mix
Materials
1

lb

baby carrots

I use the bolthouse farms sweet petites

1

tbsp

ranch seasoning mix

I use hidden valley

Avocado Oil cooking spray

see notes*
Instructions
*If the carrots you buy are really thick either cut in half or cook for longer until browned

Preheat Air Fryer for about 5 minutes at 400 degrees.

Dry off carrots with a paper towel then place in Air Fryer with, ranch seasoning, and then spray avocado oil to coat. Give them a good few shakes so the seasoning distributes well.

Cook carrots for 10-12 minutes shaking the basket well about half way through.
Notes
WW Points: 1
(points figured for one whole batch, but can be divided into servings)
50 calories, .5g fat, 0g saturated fat, 2.7g fiber, 5g sugar (0g added sugar, 0g sugar alcohol), 1g carb, 1g protein (serving size for nutritional figured for about heaping 1/2 cup- 4 servings total batch)
*I use Avocado Oil Cooking spray for the most part these days, but definitely use it anytime I want to use a spray oil in my Air Fryer because it does much better at high temps! It also does not leave that hard to scrub residue on the Air Fryer which I appreciate because scrubbing dishes is the worst ever. That being said, you can use what you have. Coconut oil spray also does well in high temp!