Air Fryer Monterey Chicken
This post may contain affiliate links (meaning I earn a small comission if you purchase an item through a link I provide) I only provide shoppable links to items I love and are helpful. As an Amazon Associate, I earn from qualifying purchases.
Air Fryer Monterey chicken is a fantastic healthier version of an old Chili's favorite! Chicken breasts covered in barbecue sauce, cheese, bacon and tomatoes or pico de gallo. A super quick and easy dinner option that the whole family will chow down on!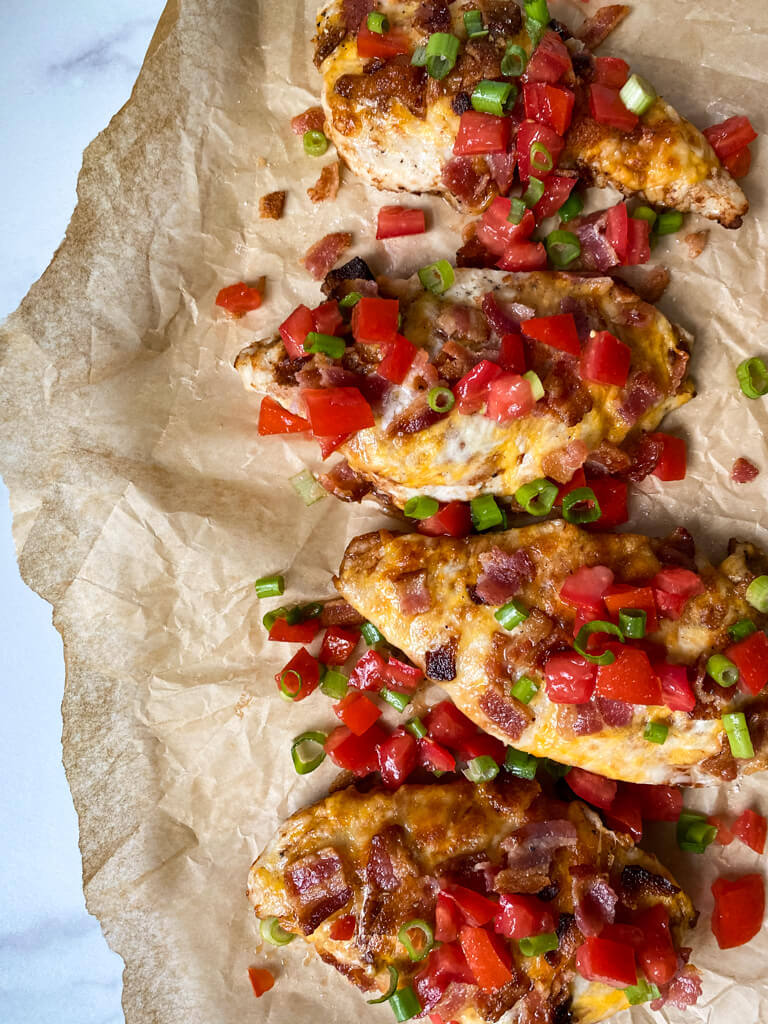 Air Fryer Monterey chicken is a fully loaded flavor bomb that tastes just like sitting in the booth at Chili's. With this recipe, you can make it skinny-ish in the comfort of your own home in less than 30 minutes
I kind of did a little research (by research I mean I googled and nothing came up in the first 12 results so I gave up) where Monterey Chicken came from. I figured it had to have some sort of back story, but nothing! It's so good! Have you had it before? Do you know where it originated?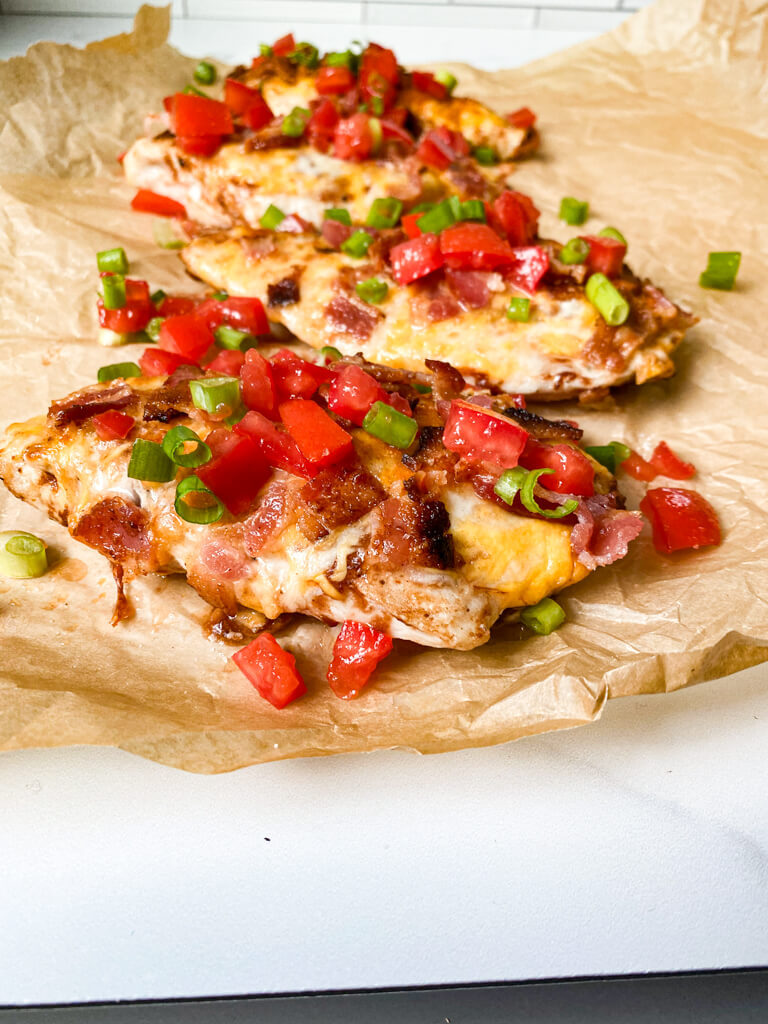 Monterey Chicken from Chili's is kind of nostalgic for me. When I was a 14 or 15 we had just gotten a Chili's in our small town. My friends and I immediately made it "our place" to go when we would "go out on the town" in our extra sparkly lipgloss and love spell lotion on Friday night. Going out on the town basically meant we'd get dinner at Chili's and/or go see a movie and wait for my mom to come get us. I can't tell you how many laughs were shared over a plate of Monterey Chicken and mashed potatoes. It still makes me think of all those dorky dinner dates I'd share with my friends back then.
Since then, they've actually discontinued it as a meal on its own which annoyed the crap out of me so I decided to make it at home instead. I'm super excited to share this recipe for my Air Fryer Monterey Chicken with you because I think you'll just love it so much!
Let's make Air Fryer Monterey Chicken!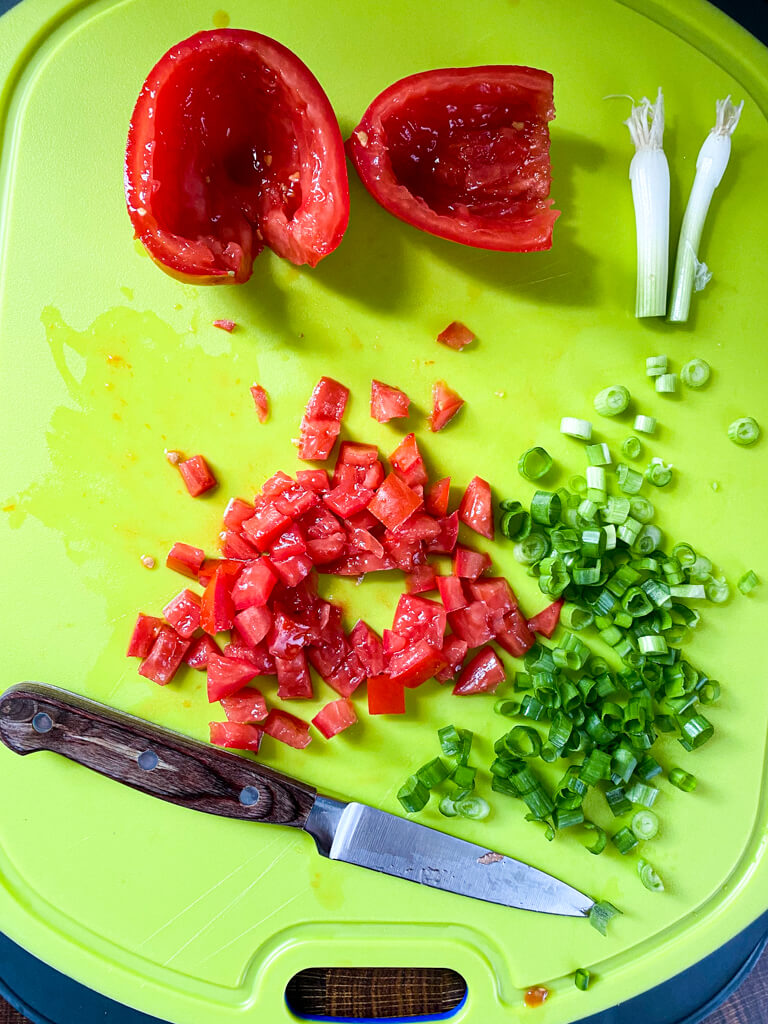 First we're going to prep some tomatoes and green onions. This dish is traditionally topped with either chopped tomatoes and onions or pico de gallo. Both options are super delicious. I go back and forth between the two, but decided that I'd keep it simple. It's also good without the chopped tomatoes too! It's up to you.
You should prep this part before getting started on the chicken so it's all ready to go when the chicken is done. Chop up one or two (seeded) Roma tomatoes and about 2-3 green onions. I throw'm into a Tupperware, cover it, and place in the fridge until ready to plate your chicken.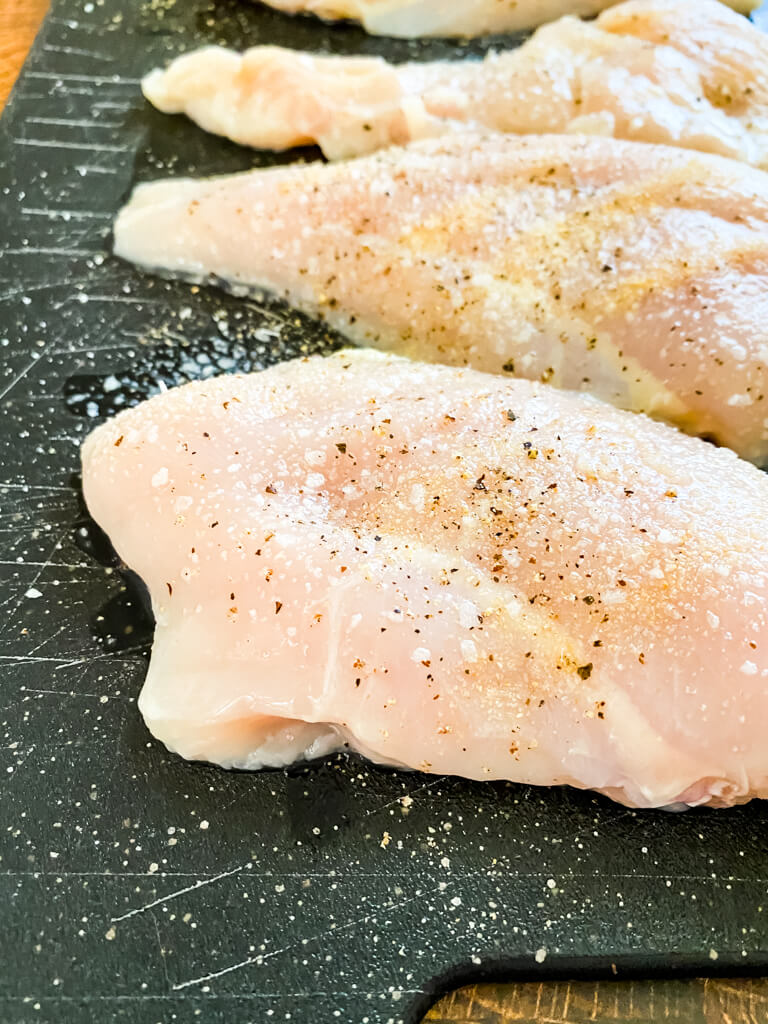 Ah, a photo of raw chicken. How delightful!
Grab two large chicken breasts (about 8 oz each) and slice in half so they're about 4 oz each. Spray each side of chicken with avocado oil spray, mix up 1/2 tsp garlic powder, 1 tsp kosher salt, and 1/4 tsp pepper, and rub into both sides of chicken.
I prefer using Avocado Oil Spray in the Air Fryer because it's the best in high temperature situations. It also doesn't leave a "crusty" film you have to scrub the daylights out of on the Air Fryer pan. You can find Avocado Oil Spray in any ol' grocery store near where the other cooking sprays are.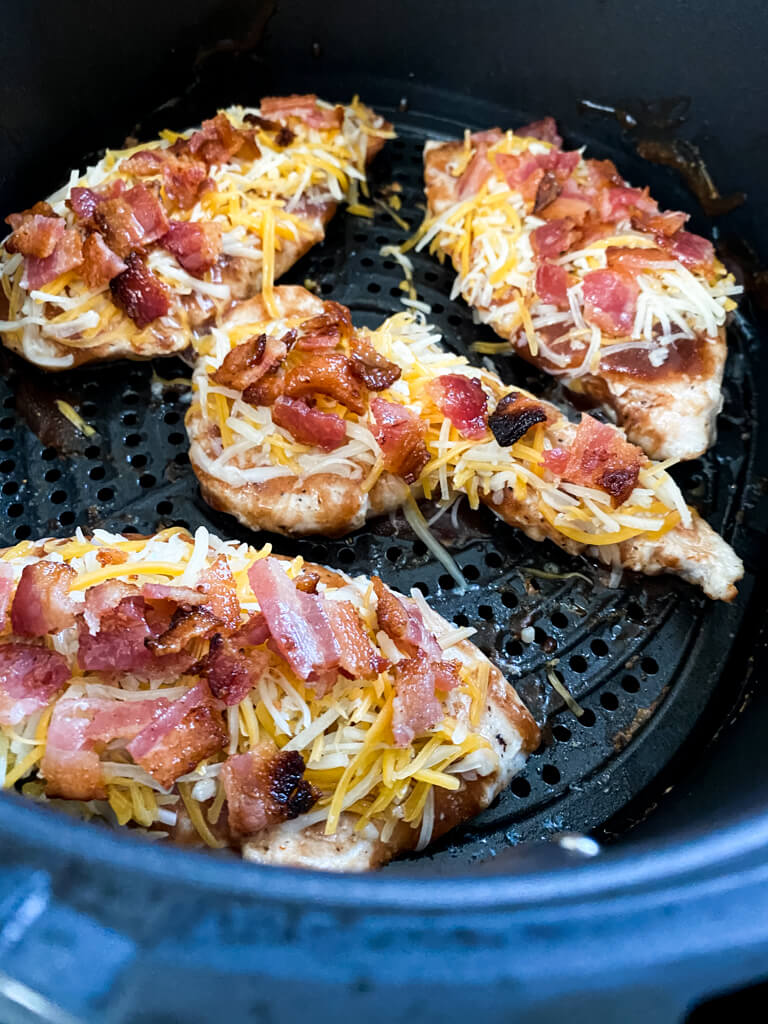 Be sure to preheat your Air Fryer for about 5 minutes at 360 degrees.
Place chicken (without any BBQ sauce or toppins) in preheated Air Fryer and cook for about 6 minutes.
After the timer beeps, flip chicken, and brush both sides of chicken with BBQ sauce. Top evenly with reduced fat Mexican style shredded cheese, and chopped crispy center cut bacon. It works out to be about one tbsp of BBQ sauce, 2 tbsp of cheese, and 1 piece of bacon per chicken breast.
Continue to cook in the Air Fryer for another 6-8minutes or the chicken temps at 165 degrees. I'll usually take it out around 162 degrees then let it rest for a few minutes. It'll finish cooking those few extra degrees while you leave it alone and let the juices redistribute. The exact time really depends on how thick your chicken is. For thinner breasts I would check the temp sooner. I've said it before and I'll say it again. The best way to get yourself properly cooked chicken is by temping it. This thermometer is my tried and true trusty companion.
I use Sugar Free G. Hughes BBQ Sauce most of the time. If you're not into Sugar Free stuff, totally fine! Sometimes I just use regular since it's just about one tablespoon of sauce per piece of chicken. Eric prefers it with regular so I just make half a batch that way. Easy to please everyone with this recipe.
I use this Air Fryer and love it! I really appreciate that it's 7 quart so I don't have to work in batches.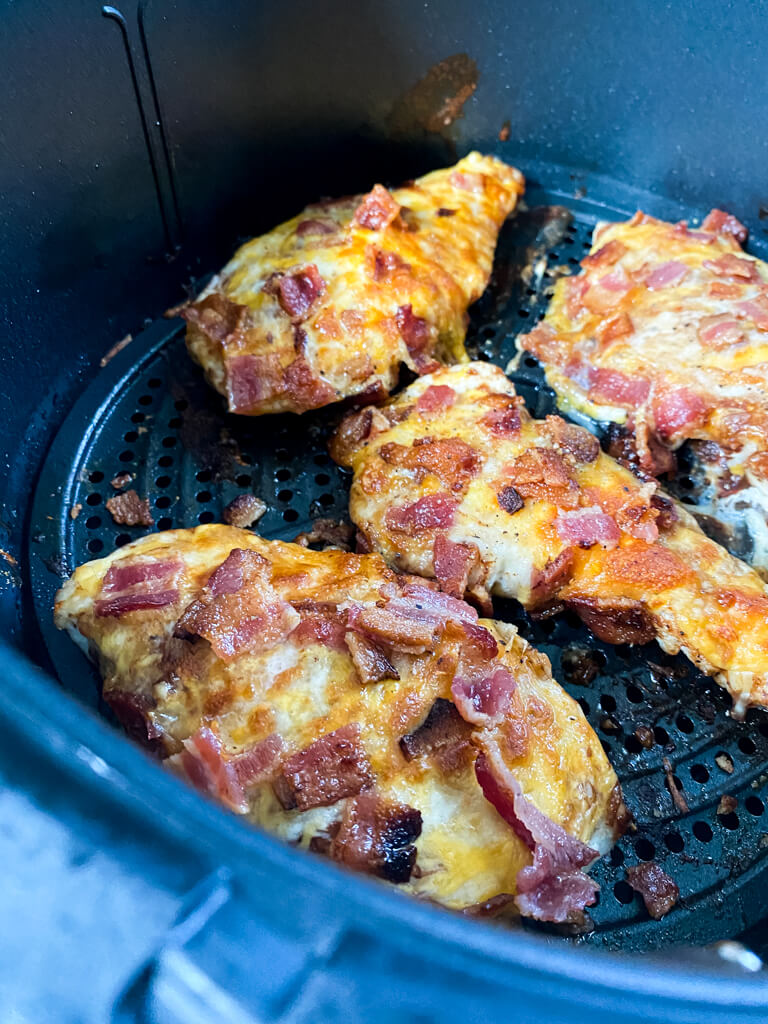 And you're all done! Despite the lengthy instructions, this Air Fryer Monterey Chicken really couldn't be any easier to make!
Top it off (if you choose to) with the chopped tomato and green onion mixture or some pico de gallo!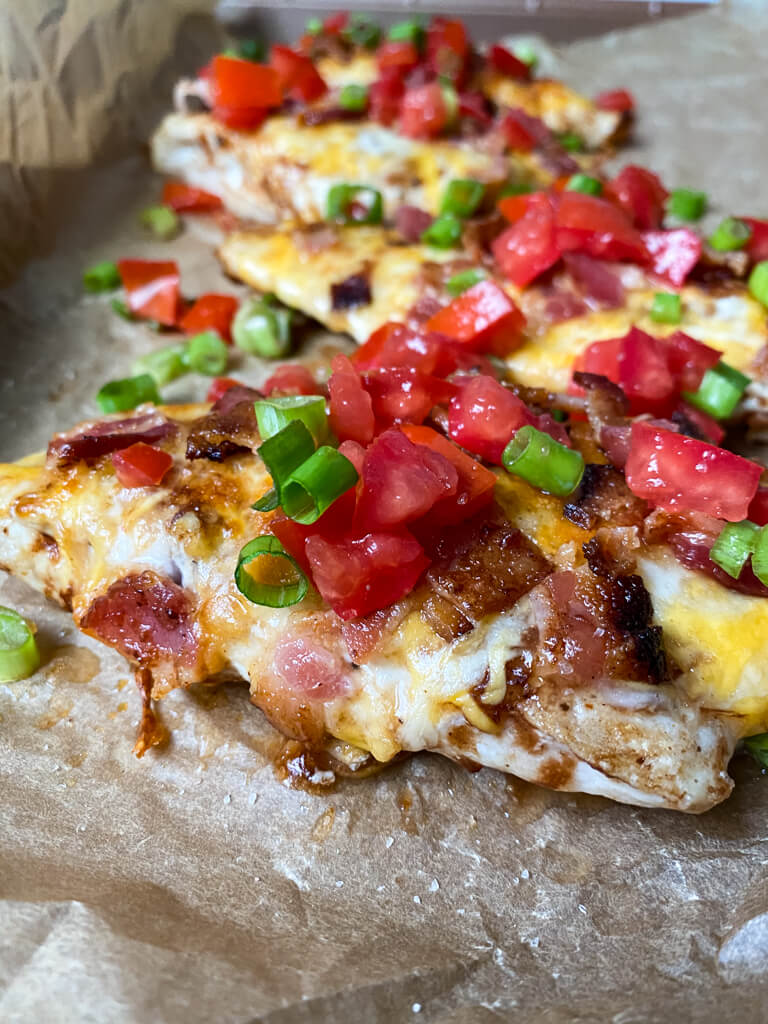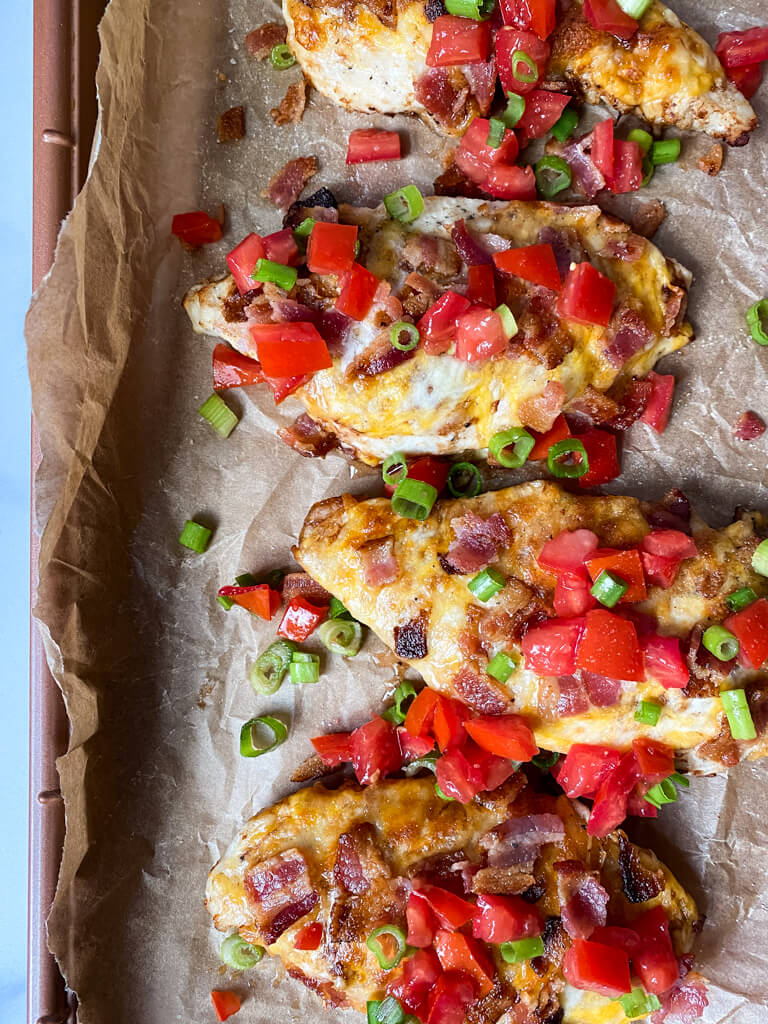 I hope you enjoy!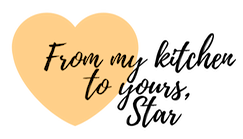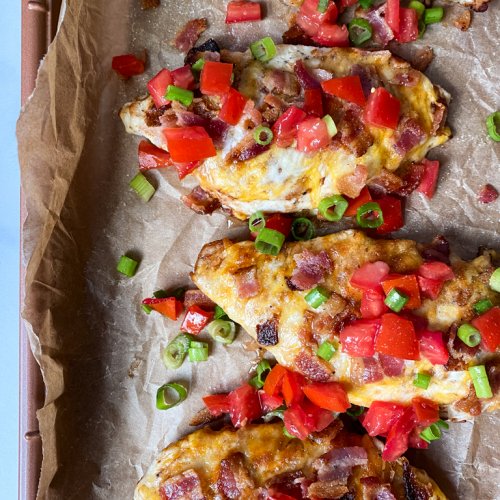 Print
Air Fryer Monterey Chicken
Seasoned chicken breasts covered in barbeque sauce, shredded cheese, crispy bacon, and a chopped tomatoa and green onion mix.
Materials
2

large chicken breasts(about 8 oz each) cut in half to make them about 4 oz each

1

tsp

kosher salt

1/4

tsp

pepper

1/2

tsp

garlic powder

1/4

cup

BBQ Sauce

(I use G Hughes Sugar Free BBQ sauce, but any kind will do)

1/2

cup

shredded Reduced Fat Mexican Cheese

(I love the Kroger brand's blend of Reduced Fat colby jack, monterey jack, cheddar, and mozzarella)

4

slices

cooked and chopped center cut bacon

I use Oscar Meyer

Avocado Oil Spray

(you can find this in any grocery store near the other cooking sprays. I prefer using this, but any cooking spray will work)
Topping (optional)
1-2

roma tomates

(seeded and diced)

3-4

green onions (green and white parts)

(diced)

you can also do Pico De Gallo on top
Instructions
Preheat Air Fryer to 360 degrees.

Mix together garlic powder, salt, and pepper. Spray chicken on both sides with avocado oil spray then rub with the spices. Place in the Air Fryer and cook for 6 minutes.

Flip chicken over and brush each side with evenly with BBQ sauce then top with cheese and bacon.

(It works out to be about 1 tbsp of sauce, 2 tbsp of cheese, and 1 slice of center cut bacon per piece of chicken if you want to be super accurate)

Continue to cook chicken in the Air Fryer for an additional 6-8 minutes.

*It really depends on the thickness of your chicken how much longer it will need. I always recommend using a meat thermometor to temp your chicken to determine if its done or not. I take it out around 162ish degrees and set on a plate for a few minutes to finish cooking and let the juices redistribute.

If you choose to, top them off with chopped tomatoes and green onions or pico de gallo.
Notes
Serving size: 1 piece of chicken with toppings.
WW Points: 2
204 calories, 5.7g fat, 2g saturated fat, 3.5g carbohydrates, 0.4g fiber, 0g sugar 41.4g
*WW Points and Nutritional information figured by using G. Hughes Sugar Free BBQ Sauce if you use a different type of BBQ Sauce please note that the nutritional info and points may change.