This post may contain affiliate links (meaning I earn a small comission if you purchase an item through a link I provide) I only provide shoppable links to items I love and are helpful. As an Amazon Associate, I earn from qualifying purchases.
My favorite thing about using the Air Fryer is making the BEST vegetable dishes to pair with any main dish! These Air Fryer Green Beans are cooked and seasoned perfectly using less oil which makes them not only delicious, but a healthy option too!
I'm a big fan of vegetables! I love them even more when they are able to made up into a healthy side dish (ahem or snack if you're like me), like the Air Fryer Green Beans, in just under 15 minutes! My Air Fryer is KIND OF my best friend when it comes to this kind of thing. This is such an easy air fryer recipe!
Whether I'm cooking the main meal in a casserole dish, on the stove top, or in the crockpot throwing a vegetable in the air fryer is the easiest thing! I've been making these and Air Fryer Ranch Carrots for years. Definitely a daily go to side dish and super tasty low carb replacement for French fries!
Green Beans have and always will be my favorite cooked vegetable. I'll honestly take them any way I can get them. I'm even quite fond of canned green beans, but nothing tops these easy Air Fryer Green Beans that have been freshly picked from the garden. Nothing!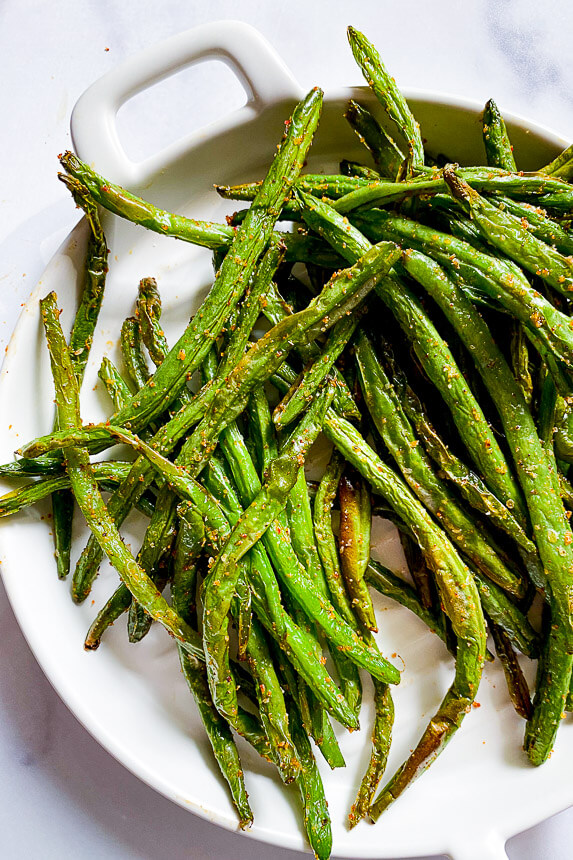 Why we love Air Fryer Green Beans
Super quick! Under 15 minutes from start to finish.
Easy and mostly hands off. Just season and throw'm in the air fryer!
DELICIOUS! Every time I've ever made these for friends or family I'm always asked how I make them so good.
Healthy! Green Beans are full of essential vitamins and minerals and air frying them with a small amount of oil makes them a much healthier option for a side dish.
No need to turn on the oven! This is actually a very big deal and maybe even the most important part here in the South. Raise your hand if you're personally victimized by the humidity here?
Ingredients you need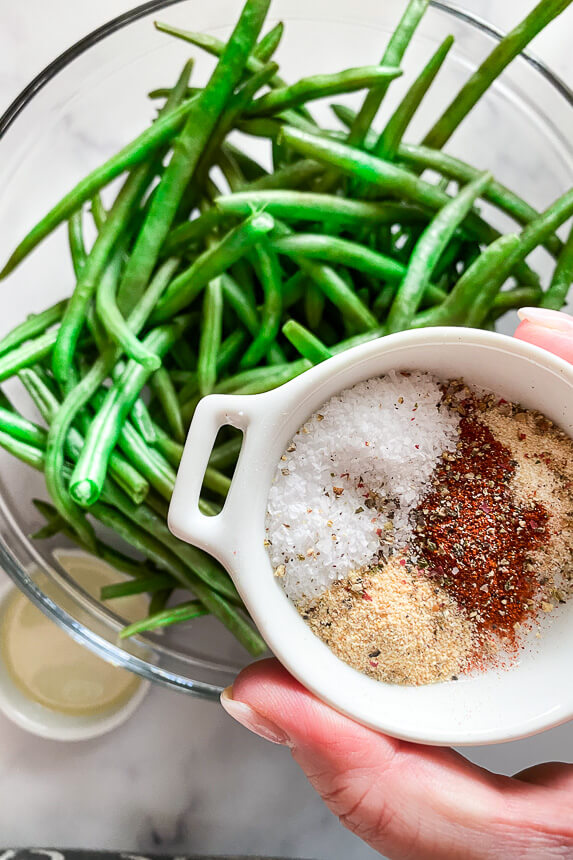 A super short ingredient list also makes this recipe a favorite! The spices and oil are easy to always have on hand so you'll just need fresh green beans from your garden, grocery store, or local famers market.
About 1 pound of fresh green beans, French green beans, wax beans (yellow), or purple green beans!
2 tsp olive oil
1/4 teaspoon each garlic powder, smoked paprika, and onion powder
1/2 teaspoon kosher salt
fresh cracked pepper
You can easily switch up the seasoning too. I've used ranch dressing seasoning, cajun seasoning, greek seasoning, but the above mix is my general go to flavor combo for most everything.
IF I'm feeling a little bit extra I grate some fresh Parmesan Cheese over them and a squeeze of fresh lemon especially if I'm making them next to spaghetti!
How to make green beans in the Air Fryer
Get ready! This Air Fryer Green Beans recipe is so easy.
You're going to grab a bowl, add the green beans, throw on the spices, and the oil. Then, toss it all together really well. I throw a glove on and rub them together. I will probably always rub my spices into vegetables and meat too. It's truly the best way to coat something exceptionally well.
Place the green beans into the Air Fryer basket and cook at 375 for a total time of 8-9 minutes, but be sure to shake the basket half way through cooking time so that it ensures even cooking. The cooking time may vary a bit, but it should be right around 8 minutes for perfection.
And that's all, y'all. Serve'm while they are hot.
Extra tips to make them the best ever
Prepare these in 2-3 batches depending on the size of your Air Fryer to ensure the cook properly and evenly. I have a 7 quart Air Fryer and cook in 2 batches.
Make sure the beans are dry! If washing and trimming your beans right before cooking make sure they are dry too much excess water makes the "roasting part" not work as well in the Air Fryer.
Make sure to go through the beans and check do any bad ones/woody stems and discard.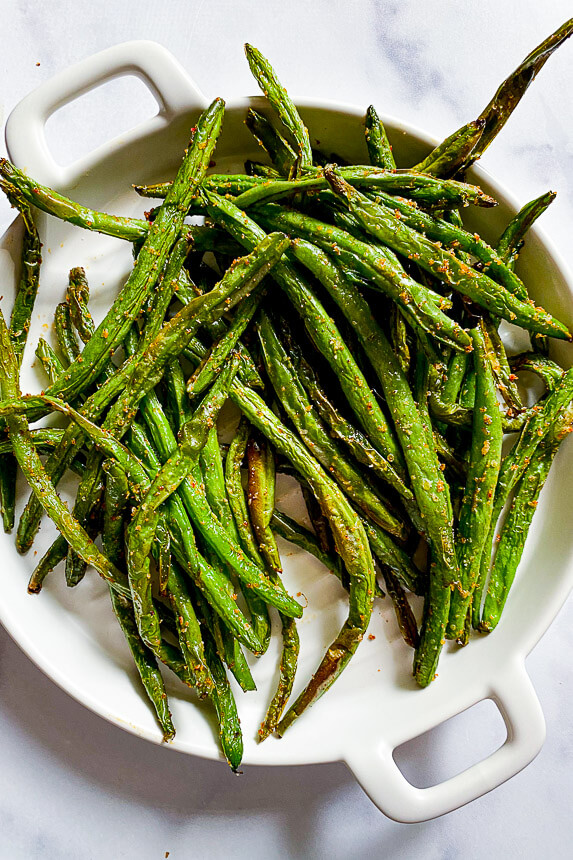 What to eat with these green beans
Seriously anything. Including by themselves while you're standing over your air fryer for an extra nutritious and tasty snack. No judgment, but here are also some mains that I just love to put these air fryer greens next to.
How to store Green Beans
These store and reheat really well (although they don't stay crispy) which makes them a great side dish option for meal prep too. Just store in an airtight container for 4-5 days.
How to reheat Green Beans
You can reheat any leftovers in the microwave for about a minute or in the air fryer for a couple minutes at 350. If you do it in the air fryer, just keep an eye because they can over cook this way.
Other Air Fryer Recipes you'll love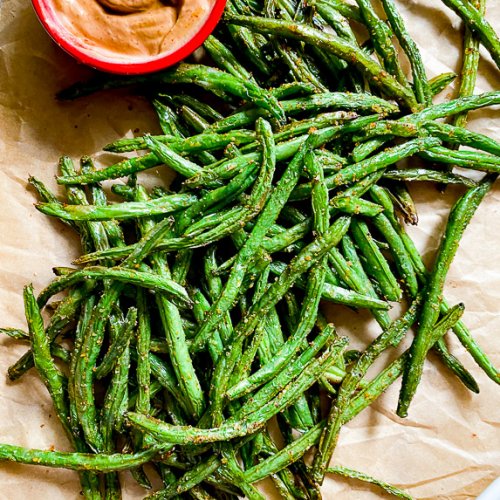 Print
Air Fryer Green Beans
Air Fryer Green Beans are super simple and absolutely delicious to pair with just about any main dish.
Materials
1

pound

Green Beans

(French, wax, purple all work)

2

tsp

olive oil

1/4

tsp

EACH garlic powder, onion powder, AND smoked paprika

1/2

tsp

coarse Kosher salt (and to taste)

use less if using a fine salt

fresh cracked pepper

avocado or olive oil cooking spray
Instructions
Preheat Air Fryer to 375 degrees for 5 minutes. If needed, trim and wash the green beans. Make sure they are dried well before cooking.

Toss green beans with oil and seasoning VERY well. I like to rub with my hands to make sure it's coated super well.

Spray air fryer basket with cooking spray. Place the green beans into the basket. Cook for 8-9 minutes total stopping and shaking the basket halfway through the cooking time.

Serve hot. Store leftovers in an airtight container for up to 4-5 days.
Notes
Makes 4 servings. Depending on appetite I usually have a couple servings. I like to make a few batches cause we cannot get enough!
56 calories, 2g fat, 0g saturated fat, 8g carbohydrate, 2g dietary fiber, 6g net carbs, 1g sugar (0g added sugar, 0g sugar alcohol), 2g protein

WeightWatchers Points: 1 Point