Air Fryer Crispy French Fries
This post may contain affiliate links (meaning I earn a small comission if you purchase an item through a link I provide) I only provide shoppable links to items I love and are helpful. As an Amazon Associate, I earn from qualifying purchases.
Air Fryer Crispy French Fries are soft on the inside, crispy on the outside, insanely easy, and most importantly, delicious! You can feel much better having a side of french fries when you make this recipe! Almost too good to be true.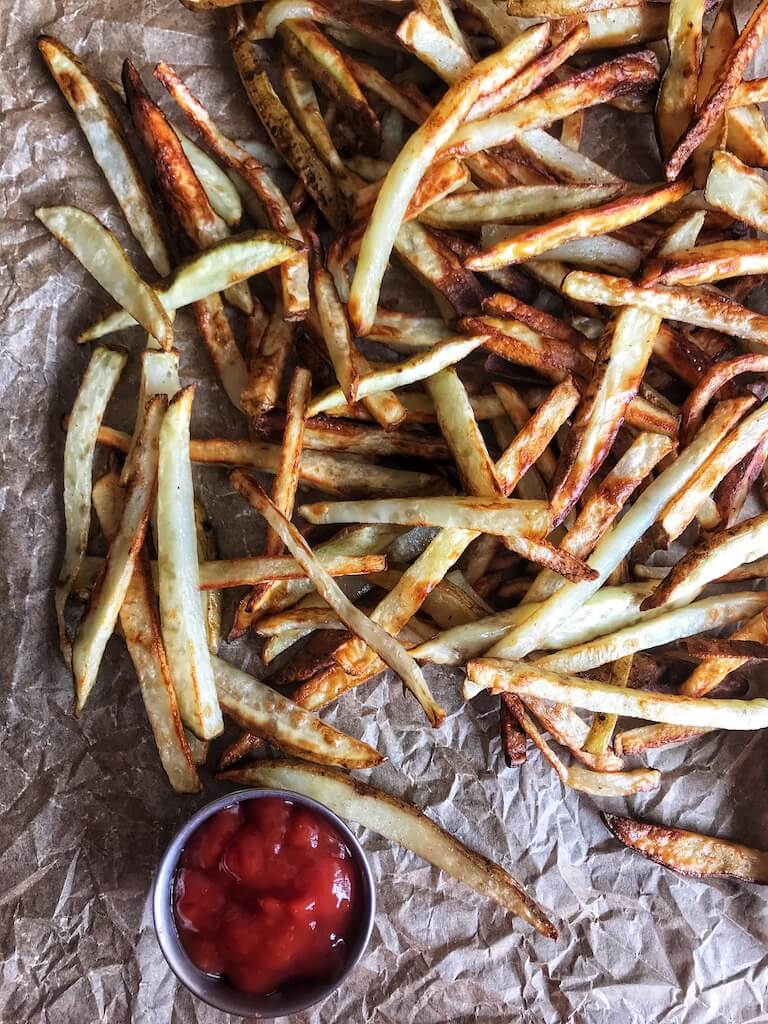 A couple'a years ago I was sent an Air Fryer and I was a little unsure about it. The very first thing I made in it was french fries! I'm pretty sure that these Air Fryer Crispy French Fries are what's made most in our Air Fryer! They are just the best side dish ever and I can't believe it's taken me almost two years to actually post about them. You can see them featured in my Skillet Pickle Chicken recipe from last year. After I posted that, I got a ton of requests to post the recipe for them, but they kept getting moved to the bottom of the list even though they are the top of my to-make list weekly. Well finally, here they are. We can all have healthier Air Fryer Crispy French Fries every single day, if we want!
Which Air Fryer do I recommend?
Go Wise Air Fryer – This is an awesome Air Fryer! It's large, has lots of presets, clean up is easy, and makes wonderful "fried" food. I had this Air Fryer for the longest time and I truly loved everything about it, but I was moving stuff around the kitchen one day and wasn't paying attention to what I was doing and it just dropped on the floor. The bottom broke off in an odd way and that was that. So, in more recent months I've been using a Cosori Air Fryer.
Cosori Air Fryer – This is the one I've been using for the past few months. I chose another brand solely based on appearance (and good reviews on Amazon). Honestly, I feel like it pretty much does the same thing as the GoWise, but I do like the square basket more because there's more usable space. I also love the look of it much more since it's something I use so frequently (especially in the summer) it rarely leaves my counter top.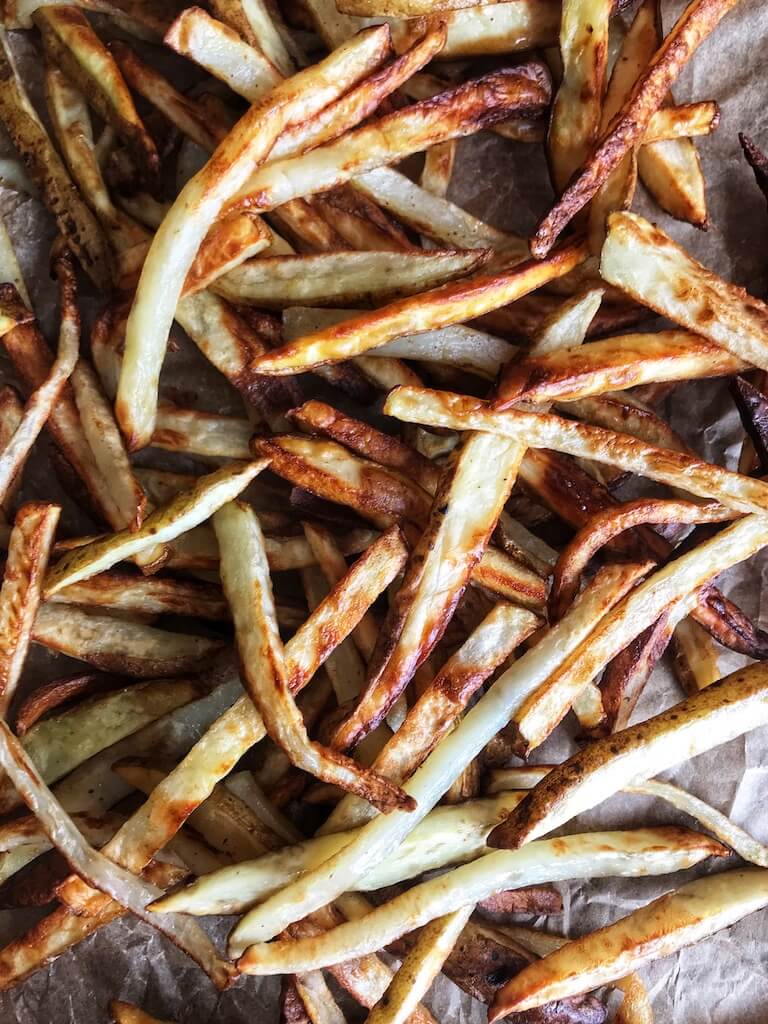 This recipe for Air Fryer Crispy French Fries is a total must have! If you don't yet have an Air Fryer you should probably look into it especially if you have the extra room. I'm not one to love a bunch of appliances in my kitchen or jump on band wagons too often, but this is one bandwagon I'm so glad that I jumped on. We've made a ton of random food in it including steak one night! That one needs some work, but it was real good.
Let's get into the kitchen, folks!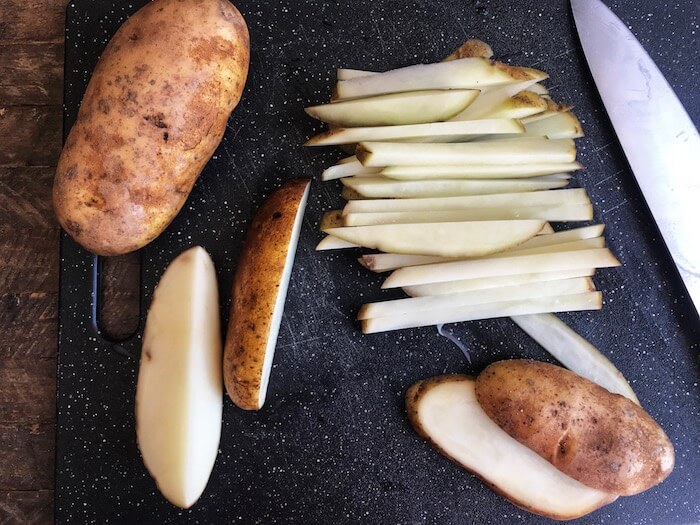 First up, grab some Russet potatoes (about 25 ounces raw) if you want a classic french fry flavor. Be sure to scrub'm well to remove dirt and then pat extra dry before cutting into thinner strips. You may cut them a bit thicker if that's your thing, but they might not get as " crispy crunchy" for you.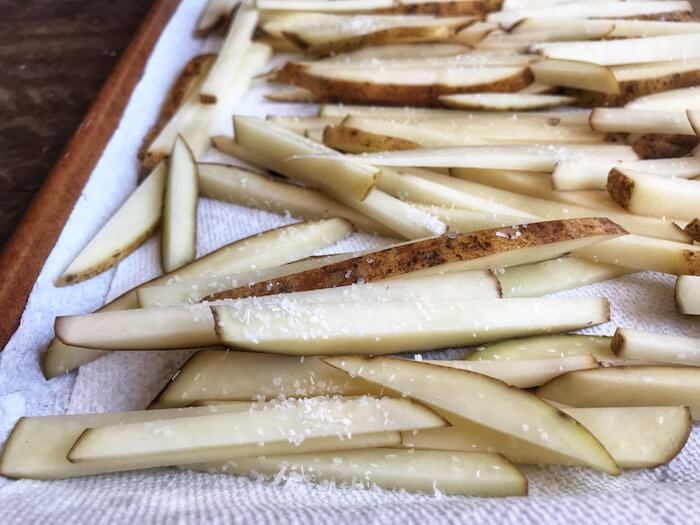 To soak or not to soak the potatoes
It's up to you. I used to soak them all the time and sometimes still do, however one time I was making these french fries and I just didn't feel like waiting for the soak part so I piled them onto a paper towel and sprinkled with one heaping teaspoon of kosher salt and let them sit for about ten minutes.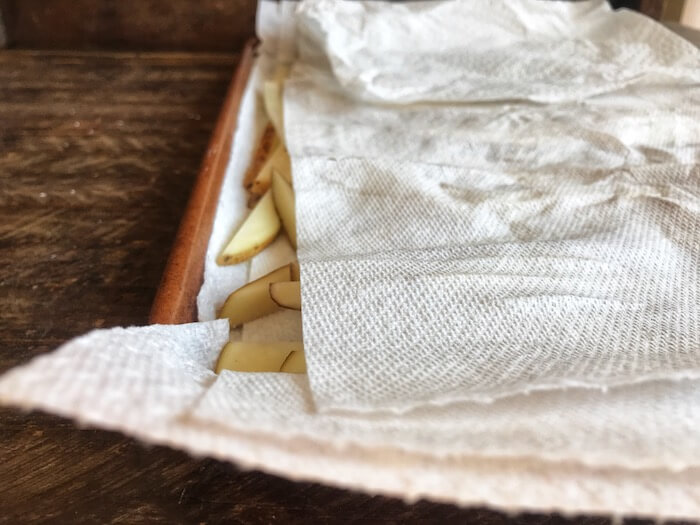 Now, dab the fries with extra paper towels and be sure to dry the potatoes as much as possible. This will ensure extra crispiness. It's much easier in my opinion to do this then to dry them after they've been soaking in a bowl of water.
It's important to know that soaking in a bowl of water does make for awesome fries so if you've always used that method and don't want to switch it up. Keep at it! Just about the same outcome, promise.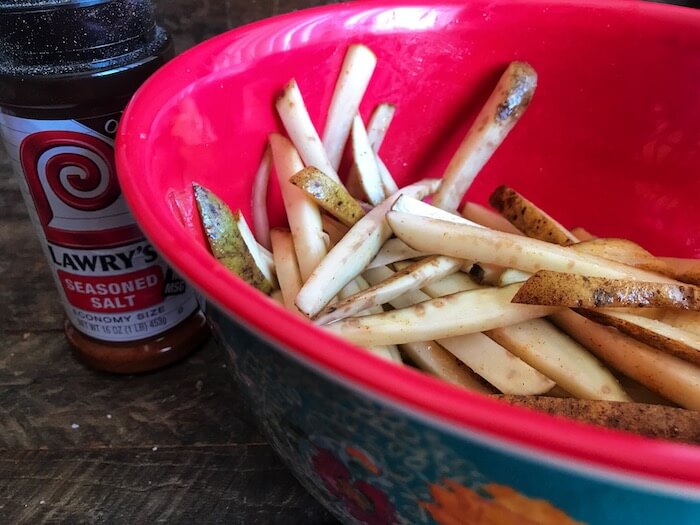 After the potatoes have been totally dried toss them into a bowl with one teaspoon of canola, coconut, or avocado oil and about 1/2 teaspoon of seasoned salt. If you've been around here for awhile you know my go-to is Lawry's. It ain't fancy, but it's my favorite! Use whatever seasonin' combo that you love most on these if it's not Lawry's (but it probably should be haha!).
Preheat the Air Fryer for 5 minutes at 400 degrees before throwing the fries in. The biggest mistake I made with my Air Fryer in the beginning is that that I wasn't preheating the Air Fryer. It's a very important step, folks. Don't skip out on it!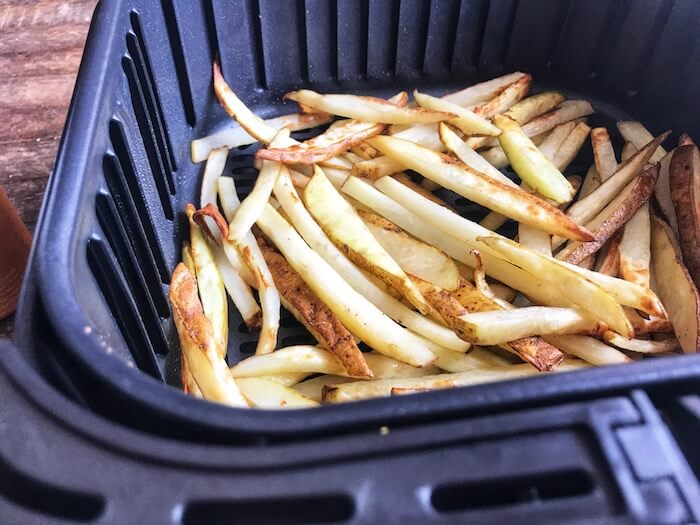 The cooking time may vary so keep an eye on them while shaking the basket every so often. It's important to cooking in two batches to ensure even cooking and crispiness. Repeat for the second batch of fries.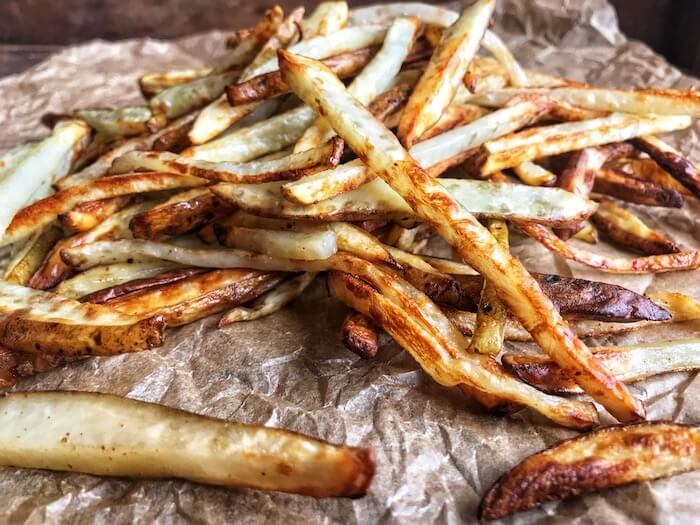 And just look at those beauties! Ah, a total favorite of mine. I bet they'll become your favorite too.
Don't forget some ketchup! Or maybe spice'm up a lil' with somethin' like this Southwest Chipotle Ranch.
Ahhh French Fries…. Seriously, is there anything better? Nope. The answer is nothing.
Now, we can have fries instead of salad on the side and not feel a lick'a guilt!
Make these right now!
With love from my kitchen to yours,
Star
Print
Air Fryer Crispy French Fries
Easy, Crispy, Healthy French Fries made in the Air Fryer
Materials
25

oz

Russet Potatoes, raw

about 3 medium

1/2

tsp

Lawry's Seasoned Salt

or favorite seaoned salt blend

1

tsp

kosher salt

1

tsp

canola or avocado oil
Instructions
Scrub potatos to remove dirt and dry well. Cut into thinner strips.

Lay potatoes onto a paper towel and sprink with 1 tsp of kosher salt. Cover with another paper towl and let them lay there for about 10 minutes. After 10 minutes dry them very well with paper towels or a clean towel. After they're

Preheat Air Fryer at 400 degrees for 5 minutes.

Place half of the fries into the Air Fryer basket and cook for 15-18 minutes. Be sure to remove and shake the basket a few times while cooking. *Cooking times may vary a little so just take a look while at them while you're shaking the basket and use your best judgment. Repeat with second batch of potatoes. It's important not to over load the basket because that will lead to uneven cooking and they won't be as crispy.

Toss fries with a little more seasoned salt if needed.
Notes
Serving size: 3 oz, cooked
WeightWatchers Points: 4 Points
Calories: 239 Total Fat: 1.2g, Saturated fat: 0g, Carbohydrates: 54g, Fiber: 4.2g, Sugar: 2g, Added sugar: 0g, Protein: 6.2g