Air Fryer Chicken Fajitas
This post may contain affiliate links (meaning I earn a small comission if you purchase an item through a link I provide) I only provide shoppable links to items I love and are helpful. As an Amazon Associate, I earn from qualifying purchases.
Air Fryer Chicken Fajitas is the perfect recipe for a busy week night dinner! Tender, flavorful, and perfectly charred chicken with a blend of peppers and onions! Use these to throw in a tortilla, on a salad, or even in a burrito bowl situation!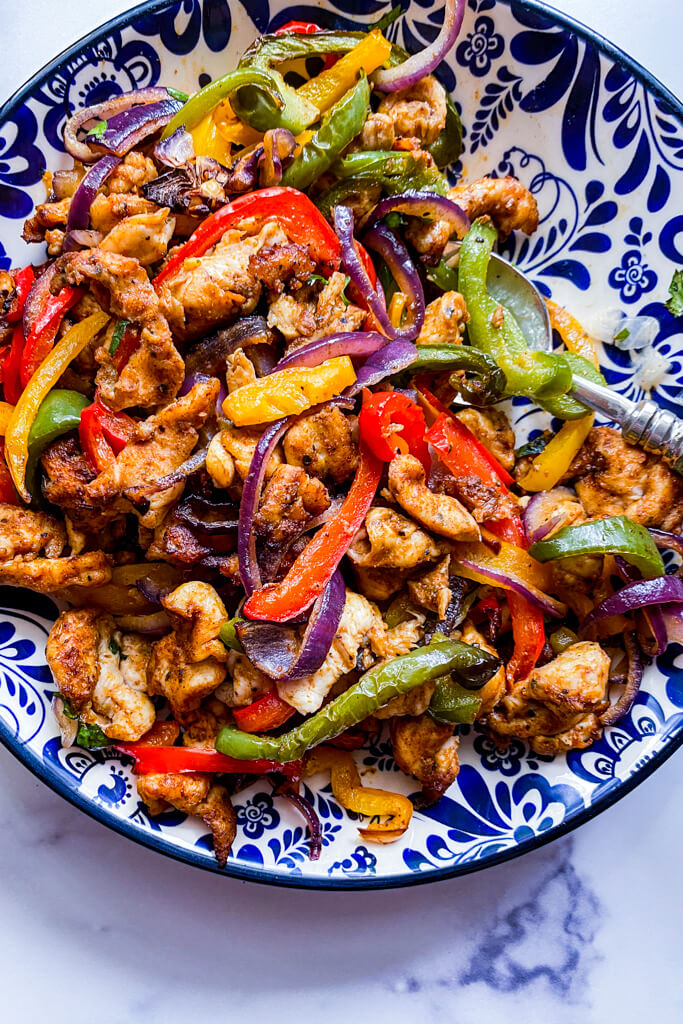 The last few months have been a little out of the ordinary around here and extra easy while being somewhat healthy has been on the top of my list when it comes to cooking. It's also been so hot and humid outside that turning on the oven or even heating the stove top seems like a bit too much. Southern summers are not for the weak. Spoiler alert: I'm weak. Ha!
My Air Fryer has come to the rescue for total ease and keeping the kitchen cooler these past few months! I love my Air Fryer even though I don't have a lot of recipes on here for it yet. It is something we use a ton of the time. These Air Fryer Chicken Fajitas are so delish for weeknight meals and will shine on Taco Tuesday! I've been making them this way almost all summer long at least once a week. I'm not exaggerating! I think I'm finally going to take a break from making them.
For extra ease, slice the chicken, peppers, and onions and put them in a container in the fridge early in the week so that it's ready to go on nights. All I have to do is throw the seasoning together and dump it all in. Dinner done in under 20 minutes!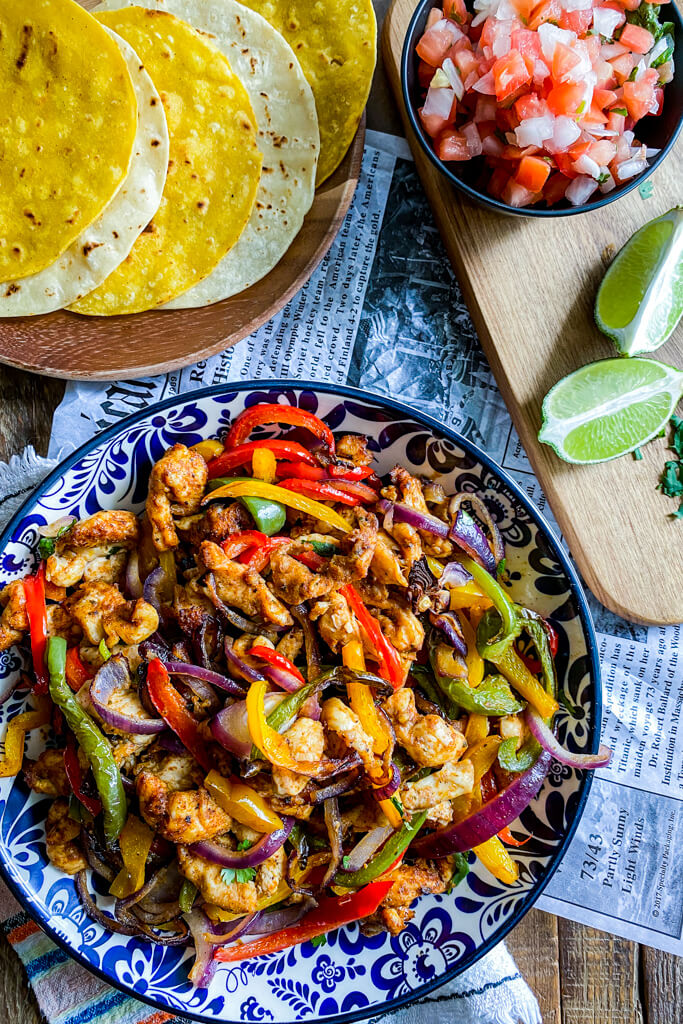 Chicken Fajitas are something that I used to swear could only be made in the skillet, but the Air Fryer method is just so easy that I may never go back to my trusty skillet! As you can see in the photos that the vegetables have just enough char as well as the chicken. Just the way I like it.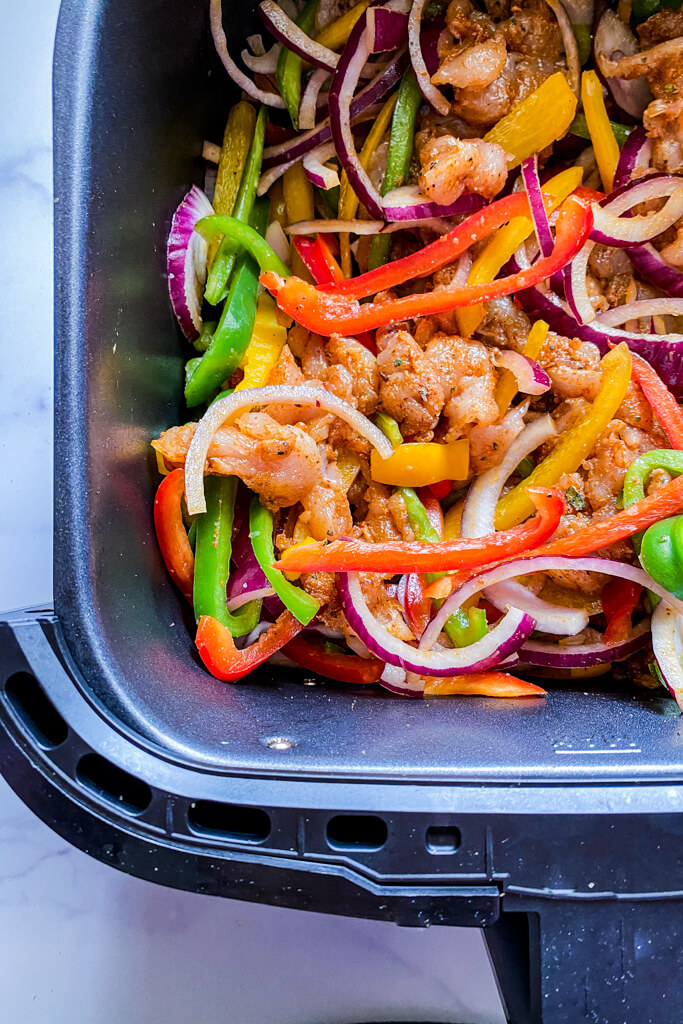 What you'll need for Air Fryer Chicken Fajitas
Air Fryer: Click here for the one I love and use! I use a 7 quart Air Fryer which is the largest one on the market (that could change tomorrow though). I recommend cooking in two batches if you have a smaller air fryer.
Fajita seasoning: Perfect blend of spices! I prefer my homemade blend to highlight my own flavor profile, but you can use your own blend or even a packet from the store will do just fine.
Chicken tenders/breast: I prefer chicken tenders for this recipe because they just stay a bit more, well, tender and they are quick to slice up, but whole chicken breast works just as well.
Cornstarch
Avocado Oil
Peppers (blend of yellow, red, and/or yellow)
Onion
Cooking spray (I prefer avocado oil spray in the air fryer)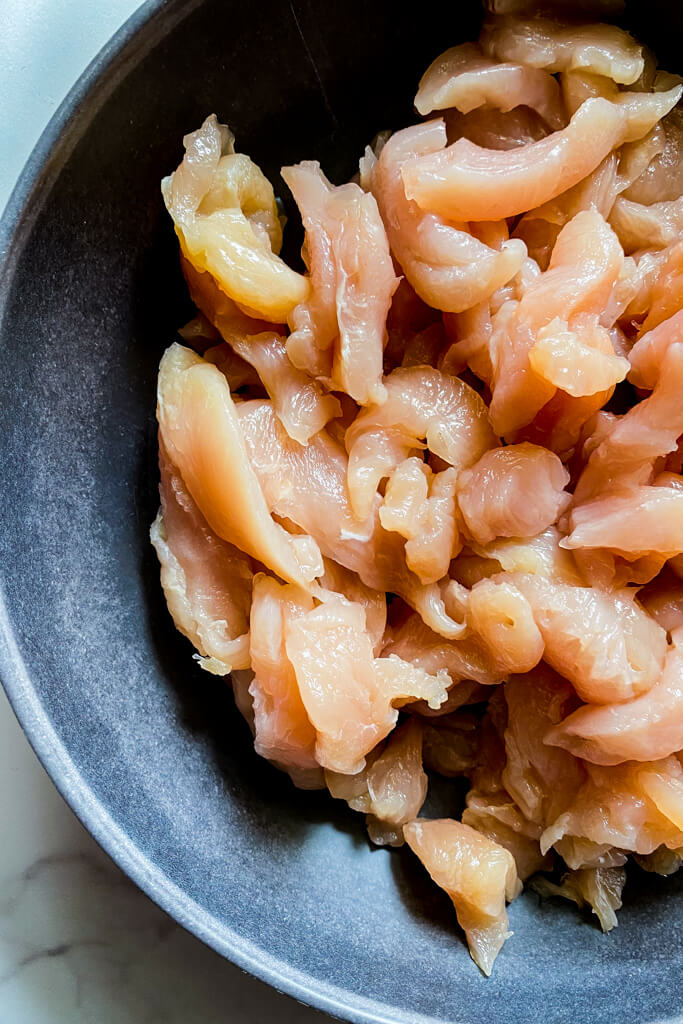 How to make Air Fryer Chicken Fajitas
Start out by thinly slicing chicken tenders or whole chicken breast into thin slices. If using the tenderloin remove the "tendon" by holding the white "nub" with a paper towel, place a fork so your holding the "white tendon nub" (haha I'm so technical) in between the fork prongs, pull the "white tendon nub" up while holding it with a paper towel and then push the fork down. The whole tendon part is easily removed this way. You can google youtube videos if you don't know how. I realize now that it's actually pretty hard to write how to do it. Make sure to hold the tendon part with the piece of a paper towel because otherwise you can't, that sucker is pretty dang slippery.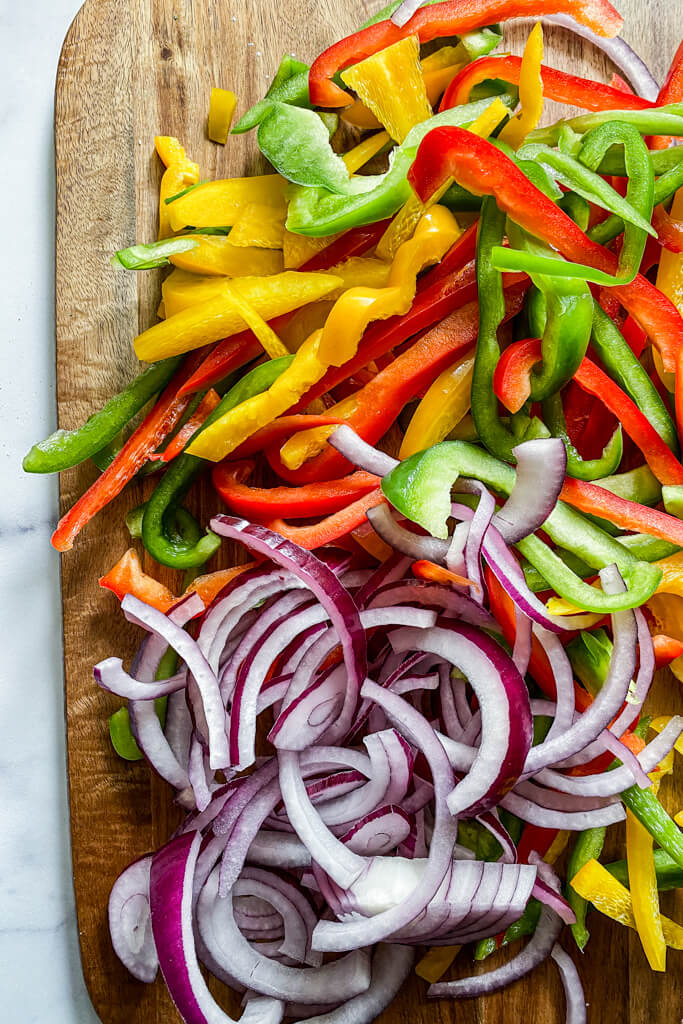 Slice 3 peppers and 1 large onion into as uniformly as possible pieces just to ensure a fairly even cook. Thinner slices will get a bit more "char" than thicker slices, but super thin slices will almost disappear/burn.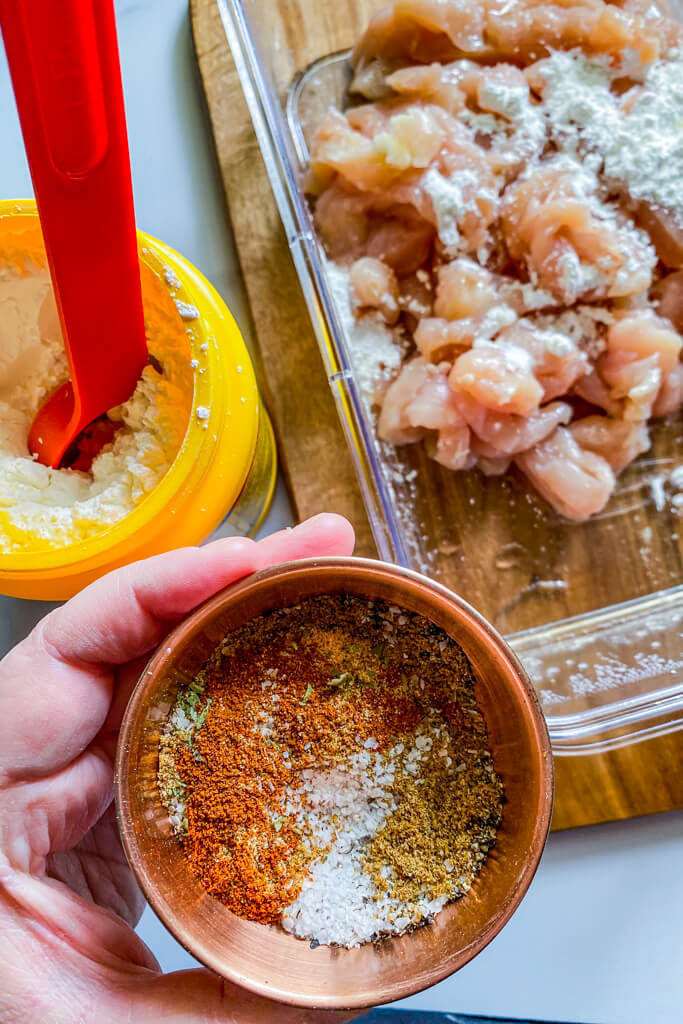 In a large bowl or dish add sliced chicken, 2 teaspoons of oil, and one tablespoon of cornstarch. In a small bowl stir together fajita seasoning.
Homemade Fajita seasoning:
1/2 tsp smoked paprkia
1-1/2 tsp chili powder
1 tsp cumin
1 tsp garlic powder
1/2 tsp oregano
1/4 tsp pepper
1 tsp kosher salt
cayenne pepper (1/8 tsp for a little heat optional)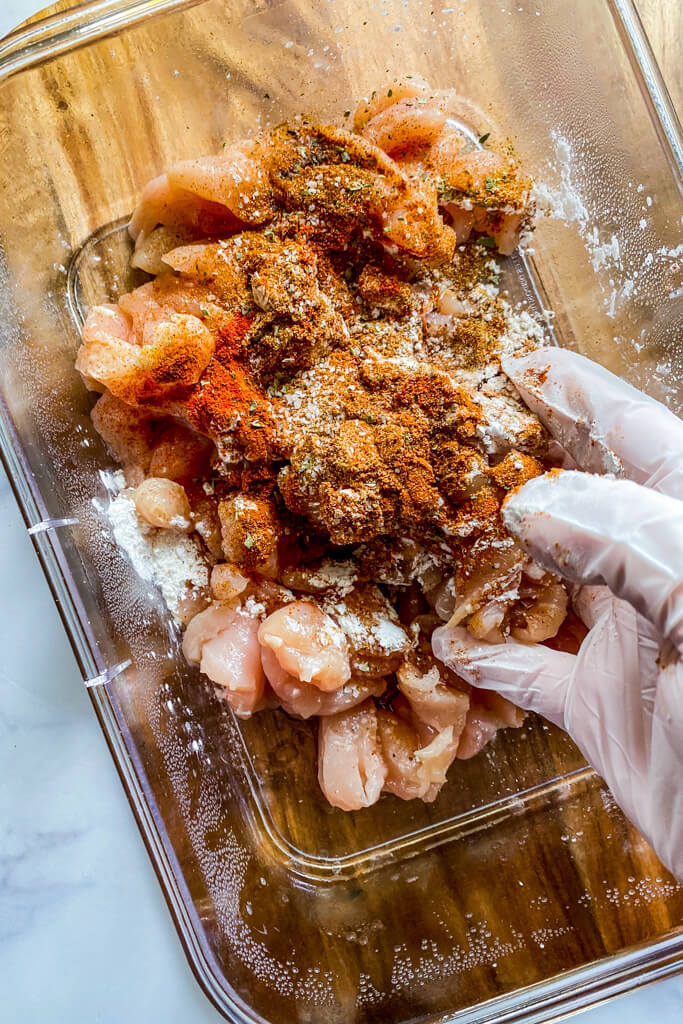 Next, mix together chicken, seasoning, and cornstarch super well. I prefer using my hands to really coat vegetables or meat with seasoning well, but you can use a spoon. I like to use food safe gloves because touching raw chicken is not my favorite pastime.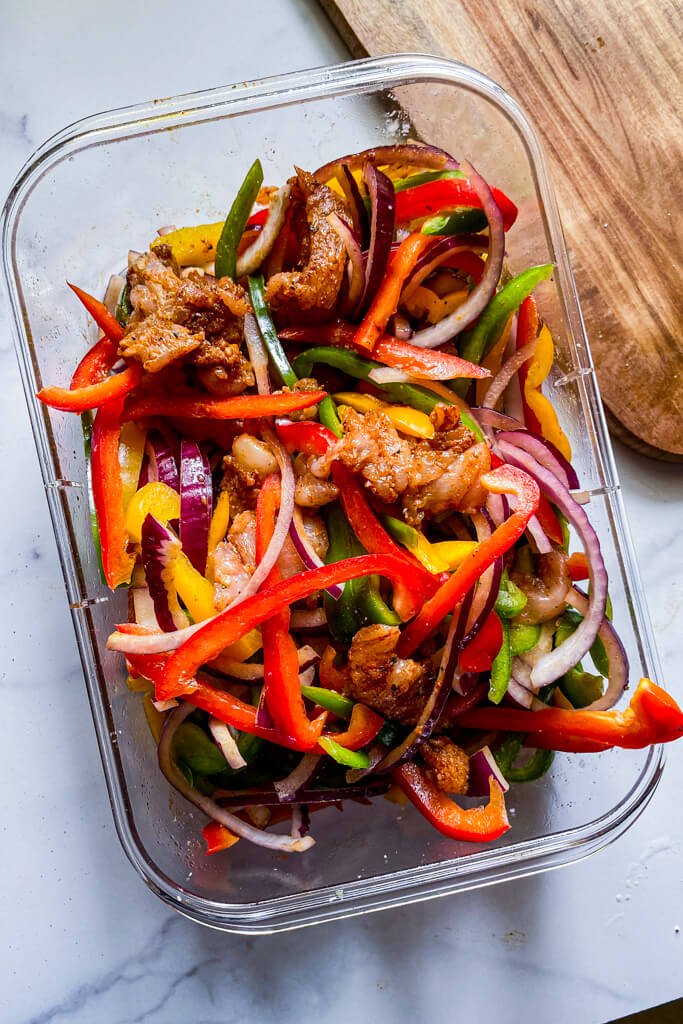 After you mix the seasoning into the chicken really well add the peppers and onion into the same dish along with a pinch of salt and pepper and 1 teaspoon of oil. Mix all together.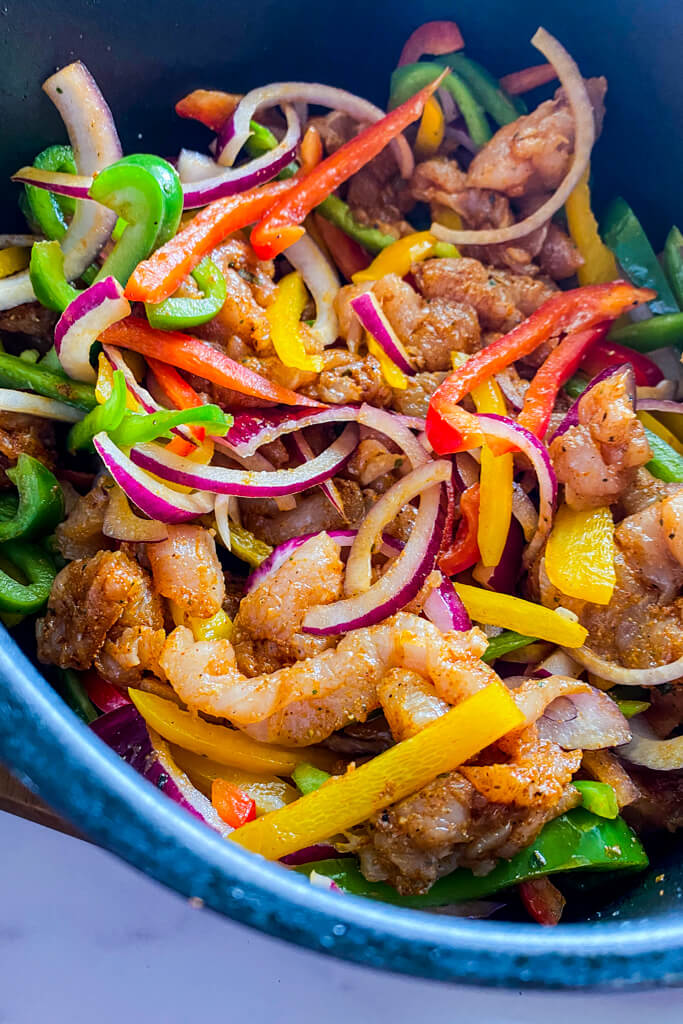 Preheat the air fryer for 5 minutes at 390 degrees. Spray basket lightly with avocado oil cooking spray then place the chicken, pepper, and onion mixture into the basket. Cook for 12 minutes total, but stop and shake basket (or give it a good stir with a spoon) to move the food around the basket while it's cooking. This helps it cook evenly/get a good char on some of the chicken and vegetables.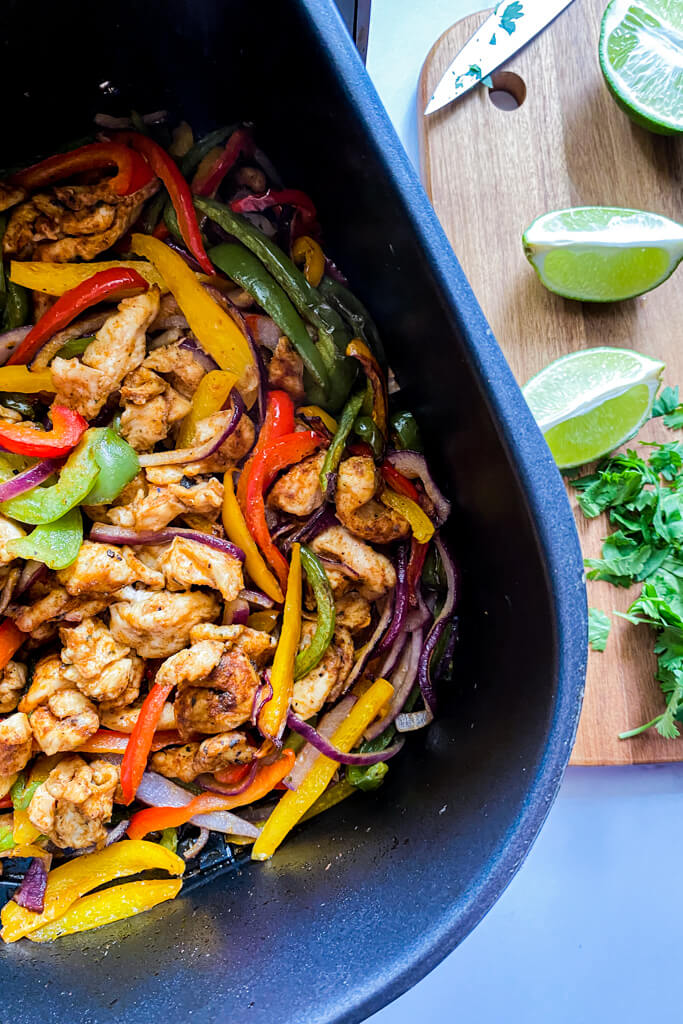 And voila! Seriously the easiest and quickest ever. If you have some on hand squeeze a lime over the top and add a couple tablespoons of chopped cilantro. It really just adds a lil extra somethin, somethin, but it's totally not necessary.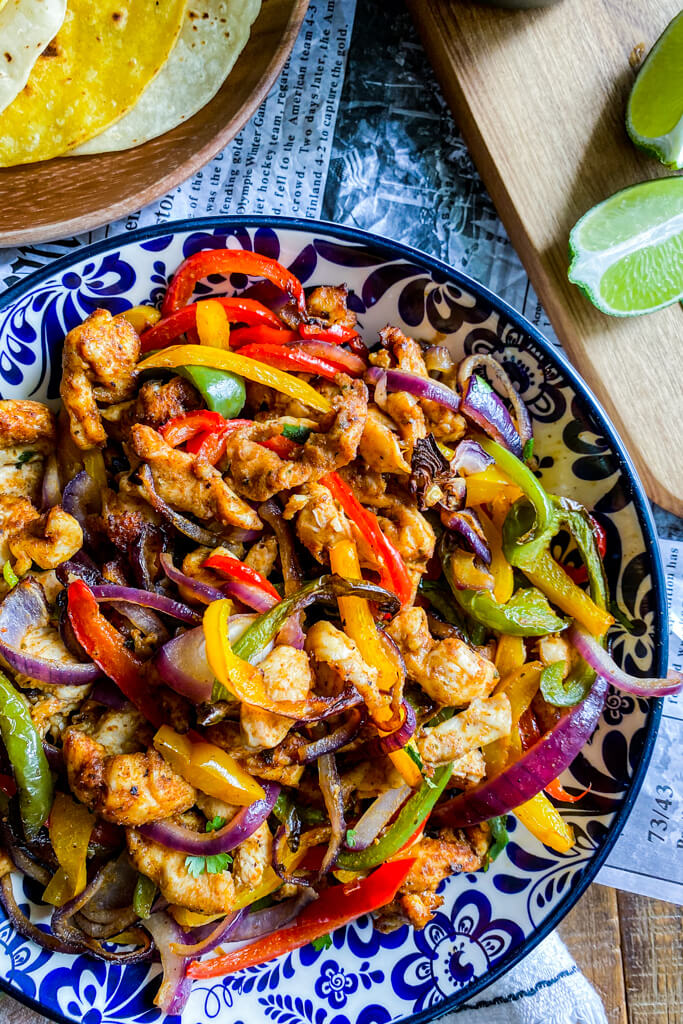 I honestly think that this might be one of the prettiest recipes to come out of my kitchen. I love Chicken Fajitas for their simplicity. Fresh and bright flavors that make my taste buds dance! They're healthy and delicious without even trying to be. Guess what else? They totally impress guests!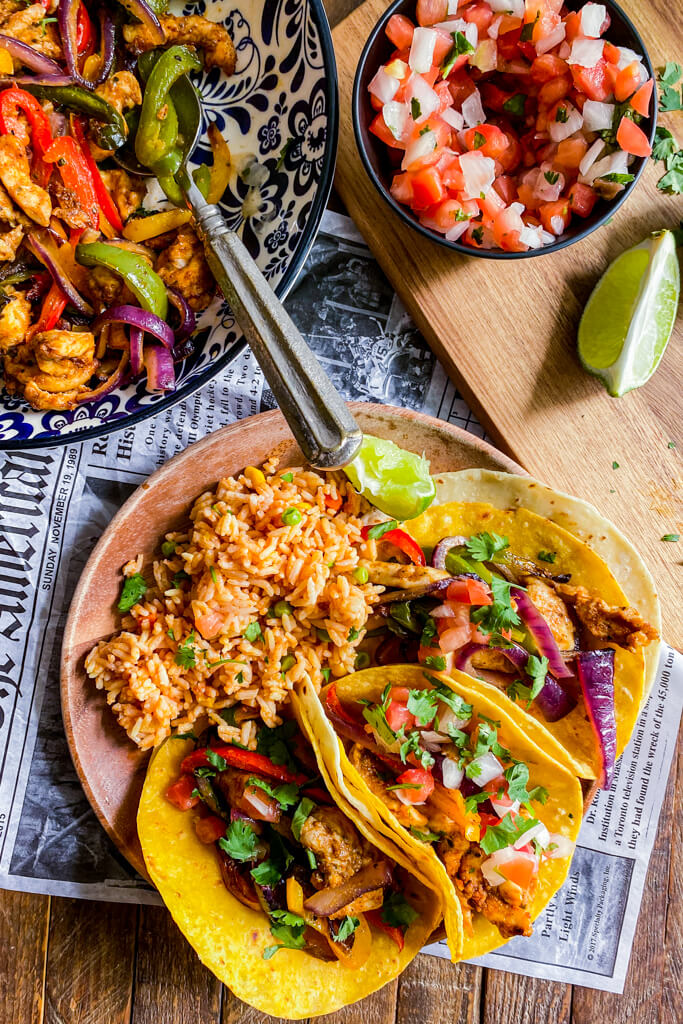 Throw on tortillas with a little quick pico and some rice and/or beans! Best dinner.
If you make this recipe, let me know how it goes below in the comment section!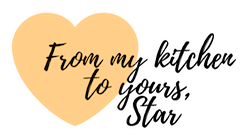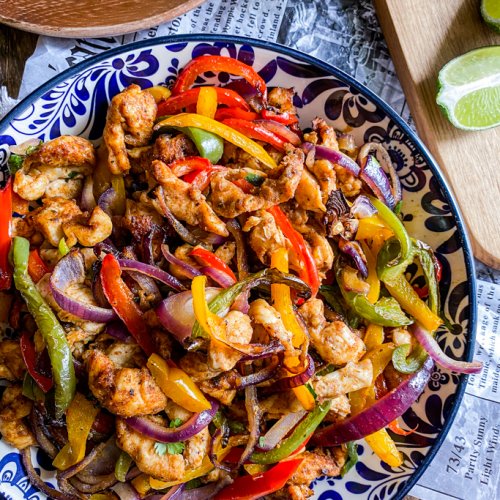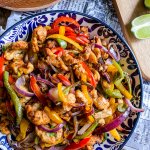 Print
Air Fryer Chicken Fajitas
Tender and flavorful chicken fajita meat with peppers and onions made in the Air Fryer
Materials
1

lb

chicken breast or tenderloins

cut into thin slices

1

tbsp

cornstarch

1

red onion

2-3

medium

bell peppers (green, yellow, and/or red)

(use only 2 peppers if they are huge, 3 if they are small/medium size- about 3 cups total)

3

tsp

oil

(2tsp for chicken, 1tsp for peppers/onions)

avocado oil cooking spray

(other cooking spray works, but I prefer avocado oil spray in the air fryer)

salt and pepper, to taste

juice of one lime and cilantro

(optional for extra delicious)
Fajita Seasoning
1

tsp

kosher salt

1

tsp

garlic powder

1½

tsp

chili powder

1/2

tsp

cumin

1/2

tsp

smoked paprika

1/2

tsp

oregano

1/4

tsp

pepper
Instructions
Cut onions, peppers, and chicken into thin slices. Dry chicken extra with paper towels if needed.

Add chicken to a bowl and sprinkles with fajita seasoning, cornstarch, and drizzle with 2 tsp oil. Stir together extra well so that chicken is coated nicely. I like to use my hands (with food safe gloves on) just to make sure it's completely coated, but a spoon works.

Add peppers and onions to bowl and drizzle with 1 tsp oil and a pinch of salt and pepper. Stir all together.

Preheat Air Fryer to 400 degrees. When preheated spray basket with cooking spray then add chicken mixture. Cook for 10-12 minutes, but during the cook time stop and shake basket to ensure cooking and char on the chicken evenly.
Notes
Makes 24 ounces cooked | Serving size: 4 oz (about 1 cup, but this will vary depending on sizes of chicken pieces/peppers so I would weigh it out if you need precision)
WW Points: 1 Point
Calories: 140 | 3g fat, 0g saturated fat, 53g sodium, 2g fiber, 4g sugar (0g added sugar), 8g carbohydrates (6g net carbs), 25g protein
Air Fryer: Click here for the one I love and use! I use the 7 quart Air Fryer which is the largest one on the market at this point. I recommend cooking in two batches if you have a smaller air fryer.