Air Fryer Cajun Chicken and Vegetables
This post may contain affiliate links (meaning I earn a small comission if you purchase an item through a link I provide) I only provide shoppable links to items I love and are helpful. As an Amazon Associate, I earn from qualifying purchases.
When I want to make meals that are more nutritious and less time consuming, I almost always grab the air fryer! This recipe for Air Fryer Cajun Chicken and Vegetables recipe is easy, tasty, and healthy!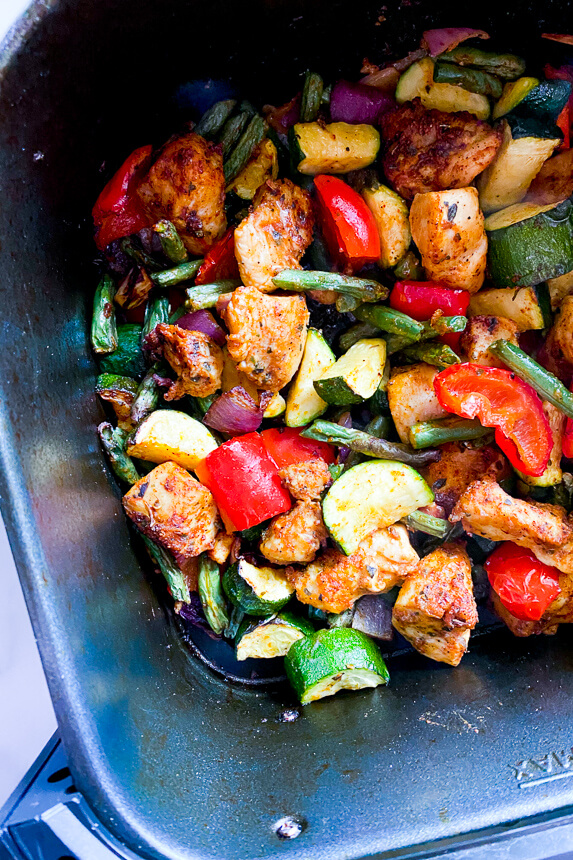 Lots of times when I want a fast, easy, and healthy recipe (especially in the summer months). I tend to turn to my Air Fryer. This recipe for my Air Fryer Cajun Chicken and Vegetables hits the spot, y'all! I love me some good spicy food. And, have you tried veggies in the Air Fryer yet? It's probably my favorite way to cook them!
I'm obsessed with this meal because I can use up whatever vegetables I have in the fridge. It's also great for a super duper quick weekly meal prep situation. I like put a mixture of rice and cauliflower rice into a container and then add a serving of the cajun chicken and vegetables on top! A super good healthy meal prep in under 30 minutes is what we could all use in life to stay the course, know what I mean?
I've asked a lot lately what my readers want and so many of you have asked for more air fryer, slow cooker, and instant pot recipes as the weather warms up! I'm on it, y'all. Cause I'm with ya, this Southern heat has bout done me in and Summer hasn't even officially began.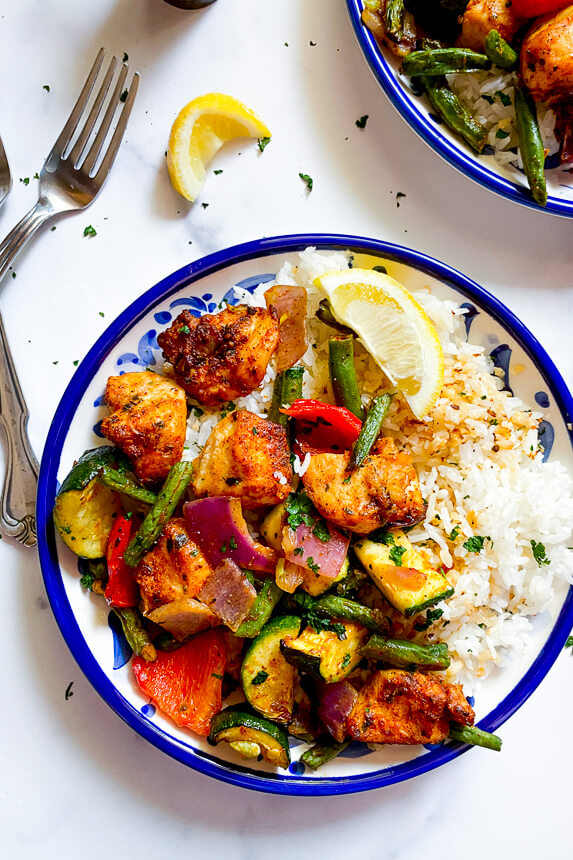 I love the flavor that this recipe brings to the table from the cajun spices and fresh vegetables. I like to add a squeeze of fresh lemon for a little acidity that pairs so well with spice. That's why you see so much lime in Mexican food! The taste is mmm, mmm!
HOW TO MAKE AIR FRYER CAJUN CHICKEN AND VEGETABLES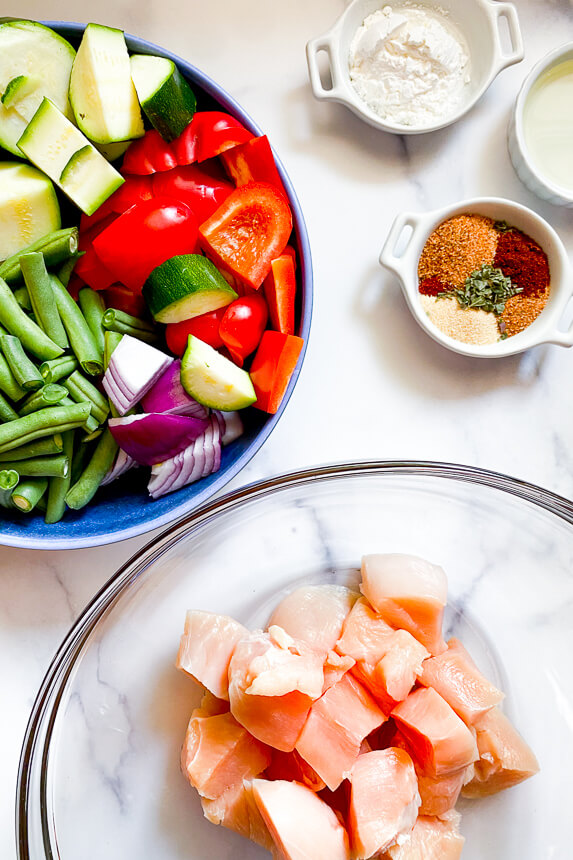 EASY INGREDIENTS:
1 lb raw Chicken breast (cut into small 1-ish inch cubes)
3 teaspoons Olive Oil
1 tablespoon Cornstarch
Seasonings (cajun spice, smoked paprika, chili powder, garlic powder, black pepper)
Vegetables
WHAT VEGETABLES TO USE:
You can use a mixture of your favorite vegetables, but these are the ones I've tried: bell peppers, red onion, zucchini, yellow squash, fresh green beans, cauliflower, and broccoli) I haven't tried mushrooms in this, please don't make me. Haha! Make sure you wash, cut into smaller pieces/chunks (depending on what vegetables you use), and pat them dry before tossing into the chicken and into the air fryer.
After you've gathered the ingredients place cubes of chicken, 2 teaspoons of olive oil, cajun spices plus extra seasonings and cornstarch into a large bowl. I like to put my hand dandy food safe gloves on really get in there and rub the chicken so the chicken gets covered evenly. After that, toss in the mixture of vegetables, 1 teaspoon of olive oil, and stir together well.
Make sure to pat the chicken dry with a paper towel. The less liquid in the air fryer the better it'll get that gorgeous roasted chicken and veggie look with lightly charred edges.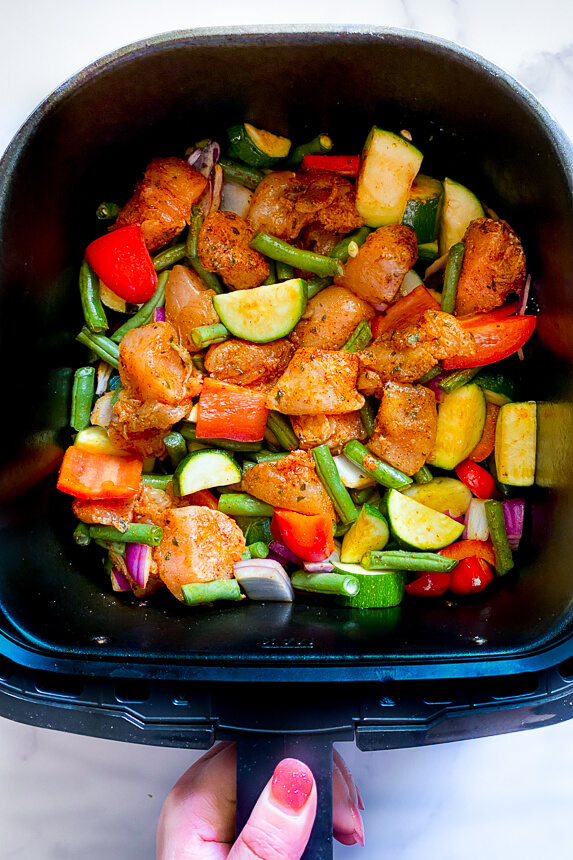 Preheat air fryer to 400 for about 5 minutes.
Use parchment paper sheets made for the air fryer for extra easy clean up!
Spray the air fryer basket with some cooking spray (I prefer using avocado oil cooking spray in any air fryer recipe). Add chicken breast and assortment of vegetables evenly spread.
Cook for about 8 minutes and then give the basket a good shake or stir the chicken. Then continue to cook for another 6-8 minutes until the chicken is cooked through.
I always temp chicken. People love to ask what's the secret to juicy chicken? One of the best things you can do is cook it to temp.
Definitely add this Air Fryer Cajun Chicken and Vegetables to your must make list this summer! It'll keep the kitchen cool and your taste buds extra happy!
OTHER AIR FRYER RECIPES YOU'LL ENJOY: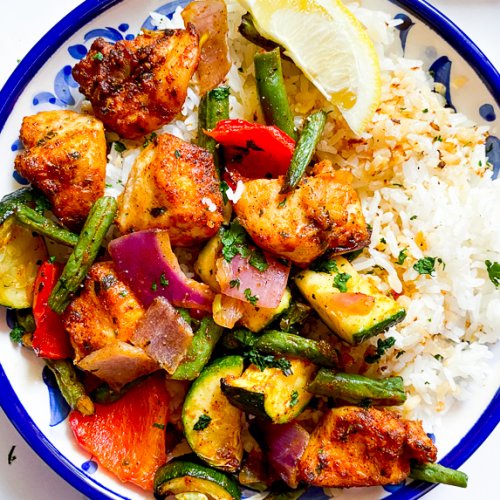 Print
Air Fryer Cajun Chicken and Vegetables
Cajun spiced chicken breast with perfectly cooked vegetables made in the air fryer
Materials
1

lb

boneless skinless chicken breast

cut into 1-inch chunks

2

cups

Zucchini (about two average sized zucchini)

cut into small chunks

2

cups

trimmed fresh green beans

1

large

red bell pepper

cut into chunks

1/2

large

red onion

cut into larger pieces

1

tbsp

cornstarch

3

tsp

olive oil

2

tsp

Cajun seasoning

I use Tony

1

tsp each

garlic powder, smoked paprika, and oregano

1/8-1/4

tsp each

finely ground black pepper and cayenne pepper

(reduce for the spice level you want- this is pretty spicy!)

avocado oil cooking spray
Instructions
Gather ingredients. Make sure to pat chicken breast and vegetables with a dry paper towel to get rid of any extra moisture In a large bowl add chicken, 2 tsp olive oil, cajun seasoning, extra spices, and cornstarch. Stir together or use hands to incorporate the seasonings and cornstarch into the chicken really well. After that, stir in the veggies and 1 tsp olive oil.

Preheat Air Fryer for 5 minutes to 400 degrees. Spray basket with cooking spray and then add the chicken and veggies spread them evenly in the basket.

Cook for 8 minutes then open the air fryer and shake the basket (or stir) really well. Then cook for about 6-8 minutes more. Air Fryer times can vary a bit so I recommend using a meat thermometer to temp your chicken to 165 and make sure it's done.

Serve and enjoy! We like to serve this over rice, riced cauliflower, mashed potatoes, or with a big salad on the side!
Notes
Makes 4 servings (8 oz total about 1-1/2 cups but the cups will wildly depend on how you cut up and what veggies you used so I'd weigh it if you need to)
195 Calories, 7g fat, 1g saturated fat, 500g sodium, 12g carbohydrates, 4g fiber, 7g sugar (0g added sugar 0g sugar alcohol), 9g net carbs, 25g protein
Weight Watchers Points: 1 Point
please also note:
cajun seasoning is pretty high in sodium and brands vary. If you're needing something low/no sodium you may want to try a salt free or homemade cajun seasoning and salt on your own. I decided to use a little cajun seasoning cause its delicious and supplement with extra no salt added spices to keep the flavor up.
you can use a different variety of vegetables, but try to make sure its about the same amount so that it all cooks properly. I've used caulflower and broccoli in this recipe and have had good results.